Best Aldo Shoes and Boots Reviewed & Rated
In a Hurry? Editors choice: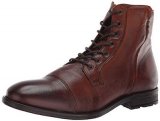 Test Winner: Kaoreria

Aldo Group was founded by Aldo Bensadoun in Montreal, Canada in 1972 and ever since it has brought us a wide variety of professional and casual shoes made for any circumstance or event. From simple lines and neutral colors to outright daring designs, we've combed the racks of Aldo shoes to find the best ones for you. No matter what your style or occasion, there is something for everyone on our list of 10 Best Aldo Shoes. Each piece of footwear on our list will lend the wearer a sense of style and refinement that will be sure to turn heads. Whether you are walking down Main or Wall, the shoes on this list were cultivated because of their style, comfort, versatility and feature set. Let's take a look at our top 10.
Standout Picks
Criteria Used for Evaluation
Durability
No one wants to spend excessive amounts of money on a pair of footwear that won't last long enough to get a return on their investment. In fact, that would actively irritate most individuals if they were to be placed in a situation such as that. That is also why one of the things that are important to screen during the shoe selection process is how well they managed to hold up during use.
Quality stitching: The stitching that footwear comes with can either make or break the design. Footwear with subpar stitching have a good chance of being ripped through with minimal wear (2-3 weeks to a month). Shoes with quality stitching such as the ones on this list have a good habit of lasting for a decent length of time.
Quality materials: The length of time that foot apparel lasts is depicted by the materials it is designed from. For instance, many of the foot apparel on this list are designed from a dense leather that has a rather hard time of being broken through or ripping. Materials such as leather are known for giving wearer's what they need in order to last for a sufficient time.
Style
For foot apparel such as the ones that come in this worldwide favorite's line, style is simply everything. Their shoe's ability to blend with various outfits and consistently provide the wearer with what they'd need to appear both confident and stylish is highly important; which is why it appears so frequently on the list.
The shoes on this list also tend to fall into certain categories, which are named below:
Dress shoe: These are typical of the classy variety and are designed from dense leather material. They are generally worn for professional gatherings like meetings and things of the like.
Boating shoe: A boating shoe is typically said to be worn during marine activities, but are rather versatile.
Loafer: A pair of loafers can take a person a long way. Loafers can be worn in both business settings and for casual use, which makes them a rather versatile footwear item and very useful to have.
Breathability
If you're shopping for summer footwear, your best bet would be to go with an open design such as sandals, or even a pair of mules, as these will naturally allow for a good amount of airflow, and help keep your body temperature at a comfortable level.
You should also consider the upper and lining materials before making a final purchase, as these will greatly determine how appropriate your new pair of shoes will be for certain activities. If you tend to sweat, are located in a hot climate, or plan on doing a lot of walking, you'll do best with a mesh or moisture-wicking lining.
Leather is a good alternative, but may be too hot for the summer months. Synthetics, however, may lock moisture in, which can lead to odor build-up. If your favorite pair is made with such materials, do make sure you take special care of hygiene and wear a quality pair of socks or hosiery that won't lead to swampy, wet feet.
Comfort
Most shoes made by this brand won't have excessive comfort features but can be a great place to start if you're looking for stylish footwear for casual or formal wear. If you've opted for a model with a padded footbed or a shock-absorbing midsole, you'll have a great time wearing it, even for long hours at the office or travel.
If, however, you've chosen a more formal style, you should consider improving the fit with a pair of shock-absorbing inserts. These can be relatively cheaply bought in almost any supermarket, and come in a wide variety, with materials such as leather, suede, gel or even memory foam.
Furthermore, you need to consider the size and adjustability of your pair of choices. While some feature lace-up closures and can help accommodate your foot shape, others will be slip-on, with fewer adjustability features. In these cases, make sure the size of the shoe is as close to perfect as possible, as you won't be able to tighten or loosen them in key places. Also, make sure that the material is flexible enough to ensure a painless break-in process - leather and suede will work best in this regard.
Support
If you're someone who suffers from foot, knee or back pain, or spends several hours per day standing and walking, a pair of supportive shoes is crucial. Wearing the right shoes can not only feel great but can also prevent issues such as plantar fasciitis, bunions, heel spurs, and even blisters and ingrown toenails.
There are several parts of your shoe that need to offer you support:
Arch: The most important aspect of any footwear, your arch needs to be adequately supported in order to help with a variety of issues. A well-designed pair of footwear will hug the bottom of your feet, helping with proper body alignment and preventing excessive fatigue or joint pain.
Heel: Your heel needs to be snugly held by your shoes, and should not slide around inside the shoe. While on some models this can be achieved by tightening the laces, slip-on styles will have to be adequately sized in order to prevent blistering or even injury.
Toe Box: Though pointed and narrow toe boxes look more sophisticated and elegant, they're not the best choice for people with wide feet or podiatric issues such as Morton's neuroma, hammertoes, corns, etc. When choosing footwear, you need to go for models that will allow your toes to naturally splay, and that won't cause any pressure or numbing.
Top 10 Aldo Shoes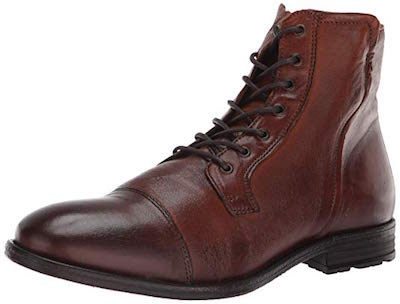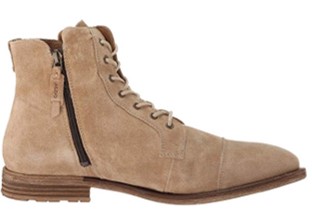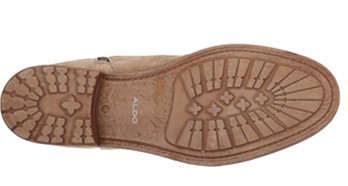 A pair of casual boots such as the Kaoreria is a great choice for those who are looking for quality at an affordable price. Available in brown and black leather, as well as beige suede, it's the perfect boot to match with jeans or a pair of chinos, and can be worn both to the office or on casual weekend outings. The 6.25" shaft gives great ankle stability, as well as a bit of extra warmth, while with appropriate protection and care, it can even be worn in light rain.
The leather upper on the Kaoreria is soft and supple to the touch, making this a great choice for those who are looking for boots that'll easily break-in. The rubber outsole, on the other hand, provides cushioning and slip resistance and is a durable option suited for a variety of surfaces. Made for absolute practicality, this model features both a lace and zipper closure, for an easy on and off, but with the benefits of adjustability. The pull tab at the heel is a great addition to getting these on quickly when you're in a rush.
Considering the materials used in the construction of this boot, the higher price comes as no surprise. It's a great investment for those who need something work-inspired that'll work on a variety of occasions. Depending on the color and material you opt for, you'll even be able to wear this style in less than perfect weather conditions.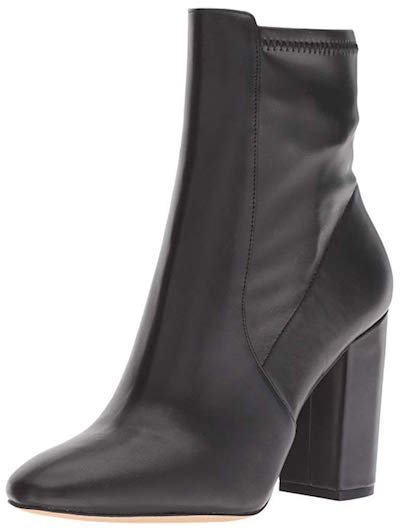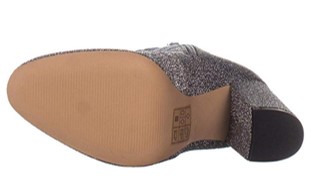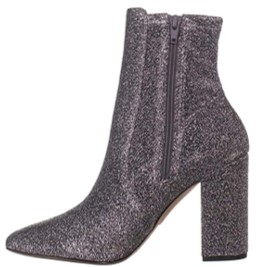 A good pair of high heeled boots is the great addition to anyone's closet, seeing that you can match them with a variety of outfits for casual and formal occasions alike. The Aurella comes in a variety of uppers and prints, ranging from black patent leather to snake prints, to pink textile that'll definitely set you apart in a crowd. A 5" shaft is the perfect height for skirts, trousers, and jeans alike, making this a great all-round pair of boots.
In order to make the 4" heel more comfortable, Aldo ensured that the surface of the heel provided adequate space for you to put your weight on. What this means that these will work great for long wear, won't damage your hardwood floors like stilettos would, and won't pose problems on cobblestone or soft surfaces. Although the silhouette of the upper is fairly simple with an almond toe and lacking any embellishments, you still get the benefits of an easy closure that'll make putting these on and off quick and hassle-free.
The Aurella boasts a price that's average in comparison to most of their fashion-oriented footwear and is a solid choice for fair-weather wear when you want something a bit warmer than a regular pair of pumps. Though the rubber sole won't slip on slightly damp or wet surfaces, it is not recommended to wear these in rain or snow, as they offer little water protection and may deteriorate more quickly.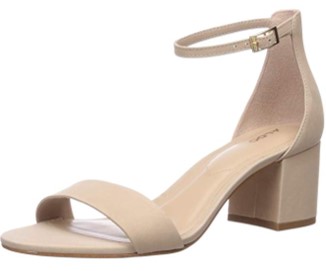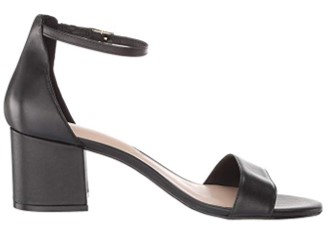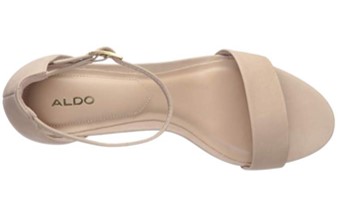 In the market for a heeled sandal? The Villarosa from Aldo is a classic, clean-lined sandal designed from 100% leather that can be worn for both casual or business settings. With its lower chunky heel, this sandal is quite stable for walking or standing, and won't make feet hurt if worn for extended periods due to height. A single toe strap crosses the foot, while an adjustable buckle closure wraps the ankle for a secure fit. It's one pair that should be a staple in your wardrobe for a versatile summertime sandal!
Uppers of the Villarosa are softer leather, helping to make the shoe durable and feel great when wearing. A cushioned footbed provides softer steps and offers arch support for those long days of wearing. Open toe box allows for a roomy fit, while the rounded shape of the toe provides ample room for your feet without having a toe slip off the footbed. Available in several neutral tone colors, you'll find one best suited for your style and wardrobe for casual or work attire.
An ankle strap secures the foot in place with buckle closure, allowing some adjustability for fit as well. The chunky, low heel on the Villarosa provides not only stability, but makes this pair easy for walking, and lessens foot pain due to heel height. At the base is a synthetic sole, with a groove pattern at the toe for traction and grip. It's a sensible, versatile pair of sandals that could likely become your next go-to pair for summertime.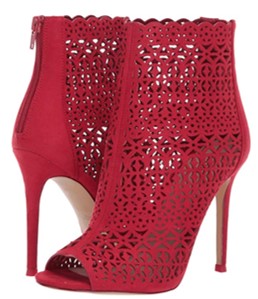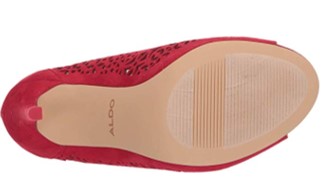 Not for the faint of heart, the Kuniel is a show-stopping pair of Aldo booties, with intricate cutout design through the uppers that one simply cannot ignore. Open peep-toes let you show off fresh pedicures, and its 4-inch heel provides ample boost in height and lengthens legs. Stiletto heels add to the design, making it suitable for evening events and parties, and a zipper heel provides easy access in and out of the bootie. With a few color options to select, it's a pair that will certainly be turning heads all evening long!
The Kuniel has a unique design element found in its cut out uppers, which utilizes an intricate pattern throughout the entirety of the bootie. Scalloped collar on the bootie gives it a feminine flair and softer appeal. Best for summertime attire, it's quite breathable due to its design, and open peep toes allow for fresh pedicures to match your ensemble and booties. With options in reds and neutral tan colors, you can find one to match your favorite summertime flirty dress for the perfect evening.
Stiletto heels on the Kuniel rise a dramatic 4 inches tall, providing an ample boost in height, pleasing arch to the foot, and leg-lengthening aspect when worn. Synthetic soles have a grooved pattern for better traction on floors and slippery surfaces. The heel zipper along back give this bootie and easy in and out access characteristic, so you can kick them off easy after the evening fun. It's a pair for those looking for a statement piece of footwear to flaunt at their next big party, and is sure to wow the crowd!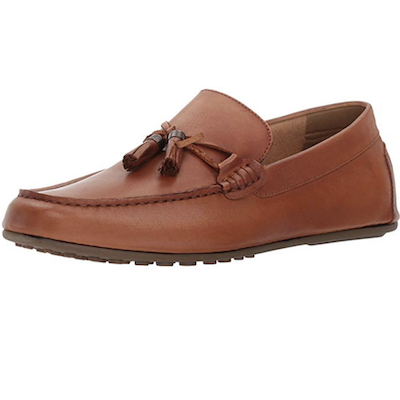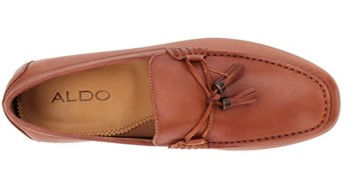 For starters, we have the Freinia Penny Loafer, a shoe that is stylish and has everything that you'd need in terms of stability and comfort. The entire exterior is designed from a suede material that really makes this shoe stand out from the rest. That's not all, this footwear has several other features that make it one that can be worn for both business and casual events without causing one to worry about their outfit in any way; it's just got it like that.
In the introduction we mentioned that the Freinia's upper is designed from a suede material; this doesn't say much about the fit of the shoe at first but, when a bit of attention is paid to this fact, clarity is gained. Suede is a material that doesn't leave much remove for malleability. The fact that the upper on this shoe is completely designed from this material tells individuals that they will be purchasing a piece of foot apparel (if bought in the correct size) that won't slip and slide around the foot.
One thing about this company as a whole is that they never cease to design footwear that provides their wearers with what they'll need in terms of style. They manage to blend materials and cut their shoes in such a way that makes it relatively difficult to match them with other articles of clothing; the same goes for this wonderful-looking loafer, the Freinia, can be paired with anything from a pair of jeans and a polo, to a pair of slacks and a tie; they really make it that simple.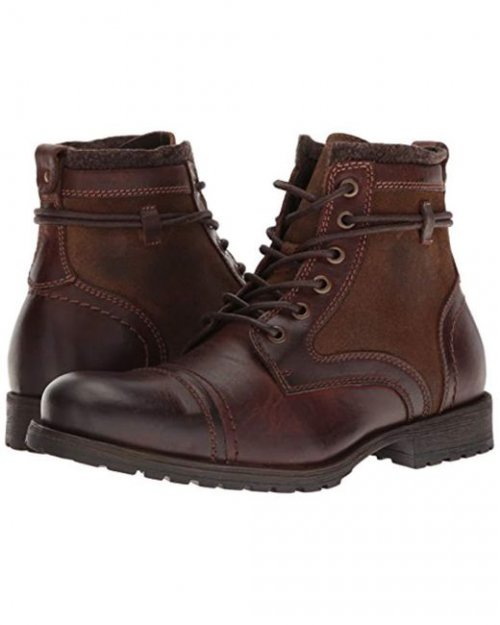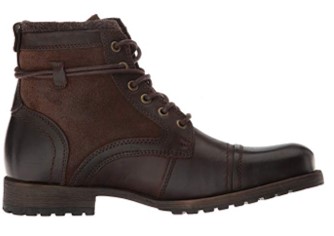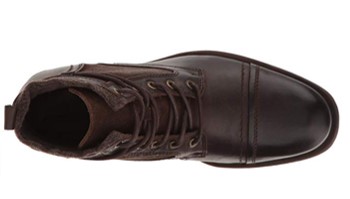 If you're after something sophisticated, that will look good with a suit, the Acelalla is a great choice thanks to its classic design, and level of comfort it offers. Available in brown or black smooth leather, this Chelsea boot is the type of footwear everyone should have in their closet. The elastic gores on the side make on and off a breeze and add to the comfortability factor.
Although the insole is not generously padded, supportive or shock-absorbing, a bit of cushioning is achieved by the padded heel area that makes walking more pleasant by preventing excessive fatigue or joint pain. Combining the advantages of genuine leather and textile, the Acelalla is a breathable style that'll work best in mild temperatures. It'll allow for a solid amount of air flow inside the shoe without retaining moisture. If you have sweaty feet, however, do make sure to keep them in a dry, well-ventilated place between wears.
Averagely priced, the Acelalla offers great value for your money and is the best choice for those who are only looking to purchase one pair of boots. It's also one of the more formal models featured on this list, so if you need something for work or special occasions, you won't go wrong with it.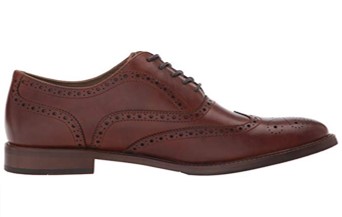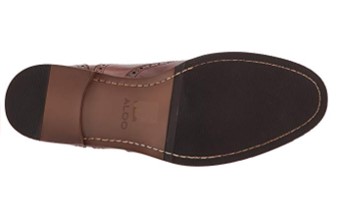 Time for a shoe that looks about as classy as its first name (bartolello) sounds. The Bartolello Oxford is one of those shoes that everyone seems to want and thankfully, can buy. It has the materials in its design that make it a shoe to be reckoned with and, for the price is something that not many could pass up; it's a bargain. This footwear's outstanding qualities are that it's classy, obviously, and that it manages to give the wearer a long-lived stay.
Well, the Bartolello Oxford is definitely one of those that will withstand (almost) anything that the feet throw at it. That thick rubber outsole manages to really be able to rough through the rigorous treks that become a usual part of meetings. The hide is also designed from a rough leather material that we all know and love; it manages to be able to hold up as well.
Well, this is an Oxford, you can't help but expect it to provide the foot with some level of style; and that it does. The glossy look of the outside of this wonderful shoe keeps the wearer's feet looking classy when paired with really whatever they decide to put on. Not to mention that these beautifully smooth footwears can literally be found in several different colorways which makes it very easy to switch it up from time to time.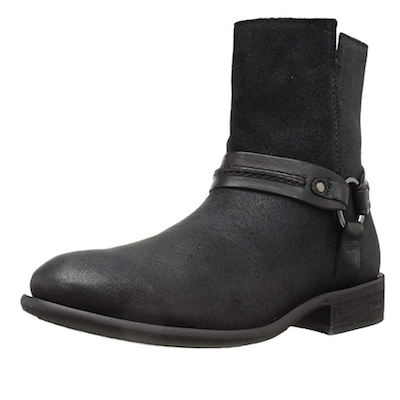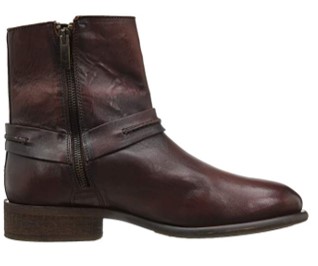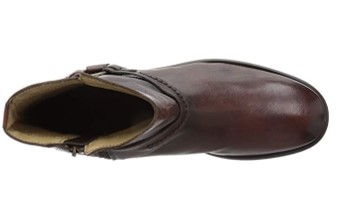 The Asuwen boot is designed to give you the best style and performance. Crafted from genuine leather and combined with a rubber sole for excellent traction, this boot works as hard as you do. Wear it to the office, to the job site or out on the town, there are endless possibilities and combinations.
The fit of this boot really goes above and beyond for the wearer's foot, literally. It has added toe space, which means that it works against the general discomfort that is felt by footwear of similar design. The extra room that is provided by the toe area is complemented by the zip closure system which keeps it locked down on to the foot. The good thing about the closure system is that it complements the loose material that the upper of the shoe is made from and works to keep the foot snug.
Well, the Asuwen is a boot, one that is made from shiny leather material and is fashioned so that it really brings out the contours of the foot. The pointed toe box and "slice" at the opening makes it a great addition to any whose arsenal is sorely lacking fashionable boots. In addition to this, the company made a great addition to its design; they added a buckle to the side. Granted, the buckle serves no function, but it does look rather cool stationed on the side of the boot!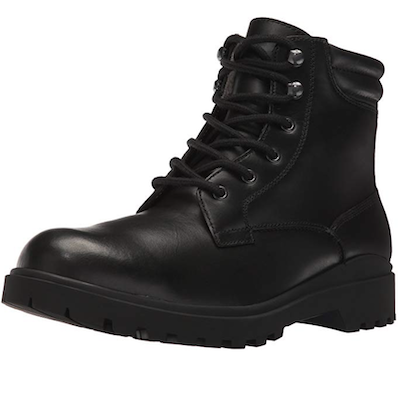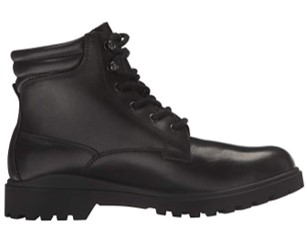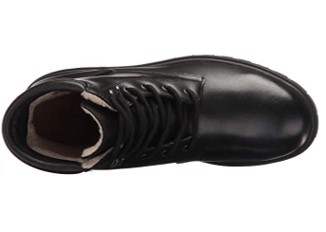 The Terinese work boot may be one that was originally designed to be used for strenuous activity but, it's so much more. It comes in neutral colors, so matching them or even being afraid of appearing gaudy while they are on foot won't be a problem for most. The feature of this boot that is appealing to most (and rightly so) is the level of comfort that is provided to the foot when the boot is worn. This set of footwear is one that was designed to serve a specific purpose but manages to be so much more.
One of the many saving graces of the Terinese is that it has several comforting features tucked away inside of its durable frame. The brand, in an effort to improve both the fit and provide the wearer with a comforting experience, fit the inside of this boot with a cushioning material that is out of this world; the Terinese features a wool interior cushioning that lines the inside of the shoe and even manages to cover the tongue as well. The great thing about this cushioning is that it also manages to give the wearer a bit of heat preservation as well, which is something that is not necessary for a boot such as this.
With an exterior designed from leather material, the Terinese manages to definitely remain durable for an indefinite period of time. Leather is a material that never ceases to provide the foot with a bit of coverage and fights against almost all weather conditions with vigor. It refrains from ripping and consistently ensures that the wearer has what they'll need in order to survive in whatever area that they are wearing the boot in (or at least that their toes will).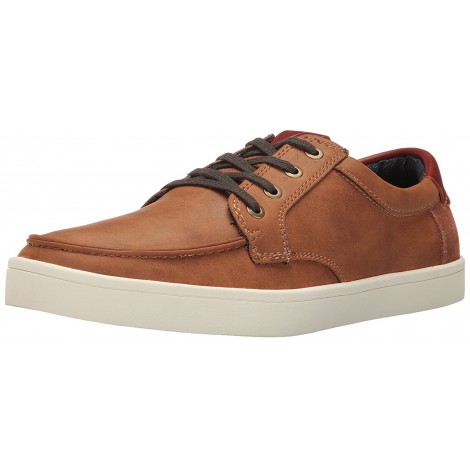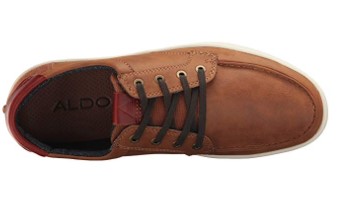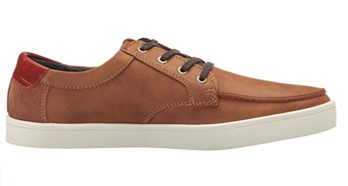 Ciren Sneakers made this list mainly because of the fact that they combine various stylistic elements with a level of quality that doesn't go unnoticed. The Ciren sneaker has a style that's fit for any occasion due to the simple stylistic elements that were utilized in its design.
With its low top design, movement is less restricted which results in higher flexibility. The perforated material on the upper also adds to the shoe's ability to provide a comforting experience to the wearer's foot. The comfort and amazing fit are both two reasons why Ciren is ideal for those who are seeking something to wear on those lazy days.
The Ciren Fashion sneaker is fashionable enough for most occasions. An upscale leather exterior has a high-quality appeal that can take your favorite outfit up a notch. The topstitching also lends a touch of sophistication. The low top, rubber sole, and overall simplicity of the design make this a versatile piece of footwear that can be worn for both casual and professional looks.

Subscribe to our Newsletter