Best Fila Shoes Reviewed
In a Hurry? Editors choice: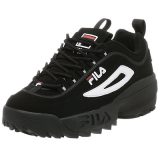 Test Winner: Disruptor 2

Founded over 100 years ago, Fila is an iconic Italian
fashion brand
that has made its name in the sportswear industry in the 1970s, thanks to their cooperation with famous tennis player Björn Borg. Today, it is best known for its athletic designs, including a variety of chunky sneakers and slides which are, again, at the height of their popularity.
Additionally, the company also manufactures a variety of casual and work footwear, professional tennis shoes, as well as athletic and casual apparel that boasts classic designs and simple colorways. The list below ranks the ten best fila shoes, with detailed descriptions of their features, ranking them based on durability, style, features, comfort, and value for money.
Standout Picks
Criteria Used for Evaluation
Durability
One of the most important qualities of a shoe to pay attention to when shopping is the materials that it's designed from, and for good reason. The materials that the shoe is designed from signals the longevity that the model will have and, in turn how frequently the shoe will need to be replaced. An item that needs to be replaced often due to bad craftsmanship is not one that someone would want to purchase!
Rubber Outsole:
Rubber outsoles tend to be thicker and more wear-resistant than that which is typical. Many models nowadays have this as part of their design and for good reason. On that same note, many also make good use of varying degrees of density in the rubber that makes up their outsoles. Ie. blown rubber, hardened rubber, etc.
Leather Uppers:
Fila is known for making the uppers of their classically-styled shoes from a leather material that, manages to give wearers what they'd need in terms of durability and wear protection.
Style
Whether it's a shoe that is designed for solely hiking purposes or a shoe that is designed for those who play basketball, it's important that the design has the qualities that the wearer will need in order to succeed in those fields. Fila makes sure to design their shoes so that they provide optimal functionality for whatever area that they are designed for use in. Whether that's simply so that one has a fashion model of shoe that stands out in a crowd or one that can function during several types of activity without breaking down or needing a replacement; these have got you covered.
The styles that Fila tends to make are:
Basketball: These tend to have a bit more support on the sides of the foot as well as general work to maintain a bit of structure in their design. Many basketball shoes also have higher traction in their sole units so that the wearer is able to perform to the best of their ability when they are used for their intended sport.
Fashion sneaker:
These are exactly what their title suggests, fashionable sneakers. They tend to be made from extravagant materials and have cuts that stray past that which is considered typical by many.
Hiking Shoe:
These manage to maintain a high level of durability because they're heavily layered throughout. The outsoles are also on the thicker side and have a grip that can be considered nothing short of out of this world, usually.
Running Shoe:
Running shoes can really be worn anywhere but are designed to perform their best for those who love to run. They have lightweight frames and, depending on what they are designed for, tend to stay on the flexible side of things during use.
Advanced Features
Fila is known for several of the technologies that they incorporate into the designs of their footwear. Below is a list of the technology that allows a Fila shoe to do what it does.
EVA Cushioning:
There are several variations of EVA cushioning, but nothing beats the feeling that is gained from that which is original; EVA foam is known for providing wearers with a highly cushioned feeling during runs, or even when taking a walk. EVA, or Ethylene-Vinyl Acetate, is a closed-cell foam that provides ample cushioning without feeling "pillow-like", which is a good thing for those who need a shoe that will allow them to perform.
Memory Foam Insole:
A model with a memory foam insole is a shoe that will consistently provide comfort for its owner. Memory foam is a technology which, just like the name suggests, provides wearers with a cushioning that conforms to the shape of the wearer's underfoot and stays that way. This brand has various models with this technology incorporated into their design, which is why their footwear is known for being highly comfortable
Coolmax:
This technology constantly cushions the foot of the wearer and has moisture-wicking properties, as well. The material is designed to redirect the moisture of the foot and keep the wearer's foot dry the entire time that the shoe is worn. For this reason, the brand has made it a habit to place this material in several of their designs.
Trail Outsole:
Trail shoes must be able to provide wearers with ample cushioning, protection, and flexibility while being worn. The models that are designed with this type of outsole are thicker and more durable than those that aren't.
DLS Foam Outsole:
Dynamic Landing system (or DLS) makes good use of both rubber and foam in the creation of the outsole. Rubber is placed in the high friction areas of the shoe to prevent the wearer from dealing with degradation of the shoe's grip. In addition to this, the sole unit of this shoe also has exposed foam in the areas that deal with less than average amounts of activity.
Comfort
When it comes to ascertaining the comfort of a pair of footwear, it's important to look at each part and roles those parts play, as well as the materials used and the overall fit. Let's take a look at each of these in more detail.
Materials:
While materials are an important factor in the entire shoe, let's focus on the upper. Many different materials can be used for the upper, such as canvas, mesh, and leather. In fact, these are the three most common materials used, and you'll find that on our list we've included a range of different materials.
Each type of material has its own pros and cons. Canvas and mesh are great for breathability and flexibility, but don't offer any native waterproofing and sometimes have limited long term durability. Leather is naturally water-resistant and is one of the most durable materials used in the upper of a shoe, but breathability is limited and the break-in period for leather can be much longer. Figure out what's important to you in terms of your needs, and choose materials based on that.
Soles:
The sole of a shoe is actually composed of three parts, aptly named the insole, midsole, and outsole. The insole is what makes direct contact with your foot and provides most of the cushioning. These can be made from either fabric, memory foam, EVA foam, or a combination thereof.
The midsole is the "heart" of a shoe; it works with the outsole to promote energy transfer and protect your feet from hard or sharp objects, and it also works with the insole to provide support and cushioning. EVA foam is the most common material used in the midsole. The outsole is what actually makes contact with the ground.
This is where your traction and shock absorption come from, as well as durability and waterproofing to a certain extent. In regards to comfort, it's important that all of the parts of a sole work well for your unique feet and what you plan on wearing them for, be it for work or just a casual model.
Overall Fit:
Most of us know our foot size. We also know that sizing conventions can vary from brand to brand and even product to product. Further still, we also know that our size doesn't tell the whole story. As an example, two people could be the same number size, but one will have higher arches than the other.
The best way to get an exact determination of fit is to actually put the shoes on your feet. Walk around a little in them, wiggle your toes to make sure there's enough room in the front of the shoe. Let your comfort be your guide, and look at consumer reviews to get an idea of the real-world experiences of others. Some models will need to be broken-in in order to be fully comfortable. This process can take some time, so be patient.
Value
If you take another look at the products on our list, you'll notice that we went over the cost and value for each one. When we determine the value of a shoe, we take into consideration its price, different factors of the shoe (comfort, durability, fit, etc), and compare them to other shoes that are similarly priced. This is something that we feel is very important to discuss, and for some people, it can be the determining factor in a purchase.
From a consumer standpoint, one of the best ways to gauge value is this; what sort of benefits do you get out of the shoe, and do they outweigh any potential cons? These same questions can be asked in regards to the value in almost everything, from computers to a car, to even video games. Perhaps you find a shoe that doesn't come in a wide range of color options, but it's very comfortable. Or you find a shoe that takes a while to break in but is incredibly durable.
Value is subjective; what one person considers to be important may not be such for another person. Maybe you prioritize durability, even if the color options are underwhelming. Or you want something with a removable insole, and don't mind if the breathability of the shoe is limited. Think about what is most important to you, and go from there.
Top 10 Fila Shoes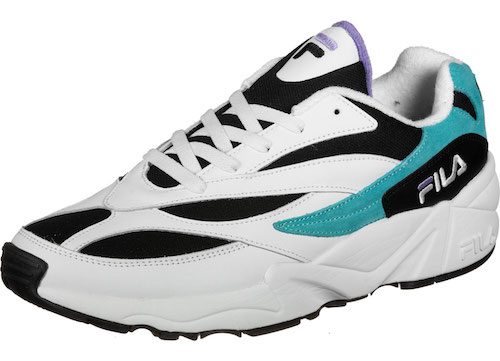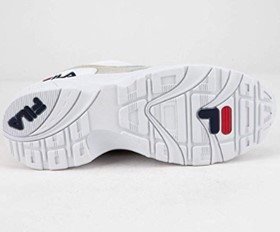 An athletic shoe originally released in 1994, the V94M is a sneaker that is perfect for those who like classic running sneakers and prefer to wear them in their everyday lives. It's a casual shoe that's easy to pair with any outfit, and it comes in four color options, including a bold red, as well as a classic white.
The upper of this item is made mainly of leather, using suede and textile accents to add a stylish touch. On the inside, you get a textile lining that feels good in contact with the foot and allows for breathability. The whole upper, including the tongue and collar, is padded, making it a good choice for the colder months when your feet can surely appreciate a bit of insulation.
As for the rest of the shoe, it uses a classic lace-up closure, an EVA foam midsole for shock absorption, and a rubber outsole that gives a good amount of grip on most surfaces. In terms of design, the embroidered branding stands out from similar models by other manufacturers, as does the affordable price (despite being one of the most expensive items listed).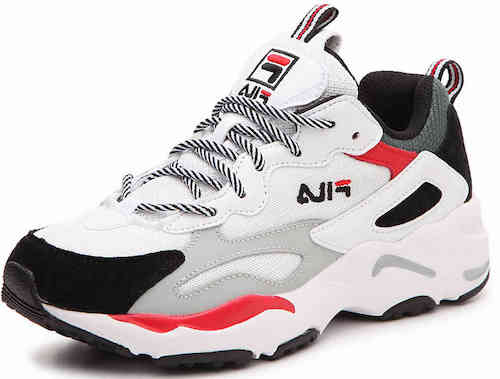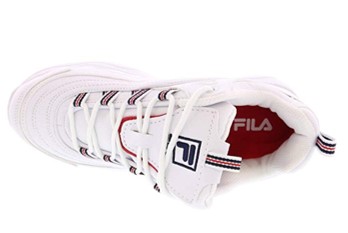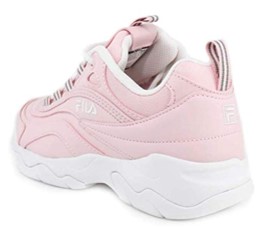 A chunky lifestyle sneaker, the Ray Tracer is a retro style that's been brought back with brand new colorways for a classic that's been updated for 2019. Highly functional and utterly comfortable, this sneaker will be your go-to option for all casual occasions, and with the right outfit, it can even be dressed up. Thanks to the wide platform, it's a shoe that's stable, making it ideal for long days on your feet.
The thing about Fila footwear is that it is made with quality materials and simple designs that ensure durability, ease of maintenance as well as functionality. The Ray Tracer uses a combination of leather, suede, and mesh in the upper, giving you a sneaker which is breathable, but still resilient and suitable for daily wear. Thick laces and pull tabs at the tongue and heel allow easy on and off, and help with attaining the perfect fit.
The Ray Tracer also features generous padding, both at the tongue and collar, as well as underfoot. It boasts an EVA foam midsole that absorbs shock, and a rubber outsole with traction pods that grip all surfaces. The pricing is below $100, which is much less than you'd pay for similar pairs of footwear by other leading brands, making it a great choice for anyone who wants a product they can easily rely on.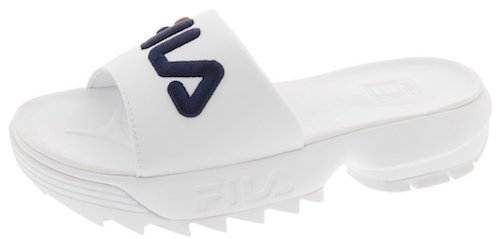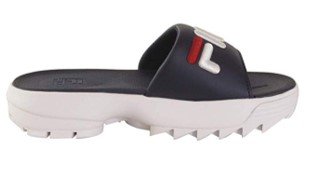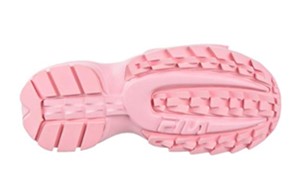 If you're a fan of the chunky sneaker look and want to apply the same aesthetic to the rest of your footwear, you are going to love the Disruptor Bold Slide. This sandal is made with one of the thickest outsoles you will find in any pair of summer footwear and makes for a look that's so distinctive you're sure to turn heads. It comes in three color options, navy, white and pink.
The midsole and outsole on this model combine cushioning EVA foam with a rubber outsole that has an aggressive traction pattern you can count on for all surfaces. This is what makes this a predominantly outdoor model, but considering the fact that the footbed is soft and adapts to the foot, you may be tempted to wear it all the time.
As for the upper, it uses synthetic leather that's scratch-resistant and easy to keep clean and lines it with mesh to allow for breathability and moisture management during hot summer days. Overall, this slide is a good choice for those who like to follow the latest trends, but the average price makes it slightly expensive for a casual summer sandal.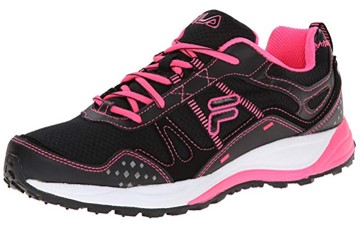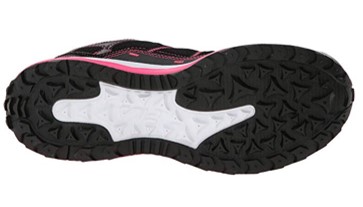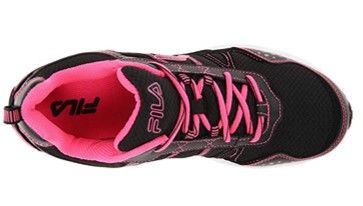 This particular Fila shoe is made for runners who need to get out there and go! With leather overlays that help enhance support for lateral movements, as well as a memory foam insole for cushioned comfort, this pair may surprise you for workouts. Injected EVA outsole combined with rubber helps make it durable and provides grip and traction, while the sole has a lug pattern tread for rougher surfaces you may encounter. It's one Fila shoe that is built for workouts, whether that be at the gym, or on the pavement or trails.
Uppers of the Statique are a combination of different materials, consisting of mesh which helps ventilation, but also leather, which helps support the foot and make the shoe durable for wear. Weighing in at only 10 ounces, it's rather lightweight when compared to some other athletic brand footwear. Inside, you'll find a memory foam insole, as well as a midsole that provides superior cushioning to help pad your footfalls. It's perfect for brutal workouts in and outside of the gym.
The outsole of the Statique is a combination of rubber and EVA, helping make it durable and supportive. The base of the shoe has an aggressive lug pattern, which can allow you to take these off-road on gravel trails should you so choose. A padded tongue and collar also help add to the comfort factor and help prevent blisters and minimize break-in period. Overall, if you're in search of an athletic performance shoe from Fila, this is one well worth a second look!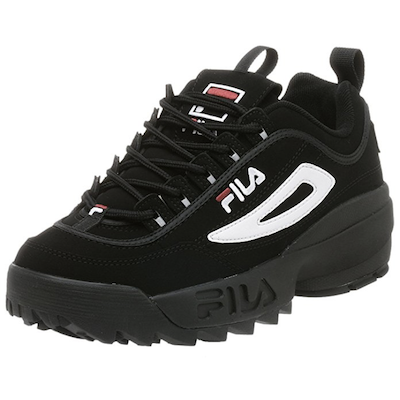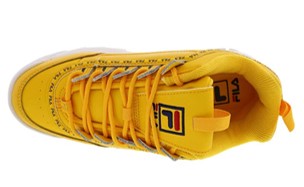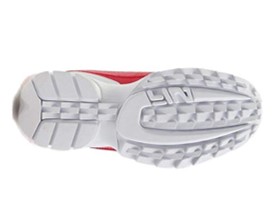 Disruptor 2 is one of those unique designs that are sure to get you noticed. The thick sole unit and the alternative fabric on the upper really makes this shoe stand out from the herd. For those who are looking for a model that they can go out and conquer various terrains as well as add a bit of pizazz to the wardrobe with, the Disruptor 2 may be the best choice for purchase.
The first thing that must be mentioned about the design of the Disruptor 2 is the fact that it has several stylistic elements that allow it to function in almost every way for the wearer. The upper is made of suede which, is something that definitely sways from that which is typical for fashion sneakers.
That thick rubber outsole on the Disruptor 2 definitely helps it stand against the tests of time and provide the feet with a reliable source of protection. That isn't to say that this model should be worn to all events but, it does mean that the sole unit won't wear down easily and will consistently be there when the wearer needs it. The cost of the Disruptor is roughly midway, which means that it does everything but dig into one's pockets. When this is considered alongside the durability that is present in the design of this shoe, it makes it painfully obvious the level of value that it will work to provide on a consistent basis; not to mention that, above all else, they are one stylish pair of sneakers making them the best value in our guide.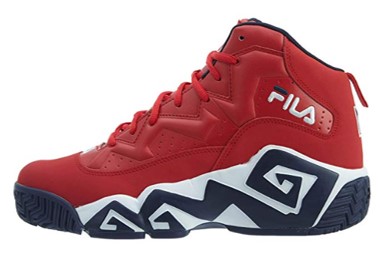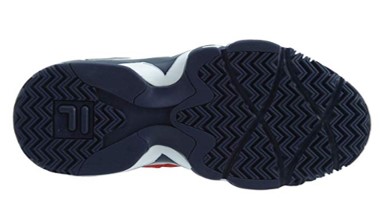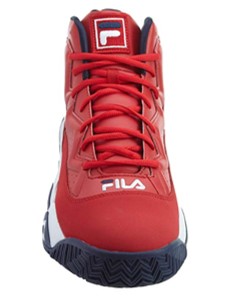 Throwback to a classic style of kicks with the Fila MB Leather Retro! This hi-top pair of sneakers not only offers the functional support of a hi-top but graphic retro styling and colors, making it a fashionable pair of footwear. Choose from red uppers, black, or a combination of both for a look that is sure to get noticed. Quality insole helps support each and every step, while perforated leather uppers help give this pair ventilation for hot bouts on the court.
At the base of the MB Retro lies a grippy rubber sole, with herringbone pattern traction, as well as forefoot traction for lateral movements. No matter if you're on the court, or on the street, this pair will perform to meet your court standards, or act as a great pair for casual outings. The supportive insole helps arches feel comfortable, and the outsole wraps around the toe for the occasional scuffing. The longer lace-up vamp helps support ankle stability, as well as create a great look!
What we love most about this Fila shoe is its style and coloring. Choose from a combination of red, white and black, or go monochrome with a full blackout upper. With the leather uppers making this pair quite durable, you'll have them for the long haul, and perforations help ventilate the inside of the shoe with airflow for heated bouts or warmer days of wear. Graphic pattern boosts the aesthetic appeal, and a padded tongue and collar add to further comfort. It's one pair you won't want to miss out on owning!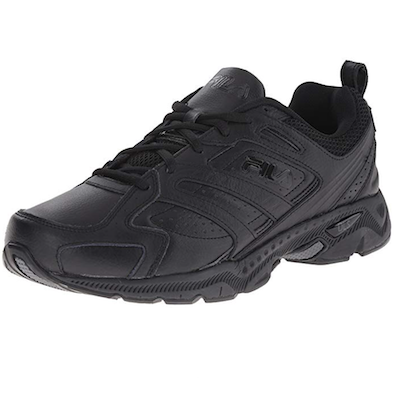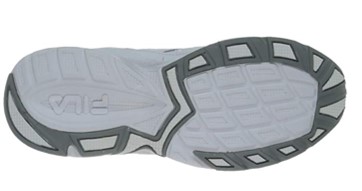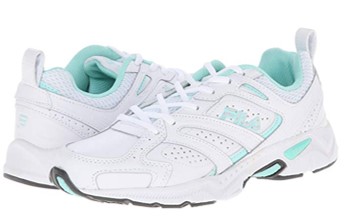 Designed for running, this is a supportive model with plenty of stability features for those looking for a reliable running shoe. The Capture is a quality model, ideal for daily training, and an overall good investment for anyone who prefers a supportive leather upper and simple, toned-down design.
The DLS foam in the midsole of the Capture really does a great job of conforming to the contours of the foot and providing the wearer what they'd need in terms of support. Also, the fact that Fila provided a higher than normal stack height for this model also works to keep this neutral running shoe providing support for the entirety of one's run.
Another great feature of this shoe is that it continually provides the wearer with what they'd need in terms of durability. The upper is designed from an incredibly dense leather that won't give out as easily as mesh materials. The Capture sells for a price that really does make it's purchase well-worth it; considering the fact that the shoe will have a hard time coming apart and is extremely comfortable, it just doesn't make much sense to not add this shoe to your arsenal.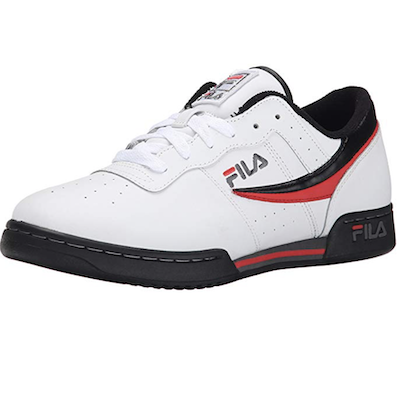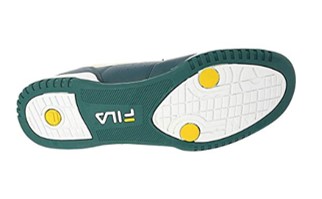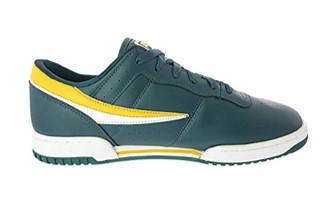 The Original Fitness is a classic model that's both stylish and functional as an athletic shoe. This versatile model can be used as a running shoe, it is appropriate for gym workouts, and can even double as an everyday sneaker for casual occasions.
From the cushioning, all the way to the flexibility that it provides, this sneaker really gives the wearer what they'll need in all sporty aspects. Not to mention the fact that the sole unit provides excellent grip on a multitude of surfaces
From the slick leather material of the upper, all the way to the contrasting colors of both the sole unit and the logo, this shoe has a look that simply doesn't go out of style. Although originally designed 20 years ago, this is a model that is still very much current, and a great choice for anyone. Additionally, it comes at an affordable price, making it an overall good investment.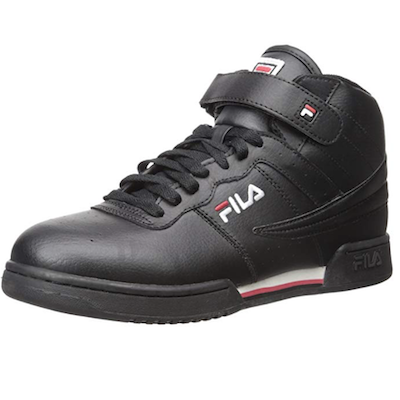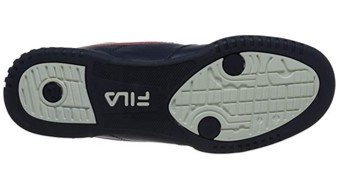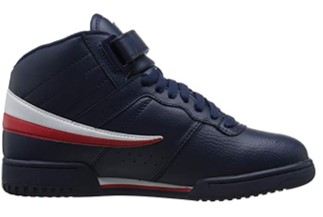 The F-13 is a boot designed by Fila that goes beyond the norm when it comes to either class or style. This boot has all that anyone would need in terms of durability for those strenuous excursions through trails while also being flexible enough to be worn casually for those who simply need something to wear for an outing.
The great thing about these boots is that they have that classic Fila look despite being designed for heavy-duty use. Even though they were designed for use during hiking activities, their classic look allows them to wear casually and makes it so that they can be paired with various types of clothing with ease.
The F-13's have a solid rubber outsole unit that protects them from damage when being used on a trail. On top of this, the hide that's fitted to these keeps them from being ripped apart by stray branches or a misstep that may occur while the shoes are in use. The lacing is designed to stay in place, plus, they won't fray easily. The best thing about these shoes is that they sell for a price that is quite affordable, making them a good investment for outdoor enthusiasts.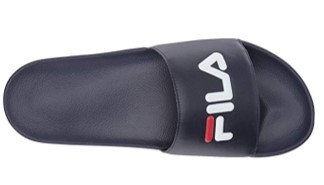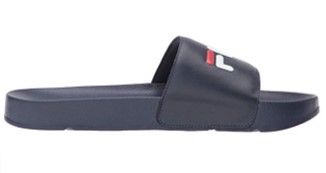 Whether you're looking for a summer sandal or something comfortable to wear on recovery days, the Drifter slide is an excellent option. This classic pair of footwear comes in a variety of color options, from classic whites, blacks, and blues, to bold options such as pink, coral, yellow and green. It can be used both as an indoor, as well as an outdoor shoe, and is an overall good investment.
The Drifter uses a combination of two materials. Underfoot, you will get the cushioning and support of the EVA footbed. The foam is soft enough not to cause any fit issues and offers a great fit from the first wear. A raised toe bar at the front allows the toes to grip while walking, preventing foot fatigue which is common with completely flat sandal styles.
As for the band over the top of the foot, it's a padded piece of synthetic, with microfiber lining that doesn't irritate or cause rubbing. Although the padding makes this sandal unsuitable for war near water, the outsole still features a prominent traction pattern that will work well on most surfaces. As for cost association, this is one of the cheapest items featured on this list and is a great choice for most users looking for lightweight, breathable footwear.

Subscribe to our Newsletter