Best Sandals for Bunions Reviewed & Rated
In a
Hurry? Editors choice: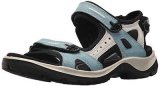 Test Winner: ECCO Yucatan

Bunions are a deformity of the big toe joint that affects about one-fifth of the world's adult population. They have causes that can both be hereditary or related to injury and will usually become gradually worse unless steps to prevent them are taken. Our list of top ten sandals for
bunions include shoes
which have been chosen specifically because of the fact that they provide you with a quality, roomy fit that will prevent symptoms or will help regulate the pain you may already be experiencing. So, here are 10 best bunion corrector sandals reviews on the market in 2020.
Standout Picks
Criteria Used for Evaluation
Size
While many people believe they form because of low quality or ill-fitting shoes, it is also important to note that this is a condition that is hereditary. If you have a predisposition to developing it, then you need to take special care to save your feet as much as possible. With one-fifth of the world's population suffering from the deformation and pain related to bunions. 
It is very surprising how difficult it can be to find the right pair of shoes that will alleviate the pain you are constantly feeling. Sandals can prove to be even more difficult to choose, as they often include straps that cut into the big toe joint and cause irritation, redness, and pain. They may do a poor job of covering the affected area, which is an aesthetic issue for many people. When compiling our list we made sure to choose footwear that would prove to be beneficial, and that would avoid adding any discomfort to the wearer.
It is best to go through all the models on this list of bunion sandals, in order to find a pair that would match your needs,  as not everyone has the same type of foot or level of pain. Here are the most important aspects of sandals that you need to look for if you want to find a quality pair of sandals that will be suitable for your feet if you have bunions.
A spacious toe box that provides you with the adequate width is crucial if you are looking for shoes that are good for bunions. One of the worst things you can do to your feet, regardless of the fact whether you suffer from any condition or not, is to put them in constricting shoes. Shoes that are too narrow,  pointy, or that distribute your weight unevenly, are sure to cause added pain and pressure. Instead, always choose comfort and quality, even if aesthetics may not be up to your standard.
Shoes that have a wide toe box allow for the front of your feet to be in their natural position and for your toes to spread out evenly. Your metatarsal area should be unconstrained and weight distributed on the whole foot equally. Some manufacturers allow you to get these benefits by creating shoes in various widths, ranging from narrow to extra-wide. Others disregard this need completely. If you know that you have wide feet, always look for plenty of width in your shoes. If a wide version of your desired style is unavailable, you can choose to go ½ or a full size up which will provide some additional space. This may not always be the best solution. Most shoes with any type of support were made with predetermined points at which the support is supposed to hit your feet.
With sandals, you will generally do better with sporty and casual styles as these take comfort into consideration without focusing too much on aesthetics. However, if you require something a bit more dressy, then it is crucial to look closely at the footwear of your choice in order to make sure they will suit you. It is always a good idea when ordering shoes online to try them on and wear them around the house for a bit, making sure that the fit is right. This way, you can return them should the need arise.
Bunions need shoes with a spacious and roomy toe box.
You might have to disregard aesthetics for comfort.
Stay away from constricting shoes (too narrow, pointy, uneven weight distribution).
Sometimes, you have to order a 1/2 size or one size up.
Sporty and casual styles are the best choices.
Midsole
As with all other forms of foot pain, you need to make sure that the sandals you opt for are successful in helping you get through the day. Regardless of the number of steps, you will need to take throughout the day., a good pair of sandals will provide cushioning, both underfoot as well as in the upper so that you have soft landings and materials that are gentle hugging the top of your foot.
You can choose footwear that offers forefoot cushioning, which will help reduce pain, inflammation, and swelling of the toe joints. In addition, it will help recover the metatarsal area from the hard landings you may have been taking in your other shoes or while exercising. Some companies will make their sandals with foam insoles or gel-like cushions that give you a better feeling when walking.  If possible, choose these features as they can make quite a difference in your wearing experience.
Excellent Shock Absorbing Materials
EVA Foam
Rubber
Blown Rubber
Cork
Something else you need to make sure of is that your sandals have protective soles. Flimsy, flat footwear may be lightweight, but it does little in protecting you from the shock you put on all parts of your feet, ankles, knees, hips, and back with every step. Ideally, you will choose a pair of sandals with a shock-absorbing sole as this will allow you to step more lightly and to prevent any unnecessary damage to your joints. 
Choose cushioning in the underfoot and deep heel cups.
Forefoot cushioning will reduce pain, inflammation, and swelling.
Foam insoles or gel insoles are the best.
Protective soles make better shock absorbents.
Support
While you may feel like your bunion related pain is best managed by footwear that is wide and doesn't rub on your joints, it is also important to note that there are other methods of preventing it from happening. One of these is the correct anatomical support that allows your feet, ankles, knees, and hips to be aligned in the correct manner.
Most people with flat feet have the tendency to overpronate, which means that they stand and walk on the inner part of their foot. This puts unnecessary pressure on the big toe joint, causing you to constantly put stress on your already painful bunions. This aids in irritation, pain, and inflammation. Footwear that is designed anatomically, with plenty of arch support and a deep heel cup that helps stabilize your steps. It can help alleviate the pressure and pain by stopping you from putting all of your weight on the inside of your foot. By lifting your arches, shoes like these help distribute weight evenly over the entire foot, preventing unnecessary pain and discomfort.
Other anatomical features you may want to look for in your next pair of sandals are a deep heel cup which helps stabilize the heel and prevents it from rolling inwards and outwards. This helps normalize your gate. Toe ridges that won't allow you to scrunch and splay your toes while walking can increase pain. Anatomical support can help achieve perfect weight distribution and evening out the stress on all parts of the foot.
Anatomically designed shoes will stabilize your feet and alleviate the pressure and pain.
Focus on arch support and deep heel cups.
Upper
If you already have a pair of shoes that you love wearing despite having bunions, we can bet that these have a soft, stretchy upper. But what about sandals? Sandals are footwear that is made for summer use, often near water, and makers will be tempted to make do with rubber and plastic that can often be rigid and unable to stretch to accommodate the enlarged big toe joint. This can put too much pressure on it, and make your experience even more pain than necessary.
When choosing sandals, it is very important to opt for something that has an upper that will work specifically for you. Some people like leather. It is a natural, breathable material that will easily stretch and mold to the foot's shape. Others, however, prefer synthetics that may also be soft, but that also works well with water and sweat. In addition, they are easy to care for.  Whichever of the two you choose, you will first need to make sure they fit correctly, as a pair of shoes that hurts your feet is not very likely to stretch enough so as to accommodate your exact needs.
A lot of the sandals on our list feature multiple points of closure. This allows you to adjust the shoe just the way you need it. Forefoot closures are especially important if you have bunions. Even the smallest amount of additional space in the metatarsal area can make a difference between a nightmare and a pair of sandals that you can comfortably wear for hours on end.
Choose leather for a natural, breathable mold and stretch.
Synthetics work great with sweat and water and are soft.
Multiple points of closure give adjustable functions, especially in the forefoot.
Style
A lot of the options listed above are more geared towards casual or athletic use, which is a common problem for anyone suffering from foot problems. Because this type of sandals allows for a higher level of adjustability, it's generally more suitable for wear by individuals with bunion issues, but you may find that you need something more versatile to wear on dressy or professional occasions.
If that's the case, our best piece of advice would be to pay close attention to the width of the footwear you're choosing, as well as to try and go with a style that will accommodate your bunions. You can opt for a softer leather upper that'll mold to the feet, or even go with a canvas that's more comfortable in touch with sensitive and inflamed skin.
If you have the possibility, you may also want to use a comfortable pair of shoes on your commute, then change into more appropriate footwear once you're at the office/the event you're attending. Another good piece of advice we can give is to plan your day and footwear according to your activities. This way, you won't be stuck walking all over town in painful, unsupportive shoes with nothing to change into.
Top 10 Sandals for Bunions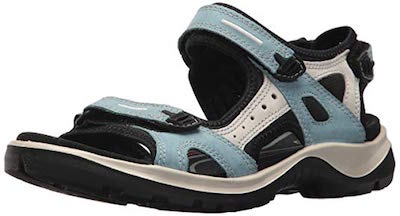 You'd be surprised that this pair of athletic summer footwear is actually quite beneficial for anyone suffering from pain in the metatarsal area. ECCO is a company that makes great looking, functional, highly shock-absorbing shoes with a wide variety of uses. The Yucatan is available in a large number of designs and will do just as good for everyday wear as it will for your next hiking or camping trip.
The Yucatan is a really easy sandal to fit, thanks to the three-point closure that allows you to adjust the straps over the toes, over the instep, as well as at the back of the heel. The entire upper is made with nubuck, while the lining is soft neoprene that dries easily.
Made with EVA foam and lined with breathable microfibre, the footbed of the Yucatan is made so as to hug the arch and support it through all your motions. A PU midsole ensures great shock absorption, great for long hours of wear, and plenty of walking.



Teva specializes in making styles for the outdoors, and no other sandal epitomizes this fact than the Tirra. These are eye-catching, coming in 24 different color styles. The soles are made from synthetic material that is very comfortable, and the insoles have their signature zinc-based anti-microbial technology that prevents stink from happening. These are the best buy for a person constantly on the move.
Teva went all out in making the soles for the Tirra. Most other manufacturers would make designs that do have comfortable soles, but what happens is that your feet sweat and are absorbed by the cushioning material on the insole, which stays and often causes a stink that is hard to get out. This is not the case with the Tirra, however, which has a zinc-based anti-microbial technology in the sole that prevents the accumulation of odor-causing bacteria. They also infused the heels of the insole with nylon which protects from shock. The rest of the insole is made from compression-molded EVA for max comfort.
They also have multiple straps to anchor your feet to make sure your feet aren't slipping out of them on your walks. No part is made of leather, so they are 100% vegan. The textile that makes the straps are not coarse, and they also latch onto each other easily for easy slipping on and off.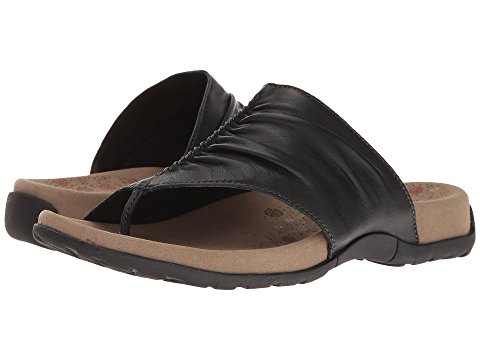 Taos makes shoes that are not only comfortable but also look good, meaning that you are not made to choose between comfort and style. The upper is made out of the softest available leather lined with breathable leather that will have you feeling comfortable even when you wear these sandals all day. The footbed is made out of microfiber treated with SILVADUR Antimicrobial Shield that will prevent the development of odors, staining, and footbed deterioration.
These sandals by Taos feature both arch and metatarsal support that are exactly what you need if you suffer from bunions. The arch-supporting area will lift your arches, allowing you to walk more comfortably, while your metatarsal area and ball of the foot will experience less pain even after hours spent on your feet.
These sandals by Taos have been made so that you will want to wear them all day long. They have an easy slip-on design that won't have you bothered with buckles and adjustments. While the inner of the shoe features Taos' amazing Cool Recovery Foam that cushions every single step you take.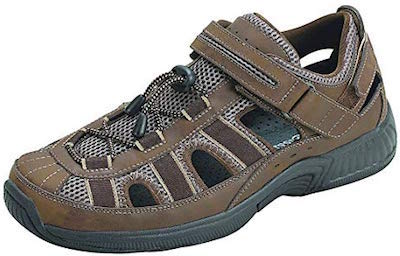 Orthofeet is a brand that's absolutely focused on providing wearers with footwear with proven health benefits. Their styles are suitable for a number of ailments, including bunions, hammer toe, Metatarsalgia, Morton's neuroma, arch pain, as well as diabetic feet. The Clearwater is a pair of footwear that'll do great in hot conditions when you want to have maximum comfort and protection, but plenty of breathability as well.
The Clearwater features two points of closure, both located on the top of the instep. The first is a quick lace system that gives you the right amount of support over the top of the foot, while the second is an adjustable hook and loop strap that will ensure a more secure fit, no matter the activities you're partaking in. A surprising bonus is an additional strap at the back of the heel that also features a hook and loop closure and can be quite handy for anyone between sizes.
The entire Clearwater shoe has been made with support and cushioning in mind. You'll greatly benefit from the Easy Gait Ortho-Cushion shock absorption system that disperses force generated from walking, while the seam-free interior promises not to cause irritation to sensitive feet.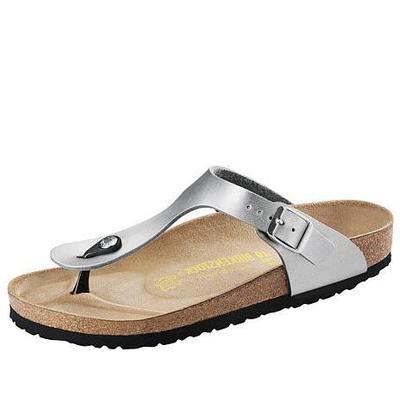 Stylish but supportive, classic but modern bunion sandals. The lightweight outsole is constructed with EVA for soft cushioning and shock absorption with a footbed that molds to your feet. The heel cup runs deep and the toe box is quite roomy giving your bunions pronounced relief and healing. The Gizeh is a long-time minimalist favorite.
Recognizable by its untreated surface, the purposely untreated leather provides a sturdiness in the upper material. This gives long-lasting durability and less wear and tear during continued usage.
Super lightweight with a high-quality elasticity, this outsole provides extreme cushioning. You'll have a smooth, even walk with a soft step.




The Vionic Tide II makes use of the brand's best technologies, including the famous Orthaheel that's received the American Podiatric Medical Association seal of acceptance. This sandal is a Vionic all-time favorite, one that customers keep returning to over and over again. It features Orthaheel technology built into the footbed, a flexible toe post and foam-lined strap for comfortable wear, a lightweight EVA midsole, and a durable TPR outsole. The upper is made out of leather with cushioned neoprene as a liner. When it comes to summer footwear, it truly doesn't get any better or more comfortable than the Vionic Tide II.
Vionic funded a clinical study that included patients suffering from mild, non-traumatic heel pain. They were given the Vionic Tide II to wear for 12 weeks and reported significant improvement and a decrease in the intensity of their pain.
These sandals feature an EVA midsole as well as an Orthaheel footbed that is the perfect mix between firm support and soft cushion. It will mold to your feet, and hug your arches and heel, in order to promote a correct alignment that won't have you putting too much pressure on the inner part of your metatarsal area. In addition, you won't put too much stress on your knees and hips.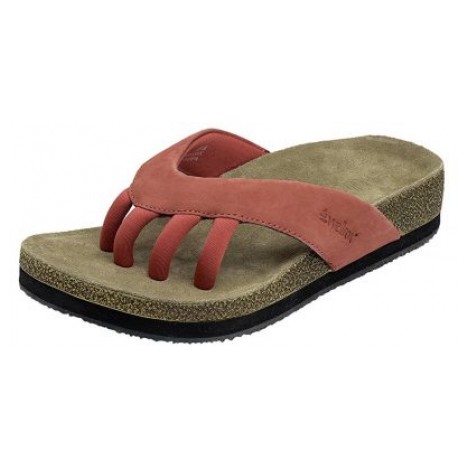 These comfortable slide in sandals by Wellrox are an amazing product that we truly love, and so will you, especially if you suffer from bunions. With a design that promotes correct toe placement and proper weight distribution throughout the foot, you are bound to feel the benefits of wearing these shoes on hot summer days, whether you prefer to wear them inside or outside. These sandals have an EVA and cork midsole and footbed. This means that in addition to proper toe placement, you will also be able to enjoy a superior cushioning and shock absorbing shoe that you can wear with ease and confidence.
These sandals are different from anything else you will find on the market as they are made to separate your toes. In addition, they allow them to assume their natural position. This ensures proper alignment, added grip, balance, and support. It also prevents you from putting excess weight on your big toe joint while walking, meaning that your bunions will have the chance to heal and get better when wearing these.
The footbed of these sandals is made so as to offer plenty of arch support and to cup your heel for better foot placement when walking. The midsole is made so as to absorb shock, while the footbed is cushioned so that you can wear these all day long. These shoes even carry the American Podiatric Medical Association, APMA, Seal of Approval because of their promotion of foot health.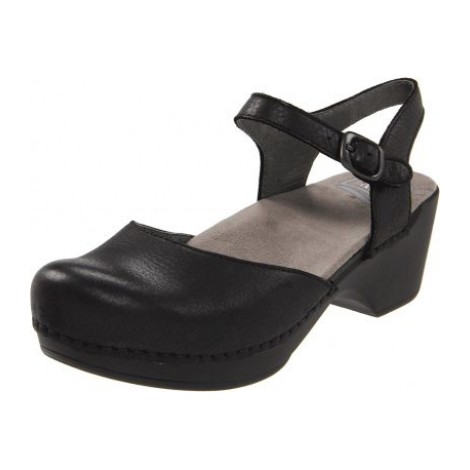 If it is unparalleled comfort you need, then Dansko is a great company to look into. These Mary Jane style shoes are a great choice not only if you have bunions, but also if you suffer from plantar fasciitis, flat feet, or heel spurs. Dansko shoes are appreciated by medical staff and servers because they are comfortable, shock-absorbing, and easy to walk in. This means that you will feel good even after having spent a double shift on your feet wearing these sandals.
The best part of these sandals is the leather upper that is much softer than most other shoes. What this provides you with is not just comfort, but also the assurance that these will mold to your feet without putting too much pressure on any painful point.
As all Dansko shoes, these sandals also include the excellent arch support that other footwear by this brand is known for. The midsole is made out of shock absorbing foam that will allow you to walk long distances. The outsole is a non-slip rubber appropriate for all surfaces. The beveled heel adds stability, making sure that each of your steps is safe and comfortable.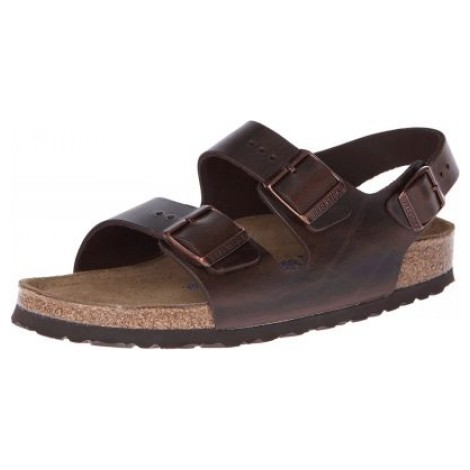 This is another pair of Birkenstock sandals that can be worn both by men and women. As the minimalist unisex style is an excellent addition to any wardrobe. These shoes will provide you with all the amazing features we love in Birkenstocks. Our favorite part is that they include a back strap that offers you a more secure fit than regular slippers or flip-flops. Made out of natural materials, these sandals are long-lasting and can be worn for years. They can even be repaired or resoled should the need occur.
The best thing you can get that will top a Birkenstock cork footbed is a Birkenstock Soft Footbed. In addition to the comfortable shock-absorbing anatomical arch support, they included a layer of super-soft foam that will contour to your foot to provide you with the best possible walking experience you can get.
A favorite feature of these sandals is the fact that they give you the possibility of adjusting the fit along with all straps, including the metatarsal, arch, and heel area. This provides you with a customized and secure fit that will additionally mold to your feet. You can wear these shoes comfortably for years on end. Furthermore, a secure fit will ensure that no part of your feet suffers too much strain from trying to keep your shoes on. This happens quite often with flip-flops or similar sandals.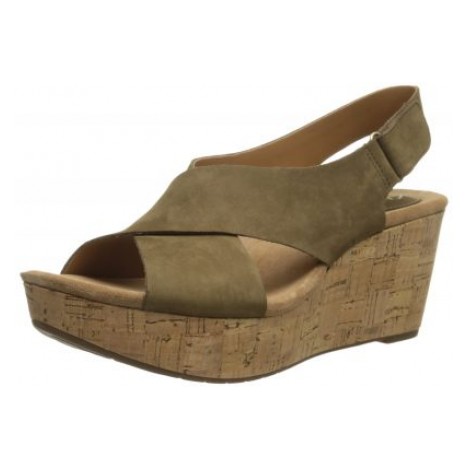 High heels are not recommended if you suffer from bunions and related pain. However, these wedge sandals by Clarks will give you the benefits of a comfort-oriented shoe. They will allow you some elevation and elegance that can be matched with a huge variety of outfits. They are comfortable enough to be worn all day, and you will even be able to log some miles in them. The leather upper comes in a wide variety of colors, while the cork sole gives them a unique, earthy look.
The footbed on these shoes is the same that is used in leading sports brand sneakers such as Nike, Adidas, Timberland, and New Balance. The footbed itself allows for excellent cushioning that won't flatten over time, while also providing you with breathability and moisture management. This makes these sandals perfect for summer use.
One of the reasons these shoes will work with your feet if you have bunions, in addition to the excellent footbed, is the leather upper that will stretch and mold to your foot shape. They will still hide the big toe joint that may be giving you insecurities. You can get these sandals in medium or wide width, depending on your foot type and the severity of your bunion condition. You can rest assured that they won't put any unnecessary pressure on your feet.

Subscribe to our Newsletter