Best BareTraps Sandals Reviewed & Rated
In a
Hurry? Editors choice: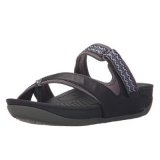 Test Winner: Denni

Dancing on the boardwalk under the
summer sun
can be invigorating and really freeing. The drinks are flowing, that attractive person just gave you a once over and you feel confident. After working hard to provide for ourselves and those we love these moments are the stuff life is made of!
Having to stand to the side or worse trip with ankles rolling can be really embarrassing. Nobody wants to wear a sandal that constricts movement or even worse cuts into feet. These can leave behind unwanted blisters. Ouch! One of the greatest mysteries in shoewear is creating a shoe that balances style with comfort. Every
fashion-forward
person deserves the best of both worlds. BareTraps sandals perform fabulously in this arena. Leisurely activities can be enjoyed to their fullest potential with shoewear that is supportive, cushioned, and stylish.
Standout Picks
Criteria Used for Evaluation
Brand
This brand has held onto a tradition of creating modern attire that they say is, "Just too comfortable to take off." The approach to footwear is very customer centered. They value creating footwear that they themselves would want to wear. Valuing superior craftsmanship and high-quality materials. This all comes together to create foot attire that upholds their deeply valued ethic of personal service.
The lead designer, Fabio Lucca is a success story. He conquered personal adversity and became an American Citizen very recently, around 2017. He was working for a Brazilian based shoe company in the early 90's when he discovered BareTraps. He then pursued his unrelenting passion for designing shoewear. His resilience has lead him to become the lead designer at Baretraps. His expertise and on-trend approach has afforded him the ability to create styles people want to wear that are too luxurious to take off.
Breathability
Taking shoes off only to see faces grimace and people leave the room is enough to shatter even the most poised individuals. Even on open-air attire once the bottom of the foot leaves the shoe things can get kinda smelly. Another thing to consider is if footgear is constantly getting wet or happens to find its way into a wet situation this can cause shoes to smell. If this is an issue there are a few things to look for to help control foot odor and keep feet feeling comfortable.
Not all but many BareTraps actually have the footbed sprayed with an antimicrobial agent. This greatly reduces any possible smells that can be produced over time. This chemical can, however, irritate very sensitive feet causing an itchy sensation. There is another option if feet happen to be sensitive. Choosing foot-attire that has the area that is in contact with the foot wrapped in cork is naturally antimicrobial for freshness. A positive aspect is that cork is naturally occurring and will not irritate feet. Another option is to pick a shoe that offers a footbed that does not have cloth. This will make cleaning very easy lessening the chance of any offensive odors forming.
Support
Just as people come in all shapes and sizes so do feet. There are a number of issues to consider when choosing an item that will offer the necessary comfort. Many of these items offer very supple cushioning which is great for most. There are those out there who may need a more structured shoe. This is where this brand becomes very exciting. Their products offer stability and comfort wrapped in trendy designs. There are a few considerations to give thought to when picking the perfect shoe.
Arch Support – Those with high arches or even regular arches want a "contoured footbed". This technical jargon just means that the part of the shoe that the foot comes into contact with is simply molded to the natural shape of most feet. Those with flat arches can benefit from some support but if an item was created for high arches specifically they can become very painful.
Wide Toe Area – Rounded toe areas tend to be more accommodating to the natural structure of most feet. Even a lovely almond shape will hit toes in a more natural way. Square or pointed toe areas will have to accommodate toes with extra room that may not look very proportionate.
Flexibility – This company has consistently managed to offer some amount of flexibility with each shoe. The rubber bottoms offer a lot of structure which can be painful for some. These rubber bottoms will tend to offer flex at the ball of the foot. This allows the wearer to walk very naturally.
Style
While style is often a matter of personal taste, we've checked thousands of online reviews to see what people are saying about each of the products on our list. Some things, such as sleek design, seamless construction and overall weight and shape of the shoe, were common likes or dislikes among buyers of each product.
To evaluate style, we considered everything from the design, color, shape, weight, lines and overall construction of the shoe in question. While no one wants to wear an uncomfortable shoe, they also don't want a comfortable shoe to be ugly on the eyes. We've selected all of those on our top 10 to be not only stylish, but also comfortable, true-to-size, supportive and durable.
The higher the score on the "style" metric, the more fashionable we and the community of buyers we surveyed deemed the product to be.
Midsole
The midsole is designed to provide cushioning and shock absorption to the shoe, nestling the foot in comfort. Whereas running shoes tend to have thick midsoles, flats and thinner shoes not designed for high-impact activities often have thinner midsoles.
The reason for this is simple: you need more shock absorption and vibration dampening during high-intensity movements or activities to maintain comfort and prevent foot injury than you otherwise would with a regular shoe, flat or sandal. Midsoles are often made from EVA (ethyl vinyl acetate), a synthetic plastic also used to make insertable orthotics. A firmer type of EVA for the midsole will make the shoe heavier, but more durable; whereas a softer type of EVA, like those found in running shoes, improve shock absorption, but wear much quicker.
Podiatrists tend to prefer firmer midsoles for those suffering with orthopedic conditions, such as plantar fasciitis. A higher score on the "midsole" criteria means that the midsole is of a firmer nature. Whether or not this is beneficial for you depends on your foot type and orthopedic issues!
Top 10 Picks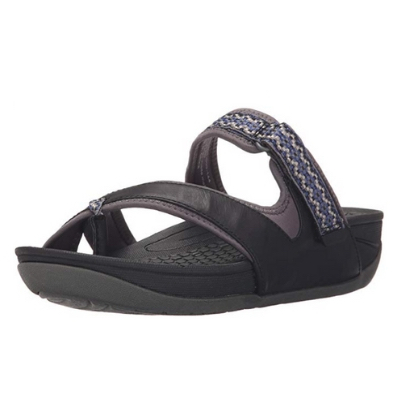 Brighten up your day with a beautiful fun warm weather wear. These are the epitome of comfort and adorable colors for casual wear. They feature an adjustable strap near the top of the foot near the ankle and over the top of the foot. These still allow the foot to slide back for sliding on and off with ease. The detailing on the straps feature beautifully woven patterns for a casual boho look. These are great for daily walks and balance the foot keeping it in a neutral position.
Joint Support
When walking around all day in an uncomfortable shoe, the knees and hips can have a lot of pain. One reason for this may be because some shoes are not made to support the natural curve of the foot. These, however, are anatomically structured to be supportive for the natural alignment of the foot alleviating joint pain. Another feature many people are not aware of is the shock that the foundation of their body takes on with every footstep. Walking on hard surfaces with unsupportive hard shoes cause a lot of wear and tear on the joints over time. Items like the Dennie Slide will actually absorb and return this shock for an enjoyable walking experience that is proactive for joint protection.
Functional Construction
This is not only good looking footwear but it also has a super-power. These are very functional for everyday use. Tropical environments can be unpredictable. A shower can pop-up at any time or galavanting through sprinklers unexpectedly on a dare, can cause possible slipping. It's better to think ahead and have footgear that will be ready for anything. These are fitted with slip-resistant bottoms so treading freely is certainly an option. When wetness occurs odors can form. Thankfully, this shoe design incorporates an antimicrobial shield, where the foot bottom contacts the shoe, to keep those offensive odors at bay.
Cost and Value
These are exceptional because of the thoughtful, yet adorable design. These are fairly priced, making them a guilt-free purchase. These eliminate any doubts because they are designed in such a way that shoes can be long-lasting and appealing for everyday wear. The cushioning is made to mold to the foot and keep feet comfortable all day. The arch support helps to keep posture aligned for simple walking.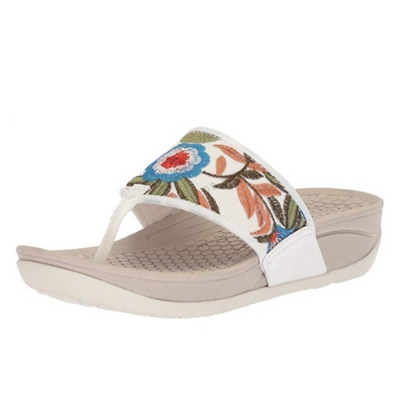 Vacationing can mean walking for hours in the sun and sweating all day. If footwear is uncomfortable, too tight, and too moist, it could cause blisters. This is why it's imperative to be mindful when choosing items that will be used for action-packed events. It may be better to choose something that molds to feel and allows the flow of air. The Dasie was created as an easy to slip on thong sandal. These are easy to wash, keep feet fresh, and layered for comfort long-term.
Comfort Layering
Choosing all-day warm weather attire for comfort and stylish design can be stressful. Purchasing the wrong shoe can mean being stuck with an item that doesn't deliver on promises for day-long serenity. The layering is topped with an anti-microbial spray for freshness even when coming across wet environments. This shoe is designed with contouring to support arches. This structure will allow a neutral positioning for optimal walking. The EVA foam on contact supports the foot and molds to feet for optimal plushness. These also are made for bounce and returns the energy given to them.
Barely There Feel
Warm weather footwear can be alleviating when designed with precision. When walking the beach or hitting the streets for lunch a shoe that is designed to feel light will make the experience even more enjoyable. The materials used in the designed of this attire were thoughtfully chosen. The support and bounce this item is fitted with makes wearing them an easy go to. The materials are lighter than other options and this keeps feet from feeling fatigued. They're so wonderful it may be tempting to wear them even before bedtime because they are so luxurious.
Cost and Value
If feeling stressed before making a proper purchase choosing an item based on personal need will make the decision easier to digest. This unique product is priced in a very affordable range with a number of colors and patterns available. These will fit almost any personal style to bring an element of suppleness that is alleviating. If feet become easily tired this design will stave off fatigue because of the feather-like feel. When knees and backs become sore or tired due to misalignment this item will keep feet in a neutral position with natural foot-flex. This provides some support for posture. The feet are the foundation for life, this is why caring for them properly is so important.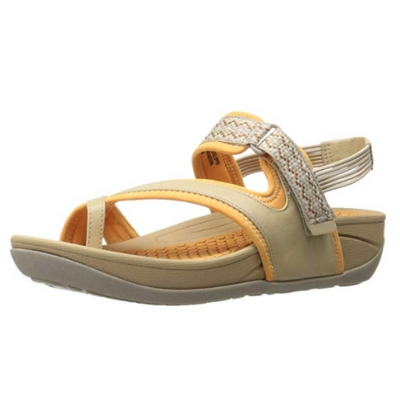 Platform footgear is known for being very supportive during long days. They are the epitome of fashionable likeability and structure for tired soles. The Danique lives up to the hype and performs very well in terms of security and sturdiness. This item has elastic bands behind the ankle that are firm. They also feature a strap over the toes and a little higher on the foot that wraps the foot for unyielding sturdiness. The secure top strap offers adjustability with a hook and loop closure for ease.
Security
Products that flop around and don't stay in place can be very aggravating. Having to stop walking every ten minutes and re-adjust straps or stop footwear from falling off can put a damper on busy days. This is when strap placement needs to firm without feeling oppressive. The hook and loop strap on this cool-wear can be easily adjusted. The elastic banding around the ankle does not feel tight but will feel firm and stay in place allowing some give for different sized Achilles areas. The mid-foot over the toe strap is diagonally placed with a loop for the big toe. This provides extra firmness, although, this feature doesn't give, these won't stretch over-time rendering this foot-gear useless.
Thick Bottoms
Short-term, thin bottoms are okay to wear but without any firm foundation under arches, they can cause pain in the bottom of the foot. This is why thicker bottoms are the way to go when longevity is a necessity. Those with high arches will be appreciative of the thoughtfulness associated with the construction of this item. These will protect the foot from uneven surfaces and sharp objects that can easily be found in a variety of environments. The traction is impressive and protects from slipping. These will keep feet steady no matter where adventures could be unfolding.
Cost and Value
These are so adorable that they tend to draw in many compliments. This is warm weather wear that won't fold under pressure. These are affordable for most and should cost more for the value of the architecture. The back on the ankle is supported with a fabric that is giving and soft on ankles. This will reduce the chance of rubbing and chaffing. When the foot is in contact with this shoe they will feel enveloped with an uncommonly supple layer of cushioning that gives and offers structure in the right places.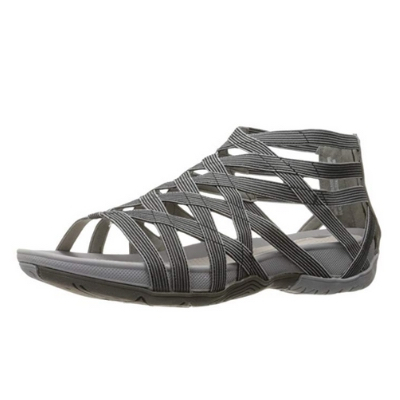 Casual wear does not have to lack in style or suppleness. Gone are the days of choosing between a fashionable look and convenience. Off days can be unpredictable and when events can go from outdoors to indoors quickly these make an easy transition. This gladiator features an easy zip-up behind the ankle closure. The foot is covered with supportive straps for a unique firm feel. These have such a unique style that will make an outfit stand out creating a pulled together vestige.
Stable Straps
Gladiators typically have a sexy rugged appeal. The straps that criss-cross across the foot serve to make this item one that draws the attention of eyes. If these straps are not fitted with some stretch then they will not fit feet of varying thickness or be flexible during walking. The straps on this footwear are fitted to give and in key areas are reinforced. These will not slip off mid-stride of shift often. They offer alleviation that is created for endurance. These are structured in a supportive fashion-forward way.
Easy On/Off
Some fashionable footwear will have very confusing straps and just look sloppy because of odd looking appendages. These were designed with the straps firmly attached to the bottom of the shoe. This takes the guesswork out of criss-crossed patterns and odd loopings. The closure of this shoe is interesting because it's so easy! These have a zip-up feature behind the heel that is easy and stays in place. The zipper is attached to a faux leather material that covers the back of the ankle and heel for comfort and protection against chafing.
Cost and Value
These have some very beautiful colors available that are easy to match with a variety of outfits. The pricing is mid-range and fair. The comfort, these offer feet is consistently raved about. The secure straps keep the foot in place without slipping or shifting. The footbed is cushioned and offers stability under arches yet flexibility for a natural foot motion. These are a great buy for anyone looking to purchase a unique item with alleviating construction.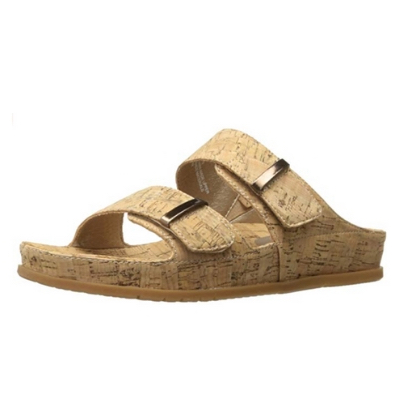 These are designed for the laid back person that is just too fabulous to be bothered with fussy footwear. The footbed has a really appealing cork look and the double straps can be adjusted to the perfect size. These do not have a back so they are easy to slide in and out of. The best part is that these offer easy on/off yet offer security as well. These have a low platform to make this item easy on ankles and heels. This is the perfect item for those that want carefree yet fashionable items.
Adjustable Fit
Those that have a no-fuss approach to fashion will find this item to be very appealing. They are assembled with a number of features that are appealing for ease. The hook and loop double straps are thick, fitting comfortably across the foot. These straps are also easily adjustable. They can be modified easily just one time for the perfect fit. After this, they easily slide on and off making this a wonderful item for those who want to wear and go.
Wear and Go
These are so comfy it's easy to forget they are being worn. These have the ability to mold so well to the foot that the feel is very natural. The cork fitted bottoms are supportive and very cooling. This material is also very clean protecting against bacteria naturally. These allow the foot to slide in easily and still be firm to protect against slipping out. Although the straps can be adjusted to be secure this footgear is flexible enough to allow the foot to bend at the ball of the foot.
Cost and Value
This item offers ease in every aspect even with its pricing. The cost of these sandals is fair and affordable. These are durable and will last through a few years of warm seasons before wearing out and needing replacing. This item also does not need a lot of cleaning and stays fresh due to the cork-wrapped area under the foot. The molded look and memory foam heel offers a luxurious feel. The double straps offer adjustability and security. The backless sandal offers easy sliding in and out without fussiness.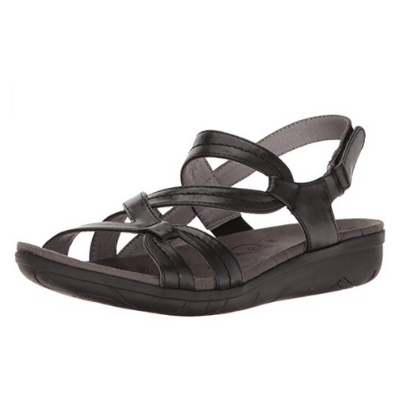 This product is created as a work of art. Even the footbed has elegant curvy vine detailing that blooms for a passionately crafted shoe. These are feminine and durable for a very versatile look. These offer an understated classic look for the busy socialite or modern girl out for brunch. The straps of this item loop in key areas locking to synthesize aspects of a fisherman's net for a creative aspect of micro boldness. The stitching on the straps is an aesthetically pleasing feature that adds extra strength to this already lovingly crafted item.
Elegant Structure
The structure of this item offers a very elegant look that fits securely. An ill-fitting shoe is useless to the individual regardless of its supportive structure. The straps are made from a man-made leather that does give a little for a customized feel over time. The toe area is rounded for roominess regardless of the length and width of toes. The padding is very soft and holds all day to give the wearer extra support. The straps throughout this warm weather attire are fully adjustable for a more customizable fit.
Flex and Reinforcement
Striking a balance between flexibility and stability is no easy task. When this balance is off it can result in a shoe that is fluffy but painful to walk in or feels hard and unforgiving. The designers at Baretraps have done a wonderful job of marrying these components. The bottom of is item is strong enough to give feet support in arches but flexible enough to allow the foot a natural motion. The cushioning under the foot actually molds to feet for a feathery feel this is made for optimal alleviation. It also keeps the foot from feeling tired after hours of walking.
Cost and Value
These are fitted in a comfortable price-range for those who need a sturdy product with extra support for comfort. The way these are passionately designed gives this shoe an understated avant-garde appeal. The clever way even mid straps are customizable constitutes an item that truly caters to the individual. These feature bottoms that protect against slipping on a variety of surfaces. These are made to pull together only the most important aspects of comfort and style.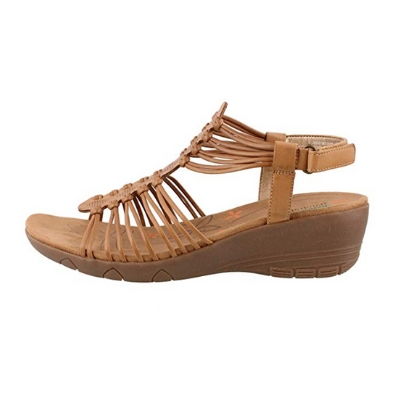 Sexy open toe shoes are the best thing to pair with leggings or skirts. Especially when plans are free flowing and effortless. Comfort-wear does not need to look or feel clunky on feet any longer. The modern shoe gives the shoe fanatic all they need to create classic outfits without the stress of worrying about pain while walking. Nothing is more elegant than the person who walks with unrelenting confidence, knowing their foundation is secure and firm. This mid-heel offers style and appealing suppleness for a stride everyone will be jealous of.
Relaxed Feel
Casual wear that can easily be dressed up is a phenomenal find. A shoe that can help you navigate busy days and long evenings without a second thought is a necessity. These live up to that standard and they do so with ease. The elastic bands around the foot are very sturdy but bend just enough to make movement effortless. The proliferated midline is a beautiful touch that assists in security. This mixed with the supple footbed create an outstanding product.
Soft Lining
There is no point in buying an item that is so hard the foot suffers blisters and pain. These have such a plush base that the will not only get the support of the molded bottoms but relief for long walks. The lining uses a soft material that feels absolutely lush. Although the wedge offers a two-inch boost they are rubber to provide sturdiness and bounce. These are reliable when purchasing an item that is unique and provides confidence with every step.
Cost and Value
These offer value in a variety of ways. The design is very modern and classy while still being comforting. They have a beautiful round toe for a little extra wiggle room and elastic straps for stretch. These design elements coming together for well-structured apparel that is not expensive. These are more than fairly priced for the person who wants it all, this product has it all and consistently over delivers.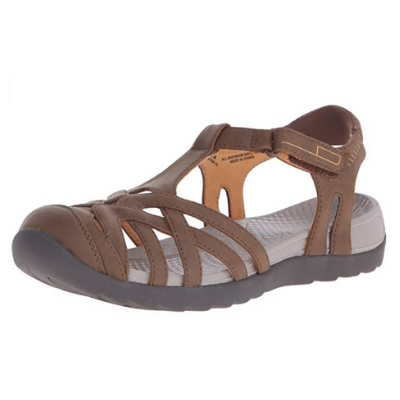 A little light trail walking on a day date begs for something outdoorsy but still in style. If that is the situation or some mundane errands need to be taken care of this item offers a very unique appeal. They are hiking inspired and marry fashion with unrelenting ruggedness. They are a favorite for those leading busy lives who don't want their love of all that is unique and fashionable to be pushed aside. These even offer very sturdy traction which is a welcomed addition for the adventurous.
Hiking Inspired Design
The great outdoors make for memories that will last a lifetime. When choosing strappy sandals; if they don't offer unrelenting alleviation those sweet memories can become obnoxious nightmares. This is why the closed toe was chosen to protect the toe from unseen branches and rocks. The criss-cross straps are not only eye-catching but offer a firm feel. The hook and loop velcro closure favors speed and holds this item in an anchored position. This makes it very easy to put these on and forget about them while discovering what mother nature has to offer.
Accommodating Structure
When creating attire that demands durability these are footgear that doesn't show wear quickly. These are easy on the eyes and on the feet. The footbed has plush cushioning that conforms to the feet for ease. The back of this area molds to the heel and keeps feet in place. The back of the ankle area is padded for comfort and doesn't move around. This makes all-day wearability easy and effortless. The bottom is made to stand up against rough terrain for stability that won't quit.
Cost and Value
The value of this item is apparent in the construction and adorable appeal. These aren't expensive and will fit easily into any budget. They offer a cute rugged look that will go with any apparel. This shoe is sturdy for light hiking and covers the toes for protection. The area that wraps around the ankle offers extra cushioning and the antimicrobial sprayed footbed keeps feet fresh. The hook and loop closure uses velcro for ease when putting on and taking off. This is a great shoe for the busy.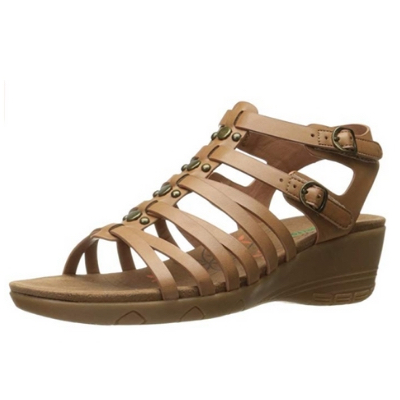 These were made for a tough feminine look. This footwear will go well with a leather jacket and aviator shades to unleash the inner biker in you. These have beautiful metal detailing down the middle of this shoe that really sets the look off. The side closure has very secure velcro and metal buckles for a modern look with the comfort that would be expected for this brand. The metal buckle features a double strap The open toe has an appealing almond shape that still leaves enough room for comfort. These are a sharp sassy gladiator for appealing everyday wear.
Edgy Appeal
This apparel is styled to look edgy with metal nailhead detailing down the middle of this shoe for a classic look. These are created to not only look well with casual wear but to be easy to walk in for long strolls with friends and day walking. The metal double strap around the ankle is secure and adjustable for ease. The almond toe is lovely and trendy to make any pedicure pop.
Easy Cleaning
These are easy to put on and off as well as having a man-made exterior. These can be wiped clean with just a wet rag and dried just as quickly. These don't require any expensive cleaners but if wanted can use a protectant for extra shine. The bottoms don't usually scuff easily and can be cleaned the same way at the top of this footgear. The interior can be a little more tricky being made of cloth but these also don't require a ritual for cleaning. They can use a quick scrub and will look as good as new.
Cost and Value
These edgy sleek shoes feature a bold look for a very affordable price. The molded footbed is plush and offers a relaxed feel. They have a really lovely shape that makes the foot look small. The straps over the foot are crisscrossed which is a very detailed approach to shoewear architecture. These are created from vegan leather which is alleviating for those who love animals. The double strap hits two areas on the ankle and is modifiable as well as, offering secure velcro strap.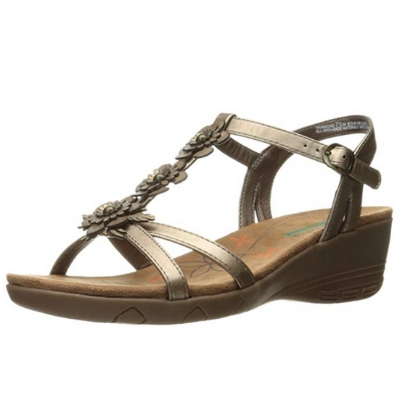 If you look good you feel even better and a shoe that offers flex will feel tranquil. The flower detail is created from man-made leather as it the rest of the exterior. This item is flirty and minimalistic for ensembles that seem effortless. The design incorporates a comfortable interior that is open and airy for warm weather. This item not only keeps the foot in a firm position but also surrounds the foot for a softness that is uncommon in a wedge.
Fundamental Construction
Some footgear can be a little infuriating. Items can be fitted with extra straps that are confusing, long or awkward. A clean design with a properly proportioned architecture and accents that add classy appeal are coveted. These offer very cute and detailed flowers that are strategically placed to bring a touch of uniqueness to a simple design. The straps hit the foot in areas that need extra structure without looking gaudy and unattractive. These will complete any collection and easily become a favorite due to accommodating convenience.
Responsive Architecture
What if footgear that was made for casual wear was made with the shape of feet in mind. This kind of shoe-wear would feel great all day long and cause feet to feel unprovoked for a barely there impression. These not only are fitted to feel cushioned and alleviating to pressure points. The rounded toe gives toes room for freedom. Perhaps the most impressive feature is that despite being a wedge this item actually offers flexibility. This creates a very natural stride and the bottoms offer slip resistance. This will give the wearer confidence in any environment.
Cost and Value
Imagine wearing a flower dress with flowers in your hair and flowers on your feet! These are exciting because they take nothing away from the feminine aspects many want from a wedge. The cost is nominal and can even be considered underpriced for the detailed architecture. The construction offers a balanced fuss-free feel. These become a favorite because the straps help keep the foot in place without tightness that can cause blisters. The straps are placed in areas the foot bends to offer extra support. These still offer some flex in the bottoms for easy walking and great traction for steadiness even when things become a bit uneven.

Subscribe to our Newsletter