Best Ball of Foot Cushions & Metatarsal Pads Reviewed
In a Hurry? Editors choice: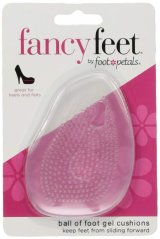 Test Winner: Fancy Feet by Foot Petals

Ball of foot cushions play an instrumental role in preventing an array of day to day related pains including bunions, blisters, flattened
metatarsal
arches, diabetic issues, burning pains, etc. These are normally treated by distributing the weight of the body evenly throughout the entirety of the feet, and in some cases even taking the weight off and cushioning the ball.
Cushions designed for the balls of your feet can come in a variety of different form factors, including, adhesives that stick to the bottom of the user's pad or even the inside of their shoe. Regardless of the type, each has its own advantages and disadvantages and most of the time it just comes down to preference. Read on to find out about our recommendations of the best Ball of Foot Cushions & Metatarsal Pads.
Standout Picks
Criteria Used for Evaluation
Materials
When creating a list of the best ball of foot cushions, the type of material used has to be taken into account in order to provide the buyer with a variety of options. Different materials can mean completely different effects, therefore, changing how it's used.
Materials can range from gels all the way to felts, and the benefits of each are particular to what condition you may be suffering from. Below is a list of popular materials and how they affect pain relief.
Open-Cell Polyurethane Foam: Polyurethane foam is one of the most popular materials used in a foot cushion, most notably due to the comfort that is provided. Open-cell polyurethane foam, in particular, provides cushioning that's durable and soft for long periods of time.
Leather and Latex: Leather and latex materials are most popularly used to compose the inside as well as the skeleton of particular cushions. Leather, specifically, is sometimes used to reinforce the latex insides and gives the cushion as a whole a heavier and more durable build.
Wool and Felts: Wools and felts are another support type material as they have a less resilient flex to them. Felt is best utilized to give the cushion a firmer feel.
Gel and Anti-microbial Materials: Gel is utilized to dissipate force in an efficient manner while also providing the user with a more therapeutic surface to rest on. Additionally, any part of the cushion that comes in contact should have some sort of anti-microbial feature to prevent odors and infection.
Application
Ball of foot pads utilizes a variety of methods in order to keep the device on the user. These methods obviously have to have a quality design in addition to being effective at what they do.
These designs can range from velcro to adhesive, which all have their own advantages and disadvantages. All of the most popular methods of "staying in place" are listed and explained below.
Adhesive: (Bottom): These adhesive materials are designed to stick to the bottom of your feet, ultimately providing something that's quick and easy to use without the worry of ruining the integrity of the user's shoes. These cushions usually come in packs of 10-20. Problems can arise with this design however as odors are likely to occur, as well as the occasional time when the cushion falls off the user's foot altogether.
Adhesive: (Bottom of shoe): These cushions are designed to be placed anywhere on the inside of the shoe providing a customizable experience that can strategically relieve a variety of pains. This type of adhesive is mostly preferred to its counterpart because it can last longer as the foot itself is separated from the cushion, therefore making them last longer. Additionally, these adhesives are less apt to causing skin irritation.
Breathability
Any kind of insert- be it a cushion or a custom orthotic- will impact the breathability of a shoe. Some will have more of an impact than others and is typically dependent on the material used in the cushion. Let's take a look at some common materials and how they can affect breathability.
Mesh: Mesh is one of the most breathable materials that can be used in shoes and cushions. You'll often see athletic shoes featuring a mesh upper, as that is the best material for airflow and temperature management. Some cushions are covered in fine mesh material, allowing for proper breathability.
Cotton/Textile: The most common material used in metatarsal cushions is cotton, as well as polyester and other textiles. These have average breathability, especially when used with a well-ventilated shoe.
Gel: Gel is one of the most supportive materials that can be used in cushions, however, the breathability can be limited. It's one of the most common materials used for the cushions, aside from cotton and other textiles. Gel cushions are often ideal for shoes that already have a good deal of breathabilities, such as sandals and other open styles. They're especially good for heels.
The breathability of these cushions is important, as it can either help or hurt how well-ventilated the shoes are. Something with little breathability will quickly become uncomfortable as your feet become hot and sweaty, conditions which can be breeding grounds for odor-causing germs.
Effectiveness
Problems with the balls of your feet can come from a variety of sources, such as wearing shoes that don't fit properly, and medical conditions such as arthritis or gout. Metatarsal issues can quickly become very painful, and this can be exacerbated unless you use the correct support.
This is where these cushions come in. They provide much-needed support to the balls of your feet, helping to relieve pain and prevent any damage from getting worse. These are typically recommended when other self-treatment methods have not been effective. Your doctor may suggest you see a physical therapist, who will help you get properly fitted for supports.
Gel cushions are often considered the most effective in terms of support and pain relief, though they are not as breathable as mesh cushions. Gel cushions are ideal for open-style shoes such as sandals, or those who have found that other cushions have not helped their pain.
The only way to know for sure if a cushion will be effective for you is to try it. Before making a purchase, however, it's a good idea to look at consumer reviews of each product, as this will give you a determination of their overall effectiveness. Reviews will also touch on other aspects of the cushions, such as durability and size options.
Support
While these inserts are mainly made to provide shock absorption, they can, in fact, offer some support as well, which is crucial for those who suffer from health issues such as Plantar Fasciitis or bunions. If you happen to need a product that will help with these conditions, you will need to invest in a product that has the right properties to alleviate and prevent pain.
First and foremost, it may be a good idea to choose a full insole instead of a metatarsal pad, as these include the required arch support, as well as a heel cushion, all of which will work together to ensure the health of your feet. If, however, your wear allows no space for full inserts, you will need to opt for metatarsal pads developed specifically for your issue.
A good place to start are those products that feature supportive raised parts, either at the very ball or at the toe area - these can help put them in the correct position, preventing it from collapsing on itself and damaging the bones, nerves and soft tissues in the area. The Brison Ball of Foot is an excellent product of this type, and it has been proven to help those who suffer from Morton's Neuroma, making it a good item to check out for your next purchase.
Top 10 Metatarsal Pads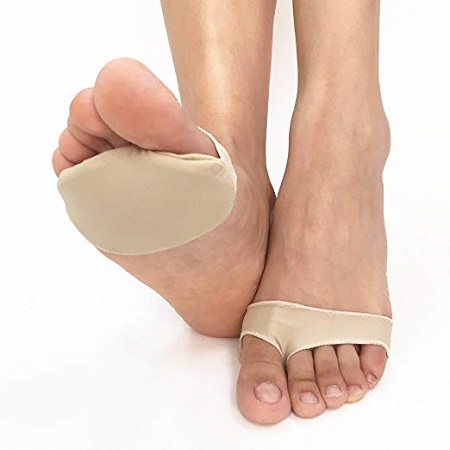 Featuring gel cushions that attach to your feet, self-sticking shoe inserts, spandex covered gel pads, and a set of pads targeted for sore spots, this cushion set from Compressx aims to be a comprehensive solution to pain, not just metatarsal pain.
This set features two kinds of cushions that stick to your feet. One is a clear silicone cushion with a toe loop to keep it secure, while the other is a spandex-covered cushion with a thong-like design similar to flip flop sandals. Both of these cushions are reusable and washable. The silicone ones are great for wearing underneath socks, while the spandex ones are ideal for sandals and other open shoes.
Not only does this set come with a pair of metatarsal shoe inserts, but it also comes with four smaller inserts that can be used in specific areas of the shoe to target other pains and discomfort. These smaller inserts can be used in any part of the shoe, or can even be used as a lower profile cushion for the balls of your feet. There's a lot that can go into proper care, especially for those living with injuries or pain. So the treatments and supports we use for them should be comprehensive as well. Slightly less expensive than the other sets on this list, this set is designed to treat pain and provide support in a variety of ways.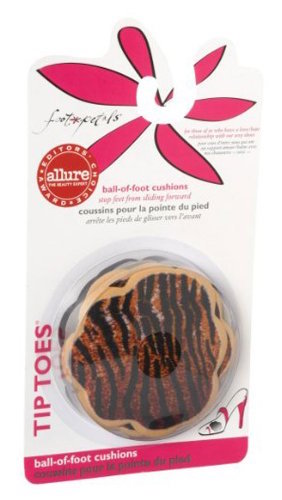 For those who are looking for something a bit sturdier than gel or silicone, a pack of Tip Toes can prove to be a go-to product for daily use. These inserts were developed out of a need to make a ball of foot cushions for high heels that performed highly in terms of shock absorption, but that was still cute enough to be shown off.
In terms of construction, Tip Toes use the highest grade technology that is more often found in athletic wear than heels. The material used for cushioning is Poron, a shock-absorbing, highly durable foam material that returns to its original shape after every wear. It's often used in sneakers, which should give you a good idea of what to expect.
The Poron foam is wrapped in a synthetic suede that is soft to the touch and can be worn with or without hosiery, and it won't stick to you while wearing, even if your feet tend to swear. On the whole, these dry easily, so they can be worn as often as needed, and the strong adhesive ensures the Tip Toes stay in place all day (or night) long. A huge upside is that this is one of the rare products that come in a multitude of prints, from simple blacks and nudes to zebra and leopard inspired designs.

3

. Fancy Feet by Foot Petals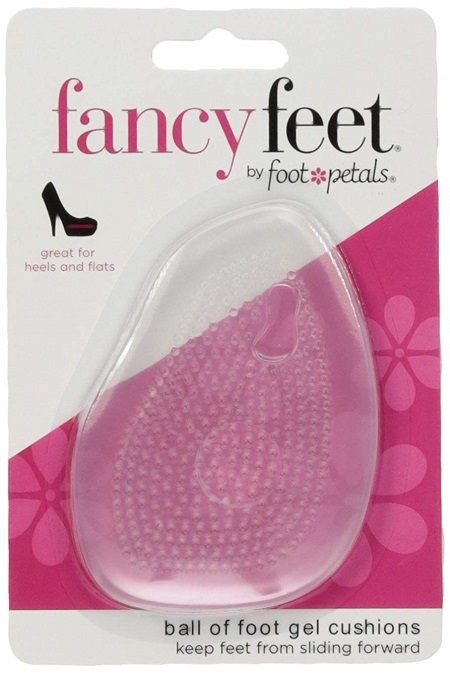 Designed primarily for women's shoes, the Fancy Feet metatarsal pads are made for heels and other dressy styles. This gel pad will not only support the balls of your feet but will also keep your feet from slipping forward in shoes.
The majority of metatarsal pads are designed for comfort and support. Not many of them have their own traction methods. Sometimes your feet can start to slip forward when wearing heels. This can put extra pressure on your toes and easily become painful. The Fancy Feet gel pads are made to keep your feet secure in your shoes and prevent them from slipping forward.
The Fancy Feet pads have a slim and tapered design which will keep them from moving around within the shoe and becoming visible. These are specifically designed for use with heels and dress shoes and are a bit more on the expensive side. However, they are still a good investment if you plan on wearing heels a lot or need something more discreet looking.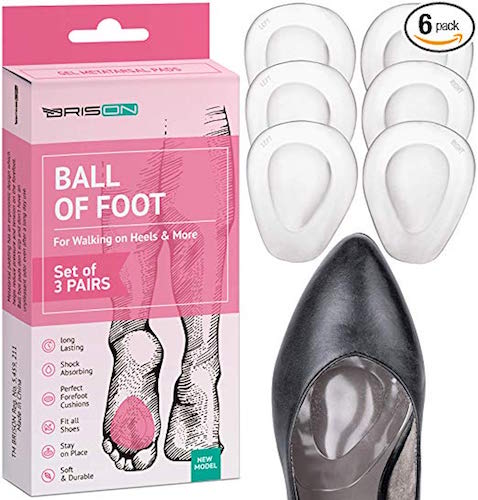 While wearing high heels isn't the best idea if you suffer from health issues of the feet, there may be instances where you can wear your favorite pair, as long as you take good care of yourself. This pack by Brison is the perfect choice in these cases, as it both cushions the front portion of the feet, but also helps achieve correct alignment, support and shock absorption in the metatarsal area.
The material used in constructing these cushions by Brison is medical grade silicone gel which is eco-friendly and highly durable. It can easily be cleaned after wearing, and it retains its shock-absorbing properties, no matter how often you use it, which means that you won't have to purchase new items as often as with other products of this kind.
The design of these inserts includes a raised portion that falls right in the middle of the metatarsal area, and it is this portion which is crucial for treating and preventing pain that's connected to Plantar Fasciitis, Morton's Neuroma, bunions, and other issues. The package includes 6 items, for three pairs of wear, and although slightly more expensive than other listed products, the price per item is still pretty low.

5

. Ballotte Metatarsal Pads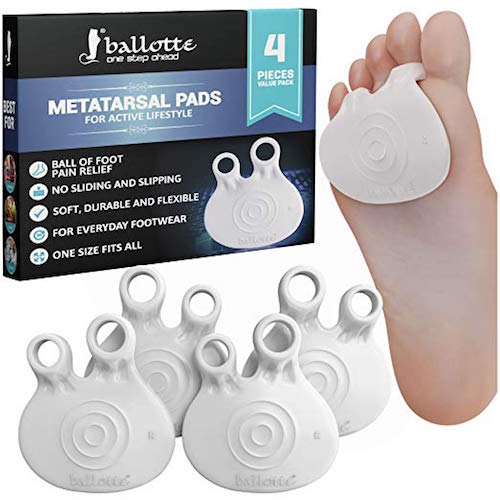 Placing first on our list is one of the best selling Metatarsal Pads on Amazon created by Ballotte. These pads are designed specifically for use in high heels in order to prevent calluses and create a more comfortable overall experience.
These pads are described as walking on marshmallows, as they provide silicone and gel padding in order to prevent any injury or pain caused by excessive shock. In addition to shock, these double down on the number of materials used and results in a pad that is extra thick. This thicker build provides the wearer with much more cushion, preventing blisters on both the heel and ball of the feet.
They're absolutely no-slip thanks to the two bands that help secure them to your feet. Every pack comes with two pairs at a very affordable price, making these a perfect "bang for your buck" purchase. Additionally, the added cushioning and thick materials make these a great choice for preventing heel and ball pain.

6

. Dr. Eagle Metatarsal Pads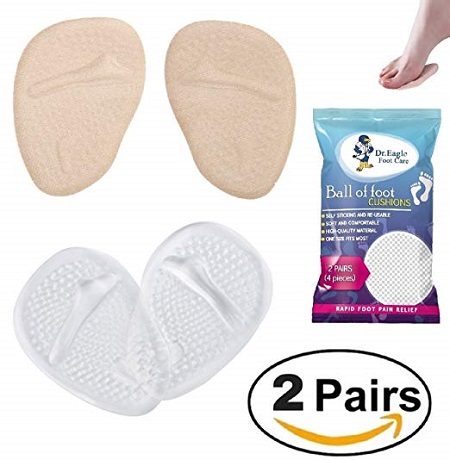 It's not a common thing to see metatarsal supports come in different colors, even if it is just two. The Dr. Eagle silicone cushions come in either clear or beige, allowing them to easily blend into any situation. They are also easy to clean, and long-lasting.
Washable cushions are both more value-conscious and more eco-friendly than their non-washable counterparts. Washing a metatarsal cushion allows it to be used for longer, meaning you get more time out of it before having to get a new pair, which can also mean less waste. A washable cushion is also more resilient to germs, reducing the potential for odor.
There are two adhesion methods used in metatarsal cushions: one type sticks to your feet, while the other type sticks to the inside of your shoe. The latter is a better choice, as you won't have to worry about the adhesive wearing off as a result of sweating, or potential irritation and allergic reactions to the adhesive. This can make placement more difficult, so take your time. Two pairs for under $10 is slightly below the average price we see for metatarsal cushions. Thanks to their antimicrobial and washable design, you can expect that this purchase will be a solid investment for a while.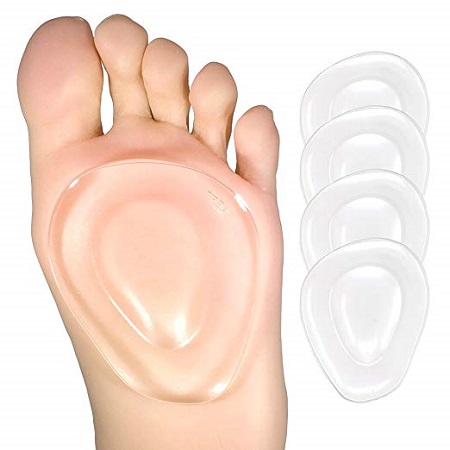 The ZenToes metatarsal pads are made of medical-grade silicone gel. This sort of gel does not absorb dirt or odors, making the pads easy to clean. These cushions have a self-sticking adhesive on the outside, so it sticks to the shoe instead of your feet, and they are all washable and reusable.
The high-quality silicone gel used in the ZenToes cushions does not absorb dirt and odors, and the nonporous surface resists bacteria and germs. This means that these won't start to smell after a few uses.
A good indicator of value is how many users you can get out of it, similar to replayability when it comes to video games. The ZenToes silicone pads are a medical-grade material that stays cleaner longer, and can easily be washed with soap and warm water, allowing you to get more use out of each pair. With a unit cost of about $5 per pair, the ZenToes cushions are a solid investment. The design and materials make it both odor-resistant and easy to clean while being reusable. The adhesive is self-sticking and doesn't stick to your foot or cause irritation.

8

. Ballotte Ball of Foot Cushions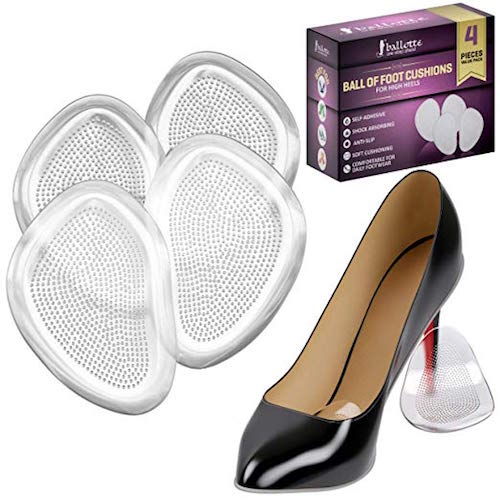 This item by Ballotte is one of the simplest ones on our list, which is the secret behind its success. Intended to be used with high heeled wear, but appropriate for almost any other type of shoe, this clear insert is an invisible way of making your favorite pair of heels more comfortable, increasing shock absorption, which often suffers the most.
One of the benefits of this Ballotte product is the fact that it's completely clear, which means that you can wear it with strappy sandals without having to worry about unsightly inserts showing beneath your feet. Overall, it's a durable item which can be washed with lukewarm water and mild soap after every wear, and be used in multiple pairs of wear.
The composition of this item is medical grade PU gel which is hypoallergenic, while the upper features small protrusions that massage the bottom of your feet while standing, increasing blood flow and helping stave off pain. The pack contains four items to be used on two different pairs of shoes, but, as already mentioned, they can easily be moved from one pair to the other. Depending on the pack size you opt for, these can rank between average and well below average per unit.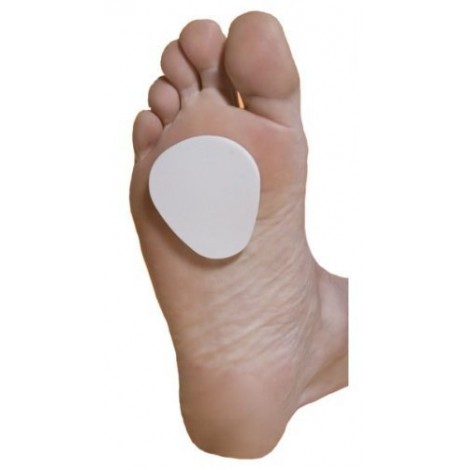 Dr. Jill's Metatarsal Pads have been in the cushion business for quite a while and for a very good reason. These pads in particular stick to the bottom of the user's ball and can be trimmed to smaller sizes ultimately making this one of the best available on the market.
As mentioned above, one of the main draws to these metatarsal pads, and really why they're so popular is the fact that they can be trimmed. This is a result of the rather thin and flexible build that allows for easy customization.
The other quality that makes these pads so unique is the fact that there really quite wide, which is most likely a result of the trimmable design. Dr. Jill pads in particular measure in at 2.25 inches wide and 2.75 inches in length giving the user plenty of space to work with. Dr. Jill Metatarsal Pads aren't that bad of a deal considering they come in a pack of ten and feature high-quality adhesive suitable for every type of shoe on the market. The customization available on these is also a plus and definitely puts them above many other popular options available on the market.

10

. MARS Wellness Metatarsal Felt Foot Pad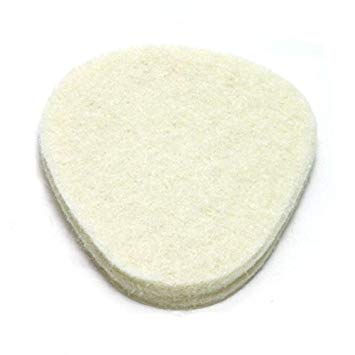 The MARS Wellness Metatarsal felt pads are self-adhesive to ensure you won't worry about them shifting as you walk. These pads help to eliminate pain and give maximum comfort. They're easy to use, and an overall great product to have in your arsenal when you need quick comfort adjustments, even on the go.
The MARS Wellness Felt Footpads will easily fit a multitude of sizes. You won't have to worry about the pads fitting your feet shoe. If needed, they can be trimmed, and won't drastically change the fit of your wear.
These inexpensive pads won't break the bank by any means. You can buy multiple pairs for a fair price, and reap the benefits of shock absorption and soft tissue protection that can be a real benefit for those who suffer from Morton's Neuroma. They even come with placement instructions for the best possible results.

Subscribe to our Newsletter