Best Foot Scrubs Reviewed
In a
Hurry? Editors choice: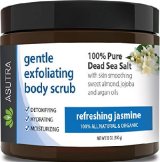 Test Winner: Asutra Refreshing Jasmine

Caring for your feet could be as simple as using a foot scrub. Full general foot care involves soothing, scrubbing, massaging, and
moisturizing
the feet. Wetting helps to soften the skin of the foot and prepares the skin for exfoliation, and removal of any dead skin.  One of the easiest, most impactful, and most inexpensive ways to add foot care into your daily routine is with a foot scrub. It takes 10-15 minutes of your day, and your feet will thank you! Take a peek at some of the best foot scrubs for your feet!
Standout Picks
Criteria Used for Evaluation
Materials
With the skincare industry booming in health and beauty,  suppliers continue to incorporate new effective ingredients in their products, backed by scientific research.  But what goes into the care of your feet and skin can be based on your preference of WHAT goes into your product.
There has been significant progress made when it comes to science and technology around skincare.  New, safe uses for synthetically derived ingredients are examined regularly, and many of these types of materials help improve our lives and are backed by a track record of glowing history.  An example of one such type of material is hyaluronic acid, which helps contribute to cell growth and proliferation--aka, new skin growth.
There is an abundance of articles and blogs, educating the public about differences between what 'natural', 'organic', or 'synthetic/chemical' means in terms of ingredients for skincare.  Many times, advertising can sway perspective on what these terms actually imply, and digging into how a product is made can usually help answer our questions. Keep in mind, that most ingredients in skincare products undergo some sort of processing step, whether it's to isolate an oil, mineral, or salt that is part of the product's formula.
Synthetic - The term actually means that it's made in a controlled environment, starting with very basic chemicals, molecules, proteins, and fats.  Keep in mind a 'chemical' doesn't mean 'bad'. We have tons of chemicals existing in our bodies that help us function, like Vitamin C--also called Ascorbyl Glucoside. Synthetically derived molecules usually have to pass quality tests and must be a certain purity to even pass production standards.  So, in the long run, synthetically derived ingredients could potentially have fewer variations than naturally derived ingredients that may have variations in them that play their part in skin sensitivities.
Natural - This term means that the ingredient is derived from a naturally occurring product, plant or animal-based. Essential oils are a good example--many derived from peppermint plant, or other plant-based sources. Keep in mind, however, that that plant needs to undergo manufacturing and isolation of the key ingredient--the essential oil.
Organic - This term means how a product is manufactured or sourced.  Organically produced goods have specific criteria they need to meet in order to advertise as 'organic', but these standards can vary internationally, and in quality.  The USDA has specific standards to meet before a company can advertise as 'organic', but it doesn't always mean the product contains ALL organic material.
Although the terms may confuse you, the best way to sort out what type of product could be best for you and your skin needs is to read the ingredient label and test it on your skin before using it as a skin care regime.
Effectiveness
Exfoliants are usually materials included in the product that help to gently remove excess dead, hardened, or tough skin cells.  This removal helps to leave your skin and feet feeling smoother and more supple. They range also in their textures or properties, depending on how sensitive the skin area is that needs treatment.
Our feet usually have thicker skin that an area such as the face, so most exfoliants in foot products tend to lean toward the coarser side. Exfoliants can either be included in the product or if they are not, require a manual type of scrubbing or surface to help facilitate the process, usually something like a pumice stone or coarse brush or sponge.
Some products previously used plastic microbeads to help exfoliate the skin, but recently these have been restricted. In December 2015- US FDA issued The Microbead-Free Waters Act to eliminate the harmful side effects they have on the environment, once they are washed back down the drain and back into our water supply. Nowadays, most exfoliants include ingredients such as sugars, oatmeal, baking soda, salts, charcoal or volcanic rock, almonds, or coffee.
Advanced Features
So now you have exfoliated, smooth baby feet, how do you take care of that new layer of skin in an area of the body that's treated harshly every day?  Keep it elastic and pliable with the right sort of moisturizing ingredients. When the skin on the foot loses its elasticity, it tends to crack when we walk, causing painful fissures that take weeks to heal.  
Classes of moisturizers:
Emollients: Help keep the cell membrane of skin cells fluid while maintaining a protective barrier to infection.  Examples include cholesterol or other fatty acids.
Humectants: Substances to help attract water into the skin cells.  Some types of these moisturizers include glycerol or hyaluronic acid.
Occlusives: oils or waxes which block the physical loss of water from skin cells to the external environment. Sometimes a little messy to apply, these can include things such as waxes or mineral oils.
Protein Rejuvenators: Small proteins, such as collagen, is used to help replenish depleted or low proteins vital to skin cell health.
Any product that can combine a variety of these classes of moisturizers will help benefit the effectiveness of the product to help keep skin cells healthy, pliable, and viable.  Just note that 'more' is not necessarily better, depending on your skin's needs, and any skin sensitivities. Just like exfoliants, the moisturizers in the product should be tested on your skin first before incorporating it into your daily foot care routine.
Use
It is important to read, carefully, the usage protocols of every product. Some will do different things than others. Take, for instance, a product that will exfoliate and rejuvenate but doesn't have anti-fungal properties. Or how about a product that has anti-fungal properties but cannot cleanse the pores as you need? There may, also, be reactions when using too many varying options combined. In other words, two all-natural products do not mean that is safe to combine those two into one treatment. Likewise, it doesn't mean you will be harmed by doing so, either. This is why we stress the importance of both reading the usage capabilities of each product with the added guidance of a medical care professional. In this, you can be certain of your safety and the correct treatment for your needs.
With the aforementioned stated, the first question you must ask yourself is, "What is it exactly that I need to better my foot health?" If the answer is, "warding off dirty pores," then the obvious solution is an option which exfoliates and deep cleanses the pores. If the answer is, "fighting athlete's foot," then although a deep pore cleanser can be helpful, if it does not contain anti-fungal properties, then it is the wrong solution for you. Take the time to really think about what it is that you need. Just because a friend swears by a specific product, doesn't mean that it is the correct answer to the specific problem you may be facing.
At the end of the day, it is all about your health and well-being; along with the safety of your body. Reading a little bit can go a long way in better understanding the correct approach.
Potency
When you are suffering from foot problems, you'll do anything to make them annoying or painful blisters, corns or rashes go away! Of course, as with anything medical-related such as fungal infections, eczema, and so on, your first priority should be to visit a dermatologist to gain a complete and honest assessment of what your body needs. After this, it is all about what pleases you. Will it be the aroma of green tea and jasmine or the delicious flavorings of passion fruit? That is, this is when shopping becomes fun on a more personal level.
When we consider the variety of options on the market, we ranked them based on several criteria, including their aroma. A pleasant aroma of a foot care product makes using it much more fun and rewarding and you are more likely to continue with the routine if you derive a positive sensory experience from it.
In addition to being effective, we brought you products that smell and feel good when they go on. From the smells of African coffee to those of the Himalayan mountaintops, there is a product on this list for you! Don't suffer from dry skin, blisters or corns any longer, when a sensory-uplifting experience is right around the corner!
Top 10 Foot Scrubs
1

. Asutra Refreshing Jasmine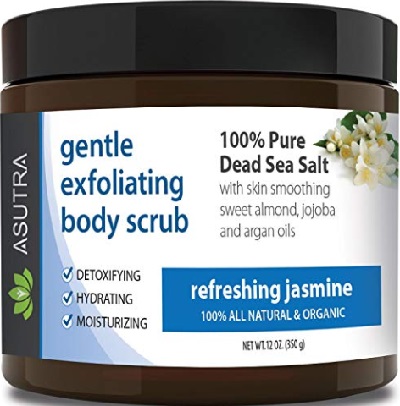 This is a gentle, exfoliating foot and body scrub. By utilizing a wonderful blend of Aloe Vera and oils (Jojoba, Argan, and Sweet Almond), this product will scrub away the roughness; leaving your feet feeling soft and refreshed. Moisturizing, hydration, and detoxification as an all-in-one combined element, you can be certain that your skin will remain smooth.
This is made of sweet almond, argan, and jojoba oils. Combined with Aloe Vera, you gain a natural, healing product which exfoliates and smoothes the skin the way it should be.
This scrub works well at cleansing the pores and fighting against blackheads, in-grown hairs, and other blemishes. In return, your skin will look and feel like new, with just a hint of a brighter, healthier tone.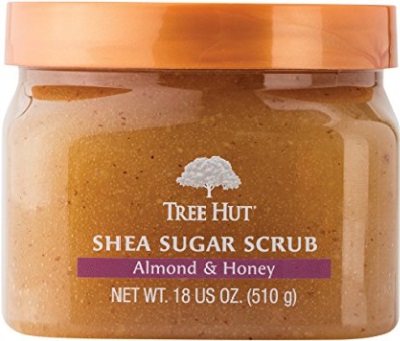 Tree Hut's Shea Sugar Scrub is packed with vitamins and natural oil and fruit extract to help repair skin, moisturize, promote elasticity and collagen formation, and combat aging. With a rich, thick consistency, this scrub will leave your body feeling exfoliated, but not overly oily or dry. And, at a low cost for an 18 oz supply, it's definitely worth the money spent!
With Natural Shea butter, Safflower, Primrose, Sweet Almond, Avocado, Orange, and Macadamia oils infused into the product, your skin will feel moisturized but not oily after use. The sugar base exfoliates and removes dead skin without being too harsh on your skin, and there are NO microbeads in the product, this was confirmed by the company! Reviews from users with psoriasis even give this product a thumbs up!
Absolutely intoxicating, but not overpowering. Tree Hut has a number of different scents that this particular scrub is available in, but passion fruit and guava leave you with a nice light, refreshing scent.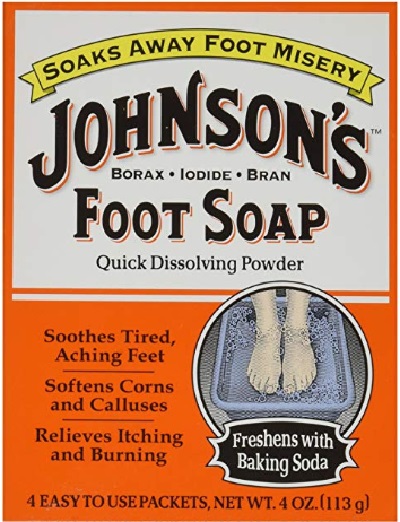 Johnson's Foot Soap is the first footbath that caught our eye. Since 1870, this product has been soothing feet, softening calluses, and relieving symptoms of dry skin. One of the best parts? It's a 15-minute immersion. No scrubbing your feet or needing a pumice stone to get smooth, soft skin. Just kick back and relax and let Johnsons do all the work!
One container of Johnson's Foot Soap is actually 4 pre-packaged uses. You simply dump a package in about 2 quarts of warm water, slip your feet in, and relax for 15 minutes. With cleansing ingredients such as iodine and borax, it is enough to work to clean and sooth your feet.
Not only can this product be used for your feet, but it's safe to use as a bath product as well. Without having any overpowering scents, you can relax in the tub with your favorite aromatherapy candle going. You will come out feeling soft and smooth all over.

4

. The Body Shop Peppermint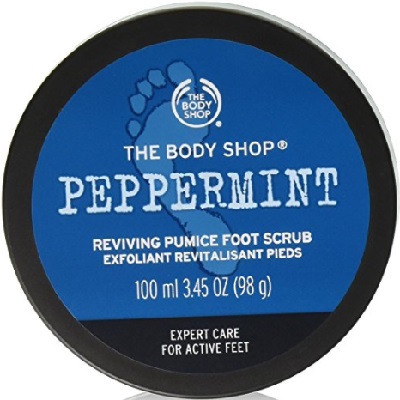 The Body Shop's Peppermint Reviving Pumice Exfoliating Foot Scrub has some unique attributes to make our top ten list. Using peppermint oil and volcanic granules as an exfoliant, the treatment sloughs away rough patches of skin and calluses effectively and leaves the skin with a slight tingling sensation.
Volcanic granules are the main exfoliant in this product, and unlike other products, they come in a gel form. The pumice helps to alleviate even the toughest callused feet, leaving you with nothing but smooth heels and toes for those summer days on the beach.
With peppermint standing out as the fragrant scent in this product, you'll find yourself wanting to use it on other areas of your body! The peppermint will leave your skin with a slight, pleasant tingling sensation, and a feeling of having taken care of your body.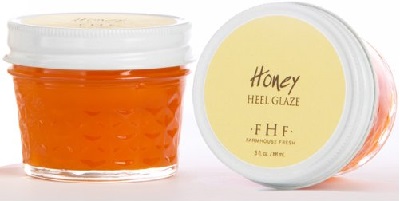 FarmHouse Fresh delivers products for skincare that are simply, honey-based. All their products are 96.2% natural ingredients, and gluten-free. The best part of this product is also the simplicity of its application. Just brush, leave on overnight, and enjoy the simple sweet scent that lingers on your skin. It even comes with a brush!
The healing powers of honey have been explored more recently, but it's no mystery the mighty honey bee works healing magic. FarmHouse Fresh has harnessed that magic to help heal cracked dry heels and feet in one simple process. Honey, Oils, and Natural Fruit extract make up the majority of the ingredients in this product.
Not overly-powering, this heel glaze leaves a light, sweet scent in the air after application. As the treatment is applied by brush and left on overnight, you won't have to wash anything off.

6

. TheraTree Tea Tree Oil Exfoliating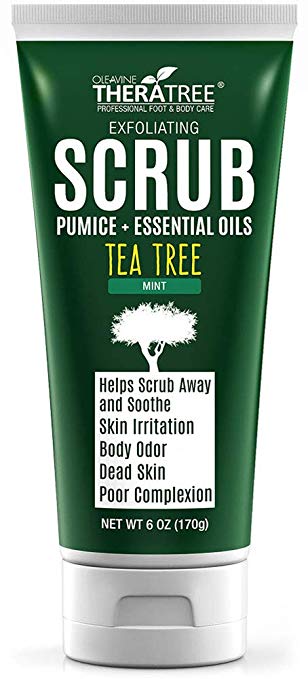 If you're an athlete, suffer from foot odor, or have very rough skin on your feet, then the TheraTree Tea Tree Oil Exfoliating should be your go-to product. Containing a number of natural exfoliants, it's a wonderful product for removing dead skin cells, as well as soothing irritation, itching and other problems you may be experiencing if you have sweaty feet. In addition to using this product on your feet, it can also be used as a body scrub, thanks to the gentle ingredients used.
Often used for its medicinal properties, Tea Tree oil is perfect for deodorizing, removing odor-causing bacteria, treating an athlete's foot, reducing swelling and even treating acne. The TheraTree company sources its oil from an organic farm in Australia.
Because it contains natural antimicrobial ingredients, this product from TheraTree is perfect for those who are battling smelly feet. The brand even has a line of products intended for better foot health, including moisturizers and sprays, all of which can help reduce odors and unpleasant itching or burning.

7

. Calily Life Organic Coffee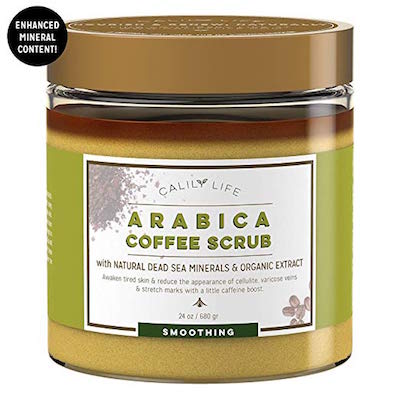 Founded with the intention of bringing users 100% natural ingredients that have been carefully chosen for their beneficial properties, Calily Life produces a range of organic products that are not only effective, but affordable as well. The Organic Coffee scrub is suitable for use not only on your hands and feet, but even on the rest of the body, and the face as well, thanks to its numerous benefits in terms of skin nourishment.
This 24oz jar contains numerous healthy ingredients, including Arabica coffee that energizes, smooths and moisturizes skin, dead sea minerals which help skin retain its natural moisture, grape seed oil which tightens skin and restores collagen, wheat germ oil that reduces skin damage, as well as almond oil that's loaded with vitamin E and prevents the aging process.
For anyone who's looking for products that are natural, paraben free, healthy and FDA compliant, this is the perfect choice. It's made to be hypoallergenic and suitable for sensitive skin, and is a great option for skin repair, which you will especially appreciate if you have cracked heels.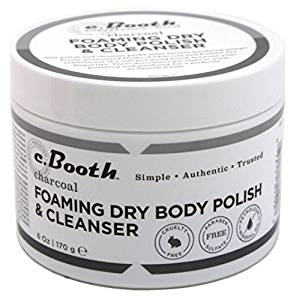 Say goodbye to rough, dry skin on your feet (or elsewhere) with the c.Booth Charcoal body polish and cleanser. A two-in-one cleanser and polisher, it will detoxify while it gently exfoliates. Use it on the feet or the body to reveal the golden glow you have inside!
A soft-powder, it gently foams when mixed together in your hands or when applied to the skin. It features a gentle scent that's not too overwhelming; however, if you have sensitivities to scents, you might want to spot test the product first. The product formula contains no parabens, sulfates, petroleum or mineral oils.
Last, but not least, the charcoal in the product is what makes this product great. Charcoal is a natural detoxifying agent and will take the bad stuff out of your skin when you wash it off. Don't suffer from dry, cracked skin any longer, get relief with the c.Booth Charcoal.

9

. Bath and Body Works True Blue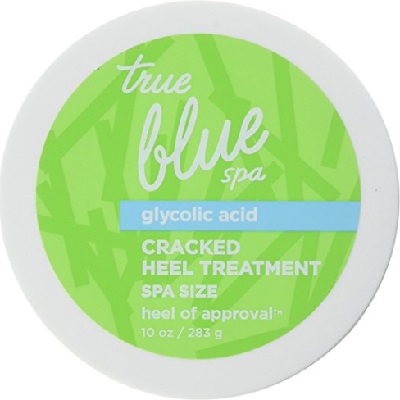 It's no surprise that Bath and Body Works made our top ten list. With plenty of popular face, body and hand treatments, their True Blue Spa Cracked Heel Treatment is no exception to their trusted brand of exceptional products. But, if you want to get your hands on this one, be quick as it's been discontinued through Bath and Body Works, and only available through select online stores.
If new to purchasing or trying out foot and body products, why not go with a brand that is well known, and trusted for their products? Bath and Body Works has been around since 1990, selling innovative, tried and true tested products for skincare. The True Blue Spa line of products was one of a few third-party beauty brands the company kept after major rebranding back in 2008.
Made with a mix of ingredients, the two major ones that give skin-smoothing results are Glycolic Acid and Shea Butter. With thousands of customers raving about the quality and effectiveness of the product, it's no surprise that it is still in high demand!

10

. M3 Himalayan Salt Scrub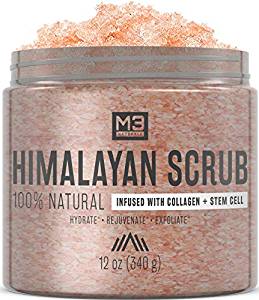 The M3 Himalayan Salt is everything you're looking for in a foot and body option. Packed with amazing, healthy oils like those derived from grapes, jojoba, and lychee, you'll glow from the inside out. Suitable for the feet and body, you'll love the gentle exfoliation and strong moisturization offered by the M3 Himalayan Salt.
Himalayan Pink Salt, like that found inside the M3, is one of the purest types of salts available today. Protected from pollution, it is hand-mined in Pakistan and used in the best creams, scrubs and even foods.
Further cementing the M3 at one of the best on our list is the fact that it is jam-packed with collagen and stem cells. Collagen is the building block of healthy, elastic skin and stem cells can form into the cells that further augment the radiance of our skin. Get them both in the M3 scrub and watch your skin shine!

Subscribe to our Newsletter