Best Black Stockings Reviewed For A Sexy Night In Or Out
In a
Hurry? Editors choice:
Test Winner: Manzi Opaque

Depending on how you dress them up, black stockings can be suitable for anything from work to partying to the bedroom. Pair intricate patterns with a simple dress and heels, or wear minimalist ones with denim shorts or a pleated skirt. You can even wear them underneath a pencil skirt for professional settings. They can make you look mature and professional, or sensuous and flirtatious depending on what they are paired with. No matter what it is, black stockings are a must-have for every woman. On the list is ten of the best black stockings, ranging from opaque to sheer and from simple to extravagant. They are all relatively well made and are of good quality, and there are options for people of all size and preferences.
Standout Picks
Criteria Used for Evaluation
Style
One of the biggest questions that come up with stockings is what they are, to begin with. Nowadays, words for clothing items are thrown around pretty carelessly, so sometimes the lines between them can be a bit blurry. However, if you're going to be asking a store attendant (though they may not know the differences either) or are buying for somebody else, it's good to know what word you should be looking for on the package.
Stockings: Beginning with what they are, stockings are historically a leg covering that fits over the foot up to the thigh. They are the closest to socks compared to the other two types of hosiery we will mention afterward. They are commonly worn with garter belts that hold them up, and the garters aren't supposed to be shown. Nowadays, this garment has more sexual implications and would typically not be worn outdoors, unless it is for casual occasions or parties. However, those that are more modest can be worn for work, though they would not be the most practical. The garter belt showing has also become more acceptable - though please keep that within the bedroom or you might get fired.
Tights: Sheer, close-fitting legwear that covers everything from the waist to the feet; more practical for everyday life than stockings because they do not require a garter belt. Because of this, they can be considered a more "evolved" version of the stocking. More often than note, these are intended for practicality only. They are ideal for work, as you don't have to worry about them slipping down, and usually have a modest look. However, you'll see that we were a bit more flexible with our list and added a few pairs of them in there as well, as some have a garter belt design that renders them imitations of stockings.
Leggings: Leggings are much more common in this day and age. During spring and autumn, you have only to walk into the streets to see many people wearing them with cozy sweaters and long coats - and more often than not, a pair of ankle boots from an overrated brand as well. Bonus points if the person is clutching a Starbucks drink.
Anyhow, these are legwear that fit like pants, and that is opaque. They are made of a variety of different fabrics like nylon, cotton, spandex, and other synthetics, and are super stretchy and comfortable. They are super cute when worn alone, but can also be paired with a longer top or coat. They are not as sensuous compared to stockings, are much more practical.
Materials
As you scrolled through our list, you would have realized that all items are made from synthetic materials (that is, apart from our thigh-high socks exception). The reason is that synthetic materials allow them to stay light, sheer, and stretchy. Different combinations of materials also allow you to get the benefit of them all without having all the detriments. Below, we'll take a look at the synthetics commonly found in stockings, and their advantages and disadvantages. With this knowledge, you can go out and look for the percentage of the material used that would suit your needs and preferences.
Nylon: Nylon is perhaps the most common. This is a plastic-based engineered material that is well-known for being thin and flexible, yet long-lasting at the same time. Originally made as an alternative to silk, it now far outstrips its durability and is both resistant to abrasion and fire-retardant. On top of that, nylon is moisture-wicking, meaning that perspiration and sweat are wicked from the skin to the surface of the fabric, where it can evaporate. This way, you stay fresh during the warmer weather and when you're wearing them for long periods. It does not retain water like cotton, and therefore is less likely to make you overheat.
Spandex: Spandex is also a synthetic fabric. It is also known as Lycra fabric, and has an excellent elastic recovery, meaning it can easily revert to its original shape after being stretched. In stockings, this translates to a great, comfortable, and stretchy fit that won't let your pair get too loose through time. As well, it does not wrinkle, resulting in a smoother look, and has a super soft feeling against the skin that makes them very comfortable. In addition to that, it is anti-aging and anti-wearing, meaning they won't wear out easily and will still good even after lots of wears. Though this is not too useful in stockings, it is also acid and alkaline resistant. There are very few disadvantages. One is that it is not good at heat-resistance, but when it comes to clothing, this is not too important anyhow. As well, it is hardly ever used along and is more commonly blended with other fabrics, but again, this is not too much of a detriment.
Size
One thing that's super annoying about stockings and other socks is that their sizes are quite ambiguous. Many are one size fits all, or otherwise claim to be perfect for people with feet of 6 different sizes.  For many, that's simply not realistic. For stockings, sizing is even more difficult because they not only fit over the feet and the ankles but also all the way up the calves to the things as well, so everything has to be just right for your size.
Thankfully, some have different sizes and will indicate that it is suitable for people of a certain height and weight range. In this case, simply ordering according to your height and weight should give you a good size to work with. But even then, keep in mind that some models may fit larger or small, meaning their fit is slightly tighter or looser than you might expect of that size. To prevent this from being an issue, we recommend you check out the customer reviews of the item, where people may reveal their fit. However, do take others' opinions with a grain of salt, as we all have different bodies that all have different preferences.
If they one size fits most, then they may not be too bad, especially if they are made of a high percentage of spandex and are therefore very stretchy. This way, they would manage to accommodate people of all sizes while still staying very comfortable. This would be ideal, of course, but to find out if that's the case for the one size fits most stockings you're eyeing, you'll once again have to turn to customer reviews or product descriptions.
To conclude - there are some things you can do to increase your chance of getting a perfect size, but in the end, it can still be a difficult task. The good thing is that you can always return them, right?
Use
One of the most important things you need to consider when shopping for hosiery is how durable it is, and how much of a hassle it will be to keep it clean and looking new. Because they are rather thin and made to look expensive (often including details such as mesh, lace, cutouts, etc.), stockings can be quite difficult to maintain. You may find that a single pair only lasts one wear and that it doesn't do well with washing machines, even on gentle cycles.
A good rule to go by is to only wash your stockings by hand, using a mild detergent. Line dry them, keeping them away from direct heat and sunlight.
Note that even with these precautions, snags and tears may happen, so you may want to keep a spare pair on you. There are, however, a few tricks that you can use to make them last for as long as possible:
Hairspray: Some say that spraying your stockings with hairspray before using them may prolong their life.
Runs: If you get a snag, you can apply clear nail polish to it to prevent further deterioration.
Reinforced Toe: An easy solution that can help prolong the lifespan of your stockings.
Freezer: Some people recommend putting them in the freezer before wearing them for the first time, as this may help reinforce the fibers.
Size: Always size up, as this may prevent breakage due to being stretched too much.
Putting Them On: Keep your nails smooth, don't put them on while wearing jewelry, and always start from the bottom of the foot, carefully rolling them up your leg.
Features
Nowadays, stockings come with a huge variety of features that may make them suitable for certain situations and uses. You may find that some work better for you than others, and you may even prefer certain types on special occasions.
Fishnets: A sexy style that can turn heads, or that can help make your look more stylish, depending on what you pair them with.
Lace: A number of models will feature lace as it's sexy and delicate, and doesn't even have to show to make you feel more confident and beautiful.
Prints: If you prefer a fun look, you may choose a pair with a print that shows off your unique style.
Garters: Though not as popular as they once were, they are still sometimes worn by those who want to look extra feminine.
Open Toed: Perfect for pairing with peep toe sandals, these will cover your legs, but will still let you show off your pedicure.
Seamed: Sewn together at the back, these have a retro look to them, and can look great, especially with a pencil skirt.
Top 10 Black Stockings
1

. Vero Monte Thigh Highs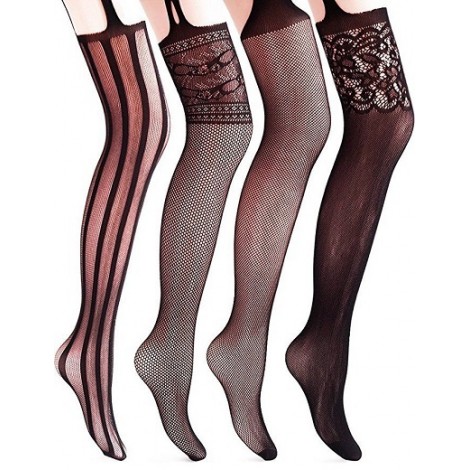 Though our next pair should technically classify as tights, they are designed to mimic the style and appearance of a stocking, so it was only right to include them in the list as well. VERO MONTE is a business that has operated since 1998 to make great socks and hosiery. This particular pair, made of 92% nylon and 8% spandex, is super stretchy and can accommodate legs of all widths and sizes. The waist is stretchy and comfortable, and the garter belt design means you don't have to go out and buy a separate garter belt to complete the look. There is one downside, however, and it's that the suspender portion stretches easily and may break after long-term wear.
Available in two different packs of four, there are eight different patterns in total. Some are more opaque and modest, while others may have more intricate designs. With one pack, you get four different looks to suit your every need.
Many stockings are paired with garter belts, which are meant to be clipped to them and to keep them from slipping down. These have a design that mimics the garter belt but is made of spandex and nylon like the rest of the tights so that there is a more comfortable fit.
When you do the math, they're a great bargain considering they come in packs of four. They also all have different unique designs, so you can get four different styles for a good price.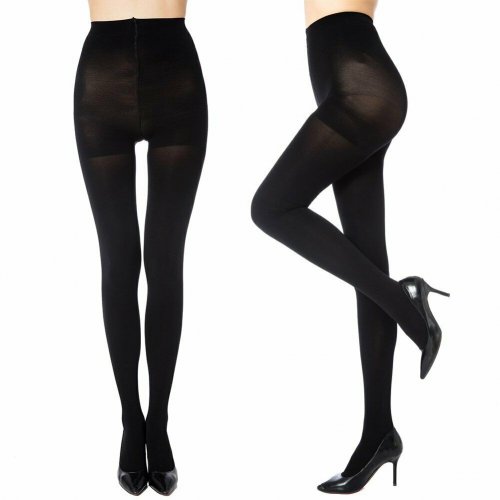 Our next item on the list is definitely a must-have for every woman's wardrobe. Not only do they have an amazingly simple yet attractive look, but they're also practical at the same time. Features include a smooth top and an invisible reciprocated reinforced heel and toe that ensure comfort in the feet. Made of polyamide and Elastane, they're nice and comfortable. The black pair is the perfect pick, as they can be paired with nearly any attire for work or for partying, but there are other color options such as purple, red, and electric blue, which can bring an extra pop to your outfit.
Unlike fishnets or other patterned stockings, which can be quite provocative, these are plain and simple. As a result, when dressed down with a long pencil skirt and a blouse, they are modest and can be worn for work. Of course, you can also pair them with a garter belt and a bodysuit for a steamier look. No matter if it's work or play, this pair has got your back!
Unlike some other pairs, these are very sheet and may even seem invisible. By consequence, they even out the skin tone and can give the legs a smoother look without being too eye-catching.
Though slightly more expensive than some of the other simple minimalist items on the list, we believe they are still worth the consideration. As we mentioned, they are super versatile, so one pair is a worthy investment that can serve you well for all kinds of occasions.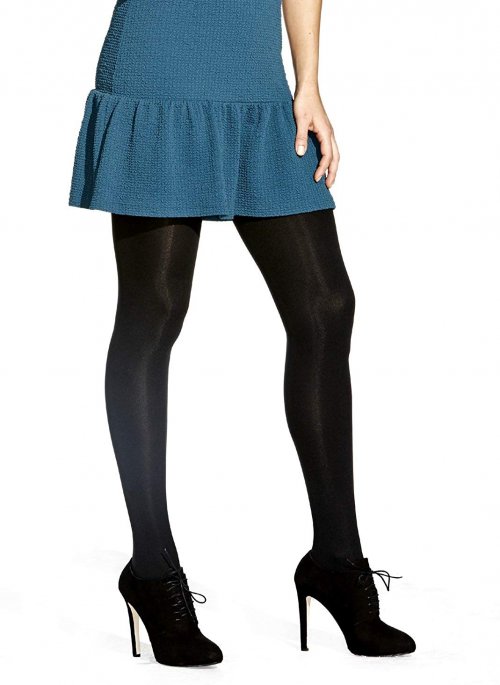 This next item has a more unique and eye-catching look. The fishnet really adds an extra touch that makes them super sexy and elegant. The silicon on their openings is very thin, so they are comfortable and practical at the same time, and are sure to stay up even if you have thin legs. Their material renders them stretchy and comfortable for those of larger sizes as well. The black pair can go with nearly everything, but they are also offered in white, which can be worn to switch up the look a bit.
These opaque tights feature a mid-rise waistband and control top that helps to smooth out anything you might want to hide under your form-fitting clothes. They are also made with spandex, making them really comfortable and easy to pull on.
Coming from No Nonsense, these tights are really reasonably priced. They can be hand washed, which makes them last longer so with the small price tag and the added durability you can be sure to get your money's worth on this pair.

4

. Shirley of Hollywood Fishnet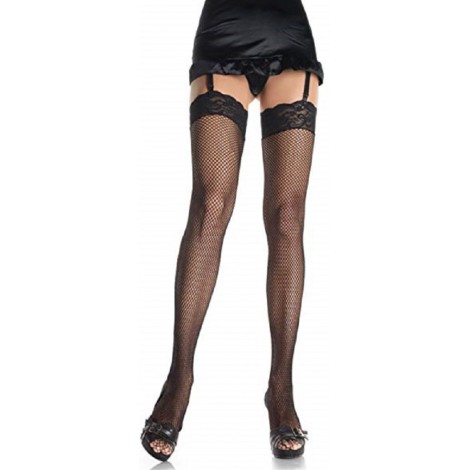 The name of the brand is quite suitable for our next pick, as you'll definitely feel the full glamour and elegance of being a superstar with this pair. The combination of fishnet and lace creates a clean look that is oh so gorgeous at the same time. They can do wonders at lengthening the legs, and are great for cosplaying thanks to their simplicity and versatility. Their lack of size options is a flaw, but depending on your body type it might not be a problem, as they still have great elasticity. As well, they are not particularly long and may only reach above the knees for those with longer legs.
As the saying goes, less is more. Patterns can be fun, but sometimes a simple design can be more effective at completing an outfit. Fishnet meets lace trimming with this pair, resulting in a clean and refreshing look that will nonetheless lengthen the legs and add a sensuous touch to the look.
Though these only come in one size, they are pretty good at accommodating all kinds of body types. For most, they are neither too tight nor too loose and are perfect to wear with garter clips. With that said, however, they still might not be suitable for those who are particularly curvy or thin.
Considering how well-made they are, these are quite the bargain. Plus, they are simple and versatile, allowing one pair to be worn with all kinds of outfits for all kinds of occasions.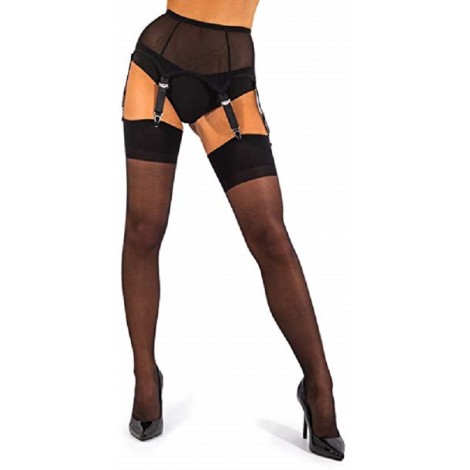 Stockings can be worn with or without garter belts. This particular pair has a garter belt that is sold separately but is designed to be especially suitable for this pair so that you can choose to purchase the two together. The stockings themselves are soft and stretchy and have a simple black opening with no lace that might render them uncomfortable. They can be worn with a sexier outfit, as well as under a more professional attire thanks to their plain sheer look. They also come in the colors tan, red, and white. The only downside is that they are a bit pricey, but we still recommend you take them into consideration!
The stockings are of a simple sheer black color. If you're wearing a short skirt or dress, the top can peek out, but you can also wear them under a pencil skirt for a more professional setting, and it would work just fine.
The material of the stockings is very soft and will keep you feeling good. They are not too snug, as they are designed to be paired with the garter belt that holds them up.
This is one of the more expensive items on the list. For some, it might not be worth the money, especially if you don't like having a garter belt and are afraid they may not hold up on their own, but for most, it's a good deal thanks to their simple look. They can be both dressed up and down for a variety of different occasions.

6

. Hanes Silk Reflections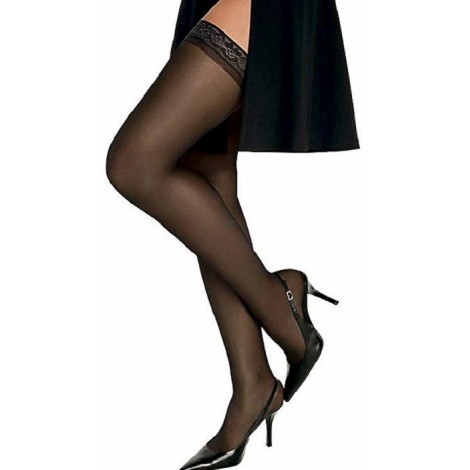 Nothing will make you feel gorgeous and elegant like our next pair by Hanes. With a plain sheer black design and a lace trim at the top, they are simple yet super attractive. Wear them with dresses or skirts and a pair of heels for a leg-lengthening look. They also come in different levels of opacity, as well as in white and nude beside the color black. With their Wicking Cool Comfort fabric on the legs, you're also sure to stay cool and dry throughout your night.
The tops are lined with lace for an elegant touch. They are comfortable and stretchy around the thighs and is lined with silicone so that they don't slip down too easily. However, they are a bit on the tight side, so they may not be the best for those with thicker thighs.
When wearing stockings, tights, or pantyhose with open-toed heels or footwear, having the seam on the toe just isn't a good look. These have a sheer toe so that the toes look nearly naked.
Sold in packs of three, they are of a reasonable price, though they are not the cheapest. However, their versatility means they can be worn for all different situations, so they're still a fairly good deal.

7

. Akiido High Waist Fishnet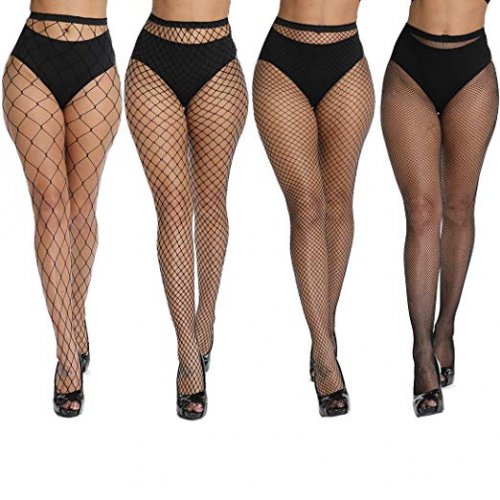 The Akiido High Waist Fishnets are similar to others on our list because they have the same garter belt design, but they are especially suitable for the ladies out there with thicker thighs. If you're worried that stockings won't accommodate your curves, these will prove you wrong. With their super stretchy and comfortable nylon/spandex material, they're bound to fit like a glove without that unpleasant thigh-bulging effect. Their design includes elegant patterns in the netting and will make you look sexy the way you are. Also, there are many different designs to choose from, all of which are black and super gorgeous.
On the front and back of the thighs are a beautiful intricate pattern that adds a unique touch to their look. Some are more complicated and have lace trimmings at the tops, while others are more minimalist, simple, and easy to pair with an outfit.
Many are reluctant to wear or buy fishnets because they feel that the netting will tear easily. However, countless reviewers have said that the netting in this pair is superelastic and durable, and that, though they are not immortal, they can serve you well for a long time.
This pair sits are a reasonable price. For their durability and stretchiness, we say they're a great purchase, as they are guaranteed to offer comfort regardless of size, and stay good with frequent wear.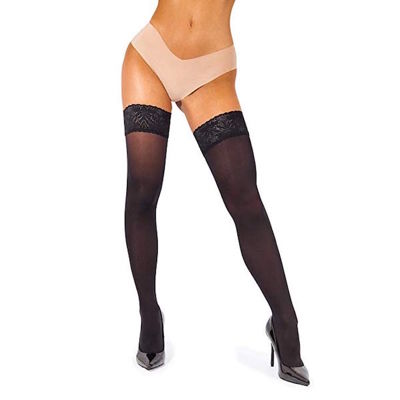 This 60 denier pair of stockings comes in a variety of colors, meaning that it's not just for those looking for black. It is sure to make you feel beautiful, as it's designed to reach mid-thigh, and has a sexy lace band that won't cut into your leg, and that's soft and stretchy, so you don't have to worry about irritation. You can even pair these with suspenders or a garter belt for a classy look.
The top band of this pair features two silicone lines that help keep them up, giving you a secure fit you won't have to worry about, even with all day wear. You can put these on for any activity, including dancing, as well as in hot weather - they'll stay up no matter what.
At 60 denier, these are quite thick but still have a beautiful look. They're also designed with fibers that are less likely to run or break than regular nylon, so you can expect to wear them at least several times. They'll also be more resistant to washing.
Averagely priced, these are a great investment, especially if you purchase a couple of pairs (as that gets you a discount). They're also of a good quality and made in Italy, so you won't have to replace them as often as similar models, plus, they're some of the best-looking stockings out there.



This next pair can perhaps be better-called thigh high socks, but they offer the same sexy look as stockings and are just too great not to include. Their material renders them super cozy and comfortable, which makes them a good choice for chilly weather. They also have a modest look that renders them appropriate for more occasions compared to sheer stockings - for example, you can pair them with a pleated skirt or shorts for a cute and casual look, though they can also be dressed up. What's more, they come in a variety of colors like blue, burgundy, and white, so if you find your black pair satisfactory you can always get a second pair to switch up the look.
What's better about this pair compared to the last is that they have more sizing options. Plus, they indicate the width of the thigh is for each size, and the person's height to which they would be most suitable.
Made of 92% cotton, they're super warm and are a great alternative to nylon stockings if you're going to be out in the cold. It means they are opaque, of course, but when paired with a short skirt or shorts they have their own great look. The 8% spandex ensures they are comfortable and stretchy.
With all those benefits combined with an affordable price, nothing could go wrong with a pair of these! Plus, the fact that they are opaque means they can even be worn in more formal situations.

10

. Leg Avenue Opaque Satin Bows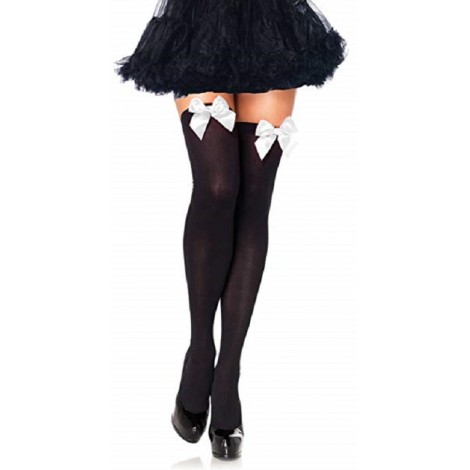 For a more playful look, these are what you need. With satin bows at the tops of these stockings, they are adorable and have a flirtatious look without going too overboard. They're also great for costume play or even cosplay. You can pair them with a mini skirt or a dress and heels for a super cute look. They have no silicon grippers at the top, which can result in more comfort, but you also don't have to worry about them slipping down because they have quite a snug fit. Just keep in mind that these stockings are quite long, so they are not the most suitable for those with short legs.
The benefit of being opaque is that any flaws that you may want to cover up are concealed under these stockings. Plus, they are matte and have a more modest appearance that adds to the playful look.
There are many black stocking options with different colored bows, some of which include pink, red, and green. This way, you can choose the one that best goes with your outfit. The stockings themselves also come in white and red.
These are of an okay price. Some bow colors are more expensive than others, so it all depends on which ones you choose to purchase. Overall, they are super adorable and can even be worn out with a cute outfit, so one pair is sure to serve you well.

Subscribe to our Newsletter