Best Merrell Shoes & Boots Reviewed
In a
Hurry? Editors choice: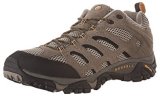 Test Winner: Moab 2 Ventilator

This brand is known for consistently providing customers with all that they need in terms of technical terrain running shoes, as well as trail boots. They have a variety of rather popular models, such as the Pace Glove, the Trail Glove, and the Moab. All three of these (and more!) have underfoot protection and traction which a normal shoe would not be able to provide. This is especially crucial in situations where you would be running outside. No need for a treadmill here... unless, of course, you're into that sort of thing!
Standout Picks
Criteria Used for Evaluation
Durability
When it comes to footwear that will be used mainly outside, you need to ensure that durability is a prime feature in your shoe's design. After all, this is an article of clothing that needs to be able to take a real beating. Your feet are in constant contact with the ground (hopefully!), and so the protection between them and, well, the ground, needs to be ample.
If your sole wears out before it's time you're looking at a pretty uncomfortable experience. Have you ever had a pair that went from making your runs feel like smooth sailing, to making them feel like a misery march through choppy water? Yeah. Yikes is all we have to say about it, too.
Let's face it: if the craftsmanship isn't up to par, the product is going to wear thin real quick. Luckily, when you go with this brand you go with confidence. They know what it takes to navigate rough terrain, and they're sharing that ability with all their happy customers.
Style
We know you want to walk confidently through all situations. If you're trying to get people to crane their necks for a flash of your crazy kicks… then, quite honestly, this isn't where you'll find that kind of eye-popping power. Keep in mind what they're actually for, however.
These aren't high-fashion, but they are made for a specific function. Also, we really are of the mind that these are the most stylish of this type of sneaker or boot. It's not Manolo, but it is an understated fashion statement that's perfect for natural settings and trail running.
We did our best to check for fashionability specifically, especially since this is such a hard style of shoe to shop for (although, the brand did make it pretty easy for us!).
Features
Although the aforementioned pieces of criteria are important, they are even more important together. Along with a laundry list of other details, in fact. There are too many sections to mention here, but we do want you to know that there are some specific guidelines we follow when making our selections. The shoe must come together like a puzzle, and every part must have a perfect fit.
Once you look at the two most important parts to consumers (durability and style), you begin to take note of smaller, minute details that the untrained eye might not see. We won't give away our specific formula, but know that we look at the upper, midsole, outsole, and more while working through our selection process.
Just know that these are all made with materials and care that brings the entire design together in perfect harmony!
Value
Lastly, it's the cherry on top of the cake. For this style of shoe, you must first look at the durability under a lens. From there, you move on to style, and then you look at how it all pulls together. We did all of that work for you, however… and more.
We also made sure to take price into account, and have made sure to provide a range of products to fit every budget. We promise that you will always find what you're looking for within a reasonable price range. This is especially important for any foot-related hiking product (or trail sneaker)!
Products with a specific purpose tend to be expensive just because they're, well, a specialty item. At the end of the day, you need a shoe that can keep up with you when performing this activity. Given the durability and features that the Merrell-brand poses, it will be a worthwhile investment that should last for quite some time.
Breathability
A shoe that breathes is critical to providing the wearer a comfortable and healthy experience when sporting a pair of shoes, sandals or boots. A lack of breathability will create a wet and humid foot, leading to discomfort and possible fungal or bacterial infections that are painful and difficult to cure.
How does a manufacturer ensure their product will allow maximum airflow? There are several ways to achieve this, including using special fabrics in the upper of the product, lining the midsole with moisture-wicking technologies and finally, the good old use of perforations of holes throughout the product.
If a product scores high on this metric, the buyer can rest assured that the manufacturer has used some or all of the above techniques to ensure the wearer a comfortable and dry wearing experience.
10 Best Merrell Shoes
These classic sneakers are made with some serious technology. Between the antimicrobial agents, the PU footbed, the Hyperlock TPU heel, and the Vibra MegaGrip outsole (along with many more) you'll have no problem hitting the trails this year. It's effortlessly athletic, and absolutely a sight for sore eyes. We're a huge fan of rad fashion with a purpose ourselves, and we know that there are those reading this that will agree.
Within the Agility Peak Flex 3 lies an air-cushioned heel, helping to minimize impacts from gravel, rocks and tree stumps you encounter along the trail. Stability and support are found with the nylon shank at the arch of the sneaker, firm for those who need extra support when running. M-Select FRESH technology helps to keep your feet smelling like new, as it helps to prevent any odor build up over time.
The uppers are created from a breathable fabric, and sturdy synthetic, which helps to support lateral movements of the foot from angle surfaces or sidesteps. With a Heel to toe differential less than 4mm, it's considered minimalistic and helps promote utilization of the foot muscles in a more natural stance and gait to support your running style. Grip and traction are maintained in the Vibram MegaGrip outsole, with traction patterns in the areas of foot strike to help keep you pushing uphill.
Much like it's heavier duty counterpart, the Moab Ventilator provides the wearer with laid-back style and award-winning can-do power... Alright, so they haven't won actual awards... but they made on this list, so close enough! We really can't say enough about this design, to be honest, It's sleek, sturdy, and anti-slip. The low-top ensures that your ankle won't experience any uncomfortable chaffing as some high-top hiking footgear can cause that. Let's look at it a little closer, however!
Tired of loud, obnoxious colors and the crazy phases of today's kids? Okay, settle down, gramps! But, seriously, cutting-edge fashion just isn't for everybody. If you're anything like us, then you know that if it isn't broke, you shouldn't fix it. This brand took this to heart when crafting the Moab Ventilator, which aspires to be a sleek athletic foot apparel but remains true to its hiking roots. The duo-tone brown combined with light accents provide a wonderful palette for the wandering eye... but it won't steal the show entirely.
Alright, so maybe "terrifying" is the wrong word. However, we think it's mighty spooky footwear with an anti-slip grip that's just scary good. You ever have a mini heart attack because you lost your footing for a split second? Honestly, it really feels like your soul is leaving your body prematurely. "Oh, no, it's finally happening." But, no, it was just the slippery soles of your shoes giving out on you again. Get your head in the game, and get your feet into the Moab Ventilator. We know you won't regret it. But you also know that we keep the price in mind as a major piece of criteria. Sure, the Moab might be a little on the pricey side, but it's by no means unaffordable. Unfortunately, sometimes you need to pay a little more to get the best of the best. This design provides that.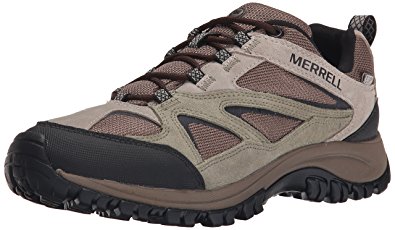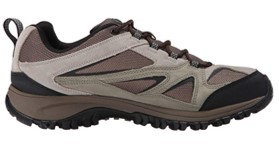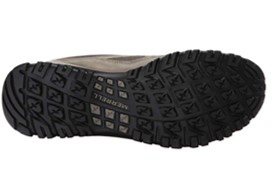 Subtle. Powerful. Steady. Persistent. These are all words that could be used to describe our next-to-last product on this list. The Pheonix Bluff is no joke, although the second part of its name may imply so. We aren't bluffing when we say that this is one of our favorite choices out there as far as hiking gear goes... but then again, so are all the other shoes on the list! What can we say? With so many great products it's always hard to choose. Anyway, let's get down to business and talk about the fundamentals of the Pheonix Bluff.
The adage "If it ain't broke, don't fix it" certainly applies here. While some may shy away from a breathable option, it's indispensable on the trail. Having adequate airflow is essential to keeping your feet healthy and happy. Soggy, sweaty shoes make your trip unbearable. We've all been there! Blisters, rashes, skin irritation... it all comes with having footwear that lacks breathability, which is crucial to hiking and other athletic pursuits.
Tired of feeling the impact of every step you take? Rough roads and tough terrain can take a toll on your tendons and bones. The Pheonix Bluff, however, will keep you from feeling the worst of it. It has an air cushion in the heel which acts to absorb shock before it even gets through to your foot. Now, that's some quality craftsmanship that shows how much they care about the comfort of their customers! The Pheonix Bluff is in about the same price range as the rest of the products we've talked about today. The brand is pretty good at keeping their pricing fairly consistent, as well as their quality. However, keep in mind that the Pheonix Bluff is not going to fare well in wet conditions or during water crossings because of the mesh lining. If you've fallen in love and aren't worried about water, then perhaps this is the perfect pick for you!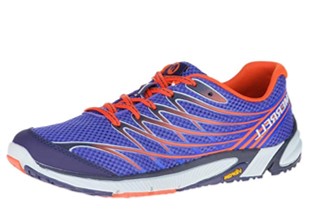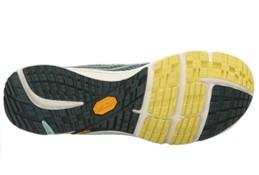 Upgraded from its predecessor, the Bare Access Arc 4 keeps a lightweight feel with breathable mesh and sturdy TPU uppers for a solid running shoe that can tackle road or light trails. It's a zero drop running sneaker, so you'll likely notice better gait and efficiency over time of use, as well as increased Achilles tendon flexibility and stronger foot muscle development. EVA midsole helps add better support for those longer runs while reflective details help alert drivers to your during low light training times like dusk and dawn.
At the base of the Bare Access Arc 4 is a textured rubber grip with intricate pattern for grip, traction, maneuvering and stability. And with a reflective detail along the shoe, low light training runs will feel safer, especially if you find yourself out around dusk, dawn, or well into the evening. With uppers made of durable TPU and breathable lightweight mesh, this pair is vegan friendly and super light. Lace up vamp secures the foot firmly in place for optimal fit when running.
Inside, An EVA midsole helps provide stability and support, and a mesh lining combined with EVA footbed adds to a lovely on-foot feel with stability throughout. The Bare Access Arc 4 is also considered a zero-drop pair of sneakers, where little to no drop is seen between the heel and forefoot. This allows for better foot muscle development, especially in the arch, as well as better Achilles flexibility and lengthening. It's a pair made for road running or light trail runs that will have you going stronger for longer!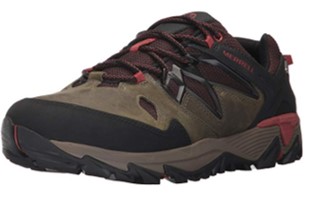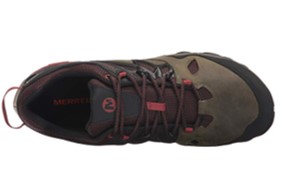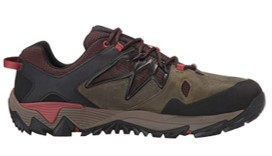 The All Out Blaze has a new upgrade in version 2 from Merrell, while still maintaining all the quality and function you'd expect from the brand. Constructed from quality leather, and breathable mesh, this hiking shoe was made for rugged terrain during summer heat. Vibram soles and outsole give the All Out Blaze grip and traction as well as durability over time of wear. Plenty of technology packs this pair for support and stability, while specific technology has been added for comfort and cushioning. If you're a fan of the original model, this is a definite must for your next pair of Merrell shoes!
At the base of the All Out Blaze 2 is a Vibram sole, with sticky grip and lugged pattern for better traction on uneven or rough surfaces. Durable for wear, outsole is constructed from Vibram rubber compound as well, so no rocks will scuff or tear through on the trail. Uppers are crafted from both sturdy leather to ward of wear and tear, as well as a breathable mesh along the vamp for better breathability and air flow. Lace up vamp secures you inside for an adjustable fit, comfortable for your unique needs.
Inside, you'll find an arch shank crafted from Nylon, which gives strong support in an area you'll need most when battling the trails. EVA adds to the structure of the shoe's design inside, giving a stable base with support along the entirety of the foot. Added comfort is found with Merrell's Air Cushion Viz Comfort technology—keep your feet feeling plush! It's a pair well worth the investment for any avid hiker!

We are very excited to introduce the Trail Glove 4 to you all. This is a signature look for cyclists, and the brand obviously sought to imitate. Whether you're somebody who actively rides bikes, or you just love the look, the Trail Glove 4 will meet your every expectation. They come jam-packed with all of the same features a classic sneaker by this brand should have, and then some.
If you're tired of all the fancy bells and whistles some of these designs come with, then this is lucky #5. The Trail Glove is sleek, with minimal design elements which lend it a subdued vibe. Some of these designs come with extra texture in the form of cut-outs or raised patterns. This is not so with the Trail Glove! Instead, you can enjoy a totally flat, but still stunning, fabric option which capitalizes on the current "minimalist" movement.
Because of its subtle design, you can rock this pair almost anywhere. You may want to avoid doing so regularly as this is an expensive, use-specific style. However, it won't look garish when you go out on the stops between home and your naturalist destination. The different colorways range from loud and proud, to smooth and cool, so it'll fit any taste or wardrobe. Step in the Trail Glove, and fall right in love... rather than in the dirt. Speaking of falling into the dirt, we're going to kick this section off by talking about traction. The real value of the Trail Glove is in the superior anti-slip outsole, as well as the skintight fit that keeps you on your feet. Combine this with the other two fabulous features we just spoke about, and you're probably already adding this to your shopping cart... and if you haven't, what's stopping you?! No matter. We're absolutely sure that if this isn't the right value for you, that at least one item on this list will be. So, keep reading!
Undoubtedly, the Moab FST is the obvious choice for those who like to take the trail less traveled by. So, if you happen to be a fan of Robert Frost, take a page out of his book and take these home with you. You'll appreciate the protection provided, and the incredible traction that comes along with it. So, let's dive right into what makes the Moab FST so fantastic that it ended up on our list, shall we?
Thus far we've mostly talked about gear that is modernized and appeals to a less traditional approach to hiking. However, we obviously would like to include this fantastic footwear that is a total throwback to the days of old. The chunky design will delight those who need a more rugged style to get them through tough terrain. Wherever you go, the Moab FST will give you an easier way to beat your way through the bush.
The Moab FST has a zero drop, which means there is no difference in height between the toe and the heel. This is important to have because it gives you a consistent grip between your foot and the ground. This added level of traction gives you ample ability to feel your way around, and stay alert as to the condition of the ground. Those with flat arches or generally achy feet may want to steer clear, however. Zero drops can prove problematic for those that require extra support.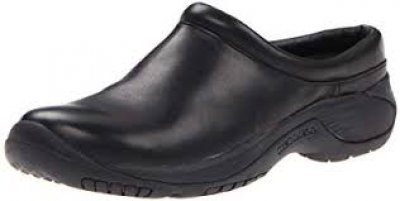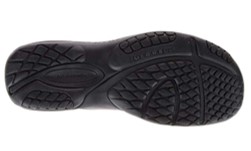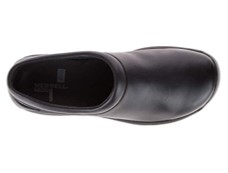 This is a little bit of a switch-up from the other designs by this brand. While leisurely activities such as hiking are great, we wanted to give at least one professionally-styled option. The Encore Gust is a fantastic slip-on that can be used by many who work in a professional capacity. Those in the medical field will fall in love with the comfort, traction, and understated class that the Encore Gust exudes. We know those internships and rotations get rough, so let the Encore Gust take a load off of your weary feet.
Are you a doctor constantly on the move? Or perhaps you work in a lab drawing blood for a living. Either way, you're going to need the right pair to get you through. Slip-on designs are perfect because you waste little time getting them on and off. We're well aware that many students on rotation will catch a few winks in a designated room when they can... but when you wake up you need to be ready to go at a moment's notice. Slip-on shoes give you this ability. You're also going to love the traction and durability provided!
When you're on your feet working all day, you need to slip into something that can help you get through. Having the right pair on your feet can mean a world of a difference! The Encore Gust is crafted with some of the best technology in comfort on the market today. From the padded collar to prevent chafing to the air cushion that absorbs shock to the compression molded EVA foot frame, the Encore Gust wears with your comfort in mind.

The Chameleon 7 Stretch is right in line with the cost of the rest of these options. The actual prize is determined by the colorway and size you choose. As always, the less popular ones will be the cheaper options. However, any good dad knows value when he sees it! The Chameleon 7 Stretch offers quite a bit for what it costs. It is a very specific style, however, that doesn't exactly appeal to a wide audience. It's on our list, so you know it's great, but it may not be the boot for you... unless you like this sort of thing. It also isn't waterproof, so if you need that you probably should keep looking.
While some may have reservation about the ethical questions surrounding leather, it really is a great material. If you're okay with cowskin then it really is the way to go. Most leather is durable, and resilient against a lot of wear and tear. You just can't get the same amount of life out of synthetic materials as you can with full grain leather! It adds that "special something" that puts the Chameleon 7 Stretch right on our radar.
It's no secret that hiking wear can be hard to pull on. Luckily, the Chameleon 7 Stretch comes with a handy loop on the back of the heel. This allows you to easily pull it on using leverage. This is also incredibly handy for those who may have a lot of wisdom under the belts, and some arthritis to show for it. Anybody who has trouble putting their boots on will find it much easier to slide these on.
The Siren Edge sounds like it could be the name of a mighty ship barreling through the seven seas. In this case, however, its one of the top picks on our list. The colorways offered are reminiscent of the ocean in many different ways. Whether this was a total accident or purposeful marketing, we may never know! However, its time to get down to the specifics on the Siren.
If you're a lover of all things aquatic, this is the shoe for you. The Siren Edge comes in five colorways, and all of them are ocean inspired. Their black option, which is shown above, features blue and gray highlights that remind us of the Mariana Trench. Their "Purple Jewel" option is the brightest and has the same color scheme as a royal blue Tang. "Frost" is like looking at the arctic circle come to life in the form of durable footwear for the fashion-savvy hiker.
You're going to swoon over the fit this pair provides. The Siren was crafted especially with Q Form 2 in both the insole and the midsole. This is especially ergonomic, and the brand states that it was designed to provide a more natural alignment for women specifically. You can probably see that this is where the last part of the name comes from. It's a good indicator of both support and comfort in any shoe by this brand.
Subscribe to our Newsletter