Best Top Rated & Popular Shoes Reviewed for Style
In a Hurry? Editors choice: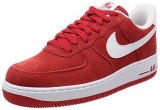 Test Winner: Nike Air Force 1

While the type of footwear we opt for highly depends on personal preferences and requirements, there are simply those shoes which are popular and highly rated due to timeless designs, top quality materials, or unparalleled levels of comfort. From boots, to sneakers, to flats and sandals, there are only a few dozens of shoes that can be considered to be the best popular shoes.
More often than not, the popularity of these styles will depend on current fashion trends, and models like Yeezis or UGGs will shine. Other times, you'll find that people still tend to gravitate towards tried and tested designs released decades ago, such as the
Converse Chuck Taylor All Star
or the Nike Air Force 1.
The list below features ten of the best popular and top rated shoes currently available for purchase.
Standout Picks
Criteria Used for Evaluation
Comfort
What makes a shoe comfortable is a rather complex topic. Dozens, if not even hundreds of little factors go into determining this characteristic, and they are different for every style, every brand, and even every person. If one design is comfortable for you, it doesn't mean that the same one will be comfortable for your friend or family member.

All items on our list are considered comfortable in one way or another. They wouldn't be the most popular options if they were hard on our feet, if they regularly caused blisters or were otherwise difficult to wear. And different designs here achieve their comfort in different ways.

Some, like Crocs and Toms, for example, rely on their materials and construction to provide a cushioned, supported feeling. They come with contoured footbeds which fit the form of your feet, and as such they support the natural movement of your foot, as well as provide relief from foot fatigue. This is especially true in those which have ample arch support, such as the Birkenstocks. It is what makes them so popular and well-loved.

Arch support is essential in preventing the foot from rolling inward as you walk - what is called overpronation - and maintaining a healthy, well-balanced gait.

And then there are designs, most notably those which come from brands such as Nike, which include a list of special features, or technologies, that turn up the volume on comfort. Nike's famous Air Technology is truly an outstanding work of innovation, one that has completely restructured how footwear works, and how sports sneakers are supposed to perform. It is also what made them popular for casual wear, not just sports.

While you may not be an avid basketball - or any other sports - player, you are undoubtedly going to love the compression and rebound that Nike Air Force 1 offers, as it will feel like walking on clouds, quite literally.

At the end of the day, which product you land on, and which comfort type suits you the best depends entirely on your preferences, as well as the shape and the size of your foot. While the Converse Chuck Taylor is amazingly comfortable for most, for you it could be too narrow. Where many consider the Sanuk Yoga Sling 2 easy and lightweight, you might find it too flimsy.

It would be best if you could try out the design before you purchase it, and decide for yourself if you feel comfortable enough to walk, or even to stand in it for longer periods of time. Make sure that no part of the shoe rubs against your skin or leaves marks, and that the footbed feels natural and supportive. Try walking for a few steps, test out the feeling, and only then commit to the design. This way you'll get not only a shoe that's popular, but also that feels great when wearing it.
Features
By 'features' in this section, we mean 'characteristics unique only to that specific item, or that specific brand'. In this competitive footwear industry, each manufacturer has to fight for their place on the market. They have to set themselves apart, to be bold and creative, to discover something no one else has ever done, and to do it successfully.

This includes coming up with new, never-before-seen materials, such as the Crocs Croslite, a resin foam that didn't exist before Crocs came up with it, or the Sanuk yoga mat footbeds that have taken the world by storm. It also includes downright science, such as Nike Air Technology we have mentioned before.

This comfort system is the only one of its kind in our list. Back in 1970s, Nike teamed up with a former NASA engineer to work on repurposing an aeronautics technique called blow rubber molding. This method was used in the construction of astronaut helmets for the Apollo missions, and then later helped Nike create midsoles which were hollowed-out and ready to be embedded with sacks of pressurized air. Science suggested that running on air provided the ultimate shock absorption, since these gas pouches couldn't wear out no matter how long they were used for.

And the rest, as they say, is history. The first Nike design featuring this technology came out in 1978, the Nike Tailwind, and the sports footwear world has never been the same since. Air cushioning remains, to this day, one of the most popular forms of shock absorption in footwear.

While some of the items from this list do come with these one-of-a-kind features that can't be found anywhere else, it is important to stress that original and creative doesn't necessarily mean better. Footwear such as the Sorel Joan of Arctic, the Adidas Superstar, and the Bostonian Ipswich don't feature any unconventional materials, or any science-backed technologies.

They are simply a combination of high-quality fabrics and reliable construction methods which are the result of decades of experience in producing only the best designs possible. As such, they are not in any way inferior to Nike, Crocs or Sanuk, and you are equally as likely to enjoy wearing those as you are some of the more advanced designs.
Materials
Now here is where things get interesting, and we get to explore all that these amazing items have to offer. Because materials can make or break a design - they affect its comfort, durability, breathability, flexibility and any other characteristic you can think of. If the materials are subpar, it is almost guaranteed that the design itself will not amount to much.

And this is why all of the popular products we've looked at utilize only the highest-quality, premium materials available. It doesn't matter if it's leather, suede, canvas, wool, cork, rubber, felt, or even faux fur - all of them are carefully selected and brought together to complete these top designs.

There are also a few that we touched upon earlier, that are an integral part of the footwear brand and also represent a unique feature of the product. Let's look at those first:

Crocs Croslite: Croslite is a special foam resin material that is outstandingly lightweight, and yet providing just the right amount of cushioning and bounce. After each strike of your heel, this material springs back up to absorb more shock, making you feel light and free on your feet. Crocs are outfitted with Croslite footbeds that are a great mix of soft and firm for that all-day cushioned comfort.
There are several different versions of the Croslite, such as the Iconic Croslite, the Dual and the Triple Croslite, each with its own set of properties that builds upon the same foundation. And this is mainly why Crocs are considered one of the most comfortable styles you can get. There is no material out there which is just as durable, just as water-friendly, and yet just as supportive as this one. In fact, this is one of the reasons why the Crocs Clog is one of the best popular shoes available on the market.
Sanuk Yoga Mat: When it comes to Sanuk, the innovation doesn't necessarily involve a laboratory, chemical reactions and the discovery of something revolutionary, as it is mostly centered around thinking outside the box. Because have you ever heard of a yoga mat used as a footbed before? Neither did we.

And yet this popular brand really showed us the meaning of comfortable sandals by introducing a piece of exercise equipment into their designs. Sanuk products are definitely peculiar and definitely amazing, and we're grateful for their forward thinking.
All other popular items in this list are outfitted with regular, well-known material choices that we listed above. They determine the purpose of the design - if it will be cooling or preserving heat, waterproof or water-friendly, elegant or sporty - and your final choice largely depends on what you expect to achieve with your new footwear.

One thing is for sure, however - no matter which option you go for, you can be certain that the materials in the construction of that design are top-notch, and that they have been manipulated in such a way that allows you to use the most out of them.
Durability
Sure, it's nice to show off your plush new Uggs or your cool retro Nikes, and they might be comfortable and made out of high-grade materials, but how durable are these popular designs, anyway? Once you buy them, how long can you expect them to last? Because what is the point of wearing footwear that everyone recognizes, being hot and on trend, if they're going to fall apart by next season and you'll be expected to get yourself a new pair.

Well, the good news is that one of the criteria we used for rating the best popular shoes in this guide is durability. We looked at the quality of the shoe's construction, as well as all the customer reviews we could find to gauge just how solid the design is, how long it lasts, and what are potential problem areas.

And the good news is, that all of these popular products are quite durable. This is understandable, as we have already described how they are made out of sturdy materials. Anything constructed out of suede or leather - especially if it's in more than one layer - is built to last for decades.

More lightweight materials, such as canvas and other fabrics, are not as strong, and can get easily stained, scuffed or frayed. However, even designs such as Converse Chuck Taylors and Toms Classics are surely going to last for at least several seasons.

The absolute champion in durability, however, is the Birkenstock Arizona. This is mainly due to the fact that its footbed represents a solid blend of suede-lined cork and an EVA outsole, a combination which easily withstands the test of time. Its leather straps are sturdy as well, since they are made from genuine leather and won't snap off or lose their shape anytime soon.

However, none of the other designs in this guide are too far behind. If you're looking for something to grace your wardrobe for many years to come, opt for leather and suede designs, as well as those which have solid rubber shells and outsoles, such as the Sorel Joan of Arctic or the Ugg Classic.

If you're leaning more towards that lightweight feeling and don't mind if your footwear doesn't live to see the next year, then don't be afraid to go for more breathable, softer fabrics such as the Sanuk Yoga Sling 2.
Style
We already talked about this briefly in the individual reviews, but we have to repeat it here - some of the best popular shoes are not the most fashion forward. They don't follow the current fashion trends, they're not winning any style awards, and they won't put you on any best-dressed lists.

However, that is not to say that the fashion world has turned its back on these pieces. Quite the contrary; despite being simple in design, many of these best popular shoes have found their place in fashion magazines and fashion blogs, and many a celebrity swears by wearing these timeless, comfy footwear.

Because ultimately, that's what it's all about, isn't it? Timelessness. If a design is going to defy the passage of time, remaining largely unchanged for years, decades, even centuries in the case of the Birkenstock, it has to be straightforward, minimalistic, and to fit in seamlessly with many outfits, many seasons and to meet the demand of many, many people.

Sure, you wouldn't necessarily say that Crocs are attractive. Or that Chuck Taylors are appropriate for a formal gathering. And yet still people wear Crocs all the time, and Chuck Taylors have become a cool, rebellious touch on the red carpet, paired both with evening dresses and sharp suits.

At the end of the day, the appeal of a popular design is in the eye of the beholder. Don't feel restricted by fashion rules or guidelines - go for whatever feels good to you, experiment, embrace your own creativity and aesthetic! Whichever option you go with from this guide, you can be sure that you will have a popular shoe that will always be a classic and that you will never get tired of wearing it.
Top 10 Popular Shoes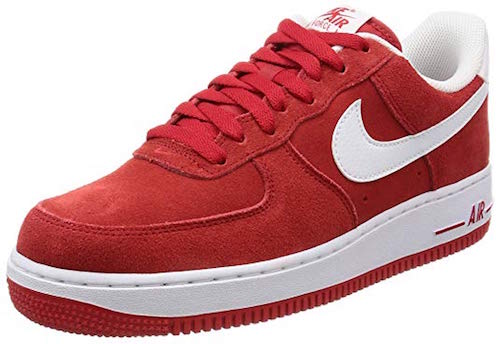 If you want to purchase the absolute best popular shoes, then you're in the right place. Not exactly a new model, the Nike Air Force 1 is a staple fashion sneaker first introduced in 1982. Originally designed to be a basketball sneaker (and the first shoe for this sport to use Nike's Air cushioning technology), the Air Force 1 has since become a ubiquitous pair of footwear you're likely to see often. But, what differentiates this model from others listed is the fact that it is available in such a large array of colorways and upper variations, that you'll look completely unique, no matter which of the versions you go with.
When you look at the tech specs, it becomes painfully obvious why this has become such a popular sneaker. Not only does it have an upper designed with a wide toe box, an easy closure system and three shaft heights, but it is also one of the most cushioned lifestyle sneakers you can buy.
The sole unit features an air bubble in the heel, caged by a foam midsole. The outsole uses non-marking rubber with a circular traction pattern that works really well on indoor and outdoor surfaces.
You'll definitely appreciate the cushioning in the tongue and collar, as well as the textile lining that lets your feet breathe. If you prefer more airflow, you can even opt for one of the Flyknit versions of the model.
As for price, it will greatly depend on the colors you decide to go with. While some models rank around average, collector's editions and custom mades can reach much higher prices, so what you get will greatly depend on how much you're willing to spend.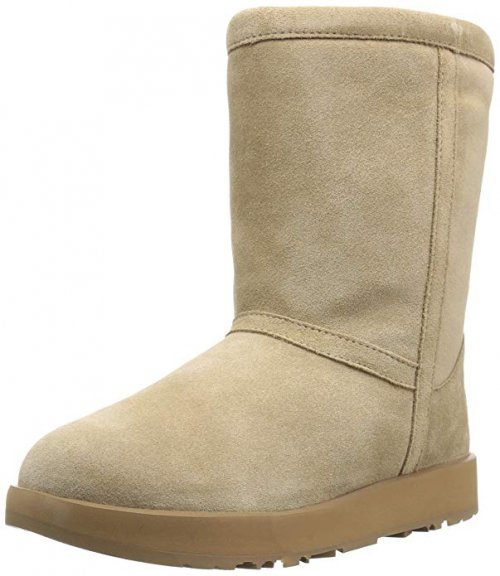 You may not believe this, but the famous Ugg boots were first created for surfers, to keep their feet warm after their early-morning sessions with the waves. Since then, they have been adopted by celebrities, and then by the entire world, becoming one of the most popular models on our list.
The reason why the Ugg Classic is so popular is because it is a comfortable, highly functional boot wrapped in a somewhat unconventional design. It is kind of like a slipper, but kind of like a boot, too - maybe not the most visually appealing, but versatile nonetheless.

The Ugg Classic has a suede upper which is specially treated to be water and stain repellent. The waterproof factor is only enhanced by its seam-seal construction, which keeps all the water out, regardless of where you are.

The true value of an Ugg boot is in its wool and sheepskin insole and lining - these materials are natural thermostats, meaning that they regulate body temperature. If it is cold outside, they will keep you warm, and if it is warmer, they will keep your feet cool. Not only that, but wool has a special ability to contour to the shape of your foot, providing you with comfort you have yet to experience to believe.

The outsole of the Ugg Classic is made out of Ugg-specific Treadlite material which is lightweight and yet durable at the same time. It offers increased cushioning, traction and flexibility on any type of terrain.

So it may not be the most fashion forward of designs. But it is undeniable that the Ugg Classic has found its place in the footwear hall of fame as a not-so-stylish, but still irresistibly comfortable boot that you will have a hard time parting from.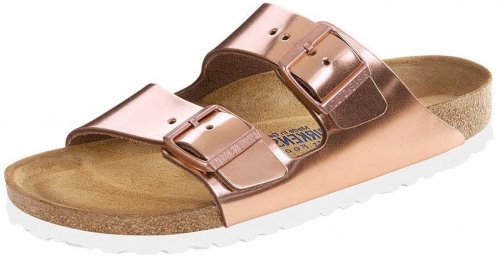 Continuing the trend of footwear with questionable stylistic appeal but unequivocal quality and comfort, the next in line is the Birkenstock Arizona. A sandal which has been around for over two centuries, updated and improved to fit the modern world, but with all its heritage as a solid foundation of its construction.
This Germany-produced design has two straps made out of high quality, premium leather. They come with one buckle each, so that you can easily adjust the fit of this sandal however tight or loose you'd like it to be. It also comes in an array of color combinations, out of which we selected this metallic beauty as an option which pops.

The reason why the Birkenstock Arizona has become such a popular shoe, and a true comfort legend is because of its cork footbed. This material is outstanding when it comes to footwear, as it conforms to the shape of your foot over time, providing you with tailored comfort, but it also has moisture-wicking abilities. It will prevent sweating and unpleasant odors and make you feel wonderfully comfortable all throughout the wear.

The Arizona also comes with pronounced arch support - which is crucial in reducing foot fatigue and preventing medical conditions such as flat feet - as well as a deep heel cup and a spacious toe area. It also has a lightweight EVA sole for cushioning and impact absorption.

While yes, it is not something that has just walked off the runway, the Birkenstock Arizona's sturdy, old-school aesthetic still has a certain attractiveness to it. One that drove many a fashion blogger to write stellar reviews on this sandal, season after season.

If you're looking for a design which will keep you supported and comfortable, and which will last for a long, long time to come, then look no further than the Birkenstock Arizona!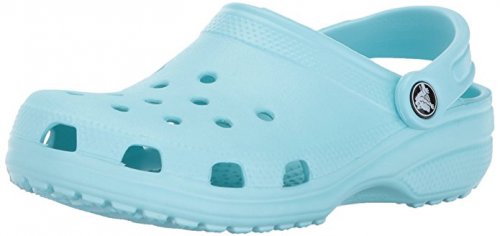 This list wouldn't be complete without the Crocs Classic clog. Yes, it may not win many style points - we all have our preconceived notions about people who wear Crocs on the regular, don't we? - but they are, without a doubt, worthy of being in this guide of the best popular shoes. And here's why.
The Crocs Classic is designed to be an outdoor, water shoe; one that is fit for the beach, the pool, the garden, anywhere you want to be sock-less and comfortable at the same time. Its interior is roomy without being too loose, and there is a strap at the heel which helps keep your foot in place. In case you're not a fan of the strap, you can always rotate it forward and wear it as a slipper.

What makes the Crocs Classic so special, however, is the material it is made of - the Crocs Croslite. This is not rubber, or plastic - it is a foam material, a closed-cell foam resin that provides exceptional lightness and comfort. Not only that, but this material is also odor-resistant. Whatever you do, and wherever you go, you can be sure that your feet will be odor free!

In terms of wearing it near water, the Crocs Classic has special ventilation ports in the sides, which add breathability, and help water and debris drain away. The clog itself is so lightweight that it is actually buoyant - if you happen to lose it in a pool, it will simply float back to you!

We could continue singing praises to the Crocs Classic, but you probably already got the idea just how awesome this design is. If you're on the fence, not sure if such an unattractive clog is worth it, we are here to tell you that you won't regret a single moment of wearing this summer powerhouse.



When the winter sets in, cold and unforgiving, when harsh winds pick up and blankets of snow cover everything, you need footwear that will both keep you warm and keep you protected from the elements. If, at the same time, the design is stylish as well, that's certainly a nice bonus. Fortunately for you, the Sorel Joan of Arctic happens to be all three.
This magnificently badass winter boot is made out of leather and suede for the upper, and a seam sealed waterproof construction which keeps all the moisture away. It has a faux fur cuff that is addictively soft to the touch, as well as a removable inner boot made out of recycled felt.

This inner boot ensures that your feet are nice and toasty, and comfortable at the same time in temperatures as low as -25 F. The inner boot is also easy to take out and wash, helping you get rid of any potential unpleasant smells.

The outsole of the Joan of Arctic is handcrafted from waterproof vulcanized rubber, and it forms a shell all around the design. At the bottom there is a herringbone pattern, which provides traction in multiple directions and helps you stay on your feet regardless of how slippery the surface is.

It is honestly hard to find a fault with Sorel's best-selling boot. It will preserve all the warmth you need, while at the same time keeping water at bay, and it is also undeniably stylish, with the faux fur collar which adds to the winter wonderland effect. If you're looking for that hardcore winter boot that is both functional and cute, then look no further than the Joan of Arctic!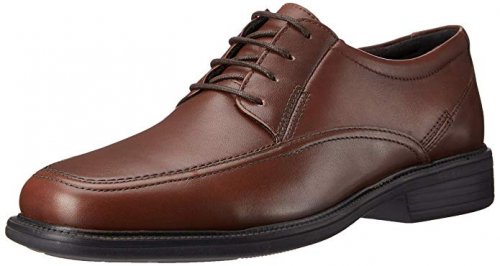 Bostonian is a brand which has been in business for over a century. That's right, they have over 100 years of experience in making only the finest dress footwear money can buy. And the Ipswich oxford is a great example of their impeccable craftsmanship and a silhouette which can not be any more elegant than this.
This full-grain leather design speaks of class and refinement, and it is just what you need to match with your business suit, or that formal outfit you picked out for a wedding reception. It is smooth, streamlined and polished, and the leather helps keep your feet breathing, while making them comfortable at the same time.

The footbed of the Ipswich is plush and padded for bonus comfort - you will hardly find an oxford that is easier to walk in than this one. The footbed can also be removed if necessary, so that you have more space inside the design, and to feel more lightweight.

Finally, the Ipswich comes with an EVA outsole, the kind that is reserved only for the best running sneakers. Essentially, this means that you get all the sophistication of a dress shoe, but all the comfort and support of a sports sneaker.

There is a reason why the Bostonian Ipswich is one of the most well-known evening footwear designs in the world, and that is its effortless combination of style and performance. Don't be afraid to experiment - once you invest your money in this glorious oxford, you will never want to look back ever again.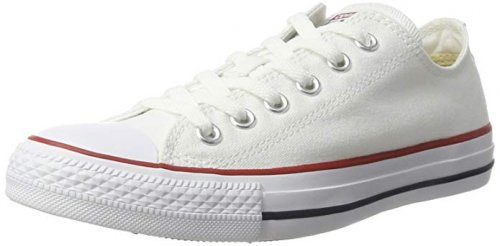 When you picture an iconic or popular sneaker, it is likely that an image of the Converse Chuck Taylor pops up in your mind. Because yes, this is a popular design, by all standards. Similarly to the Adidas Superstar, the Chuck Taylor was also created for the purpose of playing basketball, but it slowly migrated from the courts and onto runways, becoming an invaluable fashion declaration instead.
What this sneaker says about you is that you are cool and laid-back, that you are confident in your own skin and that you know how to take a joke, how to enjoy life and make the most out of it. It is made out of lightweight, canvas materials for the upper, which promote proper air flow and allow your feet to breathe.

The sneaker comes with its signature rubber outsole, as well as a rubber toe cap and guard all around it. It is produced in dozens, if not hundreds of color options, from solid colors to patterns and prints to ombre transitions, and you are bound to find at least one which matches your personal aesthetic.

With the Chuck Taylor you can't go wrong. This design is so well-integrated into the fashion world that there is no outfit it can't go well with (including dresses and suits!), and there is no person who won't find them easy to wear and even easier to love.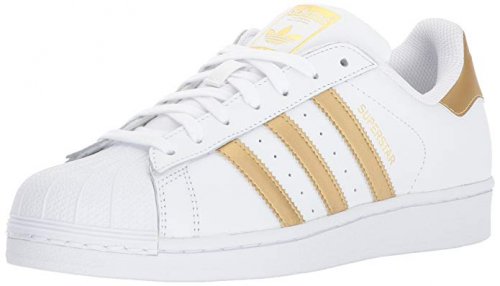 A look which originated in the 70s and is still going strong - perhaps now more than ever, with the retro vibe overtaking the fashion scene - Adidas Superstar is one iconic sneaker. You will recognize it by its shell toe, the three Adidas signature stripes on the sides, and a logo-stamped heel patch - a popular design everyone is familiar with.
Adidas Superstar was first created as a basketball sneaker. That was the original purpose of the shell toe anyway, to protect the players' toes on the court. The upper of this famous sneaker is made out of full-grain leather, meaning that it is not only durable and breathable but that it also provides that customized comfort which comes with leather that has been worn for longer periods of time.

Inside the Superstar there is a removable insole, making it easy for you to wash it and put it back in (or remove it altogether if you feel like you need that extra space inside). There is a mesh lining which allows air to pass in and out of the design, keeping your feet dry and sweat-free.

The outsole of the Superstar is made from rubber, with a distinct herringbone pattern which provides multi-directional traction. This was designed to keep basketball players on their feet even when they change direction quickly to get past the defense, and it will surely protect your balance as well.

While this sneaker has been phased out of basketball courts by newer and more advanced designs, it remains in stores as an undeniable fashion statement. It is a timeless silhouette that defies the current fashion trends, and if you wish to rock that retro look, you've come to the right place!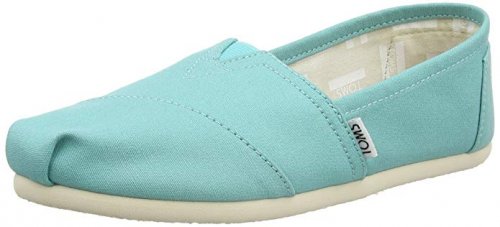 In a span of only a few years, the Toms Classic "Alpargata" design became one of the most sought-after, and most popular silhouettes in the world. This is partly because the slip-on itself is addictively comfortable, and partly because there is a noble cause to buying a pair of these. Namely, Blake Mycoskie, the founder of Toms, vowed to donate a new pair of footwear to a child in need for every purchased pair of Toms. Making the world a better place, one pair of footwear at a time!
The Toms Classic slip-on is made out of lightweight canvas fabrics which allow for breathability and gentle comfort. Even in the hottest of days, your feet won't feel sweaty or otherwise uncomfortable. There is also an elastic insert at the top of the design, which stretches out to accommodate feet of all shapes and sizes.

What makes the Toms Classic so amazingly comfortable is its suede footbed. Apart from suede providing that luxuriously plush feeling, this footbed is also carefully molded to fit the contours of your foot. As you wear it, it adjusts to the form of your sole, and in a short period of time you will have the most comfortable design you have ever worn in your life!

You can wear the Toms Classic with anything - jeans, shorts, a skirt or a dress, on bare feet or with cute no-show socks. There really is no limit to the versatility of this design, as well as to the lightweight, free-spirited feeling it brings you. Throw on a pair of these and go out into the world with a smile on your face and a spring in your step!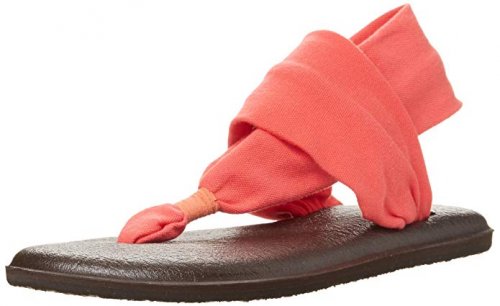 Summer will never feel the same after you try stepping out in the Sanuk Yoga Sling 2. If Nike changed the game for sports footwear, Sanuk definitely upped the ante when it comes to easy, lightweight designs that you can wear all the time in warm weather. The one that stands out in terms of comfort and that easy, breezy feeling is the Yoga Sling 2.
The secret to why this sandal is so comfortable (and popular) lies in its materials. Namely, the footbed of the Yoga Sling 2 is made out of a real yoga mat, with a sealed edge. If you ever stepped on a yoga mat, you know how this thin material gives under your feet, lightly cushioning your steps and providing you with a foam-like comfort that springs right back up when the pressure is off. The same thing happens when you wear these sandals as well.

When it comes to the upper, the Yoga Sling 2 has a knit stretch material which wraps around your foot without causing any chafing, blisters or abrasions, and which still provides just enough firmness and support so you don't lose your balance as you walk. This stretch fabric is also amazingly breathable, meaning that your feet won't sweat at all, regardless of how high the temperatures go outside.

Contrary to the Birkenstock Arizona, that solid, sturdy design which you can wear on the city streets, the Yoga Sling 2 is a simpler option, one that is better for easy strolls along the beach, or fun days by the river. Its comfort is nothing short of exceptional, and we have yet to see another design that has so thoroughly described what it means to have happy feet.

Subscribe to our Newsletter