Best Ombre Shoes & Heels Reviewed for a Blended Look
In a Hurry? Editors choice: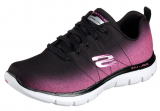 Test Winner: Skechers Flex Appeal 2.0

While it does sound like a Spanish word (and it is, with a different meaning), when it comes to the popular coloring technique, the word ombre comes from French, and it means 'faded'. It represents a gradual blending of one color into another, whether it is the same hue but different saturation, or different shades, or maybe two completely unrelated colors.

This is why we have organized this list of top ten ombre shoes. If you are as taken by this fading method as we are, then you have undoubtedly looked for ways to include it in your outfits. It is a most fascinating world of color change indeed, and we hope that in the end, you will walk away with at least one brand new pair of ombre shoes!
Standout Picks
Criteria Used for Evaluation
Color
You may think that the ombre technique is recent, that it has been around for barely 20 years, but in fact, it is a rather well-known method of coloring. In the early 19th century, a special block – called a 'rainbow' block – was used to paint textiles with this faded design. This technique was also prevalent in embroidery, by dying the threads in graded colors beforehand.
However, in recent decades, ombre has moved from fabrics and fashion – though it still remains popular on the runways – and onto hair and nail art, as well as makeup and even baking products. Probably the one most responsible for reviving this coloring method is Britney Spears, who first dyed her hair from dark at the roots to lighter blonde at the tips back in 2000.
When looking at ombre shoes, the most important factor we looked at was color and ensuring each product really highlighted the uniqueness that can come from this look. Each item was rated based on how well the ombre was done, how noticeable the color change is, and the variety in options available.
Style
Our ombre shoe list is quite diverse when it comes to different ombre shoe styles. We have heels, but also sneakers, both lifestyle and more sports-oriented, and boots. Which one – or which ones – you will choose is based entirely on what you intend to do with your ombre shoes.
Are you looking for a stylish and yet casual sneaker to wear with your fashion-forward everyday outfits? Do you need a new pair of sneakers for jogging? A nice, sensible pump for the workplace? Or maybe a staggeringly high stiletto which will help you be the center of attention at a party?
While rating based on style is tricky, we did so by focusing on how attractive the ombre shoe looks on foot. More updated and modern styles rated higher than products that were a bit outdated or plain, and we also took into consideration the silhouette of each shoe.
Heels tend to rate higher for style, and while some people may not prefer the look for a high shoe, more often this type of footwear is utilized for fashionable and more formal looks. Yes, they may be somewhat uncomfortable to wear – though it entirely depends on the design of the shoe – but heels are one of the most popular footwear types in the world. The reason for this is that they make us feel confident. They force us to keep our head held high, back straight, and to carry ourselves with a sense of dignity. It also helps that high soles visually elongate our legs, and help us look slimmer than we really are.
Versatility
Just because an ombre shoe looks great doesn't always mean it's versatile, so that is why we made sure to include versatility in our rating. The ability to wear a pair of ombre shoes on more than one occassion is important to the majority of people, and it helps ensure that you are getting your money's worth with your purchase.
Unless you are getting them for an insanely good deal, owning a pair of ombre shoes that you can only wear once is fairly pointless and just means your closet space is taken up by dust collectors. While versatility can mean different things to different people, we focused our rating based on how many occassions a pair could be worn to.
We also considered factors such as weatherproofing, if something was work appropriate, and if the color options would be able to blend in with a mix of different outfit colors and styles. All of this was mixed together to help create the overall versatility score.
Value
Given that we didn't focus on one specific type of footwear, only on the colors, it should be no surprise that the price ranges were just as diverse as the ombre shoes. From low end sneakers to high end heels, our list was all over the board in terms of dollar amounts.
Price alone doesn't dictate value, however, and we took into consideration not only the actual number, but what you were actually getting for that price. With that said, very expensive ombre shoes did score lower than more budget friendly options simply because it makes them available to the vast majority of people.
Comfort
Comfort is always an important factor when it comes to footwear, and it was something that sometimes gets neglected when talking about fashion. While ombre shoes is mainly a fashion-forward topic, comfort still needs to be a part of the conversation in order to find the most well-rounded shoe.
With both flat and heeled options on our list, there was a bit of a skew in terms of what rated more highly in this category. Flat ombre shoes are almost always going to be more comfortable than heels, so we had to look just beyond that factor. From material choices to sizing, we checked each pair to sort out which ones ran more narrow, which ones needed to be broken in, and which just rubbed in the wrong spots.
Top 10 Picks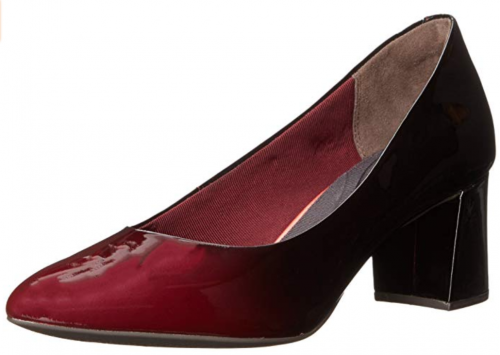 The Rockport Salima is a sensible, practical ombre shoe which is perfect for the workplace. What sets this ombre shoe apart from others of its type is the fact that it comes with Rockport trademark technology named Total Motion. This includes a lightweight comfort system, premium materials such as smooth leather for the upper, a full-length stability plate, as well as an extra padded footbed.
The special stability plate that stretches from the toe area all the way back offers extra stability, making your footsteps more secure, while at the same time it provides flexibility in the front, as the Salima moves along with your foot. This is then paired with the lightweight support system we mentioned earlier comes under the name of truTECH. This ombre shoe provides shock-absorption at the back, preventing the pounding effect at the heel which can lead to pain and medical problems, but it also offers rebound at the forefoot, for superior comfort.
 
Really, the Salima is one of a kind ombre shoe, and you have to try it to believe its comfort!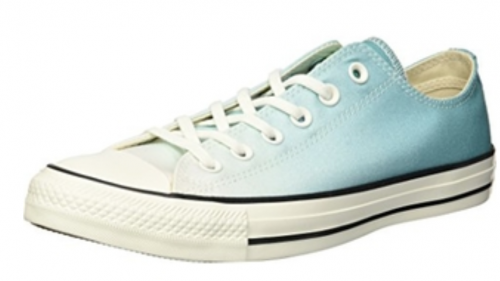 The Chuck Taylor comes with a special molded Lunarlon sock liner, a gusseted tongue, and the original rubber toe area and toe guard. There is also a lace-up system at the front, with metal eyelets for added durability in this ombre shoe. While the Converse Chuck Taylor has an upper made from thin, breathable canvas material, its tongue is extra padded for a snug fit. Your foot won't slide around inside the ombre shoe, and you will feel comfortable and secure.
As mentioned, this ombre shoe features Lunarlon, which is actually a technology by Nike, which now owns Converse. It represents a special cushioning system which has the purpose of absorbing shock. This means that as you walk in the Chuck Taylor, the impact of your heel strike is evenly spread over the shoe, and your steps are softer and stabilized thanks to this innovative technology.
 
We honestly didn't doubt for a second that the iconic Converse Chuck Taylor had a design which fits the topic of this guide of ombre shoes. These legendary sneakers can be found in literally thousands of different color options and prints, and the ombre shoe options are just as appealing as any other. Truly, there is hardly a sneaker as effortlessly cool as the Converse Chuck Taylor!

3

. Skechers Flex Appeal 2.0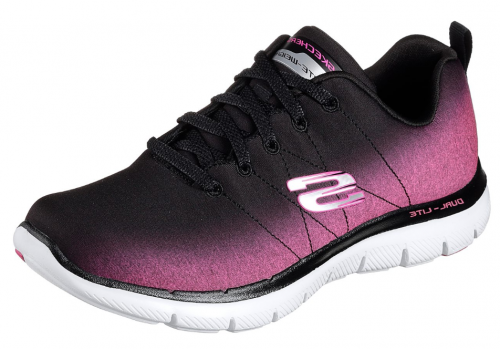 Embrace your sporty chic style with the Skechers Flex Appeal 2.0. This is an athletic sneaker which isn't made for any hard-hitting sport but is, in fact, a comfortable, amazingly practical everyday option for an ombre shoe. It has a flexible jersey knit upper with a black to grey fade and cute stitching detail all over. Not only is this an attractive ombre shoe, but thanks to the Flex 2.0 lightweight midsole, it should enable you to stay on your feet for longer. Flex 2.0 is a special technology for midsoles which is extremely lightweight and still enables the shoe to absorb shock instantly. This feature keeps the foot fatigue away and you can easily spend an entire day running errands without feeling even a hint of discomfort!
 
The outsole of the Flex Appeal 2.0 is made from flexible rubber which provides excellent traction, and the inside is cushioned thanks to the Air Cooled Memory Foam insole. As it is suggested by its very name, the Air Cooled Memory Foam of the Flex Appeal 2.0 not only provides cushioning and support, but it also helps promote proper air flow through the ombre shoe. This keeps your feet dry and cool and avoids any nasty odors which might result from sweating.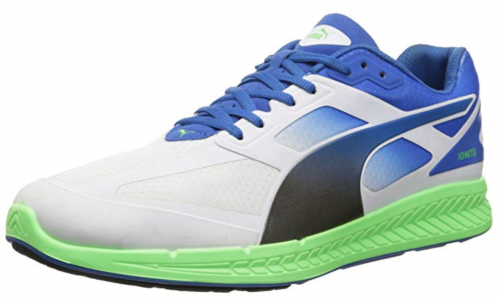 As opposed to several lifestyle ombre shoe options on this list, the Puma Ignite is anything but an amateur sneaker. This beauty is built for running, and every single feature on it is there to help you improve your performance. We are talking about impact-dispersing cushioning, a PU foam midsole, an EverTrack outsole, as well as a special Cellasto foam heel pad.
 
Cellasto is a special polymer material which has excellent static and dynamic behavior. It boasts a high-level of compressibility and lateral expansion, meaning that while you run the pad squishes with the impact, softening it, and then springs right back up to do it again. Like running on clouds in this ombre shoe!
 
A highlight of this ombre shoe comes in the form of its outsole. One of the main features of the EverTrack outsole on the Puma Ignite is that it is highly abrasion-resistant. It doesn't matter if you are running on soft trails or rough asphalt, your sneakers will keep you safe and protected, and at the same time, last longer than most other models, and all in ombre style.



We know Skechers keeps their line of active footwear cushioned and comfortable, and the Air Element now adds in that ombre shoe option for some fashionable sneaker models. Created from 100% textile materials, it's lightweight and breathable, helping to reduce foot fatigue during extended wear or walking. As part of their line of footwear with Air technology, it has several features to help you be supported and cool as well, even when the ombre coloring heats up the temperatures!
Air Cooled Memory Foam insole helps keep your feet dry, and the air cushion midsole gives amazing support and cushion to each and every step, visible along the entirety of the shoe. Air technology in the midsole also helps reduce any impact during wear, absorbing shock as you go. It's ideal for walking, running, or just being out and about in town during the day. Padded collar and tongue help add some more cushion and prevents blistering.
The coloring on this ombre shoe fades from light at the soles, to darker as you move upward. And, it's available in several color combinations and fades, so you can find one that resonates with your style and fashion sense. Lace up closure allows for an adjustable fit, so you get the perfect feel. Grippy tread pattern at the base will have you sturdy and stable. So, what are you waiting for? Get out in these ombre shoes for a quick spin around the block!

6

. PUMA Sophia Webster Cage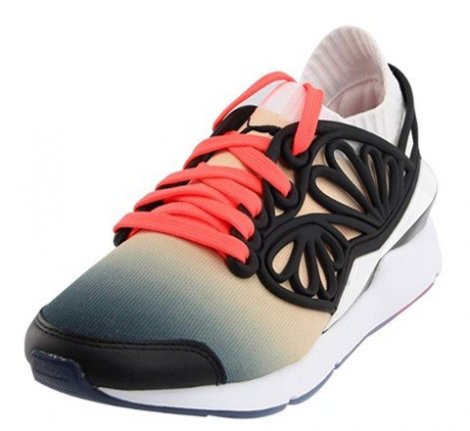 This is definitely unique spin on an ombre shoe from PUMA, where not only will the color grab your attention, the intricate cage design in the uppers will as well. Inspired by Sophia Webster, the British designer, an entire collection has been introduced into the footwear line for PUMA using her elements and style. And, while you can certainly call this a dressier sneaker, it still features all the PUMA brand technology to give you a cushioned and comfortable ride.
At the base of this ombre shoe is a rubber sole, giving a cushioned padded step to your walking or running. PUMA logo lies at the arch on the sole, and grip can be found with textured grooves along the sole. A sculpted heel cap helps keep you in place and adds some style to the lines of the ombre shoe. Knit uppers keep it lightweight and breathable, making it perfect for those hot summer workouts or walks.
The most appealing part of the Sophia Webster Cage, is of course, it's cage design along the uppers. On either side of the ombre shoe is an intricate fabric rope cage, woven to look like butterfly wings. And, if you look at the shoe from the top, the neon lace up ties the 'wings' together, just like a butterfly. It's great ombre coloring can be seen from the toe through the upper cages, giving it a seriously beautiful look. This is one ombre shoe that will turn heads at the gym for sure!

7

. Jessica Simpson Martella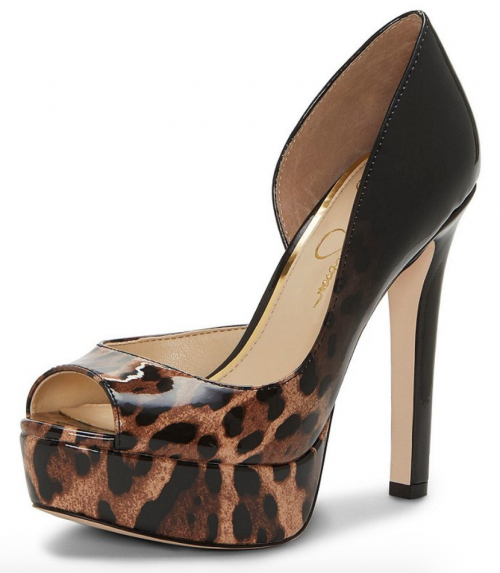 With the Jessica Simpson Martella, the faded coloring technique has been done a little differently - this isn't one color gradually turning into another, this is a leopard print fading into a solid color! The Martella is a peep-toe pump, half d'Orsay in design, with a whopping five inches in heel, though with a 1.25-inch platform in the front. Still an eye-popping ombre shoe!
The upper of this ombre shoe is polished and gleaming, synthetic, and for added comfort, there is a memory foam insole. Jessica Simpson is famous for her designs which don't force you to compromise between style and comfort. The memory foam midsole of the Martella provides you with necessary cushioning and softens your steps, helping you stay on your feet for extended periods of time.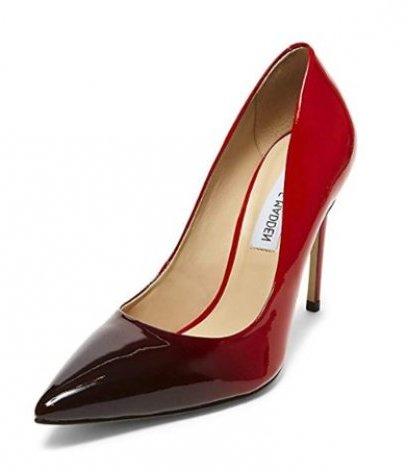 Steve Madden is no stranger to fashionable, sometimes quite creative footwear designs. Using some of the most intriguing elements in their fashion footwear, the Zoey is an ombre shoe option that certainly packs a punch for a pump. With a few different kinds of ombre color options, you can find one to dress up a pair of jeans, or compliment business attire. It's an attention grabber that will have you turning heads!
Uppers of the Zoey are a patent leather finish, making this ombre shoe a shiny, yet durable option for wear. However, it's not for the faint of heart with a 4-inch heel! Stiletto heel will lengthen legs and accentuate calves, making it great to ombre shoe option with pencil skirts or shift dresses for business hours. Synthetic sole helps add some traction, but we wouldn't advise wearing stilettos on uneven surfaces!
Ombre coloring fades from darker at the toe to lighter as you move toward the heel of the pump. Pointed black toes grace the front of this ombre shoe, giving it that structured look we love that commands attention. A lightly padded insole helps to add some comfort to the stiletto during wear, but do note this pair of ombre shoes may be best worn to events where you'll be sitting a good bit of time!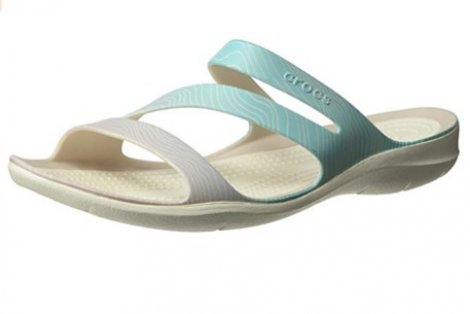 Whether or not you've owned a pair of classic or other style crocs, you likely don't have them yet in an ombre shoe model from the brand! The Crocs Swiftwater Seasonal sandal is a strappy designed option, perfect for summer heat, and gentle strolls along the boardwalk or by the pool. As with many Crocs brand shoes, it's pack of comfort and cushion to keep you going throughout the day, but now with a great ombre shoe coloring!
Croslite outsole is non-marking so you can be confident you won't scuff any floors or surfaces with your shoes. As with other Crocs shoes, it has the Croslite footbed, which is renowned for its simple construction and materials which maximizes comfort and cushioning. It's ideal for summertime activities outside or around water, as the uppers of the Swiftwater ombre shoe are waterproof.
A couple different choices of coloring are available for this ombre shoe, ranging from oranges to greens or more depending where you shop. Lighter coloring extends from the strappy toe band, and gradually fades darker back toward the heel. Slide style makes these ombre shoes easy to slip on into and out from, and a tractions footbed provides additional grip for wet conditions when wearing. It's a perfect option for summer footwear!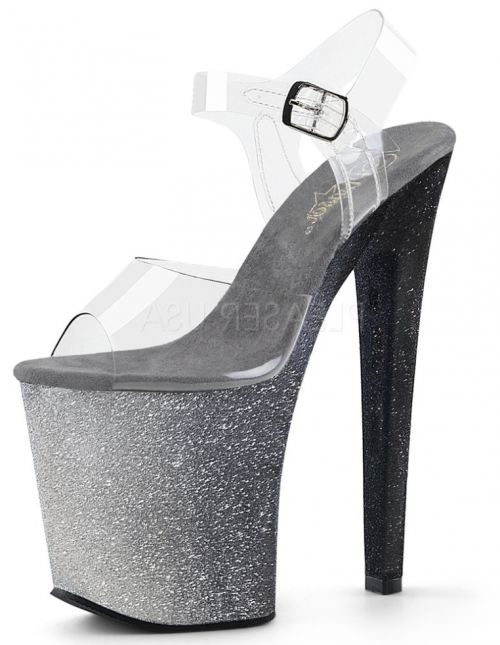 Right off the bat - this ombre shoe is not for the weak of heart. That much is evident by the eight-inch high heel the Pleaser Adore comes with. However, it also features a four-inch platform in the front, which helps with making the height somewhat more stable in this ombre shoe.
 
The Adore is a peep-toe pump with an upper made completely out of transparent synthetic materials, as well as an ankle strap with a buckle closure at the side. What is most striking on this ombre shoe is the height, definitely, but also the subtle glittering ombre effect from the silver at the front of the sole to the black in the back.
 
The beauty of a clear, transparent upper is that it goes with absolutely everything. Whether you're gearing up for an alternative night or to charge the dance floor in your favorite club, you won't have any trouble finding an outfit which matches this stunningly high pump.

Subscribe to our Newsletter