Best Jelly Shoes Reviewed & Rated
In a Hurry? Editors choice: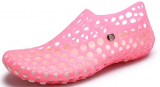 Test Winner: Clapzovr Saltwater

Summer is on its way, and that means it's the season for wearing your favorite jelly shoes. Back in 1982, a new style of summer footwear broke onto the scene in the form of jellies, as they are also called, an easy-wearing design made entirely from PVC plastic. This style gained its popularity based on its unique semi-translucent look and the multitudes of variations that became available. PVC is like the chameleon of materials and can be crafted in any color imaginable and can even be infused with glitter. Women and girls everywhere fell in love with this simple yet fairy-tale like style which became available at a next-to-nothing price.
Standout Picks
Criteria Used for Evaluation
Style
Since the early 1980s, this type of footwear has been reinvented by several big-name fashion designers and now comes in many styles and designs. Some of the most commonly found variations of jellies are:
Ballet Slippers
Pumps
Flats
Boots
Thong Sandals
Sandals
Along with the wide variety of styles, jellies also feature a plethora of accents such as bows, stylized straps, rhinestones, sparkle glitter, and more. Though these are mainly a design for summer, there are variations available which are lined with a warmer material for wear in colder weather.
If you're feeling swamped with all the choices available online as well as in our guide - don't fret! Simply think of the style that you like the best, that you think will flatter your foot shape and your personal aesthetic, and just go for it! These designs are meant to be silly and carefree, and thus you shouldn't stress too much when choosing the right style for yourself. It is all about feeling good and having a smile on your face!
Use
A design needs to function well on a variety of levels to provide an enjoyable experience for the wearer. There are many factors which make up the functionality of a shoe, including materials, design, closures, and how well it fits. There are also specific considerations to incorporate into your final decision before purchasing a pair, such as:
Terrain
The type of terrain you intend to wear footwear on is a big part of how well it will function. If you are planning on a day at the beach or by the pool, you should consider an option designed for water sports. This type usually has a different outsole than other designs and will include better traction for wet and slippery surfaces.
Whereas a design for hiking or off-trail wear will have a more profound lug pattern and will be designed for the loose dirt and difficult underfoot terrain encountered while hiking or venturing off-trail. A design for casual wear in the city will have a smoother outsole and will require far less traction than options for other types of terrain, though they will still need to have reliable protection from the potential hazards one may encounter on the city streets.
Activities
The type of footwear you will require also depends on the kind of event you are participating in. For example, sporting activities require an athletic style that is flexible by nature and provides supportive and protective wear. While footwear for a night out on the town will not need to offer the same level of flexibility or protection, but instead, will be assessed far more for its physical appearance.
Duration of Wear
The amount of time you plan to spend wearing any one pair of shoes affects the kind of features you should be looking for. Any footwear that's meant to be worn for many hours on end should provide a cushioned and comfortable footbed to prevent foot fatigue. Odor and moisture control also becomes a factor when wearing footwear for an extended period, and you should consider an option that has moisture wicking material, as well as odor-controlling properties.
Comfort
Plastic is a tricky material, especially in warm weather as feet tend to sweat more inside of a plastic design. Plastic doesn't offer any moisture wicking properties or odor control, which can become a problem when you're wearing your jellies on bare feet. When your feet sweat inside, the plastic will rub and cause friction and painful blisters.
To prevent unwanted odors and rubbing look for a pair that has a footbed made from a material other than plastic. There are many styles on the market today which have a comfortable footbed that will wick moisture out and away from the foot while also stopping odors before they start. If the pair of jellies you love doesn't have an improved footbed, consider purchasing a separate insert to fit inside them. There are tons of inserts you can buy with loads of great features for preventing sweat and blisters. Look for options that provide additional cushioning, while also wicking moisture and protecting from odors.
Adjustability
As you may have gleaned from our list, there is a vast number of styles to choose from when it comes to this type of footwear. We cover them in our earlier section, Style, but here we will focus on one important bit of this style - adjustability. Rather, how easy it is to adjust the fit of a design to your foot.
You may think that this is not an important factor - after all, not like you'll be wearing these sandals for extended periods of time, they're just for fun anyway - but when you have a design made of not-stretchy material such as PVC, every bit of adjustability counts. If you have a foot that is too wide or too narrow as well, the necessity of having a good fit is even greater.
So what can you look for? Generally speaking, jellies are somewhat accommodating, with their plastic uppers having some give to them. However, that may not be enough for you to slide into the design without effort, or for the straps not to dig into your skin. You would do well to reach for a design which has adjustable straps.
Straps which are adjustable come with buckle closures on them. You can tighten them, or loosen them up however much you need, and voila! It's instantly easier to wear the lovely jelly you picked out. In case you need extra holes in the strap, you can always find someone to add them without a problem.
If you're usually having a hard time finding the right fit for yourself - definitely look for adjustable closures even in this type of footwear!
Safety Hazards
An important thing to think about when purchasing a plastic design, whether for yourself or your child, is that many plastic options have been found to contain toxic chemicals. PVC materials are found to be exceptionally high in certain chemicals which is why many manufacturers now produce jelly footwear using different plastics and have ceased with the use of PVC altogether.

For designs that are made using PVC, it's crucial that high-quality materials and safety standards are maintained during production to prevent overexposure to possibly harmful chemicals. Look for manufacturer warnings on the product before purchasing and make sure that you buy footwear from a reliable brand. Always research the product before purchasing.

When it comes to safety, especially for children, it's also vital to consider the security of a design, including straps, fit, flopping, and the possibility of slips or falls. Look for an option that is designed with a secure strap at the heel to prevent your foot from flopping around, and also make sure that it fits correctly (no flopping, no extra room in the toe, the heel does not hang over the back, etc.)
Our Favorites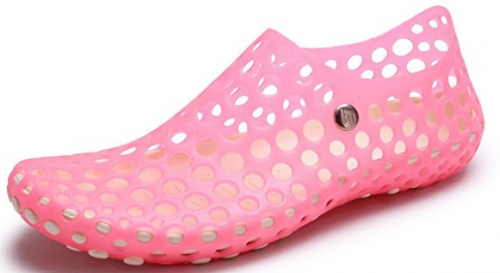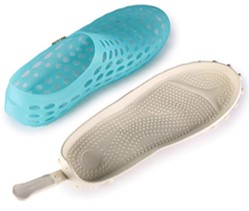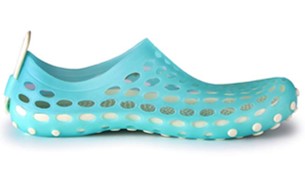 The Clapzovr Saltwater is made from synthetic materials and has a breathable PVC upper. It boasts a quick drain design for fast drying and is an eco-friendly option. This Saltwater is flexible yet firm and features an EVA outsole that's lightweight and comfortable while offering excellent anti-slip properties. It's an easy design to clean and is made with a slip-on design for hassle-free wear.
The Saltwater provides shock-absorption and includes a cushioned footbed for added support that's removable and massages your feet while you walk. Made with an EVA midsole that's lightweight and designed with ventilation holes to prevent sweating, these are the perfect choice for warm days spent on your feet.

These slip-ons offer a slip-resistant outsole and are made to prevent sweating. They have a hollowed-out PVC upper that's breathable and provides ventilation holes, along with a quick-draining design which is ideal for water-related sports and activities.

These are a budget-friendly design that provides great value for the price. They are perfect for water sports and offer a soft cushioned removable footbed, along with ventilation holes to prevent sweat and odors.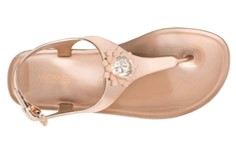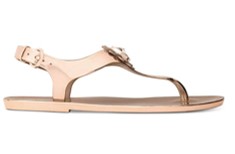 That's right, even some of the biggest names in the fashion world, such as Michael Kors, have their fair share of jelly designs. The Miley brings this footwear category to a whole new level, however, with its metallic shine, delicate straps, and a large rhinestone detail at the center, drawing everyone's attention. If you never thought jellies could be sophisticated, then you never saw a design like Miley before.
This Michael Kors option is made from 100% PVC. It comes in several metallic colors, and we are absolutely charmed by this rose gold. The large charm in the middle of the T-strap adds glam to the design, and the entire sandal is fastened at the back. Thanks to the buckle closure, you can adjust the width of the slingback strap to be as wide or as narrow as you need it to be. Finally, the sole of the Miley is made from rubber, for that much-needed slip-resistance on wet surfaces.

The downside to the Miley is that - because it comes from a high-end designer - it is quite pricey for a design of this type. However, if you are willing to invest in something truly outstanding, then don't let us stop you! The Miley is a synonym for elegance, for aristocracy, and it will absolutely take everyone's breath away!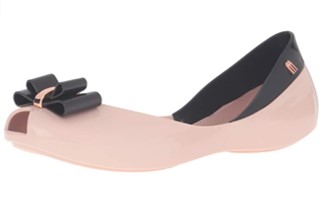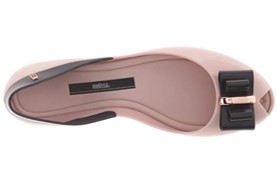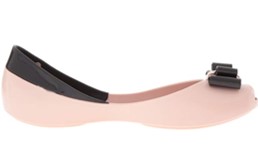 If you're not familiar with the brand just yet, Melissa has been making jelly shoes that have a more upscale fashion style to them than we typically may encounter. Most are a style of ballet flat, and the Queen V is no exception. With options for a monochromatic look, or contrasting colors, you'll find one that speaks to you and your fashion sense. Open peep toes are adorned by a simple, yet sophisticated bow to give it a bit more appeal to the onlooker, and make it suitable for both casual or formal affairs.
The Queen V is made from PVC, but isn't quite transparent as we see in other jelly style shoes. It has a glistening sheen to the texture of the upper, but is supple and soft to the touch. The soles have a patterned tread at the forefoot and heel for better traction on slippery surfaces, while you'll find a lightly padded footbed inside to help keep your feet cushioned. A higher heel back helps provide a bit of stability to the foot, as well as better fit so these won't slip off when walking.
What we love most about the Queen V is the design elements incorporated in the uppers. Small 'M' logo of the brand is at the outstep of the heel, while an open peep toe allows for better air flow as well as a touch of femininity. At the top of the toe is a simple small bow, which gives this pair a little more formality and style than simple ballet flats. With monochrome colors, or options for color contrast between light and dark hues, you'll find one to fall in love with for certain!

4

. Crocs Isabella T-Strap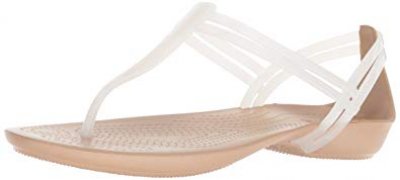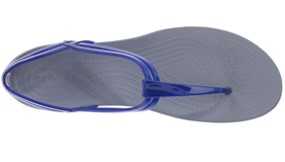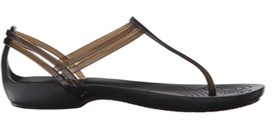 Here comes one of the best waterproof footwear brands out there, Crocs, with their T-Strap sandal from their Isabella collection. With Crocs comfort found in the footbed and sole, they've created a fashionable sandal perfect for summertime at the beach, pool, or walking about on vacation. This colorful translucent option makes a comfortable T-strap design, along with a slingback heel, keeping them airy, light, and quite cute!
The Crocs Isabella T-Strap is a cute, stylish slingback with a T-strap thong, keeping a summer air about them. Fashionable and simple, breathable and light, they make for a great pair to wear with shorts, skirts, or sundresses to your next warmer evening event. And with a number of color combinations to bump up the appeal, you are sure to find one you'll fall in love with. The T-strap design makes these easy to get in and out of without a fuss so that you can get on your way to the next barbeque!

Along with its cute styling, the Isabella T-Strap sandal has a textured footbed, creating a pleasant massaging feel against the foot, helping to reduce foot fatigue, but also allow for traction when the weather is hot out. A Croslite sole adds cushion to your footfalls, so walking along the boardwalk for hours is completely feasible in this pair of sandals. With the T-strap design, irritation is minimized around the toe area while still keeping ventilation maximized.

The translucent material gives these a shine and color that can make an outfit pop, while the open T-strap design makes them comfortable for extended wear. A great option for casual affairs, BBQs, even the occasional fancy date night!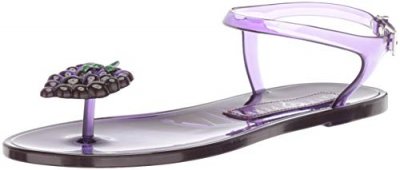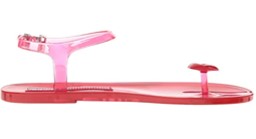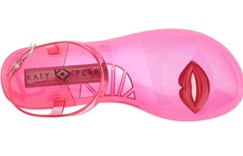 If you're in search of something a bit playful and fun, Katy Perry's The Geli certainly will bring those elements into your footwear collection! With plenty of fun colors to choose from, each color has a different accent that will sit atop the thong to be displayed. A buckle strap closure around the ankle helps to secure the sandal to your foot, and all of this is made from soft flexible synthetic material.
The appeal of the Katy Perry The Geli comes in the form of different shapes which will sit on top of your toes, as they are attached to the thong that slips between your toes. You can choose from lips, rainbows, a glittery eye, and several cute fruit options. Believe it or not, they smell like the fruits that adorn them! It adds some fun and playful styling to your wardrobe and is sure to be a hit at the beach or pool.

Each of the shape selections comes with different colored designs, so if you prefer lime color, you'll find a cute lime fruit shape. If you prefer a little bit of sass, cherry red has kissable lip shapes atop the thong! Each sandal utilizes a buckle closure around the ankle to keep you securely fastened in.

Slightly more expensive on our list, but certainly worth consideration, the Katy Perry The Geli is a fun, colorful take on this footwear category, making your footwear festive and bright for summertime. If you're looking for something that will bring unique compliments to your attire, look no further!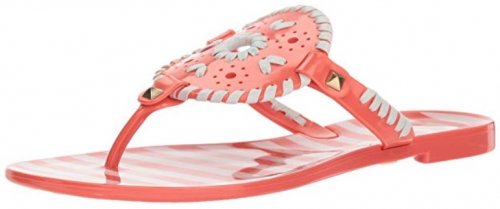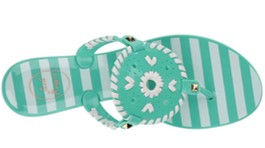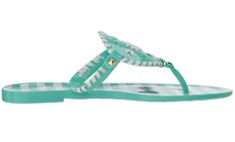 From a brand which was born out of Jackie Kennedy's style, the Jack Rogers Georgica brings the classic shape of their most popular design into the modern, synthetic world. This option has a rondelle accent across the instep, a gingham pattern, and it comes in several lovely color options, out of which we can't get enough of this geranium/white combination.
The Georgica mimics the whip stitching we usually see in Jack Rogers sandals, and their signature rondelle detail is prominent, something that makes the Georgica stand out from the rest of the items on our list. The contrast between the white stitching and the solid color only serves to amp up the playfulness factor. This sandal is fun, easy to wear, and now you can take your favorite design to the pool as well, as it is 100% waterproof!

Similar to the Michael Kors Miley, the Jack Rogers Georgica is also a more expensive option. It is made from the same materials as all other items in this guide, but it comes with the famous brand name, along with the iconic Jackie Kennedy style. If you wish to look as elegant as the former First Lady at the beach, then don't hesitate to treat yourself to these beauties!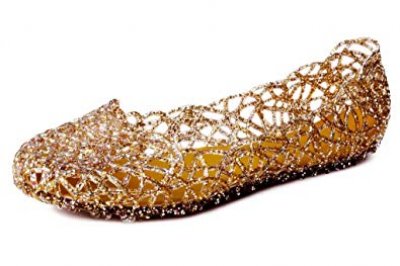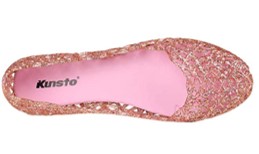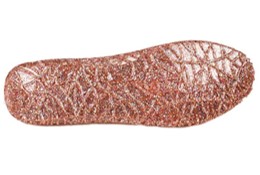 Kunsto's Bird Nest flat is a stylish little number, with sparkly and lace inspired design elements, making it look more sophisticated than your average pair of jellies! This ballet flat has sparkle throughout to give it a bump in formality but keeps an open and breathable lace design. Great for nights out, even some formal occasions, they make great dancing footwear for evenings or a lounging design for those lazy summer afternoons.
The Kunsto Bird Nest is made from PVC, flexible and translucent, with a bit of sparkle to bump up the classy look. A lace-like inspired construction interweaves the form of the jelly to wrap around your foot from toe to heel. And, with three different color options of black, gold or silver, you can find one to go perfectly with any ensemble you dream up!

The Bird Nest is designed so that the uppers are connected to the soles in one single form. This allows for a more sturdy design that you can wear without worrying if the flat's integrity will come undone. Great for working in the garden or house, wearing out running errands, work, or even some fancier events, this little flat will keep you looking stylish no matter what the occasion is.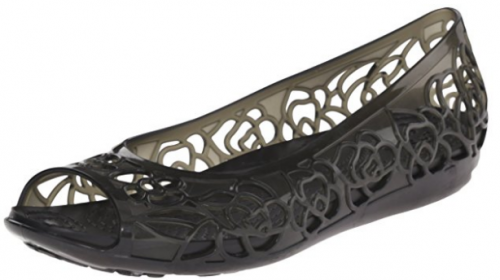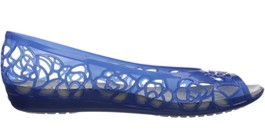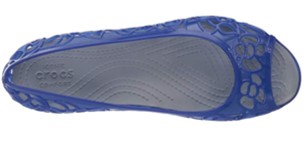 The Crocs Isabella flat is ultra-lightweight and comfortable wearing. It features a girlie style and cute peep-toe design, while its flower cutout patterned upper will look great with any outfit. These jellies are super-comfy thanks to a Croslite foam-cushioned footbed and a soft TPU translucent upper.
The Isabella provides a similar level of comfort to the famously foot-friendly Crocs Clogs. The Isabella features a Croslite foam-cushion footbed that will keep your feet feeling great and prevent foot fatigue. Crafted with a supple transparent TPU upper and featuring a floral cutout pattern, these flats are a girl's best friend. They're available in a variety of colors such as coral, black, blue jean, bronze, and turquoise, so you'll be able to pair them well with any outfit. The Isabella has a low 1.75-inch heel and the shaft measures 1.7-inches from the arch.

While not as cheap as the jellies from back in the day, these are pretty darn inexpensive. The Crocs Isabella steps up the comfort level and delivers a stylish and enjoyable wear.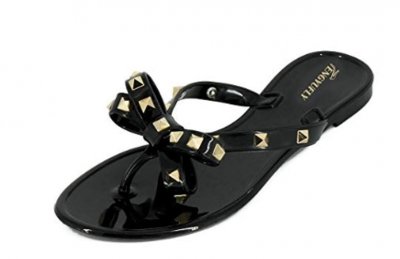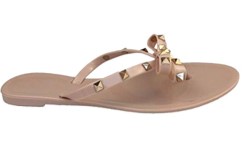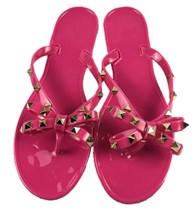 The Mtzyoa Bow is an adorable sandal, sporting a bowtie fashioned to the thong for some added styling and casual flair. Metallic rivets stud the straps and bowtie, giving it some urban flair and appeal as well. The soft construction makes them comfortable and light, and they come in a number of different color options, from opaque coloring to translucent or clear styles.
Perfect for any occasion, the Bow is a flip flop thong you can wear to any sort of casual outing and which will keep you looking stylish. The construction makes them super lightweight and easy to clean, with soft soles to make them comfortable for wear. Great for the pool or the beach, they can dress up a casual pair of shorts or capris for summer evenings.

The Mtzyoa Bow stands apart from other options on this list because of its somewhat urban flair. Metallic rivets stud the strap and bowtie of the flip flop, dressing it up with some rockstar appeal. Opaque blacks and reds to translucent greys and golds give you styling options for individual taste, so you'll find the perfect pair for your needs!

Another budget-friendly option on our list, the Mtzyoa Bow is perfect for anyone who loves a flip flop and wants some metallic fun and flair to their footwear. They are easy to clean, waterproof, and comfortable, while the bowtie and metallic studs bump up the urban appeal. With a six month guarantee, you can purchase worry free!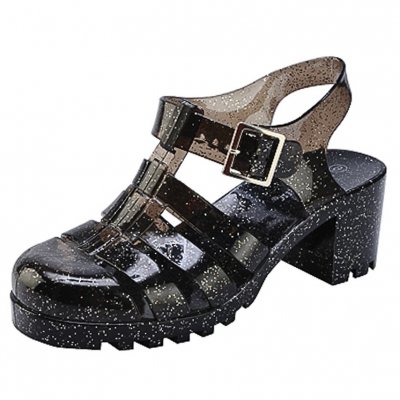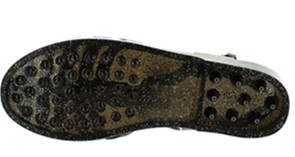 Let's talk about jellies that are more than just flats! The SNJ Retro comes with a sporty and strappy look to this sandal, with a chunky block heel to add some height. Great for walking about town, the boardwalk, they have a shiny translucent look that we love them for, but are also quite functional in terms of comfort. A buckle closure around the ankle allows for an adjustable fit while keeping you snug and in place.
The SNJ Retro is reminiscent of the '70s and '80s, when bright colors and chunky heels were all the rage. Strappy styling brings you back to having summertime BBQs at home and drinking from the hose while you run through the sprinkler with neighborhood friends. With some toe protection, you can walk around in confidence in this pair of jellies!

Available in a number of colors, from blacks and whites to brighter shades of blues, oranges, and even sparkly gold, the SNJ Retro can suit many summertime outfits. Its sportier look makes it perfect for casual outings, and the adjustable ankle strap closure makes them comfortable for all-day wear. A textured sole gives grippy traction so you can take these out in summer rain showers if you like!

Subscribe to our Newsletter