Best Jack Rogers Sandals Reviewed & Rated For Their Timeless Summer Style
In a Hurry? Editors choice: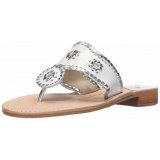 Test Winner: Jacks

Taken by a cute design with whipstitched detailing and an iconic rondelle accent, Jackie Kennedy brought a pair of sandals from Italy to her shoemaker in Florida, and from there the stylish, trendsetting brand of Jack Rogers was born. From its unusual beginnings, this label has expanded to over 400 high-end retailers and department stores, in addition to the three brick-and-mortar stores in Atlanta, East Hampton and New York City.
Their style is described as easy and
effortlessly chic
– one that will make you look polished and put-together no matter where you're going. If you wish to take part in this resort lifestyle, to feel like a member of high society, rubbing elbows with Hollywood stars and the most fashionable of women, then there is no simpler way to do it than to pick out a pair of Jacks for yourself.
Standout Picks
Criteria Used for Evaluation
Style
If there is one thing that all the items on our list have in common - that is their undeniable style. We expect nothing less of a brand which was born out of Jackie Kennedy's iconic looks and fashion taste. Whichever item from this guide you reach for, you definitely won't be making a mistake.

That being said, let's take a quick look at all the footwear styles that are offered here. The category of sandals is a very broad one, and we have several versions of it that may appeal to you.

Flip-flop: The flip-flops in our guide are completely different than the standard sporty design you usually see from brands such as Nike or Puma. These flip-flops are made out of luxury materials, and are fashionable enough to wear every day and around the city, not only to the pool or the beach. You can choose between the iconic Jacks, and the unconventional Alana Jelly or Georgica, for an easy, simple summer look that everyone will love.
Slide: The slide design graduated from locker rooms to fashion runways, and this season it is all the rage. It comes in so many different shapes and sizes (including fur slides!) that it's easy to get lost in the selection, but the options from this brand truly stand out.
The slide is easy to put on - as you simply slide into it - and thanks to the Adair or the Shelby, you'll be one amazingly cute fashionista on the go.
Heel: There are quite a few heeled choices in our list. Between the Vale, the Hadley, the Claire and others you have your work cut out for you, in terms of deciding which one you like best.
Heels are always a great choice when you want that extra oomph to your look, when you want to appear sexy and fabulous, and there is no reason why you shouldn't treat yourself with any of these, if you are confident in walking in heels.
Standard: Designs like the Tate Raffia and the Cheney don't really belong in any of the previous categories. They are not flip-flops - are without the post between the toes - and they are not slides or heels! What they are is a standard sandal type, one that we've seen many times over.
However, both of these designs reinvent the classic silhouette, thanks to the tasseled ankle lace on the Tate Raffia and the glittery fabric on the Cheney. They bring their own flair to the well-known footwear style, and represent something that you can wear both to a cute cafe stop and a long walk by the beach.
Comfort
While style is important, comfort is even more so. What good does a fashionable design do if you can't wear it from how much it hurts your feet? In order to avoid this inconvenience, and to be able to wear your new footwear for as long as you'd like, there are a few things you should pay attention to.

We've compiled all of our comfort factors into two categories, depending on whether or not you want to wear a flat design or a heeled design. We will talk about each here, and expand more on the heel aspect in the next section.

Flat Design

Flat soles are comfortable and easy to wear, especially when it comes to sandals, which are usually lightweight and great to walk in. In flat soled footwear you will be able to move any way you want for as long as you want, without worrying about pain or discomfort.

However, it is important to mention that there is, in fact, such a thing as a sole that is too flat. By this we mean those which have a micro heel, about half an inch high, or those which for some reason don't even have that.

Completely flat footwear is not good for the feet in the long run, because it provides no support. Ultimately, if we are spending a lot of time standing or walking, we need cushioning to soften the repeated pounding of our heel and prevent foot-related ailments such as plantar fasciitis.

Not only that, but our arches also need support. This is vital for people who are overweight, for pregnant women and the elderly. Without arch support, it is easy to develop a condition called flatfoot, or pes planus, which is often followed with pain in the heel, in the ankle and even lower back, as well as swelling of the feet.

Therefore, if your flat sandals happen to have no contours or no arch support, make sure that you don't wear them every day, or for longer periods of time. Take a break every once in a while, change into footwear that provides more cushioning, and rotate between looks!

Heeled Design

While we will go more in depth about the way to choose the most comfortable heel, we have to mention another factor that is important to the comfort of this style, and that is cushioning.

Similarly to how it is in footwear with flat soles, if it is at all possible, go for heels which have padded footbeds. Additional cushioning makes for a softer, more comfortable ride, and absorbs impact from your steps, helping you stay on your feet for hours on end.

However, if you fall for a pair of gorgeous heels which don't have any padding to them, you can always separately buy gel inserts, specially designed to fit pumps and high heels.

Read on for more details on how to choose the most comfortable heel height and shape.
Heel
Heels are great if you are looking to elongate your figure. They create the illusion that your legs are longer than they are, and consequently your entire silhouette is slimmed down. Of course, some people also appreciate the elevated height, and they like the feeling of confidence and poise that high heels bring.

However, it isn't a secret that heels are largely uncomfortable to wear. Especially if you are not used to them, you can't expect to spend more than a couple of hours at a time walking around in them.

There are some ways you can improve your heel-wearing experience, though, and we are here to point you in the direction of the most comfortable features you should look for.

When it comes to comfort, height is the deciding factor. The general rule of thumb is, of course, the lower the better. Therefore, two-inch heels – known as kitten heels – and three-inch heels – known as classic heels – are relatively pain-free to walk in. In fact, we dare say that you won't feel much different than walking in flat shoes, regardless of how long you stay on your feet.

On the other hand, anything above three inches, and especially above four inches in height, is not so comfortable. You shouldn't plan on wearing heels this high unless you're going to be sitting for extended periods of time, or if you don't mind feeling pressure in the ball of your foot and numbness in your toes.

The type of the heel you're going to wear is also important. For your consideration, we will sort all heel types into three groups:

Wedges: By 'wedge' we mean the type of a heel where one piece of material is both the sole and the heel, joined together. These are by far the most comfortable heels to wear. They evenly distribute your weight across the sole, and reduce the pressure in the front of your foot, thus reducing the risk of pain. When it comes to wedges, you can rest assured that you will be able to walk, twirl or dance for as long as your heart desires.
Chunky Heels: If you're not a fan of wedges, then thick, chunky heels are the next best thing. These will provide you with a solid, stable base to walk on, will reduce the wobbly movements of your ankle and prevent stumbling, falling and injuries such as ankle twists and sprains.
Stilettos: If you want comfort, avoid stiletto heels – plain and simple. These types of heels look undeniably sexy, but they are also undeniably painful to walk in. The reason for this is that the stiletto heel can't take much weight because it's so narrow, and so all of the pressure shifts forward, to the ball of your foot. This causes pain, numbness and other problems, such as bunions, hammertoes, and corns.
What might help make the stiletto heel more comfortable is a platform underneath the front of the foot The added height under that area reduces the strain under the ball of the foot and helps you wear those fierce stilettos for longer than you otherwise could.
Materials
The materials that a design is made of determine many of its features - how durable it is, how breathable, how flexible, whether or not it is water resistant, how well it holds up against wear and tear, whether it is easy to clean and maintain etc. Choosing a design that is made out of high quality materials is what can make your life so much easier and save your money in the long term.

Fortunately, there isn't a single option on this list which doesn't come in truly the highest-grade materials available.

We've mentioned several times how leather is a premium material for footwear construction, and that is true for many reasons. It is breathable, allowing air to freely circulate through it - keeping a healthy climate inside a shoe - and it is also durable, and flexible. When you want to make sure that you are choosing a high quality shoe, you can't go wrong with genuine leather or suede.

Another material that has found its way to this guide is PVC, in the jelly designs such as the Alana Jelly and the Georgica. Thanks to PVC these are water friendly - holding up well in wet conditions, without stretching out or otherwise coming undone - and are incredibly lightweight and flexible to wear.

Needless to say, whichever item you go for, you won't regret it. The Jack Rogers designs do come at a slightly higher price point than other brands, but they are absolutely, 100% worth it.
Durability
Finally, let's take a moment to consider the durability of a design. This is determined by such things as the quality of the materials (see above), the construction techniques used, how often the design is worn, in what conditions and so on.

You can rest assured that only the finest, most carefully honed methods are used in the making of these options. The attention to detail is like no other we've seen, and all the connections will withstand the test of time, providing you with a design that you will be able to wear for years to come.

In terms of materials, we mentioned how leather and PVC are durable. Leather might require some care over time, such as cleaning and conditioning to maintain its suppleness, but overall, it is a small effort to put in to have your shoes look as good as new season after season. PVC, on the other hand, is easy to wipe clean with only a damp cloth, and requires no conditioning. It is strong, resilient material that not even water can harm, and the jelly options we've introduced are virtually indestructible.

While durability is important, especially when it comes to a somewhat pricey brand like this one, it is also important that you don't hold back from wearing your shoes just because you're afraid they'll break down quicker. All footwear has an expiration date, and there's pretty much nothing we can do about it.

So wear the heck out of your Jack Rogers sandals! Slip them on, show off your toes, and take on your day with a smile in your new favorite shoes!
Our Favorites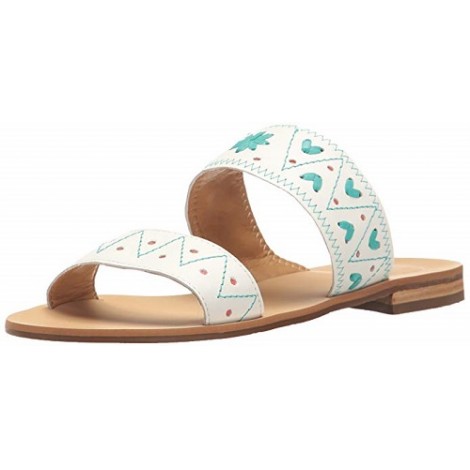 What effortless, simplified elegance. We are in awe of the Adair's minimalistic design, one that is still somehow intricate and detailed and leaves us convinced that it might just be the most beautiful everyday sandal we have come across. The Adair is completely made of genuine leather, with two straps across the foot - the instep and the toes - and a tiny heel in the back. It has a rubber sole, the inevitable branded whip lacing design, and is available in several different color combinations, from cognac and bone to cork and pink to midnight and mint. Easy, breezy, and yet still fabulously trendy!
Leather, as a natural material, has many benefits. It is breathable, letting the air circulate in and out of the shoe, durable, and above all, addictingly comfortable. In the Adair, the leather straps won't cut into your skin and will stretch over time, taking shape of your foot for maximum comfort.

In a design like this, it is nice to know that regardless of what terrain you find yourself on, you will be safe from slipping and skidding. The rubber sole of the Adair will keep your feet on the ground so you can enjoy your summer days wherever you decide to go.

We have yet to encounter a design this beautiful and this high-quality in construction. After all, the Adair is made out of premium, genuine leather and is surely going to last you for many summers to come.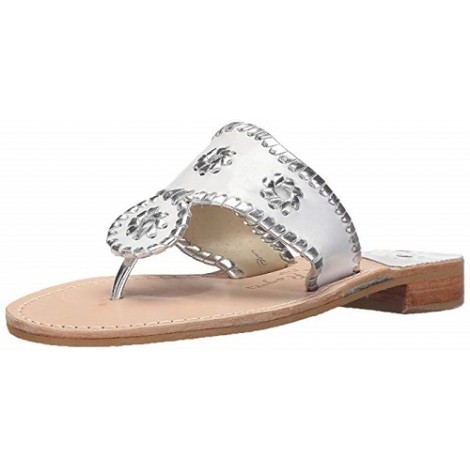 Here is the design which started it all - the iconic Jacks sandal. This is the shoe which Jackie Kennedy originally fell in love with all those decades ago, and which she brought from Italy to be hand-crafted by her cobbler since she didn't want to part from it. It has a leather upper with whipstitch edges and a rondelle detail, a micro heel, and a rubber sole. One of the best parts about this fashionable, easy-to-wear design is that it comes in literally hundreds of color combinations and patterns, not least of which is the option to have personalized monograms engraved in the upper.
Anyone even superficially familiar with fashion history knows what an icon Jackie Kennedy was, with her simple yet graceful aesthetic, and how she influenced the landscape of fashion all throughout her life. Jacks is a classic, legendary sandal, which transcends fashion trends and will always be in style.

Everything about this design is geared towards the comfort of the wearer - the genuine leather upper, the tiny heel in the back, and the flat, rubber sole. In this gorgeous sandal, you can spend as much time outside as you wish, without feeling even a hint of discomfort or pain.

The Jacks has been in trend for over 50 years, and for good reason - it is effortless, comfortable, and endlessly versatile, and if you wish to experience what a First Lady dresses like, this is a great way to start.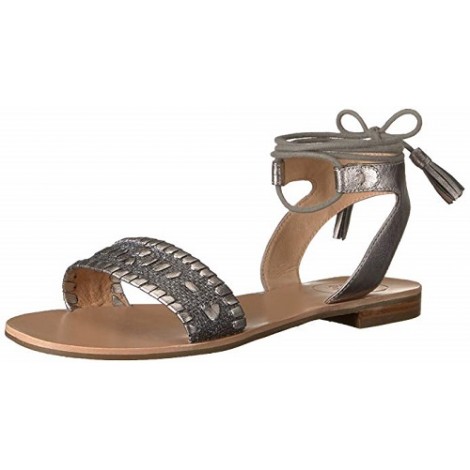 Dive into the world of boho-chic with the Tate Raffia. This design has a flat sole, a long lace that ties at the ankle with tassels at the end, whipstitching across the toe strap and a leather footbed. The sole is made out of rubber, and there is a barely-noticeable heel in the back. The Tate Raffia comes in a variety of colors, and we are especially in love with the gold and pewter metallic options, for a touch of shining interest. In these cute sandals, you can go from a beach getaway to a casual weekend with friends without pausing to change your footwear.
In the Tate Raffia, it doesn't matter whether you have thin or thick ankles. The ankle lacing is fully customizable, and with it, you can adjust the fit of the strap however tight or loose you'd like it to be.

This brand is all about premium, high-quality materials, and this is obvious in the genuine leather footbed of the Tate Raffia. This material changes shape over time, accommodating the contours of your foot and providing you with the ultimate customized comfort.

The Tate Raffia is made of the finest leather materials, a design that is youthful and fashionable, and which originates from a company specializing in fascinating detailing and durable construction. If you decide to get yourself a pair of these wonderful sandals, you won't regret it.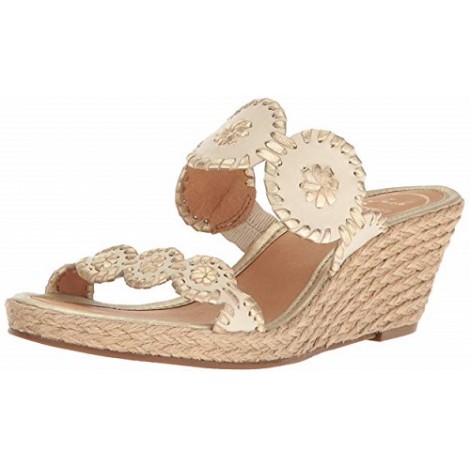 The Shelby wedge goes with absolutely anything. This comfortable slide sandal is designed to complement any look - from a casual one with shorts and a T-shirt to a more flirty, feminine outfit with a flowy skirt and a cute headband. As with most other Jack Rogers models, the Shelby is made out of genuine leather and has two straps with signature rondelles over the vamp. It is a slip-on wedge, its heel almost three inches in height, wrapped in rope for a more laid-back vibe. The sole of the Shelby is made from rubber, for essential slip-resistance, and the footbed is rich leather, for that ultimate comfort.
We all know the struggle that comes with shoes which have complicated closures. Lacing systems, unreliable buckles, zippers that easily get stuck - this could all potentially waste our precious time. This is why we love that the Shelby is a slip-on design - getting in and out of this wedge is a breeze!

It is a heel in design, but the Shelby is a breath of fresh air when it comes to comfort. In this beautiful sandal, you will be able to walk around the entire day without any problems. It will keep you cushioned, supported, and reduce the chances of feeling foot fatigue.

The Shelby is a great option, made out of premium genuine leather, easy and comfortable to wear, and you will certainly find a place for it in your collection. In record time, it will become a staple piece in your wardrobe that you won't be able to live without!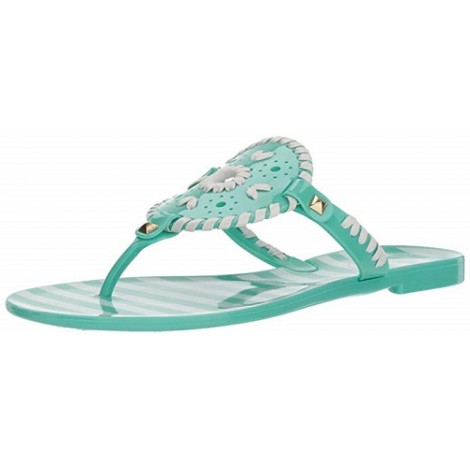 If you are tired of wearing boring old regular flip-flops and are ready for an upgrade, then the Georgica jelly sandal is perfect for you. This is a design made out of synthetic materials, jelly-like, meaning that it is incredibly flexible and lightweight. It has a circular detail in the front, with tiny studs and differently colored stitching to add interest. There is a micro heel at the back to complete the look. The Georgica comes in an array of vibrant summer colors, and you are easily going to find one that is suited to your personal taste and style.
The jelly material that the Georgica is made of makes it 100% waterproof. We had a hard time believing it, too, when we saw the intricate design, but the truth is that now you can wear this playful, stylish sandal at the beach or by the pool without risking any damage!

In the Georgica, you will feel like you're going barefoot. These jellies are ridiculously light and easy to wear, perfect for a lengthy shopping trip or a stroll on a warm summer evening. Your feet won't feel any pain or fatigue, regardless of how much time you spend wearing them.

The Georgica is simply adorable to look at. It goes well with jeans and shorts and skirts and dresses, and you can take it with you anywhere you go, whether it be dry or wet! Overall, we find that the Georgica is a great deal.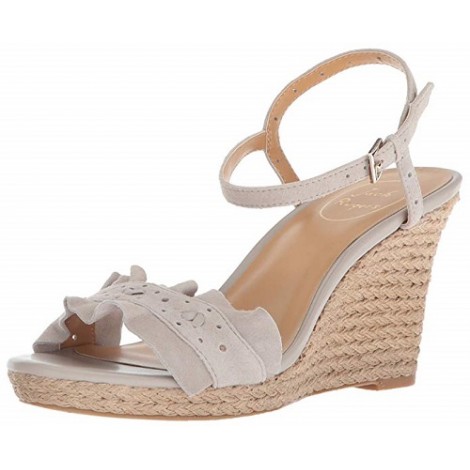 We are here with a drop of casual, flirty trendiness with the Vale wedge! This design has an upper made of genuine suede, a toe strap with ruffled edges and an ankle strap with a buckle for an adjustable fit. It has a wedge heel three and a half inches in height, wrapped in rope, as well as a platform of almost one inch. The outsole of the Vale is made out of leather, and there is a padded insole for bonus comfort. In this gorgeous wedge, you can go from day to night in a blink of an eye, from skinny jeans and a cute T-shirt to a mini dress for that party-ready look.
Suede is much like leather in many ways. It is breathable, durable, and can change shape over time, gently hugging your foot for ultimate comfort. Not only that, but suede has that plush, luxurious finish that adds elegance and richness to any design.

While the heel of the Vale wedge is over three inches high, this sandal is still ridiculously easy to walk in. Wedges are one of the most comfortable types of heels, as they take the pressure off of the front of your foot and provide you with a solid, stable foundation to walk on.

A design this beautiful, made out of high-quality suede and leather, with a comfortable heel and much-needed cushioning in the insole, will effortlessly find a place in your wardrobe. You will love taking the Vale out for a fun lunch date with your friends, or even for a flirty time with your significant other. What sassy beauty!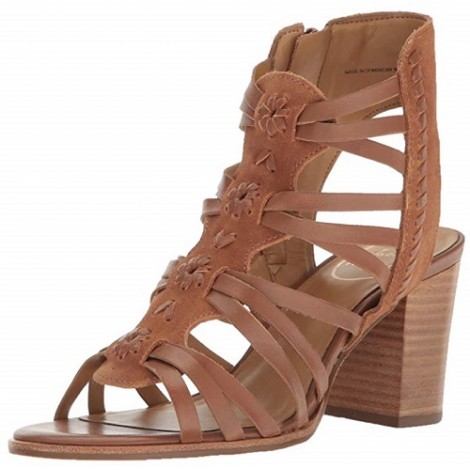 Dress to impress in the Hadley caged sandal. The upper of this design is constructed out of leather and suede, and it comes in two color options - black and cognac. It has criss-cross straps and whipstitch detailing that will prevent your foot from slipping out of the shoe. For easy entry, there is a zipper closure on the side. The Hadley comes with a three and a half inch stacked heel, blocky in shape, and a rubber outsole for slip- and skid-resistance. It provides you with a rustic, casual and yet sassy vibe, and you are going to love wearing this heel wherever the day - or night - takes you.
Thanks to genuine leather and suede, the Hadley straps will be gentle on your skin and won't leave any nasty marks or blisters. Additionally, its sturdy heel will provide you with all the necessary stability so that you don't accidentally stumble or hurt yourself as you dance the night away.

In case you were worried where the way into this intricate heel was, you can rest easy! The side zipper in the Hadley enables you to put on your new favorite heels in a blink of an eye. Simply zip it up and you're ready to go!

The Hadley is a great option for that day-to-night transition, if you want to go from a coffee date with friends to a summer party by the beach without fussing over your footwear. Additionally, it is made out of suede and leather, and built to last - you won't regret investing your money in these cheeky sandals at all.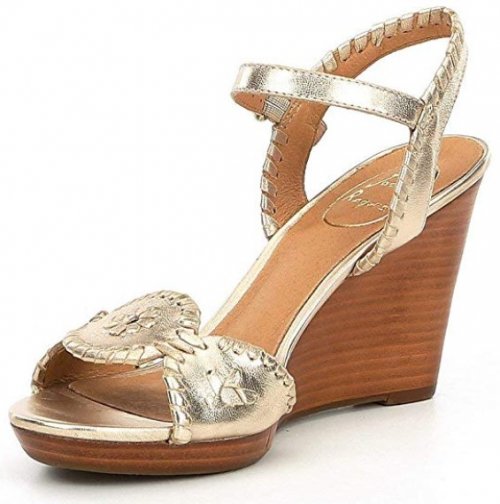 Another wedge to add to our arsenal, the Clare comes with a higher heel and a shinier, metallic color. It is a casual to party option that will look great both for a walk downtown and for a night out at a dance club, largely thanks to its elevation and the eye-catching color it offers. Like all other items on this list, the Clare is also made out of leather, with an adjustable ankle strap and the signature Jack Rogers rondelle accents.
It wouldn't be a design from this brand if it weren't made out of genuine leather materials. The Clare is comfortable, breathable and durable, and we love the whipstitch details that make it authentic. It has a rubber sole for slip resistance, which is something you will definitely find useful when going about your day in these heels.

The wedge of the Clare is 3.75 inches high, but it comes with a 0.75-inch platform at the front, to help take some of the strain off the ball of your foot. It has a buckle closure at the ankle to prevent your foot from sliding forward, and it is easily adjustable to the width that you need.

The Clare may not be anything revolutionary when it comes to a wedge sandal design, but it is a go-to option for when you want to look feminine and stylish, but still remain comfortable throughout. Its metallic color will capture the attention of many, and you will be the best-dressed person at any event!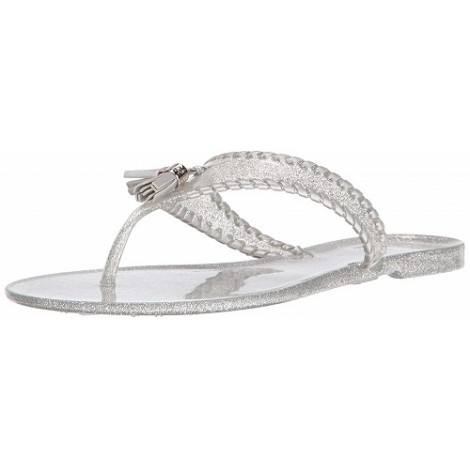 While jelly shoes rose to fame in the 1980s and promptly faded away to fashion obscurity, today they are most popular among toddlers and kids who love traipsing around pools in these flexible, often glitzy designs. However, you do not have to be a kid to enjoy jellies! These PVC options are perfect for summer, when all you want is something lightweight and easy to wear, while also being stylish at the same time. The Alana Jelly is just such a design - a flip-flop with a tassel detail at the front, with whipstitch edges and a dazzling splash of glitter all over! Simply throw them on and be ready to conquer the summer!
Everything about the Alana Jelly is designed to bring a smile to your face. The cute tassel accent at the front moves as you walk, and the glitter will draw everyone's attention to your fancy new footwear! You are sure to garner a world of compliments on your gorgeous new flip-flops.

We mentioned that jelly shoes are made out of PVC material, and the same goes for the Alana Jelly. This flip-flop is constructed out of 100% synthetic materials, meaning that it is environment-friendly and that no animals were harmed in its making.

There is no other brand which makes jelly shoes as stylish as the ones in this guide. You can wear the Alana Jelly anywhere you want, and still be the most fashionable person in the house! Whether it is by the pool or at a shopping mall - these cute flip-flops will never fail you.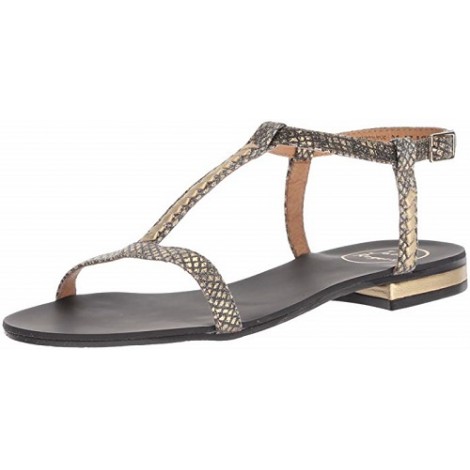 The design of the Cheney is inspired by the always-fashionable gladiator silhouette. This flat sandal has a T-strap upper constructed out of 50% leather and 50% sparkle fabric. The metallic finish and whipstitch detailing add a touch of chic to any outfit, while the leather footbed is there to provide all-day wearability. The sole of the Cheney is made out of rubber, and there is a customizable buckle on the side of the ankle. It doesn't get much simpler and yet more summer glam than the Cheney.
The T-strap of the Cheney is definitely a decorative touch, one that elongates the lines of your foot and adds elegance to the design. However, it is also there to provide you with security as you walk around. The T-strap holds your foot in place and prevents it from sliding forward in the shoe so that your toes don't hang over the edge.

One of the reasons we love the Cheney is that you can wear it with absolutely everything. It doesn't matter if you're dressed up or dressed down, if you're wearing shorts for a quick meet-up with friends or you just threw on your favorite sundress for a date night out - this lovely design will keep up with you anytime, anywhere!

A model from a world-renowned fashion brand, made out of high-grade materials - it doesn't get much better than Cheney! It is a beautiful design that will be an excellent addition to your summer wardrobe, and your warm days will never be the same again!

Subscribe to our Newsletter