Best Rope Sandals Reviewed & Rated
In a Hurry? Editors choice: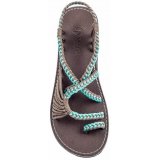 Test Winner: Plaka Palm Leaf

The last few summer seasons the popular, practical, albeit not entirely cute trend was the
Birkenstock
. You couldn't find a fashion blogger who didn't own a pair – or several – of these German
orthopedic shoes
, and who didn't combine them with all the latest fashion styles for chic, yet down-to-earth looks. Now, it is time for the reigning champion to step aside, as there is a new go-to shoe in town – the rope sandal.
Standout Picks
Criteria Used for Evaluation
Comfort
As consumers, comfort is at the forefront of any apparel or footwear purchase we make. After all, comfort can and will make or break a purchase. If a shoe is uncomfortable, you won't enjoy them as much and will risk the chance for pain or injury, whereas a comfortable Shoe will bring you more enjoyment. When it comes to comfort, take the advice of Marie Kondo and only choose a shoe that you enjoy.
While the only definitive way to determine the comfort level of a shoe is to put them on for a day or so, consumer reviews can be very helpful in this regard. Reviews give you an idea of the real-world experiences that others have had with the shoes, and this can supplement the claims made by the manufacturer.
Comfort is a long-term consideration. A shoe may start out comfortable, but over time the insole can wear down and become less so. This is why custom orthotics and shoes with removable insoles are so common. Of course, this isn't necessarily an option for sandals, so the long-term comfort of the shoe itself needs to be considered as well.
Durability
Durability is an important factor when it comes to shoes, as it plays a big role in determining what sort of value you get out of them. Regardless of the price tag, a shoe that breaks down quickly will not have very much value, and will probably leave you frustrated with your purchase.
The durability of a shoe depends greatly on the materials used in it as well as the overall build quality. While all of the Sandals on our list involve rope to come degree, they also include other materials such as EVA soles and nylon bottoms.
One of the most important parts of a shoe is the outsole, as this is what is making contact with the ground. As such, it can take a beating over time and is generally the first part of a shoe to begin showing signs of wear and tear. Outsoles such as standard or vulcanized rubber are the most common type used because they are more durable than other materials.
Overall Fit
Sandals are prized for their open summer-friendly design and variety of closure types. Of course, not all sandals are made equal, and some will fit very differently from others. The overall fit of a pair of sandals directly correlates to their comfort level as well; a shoe that does not fit well will not be comfortable in any capacity.
The fit of a shoe is far more than just its size. The width and size variations also need to be considered. Some shoes are available in multiple width as well as size options. While number sizes give a general idea of the fit of a shoe, they can and will vary from one brand to another, or even one product to another of the same brand. For example, a size 8.5 in one style could be more similar to a 9.5 in another brand. Read up on consumer reviews before buying a shot, as these will give you an idea of the real-world experiences of people who have the shoes.
Style
It is true that the original rope sandal is neutral, more geared towards comfort than style, but in our list, we included designs from different categories, all of which have ropes or cords in their construction. Not all of them are for everyday wear, as there are some examples which belong on the hiking trails, as well as some which can be worn to a club, despite the seemingly inelegant material they are made of.
Which style you will choose depends entirely on where you intend to wear this sandal, and if you are leaning more towards trendy or towards practical.
So let's take a closer look at all the styles we introduced in this guide.
Flat: By flat, we mean a sandal with a flat sole. These designs are the most comfortable and easiest to wear, as they don't elevate your heel and mostly keep your foot in a natural position. In flat models, you can expect to walk for as long as you'd like, without feeling even a hint of pain or discomfort.Of course, there is something to be said about the possibility of the shoe being too flat. Oftentimes, especially when it comes to sandals, flat footbeds – those that are not contoured or offer no support otherwise – can lead to pain and some foot-related medical conditions when worn for longer periods of time. If you want to avoid issues such as plantar fasciitis, or pes planus (flat foot), it would be best if you could find a design which has a molded footbed as well as cushioning in the sole. Arch support is also important, especially if you expect to be on your feet for the whole day.You can take your flat sandals with you anywhere you go – to shopping trips, casual lunch dates, picnics – and the wonderful thing is that they are so versatile. They go well with whatever outfit you decide to wear, whether with jeans and shorts or skirts and dresses – flat designs look great in any combination!
Flip Flop: Flip flops are a standard beach shoe. They are slide sandals, essentially – without any sort of strap in the back – and they are famous for the toe post which goes between your big toe and second toe. While this particular part of the design might be uncomfortable for some, if done right it is very easy to get used to and lends itself to the comfortable easiness of this type of footwear.While you may think that the flip-flop is a product of the modern world, we are here to tell you that this footwear style might just be the oldest one that is still worn today. On murals from Ancient Egypt, there is evidence of a thong-type sandal dating back to 4000 BC! That is more than six millennia of being on trend!The reason flip flops are so popular is that they are the ubiquitous summer shoe. While reserved only for the most casual of occasions – most schools and workplaces have a strict policy against flip flops – it is a great option for when you are taking a short walk around the neighborhood, are on a grocery run, or spending time by the water.Most flip flops are waterproof, as well as able to hold up well against sand and hot asphalt. They are ridiculously easy to slide in and out of, making them a perfect choice for the pool or the oceanside.
Heel: Now, if you wish for something more elegant – if you are attending a garden party, or a summer wedding maybe – then a heeled sandal is the right way to go. Open toe heels come in hundreds of different shapes and designs. They are outfitted with straps – such as ankle straps and toe straps – which serve to keep your foot in place inside the shoe, and maybe they also have adjustable buckle closures, to help you get the fit just right. As far as the heel aspect goes – its comfort will depend on the heel height and shape. Low heels, such as kitten heels of two inches, and classic heels of three inches, are perfectly comfortable. The lower the heel is, the less pain it will cause. There is a similar rule for heel shape – the thicker the heel is, the more comfortable it will be. The reason for this is that chunky and wedge heels provide a stable base for you to walk on. In blocky heels, you will find that your footsteps are more secure and that your ankle doesn't suffer from any wobbly movements. Additionally, these types of heels evenly distribute your weight across the footbed of the shoe and thus reduce the amount of pressure put on the ball of your foot. Any heel which is over four inches in height and narrow in shape – such as a stiletto – is bound to cause you pain if you wear it for longer than a couple of hours at a time.
Closed Toe: One more style which we listed in our guide are closed toe sandals. These are still a wonderful summer shoe, as they are made in a way which allows the air to flow in and out of the design, but they offer protection for your toes.Because of their practical design, this type of footwear is also called hiking or trekking sandals. They are not meant to win any style points, but are aimed at those who love to explore new terrains, to ford streams and spend their days on the hiking trails. The closed toe front will keep your feet protected from the unknown and any potential hazards that may lurk in the unexplored.
Top 10 Picks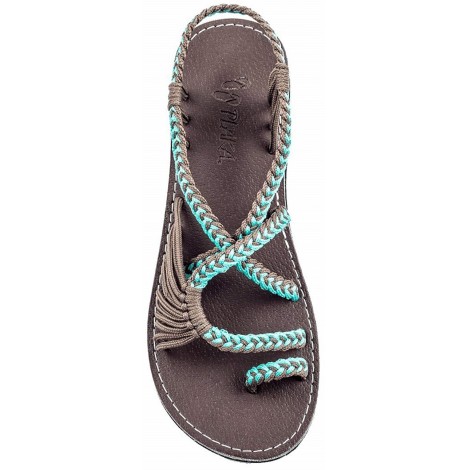 Whether you're going for a stroll along the pier, to a picnic lunch with the family, or maybe you're simply taking your dog out for a walk - the Plaka Palm Leaf is here to keep you comfortable and fashionable in any occasion. This uniquely woven sandal is constructed by hand out of high-quality rope, and it comes in a staggering eleven color combinations! They have monochrome options, but also these gorgeous two-toned designs that we can't help but pine after. The Plaka Palm Leaf is also water resistant, and it has a durable rubber sole to keep you on your feet at all times. Go for a more stylish version of this trend with the Plaka Palm Leaf, and you surely won't regret it!
Waterproof
There is nothing worse than getting a pair of beautiful shoes and then ruining them the moment they get a little wet. Fortunately, the Plaka Palm Leaf is built to endure any type of splashing. Its woven straps won't stretch out or lose shape even if you tread on wet terrain in these beauties.
Rubber Sole
One of the reasons the Plaka Palm Leaf is so secure and safe to walk in wet conditions is because it has a rubber sole. This type of sole provides amazing traction, as well as slip and skid resistance. You don't have to worry about injuring yourself in the Palm Leaf!
Cost and Value
The Plaka Palm Leaf belongs in the low range of price. We're honestly in love with its design, as you don't often see such an attractive sandal made out of rope. We are having a hard time deciding which color combination is the cutest, but we have no problems in declaring the Palm Leaf one of the best deals in this guide!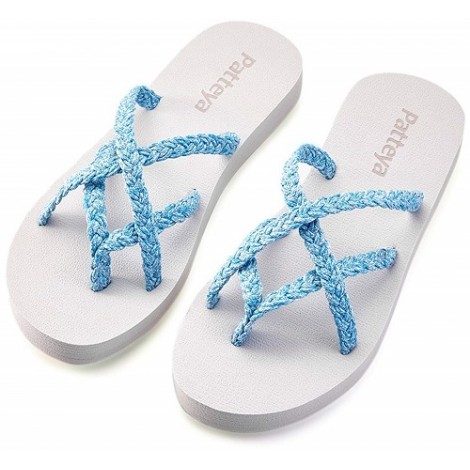 Standard flip-flop designs might get boring after a while - however, the Patteya Flip Flop is anything but! While it does retain the classic flip-flop silhouette, it has additional straps across the instep, making it more interesting to the eye. The upper of the Patteya Flip Flop is made out of high-density braided material, and the sole has a special five-layer design for maximum comfort and shock absorption. Additionally, these lightweight flip-flops are waterproof and slip-resistant. You can choose to wear them every day for as long as you want, or simply for short casual strolls along the beach. Within its wide range of color choices, you are sure to find a design that you'll love!
Soft Straps
While they may not be the most comfortable at first, after a short period of breaking in the straps of the Patteya Flip Flop will take on the shape of your foot. They won't dig into your skin or leave any kind of marks or cuts, and you will love the soft way they hug your foot.
Five Layer Sole
The sole of the Patteya Flip Flop is made out of EVA, carefully constructed in five layers to minimize the weight of the design and to maximize its cushioning and impact absorbing abilities. No matter how long you walk in these you won't feel any pain or discomfort.
Cost and Value
The Patteya Flip Flop is arguably the least expensive design in this guide. Seriously, it's so cheap that for the price of almost any other option you can buy two pairs of these. If you are looking for something more than a basic flip-flop, but still simple and easy to wear, then look no further than the Patteya Flip Flop!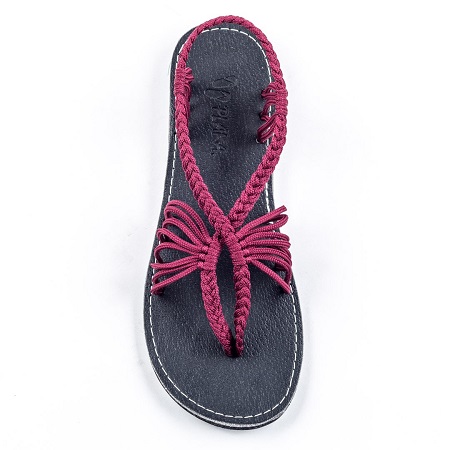 Coming in over ten different color options, there's a Plaka Seashell for most any person and occasion. From neutral colors such as grey and black to brighter yellows and reds, this sandal is made for everyone. A vegan-friendly rubber design makes these a purchase you can feel good about, while the water resistance keeps them in good condition even if they get wet.
Vegan-Friendly
More and more people are becoming conscious of vegan and cruelty-free products, from skincare to shoes. These sandals are made with a rubber sole that is vegan-friendly, making them a purchase you can feel good about.
Water Resistant
With rope shoes being a staple of beach fashion, you should at least plan for the chance of your sandals getting wet. Plaka did this and implemented water resistance into the Seashell sandals. While not fully waterproof, the water resistance will keep the shoes safe from errant splashes.
Cost and Value
The Plaka Seashell is one of the less expensive products on our list. Don't let this fool you, however; these sandals can still deliver the quality and style you would expect out of a more expensive shoe.

4

. Teva Original Universal Rope


Teva puts a twist on the classic outdoor style with an introduction of climbing rope. The Original Universal Rope model has a suede lined footbed for that plush, luxurious feel, a hook-and-loop closure which makes it incredibly easy to get in and out of the shoe, as well as an EVA foam cushioning to provide all-day support. The Teva Original Universal uses a Rugged Durabrasion Rubber for its sole and has straps which are made from climbing rope infused with suede. This brand truly goes above and beyond to ensure maximum comfort and authenticity in their version of the rope sandal.
Suede Footbed
Suede is one of the softest materials you will ever have the pleasure of coming in contact with. Under your foot, it will provide you with a feather-soft experience, one that won't give you any hot spots or blisters, and which you will have a hard time separating from.
Rugged Durabrasion Rubber
Rugged Durabrasion Rubber is a material unique to the Teva brand. It has exceptional traction and durability, providing you with a stable foundation that you can walk on - without fear of slipping or skidding - as well as a long-lasting design.
Cost and Value
Well, we should really not be surprised that the Teva Original Universal Rope is a bit high in price. Especially when compared to other designs in this list. However, it is definitely a model in a category of its own. You will hardly find a design this solid, this durable and yet this addictingly comfortable, and we deem it worth every single penny.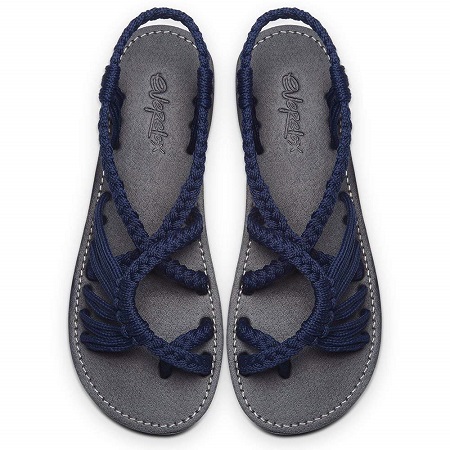 These rubber-soled sandals feature hand-braided rope straps in a wide range of colors, making it easy to find the best one to showcase your unique style. The water-resistant design makes these great for days on the beach, and they are certified eco-friendly so you can feel good about your purchase.
Water-Resistant
Rope shoes are considered a staple of beach fashion, so it's important that they can stand up to water. While rope itself isn't inherently water-resistant, these shoes are constructed in a manner that is, keeping them in good form even if you get splashed.
Eco-Friendly
From the post-consumer recycling boom to restaurants starting to ban plastic straws, eco-friendly philosophies have become very popular as of late. These sandals are designed and certified to be eco-friendly, meaning their manufacturing impact on the planet isn't as harsh. Now if only we could do something about oil spills...
Cost and Value
While prices will vary based on your size and color choices, we found these shoes to be surprisingly inexpensive. In fact, they're one of the least expensive options on our list! These shoes are great for those on a budget, or who want a high-quality sandal without necessarily breaking the bank.

6

. Skechers Reggae Trail Loop


If you're an adventurer, someone who likes exploring nature and discovering new trails, then the Skechers Reggae Trail Loop is a great choice for you. This design has an upper that is woven out of sporty cords in a figure 8 loop, with additional two loops in the sides for support. The cord fabric is soft and comfortable and has excellent elastic properties. The footbed of the Skechers Reggae Trail Loop is cushioned and specially contoured, and it has a heel of about one inch in height. While maybe not suitable for unknown, hazardous trails, the Reggae Trail Loop will definitely prove to be a great companion on an unchallenging terrain.
Elastic Straps
Aside from being soft and comfortable to wear - without leaving any blisters or hotspots - the straps of the Skechers Reggae Trail Loop are also very stretchy. This means that this design can accommodate any foot shape and size. No foot is too wide and no instep is too high for the Reggae Trail Loop!
Contoured Footbed
When you want to spend an entire day on your feet, you need to have adequate support. The Skechers Reggae Trail Loop has a footbed which provides you with all the necessary padding, and it is also contoured so that your sole feels secure and supported from every angle.
Cost and Value
Given the brand name which stands behind it, and all the effortlessly sporty comfort the Skechers Reggae Trail Loop provides, we are shocked at its low price. In fact, this design is one of the least expensive options in this guide. We're not even sure why you're still here. Go treat yourself with these sporty sandals right now!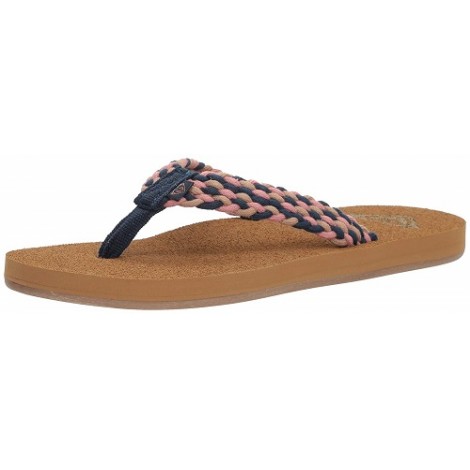 For a true breath of summer, we turn to the Roxy Porto. This is a standard flip-flop design with 98% cotton and 2% polyester straps which are intricately braided. The toe post is made from polyester and web lined for maximum comfort, and the footbed is made from brushed EVA. The sole on the Roxy Porto is part polyester and part rubberlon. This flip-flop is here to fulfill all of your most casual needs, from going to the grocery store to a comfy shopping trip with your friends. With the Porto, you will feel cushioned and breezy every step of the way while looking effortlessly stylish as well!
Cotton Straps
Cotton is a material which has unbelievable breathability. Moreover, it is also gentle on the skin, and lightweight, meaning that Porto's straps don't dig into your feet or cause lacerations of any kind. You can rest assured that you will be able to wear this design for as long as you'd like without any blisters!
EVA Footbed
EVA is a material most commonly used in the construction of athletic footwear. The reason for this is that it has exceptional shock absorbing qualities, and the same is true for the Porto's EVA footbed. This flip-flop will support you and ease the impact of your walking wherever you decide to go.
Cost and Value
Given how little material goes into its construction, it is no surprise that the Roxy Porto is one of the least expensive designs in this guide. It is a great flip-flop, one that will last you longer than a season, and which you will find too comfortable to resist!

8

. Natural and Co. Beach Bay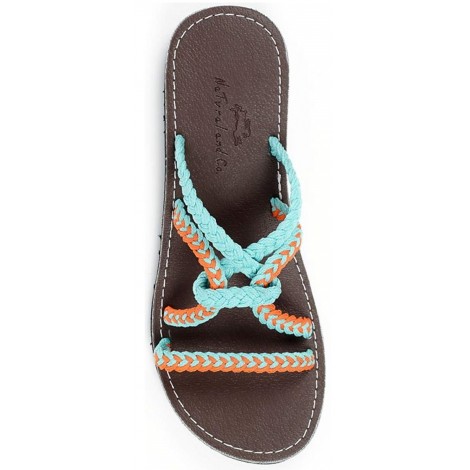 Be fiercely fashionable in the Natural and Co. Beach Bay! This adorable design has intricate straps which are made out of nylon rope, and it is available in an array of cool, vibrant color combinations! Its sole is constructed out of latex rubber and cushioned with flexible foam. The beauty of the Natural and Co. Beach Bay is that it is carefully crafted by hand and that you can even create your own design and can adjust the straps to fit you however you'd like. The Beach Bay is perfect for a cute outing with your friends when you want to show off your new sundress and a sparkling anklet!
Flexible
Not least because of its elastic rubber sole, the Natural and Co. Beach Bay is incredibly flexible. This design will bend with your foot as you walk, and won't limit your steps in any way. You will feel comfortable and free to not only walk but also to leap and twirl and dance!
Handcrafted
There is always a special kind of charm when it comes to handmade products. They are never identical, and perhaps never perfect, but the attention to detail that goes into crafting them is outstanding. The Beach Bay goes through a nine-step process and gets passed through eight pairs of hands all of which test its quality and design before it gets put up for sale.
Cost and Value
The Natural and Co. Beach Bay is a comfortably inexpensive design. We love it for its bright colors and interesting strap design, and we can't think of a choice which is better for the summer. It goes well with jeans and shorts and skirts and dresses, and you are sure to have a world of fun in this irresistible sandal!

9

. Nomadic State of Mind JC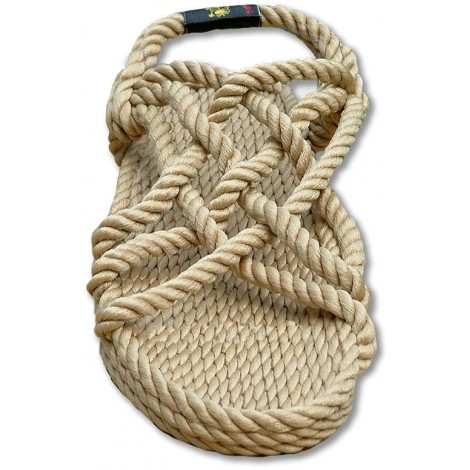 Behold, the company that started it all - Nomadic State of Mind. This brand is the one to thank for the rising trend of the simple, earthy sandal, straight out of Nicaragua. The JC design is made out of reclaimed polypropylene rope - we love the sustainability factor here - and features six crisscross straps with a back strap which can be adjusted for a better fit. The JC is handcrafted, water resistant, machine washable, vegan, and retains its color fastness for a long time. You too need to check out this design which has been "worn by history's best prophets"!
Sustainable
What we admire most about Nomadic State of Mind is their care for the environment and willingness to put in the work to make their products sustainable. The JC is made out of 100% reclaimed materials, meaning that no part of nature was harmed in the making of these designs.
Lightweight
Each JC shoe weighs less than 10 ounces! Not only is this design comfortable to wear barefoot, but you will also feel like you are barefoot with how lightweight it is! The JC will go easy on your feet, as well as your ankles and knees, and you will be free from discomfort all day long.
Cost and Value
Compared to the other similar design in this guide - like the Gurkee's Neptune - the JC is a bit higher in price. However, it is also made from reclaimed materials, something that Gurkee's can't say for their products, and thus we understand the higher cost. The JC is a trendy, comfortable option for when you want to impress all of your friends with your eclectic taste.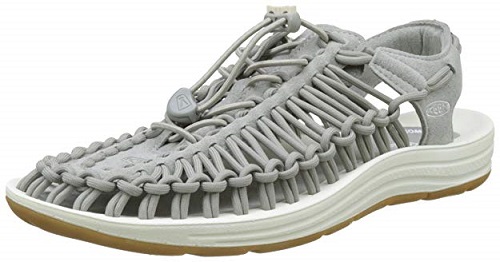 Want to wear closed-toe footwear but have all the breathability of an open toe design? That is entirely possible, with the new Keen Uneek! This sandal has an upper constructed out of woven chord with a microfiber heel backing. It has a midsole made out of polyurethane, an anatomical footbed which is also covered in microfiber, and a rubber outsole which provides excellent traction. On the whole, the Keen Uneek is flexible, and will effortlessly move with your foot and allow the air to properly circulate in and out of the shoe. This way, your feet will stay cool and sweat-free, while being covered up at the same time!
Anatomical Footbed
The Keen Uneek has a footbed which is specially contoured to fit the shape of your foot. It even has arch support, though not so much as to dig into your sole. All these details mean that the Uneek is one badass design which you can wear for those day-long walks outside of the city.
Closed Toe Design
While closed toe sandals are not the most fashion forward, they are incredibly popular because they offer all the comfort of an open toe design, with none of the toe exposure. If you're uncomfortable with having your toes in the open for whatever reason but still don't want your feet to sweat, the Keen Uneek is the way to go!
Cost and Value
There's no other way to say it - the Keen Uneek is one of the most expensive choices in this guide. This is understandable, as it is a specially designed model with features created solely for the comfort of the wearer in mind, and from a famous brand as well. Even with its higher price, we feel like the Uneek is definitely worth the purchase!

Subscribe to our Newsletter