Best Beaded Sandals Reviewed
In a Hurry? Editors choice:
Test Winner: Kenneth Cole Glam-Athon

When we think of beaded shoes, we'll most likely picture footwear that's too tacky and too immature to look cute on anyone that's not a toddler. However, that's not the case. It all comes down to the overall design of the shoe, as well as the quality and colour of the beads. Well-painted wooden beads will look very different from bright-coloured plastic ones. The beads on beaded sandals also tend to be in complimentary colours that contrast a more neutral-coloured footbed and outsole. This adds a pop of style and playfulness without overwhelming the modest, mature look of the shoe.

To help you find a suitable beaded sandal for the upcoming summer, we've compiled a list of ten of the best. The items listed include wedge sandals, flip flops, and strappy sandals, and we've got options suitable for casual occasions as well as semi-formal ones.
Standout Picks
Criteria Used for Evaluation
Style
Summer's a great time to experiment with your style. With more time on your hands and probably a lot of trips to the beach planned, you'll want to step out there looking your best. Plus, the hot weather tends to make us all want to wear brighter and more vibrant outfits. That's why beaded sandals are a great addition to your wardrobe.
Their color and style have a way of spicing up your whole outfit, allowing you to stand out from the crowd. Plus, they are a great way to add a touch of uniqueness to your look if you feel like your attire is missing something. We suggest you pair these sandals with a long maxi dress for a glamorous beachy look, or with flowy patterned pants to achieve a boho vibe.
But above all, we encourage you to experiment with the look. Clothing, footwear, and accessories are, after all, ways to express your personality, so be creative and find what suits you best!
Size
Generally, size is one of the most important criteria not just for sandals, but for all types of footwear. Regardless of whether you're buying sneakers, flats, outdoor athletic shoes, or rain boots – and regardless of how many amazing features they offer – if you've got the wrong size, you can't wear them comfortably. You won't be able to get the full benefit of the advantages they provide for you, and you'll likely end the day with blisters and aching toes. When it comes to sandals, it's even more important to get the correct size. You don't want to have your toes hanging out or to have the shoe sliding back and forth with every step!
Obviously, we all try our best to get the ideal size, but when we're shopping online it can be very tricky. Even in store, we can make mistakes – sometimes, there are flaws in footwear that aren't discovered until after you wear them for the first time. However, there are some tricks that can make it easier for you to spot the right size.
Number one is to always check the product descriptions. Often, the manufacturer will state whether the model runs true to size, or if the size runs large/small. They might also make a recommendation of what size to order (e.g. "order half a size up," or "order a full size down"). If you take care to read the descriptions, you can make the needed adjustment to your purchase and have a higher chance of getting your ideal size. Besides that, product descriptions often go into detail about the specific features of the footwear, which can be super helpful to know in order to ensure it is, in fact, the footwear you're looking for.
Fit
Something else to remember is to stay up to date with your foot size. Even as adults, our foot can continue to grow, so it's a good idea to take their measurements now and again. To measure your foot, you'll just need a piece of paper, a ruler, and a pen or a pencil. First, trace your foot onto the paper. Then use the ruler to draw a rectangle around the shape, allowing the lines to touch the widest and longest parts of the outline. Once you have that, find out the length and width, take these measurements, and compare them to shoe sizing charts (which can be found online). Some brands will even have their own charts to ensure a better fit for their footwear. Once you have the updated number, it'll be easier to find the right size for you.
When you're trying on the sandals, you also have to be able to tell whether or not they are, in fact, of the right size. As a general rule, the toes should stay within the border of the sole. When you're walking, they shouldn't be sliding forward and out. However, sometimes even though you have the right size, your foot might still slide out, which would be an issue concerning the straps and which we will explain in more detail below.
We also recommend you try the footwear on in the afternoon because feet tend to swell a bit throughout the day, and you want to make sure there's enough room to accommodate that.
Upper
By definition, a sandal is a shoe that straps the foot down to a sole, and therefore we literally cannot have a sandal without having straps. The straps are incredibly important to pay attention to because they play a huge role in dictating the size, comfort, and convenience of a pair of footwear. More importantly, they must ensure a secure fit.
Have you ever walked long distances in flip-flops? Perhaps you thought you would just stay on the beach, but your family drags you along to walk on the boardwalk, too. Or, maybe you didn't anticipate the length you would have to trek to get from point A to point B. Regardless, if your answer is yes, you'll know that walking in flip flops will often force the foot to flex with every stride as it makes an effort to keep your shoe on your foot while walking. After a while, this gets super exhausting and can result in cramps and aches.
This mostly happens with flip-flops because the straps on this type of footwear don't provide a very secure fit. There is only a single toe post attached to straps that cover only the front of the foot. As a result, it's very easy for them to fall off, so your foot must make the extra effort to prevent them from doing so. You don't want this to happen to your sandals, because in the long term this will cause foot fatigue and discomfort.
To make walking easier, choose straps that cover the middle region of the foot. Strapping down that area makes them more secure and less likely to slide off. Also look for straps around the ankles, on the toes, and at the back of the heel. All of these will help keep the sandal nicely in place, allowing you to walk with more ease.
Brand
When we think about some of the hottest and most luxurious brands in the fashion industry, ones like Prada, Gucci, Louis Vuitton and Jimmy Choo might come to mind. A product is a promise made, but a brand is a promise kept; generation after generation. A brand and its label are a statement of quality, craftsmanship and service found in each of its products.
When assessing the products on our list for "brand", we took into account the quality of its products, its attention to detail and style, its reputation within the fashion industry, its commitment to customer service and its perceived luxuriousness and exclusiveness, to create an overall score for brand equity. Brand equity can loosely be defined as the pricing power a brand has in the marketplace due to each of the aforementioned factors.
So, while a product that scores high on this list may be gorgeous and exclusive, you can also bet it will much pricier, as well. After all, if everyone could afford it, it wouldn't be exclusive or luxurious, would it? Be prepared to look amazing, but feel the pain at the bank, if a product scores high on this metric!
Top 10 Picks
1

. Kenneth Cole Glam-Athon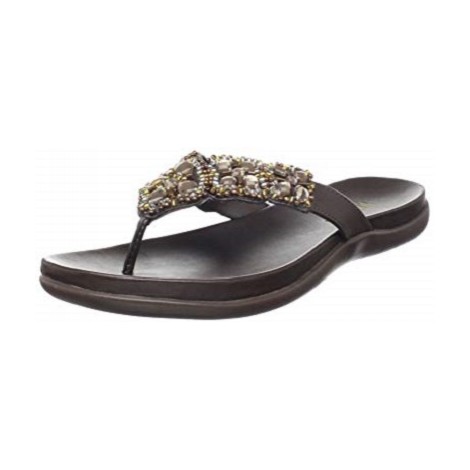 Number one on the list is a pair of flip-flops - which are, by the way, considered to be a type of sandal. What's great about this pair is the simplicity of the overall shoe. Their footbed and outsoles are of a uniform colour, and the two straps are classic. This allows the embellishments on the straps to stand out even more. Sparkling beads of neutral, but complementary, colours make this pair a fashion statement rather than a beach sandal. On top of that, the design provides the wearer with optimal breathability, which is a must for hot weather. So pair these with a long flowy dress or a dark coloured romper in the summertime and walk out there with confidence.
Convenience
I'm sure we've all heard people complaining that they aren't willing to sacrifice time and effort to look nice. However, fashion can be convenient, too. Despite having their glamorous, embellished look, these flip-flops can be slipped right on. No time wasted, no effort made.
Comfort
Flip-flops are usually known for being uncomfortable. Of course, it's always the case when you wear them for too long or walk long distances, but for short outings, this pair provides optimal comfort. There is a curve in the footbed that cradles the foot, and a thick strap that ensures a more secure fit.
Cost and Value
This pair definitely costs more than your average pair of flip-flops. You might feel that they are not worth the money, but keep in mind that flip-flops are a type of shoe that, when bought wrong, can be uncomfortable and even painful. These may be a bigger investment, but they're certainly the more promising one, too.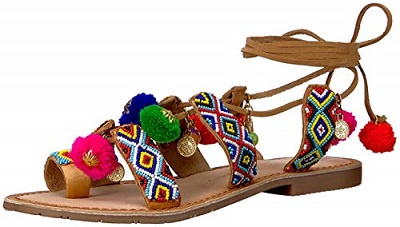 Sometimes, your mood just calls for a vibrant and eye-catching outfit. Why not let the shoes do the trick? Bold colours, different beaded patterns, and adorable little pompoms come together to create a bright and cheerful sandal. However, because of the dark shade of the colours, it nonetheless has a mature look to it. It's the perfect shoe for attending a festival or for going on during the summer, as they can really make you stand out from a crowd. Besides that, they are also durable, adjustable, and provide a protective closure. The toe ring ensures they stay comfortable with your every step while also giving them a boho feel.
Secure Closure
Though there seem to be lots of strings and straps to be tied up before you can head out the door, this downside does not counterbalance the security of the fit once they're on. The straps don't come apart easily, saving you the time and effort to stop and re-tie them during the day.
Materials
High-quality leather is used in their construction. Not only does this result in a supple feel, but it also makes them more durable and long-lasting. Even after years of wear, they can still provide the same great looks and amazing comfort.
Cost and Value
Unfortunately, these are one of the more expensive items we've got. Their high price is due to the leather material used in their construction. But thanks to their durability, we're sure you'll get your money's worth.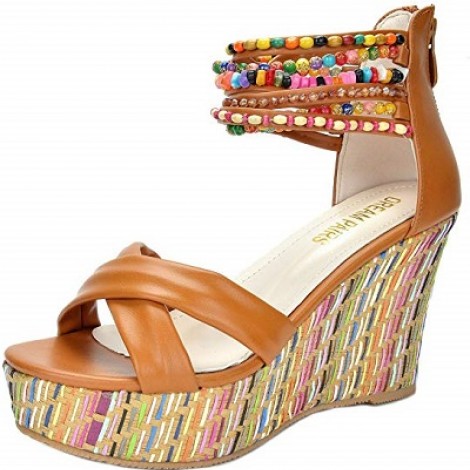 For those who prefer a feminine and graceful appearance, the Bling wedge sandals by DREAM PAIRS is the one to buy. The overall structural design is pretty classic, but instead of a plain ankle strap, they've got lines of colourful beads. They wrap around the ankle, not only securing the fit but also adding a fun touch to the look. The toe straps for a criss-cross, allowing your new pedicure to peek through. At the back of the heels is a zipper that makes it easier to slip them on and off, and lining the insole is a slightly padded faux leather to enhance comfort and improve the fit. This model is also available in other colours with identical beads, including pink, white, and black.
Wedge Heel
Think heels are too uncomfortable? Give these a try and think again. Though the heel height is 4 inches, 1/4 inches of it is the platform, meaning the toe-to-heel elevation isn't too drastic after all. As well, the wedge design provides much more stability compared to thin heels, rendering them more comfortable to walk and stand in.
Colourful
The beads in this pair really add a pop of colour and originality into their look. What's more, a thread design of matching shades is seen on the wedge heel, bringing unity to the overall design. The result is a fun, cheerful, and eye-catching wedge sandal that adds the perfect finishing touch to an outfit.
Cost and Value
If you're trying to stay budget friendly this upcoming summer, then look no further. These wedges are one of the cheapest ones on the list and will allow you to show up to that event, date, or party with style without sacrificing your meals for the rest of the month.

4

. White Mountain Brilliant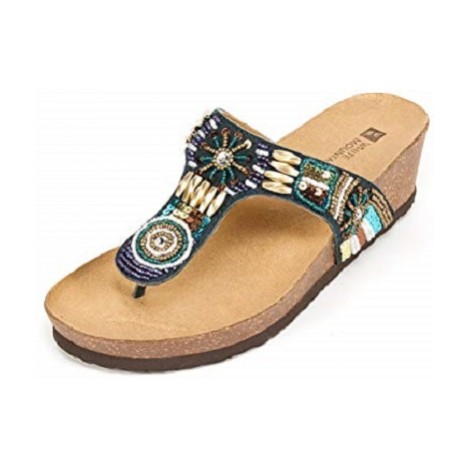 The name of this model sums it up in one word - brilliant. The thong of the sandal is embellished with beads of different sizes and shiny sequins, their colours complementing each other and the navy fabric of the thong. Though eye-catching, the patterns are neat and have a mature vibe. Besides that, they have a slightly elevated heel that curves along the footbed to cradle the arches, and the leather used in their uppers create minimal friction against the skin. Pair them with a flowy dress or a vintage outfit, or wear them for a day out at the beach. We're sure they'll earn you lots of compliments. Just make sure to order a size up, because they do have a pretty squishy fit.
Vintage
Now that the vintage trend is coming back, you want to be prepared to follow it. With the circles, lines, and patterns formed by the beads and sequins on the thong, a neat pattern with a vintage feel is created. They are perfect when paired with a dark coloured retro outfit.
Good for Walking
Picking out the right footwear can always be a struggle in the summer. When you're travelling, you need something that's protective and cushioning, but also don't want to have sweaty feet all the time. This sandal brings you both comfort and breathability thanks to their footbed and outsole design.
Cost and Value
A pretty decent price is offered for this pair. Their decorations make them seem more luxurious and expensive than they are in reality, which is a nice bonus.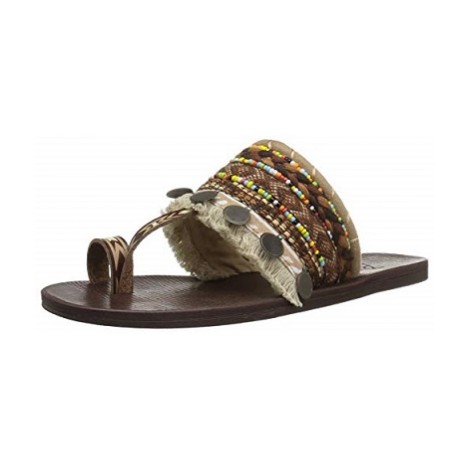 It takes two to tango, and though the duo sandals by Blowfish aren't the best dancing shoes, they'll make you want to do so nonetheless! Perfect for fun and festive occasions, they are just what you need for a summertime party, gathering, or festival. The overall sandal is of a neutral tone, but the beads add a colourful accent that's subtle, yet so elegant at the same time. When walking, the medallions that line the front strap will jingle back and forth, which really adds to the look. Plus, they've got a super cute toe ring that not only spices up the style of the sandal but also ensures a more secure fit. Overall, these have a nice boho feel to them that makes them the perfect, unique addition to your summer palette.
Secure
Though their design resembles that of a flip-flop, they offer a more secure and comfortable fit. The toe loop keeps the toe in place, and the straps across the top of the foot strap it down and prevent too much slipping and sliding around when walking.
Unique
Like many of our other sandals on the list, these take full advantage of beads, fringes, medallions, and stitched patterns to give them a unique look. Their brown tone gives them a boho vibe.
Cost and Value
This pair is one of the slightly pricier ones we've got. However, we think it's justifiable because they do have an extremely detailed and intricate design. Plus, they are super fashionable and comfortable to wear.

6

. DolphinBanana Nude Candy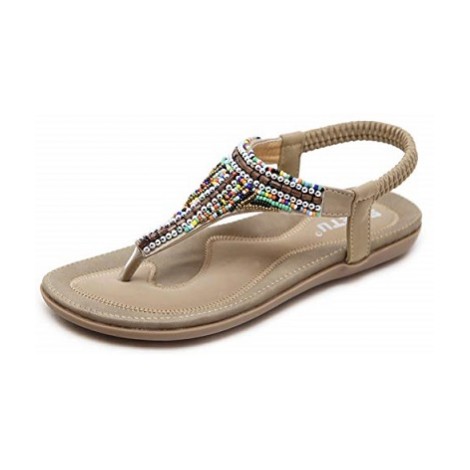 This next item we've picked for the list is another boho-inspired pair. Like the last sandal, the beads on this one add a subtle complimentary touch that makes them unique without standing out too much from the crowd. Small, multicoloured beads are found on the thong of the sandal, contrasting with the nude colour of the footbed and straps. When it comes to their technical aspects, they've got an elastic sling around the ankle that ensures a snug, secure, and comfy fit while also preventing them from digging into your skin. The footbed is stitched and has a shape that's compatible with the natural curves of the foot, resulting in more structural support and more cushioning with every stride. Their size does run a bit small, so we recommend you order half a size up when making your purchase.
Versatile
You might think that beaded footwear is too fancy, colourful, or even immature for a certain occasion, but the design of this pair will prove you wrong. Because the beads are quite small and the rest of the sandal is of a neutral tone, these are perfect for casual as well as semi-formal occasions. The beads on the thong add the perfect amount of detailing and colour to give them a unique look while also keeping them modest and mature.
Flattering
Sandals and flip-flops can sometimes be unflattering for the wearer, but it's not the case with these ones. The thong design combined with the slightly narrow fit makes the foot appear nice and slim. If you have a pedicure or have recently begun to use foot care products, this pair allows you to show that off.
Cost and Value
Floating somewhere in the middle of the price range, you'll find that they cost about as much as the average sandal. Their biggest advantage is that they offer the convenience and light weight of a flip-flop, but have the style of a fashionable sandal, giving you the best of both worlds.

7

. Getmorebeauty Across The Top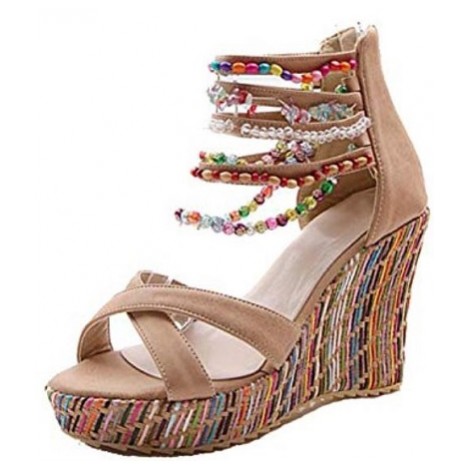 Once again, the title says it all - though to be more accurate, the embellishments are beads and not pearls. Instead of having just one ankle strap, they've got beads wrapping cross the top of the foot, almost creating the effect of ankle bracelets. The result is a fun, playful look that's perfect for a casual night out or a summertime festival. The toe straps form a cross across the toes, strapping them down securely and making it easier to walk without having your foot slip around. In terms of convenience, their zipper closure at the heel ensures that you can slip them right on and go without having to worry about adjusting straps. In addition, they are wide enough to accommodate and provide comfort for normal and wide feet. Their downside is their lack of durability, but after all, heeled sandals can't be worn every day. If you plan on wearing these as once-in-a-while, special-occasion shoes, there should be no problem.
Color Selections
You can get this model in many different colours, all with the same beaded design. There's beige, black, and white that provide a more neutral, modest, and versatile appearance. If you're looking for something that's bolder, there is also red, turquoise, and navy blue to choose from. Experiment with the colours and find one that best suits your fashion taste.
Stable Heel
Wedges are great because the heels boost your height, make the legs appear longer, but while also keeping you relatively stable on your feet. It's easier to walk and stand in these wedges compared to stilettos or other heeled sandals. What's more, they have a thread detailing that adds an extra pop of colour to the mix.
Cost and Value
Heeled sandals tend to be slightly pricier than other sandals. This model is on the cheaper end, which is great if you're not a huge fan of heels but need a pair for a special occasion. However, they are also not too durable. Though the thread design on the wedges is cute, they might come loose and ruin the whole look.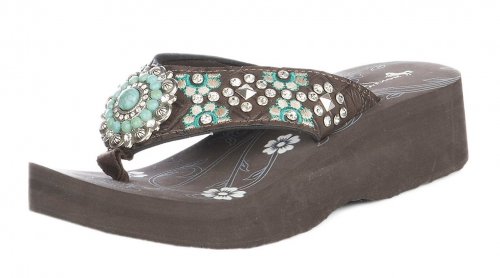 Step it up a notch with this next pair by Montana West. The straps are hand-beaded to provide optimal quality as well as style. The straps have a gorgeous Aztec pattern in bright, bold colours, and are lined with rhinestones that add an extra sparkle. The outsoles are made from synthetic materials, and their thickness ensures that you don't feel the bumpiness of the terrain when walking. The straps are made of fabric and have a pretty snug fit across the top of the foot. This saves your foot the strain of having to flex with each stride to prevent the flip flops from sliding off, and in the long term this reduces fatigue and prevents foot pains.
Fashionable & Unique
The colours and patterns really stand out in this design. The black footbed and outsole contrast the brightness of the blue and the metallic silver on the straps, which really makes these shoes pop out. In the centre of the straps is a large, eye-catching design that really adds a unique final touch.
Comfortable Straps
Afraid that the straps will create friction against the skin and cause discomfort? Well, don't worry. The straps are made of canvas, and while the top is embellished with beads and rhinestones, the underside is comfortable against the skin.
Cost and Value
Unfortunately, this pair is one of the more expensive ones we've chosen. But when you think about it, it would be quite suspicious if they were any cheaper - the beads are tiny, and the Aztec patterns they are arranged in are precise and intricate. Since they are hand-beaded, you've got to pay the price to get the quality, right?

9

. Insun Bohemian Beaded Sandal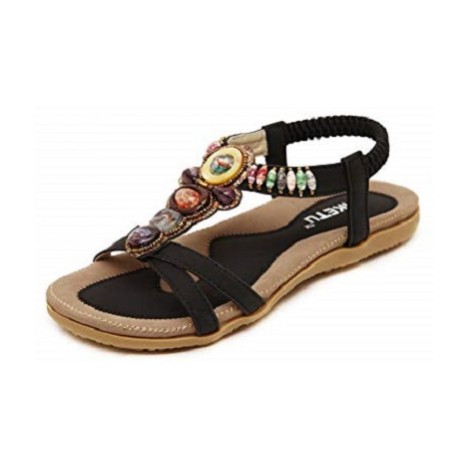 High-quality materials and style come together to form the Insun Bohemian Beaded Sandals. Made with a combination of fabric and leather, they are durable and provide great comfort for long-term wear. The outsole is made from TPR (which stands for thermoplastic rubber) to keep them nice and lightweight, while the straps are elastic to offer comfort and a secure fit around the ankles. The insole has a slight upward curve at the arches to ensure better structural support is provided, keeping the feet in their healthy alignment and allowing the wearer to walk comfortably for longer durations of time. In terms of appearance, the front strap is decorated with dreamy beads and gems in a boho style, adding a pop of originality without overwhelming the look. Overall, this is a great choice for those who need a neutral pair of sandals but don't want to fully blend into the crowd.
Adjustable Straps
Ordering online can be a conundrum because the size you get might not be accurate. What if they end up being too small or too big? That's not so much of a problem with this pair, because the elastic buckle makes the straps easy to adjust. If the size is a bit off, simply fiddle around with the buckle to get your ideal fit.
Versatile
Versatile sandals are a must-have for every woman's summertime wardrobe. If you're rushing or just indecisive, you can simply grab them and go. The subtle pops of colour of the beads combined with the neutral tone of the rest of the shoe resulting in a super versatile look. Regardless if you wear them with a casual romper or a pair of dress pants, you can step out there with confidence.
Cost and Value
Those who are on a budget are sure to love this pair. As one of the cheaper items we've got, you won't have to break the bank to purchase them, yet once they are in your possession, they can be worn for all sorts of occasions.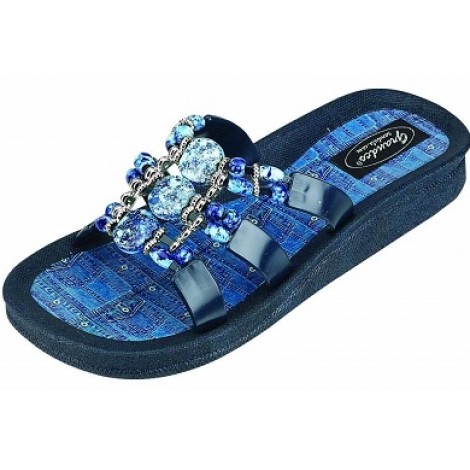 Last but certainly not least is a sparkling pair of slides by Grandco. Use them to add a final touch to a long dress or an elegant lace outfit to get a truly glamorous look. The beads give them an appearance of luxury and make them seem like they're worth much more than their actual price. Despite being slides, the embellishment makes them appropriate for semi-formal and formal occasions nonetheless. However, their comfort renders them perfect for a casual summer day, too. In fact, they are even waterproof. The moulded soles are not only durable and comfortable, but they also provide water resistance at the same time. Furthermore, the three straps in the middle region of the slides keep the foot nicely strapped down so that it's easier to walk around. To top it all of, they've also got a reasonable price.
Sparkly
The beads are large and of a rich, eye-catching colour. Under the sunlight, they'll gleam and sparkle almost like gemstones. There's nothing better for an elegant and luxurious summer style!
Convenient
They are called slides for a reason - before heading out, simply slide them on and be good to go. No need to fiddle with zippers, straps, or laces. Plus, the manufacturer claims they're just as comfortable as slippers, and can be worn as such at home.
Cost and Value
Despite their super luxurious and glamorous style, these are actually quite budget-friendly. Purchasing a pair of these slides allows you to look expensive while also saving money. What more could you ask for?

Subscribe to our Newsletter