Best Melissa Shoes Reviewed & Rated
last updated
May 02, 2019
Since 1970, the Melissa brand has spearheaded a whole new way of making shoes from eco-friendly, flexible jellies to super comfortable plastic footwear in the true style only high fashion can bring. From that first fun flat to the highest heels, boots, slides, mules, and booties, whatever you need to put on your feet this designer has something for you. Who would have thought we could do without leather, fabric, wood, and nails to protect our feet from the elements? Removing all boundaries of tradition and convention, this is a brand that is known for letting go with an explosion of creative freedom. Melissa shoes embrace imagination and give birth to wildly wonderful innovations on a regular basis. Watching the Melissa brand roll through the seasons is like watching a parade of fashion evolution unfolding in vivacious living color.
In a Hurry? The test winner after 18 hrs of research

Queen V
Why is it better?
Synthetic Sole
PVC Upper
Modern Design
Peep Toe
Durable
Hypoallergenic
In a
Hurry? Editors choice:

Test Winner: Queen V

13
Researched Sources
1307
Reviews Considered
18
Hours Researching
15
Products Evaluated
Comfort
Style
Materials
Fit
Value
By Default
10 Best Melissa Shoes



Synthetic Sole
PVC Upper
Modern Design
Peep Toe
Durable
Hypoallergenic
These adorable peep toe ballet flats are made from fruit-scented, waterproof, and quick-drying PVC plastic. That makes them hypoallergenic, flexible, and recyclable. This might be surprising when you see because they are a very cute design that would go well with a casual pair of jeans or a nicer skirt.
Read more
Coming in a few color options with a bow detail at the front and a cute peep toe design. These shoes are stylish and versatile. You'll be able to match them with almost any kind of outfit whether it's a casual pair of jeans or a dress for a night out.
Because they're made from PVC they are flexible, durable, waterproof, and quick-drying. You can wear them in any weather and not worry about them getting ruined. Not to mention, they are also hypoallergenic along with being fruit-scented which is a Melissa brand signature.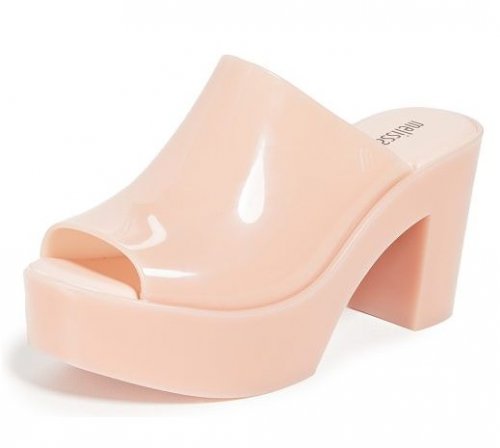 Good for Posture
Easy On & Off
Bragging Height
No Stain
Bold Look
Absent any detail or embellishment this platform mule slide is a bold clog of exceptional size. A shoe with authority, these slides are great for casual, business, and into the evening. There is no color contrast with the sole or insole just a solid block of perfectly sculpted PVC with all the shine you expect from Melissa's sweet smelling treats for feet.
Read more
Soft and squishy upper with a natural arch and leg-flattering lines. The toe box is wonderfully accommodating to all feet with a typically Melissa brand cushioned insole.
Great looking sandals with a peep toe and a sizable 1.75" platform and 3.75" heel. These are not the tallest ever from Melissa but a very tall, fun and a simple mule. A super chunky heel and thick platform slide with a lot of punch. These mules are somewhat reminiscent of the 90s trend of towering clogs but the rubbery fabrication is a delightful twist. Still a powerful statement shoe with that thick, thick heel, the platforms are available in a great variety of colors from pink matte, black, beige natural, and beige birch. Appropriate for almost any occasion except, perhaps a foot race, these are an excellent investment if you're looking for a tall mule.



100% Waterproof
Peep Toe
No Blisters
Mold to Your Feet
Very Cosmopolitan
Literally rising above seems the idea behind this wedge. You'll never be mired down by the petty or unimportant with your head in the stratosphere and your feet on the ground. Buoyed by that candy smell and happy design, you are truly above it all. This is a really big shoe for someone with big ideas and a desire to walk in style and super comfort.
Read more
Make a peaceful approach from a towering height in a super high wedge with a 1.5" platform and a 4.5" heel. You will not be lost in the crowd with sandal leading the way.
The Peace VI has a shiny upper with a cute tassel decoration on a t-strap with buckle for adjustability. A stunning rope style pattern on the wedge perfectly mimics the espadrille style. There's so much comfort in the suede, synthetic insole and patterned lining in a great take on a platform wedge. Attention to detail can truly be appreciated in the way the patterning on the wedge and continuing around the toe. It completely tricks the eye and makes us believe we're looking at natural materials married to the classic Melissa brand. Maybe more expensive than the rest, the Peace VI is a lot of shoe and a big statement. Priced right for a shoe that will outlast any other heel you can find.



Squared Toe
Great for Every Day
Non-Slip
Quick Dry Insole
Good for Wide Feet
Sandals that scream run, jump, walk and run some more. An adult version of the mini Melissa Aranha Quadrada these will take you back to the carefree days of childhood fun. Totally on trend and very much a Melissa design, the Aranha is light and easy to wear. Brighten up any outfit and enjoy the attention to strap on these sandals.
Read more
Just a .75" heel for a touch of lift and a lightly padded insole these feel barely there. The rubber outsole is a great shock absorber and will last forever.
Cutest basket weave on the vamp and sides with a t-strap and buckle to adjust the fit. They just look like summer sandals and they won't let you down in sand or surf. All the Melissa goodness in structure and detail, these sandals can take you from spring showers straight through the summer and into fall. Easy fit footwear in shiny black and sand colors or glittery light brown and silver glass glitter. Wear them to work or on the weekend. Priced just right for this much fun and fashion, these are a steal.



Unique Design
Hypoallergenic
Durable
Subtle Colors
Dress Up or Down
Bubble Gum Scented
Like all other Melissa shoes, these are made from PVC Plastic with a fruity scent- these being bubble gum. They are lightly padded to give you some added comfort with each step. and the bow embellishment at the front adds a nice flair.
Read more
These PVC sandals will stand out in the crowd with different color options and a dramatic bow at the front. You can dress them up or down without taking away from their unique look or your own stylish outfit.
The synthetic sole and lightly padded insole help to add comfort to a style of shoe that usually has little in the way of comfort. While they don't have a lot of arch or ankle support, you shouldn't have too much of an issue thanks to the padding and the comfortable straps.



Comfortable
Sassy
Great Quality
Super Lightweight
Soft Insole
Even simplicity can be exciting in a Melissa design. It's the kind of footwear that makes the fairies dance in the woods at dawn with enough shiny to make a magpie happy. Barely there foot floss with a great footbed for walking on beaches, campus and wherever they're allowed. If it's warm enough to go barefoot this is what you want. A bit of flash and style with a great smell.
Read more
A thin slab of the famous and delicious PVC with a ghost of a heel. These flip-flops have a metallic thong and straps for fashion flair and fabulousness with just a touch of a bow for fun.
A plain, soft pink contrasted with shiny hints of raspberry, shiny black with gold ribbon, beige, and gold, or grey and silver. Each a shiny ornament for a happy foot. Super sleek and unreservedly glamourous with grosgrain-textured metallic fabrication in the ribbon-like straps and bow. This is a wonderfully unusually take on typically beach or casual footwear. Glossy shine and subtle footbeds make for a nice contrast and, though they may seem a touch expensive for simple flip flops this is the kind of kicking around style that will be in your closet for a long time. Worth the expense.



Slip-On Design
Contrasting Detail
Lightweight Construction
0.5" Heel
The Space Love Vs are the perfect balance between simplicity and fun. These ballet flats come in neutral colors such as black and beige, with each color option featuring an oversized contrasting bow for a little extra pop. Whether you're wearing them to the office or out with friends, these flats are sure to please.
Read more
Featuring the PVC outer that Melissa shoes are known for, the Space Love V are made with comfort in mind. Coming in at 8oz per shoe (assuming size 9M) these shoes are lightweight and great for all-day wear. A fabric interior adds to this comfort and adds some breathability to them.
Sometimes the beauty is in the details. While we love the oversized bow on the front, another signature quality of Melissa shoes is the scent. A unique quality, Melissa shoes are well-known for their almost candy-like scent, which can remind you of trying to drag your parents into a candy store when you were younger. The Space Love V also features metal branding on the heel for a little extra charm. Versatility can be very important for shoes, especially those that cost a premium. As we mentioned above, the neutral colors and contrasting bow on the Space Love V make these perfect for both work and play, all with the comfort you've come to expect from Melissa shoes.



Tasty Colors
Perfect Simplicity
Bold Statement
Seamless
Clean Lines
So much of the Melissa brand seems inspired by time traveling imagination and wonder. Bringing old fashion across the century line and reinvigorating solid ideas with brilliant coloration, new shapes, and textures. Innovation is real but designs seem transformed from the wardrobe of some fabulous comic book characters we have yet to meet. Every product is a marvelous adventure, a sensory voyage into the future of footwear.
Read more
Completely genderless, nearly timeless and super comfortable lace-ups with a somewhat Soviet inspired design. A great glossy finish and bold rounded toe in a modern twist on the 50s most sensible shoe.
Soft insole and cushy lining for comfort with .5" platform and a 2" block heel. You can wear these anywhere with almost anything and everyone will want to know where they came from. What might be somber colors in any other design are somehow sweet and tasty in Melissa's confections. Shiny black like licorice, the almond brown looks like glossy chocolate syrup and the beige hot belongs on top of a perfect cappuccino. Between that and the delicious smell, everyone will want to follow you home. You can't put a price on that but these are certainly more than reasonable costing items for any fashionable wardrobe.



Wear Them Anywhere
Removable Ears
So Pliable
Cushioned Insole
Beyond Cute
A tasty treat for toon fans, footwear to delight Minnie Mouse and her slightly oversized sneakers. Big and bold and looking like a shiny sculpted confection, these are good enough to eat. Melissa collaborates with Disney to bring you something truly unique: completely wearable happiness! A great addition to any closet, these are just slightly eccentric and bound to make you smile.
Read more
Great for walking and running around the town or a mall. Kick up your heels at a party and have a good time because these soft, super bendable babies have got your feet!
The synthetic insole is paired with synthetic lining for ultimate comfort and the platform sole gives you a little lift. A round toe just like sneakers of old and of course they smell like candy! There's a wonderful selection of colors with matching shoelaces in silver glitter, silver cloud glitter, white with black soles, black with white soles and the very yummy pink with black sole and laces. All come with cartoon mouse ears in the same color as the laces. Just right for anyone with a slightly eclectic style but also works well for anyone who needs a little eccentricity to offset their quiet nature. Very reasonably priced for this kind of comfort and whimsy.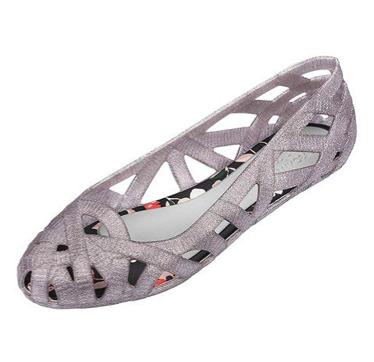 Certified Vegan
Non-Toxic Materials
Slip-On
Spill Proof
In collaboration with the fierce fashion-forward designer, Jason Wu. Everyone who's anyone wears Wu and that famous aesthetic is here in the extreme attention to detail. Quality, old-school sensibility and a totally on trend vision! These Flats are a great update on the original jelly-style with a little flash and a lot of comforts. Refined femininity and sweetness come together for a new Gotta-Have-It for your wardrobe.
Read more
A just right rubber outsole for stability and plenty of tread with full, PVC inner lining. Just right squishy soft uppers and insanely great cut-outs for breathability and style.
The classic rounded toe and the way the crisscrossing comes together on the vamp brings a real sophistication to the classic jelly. Gorgeous in glittering pink rose and silver cloud colorations. Melissa's are always so much more than something to put on your feet and they are totally eco-conscious since they are as recyclable as they are attractive. There's that yummy smell, total comfort and the easiest fabrication to keep clean ever. An adorable, sophisticated walk down memory lane for the jelly with a price that is affordable and smart for all the walking you can do in these shoes.
Criteria Used for Evaluation


Comfort
If you, like so many others, spend your days mostly on your feet then you really need to take good care of them. Part of that care would entail selecting the perfect footwear for whatever it is you're doing. You need comfort and support and the Melissa brand delivers that and more.
Walking and standing aren't the same and make different demands on our pedal parts. Therefore, we require different types of footwear for things that might make us run and walk to chase around children and something else entirely to walk from one end of an office building to another a hundred times a day then do errands and shop and walk home from the train station. Some tasks require a more stylish appearance than others. Sometimes our tastes dictate our choices in footwear and we reserve the right to decide what to wear on our feet for ourselves. If performance is your thing, you want to make the most personal statement with the coolest shoe you can find that says what you want it to say.
Most importantly you want something that you can keep on your feet without experiencing pain or restrictions. What good are the best looking heels if you can't strut your stuff? Great booties are worthless if they pinch your toes. Flip flops and slides are completely useless if they fly off your feet when you move too fast or turn too quickly. So shoes that fit, look fantastic and love your feet until you decide to take them off are what you're looking for and exactly what Melissa offers. Fans claim that these mold themselves to your feet over time and become a tough second skin without irritation or wearing out and loosening too much. Like the original jellies, all are made for comfort and durability. The style and panache they come with is an added benefit!
A proprietary form of the plastic, PVC known as Melflex® is the secret behind all that comfort. Soft and pliable enough to accommodate your movement, Meflex holds its form without being stiff or uncomfortable against your skin. The versatility is such that it can suitably form many parts of a shoe:
Outer shell
Softer lining
Pliable straps for buckling
Ribbon like fabrications for detail
3D sculpted flower decorations
Among the latest tricks for this amazing material are the these wonderful sculpted Victorian roses and vines on boots and booties. These are bound to set off plenty of similar fabrications throughout the footwear world. Opacity or complete translucence is another impressive quality Melissa has found in this plastic and the potentials for coloration seem totally unlimited. Shiny metallics and sparkly glitters, a deep black or soft, light blue. It seems there is no limit to what the Melissa team and collaborative partners can do with this stuff.


Style
We believe you should have options and variety and choices in your life and in your footwear. Not every day is the same and not everywhere you go requires the same style or quality. If it rains you need a waterproof, higher shoe and hot days demand that your toes get an opportunity to breathe. Surprisingly this is a brand that brings all that under one roof, using the same Melflex to provide it. Even more important than all that, is the fact that the fashion is on trend and enormously fun. The Melissa brand is about as cutting edge as it gets. The shapes are sometimes retro but they bring back the very best of whatever era they suggest and add details or new lines that create a whole new look. Each collaboration with the world's most intriguing designers adds another flavor and often a very real innovation. We could all wear the same simple, Ugg-style boot in the same color with no regard for personal tastes but that's not the world we live in. Why give up our options when feet are just as different as personalities? Some days you need to soar above the crowd on a huge platform and others require the happiness of wearing a piece of art, installed between you and the ground you walk on. Even when simplicity and practicality trump all other concerns there's no reason we can't have color or shape for inspiration.
With subtle or wild colors we can show the world who we really are and who we aspire to be. Flash and style can be a signature for a performer or any person who feels the need to shine just a little now and then. Whatever your personal style, Melissa has footwear for you and not just for one but for all occasions. There's no limit to the looks you can have in your closet for any event, or situation or experience. Melissa's wonderfully strange sandal inspired by architecture, a retro feel that reminds us of Candies and great motorcycle boot type footwear with Victorian roses cut into the rubber are intriguing and exuberant bits of creative art. And all of these protect your tootsies from the elements. Take yourself for a walk or to work in Minnie Mouse inspired sneakers with ears on the laces, wander on your vacation in the lightest sandals without a care. If super high stilettos are called for then Melissa has one that's just right for you and none of these will break the bank. We made our selections based on the variety of product available and incredibly low prices. The most expensive among our picks are more than reasonable compared to the rest of the field. Melissa makes unique shoes that really last for a lot less.


Materials
While other brands do their best to use renewable sources, limit packaging and recycle their waste, Melissa is way out in front of the rest. The main product in the manufacturing process Meflex is a comparatively sustainable thermoplastic product made by parent company Grendene. They recycle or repurpose 99% of their industrial waste, reuse water and have an onsite sewage treatment facility. Their manufacturing process involves only Melflex in an injection molding system. There's a great deal to recommend this material as it is:
Vegan
Non-toxic
Cruelty-free
Hypoallergenic
With simple, seamless parts that are easy to disassemble after use, there is far less waste than from other manufacturing methods. Even long after the sale when the product is yours and you take it home there are some stores that hold events allowing you to bring back for trade or recycling any old Melissa product. When it is no longer reusable in any form it can be burned or thrown into a landfill without fear of contaminating groundwater. Every effort is made to use the PVC responsibly knowing the dangers of using such a substance. That wonderful bubblegum smell is a trade secret and though it's non-toxic Melissa isn't saying exactly how it's made.
One of the things that makes Melissa brand eco-friendly is the durability of this product. The designs are timeless and such classic shapes will never really be out of style. Even if they were to sit in your closet for a few years that emitting that wonderful scent, their reappearance will, no doubt, be welcome and applauded. Since they last forever Melissa's products may even be a generational gift, passed down through families until feet themselves have changed so much they can no longer serve as shoes. While no one knows the future we're fairly certain Melissa's designs will be a part of it.


Fit
When it comes to any kind of footwear, fit and comfort are two of the most important things to consider. After all, even the nicest looking shoes don't mean much when they don't fit well or are too uncomfortable to see anything but the inside of your closet.
While most fabrics will stretch and shape to your foot to some extent, Melissa shoes are made of a PVC compound. This contributes to their unique style and eco-friendly design. However, this also means that they will not break in as easily as fabric shoes, if at all. This is where fit comes in. It's very important to make sure that the shoe not only comes in the correct size but will fit the shape of your foot well.
Some shoes are made to be more narrow than others. This is the case with styles like ballet flats and some heeled designs. Sneakers, on the other hand, tend to be a touch wider and will accommodate for wider feet more easily. If fit is a concern for you, look at the size offering and charts for each design, as well as reviews. While the size offering and charts will give you the numbers, reviews will give you an idea of the real-world application of the shoe through the experiences of those who have purchased them. We've found that some of the products on this list don't come in half size; if you take a half size, try ordering the next whole size up. For example, if you normally wear an 8.5, you may want to purchase a 9. If you purchase the shoes and find that you don't like the overall fit, don't be afraid to return or exchange them. Most vendors will have robust return and exchange policies, so take advantage of that if necessary.


Value
Last but certainly not least, the final thing to consider with Melissa shoes is the overall value. This is often judged by looking at all of the qualities of the shoe and thinking about them in relation to the price. Melissa shoes are not cheap, and prices range from mid- to high-end.
The most important question you can ask yourself about the value of shoes is what you get out of them. If you get them and find that they aren't quite up to your expectations, there's no shame in returning or exchanging them. Shoes are an important investment, and it isn't a decision to be taken lightly.
If you noticed, we spent time with each product discussing the cost and value. This is something we believe is worth researching extensively with each product, as it's a very important factor for everyone. You want to get your money's worth out of your purchase, after all.
Of course, what constitutes "value" can vary from person to person. Maybe you're particular about certain colors or are looking for something that will offer you the most in comfort, or you're on a tight budget and the price is going to be something you prioritize above other factors. When looking at the value of a product, consider what you find to be the most important to you.
Expert Interviews & Opinions
Most Important Criteria
(According to our experts opinion)
Experts Opinion
Editors Opinion
Users Opinion
By Default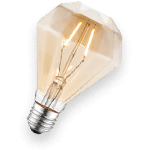 Pairing Melissa Shoes
Melissa shoes are quite unique in their makeup, shiny and lustrous. Pairing them can be fairly simple however! Pair your new Melissas with jeans, short for summertime, or for a fun night out with dresses or skirts. With such a versatile line of footwear, the possibilities are endless!
Caring for Melissa Footwear
With the uppers of Melissa footwear being synthetic in nature, they are quite easy to clean. Using a bit of soap and a damp cloth, you can remove any excess dirt or debris they may pick up. Be sure to store them away from heat, and in a cool, dry place.
Other Factors to Consider


Bottom Line
Picking a shoe for any reason is a very personal thing. We have our own comfort zone, likes and dislikes, and ideas about what we should or should not be seen in. We often buy footwear based on trend and habit and neither method is completely reliable. Sometimes it helps to have someone else offer up some suggestions and introduce new ways of looking at your style. You don't have to match the clothes in your closet, you just have to make sure you're up for a little adventure now and then. We looked through several seasons of Melissa footwear to see what might peak your interests. Some are old favorites that you've probably seen around. Don't discount them just because it's not the latest thing because not everyone has caught on to this Brazilian secret just yet. Some of our picks are, indeed, the newest offerings from this innovative design line and we're serving them up for you to enjoy. We're confident there's plenty here to pique your interests and make you rethink some aspects of your wardrobe. Melissa is fun on your foot and the smell will make you smile.
Frequently Asked Questions
q:

Why the smell?

a:

It's intended to remind you of a great childhood smell, like a candy that you liked. There's also a hope that this smell will remind you, in the future, of all the good times you have wearing this brand. The olfactory sense is one of the most powerful ways to trigger strong memories and this one will probably really stick with you. Just opening the closet will be a pleasant experience and bring back the fun you had on the beach last weekend or the party you attended last week.
q:

Is it really 100% recyclable?

a:

Yes it is, in fact, Melissa takes overstock product and recycles it back into the next season's line. The claim of 100% recycling may be overstated since 100% is nearly impossible to attain. Let's say they do their very best to reuse and recycle all the materials used in making their product. That's a pretty uncommon thing to do in almost any business.
q:

What if you're allergic to latex? Won't the rubber irritate my skin?

a:

The Melflex in Melissa shoes contain PVC, a plastic product made from petrochemicals. Latex and rubber are made from rubber plants and some people are allergic to these products, others are irritated by them. Plastic is not rubber. So, the Melissa shoes will not cause any reaction with your skin, allergic or otherwise.
q:

Isn't PVC banned in the EU?

a:

Yes. They have no recycling program for it there so it isn't used.
q:

Why are Melissa shoes made in Brazil?

a:

This is, in part, a point of pride for the company. While it has become more expensive to make shoes there than it used to be, it's a very popular brand so they're sticking with their home turf and still making shoes on native soil.