Best Purple Shoes Reviewed
In a Hurry? Editors choice: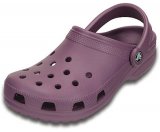 Test Winner: Crocs Classic

The color purple has numerous associations, from royalty and nobility to luxury and power, even ambition and wealth. It is the chosen color for signifying creativity and wisdom, pride and mystery. But even without its symbolism, the numerous hues of purple are beautiful sights that can transform an outfit, making it eye-catching and bold without going over the top.

In that sense, very few things can give you the look of casual luxury like this color. Our list looks at some of the best purple shoes made in all versions of the color – from pale to dark, from pastel to fluorescent. However, you will find that all items on this list have been chosen not just for their looks, but also for their quality and comfort.

Standout Picks
Criteria Used for Evaluation
Style
The main thing to examine when looking for new footwear is the style. What do you need the shoes for? Will they become an everyday option you want to sport when out and about on the regular? Or are they for a special occasion that you will wear only a couple of times? Knowing exactly what you need from your footwear can make a huge difference when it comes to your satisfaction after purchase. There are a few styles to consider if you're not entirely sure what you are after:
Sneakers
Athletic
This is a footwear type that most people wear for exercise or to the gym. As of late, they have become a staple in daily wear thanks to a rise in the popularity of gym wear for everyday life. They have a traditional look with thick rubber soles, mesh or leather uppers, and laces. Gym shoes in purple will add pizzazz to your workout routine and could possibly make running errands not so tedious. Or so we could hope.
Casual
Casual sneakers are more low key than athletic sneakers. You see many styles and types of these as they are convenient and comfortable. They are designed for aesthetics, not so much purpose in terms of mimicking traditional athletic footwear. While some may opt to wear these in the gym, it is not advisable, seeing that casual sneakers lack the support and cushioning you need for more strenuous activities. Casual sneakers can be more associated with a preppy look. They make a great choice for everything from work to school, young and old alike.
Boots
Combat
Originally designed to be used by soldiers, combat boots have quickly gained popularity with everyone else thanks to their great features. Some people like the warmth they provide. Others enjoy them for their protection while working. The combat boot is rugged but still stylish. It can be worn with jeans, dresses, and more. It is a great choice for people that need a boot for any reason.
Cowboy
Cowboy boots aren't just worn by cowboys. They are loved and adored by country music fans, rustic photographers, and more. They are a great choice for boots if you need them for style or functionality. They can be considered a work boot. However, they are generally intricately designed and most people would choose not to wear them solely for work. Cowboy boots are a great choice if you are looking for a boot to keep your feet warm and/or protected.
Dress
Dress boots are boots that could be worn for more fancy occasions, such as dinner parties and weddings. They could also easily be worn to work and not look like a sore thumb sticking out. Dress boots typically will have a nicer sheen to them. For women, you will find them in many varying heel heights, from flat all the way to 6 inches. For men, the basic flat will do. Also, shaft height will be greatly varying. Some boots are ankle height, while others come up to past your knee level.
Sandals
Flip-Flops
Almost everyone owns at least one pair of flip-flops. They are probably a close tie with sneakers as everyone's favorite design. They are open so your feet can breathe, and they go with any type of clothing you want to pair them with; dresses, shorts, jeans, khakis, etc.
Sandals
The difference between a sandal and a flip-flop is the toe strap. A flip-flop is considered a sandal but a sandal is not the same as a flip-flop. Sandals can have any range of straps to secure the foot into place inside the design. A flip-flop has the traditional "Y" strap that goes over the foot and in between the big and second toe. Sandals are also considered to be more dressy overall than a flip-flop. Sandals are also accepted in more places, such as work or church, as appropriate attire over flip-flops.
High heels
Stilleto
Stiletto heels are either completely loved or miserably hated by women around the globe. If you love them, you not only love the way they look, but you are a huge fan of how they make your legs look, how wonderful they affect your posture, or how well they develop your leg muscles when you walk in them. If you hate them, you find the heels too hard or too uncomfortable to wear. A stiletto is defined as a design with a very thin stiletto spike to walk on under the heel. Some stilettos have heights topping 6 inches!
Wedge
Wedges are easy to put on and they are relatively comfortable to walk around in. You can get the benefit of the high heel in terms of posture and a leg workout, all without the worrisome walk in stilettos that takes much practice to get the hang of. Wedges are usually highly acclaimed for being comfortable for all-day wear.
Pump
A classic pump is best recognized by a lower and thicker heel than a stiletto. The heel is not so tall and usually hovers around the 1″-3″ mark for height. These type of heels are a great alternative to those that still want to be dressed up but tend to get uncomfortable wearing high heels. The pump allows you to feel more secure when walking.
Slip-On
Ballet Flat
These grew to popularity as a fashion choice over the past 10 years. They are a nice break from high heels as they are flat and allow for proper splaying of the bones. Ballet flats are considered dressy or casual depending on what you have them paired with, outfit wise. They are a good choice for people that do not feel comfortable walking in high heels.
Mules
Mules are another great alternative to high heels. The mule is popular amongst young and old, men and women alike. Usually, mules have a very good sole traction that prevents slipping. These are a popular choice among nurses and other professionals that require stability.
Comfort
After you have picked a design based on the style that you like, the next biggest criteria milestone to evaluate is the comfort levels of the footwear. There are a few things that help to evaluate how comfortable the design is going to be.
First, flexibility. The construction and material type will determine the design's flexibility. For the best possible wearing experience, look for footwear that allows you to naturally move, without constricting you or hindering you in taking a proper step in any way.
The second most important factor in the performance of any type of footwear is the sole. Protecting the feet and cushioning your steps, it has the purpose of protecting you both from the surface underfoot, as well as the excess shock that is generated with each of your steps. Make sure that the design you're getting - whether it's a high heel, a sneaker, or a ballet flat - has the right amount of cushioning for you. Molded, or contoured, footbeds are also a plus, as arch support will help prevent foot fatigue and correct ailments such as overpronation.
When trying to pick out the most comfortable option for yourself, make sure that the design you put on for the first time doesn't dig into your skin or cause friction in any way. Even the slightest of discomfort on the first try may grow into something more serious as you walk for longer, such as blisters or lacerations.
Materials
The material of the upper plays a big role in the comfort levels of design, as well as its breathability and durability. There are numerous options when it comes to materials, but here are the pros and cons for some of the most popular ones used in constructing footwear:
Leather – Leather is a material that is very durable. In fact, it has been used for thousands of years for the same reason. Before simple production methods of today, leather was used because of its unmatched durability, comfort, and warmth. For the same reasons, leather is still widely used today. It makes a very strong and durable shoe. It is also preferred by many because it is easy to clean. Finally, many people prefer leather for the sheer look of it compared to mesh or other materials. Additionally, leather is also amazingly breathable, allowing air to freely circulate in and out of footwear, and keeping your feet dry and cool.
Canvas – Footwear made from canvas has an easy-breezy appeal to it. Canvas designs are lightweight and look good with many different styles of clothing. Canvas is generally easy to clean and can last a long time when properly cared for. It also promotes good breathability and airflow. Therefore, your feet will stay cooler in canvas footwear than they usually would.
Suede – Suede is a popular choice for footwear because of the soft, plush feeling it provides. Suede is also a flexible material, so if you are looking for a flexible and sharp-looking design, this might be your winner. However, suede is harder to maintain than regular leather, and it tends to stain very easily.
Mesh – This is a material that is widely popular and used in many designs. Mesh is bendable and makes for great material in sneakers especially. It is also very breathable and promotes good airflow. It is also a quick-drying fabric so should it get wet, it will dry in just a short time.
Durability
Affordability is a two-fold street. A design can be affordable but if it doesn't last, then that is not a smart purchase either.
Having to replace one pair of shoes every three months is no smarter financially than just buying a more expensive pair in the beginning. This is not to say that because an option is lower-priced it is not durable. Durability is a quality that depends on many different factors, including the construction of the design, its materials, and how frequently you're using it.
If you wish for something that will last you quite some time, then always opt for genuine leathers. Leather and suede are incredibly durable materials, especially if they are layered thick. Moreover, if the design is made using the Goodyear welt construction method (such as Dr. Martens 1460), then you can be sure that you will be able to enjoy wearing it for years to come.
We ranked the best purple shoes on our list according to their durability so that you have an easier time finding just the right option for yourself. Good luck!
Value
Even if you find the perfect style and it has all the comfort characteristics you are searching for, ultimately, for most people, it comes down to affordability. Everyone has a price threshold based on their individual budget.
If a design is out of the price range the customers are looking at, they will not buy it - plain and simple. They will move on to the next runner-up and go through the other criteria again.
We searched through hundreds of options and one of the criteria we used to narrow down the list by was the price. It is important to include a wide variety of items within a shopping budget that almost anyone can afford. Even if that means they have to save for a few weeks to purchase their favorite pair.
Fortunately, most of the options on our list are quite reasonably priced, and you shouldn't have any problems treating yourself to the one which suits you the best!
Top 10 Purple Shoes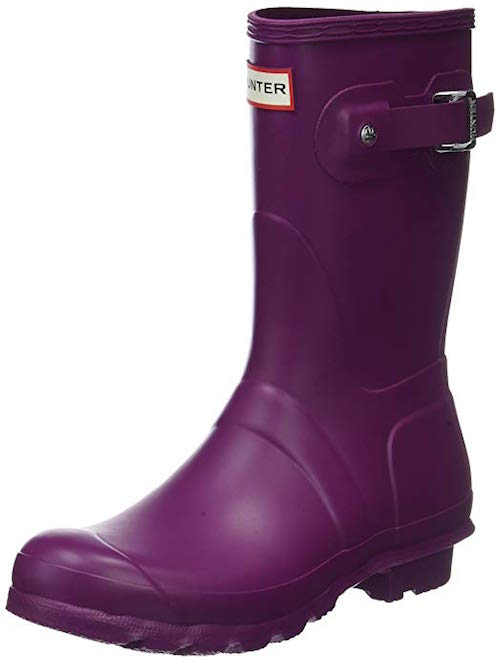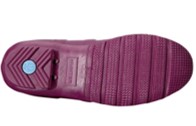 Made with natural vulcanized rubber, the Hunter Original Short is probably the best pair of rubber boots you will find. It's completely waterproof with just the right amount of heat retention, making it perfect for spring and fall wear when there's lots of rain, but the weather's still not too cold. Featuring a 10" shaft, these won't reach your knees but will cover your ankles, meaning that you can traverse most puddles without having to worry about getting wet.
One of the best things about Hunter purple shoes is the outsole, which features deep grooves made especially to ensure that you get a lot of traction on all types of terrain - even if you happen to find yourself traversing through the mud. They'll easily shed the dirt, and can be cleaned in no time, making them a no-fuss pair that just so happens to come in a cool color.

To prevent your skin from coming in contact with the rubber these boots are made with, the Original Short is lined with textile which has several important properties. First, it is soft to the touch and won't chafe or rub. Second, it prevents the buildup of moisture and helps maintain a healthy environment inside the boots.

If you require a pair of boots that will protect you from water, that'll look cute, and that will last for a while, then you should definitely invest in them. However, if these are not a high priority on your list of needs, then you can easily skip these in favor of a more affordable option.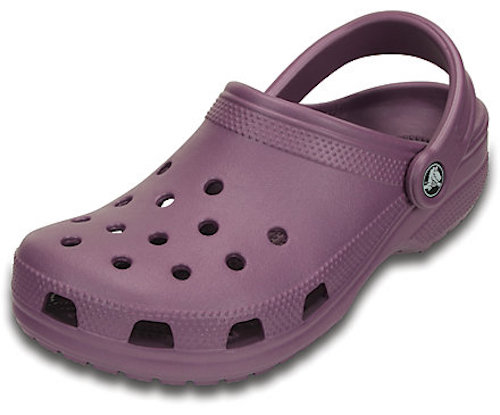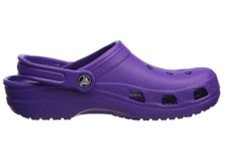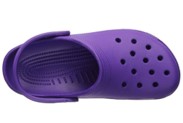 You can love them or hate them, but the fact is, Crocs Classics are some of the most comfortable options available for purchase, and they come in a range of colors, including ultraviolet, lilac and lavender. Perfect for casual wear around the house, for the beach, pool, garden, and even for running errands, this is a supportive clog with plenty of performance features that make it an excellent choice for anyone looking for something laid back and easy to care for.
Anyone who suffers from foot-related issues such as low arches, bunions or even heel pain will benefit from having a pair of Crocs they can slip into when they're not supposed to look too sharp. Featuring generous arch support, a roomy fit, as well as a massaging footbed, these clogs are going to bring you more comfort than any other footwear you own. So much, you'll even be tempted to wear them to work.

Leather and suede are amazing materials, but can sometimes be a real pain to keep clean and looking fresh. The Crocs Classic is made with their signature Croslite material that's not only water-friendly (meaning you can just hose these off when they get dirty), it's also buoyant, durable and odor-resistant.

Considering all the features that they boast, Crocs are a great option for children and adults and come in a rainbow of colorways for everyone's taste. Comfy and simple, you'll love wearing these as often as possible.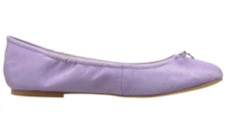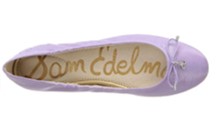 A Sam Edelman icon, the Felicia purple shoes are everything you want in cute, comfortable and versatile ballet flats. It is made from premium materials, features a round toe silhouette, and is ridiculously easy to slip in and out of. This bestseller comes in literally dozens - if not hundreds - of color options, and we love how the romantic, gentle lavender fits right into our guide here.
The Felicia is made from a range of materials, depending on your personal preference, but all of them are of excellent quality. It has a slip-on construction with an elastic topline, simple and easy to put on when you're in a hurry, and it has a dainty bow and charm accents on the front for a touch of femininity. What is especially wonderful about the Felicia is that it has a padded leather insole for a healthy foot climate and that all-day wear comfort.

The Sam Edelman Felicia is one of a kind, and all the rage among customers of all ages for good reason: it is versatile, perfect to pair with any type of outfit, be it casual or business, and it is comfortable enough to wear for hours on end. What more could we possibly want out of an adorable flat like this?

4

. Dr. Martens Vegan Chrome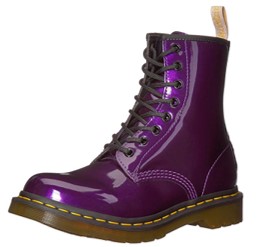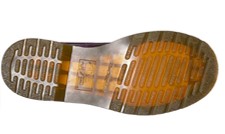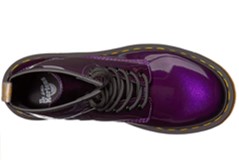 Love the brand, but want a little vegan-friendly shine and color? This pair from Dr. Martens can punch that ticket! Its glossy royal purple hue brings a depth to the richness of color purple can have, and the classic 1460 model style keeps the boot originally bad to the bone. The 8-eyelet lace-up with the heel pull tab will keep these snuggly on your feet with a long lace-up vamp for a perfect fit. Even though the uppers have been crafted from synthetic materials, this pair keeps all the brand's comfort and cushion technology ever-present, so you can strut your purple heart in style and comfort.
The base of the Vegan Chrome is the brands one of a kind air-cushioned sole, giving each of your steps a cushioned feel. Its rugged lugged sole allows for traction on uneven, wet, or rocky terrain, so you stay sure-footed no matter what you encounter. It's slip-resistant as well, perfect for those in the service industry who want a bit of color to their footwear. Constructed with Goodyear Welt seals, you know this pair will last a lifetime, and won't let the water soak through in rainy conditions.

The uppers are the star of the Vegan Chrome, however! This rich, royal purple hue will not only take your breath away, but the shiny chrome finish could make you drool with approval. Rising about calf height, the 8 eyelet lace-up pulls the boot together in a snug comfortable fit. The quality stitching ensures the longevity of the uppers, and inside you'll find a supportive build to help keep you going through long days. It's a pair well worth the investment for a stylish pair of Docs!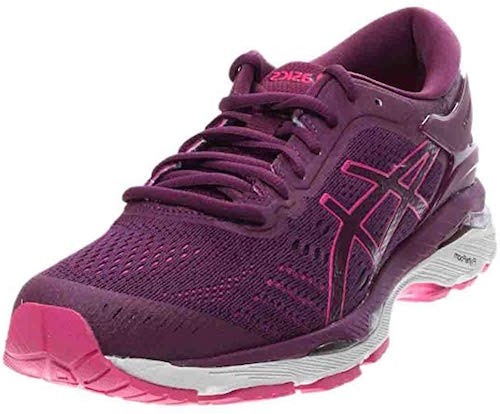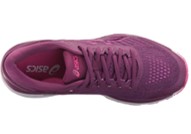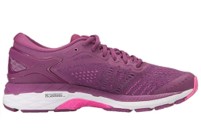 With a tradition of over 20 years, ASICS is a sportswear brand that is completely focused on giving you the best possible performance available. The GEL-Kayano 24 is a running sneaker that's made for road running and is the best option for those with normal to low arches, who tend to overpronate. It boasts some of the most advanced technologies found in running footwear, which, combined with the color purple, makes for a stellar choice.
Utilizing multi-directional stretch mesh, the GEL-Kayano ensures that you receive the best possible fit that'll securely hold your feet without ever becoming too cramped or restraining. Combined with a Heel Clutching System, you can run as far and as fast as you wish without having to worry about heel slippage, blisters or any other fit-related issues.

ASICS running gear is loved by many because of the GEL cushioning system they use to comfort and protect your feet. The Kayano 24 features gel pads both in the forefoot and rearfoot, absorbing shock from your landings and giving you a good amount of energy rebound for each toe-off. This means longer runs, less fatigue.

The GEL-Kayano 24 purple shoes are an excellent choice if you are more athletically inclined. It's one of the highest-rated running designs available at the moment so you can rest assured you'll be more than happy with your purchase.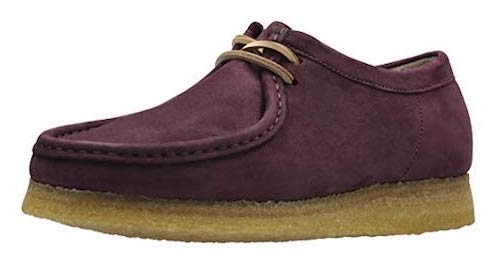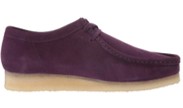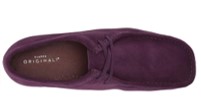 Inspired by the '60s, this moccasin lace-up is the perfect shade of grape for a pair that will not only bring your style to a whole new level but even more importantly, it will become your go-to design for both casual and professional wear, seeing that it looks just as good with a pair of jeans as it does with chinos and a blazer. Made with a nubuck upper that's sourced from a tannery in England, these lace-ups are full of character for those who know that style means more than just a pair of slick loafers.
The Wallabee features a rolled-up moc-toe and two eyelets with leather laces to allow you to customize the fit. They're soft and flexible in the upper, and will easily mold to your foot, both allowing it to move freely, as well as keeping it just the right amount of warm and ventilated.

The outsole of the Wallabee is made with crepe rubber, which is not only the most comfortable outsole you can get in non-athletic footwear, it is also eco-friendly, provides excellent traction and cushions well. On the inside, you'll find an additionally cushioning insole that will make walking even easier. This means you'll easily wear the Clarks Wallabee for the entire day without feeling any discomfort.

Though it's not a formal style, the price of the Clarks Wallabee will compete with some of the more high-end items on this list. Nonetheless, if you're interested in making a good purchase, getting a pair that will last for several years, and want to ensure your comfort, then this is definitely the option to go with.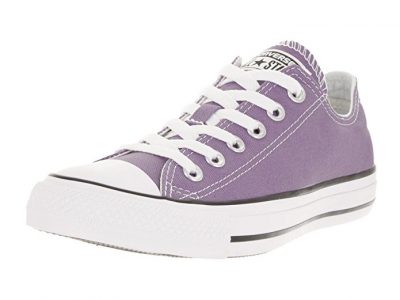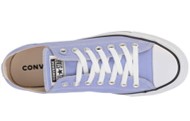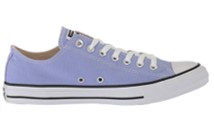 Converse sneakers have become legendary in their style, comfort, and versatility. Originally designed as basketball footwear, they have transcended sports use, and now make one of the most popular options for everyday footwear across the globe. Available in several shades of purple, from pale to dark, they are one of the easiest styles to get in your favorite color. And in addition to their stylish looks, they also offer a high level of comfort and wearability, making them an excellent choice for a variety of occasions.
Made with a soft and flexible rubber outsole, the Chuck Taylor is an excellent pair of sneakers to wear wherever you're headed. Not only will it keep you safe through its slip-resistant design, but it will also be able to take quite a beating due to its durable construction. Furthermore, paired with a softly cushioned insole, these are excellent for shock absorption, allowing you to go further without experiencing too much pain after hours on your feet.

As you know, Converse All Star Chuck Taylors come in two heights - the low top and the high top. This color is available in both, which means that all you have to do is choose which of the options you prefer. Looking for easy summer footwear? Go with low. Prefer more ankle stability? Then the high tops are best for you.

The Converse All Star Chuck Taylor purple shoes combine classic design with high-performance features, giving you an excellent pair of everyday footwear for a price that is quite low. Depending on the variation you choose - high top or low top, as well as the material you want your sneakers to be made of (leather or canvas) you will find some variations in cost. Nonetheless, they will still make for a fairly inexpensive pair that can easily be matched with almost anything in your closet.

8

. Show Story Punk Bootie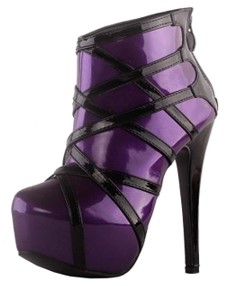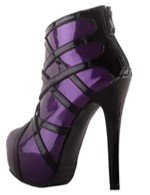 This pair of purple eye-popping pleasers aren't for the faint of heart. The Punk Bootie by Show Story cages a deep rich purple hue in the black strappy overlay, all of which are crafted from synthetic material with a sheen to catch the light. A 2-inch platform boosts the entire bootie, while the heel adds further height for a jaw-dropping length. Zip up heel closure makes them a cinch to get in and out of, while several comfort features keep the inside pleasing to the foot during times of wear. It's one pair that will rock your world of footwear!
If purple is your passion, the Punk Bootie mixes it up with a breathtaking pinch of bad girl style. Synthetic uppers are slightly shiny and sleek, with a deeper purple hue about them. Black strappy overlays create a cage-like effect around the purple uppers, giving it that punk rock flair. Almond-shaped toes help allow for a bit of room, while the 2-inch platform boosts you considerably in height. Even though the heel of the bootie is quite high, it's still comfortable and balanced for walking around in.

Synthetic soles base the bootie with a bit of texture at the toe for better traction on slippery surfaces. Inside, a lightly padded insole helps provide some additional comfort to the pair. Zip up heel closure makes them easy to get in and out of after a long evening on the dance floor. This pair is made to stop traffic, and we're certain these pleasurable purple shoes will win you over with one wear!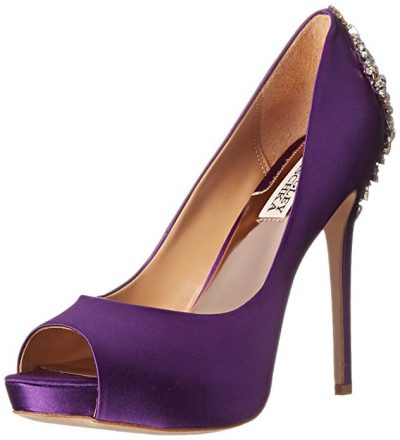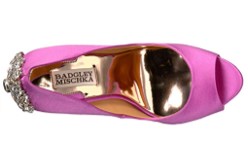 Badgley Mischka is a designer brand that has made a name for itself by giving you fashionable styles that are classic in looks and utterly luxurious, intended to make any special occasion even more special with a pair of breathtaking footwear. The Kiara is an open-toed pump with a high heel and a small platform, featuring a soft leather lining and padded footbed that makes it easy and comfortable to wear.
The upper of the Kiara is made from satin canvas, giving away an air of luxury and style. Available in a number of colors, the deep purple version being our favorite, it also features crystal embellishments that have been attached by hand, giving these heels that extra sense of style.

The leather most definitely adds a touch of luxury to the Kiara. It is sophisticated and refined and is extremely comfortable underfoot. However, it is important to mention that leather can become slick when it gets wet or worn down. Use caution when walking in these heels.

The Kiara by Badgley Mischka is one of the most expensive options on our list, which comes as no surprise considering that it is built with luxurious materials, features a high-end design and is hand-embellished. Nonetheless, if you can find it in your budget to purchase a pair of these pumps, you can rest assured you'll be more than happy to wear them on multiple occasions.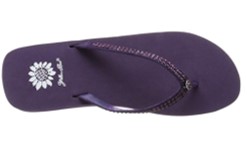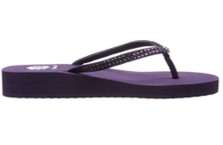 Yellow Box is a young and hip company that is taking the fashion world by storm. With contemporary designs and plenty of comfortable products, they have quickly become popular among those looking for style and functionality. The Jello sandal is a pair of flip-flops that boast high tech features on a simple design; all made better through a dark purple color that makes it stand out from most other summer footwear options. Thanks to their excellent cushioning, they will absorb shock from each of your steps, preventing joint pain as well as allowing you to walk further without worrying about discomfort.
The footbed of the Jello is a strong memory foam that is very sponge-like in that it will mold to your foot, but will easily return to its original shape when you take this sandal off. It has excellent shock-absorbing and cushioning properties, and you'll find yourself reaching for these sandals more often than you think you would.

You can rest assured that the Jello will assist you every step of the way, no matter where you're headed. Made with a non-slip outsole that grips the floor to give you peace of mind, the Yellow Box Jello is an excellent choice for multiple surfaces, including tiled and polished floors.

This sandal will perform quite well thanks to its performance-oriented features. It's lightweight and comfortable and will work just as well for travel as it will for use around the house. You'll enjoy wearing them as often as you can, which is, ultimately, what makes them such a good option.

Subscribe to our Newsletter