Best Safety Shoes Reviewed & Rated
last updated:
Apr 01, 2020
If you work in a physically demanding job, you shouldn't have to worry about your safety. But to remain safe on the job, you have to take precautions and that might mean wearing safety or steel-toed footwear.
As you can probably guess, the purpose of safety shoes is to guard your toes– the most vulnerable part of your foot– against heavy falling objects, compression, or anything on the ground that might cut through the footwear. If you're looking to keep your toes safe while you're at work or out enjoying your favorite hobby, look no further than this guide. The steel-toe version of your best safety trainers will keep you from injuring yourself, and help you perform better overall.
In a Hurry? The test winner after 6 hrs of research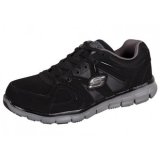 Skechers Synergy Ekron
Why is it better?
Exceptionally Comfortable
No Metal Materials
Memory Foam Footbed
Excellent Grip & Traction
Composite Toe
In a
Hurry? Editors choice: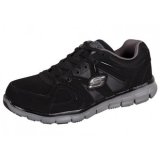 Test Winner: Skechers Synergy Ekron

6
Researched Sources
1728
Reviews Considered
6
Hours Researching
10
Products Evaluated
Safety Hazards
Comfort
Materials
Flexibility
Breathability
By Default
Best Safety Toe Shoes Reviews in 2020
1

. Skechers Synergy Ekron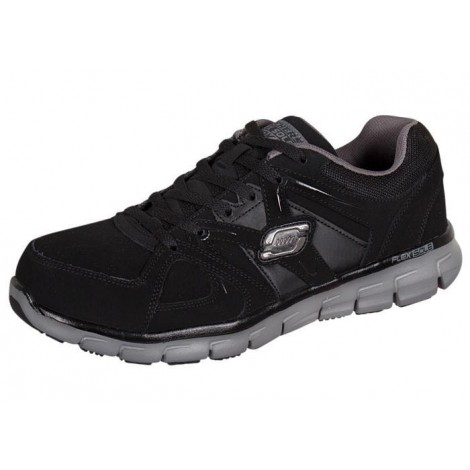 Exceptionally Comfortable
No Metal Materials
Memory Foam Footbed
Excellent Grip & Traction
Composite Toe
Skechers footwear is trusted by millions across the globe because of the comfort, durability, and style of their designs. The Synergy Ekron is built with the working class in mind. It offers a lightweight composite toe and electrical resistance. When looking for comfort, look towards Skechers. The use of a memory foam footbed will keep your feet feeling great, even after long hours.
Offering the same protection as a steel toe, the use of a composite blend in these safety shoes gives this design a lighter weight. In addition, the Ekron is very durable and non-metallic, meaning you won't have to worry about going through security at the airport if you happen to be wearing your work footwear. The light weight plays a role in keeping your muscles and joints feeling good so we give these shoes first place when it comes to best lightweight safety shoes on the market.

Keeping your toes protected is important, but keeping the rest of your body protected is just as important. Falling on slippery or wet surfaces can lead to a number of injuries, including sprains and breaks. The sole on the Ekron safety shoes will keep you planted firmly on your feet, helping you avoid serious injury.

Due to the fact that the brand Skechers is so popular, it is surprising how affordable this option is. Most budgets will be able to afford this superior protective design.
2

. Thorogood Crosstrex Safety Toe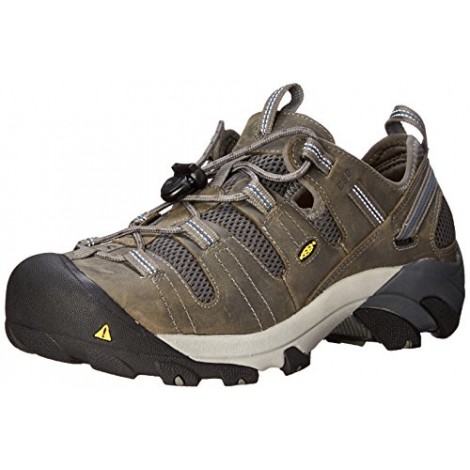 Helps Maintain Dry Feet
Removable Footbed
Sturdy Build
Anti-Slip Rubber Sole
Waterproof Membrane
Made of leather for hardiness, mesh for keeping out debris and facilitating coolness, and a rubber sole for helping you stay upright even on the slippery ground, the Thorogood Crosstex can be your best friend in diverse environments, especially warm ones. It is every bit as sensible as it looks, and together with the standard steel toe and midsole plate, it is highly reliable in any work situation.
This design thinks of more than just protecting your foot from getting crushed - it also knows that you work best when you're not distracted by a warm and moist foot. That's why it has mesh inserts in the upper, to keep the air flowing in and out of the design and keep your feet dry. On the Crosstex, it's not just the steel toe box that comes in handy. Thanks to the rubber sole, it's less likely that you will slip and hurt yourself. You can also remove the footbed to put in your own insert in its place, which is great if you have orthopedic needs or concerns. This option protects your foot's health as well!

Though the Thorogood Crosstex can certainly make a dent in your wallet, the price isn't bad for such great footwear - perhaps even slightly on the low end.
3

. Timberland Powertrain Sport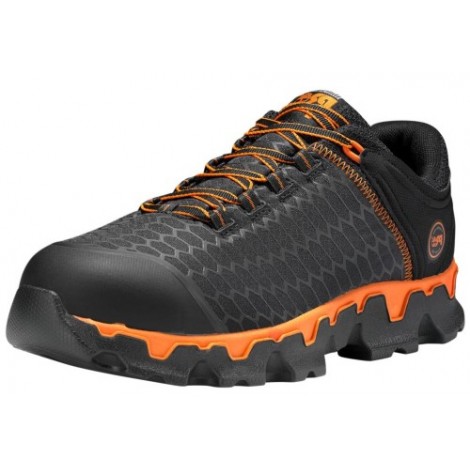 Exceptionally Lightweight
Very Breathable
No Break-In Period
Antimicrobial Lining
Anti-Fatigue Outsole
Timberland is a powerhouse in this category and that is easily seen with how many spots they earned in our guide. The Powertrain Sport gives you an abrasion-resistant upper, an alloy protective toe, and the ability to dissipate static. In addition to all of this, you won't have to worry about lasting foul odors or discomfort in your footwear. It is to work and to please. Timberland is without a doubt the best safety shoes brand on the market.
The structure and design of this option is one that keeps your feet, legs, and back feeling great all day. The outsole of the Powertrain Sport is made of polyurethane which is great at absorbing shock. In addition, the design of the outsole is flexible and will move naturally with your feet, adding to the overall comfort level.

The mesh lining in the Powertrain Sport is treated to help stop odor and bacteria build-up. It will move moisture away from your feet and dry quickly so your feet will stay cool and comfortable. We all know how bad work footwear can smell and often it is still damp the next day. You won't have to worry about either of these things if you choose the Powertrain Sport.

The unique look and great design of this design fall in the middle of our pricing. Most budgets will be able to fit it in. You will get an extremely comfortable and forgiving pair of protective shoes that will do well in any casual environment.
4

. Caterpillar Second Shift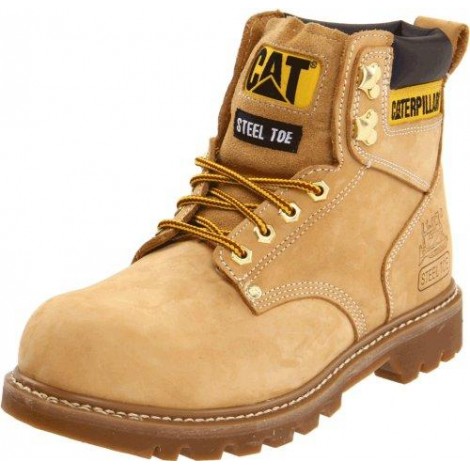 Great Traction
Tough Exterior
Keeps Feet Cool
Removable Insole
Narrow Fit
Difficult Sizing
Heavy duty and practically oozing seriousness, the Caterpillar Second Shit could follow you into the depths of the earth and return unscathed. On the outside, it's all leathery toughness, but on the inside, it's just generous plush and a fancy lining specially designed to cool off your feet in warm areas. You don't get much more pampered than this, that's for sure.
The leather upper guarantees that the boot will not easily fall apart, but the plush around the collar and the lining on the insole assure that the designers were thinking of your comfort as well. It's expected that the Second Shift will be your boot of choice when you have to walk on oil or other slick terrains, which is why it's been equipped with rubber slip-resistant soles that feature excellent traction.

This boot comes at a fairly wide range of costs, but at its lowest, it's almost a steal. At its most expensive, it's not ideal, but it's still great for what it can do.
Resistant To Slips
Resistant To Electrical Shocks
Durable Materials
Good Ventilation
Dense & Molded Insole
Lightweight, ventilated, dense and with a molded insole, a padded collar, and top-notch traction rubber on the bottom - the Keen Atlanta Cool will get you through the work day and still leave you feeling fresh after you clock out. It's also capable of guarding you against electrical hazards and slips, in addition to the standard characteristics of a steel toe box.
The main construction of the Atlanta Cool is fashioned from leather - an extremely durable material - and mesh, which keeps the feet clean and airy. Due to all the bells and whistles that keep you safe from harm, the Atlanta Cool promises security and protection for you while remaining lightweight, so you feel less tired at the end of the day.

This design is on the upper end of expensiveness, yes, but it can still be a great investment for anyone who wants an option with a bit of everything.
Water Resistant
Slip-Resistant Rubber Sole
Good Arch Support
Molded Insole
Fights Foul Odor
It resists oil spills, bad foot odor, and water and moisture both without and within. On the other hand, the Keen Flint Low delivers arch support, security, and comfort. This design basically has everything figured out. Wear it for your work or hobbies all day long, then take it off with the happy knowledge that your feet have never felt better.
This design doesn't just think about how to keep you safe while on the job, it prepares for when you clock out, too. It's equipped with a CleanSport NXT to fight odor so that you get treated to a fresher smell at the end of the day than you would with most other options of this type. The Keen Flint Low puts a special emphasis on water resistance. If you have to work somewhere that might require submerging your foot, this is a great choice for you.

You might say that it's a bit expensive for a shoe, but this isn't just any design. The price is a bit high, but the Keen Flint Low gives you a lot for every buck.
7

. Timberland Titan Alloy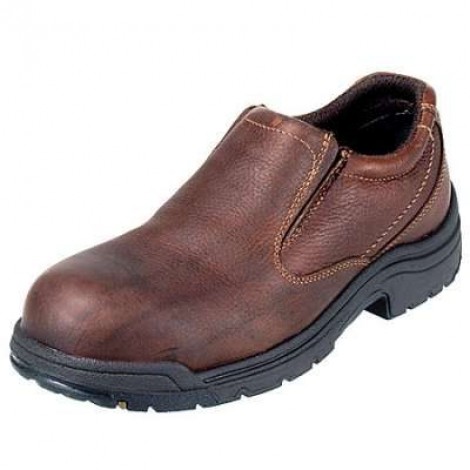 For Extended Use
PowerFit Comfort System
Excellent Fit
Keeps Feet Dry
Stylish Appearance
Sizing Runs Small
Difficult to Put On
Here's a design for someone who works hard in the rough terrain but also likes maintaining a sense of classiness and style. If not for the steel toe box and ridged rubber sole, you might think that this was an office shoe. Not only does the Titan Alloy give you a snazzy flair while keeping you safe, but it's also designed to feel as good as it looks.
This popular safety shoes brand is known for its PowerFit comfort system, which tells you that their designers can methodically research how best to keep your feet satisfied and free of pain. Since the design looks so much classier than the average safety option, you can use it on multiple occasions and situations, meaning you get a lot of use for your money.

This kind of quality commands a high price. You'll need to be okay with shelling out a good amount of cash for the Titan Alloy, but if it's up to your alley, you'll be glad you did it.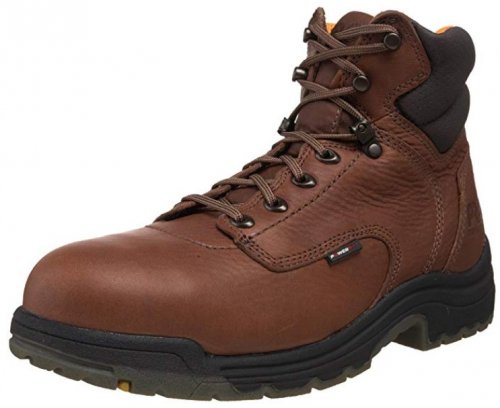 Flexible In Freezing Temperatures
Supreme Comfort
Padded Collar
Durable Leather Upper
Great For Wide Feet
So far, we've featured some options that do especially well in warm climates, but now it's time to reveal a type that excels as a guard against the cold. The insole of the 6" Titan is molded to keep your foot nice, snug, and padded, but if that is not enough, the very material of the design itself is created to move with you even when freezing temperatures might make other footwear too rigid.
Because of the Vibram Fire & Ice compound that partially constitutes the design, the 6" Titan is fortified to remain bendable in freezing weather, which is essential in maintaining foot health and allowing you the freedom to move as you need. These stylish safety shoes don't just boast general arch support or a soft insole. It uses what's called a PowerFit System, specifically designed to enhance comfort.

The Timberland 6" Titan is a pretty expensive choice, honestly, but forking out the money for it is certainly better than suffering the consequences of being unable to use your foot properly while you're working in freezing weather. As one of the most popular safety shoes brands on the market no wonder, we added this model in our top safety shoes list.
9

. Reebok Subtle Cushion Work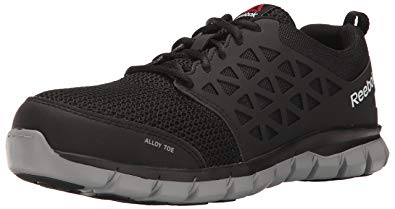 No Break-In Period
Excellent Breathability
Very Light
Exceptionally Flexible
Awesome for Daily Wear
Little Arch Support
Costly
When we think of the Reebok name, we don't usually think of protective footwear. In recent years, many brands are branching out and trying to meet the needs of a wider variety of clientele. The Subtle Cushion Work is breathable and flexible yet still offers great toe protection and protection from electrical hazards. In addition to all of this, it also offers you a slip-resistant outsole.
Breaking footwear can take a long time and lead to painful blisters and rubbed areas on your feet. The MemoryTech Footbed of the Subtle Cushion Work immediately starts conforming to your feet and their natural curves. This provides instant comfort to the wearer. Due to the fact that Reebok builds running footwear, they understand how important flexibility is to overall comfort. Their Flex Groove outsole allows this choice to move with you and keep you at an optimal level of comfort. In addition, it will allow you to move easily and keep you on your feet.

The unique casual style and great protective features of this option will cost you a bit more than others. You may need to adjust the budget to afford them but they will transition nicely between work and play. If you are looking for something that will look awesome at any casual event and will keep your feet comfortable and protected, this may be your perfect choice.
10

. Timberland 6" Pit Boss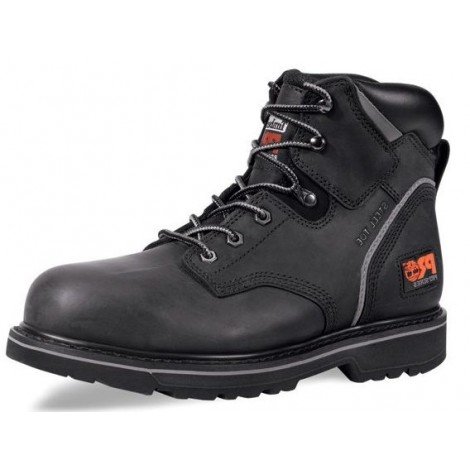 Shock-Absorbent
Roomy Steel Toe Box
Padded Collar
Sturdy Leather Exterior
Shoelaces Control The Fit
Ready to work? So is the Timberland 6" Pit Boss. It's every bit as sturdy and no-nonsense as it looks. In addition to the expected steel toe box and midsole plate, this design is made out of leather, known for its durability and resistance to damage. The padded collar not only provides even more protection, but it promises that you'll be comfortable as well. This design gets down to business.
The steel toe box is not only present, as expected, but it leaves a bit of extra wiggle room for your toes. Combine that with the padded collar and the option to lace up the boot as tightly or as loosely as you wish, and the Pit Boss strikes the perfect balance between hardy and snug. On top of fending off any possible injury from outside forces, this design is wonderfully shock-absorbent. Your foot will be nothing other than safe and healthy while inside it.

As far as a boot like this goes, the price is rather average and fairly reasonable, especially since a single pair should last you a long time and since these are one of the most comfortable steel toe shoes in the world.
Criteria Used for Evaluation


Safety Hazards
Different jobs require different features when it comes to your footwear. Some jobs, like logging, may require just a steel toe, while other jobs, like being a machinist may, require a puncture-proof plate and a steel toe.
Whatever your need may be, there is certainly a design out there to meet the requirement of your job. Before purchasing a new pair for work you will want to check what criteria is needed. You certainly don't want to buy a pair to find out they are lacking something that is required.
Oftentimes, you will see a symbol rather than words for what the footwear is resistant to. This can be confusing but it is very important to understand. Again, purchasing something that isn't approved for the task you are going to perform is not only a waste of time but also a major waste of money. Let's take a look at the different features and symbols you will come into contact with.
Green Triangle:
The green triangle means that the footwear has a grade 1 toe cap and a puncture-resistant plate lining the bottom. This is ideal for construction environments, where the bottom of your footwear may come in contact with broken glass, nails, or other sharp debris.
Yellow Triangle:
The yellow triangle means the design has a grade 2 toe cap and puncture-resistant plate. These are better suited for light industry as they offer less protection than models with a green triangle.
White Square with an Orange OHM Symbol:
This symbol means the footwear offers electrical protection. If you work in an environment where there are live wires or a chance of coming in contact with electricity, this is certainly something you will need in your footwear.
Yellow Square with a Green SD and Grounding Symbol:
These shoes will offer static resistance. They reduce static charge in high-static areas. If static discharge is in the environment that you are, this will surely be a standard for employment.
Red Square with Black C and Grounding Symbol:
This type of footwear has a sole that is electrically conductive. You will need this if you work in a situation where you may be exposed to low electrical charges.
White Square with a Pine Tree:
If you work with chainsaws, then these are the boots you are going to need. They offer resistance to cutting equipment that is found in this type of work.
Blue Square with a White Circle and Letter R:
This footwear will offer class one toe protection, however, it does not offer any sole protection. These will fit in a manufacturing situation, where you don't have to worry about the bottom of your footwear being punctured.
Gray Square with a Black Circle and Letter R:
These offer a class two toe protector. They do not offer any sole protection, so they will be better for a light duty protective toe need.
Regardless of your need for protection, know there are many good options out there. Too much protection is better than not enough. Knowing what you are looking at when reading the symbols will be very beneficial during your hunt for the best choice for yourself.


Comfort
If you find yourself on your feet a lot, you know that this can cause pain and discomfort if you are wearing ill-fitting or poorly built footwear. Standing all day can also lead to leg and back pain. Finding footwear that offers features of comfort or customization makes wearing your footwear long day after long day much more bearable.
There are a few different things that should be considered when looking at the overall comfort of your footwear, one of which we will explore in this section, and that is the footbed.
The footbed is the part of footwear that comes in direct contact with your foot sole. It can be removable or fixed, and if you want maximum comfort, you definitely want it to be cushioned. Not too much, but enough to keep your steps soft and bouncy.
The footbed can also be contoured, or molded, which is a great support feature. The contours of the footbed should fit the forms of your feet, and they will keep excess pressure off of the key points on your sole. Molded footbeds usually also come with arch support, which is essential if you want to stave off foot fatigue at the end of a long day.
The other three comfort features deserve their own sections, and those are the materials the design is made of, breathability and flexibility. Let's see what these have to offer!


Materials
Outsole:
When it comes to the outsole, different materials absorb and distribute impact differently. Rubber is most commonly used and does a fairly good job of dispersing shock. Rubber is also decently flexible This allows your foot to move more naturally and will, in turn, have you feeling less pain.
Insole:
In the category of comfort, the insole is probably the most important aspect. There are a variety of materials for insoles, with EVA foam and its varieties being the most common ones. They do a great job at conforming to the foot and absorbing shock.
It is important to note, that finding a design with a removable insole can be crucial to your comfort if you wear a custom orthotic or special insert. Another advantage of a removable insole is the longevity of use. Oftentimes due to the durable nature of this type of product, the interior of the shoe will wear before the exterior. The ability to simply replace the insole saves you time and money.
Upper Material:
You most often see the upper of protective footwear to be leather. You may also find synthetic blends and different textile materials mixed in. A solid leather design is flexible and breathable yet also durable at the same time. Synthetic blends wear quicker but can offer better flexibility and added comfort.
Those that use fabric in their models are offering better breathability and added flexibility. This, however, may reduce the overall protection and durability.


Flexibility
When considering comfort, you also need to take flexibility into account. How footwear moves will greatly impact how you feel at the end of the day.
You don't want to feel restricted in any way. Your ankle should have no problems rotating in every direction, and the toe box and the outsole of the design shouldn't hinder your movements. Flexibility is key if you wish to maintain a natural gait and to avoid suffering from pain and fatigue when you come home.
Due to the more rigid nature of this type of footwear, finding an option that offers adequate protection yet is also flexible, can feel impossible. However, rest assured that in our guide we offer more than enough options that are flexible and protective at the same time. Simply sort the items by the Flexibility criterion, and choose off the top of the list! It's as easy as that!


Breathability
The last criterion we thought about when looking into important features was the overall breathability.
Hot, sweaty feet can lead to a variety of problems. You will be constantly battling unpleasant odor, and you will be susceptible to bacterial or fungal growth, rubbed, raw skin, and blisters. Wearing footwear that breathes will keep your feet dry.
A breathable upper paired with a liner that wicks sweat is the perfect option. A mixture of tough leather and some textile will increase breathability and keep your feet cool while not sacrificing durability and protection.
It is important to note that the socks you wear also play a huge role in how dry your feet stay during a long afternoon. Try to avoid pure cotton, as it tends to absorb moisture and remain damp until you dry it out. Instead go for wool or bamboo socks, which have superior properties in every way.
Expert Interviews & Opinions
Most Important Criteria
(According to our experts opinion)
Experts Opinion
Editors Opinion
Users Opinion
By Default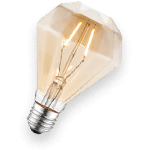 Steel Or Composite?
Most safety shoes have a reinforced toe for added protection to the toe area and forefoot. Steel toed shoes are the most resistant to force, but can sometimes be heavy for all day wear or stiff for walking. Composite toe safety shoes have a composite material that is lighter than steel, but not quite as resistant to force.
Depending on your particular level of safety or comfort needed, using a composite toe or steel toe can be an important choice to consider!
Safety Ratings
There are a number of ratings that have to pass specific credentials for footwear to be considered as safety footwear. Depending on the type of safety shoe, these can include impact protection, electrical or chemical resistance, heat resistance, slip resistance or other requirement.
Other Factors to Consider


Bottom Line
Safety footwear seems to have a great track record for fulfilling its objective. Only one in four work-related injuries involve someone who was wearing this type of shoes. That's why OSHA recommends and requires safety or any other kind of footwear that can provide the same degree of protection.
As someone looking for the best options available, our guide leaves you with a lot of things to consider. After all, you need to find a design with a superbly steel-reinforced toe, a midsole plate, and all the other qualities that you would expect from a decent shoe, like arch support or shock absorption.
Don't let any of that intimidate you, however! We hope that all of the information in our Criteria section, as well as the following FAQ section, will help you make a better decision for yourself. Think of the job that you'll be doing, of the requirements your footwear is supposed to meet, and choose accordingly! Good luck!
Frequently Asked Questions
q:

What exactly is a safety shoe?

a:

To be classified as protective footwear, a design must meet certain requirements as outlined by OSHA. For example, it must be resistant to heat, cold, pressure/impact, puncture, and electricity. This usually constitutes a steel toe box or a composite toe, a midsole plate, and strong materials, like leather and rubber.
q:

Does a design need to be specially certified to count as safety footwear?

a:

There are exceptions to every rule, but the quickest way to know whether a design is safe to use for hazardous work is if it passes inspection from the American National Standards Institute (ANSI) and/or the American Society of Testing & Materials (ASTM). If a brand is serious about selling protective footwear, they'll get their products approved by one or both organizations and make sure that you know it. Most will include a note in the design's official description.
q:

What's the most important aspect of a design such as this?

a:

The answer to this question really depends on your use of the footwear. Depending on your work requirement or situation, it may be a superior steel cap, or it may be electricity resistance.

If you are in need of protective footwear for recreational endeavors, a good idea would be to check out what the industry standards are for what you want to do. This way, if you are building a cabin and cutting down trees you know you want a design made for logging or if you have taken up metal working you may need a plate to protect the bottom of your foot. Looking over a few articles should lead you in the right direction about what the most important aspect will be for your particular venture.
q:

Where can/should you wear a design such as this?

a:

Although they're usually created with dangerous jobs in mind, this type of footwear is useful in a variety of activities and environments in which you risk hurting your foot.

Some businesses recommend protective footwear if they tend to have slippery floors, such as restaurants. They could come in handy in some types of outdoor (and especially dirty) sports, as well as more leisurely activities, like camping.

If your hobby is carpentry, automotive repair, construction, etc., you may benefit from wearing such footwear despite not being required by law. Basically, if you're ever doing anything that's risky and involves working with a lot of heavy and/or sharp objects, you'll probably want to wear something that will protect your foot.
q:

What's the best way to clean a design such as this?

a:

Because they have so many functions designed to enhance your safety, this type of footwear can be a bit more high maintenance than others with regard to cleaning it, and the process may differ slightly depending on the materials from which a design is made.

However, the general process for cleaning most safety footwear is more or less the same. You'll first need to remove any excess dirt with a shoe brush, then oil them up a bit - if they're made of genuine leather - and finally buff them. Throwing them into a washing machine is not recommended, as that may damage the design.
Subscribe to our Newsletter