Best Five Ten Shoes Reviewed & Rated for Durability
In a Hurry? Editors choice: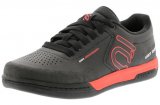 Test Winner: Original Freerider Pro

If you're an extensive
Adidas fan
you may have noticed they had a "new" collection back in 2011, the Five Ten line. Every pair is specially made for activities like cycling,
running and climbing
to not only defend you from any outside sources (like sharp rocks) but to also ensure that you always have a grip on whatever surface you may be on.
Based on the demand of online shoppers we have decided to put together a guide of the ten best Five Ten shoes you can buy! Sick of your regular shoes slipping off of the pedals? Or getting caught in your
wheels
? Maybe you're just looking for an upgrade and have heard the raving reviews that Adidas gets for the collection so you have decided to take the plunge and give them a try.
Standout Picks
Criteria Used for Evaluation
Responsiveness
There are plenty of people who prefer to go barefoot rather than wear restricting tennis, except when you're riding and that isn't really an option. The pedals have rough grooves and edges to keep your sole from slipping and it wouldn't feel very good digging into your feet.
Now your dilemma may be that your sneakers don't seem to let you push off and pedal with full power because they're literally absorbing all that energy (which is a waste and you'll try to push yourself too hard). FTF kept this in mind with their shoes and after testing different designs and tech they finally found a way to make sure the above doesn't happen by figuring out how to distribute the absorbed energy into your cycle.
Found in many of the cycling tennis is what FTF calls "Stealth Phantom" rubber, a compound that has been used in military gear for its properties of absorbing sound but also the ability to enhance your power rather than hinder it. The soles on these sneakers have specifically designed grooves to lock onto the pedals so you keep those feet firmly in place and go faster than you've ever been able to before in your old pair of beaters.
Versatility
There's at least four different types of cycling, including road cycling, cruiser cycling, and BMX! Each one is so different that there are different kinds of shoes built for them as well.
For example, road cycling is usually something like the Tour de France; a race on flat asphalt that's all about speed whereas hill cycling is being able to hang on over every bump and rock you will encounter. Having the proper tread on your soles is the key to remaining safe and on your velocipede at all times if you're racing or doing stunts, or even just taking a quick spin around town for some exercise.
Something else that is important is what kind of material the bottom is made out of and how it has been treated (a step in development to ensure durability and longevity). Some outsoles need to be like the Hulk of sneakers if they're going to be handling a lot of abuse, such as foot braking because BMXs usually don't have brakes so that they are lighter for jumps and tricks. No one pair is going to be exactly the same and that's exactly why we have given you these options so you can choose what will be best suited for your cycling needs.
Compression
Shoelaces can be an enormous pain due to the fact that tying them just right (not too tight or loose) takes a surprising amount of skill, they can become untied and get caught in your spokes or chain, and if you double-knot them it's ridiculously annoying to untie and retie every time you need to put them back on. There's also the factor that laces become worn and fray easily from being done and undone all of the time.
A few FTF designs use what is recently referred to as ghillie style laces because they resemble "ghillies" which are a traditional dance shoe originally used in Highland dancing. Rather than puncturing the fabric to create eyelets there is a hook system in place to prevent weathering where the puncture holes would be which can result in tears and no longer having the ability to lace up your sneakers properly.
The laces themselves also are made of corded materials rather than flat fabric and canvas which makes them more durable and have less chance of snapping compared to ordinary ones. They're actually very similar to the kind used in work boots and combat boots although they are slightly more flexible according to some consumers.
Traction
We have already touched base a bit on the outsole of FTF and how it is designed to transfer power, with a slight mention of it being grooved to keep your feet to the pedal. This nifty feature is what they call the Pedal System which is basically a design that hooks your soles to the pedal similar to being strapped to a snowboard.
The collection has seven different outsole design methods and the one most commonly used for their cycling shoes is called "Dotty" which has grooved dots along the length made of a sticky rubber. So not only does it allow your pedals to "attach" themselves but combined with the rubber there's also a slim to none chance of your foot slipping and causing your harm via a wreck or slamming your sneaker into the wheels or chain.
And if you do so happen to end up losing your grip (highly unlikely) you won't have to worry about ruining them sweet kicks because they're built to withstand pretty much anything. Even accidentally getting the toes stuck inside your pedal and scraping them for a few feet before you can finally get unstuck won't result in a totally destroyed forefront like it would any other pair of tennis.
Breathability
A shoe that breathes is critical to providing the wearer a comfortable and healthy experience when sporting a pair of shoes, sandals or boots. A lack of breathability will create a wet and humid foot, leading to discomfort and possible fungal or bacterial infections that are painful and difficult to cure.
How does a manufacturer ensure their product will allow maximum airflow? There are several ways to achieve this, including using special fabrics in the upper of the product, lining the midsole with moisture-wicking technologies and finally, the good old use of perforations of holes throughout the product.
If a product scores high on this metric, the buyer can rest assured that the manufacturer has used some or all of the above techniques to ensure the wearer a comfortable and dry wearing experience.
Top 10 Picks
1

. Freerider Leather High Tops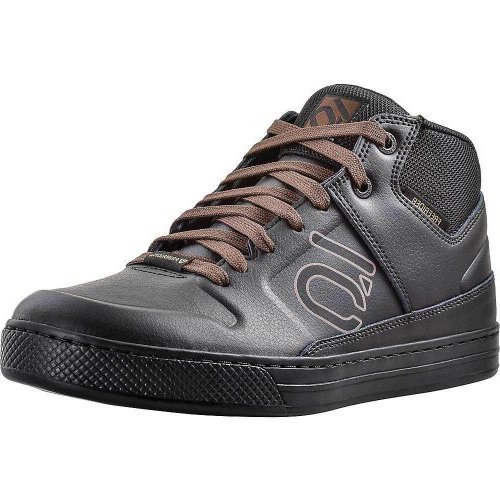 Ever just felt like going on a ride in the winter time but you don't feel like wearing clunky snowboots or trying to stuff multiple layers of socks inside? Your best bet is going to be these EPS High Tops made from DWR-treated leather, which basically means it has been soaked in water repellant. No more shall you return home with soaked, icicle feet because that pesky snow kept soaking through. FTF pulled out all of the stops to create truly diverse cycling equipment to wear in sleet, rain, and fresh powder although most of us would rather be at home snuggled up in a hundred layers. There are those crazies though that live for the thrill of feeling the cold air biting their face as they pedal at high speeds. So the leather high tops are going to be the number one choice for you if you're one of them.
PrimaLoft Insulation
When the air gets chilly we, as humans, need to make sure we stay warm since unlike other mammals we aren't covered in fur to protect us. At night we pull out the big comforter and cozy sheets, and you may recognize the name PrimaLoft because since the 80's it has been the top-rated company for creating insulated blankets and the like. You can take that comforting, at-home feeling with you everywhere because this pair of Freerider's is made up of PrimaLoft's registered microfiber materials that keep the cold air out and trap the warm air in. Imagine how toasty it would be with some Hot Hands packs inside? Perfect for a chilly day on the trails.
S1 Rubber
This specialized compound that was chemically designed by top experts in the field is used across the entire FTF collection because of its versatility. Fun fact (if you're on Tumblr you've probably already heard about this); Sphynx cats are hairless and because there isn't a buffer between their butt and whatever surface they are sitting on then they basically a suction cup to it. Well, the S1 rubber works similarly by sticking to basically anything wet or dry making it really versatile for whatever kind of cycling you're doing but isn't so sticky that movement is hindered. It's a classic use of materials dating back to before Adidas bought out the original company and has found its way into many other kinds of footwear.
Cost and Value
You are most definitely in the wrong place if you were hoping for some cheap shoes but that should be obvious if the name Adidas is attached, popularity skyrockets prices no matter the product and everyone loves a good pair of them. Taking into account that not only are the high tops insulated and water resistance they're also made from real leather. There's also a form of added insulation inside the sock liner to give extra protection from cold along with having a footbed made of heat reflecting materials. Did you ever hear that we lose the most of our body heat through the top of our head and bottoms of our feet? The reflective aspect prevents that from happening so you have toasty toes all day long.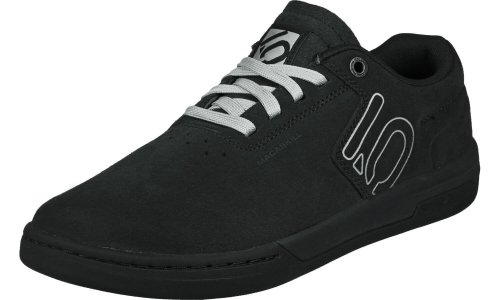 Everyone in the cycling world knows Danny MacAskill, he's an incredible rider and has pretty much a cult for a following because he's extremely skilled. Adidas and FTF modeled the aptly named Danny MacAskill sneakers based on how he rides and his image because he's well-known for being laid-back even during his most insane stunts. No ridiculous outfits or overboard gear for this guy he'll just chill atop a fence in casual clothes and his regular kicks. That's why our number two is so popular since they look like plain old skaters you would pick up at Zumiez when in reality they are specially made with high tech equipment.
Aggressive Performance
"I feel the need... The need for speed." Something every single one of us has said at one point thanks to Top Gun (if you don't know what that is then wow we are old). Something every cyclist loves is when top speed is reached and the adrenaline rush takes over, leaving you feeling like you could fly. Unless you're going downhill though hitting that point is pretty difficult and it feels similar to when you're running in a dream as fast as possible but barely moving. So, how do you fix that? Simple. Grab your Danny's which are lightweight and never keep you from going as fast as humanly possible, aggressively pedaling and actually going somewhere while picking up speed with each spin of the chain.
Casual Style
Not everyone likes the flashy look of today's fashion, making it important that companies cater to all types. If your wish is to go back to a simpler time when MTV actually played music and the whole Sk8terboi vibe was "in" you'll be totally happy with the Danny MacAskill. Their beautifully effortless look is definitely something Avril Lavigne would have worn in one of her classically punk music videos and even to the red carpet. They're comfortable, practical and stylish with no flashy, weird colors or patterns in sight. All the BMX riders will compliment you and the "serious" cyclists will laugh until they see you in action then you'll be the one laughing because appearances don't matter, it's what you bring to the table (or road/trail in this case).
Cost and Value
One would think that buying something named after an athlete would mean you'd have to shell out a couple hundred. Take a breath, that isn't the case here. You would actually be spending less compared to the high tops listed at number one. Thanks to the fact that the world works by a "supply and demand" regimen and since exercise in the states is rapidly declining (hopefully it will shoot up soon) you get to save money that could be really needed later on. Don't hesitate though because once word gets around about these bad boys the price is going to skyrocket because of how many people will slam their mouse to click checkout. Can't go wrong with sneakers that can go from the grocery store to the stunt ramps easy-peasy.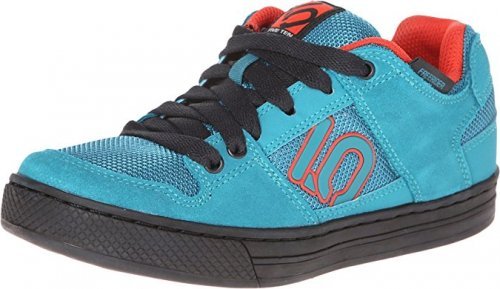 Having the aesthetic of gorgeous suede without giving up the performance associated with the interlocking fibers of the mesh seems like a dream. It always seems like you have to choose just one. Alas, no more! Now you can have the best of both worlds with meshing where it counts and suede accents to catch the eye. Even when you're off and walking around aimlessly through Wal-Mart, already with your intended item in hand, you'll be comfortable and look stylish doing it. Not to mention the stellar amount of traction that comes with the Freerider model's thanks to the specially designed outsoles by FTF and Adidas. One shoe to rule them all!
Lace-up Vamp
Having too much wiggle room around the ankles can cause an extreme amount of rubbing against them when pedaling like crazy. It definitely does not help when so many tennis shoes out there don't completely lace up to the top of the vamp and if you have been searching high and low for a pair that does, well you are in the right place. If you don't like it though but still want this particular model because of the color options you can take the laces out of the top eyelets. Just remember you get a much better fit with the ability to tighten the collar around your ankle. The padding in the tongue and collar is also very cushy and keeps you comfortable no matter how tight you like to tie the shoelaces, say bye-bye to painful digging! Enjoy the ride to the fullest.
Flats
Ever notice how the majority of active footwear has a dip on the sole at the arch? That usually means they're more for running or lifting than anything else because riding your cycle with a pair like that makes it hard to place your foot on the pedal. Every cyclist is different. Some like to have their arches squarely over their pedals and other like to be slightly on their toes and the extra work that comes with trying to constantly adjust and remain in position can actually cause pain. Usually, these aches are in the shoulders and back because you have to shift your weight onto the handlebars every time you need to fix your foot placement. Wearing flats though makes correction easier because you don't have to completely lift off, just slightly reduce pressure and slide.
Cost and Value
Keep your eye out because these bad boys are almost always on sale thanks to the neverending fluctuating popularity of the BMX style. For some reason, a lot of people think active footwear has to look a certain way or else they won't work as well but that's false. Just because they don't "look the part" doesn't make them any less effective compared to the sporty designs. They have the same Stealth rubber and Dotty outsole as the tennis do for grip and are just as lightweight and breathable as well. It may not look like it at first glance but when you go back and peek at the photo again you'll notice that there are a mesh and leather mixture with perforated accenting to cool you off with the wind that flows through as you ride. "Don't judge a book by its cover" has never been more true, although obviously, they aren't books they're sneakers (it still applies).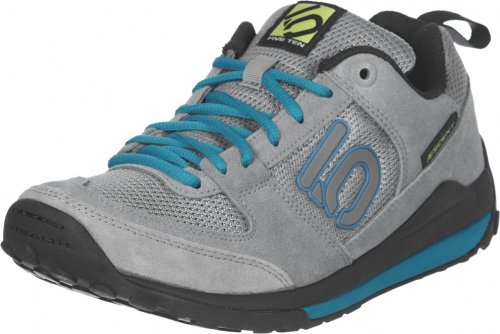 Most tennis shoes for heavy activities are made up of a mesh material so it has the absolute best breathability and flexibility among any of the others (i.e. leather or canvas). When out on a ride we all know the best way to get going fast is by standing and using our full weight to push against the pedals. Too stiff of footwear can be annoying since you can't bend your toes very well, and if you spend a lot of time standing with your tiptoes pressed down on the pedals you will require something with a lot more give. Hence the mesh. It is also a very quick-drying material meaning you can slice through puddles and have dry tennis by the time you get home (unless you're in front of your house) and tack on that mesh has minimal care requirements, you've got the perfect shoe.
Padded
How many times have we tried on some sneakers at the store and love them, only to hate them after getting home? What usually causes us to want to return them? After wearing for a substantial amount of time you realize that the collar is digging into your heel, creating a huge blister. And that the tongue is cutting into your forefoot after having tied the laces properly! This happens when companies don't add a bit of padding to these areas and the materials rub and rub until we're left bleeding. Put the band-aids and high socks away, you'll be happy to hear that FTF made sure to give the proper amount of padding to the collar and tongue so you'll stay pain-free and blister-free. No excruciating break-in period here and no second thoughts about having made your purchase!
Molded Insole
What's the point in buying an expensive shoe if you're going to have to get inserts too? Isn't the point to getting high-end sneakers that they're guaranteed to be comfortable the way they are, no additions necessary? Exactly, and when you get your Aescents delivered you can sure as heck bet that inserts won't be a concern thanks to the EVA insole that has been molded to fit the average human anatomy of the foot. Now if you have flat feet, high arches, or painful crooked toes you'll probably need to get some Dr. Scholl's because not everyone has the same basic sole shape. If you're one of the lucky ones that can try on any kind of shoe and have it fit exactly then you, you lucky dog, will be able to slip them on right out of the box no problem. Fall in love with the comfort and style of your Aescent sneaker.
Cost and Value
Although slightly more than some of the other comparable FTF models can we just say what a steal? The ease and comfort of an orthotic in a high-impact cycling tennis shoe! You get all of the classic techs of the brand in a simple, yet very appealing, design such as a classic set of laces with matching pull-loop on the heel. Notice the mesh is being held together and supported by leather binding throughout each seam with artfully crafted detail. Chances of falling apart are slim to absolutely none. In five or ten years you'll still be reaching for your Aescents every time you go for a ride or even a run.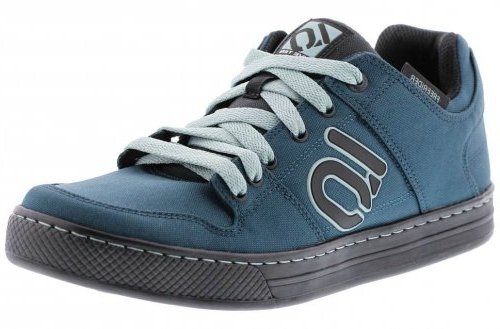 Most of the Freeriders are made of leather, which is typically a breathable material but there is something better; canvas. It isn't nearly as dense and has more gaps between fibers to allow air to pass through which makes it ideal for rising temperatures and prevents sweat soaked socks. This plain pair of shoes has no leather but is just as long-lasting and sturdy, while being much easier to clean and maintain too! Low-maintenance products have been in high demand because "ain't nobody got time for dat" right? Having to sit down and buff, clean, polish a pair of leathers is time-consuming. Could you imagine having to do it after every time you go out riding? Yikes.
Non-marking
Biffing it can be embarrassing (but don't worry we've all been there) and leaving scuffs all over the quad to remind you of all the times you've messed up isn't really good for the self-esteem. If you're not the type to look at failures as steps forward and become discouraged you can avoid that with the non-marking outsole on the bottoms of the Freerider canvas. You also can rest easy that you won't wear away the soles or mess them up with foot braking or having to tuck and roll. They also make great gym shoes too thanks to this awesome feature so you can wear "street" shoes and not listen to someone scold you for scuffing up the floor.
Classic Tread
Most FTF designs have what they called the Dotty tread and it was actually one of the first used in the line. Along the sole are dots that basically stick themselves to a surface. The toe though doesn't have any of the dots, it's a solid piece but it is still made from the same sticky rubber as the rest for ultimate traction. Falling on your face or having your foot slip off of the pedal is practically impossible when wearing a pair of FTFs Dotty equipped tennis. As you continue through you'll notice just how popular the Stealth rubber is thanks to its ability to basically adhere to any surface.
Cost and Value
The price point most of FTF footwear sits at really does seem too good to be true after taking into account all the high tech stuff they put into making each piece. Looking at the long list of what goes into their products can actually be pretty overwhelming but when you already know what it is you're looking for it's much easier to understand. They explain everything in understandable terms because they know that humans are naturally curious creatures and want to know as much as we can so, of course, we're going to feel the need to research everything. Except it can get annoying so since you're here we can break it down. Stealth rubber (we go in depth later on) is durable and flexible making it ideal for cycling or climbing because no matter how many times it gets put into situations normal materials would crease you know there won't be any cracks on the bottoms of your Freeriders after a day on the trail.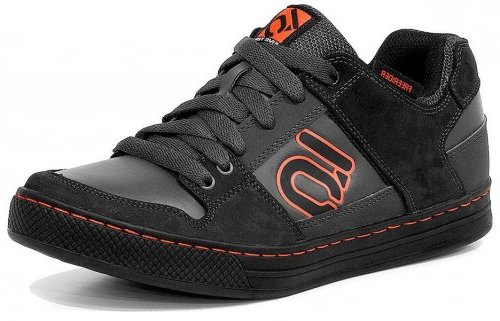 You may have noticed by now a recurring pattern that the most purchased and highest rated FTFs are ones that look more like skaters than tennis. It's not even because they're better or anything, it's all about the aesthetic. The concept truly is as if they took apart your regular shoe and put it back together into the BMX pattern with updated technology. Since it seems to be the most popular they've continued to use the classic materials and designs from when the company first started even in newer collections. Why change what already works unless you're going to make it better? And how can you upgrade what is already considered the best by many? Quite the feat even for such an accomplished brand that is not so easily done.
Shock Absorbing
Using the Stealth rubber is quite common among the FTF line, but that's because it works so well for cycling that using something else seems a little ridiculous. Not only does it keep your foot glued to the pedal it also exceeds at absorbing any shock you may encounter when running over rocks or cracks. If your footwear doesn't do its job properly you will end up sore and feel fatigue quicker. Our bodies are resilient and strong but constant stress will wear them down, especially our muscles. When flexed and tense injuries occur easily, cramps are practically inevitable, and the likelihood of pulling a muscle is quite great. So when choosing your tennis you want to make sure they can redistribute impact and reduce the possibility of getting hurt.
Quick-Drying
It's in our nature to push ourselves to the limits while riding and doing stunts in the rain is pretty risky, but we can't help but do it anyways. Adrenaline is quite the drug, and boy oh boy does it rush through the veins when you can feel the tires skid and hydroplane, failing to get complete traction. You crazy junkies out there are going to love the Elements because they've been treated and reinforced with a waterproofing solution. Meaning when you're out in the rain and puddles you're not destroying yet another pair of sneakers. After finishing your endeavors you can go about your day with a super short drying time and can avoid the stares of other customers in stores that are usually associated with the squeaking of soaked feet. Stay dry and safe out there.
Cost and Value
Freeriders, as you may have picked up on, are all around the same price. They have many similarities but are each unique in their own way based on differences in appearance and usage of the techs available. For example, the Elements have inner panels made up of synthetic materials intended to keep moisture from reaching your feet. Because what is the point in having shoes that dry really fast if your socks are going to be soaked through and squelching every step? There is none. FTF and Adidas took it up another level and are very serious about the word "waterproof", giving you the ultimate weather resistant cycling shoe on the market.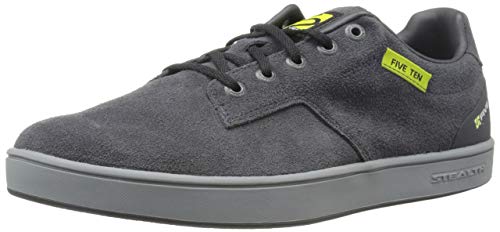 Definitely one of the simplest pairs from FTF is their Sleuth, a "low-profile" less clunky version of other pairs we've reviewed so far. One major difference is that it is a much stiffer build and has very little flex which makes it an ideal BMX shoe to keep you firmly attached to your velocipede during even the most dangerous of stunts. If you move your foot even just slightly in the middle of attempting a trick you can throw off your balance and only the most skilled individuals can recover from something like that. Beginners and amateurs though will promptly fall and more than likely land with their cycle on top of them. Getting to the point if you're just starting out, get the Sleuth and save yourself from unnecessarily eating asphalt.
Micro-Dotty Tread
You may have been wondering if we were going to see something that didn't have the classic Dotty tread, so here it is. The Micro-Dotty completely covers the sole with nodules that are considerably smaller than on the Dotty, meaning there's even more of them for an extra grippy sensation. Just adding to the fact the Sleuth is a perfect choice for someone with little to no experience. The tread is made using FTF's Marathon outsole that is a version of the Stealth but is colored and designed to be non-marking. Add on that the composition makes the sole more sensitive to sensations in case you need to better feel what's going on to make necessary corrections for tricks.
Internal Midsole
Ethyl vinyl acetate (EVA) is the most commonly used material for insoles in all kinds of footwear. It's durable and holds up against the test of time while keeping your body weight from targeting one pressure point by distributing weight evenly. There are different types but normally you'll find white EVA because it has a bit more flexibility and is softer but here there's the grey EVA that is firmer, it compliments the stiffness of the shoe. The midsole is also built in rather than glued on as a final step (like so many cheap knockoffs do).
Cost and Value
Taking into account the Sleuth is much simpler than so many others then that means it's also cheaper. Don't be alarmed! They are still a great pair of shoes and like we've mentioned already they're ideal amongst beginners. You can even be an expert rider if you're looking for a clean, stiff ride. Probably wouldn't want to wear them during everyday activities though since they have almost zero flex. When on though they give an outstanding amount of support, say ciao to back and hip pain no matter how often or how hard you ride. Especially since a person who has just started hasn't built up their muscles for vigorous riding yet wearing the Sleuth will dramatically decrease aches and pains.

8

. Original Freerider Pro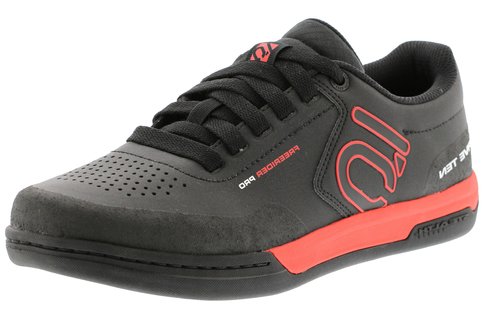 After the Freeriders became an instant hit FTF came out with the Freerider Pros where they took the original design and somehow made it better. Better performance, better technology. An all-around upgrade from the first version with the capability to be used for light riding to hardcore hiking trails. They are also the lightest pair yet in the FR collection without compromising quality and abilities such as endurance and grip. The basics are still there like Stealth rubber and the quick-dry feature we all love so no matter where we are and what the weather is like we can tear up the pavement or trail without a care in the world.
OrthoLite Liner
Sock liners have been dominating athletic footwear lately since most of them can be removed and washed to keep the insides of your sneakers fresh. OrthoLite is a company who concentrates on comfort with their foam insoles, made with open-cell technology to keep good airflow no matter the conditions. FTF and Adidas teamed up with OrthoLite to create special sock liners for the FR Pros, providing all consumers with the cushion they deserve and look for in tennis. The liner is molded to the insole for the perfect fit so you don't have to worry about buying an insert and it not being compatible (they tend to leave less room) with the Pros. It's a great feature for those that require a little more cushion than the plain, hard EVA soles thanks to things like bunions or high arches.
Reinforced Toe Box
Ever been going downhill so fast you feel like you're going to crash? What's your natural instinct? Right, slam your feet to the ground and hope you'll be able to stop. After doing this then what happens? Your toes hurt, the front of your shoes are ruined and you remember you could have just slowly pulled the brakes until your speed started to decrease. At the moment all rational thought flies out the window though, so if you have a habit of doing these kinds of things often (like accidentally shoving your toes into the spokes) you'll be grateful to have the Freerider Pros. The toe box is impact-resistant and made of reinforced materials that don't wear down easily and will keep you from messing up not only your toes but the forefoot of your sneakers as well.
Cost and Value
These aren't just Freeriders, they're Pros. Meaning they're built with the same Stealth rubber, water-resistant treatment, and Dotty tread outsole as the others. What sets them apart is the toe box, sock liner, and the fact that the upper is made of textile rather than mesh or suede. Textile is a super strong woven fabric that can be printed in many different colors and patterns and isn't nearly as costly to produce. Based on how popular they are naturally production is in the masses so the best way to keep pumping them out is by altering the original Freerider design from leather to textile for the Pros. It still looks good, lasts long, and can withstand a beating even from the harshest cyclists.

9

. Urban District Leather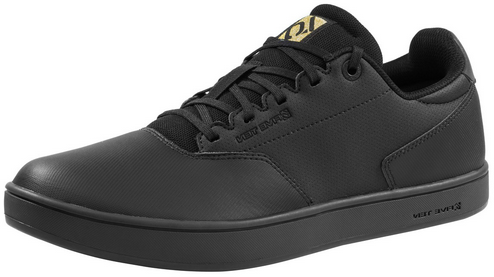 If you liked the Sleuth shoe you'll love the Urban District, they both have a low-profile design with no clunkiness in sight. It's a lightweight all-terrain sneaker built by the best for the best whether you're into BMX, racing, or casual riding. By now you can see a pattern among FTF where they make sure that their products are hard to destroy even if you treat them poorly (but please take care of your footwear). You'll be impressed at the balance of flexibility and stiffness that has been curated with the mix of leather, rubber, and EVA. Your Urbans will turn into your favorite pair and will probably even become a daily shoe they're just that beautifully made.
Visibility
Just because it's a black sneaker doesn't mean people won't be able to see you during your night expeditions. Take a close look and you'll see that the back tab on the heel is made of reflective material because safety is a number one priority. So many people drive at night without really paying attention to their surroundings and if you're wearing flat black then it's fairly likely that their gaze will slide right past you and BAM! you're hit. They'll blame it on you for not wearing something bright or reflective and other people will agree meaning you're the one who will be at fault. Avoid the hassle and annoyance by wearing the FTF Urban District.
Manmade Leather
Concerned about the environment and the well-being of animals? Never fear for we have here a shoe made completely of synthetic materials! Polyurethane (PU) leather has risen in the ranks in recent years because it doesn't involve using animal hides and has actually been proven to last longer than real leather. Caring for PU material is also considerably easier thanks to the fact it doesn't soak up moisture in its nonexistent fibers and doesn't need to be polished all the time to stay looking fresh. You could even use just a baby wipe to clean off any built-up dirt and gunk that may have accumulated on your last ride instead of buying a special cloth and brush (which are both quite costly). Save your time and money with the PU leather Urban District.
Cost and Value
Comfortable and cool with a light textile inner lining, durable and perfect for any kind of riding. It really comes to a surprise at how low-priced this sneaker is, just because they're a "new/old" stock doesn't make them any less remarkable. High-quality rubber, PU leather, and the oh-so-loved non-marking outsole really do make the model something every level of cyclist will love. FTF outdid themselves on the design to give us the perfectly simple Urban Districts. No amount of water, sweat, heat or even mud can get the best of this shoe.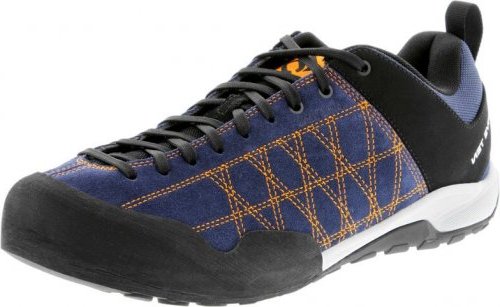 Here we have a pair from FTF and Adidas that more resembles a pair of hiking boots so they are going to cater more towards the tastes of a hiker. Five colors are available; Grey/blue, dark green, utility blue, khaki, and black. You've probably taken note that many models don't have a lot of options for color, they're all mostly black, so if you have been wanting to brighten it up go ahead and grab a pair of these. It's almost like buying some utility boots except that they're mid-high cycling shoes! The rugged design is appealing to the eye and works perfectly for hiking trails, dirt, mud, and rocks. Everything a cyclist will eventually be up against at some point in their life.
Featured 2016
Every year Adidas and FTF choose models to be featured in their catalogs and guides, and this tennis was at the top in 2016. Each one is equipped with ghillie laces, a durable type that lasts longer than regular laces. They don't fray easily and are commonly used in outdoor gear such as boots, rucksacks, and has even been adapted into rope. Ghillie is ridiculously strong and rather than pulling taut the fibers give a little stretch to prevent the laces from randomly snapping after being tied tightly or caught on something (like a rock or your spokes). It can be a hassle having to replace laces all of the time, so avoid it and use ghillie.
Stealth Sole
Yes, the Stealth has been mentioned quite a few times and you might be thinking "we already know about it whats so special?" well, this is a different version. It's called the C4 Stealth rubber is a newer version that has the same sticky abilities as the S1 but also dampens shock and absorbs vibrations. Add all of this together and you've got an unparalleled amount of friction, grip, and stability. Whether on or off the velocipede you can be sure that you will keep your footing on any and every surface.

Subscribe to our Newsletter