Best Climbing Shoes Reviewed & Rated
Are you someone who's always looking for their next adventure? If yes, then we're sure that you've either considered climbing or are even an experienced climber eager to reach new heights. This sport, however, requires more than sheer will to push yourself harder and further – one of the most important things to consider before going out on the rock is your equipment.

The right climbing shoes will provide you with all the features you require, not just to do better, but also to remain safe and protected. So let's take a look at our list of top ten climbing shoes currently on the market!
Standout Picks
Criteria Used for Evaluation
Weight
A lightweight design is much easier to maneuver and this is of critical importance in climbing practices where accuracy, mobility, and stability are paramount.
Sports performance, in general, calls for lightweight equipment; in the modern era, manufacturers are in a consistent race to achieve the lightest design possible. Even casual shoes are optimized for weight, and it's all because of a simple reason: a lighter shoe requires less effort to move. That's it.
Even footwear meant to be thick and heavy is optimized for weight – not necessarily to make it light, but to make it not as heavy. This is because when it comes to sports performance, you want your footwear to weigh just how much is necessary, in order to execute the movements properly. Not an ounce more or an ounce less.
"Not an ounce less, I thought we wanted to go as light as possible?" you may ask. This is partially true. You should go as lightweight as functionally possible. However, just like the excess of weight becomes an obstacle to performance, the lack of it becomes so, as well. The problem isn't really the lack of weight itself, but rather what it takes to achieve that lack of weight.
A shoe that is too minimalist will lack structure and support. Think of a climbing shoe made entirely from mesh; it certainly would be nearly weightless, but nowhere near functionally acceptable. Achieving minimalism shouldn't be about the total weight, but rather the weight of its components in relation to the purpose they're meant for.
For example, winter boots are meant to be thick and heavy to a certain extent, but this doesn't imply that they must weigh a ton. They still can, and should, be optimized to deliver adequate protection at the least amount of weight possible.
Decreasing the weight of a design not only allows you to move it with less effort but also to move it more accurately. Regarding the effort it takes to move your feet, a lot of users underestimate the weight of their footwear. The amount of reduced effort may be insignificant if we're talking about one step; but, when we're talking about multiple hours of hiking and climbing, all those steps add up to a considerable reduction in muscular fatigue.
Climbing footwear, specifically, should be lightweight for these two reasons. You want to use the least amount of energy as possible on each motion, and you want to be able to perform freely and accurately.
Flexibility
Try to strike a good balance of flexibility; your footwear shouldn't be too rigid, but not flimsy either.
In some of our guides, we've discussed the importance of flexibility in performance footwear. The ability to flex our feet is the very base of nearly any motion that involves our legs. There's a very limited amount of movements that can be performed without flexing the foot, and they're often highly uncomfortable. This is because our feet are simply anatomically designed to flex.
Any shoe that lacks flexibility contradicts the human anatomy, and thus, it disrupts any sort of performance; more specifically, those related to aerobics or sports. But flexibility is one of the most delicate aspects of climbing shoes, in comparison to other traditional performance footwear like running shoes. Normally, the flexibility is designed to assist the walking gait in which the arch is the highest point of flexion.
However, climbing footwear requires a whole other perspective when it comes to the flexibility of the frame. As opposed to most other performance designs, climbing shoes may come with a stiffer midsole; although this varies depending on the specific practice you perform.
This doesn't mean the shoe should be only flexible or only stiff; that is, stiffness and flexibility are not necessarily opposite features, and they can work together as one.
Despite the outsole being hard for stability and protection purposes, it should still feature a certain grade of flexibility. The upper build should, also, be flexible, because when climbing feet are meant to 'wrap' the points of support. A flexible climbing design will allow you to place your foot slightly around objects rather than just sit completely flat upon them.
The best options are those that allow your feet to flex freely. Keep in mind that flexing your feet isn't the same as flexing the shoe; your feet are capable of flexing and moving to a certain extent without affecting the state of the outsole. The upper build becomes a critical point of flexibility for this task, as well as the frame because they will allow you to perform the unnatural twisting and turning motions required for certain obstacles.
It's important to not get an utterly-flexible design; rigidness is a must, in order to maintain support at an optimal point. An excess of flexibility and softness will, ultimately, result in the lack of structure and support.
Outsole
A good outsole will keep you protected and provide a solid grip, as well as stability as you climb.
Climbing is an activity that will harm your feet if you're not properly prepared for it. The right materials are required in order to prevent your feet from being exposed to superior amounts of stress. Although certain parts of our feet suffer more than others while climbing, it's important to look for all-around protection.
In most cases, you don't get to perform gentle motions in which your feet are softly placed on the climbing rocks. Climbing involves forceful movements that, upon impact with the rocks, generate a lot of shock and stress on the feet.
While materials will physically protect the surface of your feet, some residual shock will always get to them. This is why it's important to look for designs that offer a sufficient amount of shock-absorption or some form of a stress-relieving method. The best ones feature an absorptive outsole material or individual technologies like gel absorption systems, in addition to a heel cup. Even the midsole will provide both stability and comfort when considering shock-absorption.
Outsole:
The outsole is possibly the most important element of a climbing shoe. This element is what, ultimately, determines whether you stay on the climb or not.
It's paramount that your footwear features a high-end outsole. At the same time, multiple sub-factors determine the quality of an outsole.
For starters, and most importantly, one of these sub-factors is the grip. A good grip will have a considerable impact on your climbing performance; that is, the better it is, the easier and more securely you'll be able to grasp objects.
The materials that compose the outsole have a clear impact on its gripping qualities. Normally, rubber is the most widely used compound for this task. Its abrasion-resistant qualities make it ideal for this rough sport, and rubber is not a material that slips off things in its natural state. However, we're not necessarily talking about traditional rubber.
Synthetization plays a huge role in performance footwear materials. For instance, vulcanized rubber has a slightly stickier surface than traditional rubber, which proves to be extremely handy; especially at the moment of gripping uneven rocks when climbing.
A quality outsole will be able to grip to a wider variety of objects more efficiently. It also allows users to grip elements that aren't necessarily in their natural state (e.g. a wet surface). This, of course, depends on how wet or affected the surface is. As a side note and a very important one at that: never assume you'll be able to grip the rock before going for it.
Another important aspect of a climbing shoe outsole is the stability. The outsole, aside from providing protection to feet, must be able to act as a firm platform. Without this feature, you won't be able to make efficient use of your own impulse. A solid base is necessary to take confident and powerful steps.
An outsole that wiggles as you place tension on it gives you no security or certainty. You won't use your true potential if you don't rely on your outsole; no one feels comfortable climbing with an outsole that feels weak. On the other hand, when you're standing on a solid and reliable outsole, you're able to give the most power without any concerns.
Comfort
For maximum comfort, choose the right size for yourself, and make sure the linings and the cushioning are acceptable.
Comfort is, possibly, the most underrated feature of sports footwear.
The facts are that, in order to perform at your best, your feet must be in a comfortable state. You can't expect an optimal performance if you're thinking of how uncomfortable your shoes are while you perform.
In some cases, beginners aren't able to determine what it is that makes rock climbing footwear comfortable. While there are certain comfort standards for every element of the design, personal preference always has an impact on what is more comfortable for you individually.
The first factor is the sizing. At first sight, it's a bit obvious; nobody is going to get a pair of shoes that don't match their sizing. However, some people can't accurately tell how suitable each sizing is for them. This is, in part, because climbing shoes are meant to fit differently than traditional performance footwear.
The right sizing is one in which your big toe barely touches the tip of the inner shoe. If it doesn't touch the shoe, it's too big. Likewise, if all of your toes are compressed against the tip, it's too small. Keep in mind that footwear of this type will always fit tightly in comparison to other designs, but not an annoying type of tightness; rather, a supportive one.
The lining material is another factor you must check before purchasing. The best footwear will have a cushioned and soft lining that comforts your foot throughout the climb. Any sort of discomfort generated by the physical contact will prevent you from giving your best, as you'll instinctively restrain your motions to avoid hurting your feet. And the more tired you become, the more your mind will stray toward the discomfort.
Cushioning within a shoe plays a role in both comfort and functionality. Cushioning is a key point to shock absorption and prevention of painful feet when climbing. The only things standing between our feet and the external materials is the insole, the lining, and the cushioning. If we were to take the cushioning away from the interior, your feet would experience a massive part of the impact generated on each step. While the external materials may hinder the initial impact, the shock will work its way up the shoe and into your feet.
The cushioning should be composed of a material that delivers comfort and has performance qualities at the same time. Materials that include shock-absorbing qualities work as excellent cushioning for climbing shoes, such as foams and similar soft compounds.
These kinds of shoes call for a minimalist approach in all senses and aspects, and this involves cushioning. As much as climbers would love to, it's not practical to have a thick layer of cushioning foam under their feet while performing; thus, the minimalism of the materials represents as much importance as the cushioning itself.
Compounds like the ones used in gel cushioning systems take the lead for this kind of shoe. The gel features excellent absorbing qualities and provides a soft sensation when compressed; but more importantly, only a thin layer of gel is necessary to equip a climbing design with the necessary amount of cushioning and shock absorption at the same time.
Breathability
To prevent discomfort and giving up in the middle of your climb, ensure that your footwear is breathable.
It's important for climbing shoes to incorporate a feature of breathability. Without breathability, the footwear will be hot and uncomfortable for the feet. This will produce lots of sweat, and there's nothing more uncomfortable than having sweaty feet when trying to climb. Breathability ensures that feet will be able to get fresh some air.
Excessive sweating comes with a list of consequences at the same time, which will become obstacles during your performance. Initially, the sweat can be a cause for your feet to slip within the shoe. There isn't too much space within a climbing design for the foot to slip around, and slight discordances in your feet's movement are enough to affect your balance and performance.
Additionally, overheated feet are just uncomfortable. As explained in the comfort section, you aren't able to focus and give 100% during your climb if there's something disrupting the activity, like overheated feet. The annoyance of the heat concentration within your footwear becomes a psychological factor that has a considerable negative impact on your abilities; not to mention, overheated feet can simply start to be physically painful, as well.
The lack of breathability, also has post-performance effects, such as the accumulation of bacteria in the interior of the shoe. This bacteria contributes to the development of bad smells that stick to the insole and the inner materials. It's, also, a common cause for athlete's foot and other infections.
The best climbing shoes are those that feature an acceptable level of breathability. The air must be able to flow freely through the shoe, preventing any heat from accumulating in a prolonged fashion. Furthermore, the constant flow of fresh air becomes a comforting factor; not only reducing the sweat but also preventing skin irritation caused by heat.
Our Favorites
If you're most comfortable bouldering and sport climbing and want a stiff design with good edging abilities, then the Butora Acro might just be the one for you. Available both in a narrow and wide version, the Acro is stiff and sensitive, giving a good balance between these two important features. The upper is made with a combination of leather and synthetic for comfort and breathability, while the rubber outsole is grippy, easily keeping up with the ones found in Five Ten and La Sportiva footwear.
Bringing the power to the toe through the high-tensioned heel rand, the Butora Acro is a great choice for edging. It allows for a snug fit in the front, which eventually leads to better performance when climbing. While aggressive climbing footwear is made to be stiff and provide excellent power transfer, it's also important that it allows you to feel the surface you're climbing. The Butora Acro does especially well in this regard, as it will allow you to feel any bumps on the rock, as well as to stick to them.
With an upper that will resist odor, a great closure system that feels snug but comfortable, and great performance features, the Butora Acro is a pair you can invest in with a clear conscience. They'll provide excellent grip, are some of the best aggressive models available, and are even available in a wide width for those who need a bit more space in the toe area.
Handcrafted in Spain, each Tenaya shoe goes through rigorous inspection in order to ensure the highest quality, and it comes as no surprise that it's a brand that's worn by some of the best climbers in the world. The Tenaya Masai is one of the best models you can get if you're in need of a product to serve you on vertical or slightly overhanging routes, as well as bouldering. It's a moderately rigid model that ensures a good deal of protection, yet it still allows plenty of surface feel and sensitivity.
The upper is made with comfort in mind, constructed entirely out of microfiber which is breathable but durable enough to serve you for a long time. The lace-up closure allows for a multitude of fit adjustments, making this a shoe that will be easily worn by anyone, while the generously padded tongue protects the top of the foot.
Another notable feature of the Tenaya is that it uses no leather, making it a vegan-friendly design, and the cotton lining and Stretchtex insole do a good job at moisture management. As for the outsole, it's a 4mm Vibram XS Grip which is super sticky, and the toe is slightly asymmetric, with the power to give you great control even on minimal holds.
This design is definitely highly recommended for those looking for a great alternative to Anasazi models.
This is a popular all-round shoe that is great for different uses, so if you only want to make one purchase, definitely check it out. The Butora Endeavor comes in narrow, regular and wide sizes, making it a good fit for most users, and has been constructed to give moderate stiffness and moderate flexibility, making it a great choice for those who are looking for a forgiving design that still lets them feel the rock.
The upper of the Endeavor has a slight asymmetrical shape that follows the contours of the foot, helping improve overall performance, and avoiding the discomfort that often comes from this type of footwear. The upper features a combination of natural and synthetic materials - genuine leather for breathability and comfort, a synthetic forefoot for security (as this won't stretch with use), mesh panels, as well as an organic hemp lining that doesn't lose its shape but prevents odors.
The insole uses moisture-wicking split leather that's comfortable to wear even for longer climbs, while the midsole uses 3D injected molded polyurethane that has a varying thickness and thus helps prevent torsion and aids edging. The outsole is made with Butora R5 sticky rubber, and you can count on these lasting for a long time, seeing that they're fully repairable.
Great for first-timer climbers, these have the classic feel of flat-lasted construction but come with a technologically advanced heel cup. This, in essence, helps you to understand the 'feel' of the different types of obstacles while, also, giving you the added support and stability within the heel cup. Furthermore, to-the-toe lacing gives you a better fit, a Vibram XS Edge outsole helps with traction, and the leather upper gives you a bit more durability.
Both first-timers and 'old school' climbers will love the feel of the flat-lasted construction in the Scarpa Helix. Great for general climbing, these have the advantage of comfort, making them a great choice for anyone intending to spend a lot of time in this pair. A classic grip on the heel and toes helps to ensure a better foothold while either learning a proper technique or for the sheer enjoyment of the classic feel. The outsole is thin enough to give you a good feel of what's underfoot, but it won't expose you to injury either.
Budget-friendly in cost association, this pair is worth the purchase price; especially if you are a first-timer or a lover of the classic feel. As such, these are a great addition to your climbing gear.
If you are heading to the gym for a climbing session or making your way to a nice boulder slab, the Scarpa Instinct VS will help you get the grip you need, even on smaller surface areas. Made with Vibram® XS Edge and vibram® XS Grip 2 technology, these are sure to help you gain the upper hand when versing the climb ahead.
Out of the box, the Scarpa Instinct VS will be a great choice for steep bouldering or sport climbing. With a rigid sole under your feet, you'll feel right at home on small edges, while after a bit of breaking in, they'll also allow you to flex your toes on more demanding terrain. The upper of the Scarpa Instinct VS is made with microsuede that's a technical fabric that's 100% no stretch, meaning that the fit you get on the first wear is the fit you'll have even hours afterward. The closure system pulls your feet in, giving you a secure fit that'll work even for long climbs.
As climbing footwear aimed towards those who want the best, the Scarpa Instinct VS comes at a price that's only slightly above average. It's an excellent choice for anyone with a mid-width foot, as well as for those looking for a rigid design that'll work best on steep terrain.
Whether it is bouldering, in-the-gym climbing, technical face climbing, or overhangs, these are ready for the job-at-hand. Fitted with speed laces, an aggressive down-turned toe, a 1.1-millimeter Laspoflex midsole, a 4-mm Vibram XSV outsole, an 8-panel directional Dentex lining, and a leather and textile upper, the Miura from La Sportiva is perfect for adding to your climbing collection.
Ready for edging, the design is perfect for those who spend a lot of time bouldering, technical face climbing, or in the gym. The down-turned toe gives you the right amount of grip while allowing your center of gravity to feel a bit more comfortable. Grip with minimalism is the design of this outsole. It gives decent protection while promoting the feel of the surface at the same time. In essence, this helps your overall balance and performance.
With the quality makeup of the materials, design, and overall features, these are not only ready for the climb but are available at an average cost that will fit most people's budget.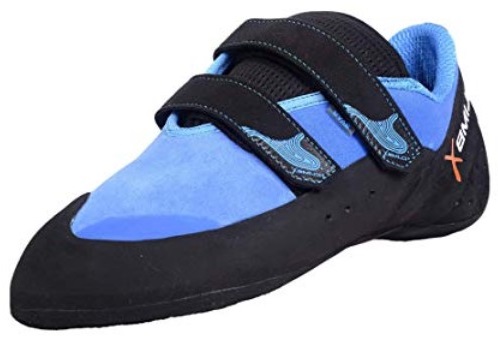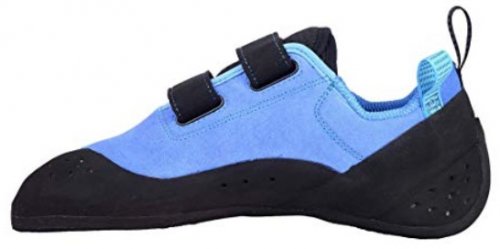 If you're a beginner just starting out in the world of rock climbing, then the Rave from Climb X is that perfect all-round option. It has a flat profile, a stiff sole and a low last for comfort and asymmetry. There is no downturn to this option, meaning that it is great for those just starting out who are not yet used to contorting the foot.
The Climb X Rave is made with a material that will reduce foot odors. Its padded collar and heel contribute to a great deal of comfort, no matter how long you climb for, while the velcro closure allows you to get them on and off easily, without having to deal with laces. The upper material is suede, meaning that the Rave will conform to the shape of your foot over time for maximum comfort.
These shoes from Climb X are durable and lightweight and are perfect for beginners who are not ready to spend too much on a piece of equipment they have yet to learn to use.

8

. La Sportiva Tarantulace
La Sportiva Tarantulace is perfectly suited for all of your climbing adventures. Made with a synthetic and leather upper, this design features a fast lacing system that makes putting it on, or even adjusting the fit, a breeze. With an asymmetrical layout, which differentiates the Tarantulace from the other models on this list, it allows for more comfort than similar footwear. This option by La Sportiva also features a grip heel for latching onto surfaces in addition to a rubber outsole. These are meant to be extremely adaptable and a comfortable, snug wear for your feet.
The best thing about the La Sportiva Tarantulace is the fact that it's a versatile design that will work just as well for indoor as is it will for outdoor climbing. The FriXion rubber outsole is abrasion-resistant and durable, while the aggressively treaded heel allows for the grip you need for standing in micro edges.
To give you footwear that'll work once you've broken a sweat, the Tarantulace features a leather upper that's unlined and that allows for excellent airflow and breathability that'll keep your feet dry and protected. Not only will they be less likely to move inside the shoes, a dry and cool environment will also contribute to foot health by preventing blisters.
For such an advanced pair of gear, the La Sportiva Tarantulace comes at an excellent price, being one of the most affordable options out there. You'll find that it's also available in a hook and loop closure system version, so you can choose the variation that fits your needs best.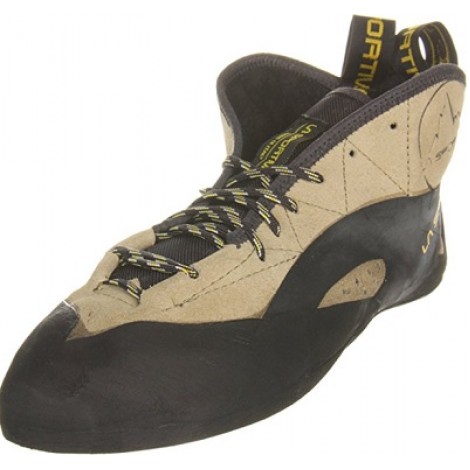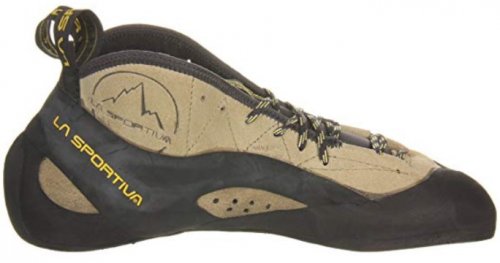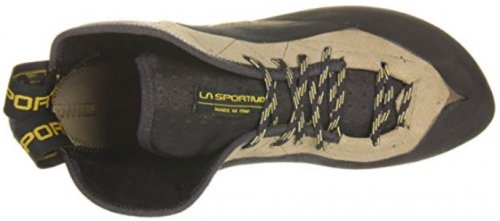 This is a design great for gym climbing or light boulder and wall work. Ideal for crack and face climbing, the TC Pro from La Sportiva is ready for the job of enjoying the glorious moment of conquering. Made with 80% leather and 20% Vibram® rubber rands, these will allow you to stand on a dime with the ability to tuck inside of those smaller nooks and crannies.
This design is made to promote a breathable environment while also allowing you protection from the pains of rough surfaces such as rock. In essence, these shoes provide better overall foot health, in the form of breathability. 1.1-millimeter in thickness, the midsole of the TC Pro gives the right amount of both stability and flexibility. You will be able to 'feel' your footing, and still retain the sturdiness of a midsole.
These are built well for beginners and advanced climbers alike. As such, this pair of shoes from La Sportiva is well worth the purchase price.

The perfect combination of an aggressive model and an all-rounder, the Hiangle is a highly comfortable option that works well both for indoor and outdoor use. With an unlined leather upper, these will keep you well-ventilated even with rigorous inclines, while the elastic gore and velcro closure allow for a great fit. The upper will stretch up to ½ size but runs small, so when making a purchase make sure to keep this in mind - some suggest going a ½ size down from your street shoe size.
The outsole on the Hiangle features a thicker application of rubber than you're probably used to with this type of footwear, and this allows for better grip, both outdoors and indoors. Furthermore, it improves durability, while the stiff construction ensures you use all of your power going up.
Many people say that the Five Ten Hiangle is the most comfortable aggressive option you will find. It won't feel baggy in the heel but will allow for a good amount of toe space that will work for climbers with moderately wide feet. The fact that the upper is made from leather means that once they've stretched a bit, they'll give you the perfect fit when it comes to molding to your particular foot shape.
The Hiangle is an excellent investment for those looking for aggressive climbing gear that won't be too uncomfortable. It's got a durable outsole - the rubber used in these will last you quite some time - and the closure system is snug and secure, ensuring that you're safe throughout.
Subscribe to our Newsletter