Best Light Shoes Reviewed & Rated
In a Hurry? Editors choice: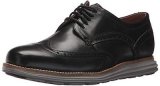 Test Winner: Cole Haan OriginalGrand Wingtip

A lightweight shoe can help you run faster and longer, but it is, also, great for travel and work environments that require you to be fast on your feet. The most lightweight shoes are known as
minimalist shoes
, and they've gotten some flack over the years for not offering enough cushioning and support for the feet. Shoe manufacturers have taken these concerns into account and many have created
more cushioned and more supportive
footwear to protect your feet from injury.
Standout Picks
Criteria Used for Evaluation
Flexibility
Finding the perfect balance between flexibility and support can be difficult. A shoe that is too flexible will not help support the foot during the pounding it takes while running or walking. It should be flexible at the ball of the foot to provide natural motion. The flexibility involves several factors.
First, looking at the ball of the foot, your feet naturally roll when you run or walk. Some offer a rocker bottom which really enhances the correct motion of your foot. Support in the arch is, typically, a bit stiffer leading to the front where you see more flexibility. If the support in the arch is too long for your feet, you may find decreased flexibility, and that can lead to painful shin splints and days out of the activities you love.
A shoe that is too flexible will not support the foot as well as it needs to. Some people believe in the minimalist shoe. A minimalist shoe will not offer the support and cushion of other footwear, but they are, however, extremely flexible. Minimalist shoes make your feet do all the work and for some, that is an excellent feature, especially in the realm of ankle and foot strengthening.
The arch and heel of your lightweight shoes will be a bit stiffer. This is where extra cushion and support will help in force dispersion and pressure release. Your foot rocks from the back to the front. A supported heel means when you strike during your stride, your feet and joints will not have to absorb all that pressure. You want to make sure your footwear feels great and moves with your feet. A stiff shoe may break in after time, so do your best to find one that flexes correctly from the start and your feet will be able to hang with you through the toughest challenges.
Fit
Our feet swell as our days go on. Depending on what your day looks like and what you do, you can see a lot of swelling by the end of the day. If your footwear is too tight, it can lead to pain, pressure sores, hotspots, and in general, uncomfortable feet. A shoe that is too loose can lead to a lot of the same problems. In addition, you will find ankle stability to be a real problem with shoes that are too loose.
Know your feet. That is the first step to making sure you are getting a fit that really promotes good posture, correct foot positioning, and of course, a comfortable ride. So, what do I mean by knowing your feet? Let's start by talking about width.
Narrow
If you have narrow feet and have ever worn a shoe that was too wide, I'm sure you noticed your feet slipping and sliding around inside them. Why is this a problem? When your feet slide around, you lose stability and can, also, cause abrasions and blisters from excessive rubbing. If you find, even after tightening your shoe that your feet and ankles move around easily, you need to find different footwear. It is, also, important to note that extra ankle movement can lead to injuries like rolling or spraining of the joint. If this happens, you may find yourself out of the game for a while. The moral of the story here, my narrow-footed friends, is your shoe needs to hug your foot and support it, not let it wiggle around wherever it wants to.
Medium
Medium sizing is probably the easiest to deal with. Not really narrow and not really wide is easy for shoe companies to accommodate. Finding yourself in this category, you still need to make sure your footwear is not too wide or too narrow. As we stated above, if your shoe is too wide, you will not have the support in your ankle, instep, and other areas of the foot, because there will be too much room and your feet will have the ability to move around in the shoe. On the other side, if your footwear is too narrow, you will have pinched and painful toes. You may find, also, if a shoe is too narrow, it squeezes the arch which will make you very uncomfortable. Lastly, with a medium width, you still need to look at how the foot sits in the footwear to make sure you get that hugging feeling when you tie them up.
Wide
It used to be very difficult to find a quality lightweight shoe that fit wide feet. In recent years, however, it is becoming easier; due to the fact a ton of manufacturers listened to their customers and started giving the option for wide width. The point made with standard width and narrowness goes for wide feet, as well. You need a bit of room for your toes to spread out naturally and you want a comfortable, supportive, hugging fit on the rest. If you have wide feet, I am sure you have pushed into a pair of lightweight footwear, just to find your feet screaming because your feet were suffocating inside.
After you figure out the width you require for a great fitting shoe, then it's just a matter of time until you find exactly what you have been looking for. Our guide gives options for all widths in life, and hopefully, you can find the perfect match.
Materials
How your lightweight footwear is constructed can really make the difference in any activity you find yourself in. An average adventure, or one that you crush because you are walking on air and your feet feel great, depends on the construction and performance ability of your shoes.
The outer panels of your lightweight footwear should be made of mesh and synthetic leather. Mesh is very breathable and helps to keep water out, due to its structure and design. Synthetic Leather is much lighter than natural leather. It aids in keeping water out and attaches well to the bottom of the footwear. In addition, synthetic leather is very flexible, durable, and it dries very quickly.
The outsole, also, plays a huge role in the construction and overall performance ability in light shoes. When we say outsole, we literally mean the bottom of the shoe. If in need of lightweight footwear, you want an outsole that is made of a shock-absorbing, lightweight, even pressure dispersion, material. Typically, you will want to look for something made of blown rubber, polyurethane, or a mixture of the two. Blown rubber is definitely the lightest, followed by a mixture, and Polyurethane outsoles tend to be the heaviest.
Construction is not just about the outside of the shoe. It is, also, about how it fits on the inside. You need footwear that has an insole that keeps your feet cool, dry, comfortable, and doesn't add a lot of weight. EVA insoles are great in all of those categories.
A lot of footwear, also, offers a sock-like liner. This hugs your foot and helps wick away sweat. Keeping your feet dry is always a top priority when trying to keep your feet healthy. A mesh or synthetic blend sockliner can help ensure your feet feel great at the end of a long day.
Last but not least, let's take a minute and talk about the heel and toe of your footwear. The toe box should allow you enough room to stretch your toes out. Your feet naturally grip with your toes, as you walk. That natural movement is important in keeping your feet feeling good. If your toes are pinched, not only will your feet hurt but you will have a reduction in stability. The heel cup of your footwear should securely cup your heel. Holding your heel in place while you walk, run, hike, or participate in other activities, will stop painful blisters from forming and help in your performance; due to a lack of slipping around inside.
Durability
To assess each of the products on our list for durability, we not only read through thousands of customer reviews on our recommended products, but we also looked for some of the hallmarks of quality construction. From brand name reputation to their initial smell out of the box, there are a few ways of identifying a well-built, made-to-last product.
The Details
A zipper that doesn't zip or snaps? Poor threading technique? A smelly, chemical residue on the shoe when you open the box? All these details were looked for an evaluated when assigning a score for durability.
Materials
Certain materials last longer than others, even if that comes at the expense of a higher score in the "comfort" criterion. Materials that are synthetic, thicker and firmer tend to score higher on durability.
Product Purpose
A shoe made for running and high-impact sports will not likely last as long as a good pair of general activity shoes and that's okay. Being aware of the shoe's purpose is critical for you as a reader and for us as a reviewer. Although shoes that will last longer score higher on this criterion, you might also see high scores to shoes with a more limited durability, if that product was specifically designed for certain purposes that involve high-impact and high-stress motions. We take into account the type of shoes you are trying to purchase when assigning scores to shoes in this criterion.
Brand Name
A product is a promise made, but a brand is a promise kept. A brand name is often a signal of quality and consistency in construction and durability from product to product. Although there are always exceptions to this rule, quite often brands that perform continue to perform. Brand names on our list tend to score higher in the durability score.
The final word on durability is that a higher score on this metric means the product will last longer than its competitors, given similar shoe purpose, type, age and usage. Again, it never hurts to read some customer reviews before hitting the "buy" button.
Style
While style is often a matter of personal taste, we've checked thousands of online reviews to see what people are saying about each of the products on our list. Some things, such as sleek design, seamless construction and overall weight and shape of the shoe, were common likes or dislikes among buyers of each product.
To evaluate style, we considered everything from the design, color, shape, weight, lines and overall construction of the shoe in question. While no one wants to wear an uncomfortable shoe, they also don't want a comfortable shoe to be ugly on the eyes. We've selected all of those on our top 10 to be not only stylish, but also comfortable, true-to-size, supportive and durable.
The higher the score on the "style" metric, the more fashionable we and the community of buyers we surveyed deemed the product to be.
Top 10 Light Shoes
1

. Cole Haan OriginalGrand Wingtip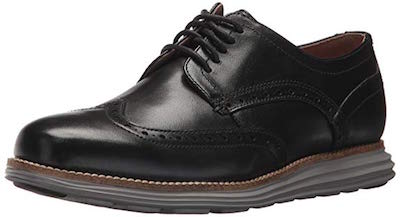 This semi-formal light shoes by Cole Haan became an instant classic back when it was released, mostly due to the fact that it combined the polished look of a wingtip Oxford with the comfort of a cushioned running shoe. But what's important to note about the OriginalGrand is the fact that it weighs less than almost any other formal pair of footwear, while looking sleek and modern, and being appropriate for most occasions, including the workplace.
The upper of this shoe uses high quality leather that gives it a polished look and durable wear time. It's a model that'll provide you with a good amount of support (more than you can expect of most Oxfords), plus the rubber outsole gives great traction on most surfaces.
The best thing about the OriginalGrand is the EVA foam sole that's lightweight and cushioned, giving you the right amount of shock absorption regardless of how long you're planning on standing or walking. It's also flexible, notably more than other types of formal shoes, so you can easily go about your business without feeling held back. Depending on the color you choose, the price ranges from average to slightly more expensive, but overall, this shoe won't break the bank, and it will look great with any outfit - from jeans to suits to shorts.

2

. Skechers GoWalk Evolution Ultra Reach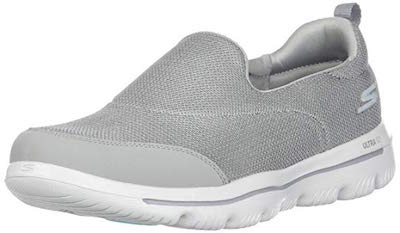 Skechers footwear has become one of many people's go to lifestyle brand thanks to the fact that they invest time and research into making footwear that both looks great, feels great and is durable. The GoWalk series does exactly what the name tells you - it provides you with footwear made for spending time on your feet, absorbing shock generated on impact, giving you a good amount of traction, all while ensuring a breathable environment.
The cushioning in the Evolution is made to be both lightweight and responsive, while still giving you the required stability and support that you need in order to prevent issues such as arch and heel pain. It's one of those shoes with high rebound, so that each next step is easy to take, while the entire shoe is one of the most flexible models on this list.
The upper is made with padded mesh that keeps the weight down, and the heel and toe cap overlays ensure durability, no matter how often and for how long you wear them. This shoe comes in several color options, all of which are easy to pair with any outfit, and the price is well below average, making this a great investment for those who are looking for affordable but quality footwear that will serve its purpose.

3

. Rockport Style Leader 2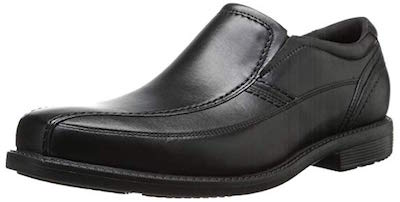 Those who prefer loafers to lace ups such as Oxfords should definitely check out the Style Leader 2 by Rockport. A company who puts most of their focus on developing comfortable, cushioned and supportive footwear at reasonable (even affordable) prices, Rockport is always a good brand to turn to. This particular model is perfect for both formal and casual wear, comes in three classic color options, and is one of the rare models on this list you can get wide and extra wide widths.
Because it is entirely focused on comfort, the Style Leader 2 has two notable features in the upper. The first one is a padded ankle collar that will prevent the shoe from digging into your heel and achilles area, while the other is the elastic gore that allows easy on and off, as well as a comfortable wear that won't require any adjustments on your part, but will still give you a secure fit without squeezing too much.
The heel area has a truTECH cushion, while the insole is made from sponge EVA that will conform to the shape of your foot, giving you a customized fit. Other notable features include a moisture wicking lining that will prevent bad odors, as well as a flexible rubber outsole. The price of this model is slightly above average, but it's an overall good purchase considering the material quality and comfort it provides.

4

. New Balance Fresh Foam Beacon
The Fresh Foam Beacon is an amply cushioned running model that weighs less than some minimalist shoes available for purchase. For those looking for cushioned, responsive pair of athletic footwear, it's a great choice thanks to the numerous comfort and functionality features that work great both for training, as well as for casual everyday wear. Available in three simple colorways, it'll be easy to pair this model with most of your outfits.
The upper of the FF Beacon uses engineered knit for a good combination of support and breathability, and it's one of the reason why the weight of the shoe is kept so low. Padding is added in the tongue and collar, and 3D print overlays ensure a supported gait cycle. As for the midsole, it looks chunky, but is actually one of the lightest in the industry. A full-length shock absorbing unit ensures that you're protected and comfortable, whether you're out running, or just getting things done.
The outsole manages to shed grams by placing blown rubber in high wear areas, while the rest uses ground contact foam with a traction pattern that ensures an adequate grip. It is surprisingly durable, meaning that you'll be wearing these even if you plan on walking/running on asphalt most of the time. The price is higher than average, but that's to be expected from flagship models such as this one. Overall, you can rest assured that this is a good investment, especially if you value comfort and cushioning.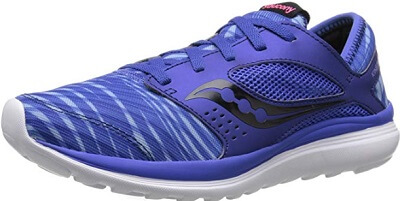 The Saucony Kineta Relay is a stylish, sleek, and lightweight shoe that comes in a variety of color schemes. The men's version weighs 6.8 ounces and the women's version weighs 5.2 ounces. The Kineta Relay comes with a rubber sole to reduce the impact as you walk or run and it sports no-tie shoelaces for ease of use.
The EVA+ Cushioning is light and flexible, making your day in these shoes comfortable. The cushioning protects your feet from injury and its flexibility allows you to move more freely.
You need to know your footwear won't slip, especially in environments which have slick or wet floors. The traction sole on these grip the ground; so, you'll be safer. The Saucony Kineta Relay has a midrange price tag but it, also, has a lot of available features, as well. Saucony is a high-quality brand and you can rest assured this a deal worthy of the investment.

The Merrell Vapor Glove 4 is a sleek running shoe but it can be used in some work environments, as well; depending on the dress code. The men's version weighs 5.8 ounces and the women's version weighs a feather-light 4.8 ounces. Its synthetic mesh construction allows your feet to breathe and reduces odor and blistering from wet feet.
The sticky Vibram outsole of these gives you maximum traction and safety in any environment. No more slips and falls. It's excellent for working or running in slippery conditions. To reduce the impact of your feet on the ground on a hard run, this footwear sports a rubber sole. This sole cushions your feet to protect you from injury.
The Merrell Vapor Glove 4 rests in the upper-low price range. The Merrell Vapor Glove 4 is a sleek, stylish shoe with good traction, and it's made without animal products.
The ON Cloud is built with athletics in mind, but it can be used for casual strolls, too. The men's version weighs 7 ounces, and the women's version weighs 5.9 ounces. It's a little heavier than some of the other footwear on this list, but it compensates for that with padding and cushioning for maximum comfort on your run.
The CloudTec Sole is unique in that it is soft only as your feet lands and it immediately firms up to support your feet, as you move to step off. The Deep Flex Grooves allow for more flexibility and a more natural range of motion, as you move. It follows your foot's natural movement for maximum comfort and efficiency.
The ON Cloud can be found in the middle price range. The CloudTec sole and padded tongue and collar guarantee a comfortable walk or run, making it worth the price.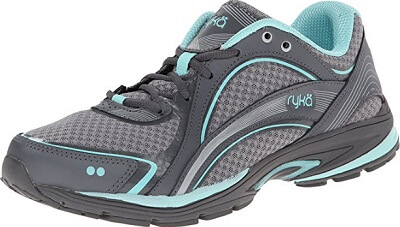 This walking shoe is perfect for those who have been experiencing high fatigue levels, in relation to a heavier shoe. Made with a leather and mesh upper, this is a pair which works to alleviate that. Furthermore, the TPU shank and EVA midsole provide stability and security while, simultaneously, giving you a decent amount of cushioning and energy return.
This midfoot shank is lightweight, but more importantly, it is the right amount of stability for your feet while you walk through your day. This is a must-have for those in need of a lightweight, yet stable shoe.
Energy return and shock absorption is the norm for an EVA midsole. This means you will have less overall foot fatigue, as you make your way around the block in these.
This pair comes in at the upper end of the midrange in cost association. They are, however, a perfect walking shoe which is lightweight, durable, attractive, and made to reduce overall foot fatigue. In other words, they are a great buy for the buck.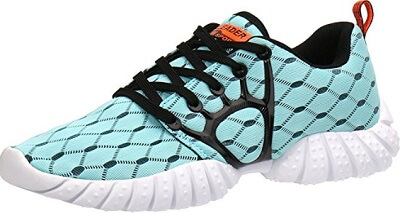 5-claw design in the overlays helps to provide you with stability in this pair of lightweight footgear. In addition, these have a hydro-grip MD outsole to handle multiple terrain types, such as a dry road surface to those unforeseen water spots. A cushioned insole provides comfort, and the lining is breathable to allow your feet decent airflow.
These supportive overlays stabilize. In addition, they look rather unique in design and provide cool aesthetics. Moreover, this 5-claw design serves to provide your foot with security while you run.
Running raises the body heat, as we all know. So, it is nice to have a lining which gives an ample amount of breathability. When the feet breathe, they stay cooler. This is a nice cost-efficient pair to grab a hold of. They are budget-friendly and maintain a decent amount of technologies to give you stability and airflow; yet, they remain lightweight, as well.

10

. Dreamcity Water Shoes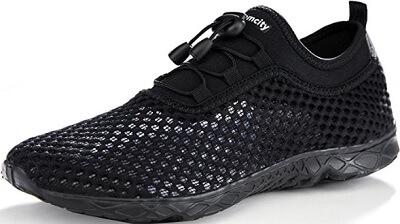 A good pair of summer shoes will have to do a lot of things right, and the Dreamcity Water model is a great option for anyone looking for versatile, functional footwear. Although designed to be used around water - either at the beach or pool, it can actually work well as a pair of sneakers you'd wear around the garden. The upper is made with lightweight mesh that lets water evaporate quickly, while the sole makes use of Solyte material for cushioning, and a water-friendly outsole that will grip polished and wet surfaces, ensuring safe footing. The model comes in several simple color options, and the best thing about it is that it's affordable, even if you have a minimal budget.
The midsole is lightweight; yet, provides decent all-around cushioning. It will have you feeling comfortable while you enjoy the day near the water. The upper has a breathable design and is perfect for those hot days when the water sounds really nice. Your feet will feel airy; that is, in between those walking dips into the water.
These are in the midrange of cost association when comparing to others on this list. They are durable, lightweight, and breathe well. Moreover, these are ready for water days. As such, these will make a great addition to your footwear collection.

Subscribe to our Newsletter