Best Mountain Bike Brands and Models Reviewed
In a Hurry? Editors choice: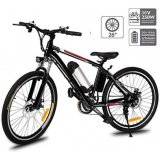 Test Winner: Fast88 Electric

Bikes might seem alike, but they vary in many ways. However, mountain bikes stand out for several reasons. They are excellent for people who prefer off-road cycling. Road racers also add variety to their training by mountain biking. Once you get used to them, you will handle other models much better.

Not only do they improve your skills, but they will also increase your pedaling efficiency and help you build explosive power. If you want to blast through any terrain and enjoy the ride, then here are some of the top rated and well-renowned mountain bikes in the market.
Standout Picks
Criteria Used for Evaluation
Materials
Different elements offer diversity
The common types of materials used in mountain bikes are steel, titanium, aluminum, carbon fiber, or their alloys. The different materials affect a bicycle's comfort, price, and weight, among other things.
Steel is the most common material used in these frames. It is sturdy and inexpensive. However, it weighs more than aluminum and fiber. Steel was the only material applied in the past, for professionals and novices in the cycling world.
However, some manufacturers will use different materials since steel can be expensive. At times, it requires complex shaping and use of other alloys. Where the cost to weight ratio becomes higher, aluminum and carbon become preferable options.
Carbon fiber was exclusively available to professionals due to the cost and difficulty of working with it. With time, manufacturers have found easier and cost effective ways of working and obtaining the material. Manufacturers can play around with carbon fiber; therefore experimenting with tubes and various designs becomes easier.
Elite cyclers use carbon, since it has the best stiffness to weight ratio, compared to the other materials. A lighter trail bike gives you more freedom and control. Even though carbon fiber is durable, it becomes difficult to handle after it gives out.
Your bicycle can become dangerous to use and fragile. Repairing carbon fiber is also complicated and somewhat costly.
Aluminum has properties that are almost similar to carbon fiber. Your mountain bike will also be firm and light in weight. Aluminum is also easier to work with compared to carbon. Manufacturers use it in different tube frames, adding to the reinforcement.
It also helps keep the bicycle weight lower. Tubes made with this material are usually thinner in the center and broader towards the weld.
Titanium is tougher than other conventional materials. However, it is out of reach for many because it is complex to work with and is costly. Titanium can handle harsher environments and is not affected by rust like steel.
Thanks to technological advancements, manufacturers are making the titanium thinner. It consequently reduces the weight of your bicycle.
Features
More components don't always make a better ride
A mountain bike's mechanics comprises of the drive train and the brakes. In the drive train, you have the shifter, derailleur, chain ring, cranks, cassette, and the chain. The costlier the materials used to make them, the better the durability, efficiency, and performance of the system.
Mountain and trail bikes' features are actually more varied than your typical road bikes'. The reason for this is the different components used for mountain bikes and the many types of styles available. These bikes also have a broader market range. Some even have front and back gears, while others have back gears alone.
This versatility is great. But there is a downside. More parts might lead to more weight. And the inefficiency of changing the parts might also cause some problems. You may end up continuously fixing the bicycle on the trail because of the chain persistently coming off.
Professionals avoid these bikes with an excessive number of gears. They tend to prefer bikes with about seven gears. And this is especially true of professionals that prefer trails over roads. Anything more than that is seen as more trouble than it's worth.
There is slightly less variety when it comes to brakes. The commonly used brake systems are hydraulic disc brakes and cable operated disk brakes.
The hydraulic system borrows its design from the automotive industry. Hydraulic systems don't require much maintenance. The system is also lightweight, effortless to press on, and reliable.
Cable-type disk brakes were the only ones available in recent years. These types of brakes feature mostly on entry-level bicycles. The quality of the component's materials also influences the price. Better materials improve brake control, reliability, durability, as well as reduce overall weight.
Brand
A reliable brand is a safe bet
Some mountain bike brands require certain accessories to function. A reputable brand that has readily available spares is the best option you can purchase. There are so many bicycles lying in people's homes because they could not be fixed.
A good brand is always ready and available to assist you when you reach out to them for advice. Some even offer to replace your spoiled bicycle. Only reputable brands offer refunds and replacements.
Alternatively, others offer repair service centers. The company mechanics are qualified enough to handle any issues that your bicycle might have. Therefore, if you ever find yourself in such a situation, you can rest assured that it will be in good hands.
Mountain bikes are great because users can enhance them with lots of components from other manufacturers. For example, the wheels can be changed to fit a particular terrain. You can also upgrade other parts easily.
Effectiveness
Learn how each component works
There are many types of mountain bikes, each with their strengths and suitable for different terrain. Finding a compatible model that meets your needs may not be as easy. Having more knowledge of certain bike components might help you narrow down your options.
A hardtail suspension type has suspension on the front wheels only. On the other hand, a full suspension has springs on the back and front wheels. Full suspension versions are more complicated compared to hardtails, but the ride is softer. Full suspension types also add to the bike's cost, maintenance, and weight.
A full suspension mountain bicycle works well for rough trails. Those with less suspension are lighter, faster, and ride better on smooth terrains. More suspension equals to improved support, while less suspension increases speed on flat surfaces.
A disk brake is better than a rim brake because dirt does not interfere with the rim. There are different wheel sizes and materials. Some have gears at the back while others at the front.
More gears are necessary for technical trails. A higher gear gives more power, but less speed. There are also new subclasses, like 'fat bikes,' which are capable of riding on snow or sand.
A slacker head tube, falling below 68 degrees, improves the stability at high speed. A steep head above 68 degrees, improves your handling. Climbing is also much more comfortable.
Size
Getting the correct bike size is crucial
You can adjust a bicycle's seat and handlebars, but its frame will always be a constant. That is why you won't be comfortable if you are using the wrong mountain bike size. The wrong size will affect your speed and put you at risk of getting injuries. You might even end up falling or get more chaffing.
Different brands cluster their sizes in different ways. For instance, one brand's medium size might be categorized as a bigger size in another brand. Therefore, a better approach when making your selection would be to check the tube length and its reach.
The tube length is the distance between the top of the head tube and the bottom bracket. The reach is the distance between the head tube and bottom bracket. You can use these measurements to find a compatible option.
People whose height ranges between 4'10" -5'2", should get a frame size ranging between 13"-14". Those between 5'2" -5'6", need a frame size measuring 15"-16". Individuals who are 5'6" -5'10" tall, require frame sizes that are 17"-18".
Tall 5'10" -6'1" individuals, require 19"-20" frame sizes. Those who are 6'1" -6'4" require 21"-22" frames, and those between 6'4" -6'6"; need one that is between 23"-24". Big brands typically offer this wide variety.
Seat height is not a weighty factor if you have the previous measurements. You can adjust the seat some more, to prime yourself for a particular style.
Riding downhill requires a low saddle, which gives the rider a low center of gravity. Some seats have a dropper, where you can change the elevation at the touch of a button. Such features help you achieve better balance.
Find Top Mountain Bikes For Your Trail Ride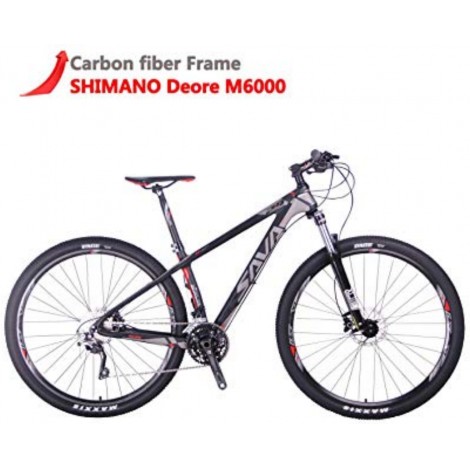 The Savadeck is an excellent mountain bike for professional and more experienced riders. Featuring an aluminum and carbon fiber composite construction, it is both durable and light in weight. It is ideal for climbing mountains and traveling through uneven terrain. It is also easy to assemble even with the expert features packed into the bike.
This trail bike comes at a slightly high price point, but it is fair considering all the primo features packed into your purchase. The features also allow for a secure riding experience, whatever the terrain. You will have a hard time finding another competition standard mountain bike that can offer as much.
It is a Shimano 30-speed machine with gear shifters and features a TORAY T800 carbon fiber frame, which makes it light. You get a wheelset size option of 26", 27.5", or 29". For added comfort on trail riding, it has a 100mm suspension. Every aspect of this model maximizes a rider's performance and speed without compromising on their coziness.
To increase the level of safety, it comes with dual Shimano derailleur braking system, an independent Shimano RD-M6000 one for the front wheel and another for the back. This design ensures that even at high speed, the mountain bike can stop at the pull of a handle.
It is compatible with Michelin MTB tires that further enhance these products maneuverability especially in outback terrain, steep climbs and on smooth surfaced routes. You also get six color options, which is unique in this market segment.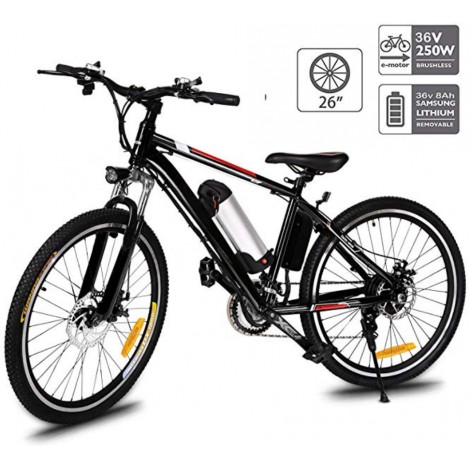 The fast88 is for riders that want a top-notch experience without breaking the bank. This electric mountain bike comes in a sleek black color and features high-quality materials and components. Its frame is 100% aluminum, and the front fork is made of high-tensile carbon fiber for shock absorption.
The 26-inch wheels are also re-enforced with double-layered aluminum alloy. They ensure a more comfortable ride, especially on rough roads. This model features a dual-mode switch, E-bike, and a pedal assistance mode.
It also has a 250w motor. You can enable the E-bike if you are feeling lazy. Users enable the assistance mode to amplify the power behind their peddling. This model also has built-in LED headlights, a horn, and well-placed reflectors: to ensure your night riding is safe.
The front and back wheels have premium-breaking disks that work effectively in whatever weather. It also features a Shimano 21-speed gearing system, which eases the amount of effort needed on steep climbs and adds to the range of terrains you, can power through.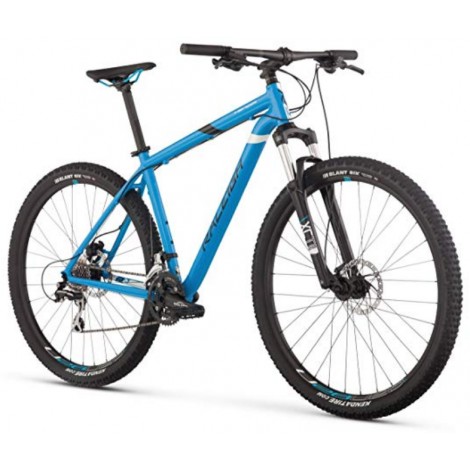 This Raleigh mountain bike is lightweight, simplistic in design and offers a rider the essentials. It takes you only 30 minutes to assemble this model. It is available in four sizes with respect to a rider's height. These differences allow you to pick an option that fits perfectly with your body type and size for additional comfort.
The tekoa's frame is made of a light aluminum that makes this trail bike, resilient, faster, and more comfortable to ride. The 29-inch wheels of this model are enclosed in Clement FRJ 2.25 inches, which guarantee a smooth ride through rocky and vegetated surfaces.
The frame design itself makes peddling easier. This product also features a 100mm SR Raidon fork; for smooth jumps across bumpy terrain. It has Tektro Auriga Hydraulic break disc features with 180/160 mm rotors for safe and rapid breaking no matter the weather.
The 11-speed mountain bike features the SRAM NX rear derailleur for added ease in shifting gears. The handlebars for this series range from 700mm to 720mm, therefore you are free to change up the handlebar if you aren't comfortable.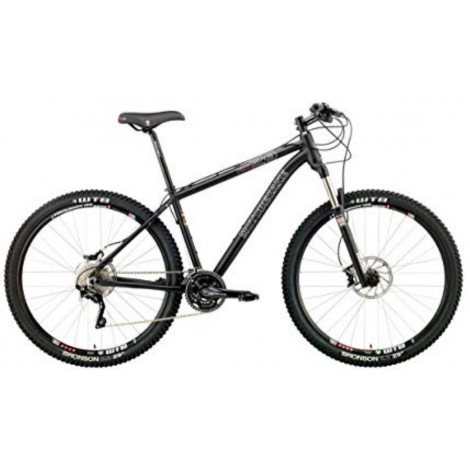 The Fantom 29 elite model keeps up with Motobecane's style tradition. It comes with an impressive design as well as a host of handy features. The Fantom has a hardtail aluminum composite frame and a tapered head tube. It also comes with 29-inch wheels and the ThruAxle Rockshox recon fork.
Additionally, it has a remote poploc lockout, which minimizes on energy loss, especially on smoother surfaces. The features combine to enable the trail bike to glide over uneven rocky and vegetated surfaces. It is also equipped a with the SRAM Guide hydraulic disk braking system which requires less effort.
This feature is also handy for less experienced riders who are unaware of the intensity of breaks to apply. The only major drawback to their implementation of this system is that their disks break easily. This model also features a Tubeless tire compatible system (TCS) that checks on air compressors, run flats, and tire levers.
The rims also cut on the weight the tires add to the mountain bike. As a result, repair shops can easily handle any required maintenance. The TCS also comes with a lightweight casting and a tubeless sealant for added durability, leak-resistance, and hardiness.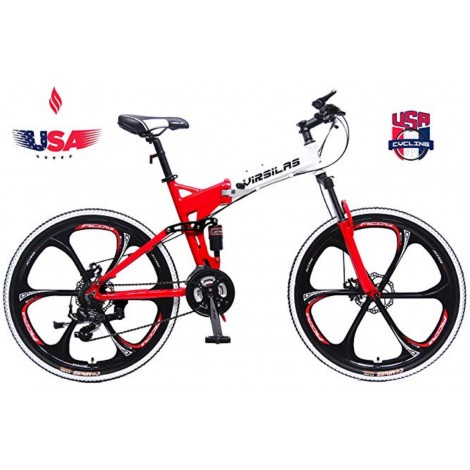 The Virsilas mountain bikes is a small foldable model made of a custom T6 high-end 18-inch aluminum rustproof frame. It features high-quality components and bares many evident improvements to its design, steadiness, and all-around reliability. All these upgrades ensure fewer chances of slipping while riding, ensuring more stiffness and higher levels of speed with reduced effort.
It comes in a racing-ready red color, with some white and subtle hints of black. It also has 21-speed Shimano drivetrain shifters, full suspension (front and rear) to help you reach top speeds faster and comfortably. The bicycle has a dual mechanical disc braking system that features a front Shimano derailleur (FD-TX500) and a rear Shimano derailleur (RD-TY500): to bring it to a stop when you need to.
It has an alloy crown suspension on the fork as well as a fork preload to the left side and a lockout to the right side. This mechanism ensures that you stay upright and stable even if the trail bike goes through a trail full of bumps. The 26-inch wheels on this model are magnesium, making them bend resistant thus more durable.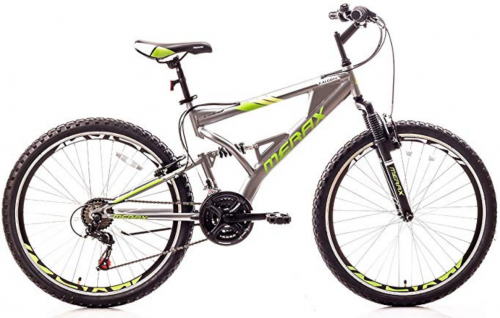 Merax finiss is the best choice for a rider that is in the market for a cross-country mountain bike on a budget. The model comes pre-assembled off the box. All you will have to do is install the pedals, handlebars, and front wheel.
This bicycle has an aluminum frame that features a dual-suspension system for maximum control and a softer ride. The combination results in a less unsettling experience on rough trails allowing you to retain constant contact with the ground. You will also have a better handle on corners.
The model comes equipped with 21-speed Shimano shifters for speed and derailleurs fitted to a mechanical disc braking system. The fork also has 80mm suspensions that are responsible for its handle on any terrain. Its 26-inch magnesium alloy rims are double walled to give the tires an additional layer of protection as well as a steadier ride.
The handlebar and the bicycle seat have natural contours that conform to the human body. This design makes for a comfortable strain free ride. Rest assured that you would not slip as this mountain bike has heavy-duty nylon pedals that have carved grips. Its tires are also anti-skid for enhanced traction on slippery roads, especially in wet conditions.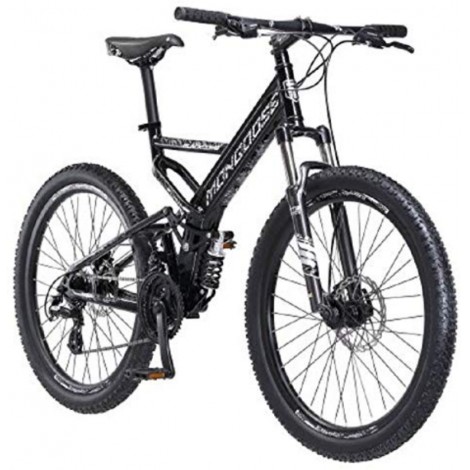 The mongoose is a full suspension mountain bike ideal for facing the rough terrains and obstacles that a hard-tail bicycle cannot manage. It is a well-built model with an aluminum frame decked with a variety of features, which enhance the rider's performance, comfort, and safety.
This bike has 21-speeds, fitted with a Shimano back wheel derailleur as well as SRAM twist shifter for secure gear handling. Its 29-inch alloy rim wheels come with disk breaks for effective braking. The rear suspension is adjustable, allowing the reader to modify the shocks to suit their terrain.
All these features culminate in a product that performs exceptionally: whether riding downhill, in muddy conditions, wet routes, and in any weather conditions you may experience.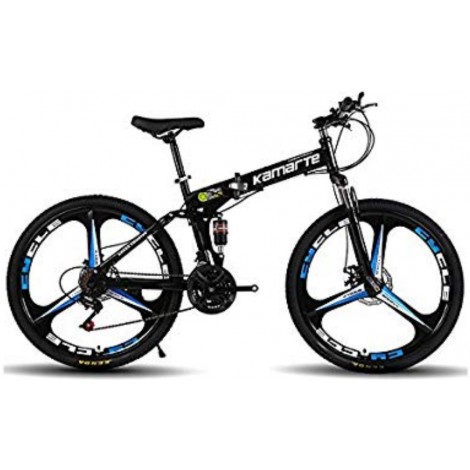 The Omeng is a 12-speed full suspension bicycle that combines the best qualities of a hybrid and a road bike. It handles the toughest of terrains thanks to its high-carbon steel frame, a choice of 24-inch or 26-inch tires, and a shock absorbing suspension on the front.
When it comes to brakes, there are quality front and rear disks that allow you effective control and a quicker stop every time you push the handle. The wheels have a 3-spoke design, which adds to the beauty of this trail bike. That makes it easier to clean and enhances the durability of the wheel.
This model has a quick release clamp that allows a rider to fold the bicycle for easier storage. You also won't need a car mount for most vehicles. It comes in three colors - blue, black and white - which is neat.

9

. Diamondback Bicycles Hook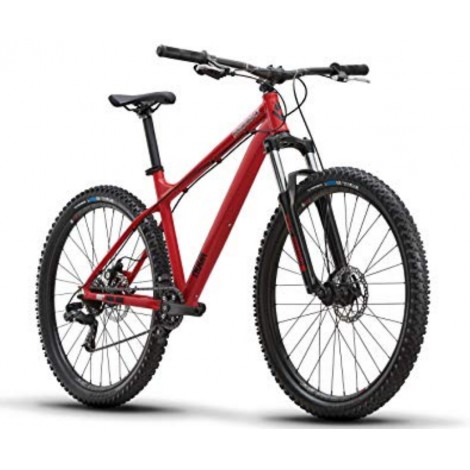 The Diamondback hook 27.5 is a hardtail mountain bike that allows the rider an efficient climb and a smoother expedition through rough and uneven terrain. Its frame is made from a lightweight 6061-T6 pressed aluminum alloy. The bicycle's suspension features SR Suntour XCM fork for 120mm of travel, and it also comes equipped with 30mm stanchions and a preloaded adjust spring.
The named features ease your riding experience on rough climbing terrains. They also allow you to shift gears effortlessly, even while maintaining a high speed. This bicycle comes with the following; an SRAM X-4 shifter, KMZ Z82 chain, SRAM X-3 derailleur, a full chain guide, and an SRAM PG820 Cog set which supports eight-speed gears.
The Diamondback has Tektro Aires mechanical disk brakes. The breaks feature 160mm rotors on the front and rear wheels. For additional stopping power, there is also a "Tektro 2 finger" lever for linear breaks, which can be used to adjust the breaks.
The brand ships it when its 95% assembled. All you need to do is attach the seat, handlebar, and front tire to complete the bicycle. This ready to ride model will save you the time and energy that would go into assembling other mountain bikes.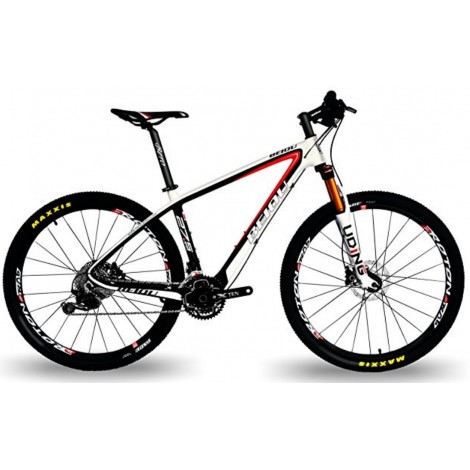 The BEIOU has a beautiful mix of original features, top quality components, and an affordable price tag. Unlike most budget mountain bikes, this model has a sturdy carbon fiber frame. It's more durable and lighter in weight than steel or aluminum. For the rider's safety, this model comes equipped with a disk braking system with Shimano components.
It comes with a 27-speed system that is equipped with Shimano Alivio gearing to optimize your speed and level of control. The front suspension fork is air-filled. This feature makes for a very smooth ride, whatever the terrain. The model comes in three sizes; 15-inch, 17-inch, and 19-inch. The handle bare is flat and made from carbon fiber.
The bicycle also has large tires with threading and groves for improved traction. It is easy to assemble and comes with a manual with instructions. The manual will guide you in setting the mountain bike up within less than an hour. It also has a padded seat for additional comfort. This bicycle is worth purchasing if you need an entry-level bicycle featuring high-end components.

Subscribe to our Newsletter