Best Insulated Hunting Boots Reviewed and Rated
In a Hurry? Editors choice: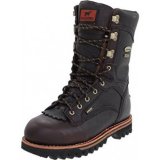 Test Winner: Irish Setter 860

Going on a hunt is one of the most exciting events in any nature-enthusiast's life. Whether it's your first time, or you're
a seasoned hunter
with years of experience, there is one thing you will definitely need - a good, comfortable pair of boots that will allow you to
walk for long hours
, while keeping you protected from the elements.
Often, these elements include rain, snow, and generally cold temperatures, which is why a sturdy pair of insulated boots is a must. With a variety of models available, from the lowest insulations meant to keep you comfortable in mild temperatures, to those made for arctic conditions, you'll find a wide range of options available for purchase. The list below chooses the ten best models for all types of climates, all 100% focused on keeping you
warm and comfy
.
Standout Picks
Criteria Used for Evaluation
Style
We guess that you are already well versed about the styles available, but just in case we will elaborate on the main types you can get. This topic is broken down into three categories:
Field boots: you can usually see hikers wearing them - chunky, sturdy and with great grip. They have a variety of lacing and other aspects on their upper to secure your foot and ankle, while also having various materials that provide enough protection and breathability.
Rubber boots: these are more common and for a good reason. They are scent-free, so you never have to worry about animals noticing that you are near. Obviously, if they are well made, they are also waterproof, which makes crossing streams and other bodies of water an easy task. But, you have to consider the warmth of your hunting grounds - they tend to get quite warm!
Snake boots: obviously specialized against snake bites. They have an extended collar and various materials that protect your skin from being pierced by venomous snake fangs!
These are the kinds you can get, and you can get ones that are the best fit for your desires, depending on where you hunt and how often you do so. We hope we helped you along the way!
Water Resistance
Having footwear fit for a hunter that is also well insulated is important, but one important aspect you should also think about is how waterproof they are. Think about it - will insulation help you if your feet are already wet? It is important to know the difference between water-resistant and waterproof. The first will hold off the penetration of water to some extent, so your feet will eventually get wet, while the other will keep your feet dry indefinitely.
Knowing which material offers the best protection is key. When it comes to leather, the styles made from full grain leather are the ones you should be looking out for. Active leather has microscopic splits and will eventually start to let water permeate inside. It is water-resistant though, and it does so by being covered with a PU layer. PU gets scratched off easily, so it's important to take care of your shoes.
Waterproof styles have a special lining inside that keeps the water at bay. This layer is attached to the sole, say like a sock, and it protects you in all kinds of weather. The leather is never the reason why something is waterproof, it's always the lining!
Insulation
Over the years, people have come up with a huge variety of ways to keep their feet warm in winter. Nowadays, there are a few that are commonly used due to their performance features:
Thinsulate: a trademark of the 3M corporation. It is a type of synthetic fiber insulation that was only recently created. Compared to traditional synthetic insulation, the threads here are much smaller, thus allowing more Thinsulate to be used in the same amount of volume. It keeps your feet toasty while also wicking moisture.
PrimaLoft: originally created in the 1980s by the US army, and it was available for the wider public later, in the 1990s. It is also known as synthetic down, because it imitates the greatest characteristics of down, while also keeping optimal performance after being dried, whereas regular down breaks apart.
Removable wool/Felt Liners: these are a more traditional way of insulating footwear. Compared to other kinds of insulation, it has been around for decades due to it being very light and super effective. The best part about them, as the name suggests, is the possibility of removal for drying. Warmth is determined by the thickness of the liner - the fatter it is the warmer your feet will be!
Fleece/Shearling: this is a well-known option, that has been around for ages. They are popular because they are light, cozy, and cheap. Fashion-minded footwear will use this option more than footwear with a purpose.
These are just some of the insulation options you can run into. There are more kinds you can run into, but we believe these are one of the more common options available nowadays. You should also watch out for grams - 200 is enough for walking around cities and more welcoming environments, but if you plan on trekking or venturing out into nature, go for 400 or higher!
Advanced Features
We all obviously know why insulation is important, but what kind of insulation exists today, and which kind is the best? First, we should say what doesn't qualify as insulation:
Gore-tex: is not a type of insulation. There are a lot of options today that have Gore-Tex in them, and that may give you the impression that they have insulation, which is simply not true. Gore-tex is just a porous thin membrane that surrounds parts of your boots. The main purpose of this membrane is preventing water from entering the boot, while still allowing your feet to breathe. This works because water vapor that comes from a foot has smaller droplets compared to external water. So it's great for waterproofing, but not an insulator at all!
Thermaplush: it may sound like it was created to warm your toes, but that is not the case. It's just a layer of soft, comforting material that resides next to your feet. In other words, it's the top layer of your insole, and the main purpose of it is to provide you with comfort. So, zero insulation value!
Size
An often overlooked feature of any boot is its size. While we all may be looking for Thinsulate, felt or shearling constructions, or even paying attention to the way in which a certain model provides water protection, we often forget to think about the simple fact that a tall boot is going to keep us warm more effectively than a short one.
When shopping for boots, not just for hunting, but for everyday life as well, it may pay off to invest in a taller model that'll cover a greater portion of your leg, more effectively trapping the heat which your body naturally generates. This type of footwear will also provide the benefit of added protection in terms of ankle stability, as well as from unexpected injuries such as cuts or bruises that can often happen when in nature.
The downside of a tall boot, however, is the fact that it will considerably heavier than it's short counterparts, as well as that it may limit mobility. If you are looking for something lightweight, or just prefer to be able to move as freely as possible, go with a lower style, but make sure you wear the proper clothes that won't let your body heat escape too easily.
Tp 10 Insulated Hunting Boots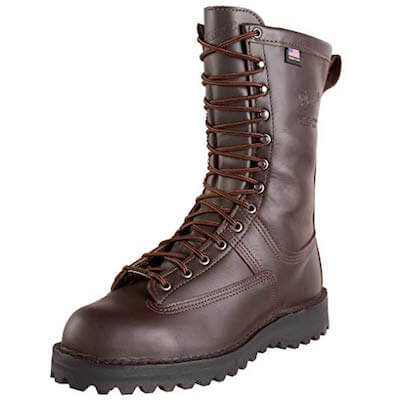 This model is made in the USA, using the best technology and materials available. What differentiates it from similar styles is the 10 inch shaft which not only stabilizes your foot, but also provides added warmth and protection over your shins - making it the perfect choice for nature use. Additionally, the brand is known for their customer service and the care services they provide to existing customers, so you can always send these to one of Danner's centres for leather care, re-stitching or part replacement.
The two main features of the Canadian are the Gore-Tex waterproofing system and 600g Thinsulate insulation system which keep you warm and dry in moderately cold conditions. This is the perfect combination for those more active hunters who tend to overheat in bulky boots.
But, what actually makes this boot such a great buy is the premium quality full-grain upper, the supportive (but removable) insole that ensures your arch and heel are held in place, helping with proper alignment, a self-cleaning outsole with deep lugs to grip any surface (no matter how muddy), as well as a stable construction. The downsides are the heavy weight, as well as the price which is almost twice as much as some of the more expensive items on this list.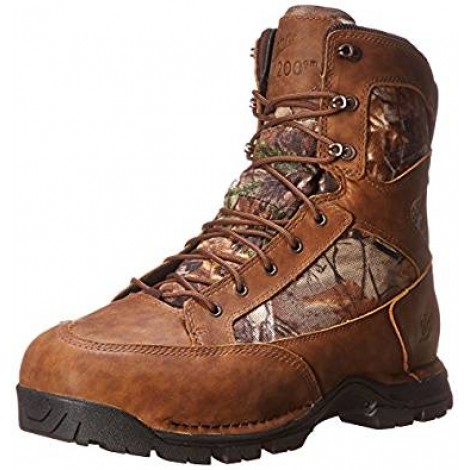 These premium hunting boots are a perfect combination of good looks and high performance, what any hunter may need! A combination of camo hide leather and fabric makes the boot lighter, but more effective in what they are supposed to do, and that is to make your hunt more efficient and enjoyable. The soles are rubber, Pronghorn, for solid traction over the most rugged of terrains. Gore-Tex makes the inside of the shoe a welcoming environment - arid and dehydrated, just what your feet need. A platform is featured - Terra Force, for superior stability, and for supporting your sensitive feet. The insoles are Ortholite, providing sensational comfort.
Imagine this - you are walking around different, unfamiliar ground, and you can feel each and every nook and cranny when you step onto them, every pebble feels like a needle poking through your arches! To avoid all of this unpleasantness, find soles that give you sublime comfort and just the right amount of cushioning - go for Ortholite because that is just what they do!
This model features Thinsulate, a creation of the 3M corporation. Synthetic fibers make the core of this insulation. The threads used to make this type of insulation are minuscule, allowing for more material usage in less volume. Toasty feet are happy feet, and that is what this insulation provides!
No Danner boot was created cheaply - made with care and the wellbeing of the users in mind, rarely anything is amiss. So, the value has a high cost too, and that is to be expected! Shell out a bit more for a lot more quality and effectiveness!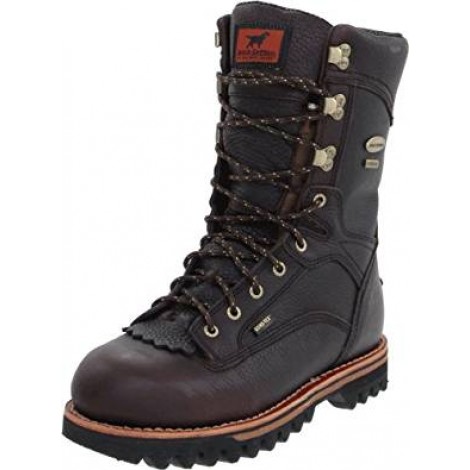 This heavy-duty workhorse will provide all the things you might need when you go hunting next time. They are completely made out of leather - have no fear, it's full-grain and fully waterproof! They are lace-up, so you can adjust the fit however you desire. A kiltie overlay decorates the toe-box, while the logo emblem makes the shaft more colorful. Gore-Tex lining improves the waterproof aspect, even more, so your feet won't even feel the smallest grain of moisture. The insulation is a 1000g Thinsulate, keeping your feet happy and balmy throughout even the worst of blizzards. The soles have excellent traction and grip, thanks to the Bulls-Eye Air Bob Aggressive sole. ScentBan technology helps kill harmful bacteria and removes unpleasant odors!
This model features ScentBan technology which is exclusive to Irish Setter, and boy, what an innovation! That is a special kind of process through which all kinds of footbeds and linings are put trough - be it leather, synthetic or anything else in between. It kills all those pesky bacteria that form thanks to the warmth and humidity our feet provide, and it also kills all the icky yucky odors that can accumulate there!
Gore-Tex prevents moisture from the outside from penetrating inside, while also allowing moisture inside to escape and leave you dry and happy. It has over 9 million pores per square inch - and each pore is devoted to giving your feet the environment best fit for them, moisture and water-free!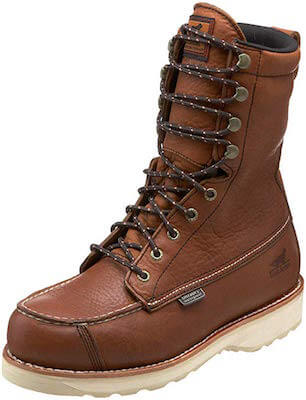 The 896 by Irish Setter is the perfect choice for those who only need light insulation, or prefer something more lightweight for when they're on the move. Made for bird hunting, the 896 is a tough, durable style by a reputable company. Additionally, it looks amazing, and many people will be tempted to wear it on casual occasions as well as for their weekend nature getaways.
This cold weather upland hunting boot is made with plenty of tech that's meant to make it better than the competition. First and foremost, there's the UltraDry waterproofing system which keeps water out, but also employs a moisture wicking system on the inside of the shoe to keep you dry at all times. The insulation is Thinsulate which is lightweight and doesn't create bulk, while still keeping you warm.
Other notable features include a removable polyurethane footbed that you can replace with custom orthotics for more shock absorption or arch support, as well as a lightweight outsole that's been constructed with a Goodyear Welt, which is a quality guarantee in itself. The model comes in medium and wide widths, and is priced slightly higher than other models, but is definitely worth the investment.

5

. Rocky Blizzard Stalker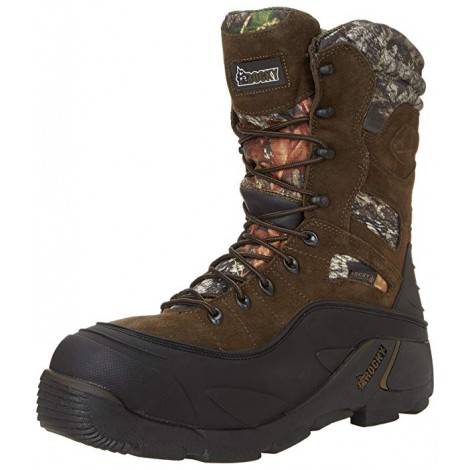 One more great addition from Rocky's Men! The Blizzard Stalker does just what the name suggests - trek through even the toughest of blizzards. They are a combination of waterproof leather and textile - goodbye pesky moisture. The upper is lined with Cordura - Thinsole 1200 gram insulation, for even the coldest of weathers. The multi-directional outsole provides great traction, and the lace-up front and molded foam padded collar make these a joy to walk in.
No wind or water can get through these reinforced forces of manmade prowess! The rubber adds even more insulation to the already well-insulated boot and makes it even harder for water to breach. This extreme protection makes this pair ideal for cold, unforgiving weather. Beware elks, a new hunter is on the prowl! If you are a still hunter, like to stand around in one place for a long while, or simply sit in the snow to fish, then 1200 grams is just what you need. That much gram is too thick for an active user because you get a tight fit that warms you up properly, but if you move around a lot, a work boot with 400-600 grams will be better for you needs.
These are a great hunting boot for still, patient hunters and such hunters don't need that much flexibility like active, on the run folks. And so, it doesn't have that much innovation and technologies, and the price is equally lower. But, if you like to fish or to sit on tree branches when you hunt, don't miss 'em!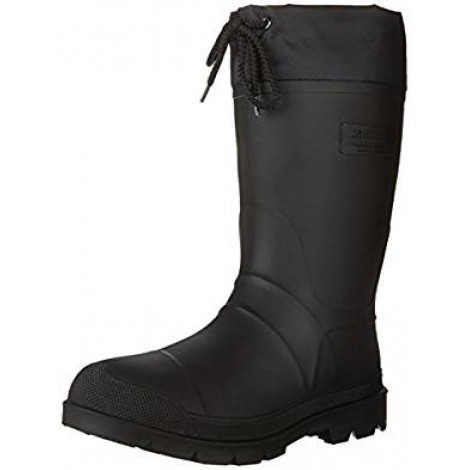 Always be on the prowl with these by your side- or, rather. on your feet. After all, your favorite hunting dog is probably the one actually by your side! They are synthetic, including the insoles as well. A 1.25-inch heel is present, making trekking a lot easier. The boot opening measures approximately 15.5 inches around and has an adjustable snow collar, making it an unpenetrable fortress for all kinds of weather. They are completely waterproof, and have an amazing -40 Fahrenheit rating, keeping your feet dry and toasty all the time! Be even warmer with a removable 8mm thermal-guard liner!
Don't let the sudden change of weather surprise you and leave you wet! The adjustable collar makes protecting your delicate skin from the harsh weather super easy - just tighten the rope and voila, you're done!
Always be prepared with these hugging your feet! There is nothing more important than keeping your feet dry - after all, that is where most of your heat escapes, and if they are wet and cold, you risk getting a cold and skipping out on hunting the next week! Usually, footwear is water-resistant, but there is a special process, involving unharmful chemicals, that create the perfect waterproof shoe! Considering all of the great aspects it has to offer, we do believe that this is one of the best deals you can find these days!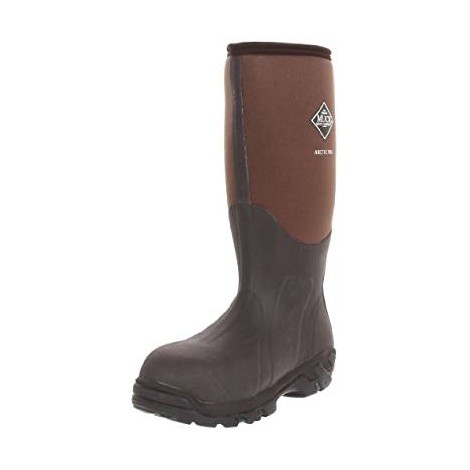 This Arctic Pro pair is one of the most stylish and purposeful boots around today. They are a combination of synthetic and fabric, all sitting in the right places - fabric on top so your feet get the air they need, and synthetic on the bottom to protect you from the elements. The top line is a stretch-fit kind, ensuring you get your feet into these high boots with ease. The outsole is molded, garnished with rubber spheres that will make it easier to climb and move through tough terrain. Double reinforcements are present at the instep, Achilles tendon, and the heel, relieving your feet from the pressure of the impact with the ground. There is a 2mm foam underlay, making sure you never feel the cold embrace of winter. The midsole is the EVA kind and is cushioned, so you won't feel even the smallest pebble when you walk!
No one likes to struggle when putting on their new pair on - it's a time waster, and it can hurt! Why struggle when there are better options out there? And the stretch-fit is one of them - not only does it ease putting on boots, but it also molds according to the shape of your calf, so a snug fit is always there!
Slippery surfaces are everywhere in nature, especially if you decide to visit a swamp or a similar type of terrain. Imagine this - you just locked onto a target, ready to shoot, and your foot slips! The animal was scared off, and you are left injured and without your trophy. So having a molded, rubber outsole seems like a great solution to this problem, and that it is! It will help you stay upright even in streams! These MuckBoots are one of the priciest on our list, but their value is also immense. The protection they offer is amazing, and every outdoors-lover should give them a chance and try them for themselves!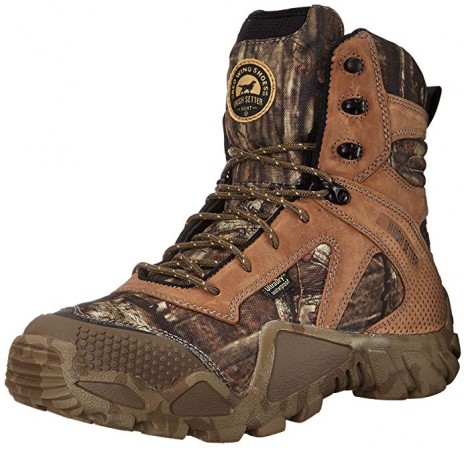 One more great work boot from Irish Setter, perfect for hunters that desire lightweight durable footwear. How is this boot 40% lighter than the others? The RPM advanced outsole makes it happen! The leather is full-grain and waterproof, and the uppers are nylon - waterproofing is achieved with UltraDry, a great way to make your feet dry and give them enough air. PrimaLoft Gold Eco 400 grams insulation makes you toasty and happy, a perfect contrast of the harsh, cold winter. Bi-directional lug pattern makes the outsoles ideal for hiking. Armatec heel and to add even more durability to the already sturdy boots. Insoles have memory foam cushions, and the collar is padded as well, for cozy, cloud-like comfort.
RPM is a breakthrough composite material that makes this design so much lighter. In fact, it's almost half as heavy than other brands! No more tired, unhappy feet from heavy, clunky shoes. The material provides extra comfort and added endurance as well, all with so much weight shed off!
This model features UltraDry construction which combines lining that regulates moisture and also has waterproof components. So that makes it the best for creating the ideal environment for your feet - no water can come in, and since sweat droplets are smaller, they can easily escape, leaving you as barren as the desert!

9

. Lacrosse Alphaburly Pro


These neoprene and rubber knee-highs offer a professional look and effectiveness. The soles are a Lug Sole, a premium-grade rubber that protects you from slipping, and won't melt in the heat or go rock-hard in the cold. The premium rubber is laid over a 3.5 mm neoprene core for a flexible, and scent-free, cozy fit. The liner is embossed, so your feet will stay dry, get the proper ventilation, and retain no moisture whatsoever. They are an Active Fit - an adjustable neoprene gusset makes it easier to put the boots on and off and makes sure your feet stay where they are supposed to be. The toes have multiple layers of rubber, and the heels as well, and the vamp has two layers of rubber, adding even more support and durability!
The Alphaburly's liner makes sure you get the proper ventilation, without cooling down your feet! Never worry about your sweaty feet going stiff, or sticky! This innovation is one of the best aspects of these brilliant boots! They are the perfect hunting partners. The rubber is hand-laid over the neoprene liner, in varying thickness and number of layers. There are three layers on the toes and heels, and two across the instep, making this pair very durable. Rest easy knowing these will hold together no matter what you put them through!
So many great innovations for a great price! Who would have thought that almost anyone can afford themselves a pair of these wonders? Have a great hunting experience with this technology wonder pushing you through every obstacle!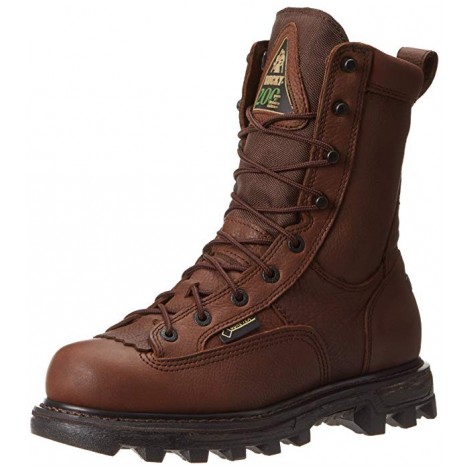 Rocky Men's are a great versatile choice - whether you plan to hike on for miles, or just to walk around the city with no real purpose. This mid-calf design is completely made of full-grain leather. This gives them durability and flexibility. They also have an easy lace-up setting, so you can do the trickiest part in no time. The outsoles are #D, and resemble a bear claw, which is just how they got their name! Polartec offers insulation and water protection, making them the perfect pair for people all over the globe.
No need to pull laces through eyelets again, and waste so much time doing so! Just criss-cross them at every place where you are supposed to, tighten them to your liking, and you're good to go! When you swell up in the evening, just loosen them up, and voila! The perfect fit.
The Bearclaw shows just how serious Rocky was about traction and slip-proofing when creating this mid-calf boot. Featuring deep set crooks and protruding rubber ridges, these will make sure you'll be able to walk even at a 90-degree angle! No need to worry about that steep hill anymore. Although this design may come at a premium, it is absolutely a solid choice for anybody who needs a shoe that works with them, not against them. The chunky sole gives excellent traction in all conditions, and the manufacturer left little out of the design. Overall, this is a great value in a pretty package.

Subscribe to our Newsletter