Best Dog Boots & Shoes for Wintery Weather Reviewed
In a Hurry? Editors choice: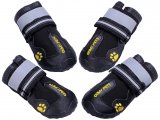 Test Winner: QUMY Dog Boots

Depending on the individual, snow is either welcomed or dreaded. For some, it may mean a lot of shoveling and dangerous driving. For others, it may mean a welcomed day off or fun in the snow with the family. Regardless of the weather, there is one thing that remains the same; the need for your puppy to relieve themselves or go stretch their legs. Snow and the winter weather can affect your their paws greatly. That is why most owners choose to buy a pair of dog boots to protect their pet from the road. When choosing them, comfort, durability, and price point are all important factors to take into consideration.
Standout Picks
Criteria Used for Evaluation
Durability
A good, durable boot is very important. They will be running and jumping in them. It is important that what is selected will not fall apart. Similar to humans, we need footwear that is dependable and will get the job done. The idea of purchasing a pair for your pet is to protect their feet.
Durability can mean many things, such as how long can they be used before another pair needs to be purchased. A good quality pair should last you at least two years. They should be able to withstand day to day use and not crumble. Daily use is also that is something that is subjected to the lifestyle of the pet and owner. Daily use can be something as simple as a walk to the park, or around the city. It could also mean hiking, swimming, and other activities each day. Depending on how you use them, they will either last a little longer or have a slightly shorter lifespan. Regardless of how you use them, it is important to choose a quality pair as this is something the owners rely on to protect their pet.
Another thing that would be considered in the durability factor is how thick the rubber sole is. It's a common assumption that the thicker the sole, the better. In fact, it is not. A thin rubber sole may be stronger and more durable than a thick rubber sole. This is because the thin rubber sole will provide the flexibility that a thick rubber one may not. Flexibility is important because the rubber needs to withstand the pressure of their weight and it also needs to be able to bend and adjust to the gait of the puppy. A thick piece of rubber may be too rigid and unable to adapt to the way they're being used. If the rubber is unable to bend and flex, there is a chance the rubber may crack or come apart where the fabric and rubber meet.
Comfort
Many pet owners struggle with finding a boot that will be comfortable for their canine best friend. It would make it a lot easier if our pets could tell us exactly what was uncomfortable, but unfortunately, until a translating device is invented, owners are stuck guessing whether the boot is right.
The ideal boot is something that can be worn in the garden, around the city, and on adventures. However, not many pairs will fit all the expected criteria. As a result, the general rule is that the boot needs to be flexible enough that it is not causing discomfort when being used, and it is also durable and strong enough to support your pet on uneven terrain.
As owners, we have to pay attention to how the puppy is wearing the boot. If it is too loose, they may not like it as it may feel like they no longer have control over their paws. If it is too tight, it may cut off circulation or chafe and rub their feet raw. Overall, it is important to see if the rubber sole will bend and is softer inside the boot compared to the outside. If the rubber is the same hardness inside and out, there may be a chance to develop blisters or have their skin rubbed off. Alternatively, if the rubber is the same softness outside and in, there is a chance the rubber outside will wear quickly and require you to purchase a new shoe. Ideally, we are looking for a slightly softer inner sole and a thicker, more tough rubber on the outside. This will allow them to have a lower degree of impact on their bones and also protect their paw pads at the same time.
Traction
When people think traction, they tend to think only of the traction required to get a grip on something. However, inner traction and outer traction both need to be considered. Apart from protecting their paws, one would hope that they are able to walk in them without slipping. So it is important to ensure that the boot you are choosing does not have a smooth bottom. Most have ridges, bumps, or lines on the bottom of the boot. This allows for the canine wearers to get a better grip on the surfaces that may be icy, rocky, or wet. Some of the more popular brands have chosen to come out with a pair of with raised crosshairs on the bottom. These bottoms give the ultimate grip as there are marks going in all directions, preventing your puppy from sliding along with the pattern on the bottom of their boot. When the weather is harsh outside, it is very important that your pet can rely on them for protection and to be able to maneuver the roads.
They also require the inside of the boot to give them traction and grip. Because their paws are where they sweat to cool themselves down, there is a chance of condensation building up inside the shoe. When this happens, the inside of the boot becomes slippery and makes it incredibly hard for them to get a proper grip. Many of the more reliable brands have markings inside the boot, allowing for a proper grip. If they are unable to grip the inside of their boot, it is irrelevant whether they can utilize the outside for traction or not. Ideally, the boot should have either a ventilation system that keeps their paws cool and dry or have a system of ridges and bumps inside, allowing for a good grip. The ability to grip and gain traction from the inside of the shoe is important especially on uneven surfaces or while they are climbing as they may slip and hurt themselves if they fail to grip the soles on the inside.
Stability
It is important for the boot to give your pet stability in everything they do. An unstable boot could cause them to lose their footing and slip. Another common injury from an unstable boot is a sprained ankle. Stability is one of those things that you cannot really judge until they actually use it. This is because stability is something that is hard to describe. When a person purchases a boot, they can feel how sturdy the inside of the boot is. Unfortunately, pets cannot communicate whether the boot feels study or not. The only way we can tell whether their boot is more sturdy is the materials used to create the boot itself. If the boot is mainly made with elastic, there is a chance that the elastic will wear out with use and time.
For stability, it is best to purchase a pair that has an adjustable velcro strap. The velcro strap will ensure that even if the boot stretches, it can be adjusted again to create a snug fit on their paws. The idea is to have the boot fit properly on the paw so that it doesn't slip or trip them. The velcro strap will also support the shoe and keep it in place. It will also keep the boot tighter and straighter, ensuring that the puppy is not making unnecessary adjustments to the way they walk, which would potentially cause discomfort or an injury.
Weather Resistance
It is very important for a boot to be able to ventilate quickly or have a design that can withstand the elements. A wet boot is never something anyone wants to deal with. Not only are they soggy and feel terrible, they also smell really bad. A quick way to deal with it is to throw it into the wash and hope the smell leaves. However, going on an adventure with a wet inner sole is a dangerous idea. Because of the damp, dark, and warm environment, their paws can cultivate a lot of harmful bacteria that may hurt them. If any of these bacterias are absorbed through the skin, there is potential that your pet can become ill. There is also another chance that the bacteria can be ingested, which may amount to a very expensive vet bill.
Some pairs are made of high-quality mesh that can ventilate the boot and dry quickly. This is an ideal type of boot as even if it gets wet, it will dry quickly. It also allows airflow to go through the shoe and dry the paws, thus eliminating the chance of a bacterial growth.
Other ones are made of a waterproof material which guarantees that their paws stay warm and dry. These types are great as they keep the elements out and ensure that the paws are not damaged by the cold or ice. Their downfall is that you have to be careful that you are selecting a reliable and trustable brand. Some of the ones that are mass manufactured have a flaw where water can seep in between the waterproof fabrics and the rubber sole of the boot. This will not only result in creating a good environment for bacteria, too much water inside the boot may also mean your pet has a greater chance of slipping.
Top 10 Dog Boots
1

. Canine Equipment Trail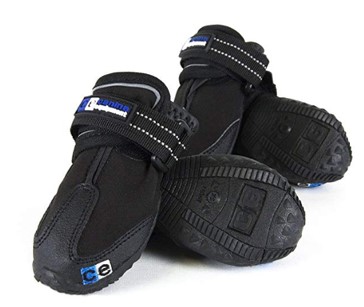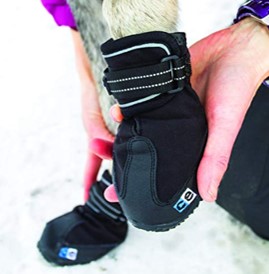 Perhaps you've been in the situation before, where you take your beloved dog out for a hike, only to have them get into brush and step in some not too pleasant thickets, or worse, glass left behind from other hikers. The Canine Equipment Trail boot will allow you to keep those hiking days positive with protection! Rubber soles on this set of booties will keep rocks, thorns, and worse away from your dog's paws and have them strutting along with you in comfort.
Each set has four booties, but hind and front booties are sized accordingly to fit your dog perfectly. Rubber soles make these great for protection against climate temperatures from cooler fall months to hot summer days, and allow for better traction on any kind of terrain you encounter. A bit of patterned tread at the base and front of the sole help with grip on loose gravel as well as steeper inclines, as well as icy conditions.
Uppers are made from a textile material that allows for breathability, but also water resistance, keeping your pet's paws from being soaked in the rain or when traversing creeks. With an easy cinch system of a hook and loop closure, they're simple to get into and out of after hikes or walk. Velcro closures allow for an adjustable, yet firm fit so they won't fall off mid-run either. And, with sizes to suit smaller dogs, to larger canines, you can find the perfect option for your beloved four legged friend.

2

. My Busy Dog Water Resistant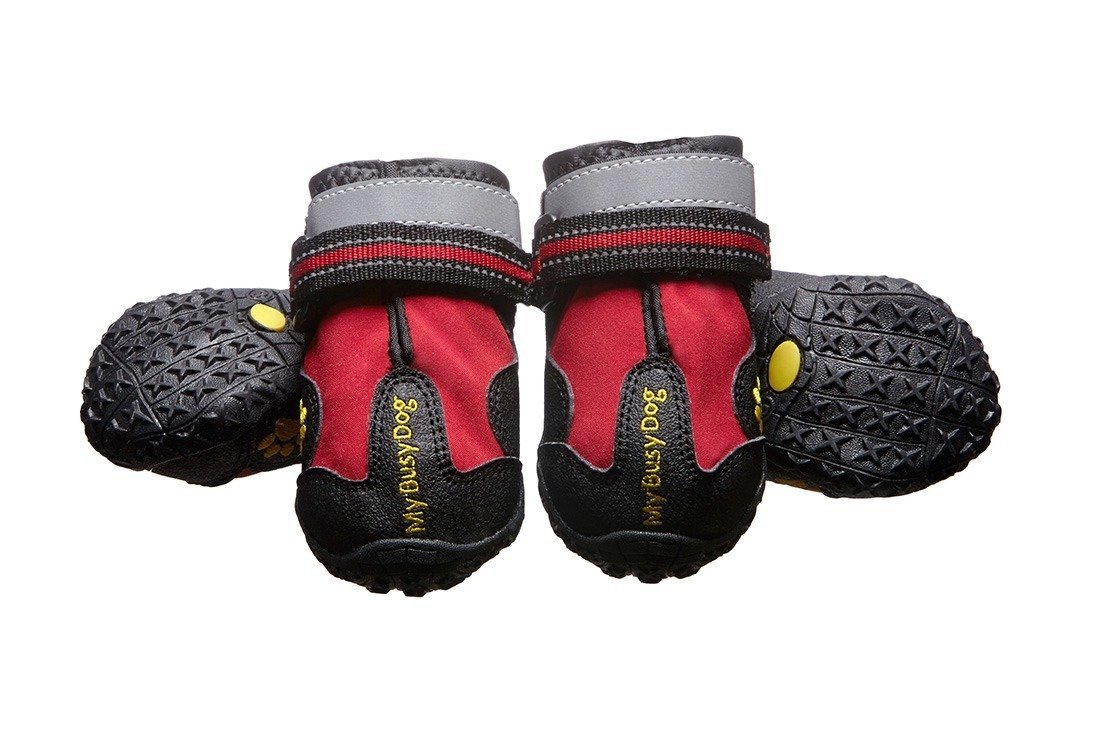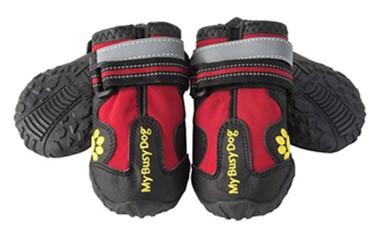 This bootie is incredibly popular for its many features. Unlike many other models on the market, these ones are sewn together so that they will last longer compared to others that are simply glued. Using high-quality fabrics, they give pet owners a peace of mind that the fabric will not chafe their pet's paws.
These booties are designed with an adventurous puppy in mind. They have an anti-slip system of ridges inside so that your pet will not slip from playing in a puddle or because of their sweaty paws. These ridges also give your pet some more stability on uneven surfaces and provide some traction when they are climbing.
Having them saves you a lot of time and effort in cleaning up after going outside. These water-resistant ones keep your pet's feet warm and dry on their walks regardless of the weather. These booties are designed for work. They will work and support the paws of your pet in any situation or circumstance they are put in. Whether it is a walk in the snow or even a hike up a mountain, they are going to give you the best bang for your buck. They are reliable and can withstand everyday use.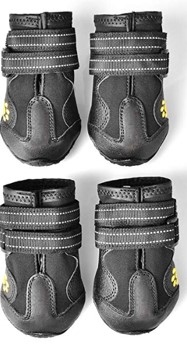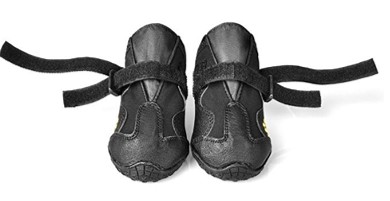 Versatile in their use, the Pupwe Dog Booties are great for warm or cold weather conditions, and available in several sizes depending on the kind of pooch you want to protect. From small to Labrador sized dogs, there are options for however small or large your pooches paws are. A secure fit, protected paws, and comfortable design makes this option well worth a closer look to keep your furry friend safe and cozy!
The bottom of the Pupwe Dog Booties is a rugged anti slip sole with a patterned tread, which helps to keep your dog's feet safe on hotter pavements, sand, or cooler icy conditions. Tread pattern also allows for better grip during play, or across slippery floors or tiles. Each purchase includes four paw protector booties, so you'll have exactly what you need in one purchase.
Fit is key with dog booties, and Pupwe makes it easy to slip your dog's paws into these booties. Two Velcro straps allow for an easy on and off into a split leather and fabric upper, then adjust and fasten them with and easy cinch. Leather adds an element of durability to the bootie, while the fabric helps create a breathable atmosphere for your dog's paws.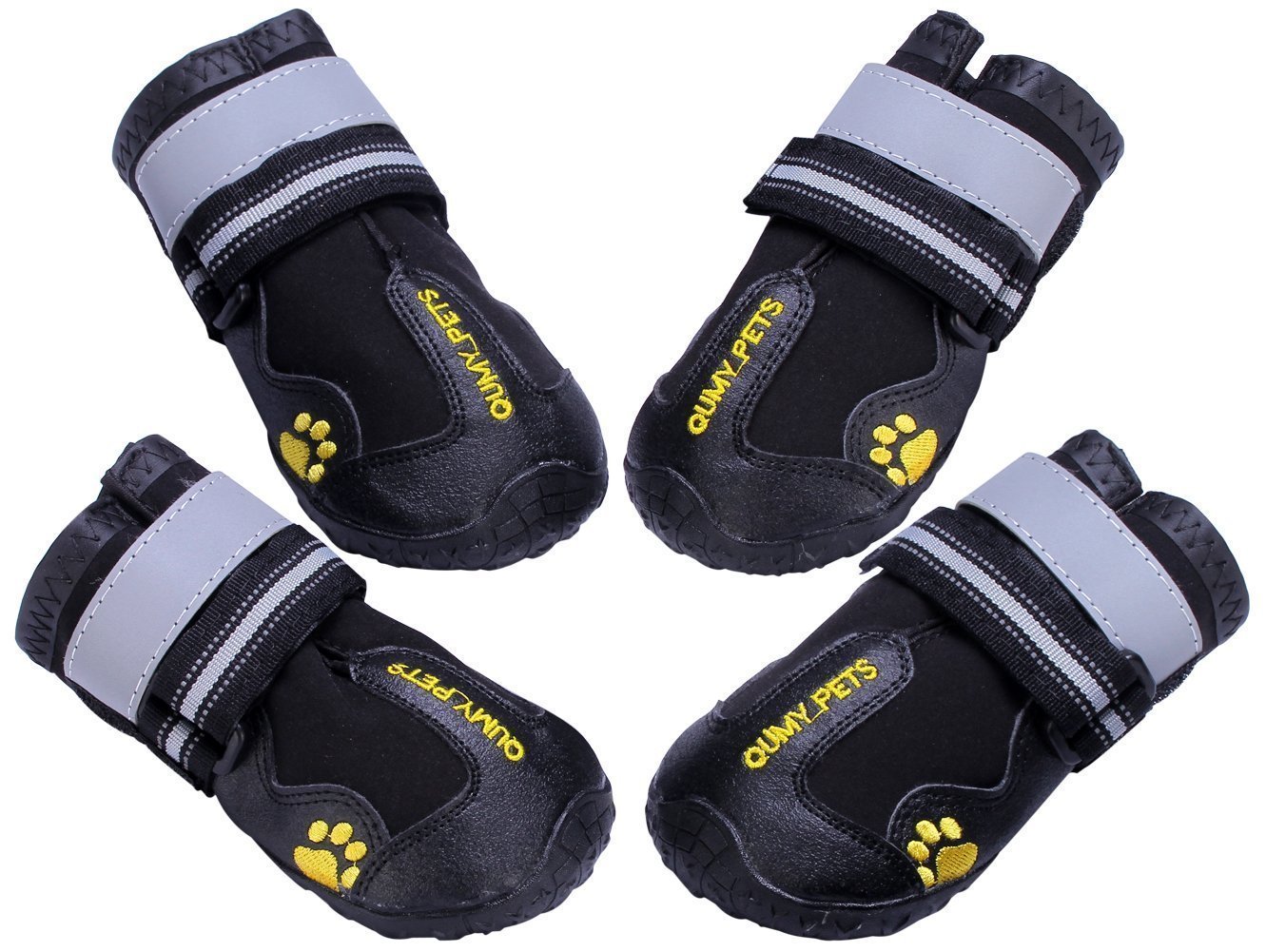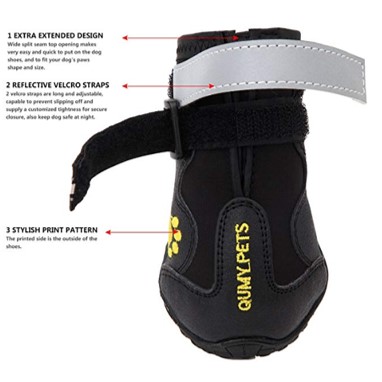 QUMY has been a popular brand with canine-lovers as their best designs are for larger pets. Because of a misconception that little ones are usually those that need them, larger ones tend to not have much selection. QUMY shoes are reliable and fit larger ones really well. They are designed with comfort in mind and are secure enough that you do not have to worry about them falling off on a walk.
These ones are well loved for how easy they are to take off and put on. The opening is stretchable, allowing for easy wearing even for the most difficult pets. The seams at the opening are split and can stretch to prevent the boot from ripping when it is put on. There is also velcro straps that allow for adjustments to keep them on tight and prevent them from falling off.
Despite wanting to keep the weather out of the boot, the design of the inside is just as important. They have rugged lines on the insoles so that it allows your pet to get as much grip and traction as they possibly can when they are climbing. While walking on flat ground, these rugged lines are also great as it prevents your pet from slipping when they get them wet or when they start to get sweaty paws. These are worth every penny spent on them. They have many features that make them extremely reliable in any weather. They are also weather resistant, which ensures that the rain or snow is kept outside of the boot. They are very durable and will be able to withstand the elements and being used every day.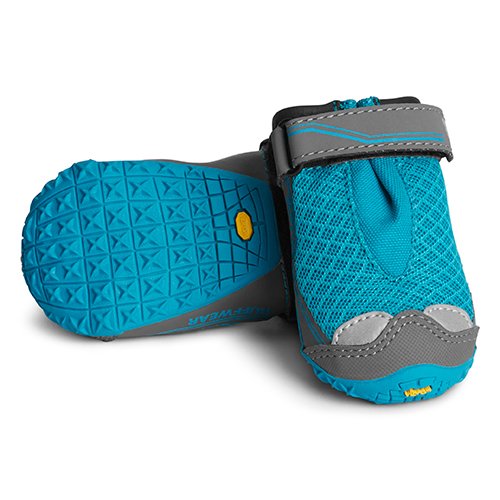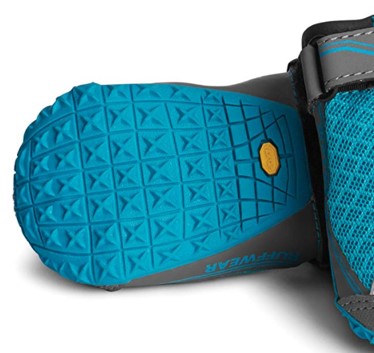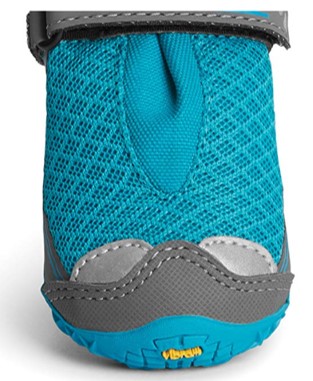 Ruffwear is a very well known brand for pet clothing. They are known for providing adventurous pets with clothing that heavily emphasizes performance. Ruffwear products are such high quality that they provide a performance guarantee. For animals that are often out exploring, it is important to invest in a boot that will provide them the support they need when they are walking on uneven ground.
This pair has an added bonus that they are breathable. The top of the boot is made with mesh, allowing for air to circulate and flow around the paws of your pet; all while keeping all the dirt and debris out. The mesh also dries quicker than any other material, keeping the stale smell to a minimum.
They were created to be all-purpose. As an adventure can take a pet anywhere; it is necessary to have a boot that will be able to withstand anything. Rugged patterns are built onto the outside of the boot, allowing pets to get the most traction without slipping. These ones provide a lot of value for a decent price. There are many features and benefits to this boot that other ones are unable to provide. Ruffwear is also a reliable brand who have been creating gear for pets for years. Between the brand name and guarantee, they are definitely going to work for your pet for years to come!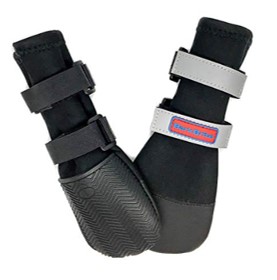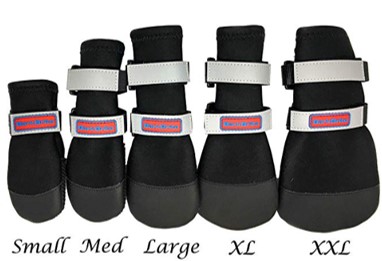 Another solid brand in our list, Bark Brite has created a product for your pet that is durable, functional, and adjustable to any size paw. They've put hours behind the development of a quality rubber sole for protection, as well as testing for functionality and fit. Designed for an easy use, each bootie has a slit along the back for easy access in and out of the boot. With an extended ankle and dual strap closure, they're made to stay on and fit securely without coming off from rigorous activities.
The base of the Bark Brite Neoprene has a rubber sole designed to be slip resistant, with a herringbone tread for grip and texture. The fit of the boot has been designed with thought of your dog's paw for activity, allowing room for splay and natural paw movements. Not only does this sole protect against water and wetness, it's also puncture resistant, helping to better protect against sharper objects encounter along the way.
The extended ankle allows for easy access with a long slit in the back, making it easy to slide your dogs paw and leg into the boot. A dual hook and loop closure creates an adjustable yet secure fit, and cinches closed with Velcro. Uppers are crafted from soft neoprene, which helps to insulate and keep paws warmer, but is also quite breathable. Booties are lined inside with a softer fabric to give them a comfortable feel. If you find yourself out on the trail often with your pet, these are well worth the investment for protection and comfort!

7

. VetGood Basic Oversized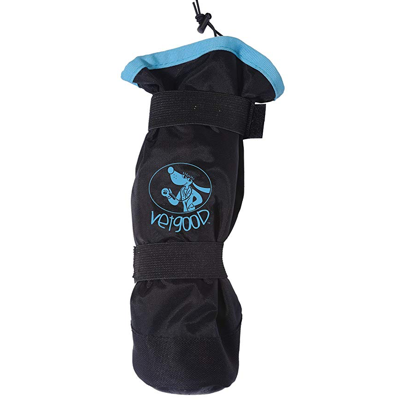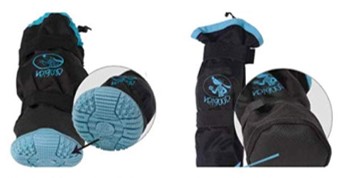 If your pupper has a small incision injury on their paw, just had surgery, or needs a bit of extra protection that isn't too bulky or restrictive, the VetGood Basic boot is a great solution. Developed to provide protection to all injuries that require soft bandages, this model is easy to use, allows you to skip frequent bandage changes, and overall keeps your pet's paws clean, no matter where you like to take your daily walk. It can also be used to prevent licking, scratching and chewing which may pose a problem with some wounds.
One of the best things about this product is the fact that there are 8 available sizes, and a secure closure system that will ensure a great fit for any dog, be it small or large. The upper features a drawstring at the top, as well as a velcro strap that'll prevent the boot from sliding down, or allowing debris to get into the boot.
Although it's breathable, the material of this boot is completely waterproof, which is one of the things that makes it appropriate for use while recovering from smaller procedures/injuries. The outer is scuff resistant and can be easily washed in the machine, so you don't have to worry about keeping it clean. The price of this product is quite high, especially considering that you only get one boot in the package, so we recommend it only to those who need specialized medical equipment such as this.

8

. Union Rich Outdoor Running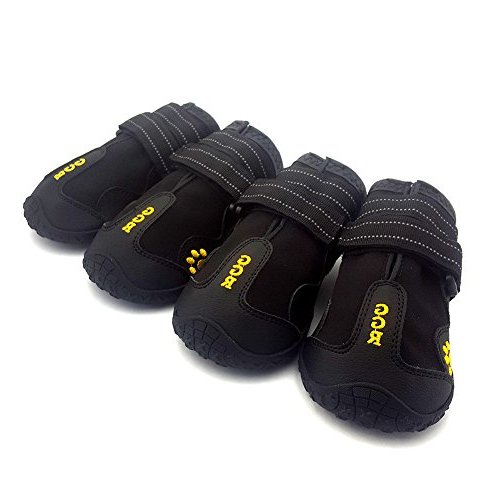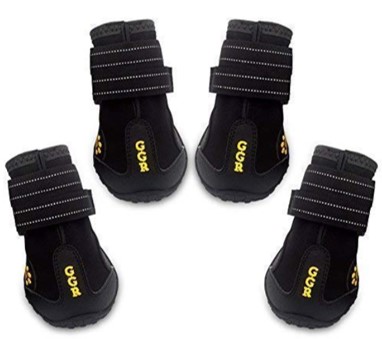 Cool and fashionable, your canine friend will love to strut in these. Anti-skid, waterproof, and wear resistant material will provide protection and security for the paws. Very convenient, dirt and grime will be kept to a minimum and cleaning is easy, just hand wash and air dry. Velcro straps are held by nylon buckles for extra stability and adjustable comfort. Best for medium to large size pets.
The buckles will provide a firm hold for the velcro straps. They'll also help with adjustability and stabilization within the ankle area of the paw. Also, they'll keep the straps from breaking easily.
The paws are a very tender area and in today's crazy weather, all precautions must be taken to protect those precious paws. There are three features anti-skid, waterproof, and wear resistant to help secure and protect from elements such as slippage, water, leakage, and terrain roughness. Low priced in one color but five sizes. If you have a larger pet, like a Labrador for example, these will provide a much better fit and support compared to other models.

9

. Bark Brite Lightweight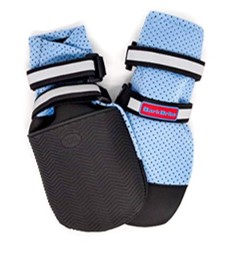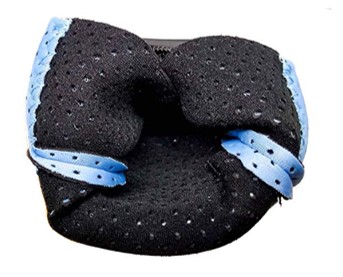 Similar to this brands other model on our list, the Bark Brite Lightweight is crafted with your dog's best interests in mind, helping to keep the protected and comfortable. However, this particular model has been designed to be lighter in weight, and more breathable than their thicker neoprene version. This makes them ideal for hotter weather or climates to help prevent paws from feeling pain as well as protect them from injury.
The same quality base lies at the sole of the Lightweight from Bark Brite, with a sturdy rubber compound and herringbone pattern tread. This makes them great for slippery surfaces like tiles or hardwood floors, but good for those wet walks in dewy mornings or rainy conditions. Available in several sizes as well, so you can find the perfect pair for your pooch. A roomy toe helps promote natural gait and adds some comfort for wear when walking.
This particular pair is a bit shorter than the thick neoprene version in terms of the ankle length, which helps maximize ventilation and breathability for warm weather. Along the ankles are perforations to promote air flow inside the bootie, while an easy dual strap Velcro closure makes them simple to use. The straps are reflective too, so should you find yourself out early mornings or evenings you can feel safer knowing you and your dog are visible to cars. A great summertime pair of dog booties to consider for hot climates!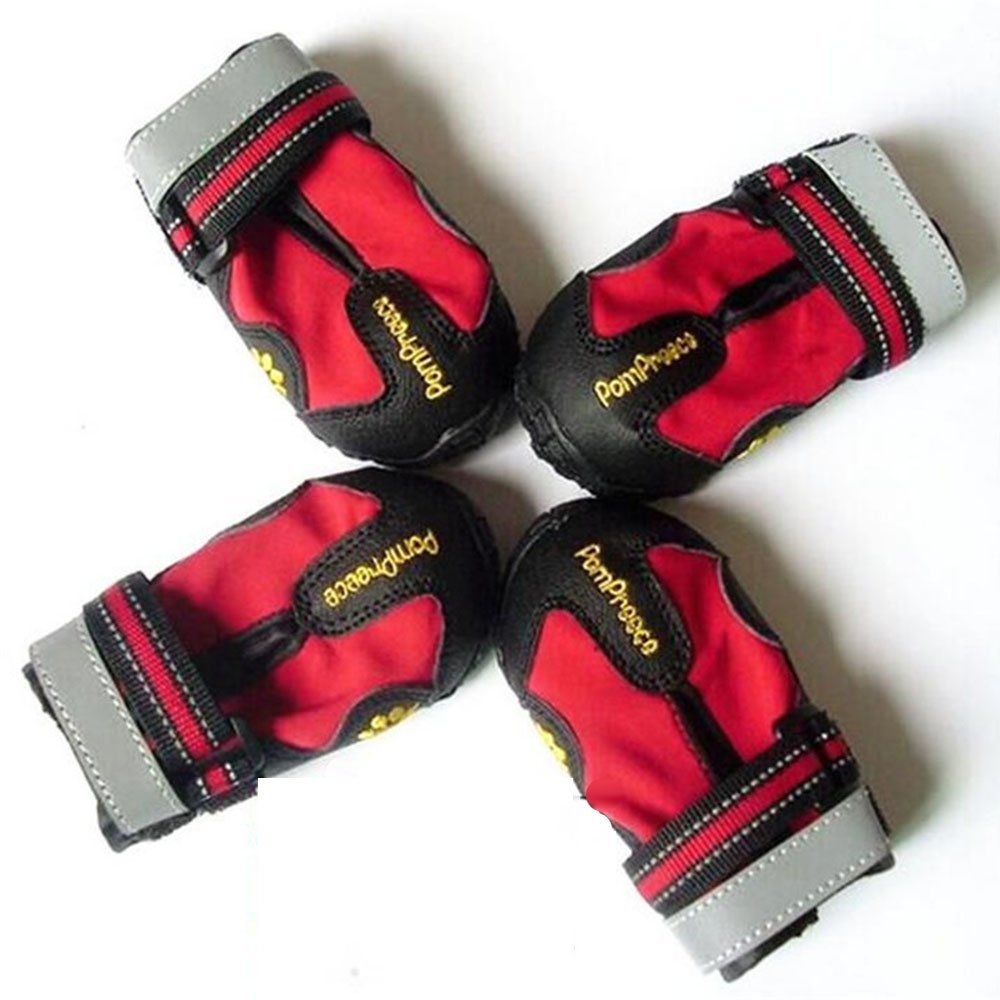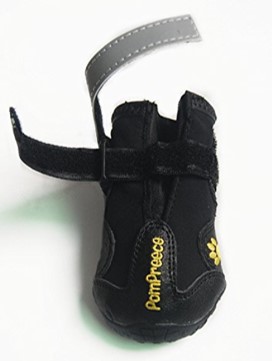 The design is not only cute, they are also very well thought out. The outside has a fabric layer that keeps the boot breathable but also comes in a bright red color. The sole of this boot is extra thick, allowing for it to be more durable against the cold and sharp objects. Many owners are looking for the perfect pair that can protect their pet's paws from the elements - these Kromi shoes will do the trick.
These were designed with visibility in mind, The shoe itself is a bright red, but also has yellow wording and pictures. The main visibility feature is that the velcro straps are reflecting, allowing for a much safer night walk. Not only will your pet have a properly adjusted boot, the boot will also provide an extra layer of safety when out walking.
This boot is created to resist. It has a layer that is highly resistant to rain and water. But the sole of the boot is also extremely resistant to heat, cold, and sharp objects. Having a stronger sole will prevent the rubber from melting or distorting on hot days. It will also prevent the boot from hardening when it is up against the cold. The price is slightly lower in comparison to other models. This is most likely due to the brand being lesser known than other brands. However, a lesser known brand does not mean that they have compromised on any of the features. In addition to the regular expectations of a shoe, this shoe also ensures that the paws of your pet are protected against any salt or pesticides that are sprayed on the sidewalk and grass.

Subscribe to our Newsletter