Best Fishing Boots & Hip Waders Reviewed
In a Hurry? Editors choice: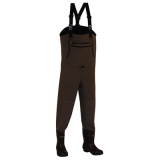 Test Winner: Hodgman Caster Neoprene Cleat Bootfoot

While you're looking forward to the weekend, heading off to work in the fishery industry or planning your next
kayaking adventure
or a fishing excursion, wherever it will be, knowing that you have the best boots for your particular needs will be the best preparation you could make. Are you in cold waters or warm waters? Are the waters spring-fed from the mountains, in which case they will often be freezing? All of these conditions will =impact your comfort and determine what you wear, and you should consider this before choosing your preferred
boots
.
Standout Picks
Criteria Used for Evaluation
Weight
If you have read reviews from fishing boot purchasers online, you will often see that someone will say that they had too much tightness in the ankle, or that the boots they bought were either too small or too large. Keep in mind that different manufacturers use different lasts, or 3-dimensional molds made of wood or plastic to construct their boots. The overall fit of your shoe is determined by the last, which has the following dimensions: Forefoot width, heel width, and instep height. Of course, you can always send them back for another size, but if you're about to leave on a big fishing trip the next day, that may not be an option. So what do you do?
The sizing could vary accordingly. You can easily check the reviews to see if the boots you have chosen has a few customers who write that they should have ordered one size up. Then you will know the tendency of that particular brand in terms of sizing.
Remember as well that many fishing boots use a sock on sizing, which means they are meant to fit larger to accommodate thick socks underneath.
Some fishing boots and hip waders are much lighter than others. Although it may seem like a few extra ounces would not make a difference, if you are standing in the water for hours and days at a time, it's something to consider, depending on the temperature of the water you want to fish in. If the temperature is cold, then you will have to choose for a heavier boot or wader to stay warm.
Unless you are angling in very cold water, you always have the option to choose for PVC construction soles over rubber soles, which are somewhat heavier and will increase energy expenditure.
So be sure to check the weight on the shoes you are considering, and compare. A few hours or even a day of wearing an extra few ounces could make a big difference in your day out in the water.
Water Resistance
It's so important to make sure that the boot or wader you choose keeps you dry, which means it has to be 100% waterproof and doesn't fail when you are out enjoying angling for the day.
To have your socks and pants taking on water will really spoil your day out, as well as being dangerous if you are in a colder-water environment of sub-zero, for example. When you're out angling you're often far away from having an easy change of clothing at hand. Suffering from hypothermia because your boots are not 100% waterproof is not an option anyone wants to consider.
You'll see that the list above features several types of boots, all of which have different shaft heights. Lower models will be lighter and more comfortable, but won't do well if you plan on stepping in more than the occasional puddle (which you are likely to do).
For higher levels of protection, we would recommend going at least with a knee-length boot, as these will allow you to go into creaks without having to worry about getting water into your shoes.
Those who want the highest level of protection should go with waders which are available both in hip width, as well as chest width, and often provide insulation as well as water protection.
Of course, if the weather is hot outside, you may actually do better in a pair of water shoes - lightweight mesh or synthetic footwear that lets water in, but dries really quickly. These will prevent you from overheating, while still offering a good amount of protection from obstacles underfoot.
Durability
If you're trudging through water or standing while waiting patiently for a fish, a boot that can last as long as you can is truly necessary. This list features certain qualities of footwear that ensure your boots will still look and feel like new after long time use.
To protect the stitching and construction, rubber guards are a feature that shouldn't be overlooked when searching for a shoe intended to use with sports gear. Small features such as this set long-term wear boots apart from their short-living counterparts.
If you opt for footwear made 100% with rubber, you will definitely need to take good care of it, as rubber can crack in too cold conditions, or if stored improperly. Make sure you always follow the manufacturer's instructions when cleaning and storing your footwear. General guidelines such as storing in an airy place, away from direct sources of light and heat should go without saying, but you may also find that it's necessary to treat your boots with oils or protective chemicals to keep the materials used nourished.
Value
Let's be honest for a minute, if you are in the market for a pair of fishing boots, you already know that you are going to be paying top dollar for a great pair. The reality is, they are not the cheapest boots on the market. With that being said, since this buying guide was focused on reviewing an assortment of footwear, we did take into consideration the differences in the price tags.
Reason being, if there is a quality boot that offers the same features as a more expensive boot, we want to ensure that we share that with you. So, as we performed our research and picked out products, we carefully noted how much the product was and compared its value to others from the brand. Using this tool, we can say that these 10 footwear choices are the absolute best from the brand in style, value, and in price.
Something to keep in mind when shopping is that newly developed tech often contributes to higher prices. If you're trying to save money, you could do so by opting for older versions of the products listed above, or by choosing a model that will work well in more than just a single type of conditions.
Nonetheless, sometimes paying a bit more initially, can mean less costs down the road, as you won't have to replace your gear as often, and will be able to enjoy all the features that make a difference to you.
Comfort
No matter what purpose you're looking at fishing boots for, you will definitely need to make sure you're getting a product you'll actually enjoy wearing. While this seems self-explanatory, there are several things you should keep in mind before investing your hard-earned money, especially seeing that this type of boot doesn't exactly come cheap.
Here are the most important factors included in purchasing a truly great pair of fishing footwear:
Fit: You will need to select the size and width of your next pair of boots/waders carefully. As you'll probably be standing and walking around in these for several hours, sometimes day after day, you really need to get a pair that will accommodate your foot. It's a good idea to try on the shoes before purchasing, and to do it at the end of the day when your feet are most likely to be swollen. Socks should also be considered, so always take them into consideration when looking for the best fit.
Cushioning: Standing and walking can be stressful on the muscles and joints, which is where a bit of cushioning can go a long way. You'll find that a number of items on this list include at least an EVA midsole which helps absorb shock and prevents fatigue at the end of the day. Cushioning is especially important for those with podiatric issues who often experience pain in their feet.
Support: Depending on the height of your arch, you may need to invest in a pair of boots that offer added support. While most models on this list don't provide too much in this regard, there are several items available that can accommodate custom orthotics. If the model you have chosen does not, we recommend going ½ size up to allow for you to put in a supportive insert.
Moisture Management: If you're going fishing or hunting in the summer, you are more likely to sweat, which can lead to a plethora of problems inside your boots. While odor is the most obvious one, sweating can actually lead to the overgrowth of bacteria and fungus inside your footwear, which can result in infections such as athlete's foot. Make sure you choose a model that has a good moisture management system (such as a mesh lining), or that is odor-resistant, easily washable or antimicrobial treated.
Insulation: Unlike in hot conditions, cold requires special linings that provide and help the body retain generated heat. For the hottest environments, go for uninsulated boots. For colder conditions, you can choose up to 1000g of insulation that will help keep you warm, and will prevent discomfort and possible health issues in winter weather.
10 Best Fishing Boots
1

. Hodgman Caster Neoprene Cleat Bootfoot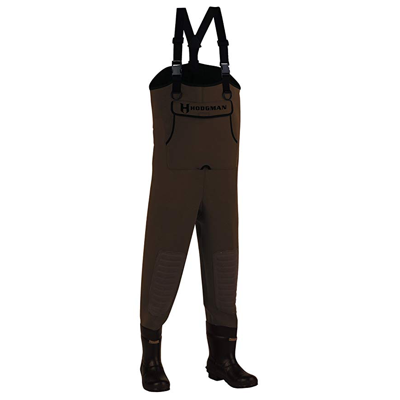 These waders are perfect for colder weather conditions when you want some insulation in addition to superior water protection. Reaching up to your chest, these will allow you to tread in deeper water, and the features developed particularly for fishermen and huntsmen will provide you with some of the best functionality you can get.
On the very bottom, this model features cleated boots that will provide you with a good amount of grip, regardless of the terrain. Featuring 200g of Thinsulate insulation, they'll help preserve your body heat in mildly cold conditions. The rest of the waders is made with 3.5mm neoprene that offers a good combination of insulation and flexibility. You will be kept dry thanks to the seams which have been stitched, taped and glued so you won't have to worry about leaks.
Other notable features of the Caster include a fleece lined hand warmer pocket, reinforced knees, Y-back elastic suspender straps, as well as a rear D ring which will help hold your equipment. In terms of price, this product ranks average on our list, making it a good investment for all those who want superior water protection, with a little bit of insulation.

2

. Frogg Toggs Bull Frogg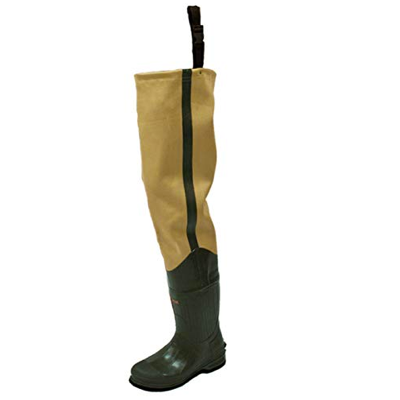 Having been designing some of the best rain gear for over two decades, Frogg Toggs is a reliable brand that you can safely invest in, knowing you'll be getting a high quality product. These hip waders come in two different sole options and are a great choice for those who want a lot of water protection, but feel constricted by taller models. With a number of satisfied customers, they provide plenty of functions for varied terrain.
The sole of the Bull Frogg is available either in a cleated option that grips various surfaces, or a felt version that will stick better to wet rock, streams and rivers. This gives you control over the type of traction you receive by your footwear, making you safer and less likely to lose your footing when concentrating on fishing.
Other features of this ultra-tough hip wader include an adjustable hip drawcord, a quick release belt leash, 3-ply rubber and canvas construction with vulcanized seams, as well as a boot that's cushioned with foam, lined with felt for warmth, and has an added steel shank and hard toe cap for protection. In terms of price, these are around average, but the features included definitely justify the slightly higher asking price.

3

. Allen Company Blue River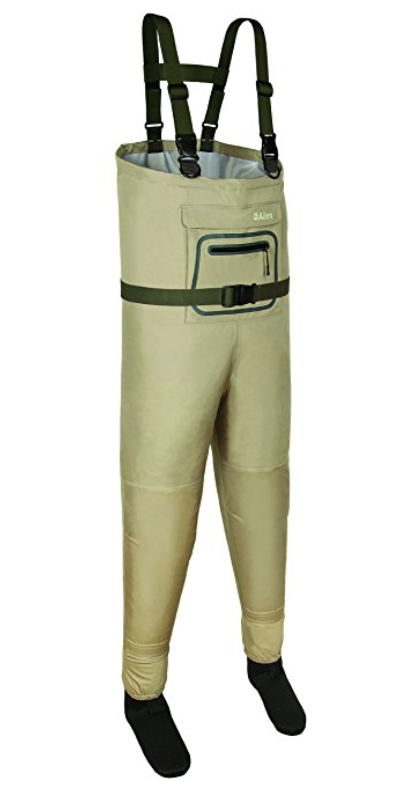 These waders have great features for the fishing enthusiast. Rated as extremely comfortable by many users, these boots are perfect for warm weather use. They also have numerous pockets and gravel guards are attached. There is also an included belt. The Allen Company River Breathable Waterproof Wader boots are very quick and easy to put on and also to remove.
For use in warmer temperatures, these non-insulated shoes are highly rated by professional users as well as recreational users for being non-bulky and completely waterproof boots in extreme conditions.
The fit works well for most users, taking the boot comfortably up over the hip and usable with heavy socks if desired. They can also accommodate a heavy pair of work pants. These boots are priced very low compared to the other fishing boots mentioned in this comparison review. They offer excellent value for a very low price. Some users report being surprised at the level of quality for this price point.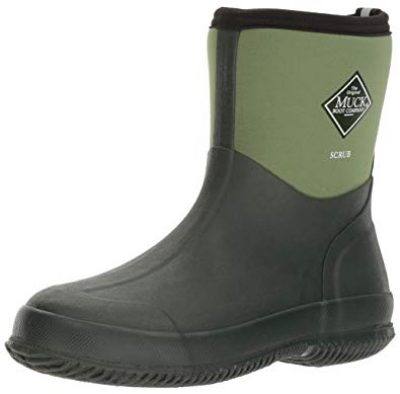 MuckBoots is no stranger to keeping folks warm and dry with their footwear, made for messy or wet conditions, and packed full of insulation. This 8-inch boot is perfect for shallow wading and comes about mid-calf height. A flexible shell gives ample room for maneuvering, and a comfort stretch nylon shaft gives a snug fit. Perfect for creeks and shallow riverbeds!
Constructed from both rubber and textile, the Scrub will help insulate and keep you warm in cooler water temperatures but maintains enough flexibility so you can maneuver as needed for the catch. Not only does rubber help insulate you, but being reinforced, it helps add protection to your foot for scrambling across stones and pebbles, without fear of seriously banging your toes.
Within the Scrub boot is a breathable AirMesh lining, made to help wick away moisture from your feet and help keep you dry, even when water is rushing around you. This will help keep the boot smelling fresh and cut down on bacteria harboring inside the shoe. A comfort stretch nylon shaft helps keep you fit in place and makes these easy to get on and off.
Moderately priced compared to those found on our list, the MuckBoots Scrub is a great boot for those looking to fish in shallow water such as creeks, river bed edges, or ponds. It's well insulated and protective, and definitely worth the investment. Available in neutral to brighter colors, this boot also has a unisex fit, so be sure to size accordingly!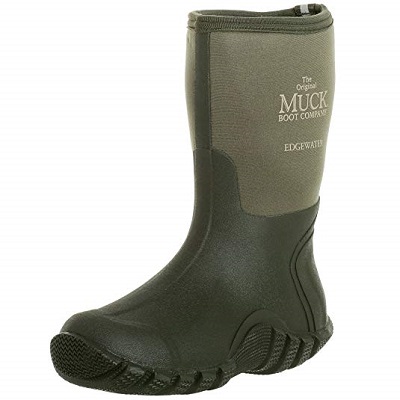 This is a boot that is waterproof to above ankle height and quick dry neoprene in the shaft. Not for getting out into the middle of the stream but great for shoreline fishing. It is also great for getting to those secret fishing spots that are a little further back into rougher terrain. MuckBoots are built to be durable and hard-working, and the Edgewater is no different.
These boots pull on easily over a thick pair of socks. The neoprene is flexible and stretches well enough to get your foot into the boot easily. The lower part of the boot also features a reinforced panel for Achilles support.
Fishing is a slippery business, and we're not just talking about the fish. The shoreline, streambeds and lake bottoms can all post slip and fall hazards to the unwary. These boots feature a grippy outsole that can cope with those conditions. And if you get in a little too deep, the neoprene shaft will dry quickly as well.
These boots are priced in the mid-range of the list and represent a very good value given that they are a versatile, comfortable boot that can take a lot of beating and keep coming back for more. Whether you're fishing from the shoreline or working in wet conditions, these boots will keep up.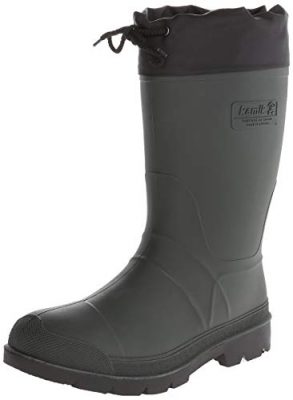 It's not every day you come across a budget-friendly pair of waterproof 13-inch boots to add to your gear of angling, but the Kamik Hunter is perfect for all levels of fishing participants. This knee-high boot is rated for -40F temperatures, and has a solid waterproof upper. For over 100 years, Kamik has made boots for northern sport and outdoor enthusiasts alike, so you're sure to stay insulated, dry, and warm. Best of all, they recycle their rubber, and the boot has a one year warranty!
Rated for temperatures down to -40F, the Hunter also has an 8mm removable Thermal Guard liner, so if you find yourself a bit too warm, you can adjust the insulation. This liner is a two-layer system, that helps to keep moisture clear but retain body heat. A waterproof nylon collar is adjustable at the opening of the boot with drawstring ties, so you can secure your foot and keep out the water.
The Hunter has a rugged EXPLORER outsole, that will allow you firm traction on slippery ground or ice. As a bonus, the rubbers used in constructing Kamik's boots are recycled, giving sustainability for those anglers concerned with environmental effects. Ideal for cooler rivers, ice, or streams, this boot will keep you firmly planted on all sorts of surfaces!
One of the more budget-friendly boot options on our list, it's a great addition to the newer fisher or expert angler alike. For those who ice fish, this boot is a solid option to consider not only for its insulation but lugged outsole as well. Anyone finding themselves in cooler water or temperature will love the Kamik Hunter!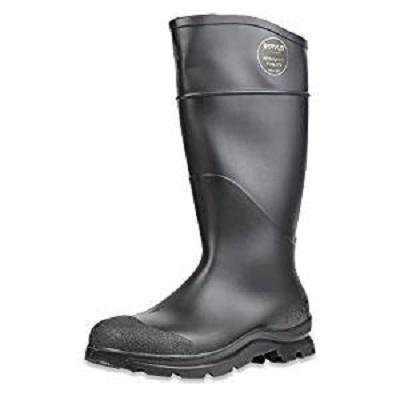 What is more protective than a steel-toed waterproof boot? The Honeywell Servus is a seamless, 100% waterproof, flexible boot that is used for a variety of purposes including fishing, hunting, agriculture, and animal husbandry, all while protecting the toe of your foot from the hazards of hard work and rocks in streams. The outsole is well cleated for additional protection as well.
Along with being waterproof, this boot is resistant to a number of chemicals including agricultural chemicals, fertilizers, and animal waste. It is seamless, and the sole is also rated for electrical hazards for additional protection. These boots will take whatever fishing can throw at them and then some.
The sole on this boot features a number of deep angle cleats that help you keep your footing on slippery surfaces – great for fishing and other slippery hazards you may encounter. The boot will help prevent a fall but remember that no boot is completely slip-proof so you'll still need to watch what you're stepping in.
These boots are incredibly inexpensive. For the value, you get a great boot for fishing or other wet work that will resist degradation while protecting your feet from slips, falls and things being dropped on them. They are also good for work – the versatility increases the value you get for an extraordinarily low price.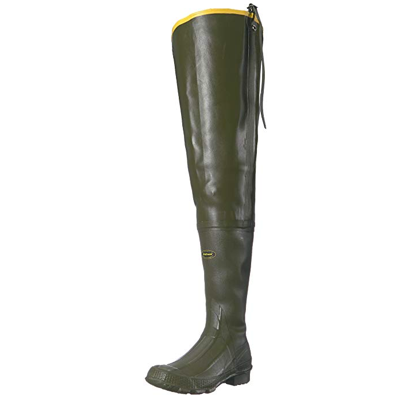 The Big Chief boot by LaCrosse was introduced in 1951, and still manages to outperform several leading waterproof models often used by fishermen. It's made with high a quality ZXT rubber compound that offers 100% waterproofing, and is durable enough so that you don't have to worry about your expensive gear starting to leak after a couple of years.
The Big Chief includes an internal calf harness that allows you to get a secure fit, without having to worry about these sliding down your leg. Another thing they excel at is odor control, as natural rubber has scent suppressing properties, meaning you won't have to worry about smelly shoes, regardless of how long you've worn them for.
The outsole features chevron cleats that will grip even challenging terrain, while a unique tractioned bottom helps push mud out, so you won't have to worry about picking up unnecessary weight with clogged shoes. You'll also benefit from a removable EVA foam insole that you can replace with custom orthotics for better support and cushioning, as well as a fiberglass shank for added stability. In terms of price, these cost more than average, but that's what you should expect from such a trusted brand anyways.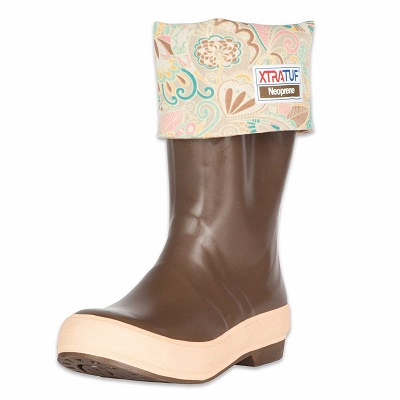 These are a very tough waterproof boot that is great for the female angler. Made to be worn with thick socks, they also feature a durable, slip-resistant sole. Great for any wet conditions, these are especially comfortable when standing in the stream waiting for that record-breaking trout to grab your fly. This year you'll get him, for sure.
Waterproofing is important for fishing. If only they would appear on dry land… These boots are also resistant to ozone, acid, and chemicals. They are made from a triple-dipped latex neoprene for lightweight and pliability along with great resistance.
The boots are built on a female-specific last. The heel counter prevents a narrower heel from moving around in the boot ensuring a more secure fit. They are also built with toe and heel guards that protect the boot (and your feet) from abrasion. They are slip-resistant as well.
These fishing boots are priced in the mid-range relative to the rest of the list. They are a versatile boot made especially for the security of a woman's foot. Resistant to almost everything, you can use them for activities other than fishing as well, where a comfortable, waterproof boot is necessary.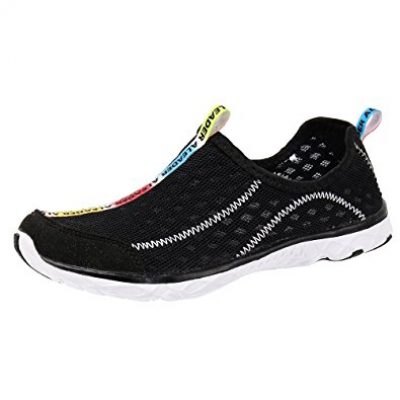 The ALEADER Water Shoe was designed for the novice or warm water fisher. For some, a simple shoe such as this will suffice, especially for shoreline fishing, or warmer creeks. This Water Shoe not only allows open breathability with its construction design, but it has supportive features as well as incredible traction for a water shoe. And, if you're just starting into fishing as a hobby, it could be a great starter shoe option for you as its quite easy on the wallet.
Uppers are made from a durable mesh, allowing breathability. This, of course, doesn't make the shoe waterproof, but if your intentions are for shore surfing or to fish in warmer waters, it's a solid option for consideration. Mesh allows these to dry quickly, and allows them to be washable should they start to pick up dirt or odors. A heel and tongue loop help you to slip these on quickly, so you won't need to fuss with anything but the bait.
A ComfortDry sockliner resides inside the shoe for cushioning, but helps to dry out the shoe after use, and promotes better shoe environment throughout the lifespan. Solyte midsoles give a lightweight bouncy feel, so with each step energy is returned to you, reducing foot fatigue. Water Grain outsoles give exceptional traction control but allow water drainage as well.
If you're just starting out into fishing, or intend to shoreline fish, or cast in warmer waters, this shoe is a perfect, budget-friendly option to do so. Investing in more expensive boots is ideal for those who peruse angling as a hobby, but a simple water shoe such as ALEADER's Water Shoe, can help the beginner decide if this hobby is a passion, and requires more investment.

Subscribe to our Newsletter