Best Hunting Boots Reviewed & Rated
In a
Hurry? Editors choice: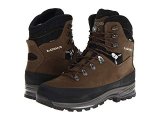 Test Winner: Lowa Tibet GTX

If you enjoy going on a hunt, a proper pair of footwear for such activity can really improve your overall experience. Whether you prefer active or sedentary, spring, fall or winter, there is definitely a pair of hunting boots that will cover your needs just perfectly. Thanks to a great expanse in the technology used to design and build all types of shoes, you can benefit from improvements in flexibility, comfort, weight, traction, and insulation, and all at prices which are justified for the quality you will be getting with your chosen boot.
Standout Picks
Criteria Used for Evaluation
Weight
When it comes to a good-quality pair, let's face it, weight does matter. While you're out on your outdoor adventures, they can require heavy trekking, climbing, sitting for long hours, plus intense building. It makes a big difference how your body feels after a long trip, after you kick your shoeless feet up at the end of the day, as to whether the boot you've been wearing is lightweight or heavyweight. The models on the market can range in weight. Less than 1-pound is a pretty good find on the light end, and you will, generally, see this in your knee-high, rubber ones for hunting ducks. The opposite end of the scale comes in at a heavy 7 pounds, give or take, This weight is, usually, seen in ones for deer hunting.
Features
Shaft Height
Most ones have been designed with a different specific use in mind. The footwear you would use for active hunts may not be the best option for bait hunts. Similarly, bird hunts are not the same as deer or elk hunts, so choosing the right type of shoes is crucial – not just to ensure that your prey is not scared by your movement, but even more importantly, so that your feet are protected from the different types of terrain and conditions these activities include. The height of the boot shaft plays an important role when it comes to this. While some of them have a shorter shaft, others will go up to 13", all the way to your knees, thus providing more protection. If you tend to do this activity in snow or wet environments, a higher shaft can make a huge difference in terms of heat retention and keep snow or rain out.
Anti-Properties
Often times, high-endurance shoes, like these ones are, undergo a process that turns them into being anti-microbial, anti-bacterial, and even anti-fungal. This process, usually, requires that the materials used for the insoles, liners, and the midsole is to be soaked in a chemical solution which instantly kills microorganisms immediately upon contact during activities. These microbes can cause undesirable ailments such as foot fungus, athlete's foot, and the bacteria that causes foot stink. So, it is highly beneficial to the wearer these types of materials be used in their shoe, especially, shoes they'll be wearing for long hours and up to days at a time (if you're an avid hunter).
Antimicrobial Agents: Refers to all agents that act against antimicrobials of all types, including viruses, fungi, and protozoa. The agents are classified in many ways; yet, not limited to their spectrum of activity, the effect on bacteria, and mode of action.
The term antimicrobial references any substance of origin that is semisynthetic or synthetic, or natural; that, also, kills or inhibits the growth of a microorganism without causing damage to its host.
On a side note: certain ones use materials that contain naturally occurring antimicrobial agents like copper wire. Copper wire has been long-used by humanity in effectively killing microbes using an organic process in which the cell's membrane is in direct contact with the copper; therefore, the outer membrane ruptures. Sequentially, the other way has to do with the holes in the outer membrane that causes an overall weakening of the microbe's cell; thus, ceasing it to exist. It kills 99.9% of active bacteria within 2 hours and this method is probably the healthiest version used in a shoe today.
There are multiple companies on the market that have patented their very own anti-formulas and compete for top place in effectiveness; thereby, the great formulas are in usage over and over again in active gear.
Color
The importance of camouflage (cryptic coloration) in a boot of this kind is, without a doubt, a very important feature. The purpose of camouflage is a defense or tactic that an organism uses to hide their appearance; masking identity, location, and movement. There is an extremely large variety of camo used to design good models. This is all for a very good reason, as a hunter needs to keep themselves hidden from predators and/or the animals they are going for.
The best hunters know that blending well into the given environment makes for success or failure at scoring their game. There are many types and designs of camouflage, all specifically built for different environments and elements in nature. For instance, if you are a wetland season type of hunter, you will want to purchase a boot with a marsh/waterfowl print. On the other hand, if your main priority is to take trips in the winter, you will probably like to use a design specific to the snow's white nature. I assure you, in any element, you may find yourself in, there is a design fit for your lifestyle!
Top Camouflage Designs for each Element
River Bottom/Deciduous Trees
Advantage Classic – blends perfectly in any environment.
Ameristep by Tangle – a combination of oak and maple trees.
Cabelas Seclusion 3D – the most, universally, effective camo created.
Cabelas Zonz – perched in a tree, hiding in the brush, or through leafless branches.
Matrix Camo – a pattern that is open-blended with maple trees, greens, and tans.
Mossy Oak by Bottomland – created two decades ago, it is Bottomlands original camo
Mossy Oaks Forest Floors – ultra-realistic autumn leaf patterns with legendary shadow techniques.
Mossy Oak Obsession – designed to get you through the first day of archery season to the last day of turkey season.
Mossy Oak by Treestand – made, specifically, for hunters who hunt from an elevated position.
Optifade – offers a science-based concealment pattern.
Marsh/Waterfowl Applications
Cabela's Seclusion 3D Backwaters – photo-quality images of fallen timber over a brown background.
Cabela's Zonz Waterfowl – blends into fields, water, and everything in between.
Delta Hunter Marsh – a varying blend of brown and tan shades incorporated into a cattail pattern.
Farm Land Corn Belt – a mix of corn, leaves, stalks, and roots.
Mossy Oaks Duck Blend – true dirt color to represent dry and wetland with elements of millet, wild oats, and corn stalks.
Mossy Oak Shadow Grass – textured bark, photo-realistic images of grass and marsh foliage.
Mossy Oak Shadow Grass – the first dark shadow cast from a blade of grass, in nature, shadows over all else remains constant
Realtree MAX-4 – melts into marshes, grasslands, deserts, bloom, and croplands.
Real Tree Max-5 – on the pursuit to hunt ducks and geese, this print will make you disappear into a variety of elements.
True Timber Flooded Timber – a combination of cattails, different kinds of grass, and intense shadows.
Snow/Winter Camo
Cabelas Outfitter Snow – shadows of gray, most effective on a partially snow-covered ground, or on snowy timber.
Cabelas Outfitter Winter Camo – utilizing the shades of white and contrasting shades of gray.
Cabelas Seclusion 3D Winter – unlike a pure white snow image, this has photographic-quality images with trees and branches included.
Cabelas Zonz Woodlands Snow – perched in a tree, heavy bush hiding, or while stalking in leafless branches, this design has you hidden.
Kings Snow Shadow – a perfect blend for a late-season hunter and predatory activities.
Mossy Oaks Winter Break-Up – on a pure white background, utilizes Break-Ups leaf and limb configuration.
Naked North Snow – this is effective if you are on the ground or up above, utilizing multiple shades of a grey break-up.
NaturalGear Snow – a scientifically designed pattern to make you disappear in any kind of situation, capturing the snow's real hues.
Ridge Reaper Snow – specifically designed for areas that recently experienced heavy rainfall.
True Timber MC2 Snow – extremely detailed, one of the best snow patterns on the market displaying simple details like snow clinging to tiny branches.
Fit
You may know by now that one boot is not going to be suitable for all types there are. The rubber Neoprene slip-on boot, likely, won't do you well if you're trekking many miles. A boot with added ankle support will be the best on the side of a mountain, but it is not necessarily needed for less-strenuous forms of hiking around. A waterproof boot is a must-have in the wetlands. Furthermore, not all the ones for the dry season are equipped with waterproofing abilities.
The proper fit of the boot is a serious note to consider, as you should never settle for a pair that 'just doesn't fit right' or 'that is broken down and/or worn out.' This will put you in a position to end your trip early; or at the very least, you might become pretty miserable while on it. You are likely to know which season, game, and elements you are going to be working in and this is quite helpful in researching what boot is fitted to your needs. Let's start with the fit and last of a boot.
Fit and Last: You will need to ensure that the boot 'matches' your foot. In the old days, a good-fitted boot had something referred to as a 'last' and was made out of wood. Today, the last is usually made out of aluminum. Here is where finding the right fit gets a bit more complicated: a size 10.5 made by a certain company is surely not going to fit the same as a boot made by a competing company. Even within the same company, the last often differs, creating varying sizes.
If you are a size nine, ten, or eleven-medium, most general lasts are built for you. That's great news if you're at that size! But what if you don't fall into that category? If you have a narrow or medium-sized foot, you will need to spend a little extra time searching for the correct size.
Support: Hunters will all require different levels of support, depending on what they are going for. This, also, coincides with what terrain and geographical location you will be in. An avid western big game hunter is not going to do well in a tree-stand pair, as they often wear rugged, athletic-style ones weighing less by the pound and/or ones with plenty of ankle support.
To determine if a boot has enough footbed support for your needs, you can take the boot's toe in one hand and the heel in the other; then, twist it in opposing directions. Heavy-duty hiking style ones will barely move; whereas, a boot with little footbed support will move almost a good 2 inches. When you're hiking hardcore terrain at almost 6,000 feet, you'll be far more pleased that you chose the ones with no twist and having much more protection. These firm-support ones might take longer to break in, so give the proper time it needs to 'feel right.'
A properly fitted boot will take you many miles in comfort; while on the flipside of the same coin, an improper fit will take you not so many miles and in a lot of miserable pain, potentially, ruining an otherwise good trip. The information throughout this guide should help in finding a good fitting boot, but further research and even going into a local store to be fitted can give you the extra support needed to find a proper shoe for your outdoor adventures.
Materials
Upon researching, you will find that two types of leather are generally used; full-grain leather or top-grain leather. Both of these serve their own unique purposes and both, definitely, have different cleaning methods. Be sure to clean your full-grain leather with a chemical treatment meant for it. You can clean a smooth leather boot with either a chemical treatment solution or a natural oil preparation.
Full-grain Leather: this refers to leather that has not been smoothed out; no buffing, smoothing, or sanding has taken place with this type of leather. You are getting the full leather appeal. Full-grain leathers are available in two types; aniline, or semi-aniline.
Top-grain Leather: This is the most common type of leather used in high-end footwear such as the one on this page. It has had the split-layer separated away; making it smoother and far more pliable to work with. After the top coat has been sanded to be smooth and a finish coat added, however, it is less breathable. The top coat added, also, adds a 'cooled touch' to the leather. It is, typically, less expensive and does not form a natural patina.
10 Best Hunting Boots
1

. Irish Setter Vaprtrek 2875
Sometimes when you're out in the field, you need a boot that gets you through some mucky, swampy conditions, and the Irish Setter Vaprtrek can help get you through it all. It's a waterproof knee high boot, so you'll stay protected in deeper mud or marsh without getting your feet soaking wet. It has camouflage uppers with waterproof leather and is packed full of technology to prevent punctures. This boot is one for those who don't mind getting a bit dirty to get their best hunt yet!
Uppers on the Vaprtrek are a full 17 inches high, with camouflaged coloring to help hide you. Waterproof full grain leather wraps the boot, and the UltraDry system Irish Setter employed in this boot will help keep any water out. They're also covered in ArmaTec technology which helps against abrasions, scrapes, and overall boot breakdown. RPM technology give the boot a lightweight characteristic, helping to reduce foot fatigue for those longer days in the field.
The base of the Vaprtrek has a rugged lugged pattern sole, which allows for optimal grip and traction on muddy or wet surfaces and uneven terrain. SnakeGuard build prevents punctures from thorns or other sharps from breaking through the boot's upper. Inside, Irish Setter used their ScentBan technology which prevents bacterial build up and any odor from forming. All and all, this boot has you covered for messy days, longer hunts, and overall protection.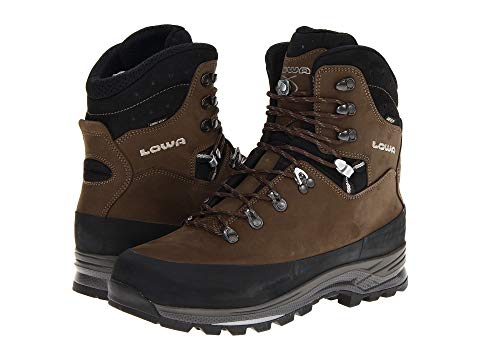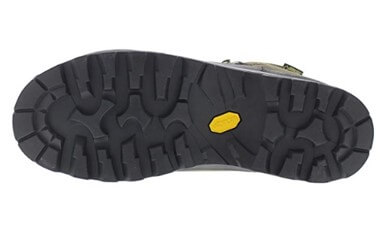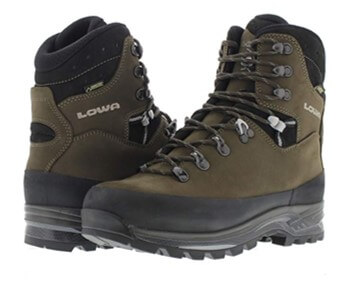 The Lowa Tibet GTX is an insanely comfortable pair of hiking boots. With a seamless, waterproof Gore-Tex lining, a Climate Control perforated lining, and the C4 anatomically contoured tongue, your feet will be in heaven on even the longest treks.
To help keep moisture out of your footbed and insole, this Tibet GTX waterproof boot is made with a Climate Control perforated lining to help manage moisture and heat. This allows you to keep your feet dry in all types of wet climates.
The anatomically contoured padded tongue and collar along with the FlexFit natural ankle flex and heel fit help to keep your feet securely in place. The lace-up hiking boot with D-ring eyelets and speed-lacing hardware help you keep your shoes on quickly and securely.

If you're looking for durability, the Lacrosse AeroHead boot is ideal. The upper has a design made of neoprene and polyurethane; a combination for giving you both waterproofing and durability; especially, after adding a second combination of spandex and Lycra over the neoprene. Furthermore, they are very comfortable. They are great for most types of trips in the marsh where you may be stalking.
This liner has moisture wicking properties, a must-have for allowing a quicker dry time. Furthermore, this liner helps to bring you comfort, as it will feel good in contact with your feet and won't cause excessive sweating that may lead to bad odors.
This pattern has the mindset of you traversing terrains such as marshes, flooded timbers, and/or open plains. This camouflage is ideal if it's waterfowl what you're going for. As such, they are ready for the day you have in mind for them.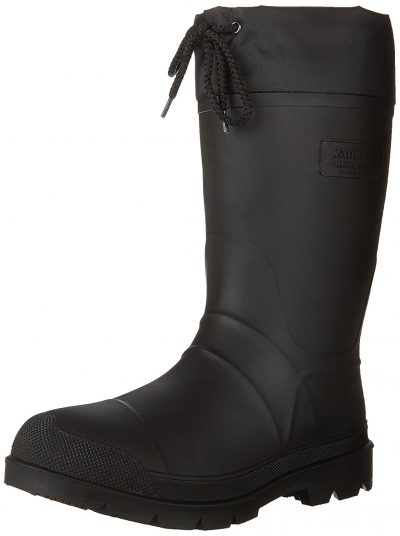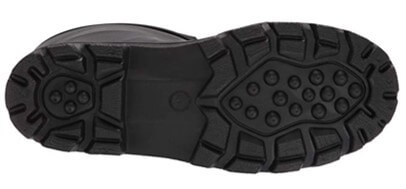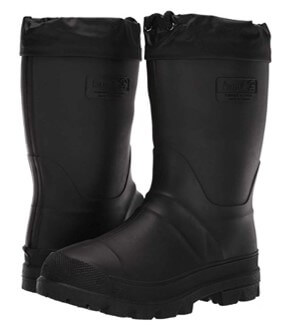 If you're looking for a waterproof boot with nice details and features, then the Kamik Hunter is going to be one of the best options for you. This boot has a special removable thermal guard liner to keep your feet warm in the wet weather. Topped with an adjustable snow collar, your calves and feet will stay dry even in deep snow on cold winter days.
The Kamik Hunter features a high shaft that serves multiple purposes. One is to stabilize your ankle and protect it from outside influences. The other is to help keep you warm when the temperatures drop. On the inside of this shaft is a snug thermal liner which creates a snugger fit to the boot and provides extra warmth. The outsole of the shaft is made from rubber and features an adjustable snow collar.
The Kamik Hunter features a well-designed outsole that was made to be durable above all. Made from a TPR material, their sole works rather well in most circumstances, and is appropriate in wet conditions and challenging terrains.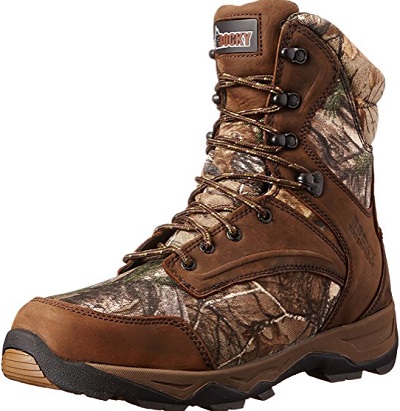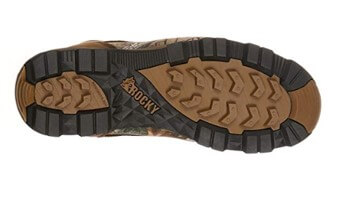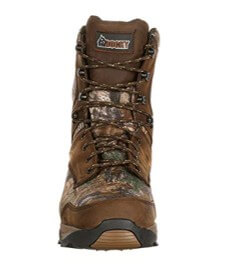 Practicality and comfort are two of the most important things you need to look for in the next pair of footwear you wear on your trip. The Rocky Retraction features both and is a great choice thanks to its 800 grams of 3M Thinsulate, an Energybed footbed, their Strobel, and cement construction as well as the fact that they're waterproof, so you don't have to suffer from wet feet.
This footbed's design is made to give you comfort, all day long. When your feet remain comfortable, you are able to reap the rewards of less fatigue, and the overall feeling of remaining fresh and alert.
An 8-inch shaft height is ideal for situations involving low and light brush conditions. Furthermore, the angle cut at the top helps to provide comfort while wearing the Rocky Retraction.

6

. Irish Setter Wingshooter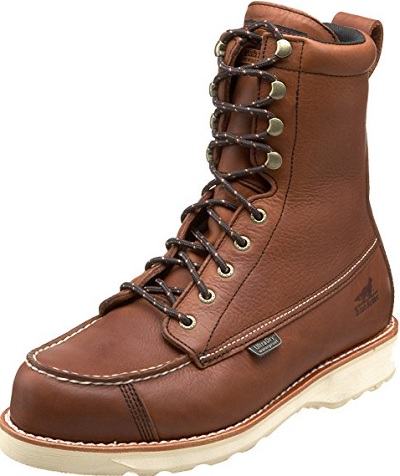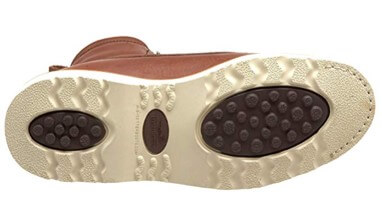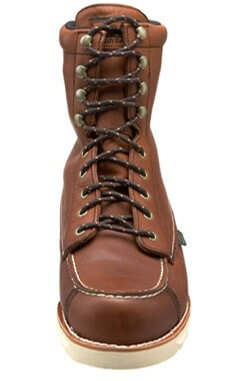 The Wingshooter by Irish Setter is a stellar boot, which is why this pair is popular even among non-hunters who like good quality and good looks. Designed to keep you comfortable even during the most demanding upland treks. Completely waterproof thanks to the UltraDry technology, these come in several versions, including a 7" and a 9" one. This means that you can choose the level of coverage that suits you most, without having to sacrifice the great underfoot cushioning and comfort that the Wingshooter provides.
The Wingshooter includes some of Irish Setter's best technology, aimed at providing you comfort throughout your entire hunt. Featuring UltraDry waterproofing, they have a waterproof lining that won't allow moisture inside the shoes, but will prevent excessive sweating through an efficient moisture management system.
With a 9-inch shaft height, you can be at ease when walking through briars, thorn, and thistles. Protected by leather, your lower legs, ankles, and feet will be grateful for the added guard against a brush environment.

The Danner pronghorn is a pair of footwear that's been around for more than two decades. This is a style that's now in its fourth iteration and was created so as to offer you the best of the iconic style coupled with plenty of technological innovation. If you're looking for a boot that is waterproof but not insulated, then the Pronghorn is a great option to go with.
Their outsole was made to perform in the most rugged terrains, giving you plenty of traction and protection. The bumper toe will ensure that you get some extra security, and will also work to protect the leather upper of the boot from scuffing and scraping.
Made for comfort, the Pronghorn features an anatomical forefoot that provides great comfort in the arch, as well as in the roomy toe area. This means that your toes will be able to splay, and naturally grip with every step you take. The heel locks you in for a secure feel, preventing any slippage or risk of injury.
This knee-high boot can truly withstand any type of weather. It is well insulated with an EVA footbed for ultimate comfort. Built with an embossed liner to better help with circulation, it is highly valued as one of the best pairs of footwear made with hunters in mind. One of the easiest pairs to manage, the LaCrosse Alphaburly features Active Fit technology that allows you to adjust the fit to suit your personal preferences perfectly.
The EVA footbed is quite special in the LaCrosse Alphaburly seeing that it provides premium comfort throughout and even on those lengthier trips. The Alphaburly has extra shock absorption via the dense and durable foam of the EVA midsole, which means that our legs won't get sore or fatigued after a long day outside.
The embossed liner provides extra circulation and air ventilation. This is, especially, valued during the winter or rainy months. With this liner, you will remain cool under pressure and when it matters the most.
9

. Irish Setter Elk Tracker
If you're a big game hunter who is set on delivering, then the Irish Setter Elk Tracker is definitely a shoe for you. Made for the harshest conditions and with the best possible features for this type, this pair will provide you with excellent protection, warmth, traction, and waterproofing. They're made with a full grain leather upper that not only looks great, but provides a high-quality experience that will break in to fit you perfectly, and will last you a lifetime.
To keep you dry no matter the conditions, Irish Setter has included a GORE-TEX membrane in the Elk Tracker. This means that they will be completely waterproof and will prevent any water from seeping in, while moisture that is generated from your foot will still be able to evaporate, preventing the development of odors and infections.
The Irish Setter Elk Tracker features one of the most comfortable footbeds you can purchase. Made with a combination of cork and memory foam, they will keep you supported and pain-free, while being incredibly soft to the touch and able to perfectly mold to your foot shape.
A nice camouflage design makes the Irish Setter 2870 one of the best choices for hunters. They contain a UltraDry waterproofing system to keeping your feet warm and dry all night long. The outsole is made with aggressive tread; thereby, allowing you to traverse more extreme terrain types. Furthermore, ScentBan technology helps to fight unwanted foot odor.
The boots are made with RPM composite technology to help reduce weight without compromising durability. This helps to make it ideal for the early season.
The UltraDry waterproofing system is ideal for those cold wet mornings to keep your feet warm and dry. While the ScentBan scent control helps to avoid any stinky situations that might arise from having your feet in boots all day.
Subscribe to our Newsletter