Best Camo Shoes for Boys Rated and Reviewed
In a Hurry? Editors choice: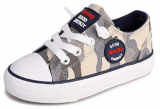 Test Winner: Weestep Sneakers

Camouflage has been considered an edgy and standout pattern for many years. Since the 1970s, we have seen camo utilized in fashion, repurposing the widely known military pattern for less practical uses. While at one time this was a one-note look, we have seen multiple types of camo used in the military, and the unique renditions of this pattern have personalities all their own. It comes as no surprise, then, that camo shoes for boys are such a popular choice among parents and children alike.

Camouflage has become a statement pattern for fashionistas seeing that it allows the wearer to stand out from the crowd. Camo shoes for boys come in all styles, and even color variations. The list below looks at the best pairs currently available for purchase, including boots, sandals, sneakers and even clogs.
Standout Picks
Criteria Used for Evaluation
Style
First and foremost, if we are talking prints, we are going to be looking at the overall style and execution of those prints. Camo shoes for boys can sometimes come off gaudy or distracting, and we wanted these shoes to have that distinct camo look, without ending up tacky. There are a few ways this is achieved in our camo shoe picks.

Some of these camo shoes for boys use an abnormal color palette. The grey and yellow Croc caught our eye in particular. Grey is considered a "new neutral", and the contrast of the muted colors with that print is truly striking.

Most civilians don't wear camo for practicality, so you can play around with colors and proportions with a print like this! There aren't really set rules on how to wear camo shoes for boys either, so an array of color options and athletic and leisure shoes leave your boys with almost too many styles to choose from.
Comfort
Let's be honest, boys won't wear a shoe they don't find comfortable. Period. Nothing more to say about that. While women are infamous for going to great lengths of pain and suffering for a cute pair of heels, young men are not going to sacrifice comfort in lieu of fashion, and we don't want them to!

Our picks of the best camo shoes for boys have super cushioned insoles, padding on the tongue and collar, and multiple fit options that make for some of the comfiest shoes on the market. Everyone should be able to love every aspect of their shoe, so we're here to make it a little easier. Contoured insoles gently hug the foot, and will feel secure all day or night.

We guarantee if your child tries any of these camo shoes for boys on, they'll have a new staple for their collection. Whether fishing, playing, or just taking a walk, there is a shoe here designed for your maximum comfort in mind.
Flexibility
Flexibility can often be forgotten in camo shoes for boys, but it shouldn't be! Kids are hard on their shoes, and many sneakers and leisure options will quite literally crack under pressure. If you have an active boy, he is gonna need a sole that flexes when he does.

Performance options on this list have multiple features to make sure he is has a full range of motion when stepping into one of these. If you're after a flexible pair of camo shoes for boys, you should definitely check out the Native Jefferson or Stride Rite Dakota models. Light canvas sneakers give a lot of leeway for growth as well, especially when they have a softer upper.

Basically, we are looking for camo shoes for boys that are allowing the feet to develop normally and avoid restricting the foot as much as possible. The last thing any of us needs is a split sole halfway through a school year. Or worse yet, a talking pair by lunch.
Durability
It is no secret kids are tough on their clothing and footwear. Boys are absolutely no exception, and may even be a bigger culprit. With a blend of synthetic fabrics on most of our choices, the listed camo shoes for boys will provide long wearing durability without sacrificing comfort or cushion.

This list features multiple vulcanized rubber sole options, and when rubber is vulcanized it becomes ultra strong, to hold up to any boys lifestyle. They may grow fast much to a parent's dismay, but we'd rather them grow out of their shoes than destroy them before they even get a chance to.

Easy to clean camo shoes for boys provide additional benefits that most parents will greatly appreciate. If the shoe looks new, your child will be more likely to wear it, plus, it will look appropriate for school.
Support
Our boys are growing, so their feet have some special needs until they have fully matured. We are looking for a few types of support, but what we really want are contoured EVA midsoles and perfectly designed insoles for the results we are looking for.
For our active boys and athletes, it is necessary for them to have a shoe that fosters development while also aiding in posture and muscle strain.

Choices like the Crocs classic clog and Birkenstock Arizona are great for arch support. When your arch is supported, your back feels better, your legs strain less, you walk a bit taller, and you feel good in your shoes. This is what we are looking for in every pair of camo shoes for boys we choose, but, of course, some are better equipped than others.

Ortholite and foam insoles found in some models also help regulate moisture but more importantly are providing a stable foundation for the foot. When equipped with the right shoes, overall foot, and body health flourish. Support your boys from the ground up, and see what happens. Chances are, they'll be more comfortable than ever.
Top 10 Camo Shoes for Boys
1

. Crocs Classic Realtree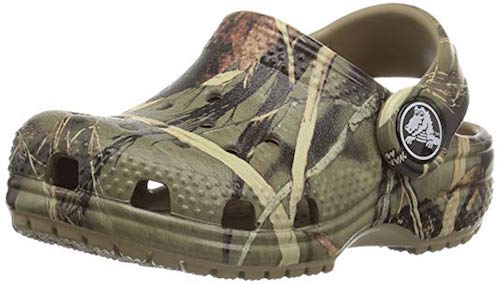 One of the highest rated pairs of camo shoes for boys currently available for purchase has to be the Crocs Classic Realtree, the brand's answer to the popular camouflage look. This clog offers everything you'd expect from the original in terms of comfort, and is definitely an excellent choice for summer holidays or backyard fun.
First and foremost, these camo shoes for boys are made with a special compound called Croslite. It's both shock absorbing and lightweight, all while providing slip resistance even on wet surfaces. The footbed is covered in a massaging pattern, and there's plenty of arch and heel support to encourage proper alignment.
The pivoting heel strap on these clogs allows users to add a higher level of support in the upper, while the perforations and antimicrobial treatment ensure an odor free experience. Another great feature of these camo shoes for boys has to be the fact that they're water friendly and easy to keep clean, making them the favorite choice of parents all around the world. The price is quite affordable as well, and the durability is great, making these an overall good investment.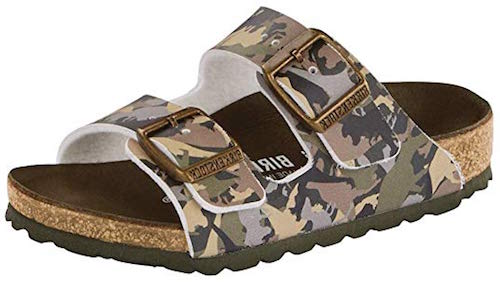 Another pair of sandals for our list of best camo shoes for boys. Everyone has heard of Birkenstocks, the ultimate choice for those who want a combination of comfort and durability. Made in Germany, these sandals are a great investment, and the Arizona model is the perfect choice for those looking for an adjustable slide that works well with all foot types.
This pair of camo shoes for boys has a double strap at the front which is adjustable through a buckle closure. Made with leather (genuine or synthetic), it takes a bit of time to break in, but once it adapts to the foot, it becomes everyone's absolute favorite pair of footwear. Highly breathable, these are sure to last more than a single season.
These sandals are made with a cork footbed which has numerous benefits. For one, cork is a natural material that is shock absorbing but durable, and it won't flatten like EVA foam tends to do. Secondly, it offers a raised toe bar for a more effective stride, generous arch support that will work for most people, and a deep heel cup that ensures proper alignment. Nonetheless, if you want to buy a pair of camo shoes for boys as good as these, you will have to pay more than average - nonetheless, they're worth it.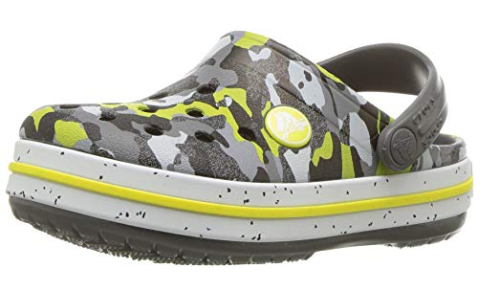 Crocs set out to establish themselves as a world leader in casual comfort, and with their following consisting of actors, celebrity chefs, and families young and old, it's plain to see they have made it. Selling more than 300 million pairs of their classic clog since 2002, Crocs has become an internationally known and worn company. Their approach is simple: no frills design elements and straightforward comfort.
Super lightweight and easy to slip on, this pair of camo shoes for boys is as easy to wear as it is to spot, ironically enough. Applying grey and yellow hues to the UTC, this clog is current and aesthetically pleasing. Boys will love how they feel, and since they slip on easily they take away some of the struggle involved when trying to get kids out the door. Designed with their sporty Crocband silhouette, this is a slightly slimmer design than the traditional Croc.
The pivoting heel strap makes for a more secure wear on the clog, and the patented Croslite foam won't have your boys feeling like they're in the trenches. Contoured footbed and sole drive the comfort element home, and the speckled sole break up the classic camo with a more subtle visual element. Crocs commitment to value is literally in their mission statement, so you know you're getting a deal when you're buying these. For the wear, and comfort your children will get with these camo shoes for boys, the price is minimal compared to some other, heavier duty choices.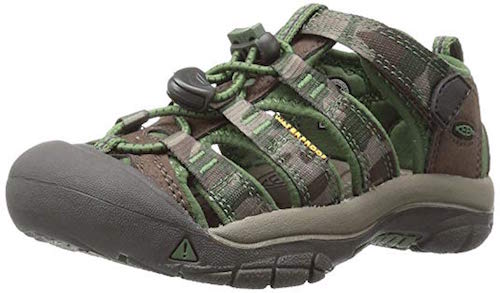 These water hiking sandals are probably the sturdiest choice if you're looking for camo shoes for boys that can be worn during summer hikes. Not only are they practical and made with high quality materials, they're also highly protective and ideal for outdoor adventures that require high levels of protection in the upper as well as slip resistance.
The closure system on these camo shoes for boys was made for security above all else. In addition to a bungee cord closure that allows for adjustable support without being too aggressive on sensitive children's skin, the Newport H2 also features a hook and loop strap over the instep that's perfect for kids of all ages. Additionally, the pull tabs ensure easy on, as well as the ability to hang these and let them dry.
The upper is made with polyester that's water repellent, and can even be machine washed. The lining is made of a quick dry material, while the footbed features a metatomical design that allows for a personalized level of support and cushioning. The outsole is gruppy and slip resistant, with a raised toe bumper that protects from stray rocks and other obstacles. The Newport comes in a variety of color options, and this is a pair of camo shoes for boys that may be a bit expensive, but is definitely worth the purchase.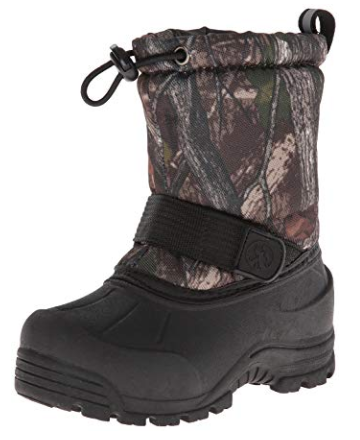 Northside is unlike most other outdoor companies. Instead of wanting to offer complicated, state of the art technology you can't understand or pronounce, they want even the average Joe to venture outdoors with confidence in what they're wearing. They don't rely on patented features with punny names, just being qualified for the everyman, that will hold up to even a seasoned explorer's adventures. They promise to keep you happy, safe, and satisfied with their footwear and hope to make you a part of their Northside family.
The Frosty looks rugged, and we all know kids love looking grown up in their serious big boy boots. Completely waterproof, these camo shoes for boys are perfect for snow, fishing, muddy terrain, or even camping. The hook and loop strap provides a secure fit around the instep and foot, keeping them from sliding around, but also allowing parents to size up without concern. The top opening is adorned with a bungee cord to keep pants tucked in, feet warm, and snow out. The camo print has that realistic look, and the duck boot style is sure to stand up even the roughest conditions.
Reflective heel pulls make these safe to wear at night and easy to put on. 200g of Thinsulate makes a warm and cozy environment for your boys' feet. Heavy traction on the outsole means they'll be ready for whatever winter has to throw at them! Super inexpensive for a winter boot, these camo shoes for boys can be sized up and be worn with thick socks to allow longer wear! Definitely worth every penny considering they are lower in price than the standard child's sneaker.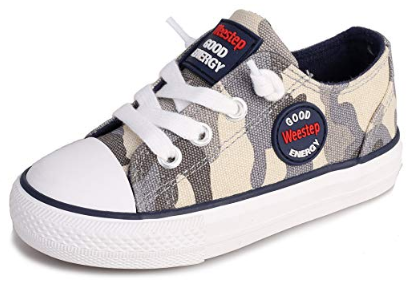 A brand just for kids, Weestep makes shoes that promote healthy foot growth and development, in styles as playful as those who wear them. Weestep wants your kids to feel sophisticated and cool, with flexible enough shoes to work for them on the go, but still provide adequate support. Their motto is that "We Step Together" and when you look at all their options that are inclusive for your little one whatever their style, it becomes apparent that they mean it.
This low top casual sneaker style is easy to love. Working with jeans, shorts, or khakis, this pair of camo shoes for boys can make a whole outfit. The camo is subtle and the shoe itself is adorned with "good energy" patches that encourage Weestep's values. Though these appear to be lace-up sneakers, they actually easily slip on and off and have an elastic band under the tongue to ensure a snug fit. Super flexible soles allow for all-day comfort and will hold up to the wear and tear of any active child.
If you have a big kid who doesn't want the slip-on style, these are equipped with regular laces you can swap out to give them the tied look. Fully lined with a super cushy insole, these are ready for growing feet. Any boy will love these low tops! They're fully lined so nothing inside the shoe will pinch or rub, which can be quite the obstacle for parents, especially with kids who are sensitive to tags or stitching. Insanely affordable for a shoe that considers itself a room-to-grow option, and with a style that is classic and current simultaneously.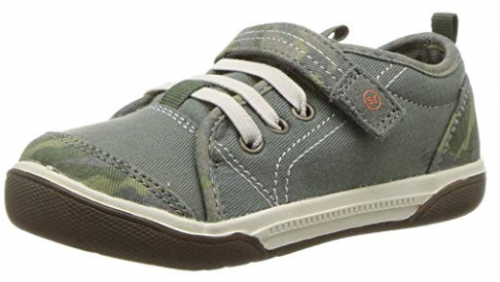 Stride Rite was founded in Boston, Massachusetts, and was originally named the Green Shoe Manufacturing Company in 1919. Now, sharing a parent company with Grasshoppers, Keds, Sperry, Saucony, and Robeez, among others, the main concern of the brand's owners are the comfort. With special emphasis on the growing feet of your child, Stride Rite has paid close attention to children's shoe innovation for the past 85 years. Every Stride Rite is made to accommodate even the pickiest kid, and parents love the support they provide for their youngsters growing feet.
The Dakota has a super lightweight outsole that bends and flexes closely to the child's foot, without any of the nasty splittings or cracking that is the result from normal play. These camo shoes for boys have laces for the big boys, plus an alternative hook and loop velcro for those who have a hard time with laces, or who are just eager to get out and see the world. Hidden super stretchy elastic makes for a secure fit, but doesn't limit the range of motion at all.
The memory foam insole contours to every little boy's feet, providing a tailored fit for every excursion. The memory foam also prevents against a too stiff footbed, which can hinder the developing feet of a child. Non-marking rubber outsoles seal the deal on this cute, casual Dakota. The muted grey-green with camo accent on the toe and heel make for a subtle statement, so these match with everything in their wardrobe while still allowing your boy to express himself! Priced like a brand name sneaker would be, this shoe definitely hits that higher price point. For something that really caters specifically to children's feet though, it is definitely a style to consider.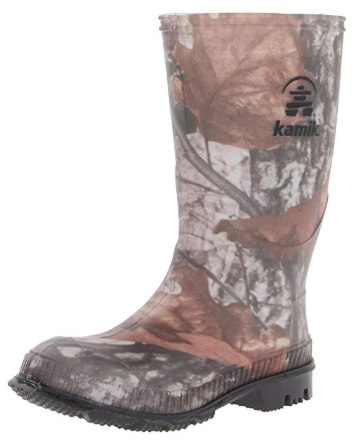 Kamik has been a company entrusted with making great outdoor gear since 1898. Canadian and still family owned and operated, they are always looking for ways to increase sustainability to give back to the environments we love exploring and their customers. They pledge to keep feet warm, dry, comfortable, and happy, and really, there is nothing else to ask for when looking for a cold weather boot. Kamik believes bad weather is a fallacy, and the real problem is having gear that isn't prepared for whatever the outdoors has to offer. This camo style will bring your boys dependable wear, while being ready to take on even the roughest terrain.
A super comfortable EVA footbed is nestled in a fully rubber sole, keeping out moisture and providing a shock absorbing feel. The Trek outsole is lightweight and durable, making sure your boys stay upright when playing regardless of the terrain. Completely waterproof, this pair of camo shoes for boys is a great option for the little fisherman or hunters in your life. They come in a full range of sizes for boys of any age, and are high rise, so no worries about moisture getting in even with higher levels of precipitation.
Moisture wicking lining keeps the inside foot friendly. Working up a sweat in the outdoors won't result in a swampy boot for the wearer. These rain boots let the boys play without worrying about soaked feet or slipping! They are made of a thicker material, and not only do they have tread on the bottom but also all around the outsole, providing a little boost for your adventurer. Priced a little higher than the average rain boot, these are a good option for the long term, and can be sized up and worn with thick socks in the meantime. The construction and waterproofing are a good beginner rain boot for your favorite tiny outdoorsman.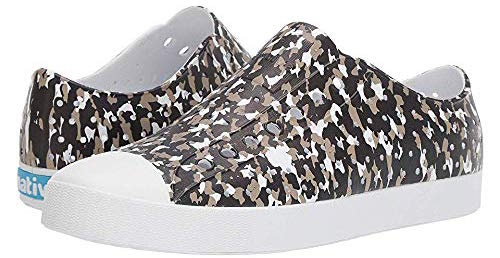 You can't go wrong with a perforated slip on style during warm weather, and this pair of camo shoes for boys is definitely a great choice. Not only is it incredibly lightweight, but it was developed to allow for play and movement in all types of conditions. The Native Jefferson comes in a huge variety of color options, including two versions inspired by a camouflage pattern.
This pair of camo shoes for boys is made entirely out of EVA foam, which was injection molded to ensure structural integrity and durability. One of the main characteristics of this material is its shock absorbency, making this pair of slip ons the perfect choice for active tykes. It's also very lightweight and adaptable, so you shouldn't have to spend too much time breaking this shoe in.
The upper of this slip on is perforated to ensure breathability and temperature control, and the inner has antimicrobial properties to deter bad odors. Additionally, this pair of camo shoes for boys is water friendly and hand washable, so if it becomes dirty or stinky, you can quickly get it to look and smell as good as new. The cost of this model ranks around average for this list, making it an overall good investment for most people.




Flip flops are a go to style for the summer months, and this pair of camo shoes for boys is the perfect choice for wearing around the house, in the back yard, to the pool or beach. Not only are these Havaianas easy to put on and off, they're also lightweight, highly breathable, water friendly and easy to keep clean. Additionally, they come at an affordable price while offering a great amount of durability.
This pair of camo shoes for boys is made with a rubber compound developed by Havaianas. It is one of the best materials for flip flops seeing that it is highly comfortable, lightweight, and provides a good amount of traction as well as abrasion resistance. It cushions each step, which explains why this is one of the most popular footwear options in Brazil.
The rice pattern sole on these camo shoes for boys prevents slipping in the footbed area, even in wet conditions, which is crucial not just for comfortability, but also for safety. The straps on the upper are sturdy but soft, and should allow for a great fit regardless of foot shape. In terms of cost, the price of these camo shoes for boys ranks well below average, making it one of the most budget friendly options on our list.

Subscribe to our Newsletter