Best Socks For Women Rated for Comfort
In a Hurry? Editors choice: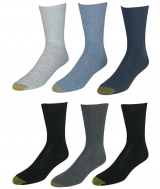 Test Winner: Gold Toe Turn Cuff

What are shoes without socks? Sweaty, smelly and uncomfortable, that's what! The right pair can not only prevent these problems but greatly contribute to the level of comfort you feel, as well as your overall fashion style.
That's why we created this list that features the best-rated options available online, each featuring different pros and cons to help you make the best-educated purchase.
Whether you want to wear them with
tall winter boots
, running shoes or high heels, you're bound to find the perfect pair on the list below.
Standout Picks
Criteria Used for Evaluation
Style
The outside appearance is always the first thing people notice about your clothing.
With socks, some styles are meant to be hidden, while others are meant to be an accent to your clothing and stand out. Regardless of your aesthetics, you'll want to understand the differences between the styles and lengths currently available.
The style of your socks should match the style of your shoes and clothing. Since there are so many styles of shoes for women, companies had to create ones that match.
If you're wearing running shoes or everyday sneakers, ankle socks are a common choice. Some people choose to wear longer ones to help provide extra protection, so if this is a priority for you, make sure to opt for that type. Either way, whether you want them to be noticed apart from your shoes or hidden within them, both styles are created for comfort and durability.
For those of you who like to hike, wear boots or live in cold weather areas, long thick socks are going to be the best choice. As we mentioned, long ones are better for protecting the shin and calf of your leg. When outside in tough conditions or while simply wearing a tall pair of boots, the materials of the shoe can rub against your skin, causing irritation and blisters. To avoid this, it's always better to wear such a pair that completely covers the area under the material of the shoes. The cushioning is an added benefit for protection and contributes to creating a lightweight barrier.
Materials
The type of material used in the creation of each sock is highly important for a number of reasons.
The first is comfort and breathability, two key factors in any sock. Socks that don't provide proper air flow will make your feet sweaty which can cause blisters, odors and bacterial growth, which obviously no one wants.
The material types are also important for providing a form fit and durable structure. Cheaply made ones won't last long or serve their purpose and since there are so many materials to choose from, we understand it may be hard to know which is best. That's why we're here to help.
The most common material you'll see used in everyday socks is cotton. While most people pride this material on its softness and comfort, the material isn't as beneficial for the make of socks. Those made of cotton tend to soak in sweat, keeping your feet constantly moist which can lead to many health concerns. It is not recommended to wear cotton ones as nowadays there are so many other materials to choose from.
While most people think natural materials are the better option, it is actually synthetics that are better suited for use in socks. Synthetic materials are designed for specific purposes and their structural make up is much more durable. Materials like polyester, spandex and Coolmax are specially created to help absorb moisture and keep your feet cool and dry.
Features
While each feature may seem small at first, the more features you have in your socks will create an overall better fit and feel.
Sock features depend on the type of use and the style of the socks. For example, shorter ones that provide a 'no show' look or have a low-cut ankle style are going to want some extra padding or grip around the ankles. Low-cut ones, when worn with shoes, tend to rub against the ankle if there's not enough cushion provided.
Some companies equip their socks with padded ankle collars or cushioned ankle tabs to help create a soft barrier between the foot and shoe and avoid irritation. For 'barely there' liners that are meant to be worn with flats or heels, a functional feature commonly found are inside gel tabs to help keep the thin sock in place and avoid slipping down.
For taller socks like a crew cut and knee high socks, many people constantly report about the inconvenience of having to continuously pull them up throughout the day. Whether you need warm winter socks or some to match your favorite boots, there's one feature that will provide comfort and a form fit; ribbed lining.
Featured at the top of the socks, the ribbed material is flexible and helps fit to the shape of your feet and legs. The material is breathable yet form-fitting and helps to provide an overall grip, solving the problem of unstable socks.
Comfort
Socks are usually an item of clothing that most people don't want to spend a lot of money on, and it's completely understandable.
Regardless of the type you choose to wear, one thing goes for everyone: we want our socks to be durable, long lasting and provide comfort. Colorful packs that have a low price tag may seem too good to be true, and they usually are! It's important to look for comfortable features in the materials of their overall structure, as well as brand name reputation, to enhance reliability.
Comfort is found in a variety of areas throughout the sock's design. The most obvious place it is found would be the material they are created with. While cotton socks seem like a great, basic, everyday choice, they don't provide much in the way of breathability or durability. Synthetics and moisture wicking materials are better for providing proper air circulation to the foot and creating a flexible, form fit. Even warm, cushioned ones can provide breathability with the use of innovative materials like Merino wool and polyester.
From the seams to the structure, comfort is found everywhere in a good sock. Another way that comfort is equipped in the making of socks is with padding or cushioned material.
As far as reliability goes, a durable structure and quality materials are the main focus. Reinforced materials in the main wear areas are important for preventing holes in the socks. Stitching is important too because it's what holds everything together.
Most Comfortable Socks for Women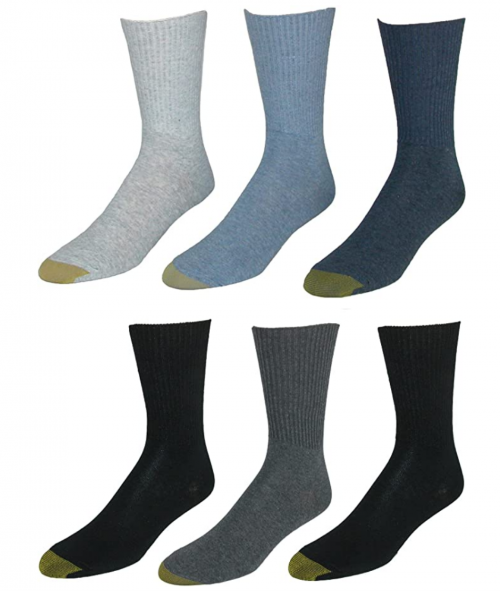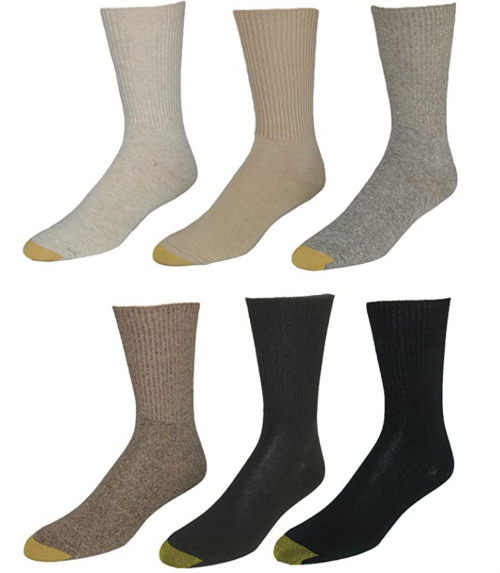 Soft and luxurious, these socks are perfect for boots or winter-time wear. Coming in a variety of colors, each sock features a reinforced gold toe. The ribbed cuffs are stylish when folded down but also help to hold up the sock when worn all the way up. The thin material allows them to fit in all types of shoes without being bulky, making them a highly versatile pair. The thin material provides basic breathability and the design is simple and attractive, matching well with a variety of clothing styles.
This style is so versatile and allows for many options. You can wear the sock all the way up to crew cut length style or fold them down over the ankles. This also makes them a great companion for layering. This style is great for short-long boots and tucking in with leggings or skinny jeans.
Although these winter socks are on the thin side compared to others, the combed cotton material helps to still provide moisture control. Not only are they super soft, but better airflow is provided to aid in comfort. The material is comfortable without being bulky or too thin, which is great for pairing with a variety of different shoe styles.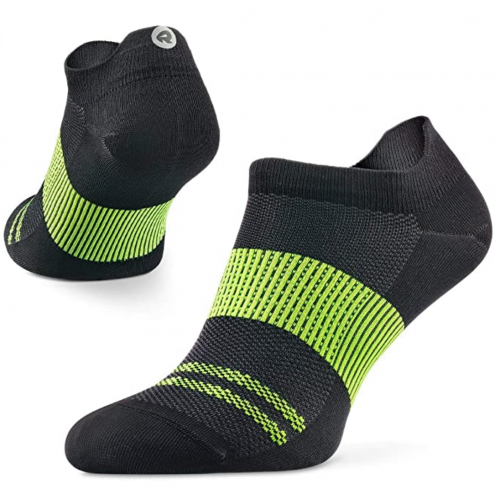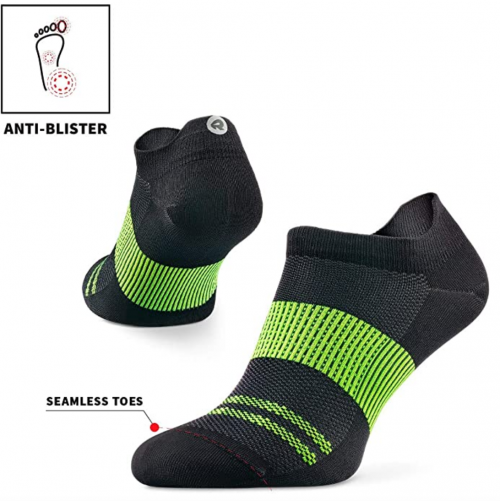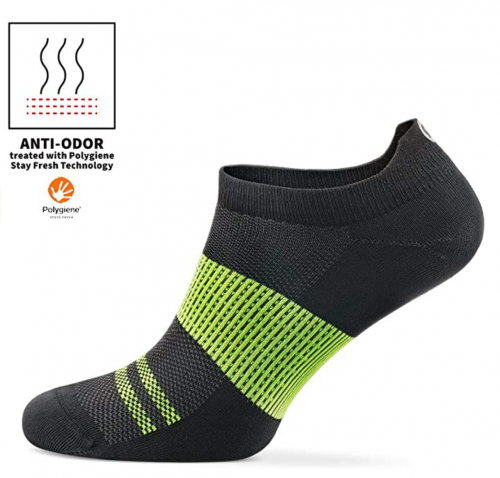 If what you're after is a pair of no show socks made with lightweight, eco-friendly materials, you should definitely check out the newly released Rockay Agile. Originally designed for runners who needed the highest possible level of breathability, the Agile is actually a great summer choice considering the quality materials and great fit it offers. It is available in a simple white color that will work well with all sneakers, so you won't have to worry about bright colors clashing with your favorite outfits.
What makes the Rockay Agile such a great buy is the choice of materials. It's made entirely out of recycled fibers, some of which are even collected from ocean plastic pollution coming from discarded fishing nets and similar materials. The entire upper portion is made with mesh that allows hot air and moisture to move away from the foot keeping you cool and dry all day long.
It's also worth mentioning that this product requires considerably less washing than the other socks listed in this guide, thanks to the Polygene coating. This is a form of treatment that's applied to the finished material, and it deters bacteria from adhering to the socks, keeping them fresh for considerably longer periods of time.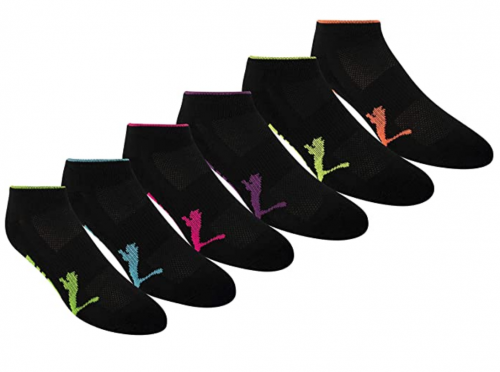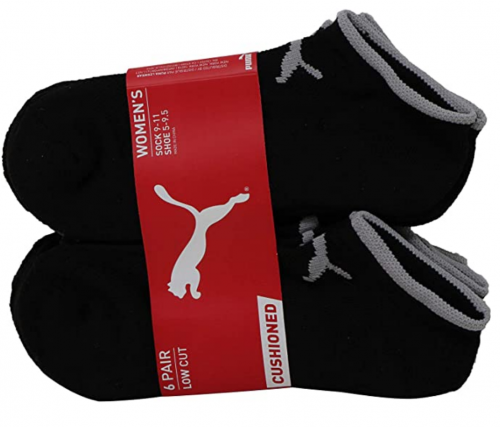 Soft, thick and comfortable, this polyester material provides total warmth and relaxation. The low cut ankle style is great for pairing with athletic shoes and sneakers. Featuring the Puma logo in a variety of colors and styles, these socks are bright and fun. Moisture management technology allows for proper airflow and keeps the foot dry and at ease. Perfect for everyday wear, they come equipped with arch support and cushioning to create all-around comfort.
Their ankle length is perfect for wearing with sneakers and boots. Forming around your ankle, the material keeps your heels safe from discomfort and potential blisters. The padded ankle tab is a plus for protecting the backs of your ankles from rubbing against your shoes.
The style of these socks goes great with a large variety of clothing. Coming in packs of 6 with a range of colors, they are super soft and so comfortable that you'll want to buy an extra pack just to wear them every day. The low-cut style is also versatile enough to be worn with a large variety of shoe styles.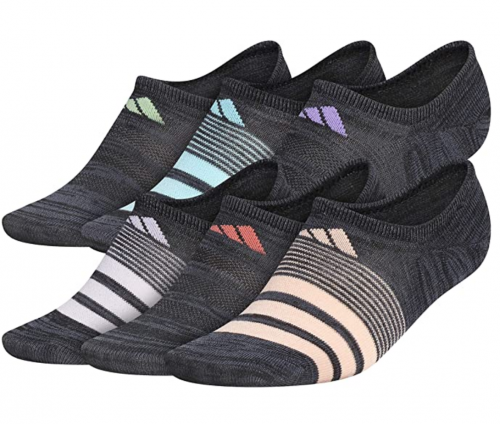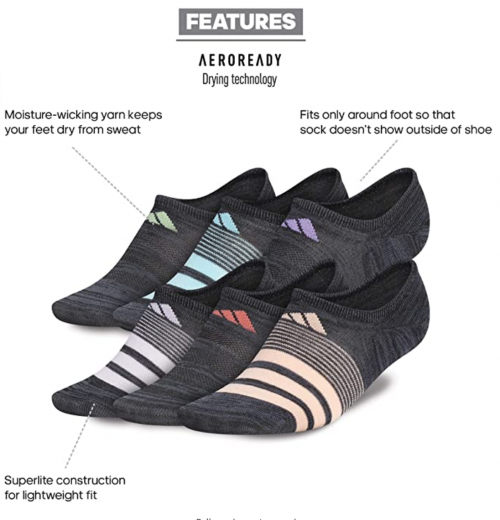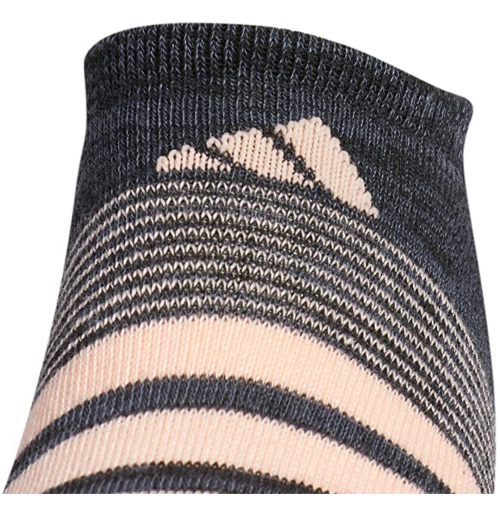 Adidas created the Superlite no-show socks with both the athletic customer and sneaker-wearer in mind. Featuring a blend of 97% Polyester, 2% Spandex, 1% Natural Latex Rubber, these socks are perfect for keeping you comfortable and dry, whether hitting the tennis court or simply hitting the town.
If you spend long days at home, taking care of kids or do indoor exercises like yoga and pilates, having socks with anti-moisture technology is a great choice. It's important to stay comfortable, but you also have to prevent moisture, as this can lead to annoying and unsightly foot issues, like smelly feet or even athlete's foot. With the Superlite, you can stay both comfortable and dry.
They come equipped with lightweight cushioning found in the 97% polyester blend of materials. Forming around the entire foot up to the ankles, the simple yet attractive cushioning helps to keep your feet comfortable and relaxed while also providing basic moisture control. The ribbed arch support also provides extra comfort by forming the sock to the shape of the foot.

SmartWool is known for creating high-quality socks using their moisture wicking Merino wool blends. The materials help provide warmth in cool weather and help keep your feet cool during warm weather, a very functional and adaptive feature. The lightweight material still provides cushioning in this low cut ankle design while the extra Achilles tab helps to prevent your shoes from rubbing against your ankles. Arch support and breathable stitching are just two common features you'll find here from SmartWool.
SmartWool creates their socks to fit securely around the entire foot, including the arch. This area is commonly forgotten, but this company knows that a form fit provides the ultimate comfort and prevents sweat from building up in the extra materials. The ribbed lining underneath the arch creates lightweight compression and helps to evenly distribute weight across the foot.
The all-around cushioning in this model was designed to be ultra lightweight to help ease the ability of your movements. Providing a comfortable feel that is also breathable and moisture wicking, these are the perfect choice for those who are consistently active. Equipped with 200 needle count construction, they will stay comfortable even with long-term use.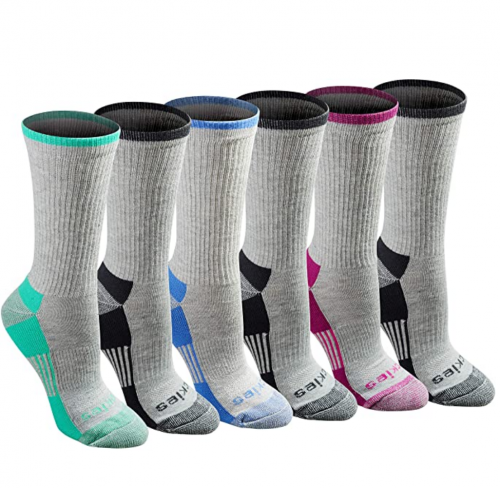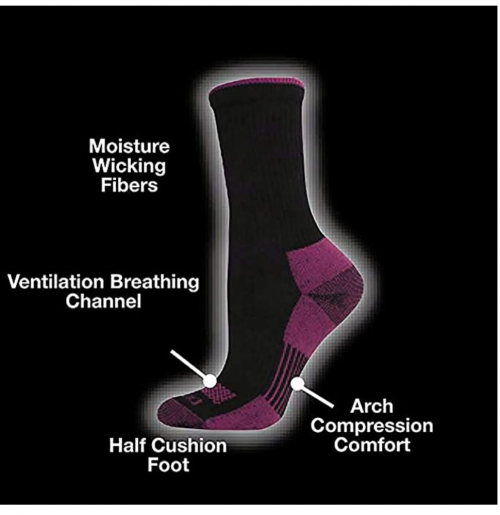 Created by a well-known brand that delivers quality products to their users comes this moisture-wicking crew sock by Dickies. Made mainly with a blend of polyester and cotton, these socks provide comfort, cushion, and moisture control. The ribbed arch support and toplining help to create a form fit around the foot and leg without ever slipping down. The secure fit, full cushioning and reinforced heel and toe make for an all-around durable sock that goes great with boots or during physical activities.
The ribbed material is extremely important in taller socks. People commonly have trouble keeping them in place, but thanks to the ribbed lining at the arch and top of the sock, you won't have to worry about that.
It's hard to find a good pair of crew socks that provide comfortable cushioning that still allows the foot to breathe. This cushioning is still decently thick while allowing for proper airflow. The ventilation channels and breathable fibers combine to keep your feet dry and cool. Dry socks and thick cushioning aren't a common combination, but with Dickie's innovative technology they've made it possible.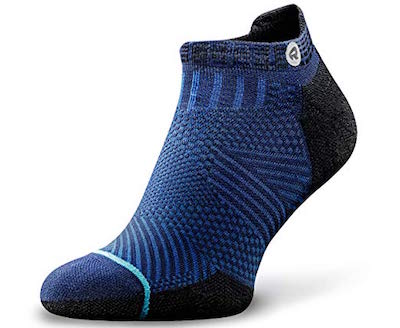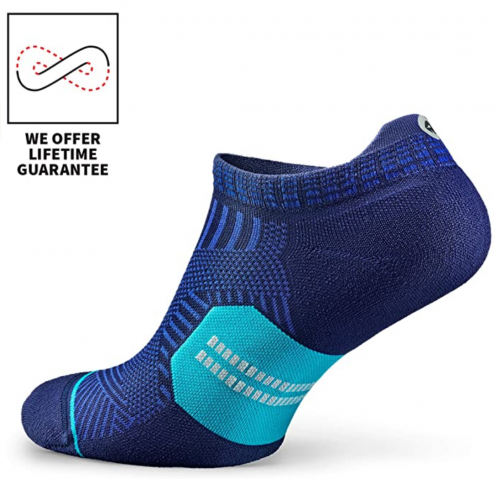 Runners are always worried about hot spots on their feet, blisters, sliding socks, and chafing. The Rockay Accelerate socks take all of those worries and leave them miles behind you and offer thinner zones to allow excellent airflow. In addition, they give you a heel tab and design that hugs your feet to keep them in place. Made of superior materials you are sure to love them if you decide to give them a run and make them your favorite running socks.
Merino Wool is known for its exceptional sweat-wicking capabilities. It also helps keep feet cool in warm weather and warm in cold weather. Wool is also very durable and with added padding in the toe and heel, you know they will stay with you for many miles yet to come.
Excellent arch support and compression adds to the superior fit of this choice by Rockay. Paired with the fact that they conform to your feet and ankle just helps to prove how truly great the fit of these running socks is.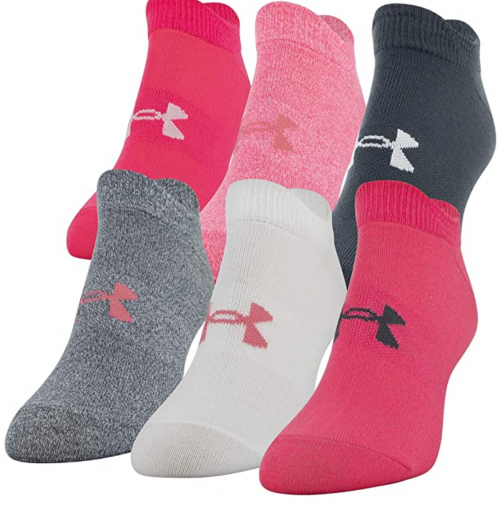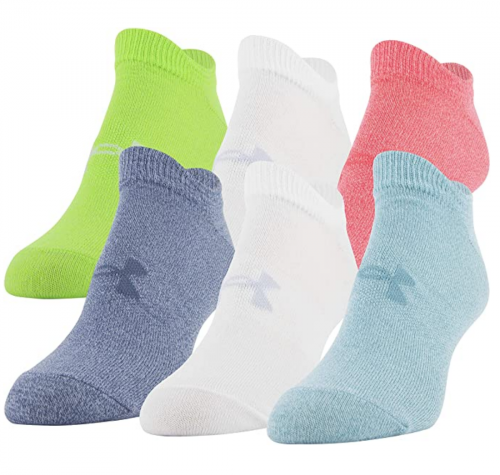 Created by the reliable Under Armour brand, these everyday socks were made for everyday comfort. Under Armour has created its own signature material blends to give you the ultimate moisture management package. Seamless toe and flat knit construction combine to create a sturdy, yet soft and comfortable feel. Form-fitting with arch support, they were created to bring your feet ease. With so many colors to choose from, you'll be sure to find the one that's right for you.
Armour dry and block technology works together to quickly evaporate moisture and prevent the growth of bacteria caused by sweat. Soft and thick, yet breathable, these socks are designed for promoting health and comfort. Breathability is key for providing comfort during everyday activities and exercises.
Not having that uncomfortable bunched seam smashing your toes really makes a huge difference on the comfort level. The seamless toe on these socks will provide your feet ultimate relaxation and won't cause any irritation when coming in contact with your shoes.

Subscribe to our Newsletter