Best Knee High Boots Reviewed & Rated
In a Hurry? Editors choice: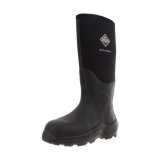 Test Winner: MuckBoots Arctic Sport

From
combat boots
to glam
high heel boots
, everyone needs at least one pair in their closet. They have been in the fashion industry since the 1950s. They were first used by women to show off how the length of dresses had shortened. These women wanted to still be somewhat conservative and fashionable at the same time, which is how these boots started to hit the markets. Nowadays they're great for when the weather starts to get colder, as they can be paired with a shorter skirt for a fashionable ensemble that doesn't sacrifice warmth. They
also look great with jeans
or leggings, or if you're daring, a wedding dress!
Standout Picks
Criteria Used for Evaluation
Comfort
Without a doubt, one of the most important criteria when deciding what boots to buy. You will likely be wearing them to work or out on the town for many hours at a time without a chance to remove them. An uncomfortable shoe can feel as though you just spent the day walking on glass. Uncomfortable or ill-fitting shoes can do more than give you a day worth of pain.
They can cause health issues such as callouses, corns, blisters, and sometimes collapsed arches, arthritic knees, or an aching back. Selecting a pair of boots which has support and cushion if you plan to wear for a longer duration of time is critical. Walking on the hard rubber and leather of the bare soles can make for a difficult day at the office. If the boots lack adequate padding, you can try using insole inserts to give your feet a little more padding.
If you're looking for a boot to wear for an hour or so at a dinner party, comfort may fall down the list of what you need in a good boot, but if you're out on the town for an evening, find something with a padded insole, rounded toe, or adjustable fit.
Materials
Here is another important piece to consider when thinking about the stiffness or flexibility desired in your new boots. Some leather can have very little give, making these boots a challenge to wear for extended periods until they are broken in. Boots that are too stiff can affect the way you walk and your natural stride, and probably wouldn't be ideal for a night of dancing.
Think about what you intend your new boots to be used for, and if you have the time to break in the boot before wearing. Boots can come in softer leathers or fabrics. They tend to lose their shape a little more quickly than their stiffer counterparts, but it may be more suited to those who prefer the freedom of movement.
Considering breathability is especially important if intending to wear your boots in warmer months. Boots that don't breathe can be some of the least comfortable things you have ever strapped to your feet and could leave you with damp feet, which can cause blistering.
Moisture can increase in a non-breathable shoe, causing a buildup of fungus or mold inside the boot. This can lead to bigger issues such as Athlete's foot, so be sure you have a boot that has some breathing room to keep you dry. Many boots will have a breathable or moisture-wicking lining to help alleviate moisture build-up.
Weather Resistance
Warmth is a functional consideration when selecting your pair, as these are mostly worn in the winter or cooler months of the year. The height of the boot will give an extra layer of protection from the elements can keep your legs nice and toasty.
Many boots are designed explicitly for this purpose, with interiors lined with faux fur or neoprene. If the boot material is thin, adding thick socks can help stave off winter's wrath while you're out getting your errands done for the day, just be sure to allow for that extra room in the boot's fit.
Waterproof boots are essential in the cooler, rainy months of spring and fall, and the snowy cold months of winter. Of course, certain materials are more resistant to water than others. Many companies treat their boots to be water resistant or use naturally hydrophobic materials. There are even sprays where you can do it yourself.
Rain boots made from rubber are great for water wear, but may not keep you warmer in the snow. Insulated boots such as the MuckBoots Arctic are designed for the snow and heat insulation but may be too warm for spring wear. Decide what level of waterproofing you're comfortable with committing to before you buy!
Style
Your comfort and health are the most important thing you should consider while shopping for boots, but that isn't to say that fashion is something you can just ignore. Do you feel like you look good in these boots? Once your questions about comfort are answered, this is the question you need to ask yourself. It's important to wear boots that make you feel good about yourself. A fashionable pair of boots can brighten up any outfit.
You see this as elaborate stitching or embroidery. Embellishments can add some simple pops of style to your boots, while adornment such as buckles and buttons can give a more urban appeal and bring some attitude to your attire.
These features all add some element of fashion to your boots. Laces can sometimes be quite appealing in designs when they run up the entirety of the boot. A Zipper closure makes and easy in and out to the boot while giving it a slightly 'harder' edge. Slip on boots may be less easy to get in and out of depending on the material from which they were constructed. This can also depend on flexibility in the shoe.
Color
For obvious reasons, color can give any outfit a boost when paired correctly. A bright red boot paired with a classic black dress or skirt can make a statement in a room, while neutrally toned boots are great for fall fashions, where warmer colors such as browns and oranges tend to dominate our apparel.
The texturing of a boot can be fashionable as well, and bump up a simple style to an elevated sophistication. Ruched leather gives a casual element to a fancier boot, while rich suede can reflect a royal demeanor for formal occasions.
Classic leather straight ones are a staple for anyone's wardrobe, and if you're new to wearing this style of boot, this is the best bet to purchase!
10 Best Knee High Boots
1

. MuckBoots Arctic Sport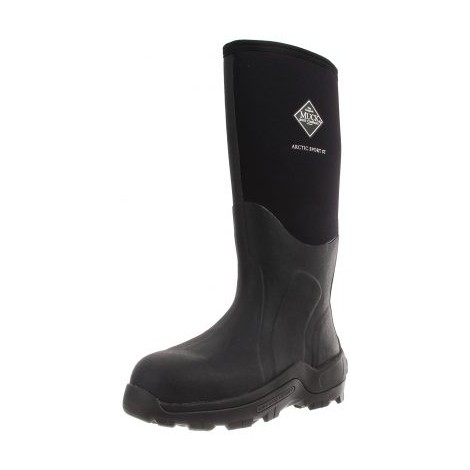 Starting off the top three of our list is a more technical model, the MuckBoots Arctic Sport. Known for designing boots to be comfortable in messy conditions such as mud, rain, snow, or sleet, MuckBoots gave their Arctic Sport a few extra bells and whistles in the technical aspect of the boot. Soft fleece lining and 5mm neoprene help provide comfort and insulation for winter weather, so this pair could be the only winter boot you need for winter storms!
The first thing to notice about the Arctic Sport is its rugged rubber outsole, made to keep traction when the weather turns nasty outside. These boots are 100% waterproof, so sloshing through sleet or water won't leave you wet and hating the winter. Constructed from leather and synthetic materials, this boot won't bow to wear and tear from the winter weather. A 5mm neoprene construction not only keeps you dry, but retains heat, helps keep the boot flexible for all-day wear, and can adjust to your specific foot to reduce blisters and chaffing. A faux fur trim gives some added style and coziness, keeping you warm in weather down to -20F. An EVA midsole provides lightweight support, making this boot less clunky and more cushioned than other winter boots.
This unisex boot runs slightly pricey on our list, but it's our top pick for a good reason. With the technical features of this boot to keep you warm and dry in the winter combined with a lightweight and durable construction, it's well worth the money spent. This boot is versatile enough for those of us who hate shoveling the driveway in the snow because we get cold or wet, to those outdoor lovers who snowshoe when winter arrives.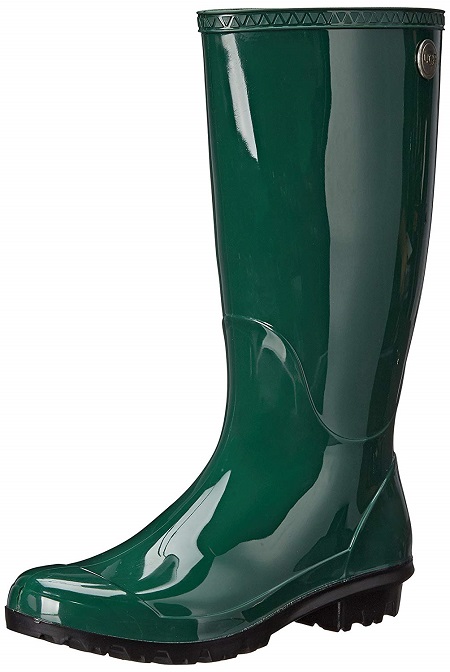 While UGG is synonymous with those fluffy brown winter boots, they also make rainboots. The Shay Rain boots are made with their signature sheep wool interior, as well as a waterproof rubber outer and PVC outsole. These features, along with the brand's UGGpure wool insole, provide the best in warmth and waterproofing, while sporting a stylish and clean design.
A signature in UGG footwear, Australian sheep wool lines the interior, from the top of the shaft to the insole. Not only does this provide a comfortable and plush fit, but wool is naturally both warm and water-resistant, further adding to the rainproofing and ensuring warmth and comfort in colder conditions.
The fit is essential for any kind of boot, especially rain boots. An improper or insecure fit can cause rain to seep into them from above, causing the interior and your feet to feel soggy and uncomfortable. This is why UGG used a dual zipper design for the Shay Rain boots. Using both medial and lateral zippers, they work together to ensure a secure and comfortable fit that will keep your feet dry no matter how hard it is raining. These boots are priced reasonably, especially for their superior waterproofing and comfort. Whether you live in an area with a lot of rain, or just want something that will protect you during poor weather without compromising on a stylish design, these are well worth the investment.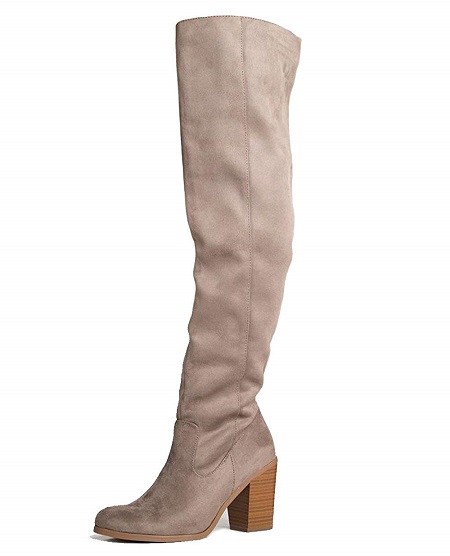 Heels are a stylish choice no matter the weather, but some styles are less than practical during colder months. Heels can also have issues with traction and balance in snowy conditions, potentially leading to you falling. This is where an over-the-knee style and chunky heel come in. The tall design along with the padded interior will keep your feet and legs warm, while the chunky heel provides a wide surface area to allow for ideal balance in the colder months, along with a show-stopping design that will have all eyes on you at the family Christmas party.
When it comes to heeled footwear, comfort is important. While heeled styles are fashionable and appealing, they do orient your foot in a less than the natural manner which can cause pain and discomfort, especially when worn for a long period. To combat this, J. Adams used soft cushioned padding for the interior, from the top of the shaft to the insole. This, along with the chunky heel, will keep your feet feeling good all day or all night.
Made of a durable synthetic outer, J. Adams used 100% vegan materials for all parts of this boot. This makes the production process both animal and environmentally-friendly, making this a purchase you can feel good about. These are probably some of the best all-season boots you can find under $50. The chunky heel and extra padding make these comfortable enough for all-day wear, with a sleek over-the-knee style that pairs well with almost anything in your wardrobe.




Nine West was founded in 1983, and in that time they've shown their expertise when it comes to making stylish footwear, even going global in 1994 when they opened their flagship storefront in Hong Kong, and they have since expanded into 57 countries with 800 locations. With a rounded toe section and sleek design, the Kerianna boots are a beautiful example of this expertise in action.
Nobody likes pointy heels. They squish your toes together and can be all around painful and uncomfortable. While these do have a pointed toe, Nine West rounded it off slightly to allow for a more comfortable fit without compromising their overall aesthetic.
Finding suitable boots can be tough when you have large calves. While they don't specifically come in a large-calf variant, the Nine West Kerianna boots have a leg opening circumference of 26", giving these a comfortable and roomy fit for a wide range of shapes, and also allowing you to tuck your pants into them for a tailored look.
While the price seems to vary wildly based on size and color, Nine West is a well-known brand that's been making quality products since the 1980s. If you're looking for a stylish and comfortable boot that's great for those with wider calves, you can't go wrong with the Kerianna.

5

. Harley Davidson Beechwood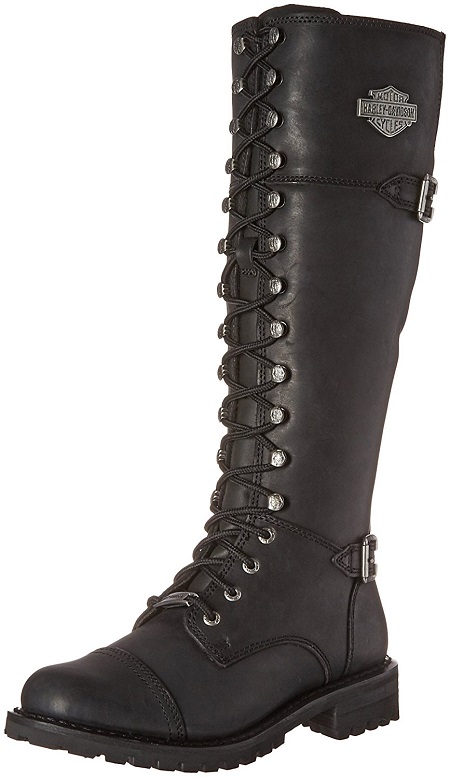 When you think of motorcycles, chances are the first thing that comes to mind is Harley Davidson. While motorcycles were originally invented in Germany, this American brand has become synonymous with bikers around the world, and for good reason. Not only are their bikes some of the best, but their riding gear is top-notch, which is why we included the Beechwood boots on our list. With features for durability and comfort, as well as a killer design, these boots are made for anything and will definitely turn heads.
Something not typically found in work boots, Harley Davidson outfitted these with a full-length sockliner. The sockliner works well to wick moisture away from you, keeping your feet dry. It also has extra cushioning for comfortable all-day wear, so these boots will go as long as you do.
These boots are just as well-built as Harley's bikes. The outer is made of a durable weather-resistant leather, so neither mud nor poor weather will ruin your day. The internal zipper is made by YKK, who is the world leader in zipper production, and features a locking mechanism to ensure that it will stay in place and not catch on the interior fabric. The outsole is made with a Goodyear welt construction, as well as oil and slip-resistant rubber, ensuring proper traction in any conditions. We would consider these boots just above mid-range in terms of price, though the exceptional durability makes them more than worth the cost. The inner sockliner ensures all-day comfort, though they may take some time to break in fully. Be patient and let your comfort level be your guide.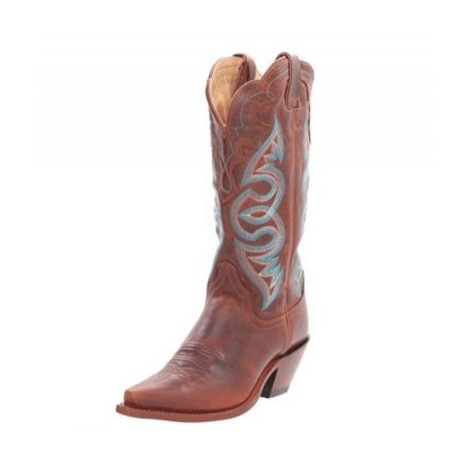 Stepping up from the budget-friendly Raspy is Justin Boots Western. Another cowboy styled boot, this one boasts high-quality leather to give extra years of life to your boot. With two different coloring options available, you can select a classic western look, or go with a feistier flair with colored embroidery. Quality craftsmanship can be seen in the welt and sole of the shoe's stitching, and who doesn't love that quality leather smell?
Constructed from real quality leather, the Western has that 'new leather' smell. This type of construction allows for better durability, and over time, helps the boot conform to your unique foot and gait pattern. Traditional stitching and western style embroidering adorns this boot, making it an eye-catcher. A pointed toe tops off the traditional look, but with a slight snip toe giving it a little modern update.
Most pointed toe cowboy boots can run narrow in the toe, so be sure to pick a size best for your foot, especially for those with wider feet. The Western amps up the comfort with easy-on pull straps, making it less of a hassle to get into these boots. The J-Flex Comfort system gives comfort and cushion along with a memory foam midsole, allowing a long duration of wear and minimizing tired arches.
Quality leather constructed shoes do come at a premium, so this is slightly more expensive than similar styles on our list. Depending on the type of embroidery pattern desired, this boot can vary in price as well. Still a great investment for those looking for a quality pair of cowboy boots that will last a lifetime with the proper care and cleaning!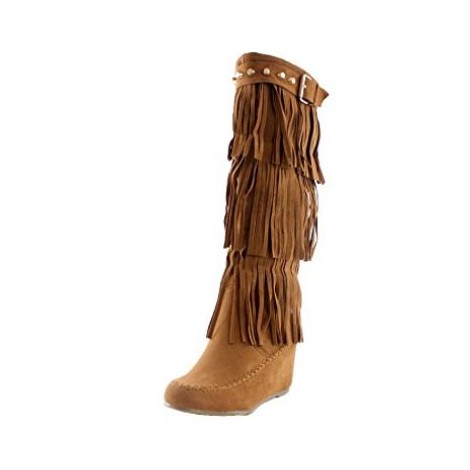 Nature Breeze took a fun approach with these Bridget Moc-Toe Wedge Boots. There is a wedge heel to add some height to you and make your legs look longer. Also, the boots have fringe on them to show off your fun and trendy side. There is also a buckle at the very top of the boots, so you can adjust the calves to maximize comfort. These boots come in a variety of different colors, which are great for the fall and winter months. With the cushioned footbed, you can walk around all day in these boots without any complaints.
For 2018, shoe styles include adding extra fashion elements such as sequins, bows, rhinestones, even feathers. Fringe is no exception to this list either! With these stylish boots, you can show off your full fringe fashion sense knowing you've still got an updated trendy look. They combine a moccasin look with high fashion sense, where the fringe sways back and forth with each step, making it a fun attention seeking boot.
A cushioned footbed will help keep your steps light and padded for all-day wear and walking. Combine this with a wider rounded toe, and you'll likely not see any pinching or pain in the toe box area after extended wear. With its soft suede construction, the boot wraps your entire lower leg in lush comfort and warmth. These boots are on the less expensive side of our top 10 list. Add to this their fashion forward sense and comfort, wrapped up in a fringe moccasin style, and you have a winner to add to your fall collection of boots. Pair with jeans or leggings for cooler weather, these are best suited for casual occasions, where comfort is king.



Donald J. Pliner's Devi Boots are what people consider fresh and unique. The design elements are forward thinking and quite different than many boots on the market today. The instep zipper adds dimensions that are pleasing to the eye. A stacked heel gives added height for confident strides. These boots only come in a shiny suede leather material that adds a sleek element to their look and feel. These boots are great if you want to stand out from a crowd!
If you are looking for a more fashionable and unique look, these boots are made for you. Their sleek shiny design gives a luster quality to them. Also, the shaft is overlayed with two segments, and an exposed zipper which closes them around the shaft. This unique look gives the boot a 'cape' design element. Sure to get second glances and compliments, it's a great addition to your collection.
One of the best features on these boots is the round toe made for comfort. Not only does it bring a classic look, but also gives room for your toes, preventing pinching and blistering. The soft suede leather wraps your entire lower leg in comfort and gives a plush royal feel to the boot. The Devi runs on the less-budget friendly side of the price spectrum, but for a designer brand boot, it's averagely priced for similar makes and brands. With its unique design elements and royal appeal, it's definitely an eye-catching investment, sure to turn heads and get compliments.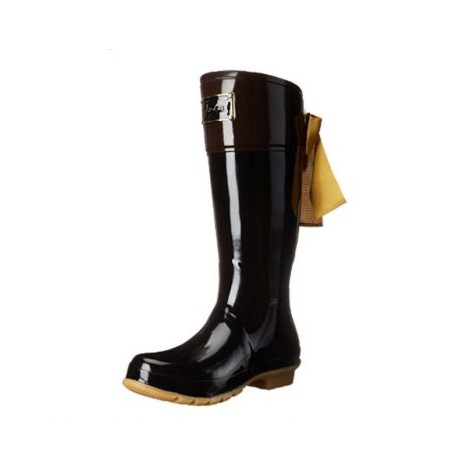 No closet is complete without a pair of rain boots for drizzly wet days. Joules Evedon Rain Boot keeps the water out but keeps some pizzazz in style with a fun big bow element and front logo design. One of the big fashion trends in footwear for 2018 are shoes with big bows, and this boot keeps cute tied together with function perfectly!
This clever little rain boot comes in shiny rubber in a number of colors from blacks to dark reds and blues. The back side has a dual loop closure at the top near the calf which the large decorative bow ties through. The bow is the showstopper on this boot, coming in the same or contrasting colors, and adds just a pop of sophisticated styling to a classic welly.
Don't let the cute factor fool you however-this rain boot keeps out the damp and the wet, keeping you dry during rainy fall or spring weather. A textured rubber sole has been improved to maximize traction on wet surfaces, and the boot itself is simple to clean with a damp cloth. Joules' Welly Collection is becoming by and large one of the more popular choices for rain boots, and even though this ranks on the more expensive end of pricing, it's a show stopper. No need to fret either if something isn't perfect with this boot—it's backed by the manufactures guarantee for one year after purchase!

10

. Miz Mooz Extended Calf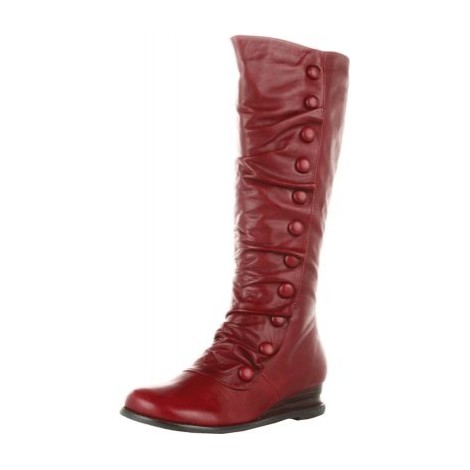 Miz Mooz put their own spin on this type of boot with a fresh and interesting design. From its ruched buttons to wedged heel, you won't be able to take your eyes off them. They are constructed from leather and are great quality with durability to last. The extended calf is a great addition which can give added length to the leg. These boots come with a zipper closure, so you do not have to worry about pulling these boots on. With a selection of basic colors, you can pair with several varieties of attire.
These boots have an interesting and funky design to them. From the buttons to the wedge heel, they are intensely appealing to view. The ruched leather design gives a relaxed feel with a bit of edgy urban styling, perfect for a date night on the town! If you want boots that will last a long time and stay looking new, leather constructed boots are the way to go. Durable and slightly water resistant, you'll be able to wear this boot in cooler rainy weather without worry of durability. Be sure to treat this burnished leather properly for extended life and use.
Miz Mooz Extended Calf is one of the more expensive options on our top ten list, but with its unique, sassy design and urban flair, it's well worth the investment if you're looking to add some flair to your collection of boots. Burnished leather, button accents, and a smart wedge design will have you stepping out in style!

Subscribe to our Newsletter