Best Ranch & Farm Boots Reviewed For Quality
In a Hurry? Editors choice: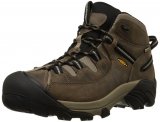 Test Winner: KEEN Targhee II

A good pair of boots will keep you comfortable and protected, no matter the conditions. If you're working on machinery, lifting heavy loads, or walking and standing for long periods of time, you'll need extra
protection from injuries
, as well. In this day in age, when there seem to be endless options, it can be
hard to choose
a pair of boots that will be suitable for you. That's why our list consists of ten of the most high-quality boots with features ideal for farmers and ranchers, alike. Durable, practical, and
some even fashionable
, you're sure to find your perfect pair.
Standout Picks
Criteria Used for Evaluation
Comfort
A comfortable pair of boots will lessen fatigue on the feet, ankles, and legs, which will render the work easier and save you your energy. On top of that, it prevents blisters and the like which would, definitely, come in the way of your work. Optimal comfort, however, requires more than just a soft lining. There are certain characteristics of any shoe that will keep you feeling good in the long-term.
If you're going to be carrying heavy loads or walking frequently, cushioning is definitely a thing to consider. The amount of cushioning provided by a shoe is mostly determined by its sole. Typically, midsoles are made of EVA (which stands for ethylene vinyl acetate), which is light, flexible, and will help to disperse shock evenly underfoot. This lessens the impact on your ankles and knees, which greatly reduces fatigue and can, also, prevent injuries. In addition, features such as a toe-spring (a slight upward curve in the toe box area) can, also, come in handy.
Another factor to consider is weight. Although a heavy boot can mean it is well-made and sturdy, this is not necessarily true, as heavy footwear can be inconvenient if you're frequently walking or moving around. Like cushioning, light boots will reduce fatigue and keep you feeling better for longer. Nylon is the most lightweight material used for boots compared to rubber and leather.  If you're looking for light boots but, also, want the benefits of other materials, a combination of materials can be favorable.
In addition to the overall weight of a shoe, balance in its weight is, also, crucial. Surprisingly enough, an unevenly balanced shoe can go as far as to cause shin splints, which in the long-term would affect many other muscles, as well; leading to easier fatigue. When shopping, it's a good idea to balance it on your hand and really feel the distribution of its weight. If it is a steel toe boot, make sure this feature doesn't take a toll on its weight.
Protection
For farmers and ranchers, as well as, engineers, construction workers, and manufacturers, toe protection is crucial, as it can not only increase the durability of the boot but, also, offer optimal protection against work hazards of any kind.
Toe protection is especially important, as it provides protection against falling objects or compression. Many work boots are steel-toe. This, also, makes it durable but will add some extra weight and could possibly conduct temperature. Some steel toe boots may not be even made of steel, but are instead made of a rigid composite material, such as dense plastic or Kevlar. These are lighter and will not conduct temperature, but are, nonetheless, protective and safe to wear in metal-free environments.
Steel-toe boots can even offer great protection against chemical hazards and electric shock. Their versatility makes them great to wear in a variety of different workplaces. In addition, some brands have even become fashionable within subcultures, such as punk.
Steel-toe reinforcement will, also, be more resistant to abrasion. It will prevent the boots from wearing down in mere months, as might happen with ordinary boots. In the long run, they will save you money while, also, ensuring safety.
Materials
The comfort, durability, water resistance, and traction of your farm or ranch boot can vary a lot, depending on the materials used in its manufacturing. It may be confusing or even overwhelming to see all the types of materials that can be used in shoes. However, once you know what materials to look for, it can make the selection process much easier.
Leather - The leather is by far the most widely-used material in all kinds of work boots - and for a reason, too. Leather boots are extremely durable and can be made waterproof. Full-grain leather (leather made from the part of an animal's hide just under the animal's hair) is especially so. It is the highest quality leather you can find but it's, also, the most expensive and the hardest to work with, which means you'll have to pay quite a bit for boots made with them. However, they offer great protection against wear and water, and once broken in will mold to the shape of your foot to provide extra comfort. On the downside, however, their thickness renders them heavy and minimally breathable. The second highest quality leather is top grain leather. This renders it thinner and easier to work with and, thus, results in a lower price. They are often applied with a finishing coat that prevents staining that often happens with full grain leather. However, this finishing coat, also, means less breathability. In addition, they are less durable and will wear out more easily under harsh outdoor conditions. Overall, top grain leather might be suitable for you if you want something that costs less, weighs less, and is less likely to stain. However, if you're willing to spend a bit more for a pair of boots that will last you for years under harsh conditions, full grain leather will be perfect for you.
Rubber - Rubber is, also, popular among farm and ranch boots and offers superior protection against water and mud. It is, also, highly durable and can last for years. Boots made of rubber are, usually, easy to clean and easy to slip on; but keep in mind, they are not as flexible as leather. If the shaft is too narrow around your ankle and calf, it can mean extreme discomfort that will make the work seem even harder. However, if you find a pair that fits well, they can offer serious protection against any kind of weather or terrain. They can, also, be insulated to retain heat, which will keep you warm in harsh winter weather. If you're often working in the mud, then rubber is the way to go.
Nylon - Nylon boots tend to be more lightweight and breathable compared to leather. They can be waterproof, and their softness provides extra comfort that's great for any occasion. They are, also, more flexible than leather, which makes walking and moving around much easier and more comfortable. If you're looking for something light and comfortable that prevents your feet from overheating, nylon is always a great choice.
Construction
The way a shoe is put together plays a huge part in its durability. The first type of boot construction is the stitch down, which is known as the strongest type, as well. Staying true to its name, this means that the outsole is stitched to the upper part of the boot with a sturdy material. This makes the boot more durable and, also, allows them to be re-soled if necessary. The second type of construction is cement, where the outsole is instead glued to the upper part of the boot. It is not as long lasting as the previous method, but boots made in this way usually cost much less. Thirdly, the molded work boots are made by literally molding the outsole to the boot. These boots are similar to cemented boots but are slightly more durable. They may or may not have replaceable soles.
Water Resistance
If your daily routine involves working on a farm, ranch, or even in the fields, then you know how important water protection is, especially in cold conditions. The work waits for no-one, and you'll have to finish all your chores, rain or shine. Often, ranches can become messy with rain or melting snow, , making your regular pair of work boots inappropriate.
Risking catching an infection, getting a cold or developing blisters, fungal infections and smelly feet is completely unnecessary, and preventing all of these can be fairly easy. A pair of waterproof wellington boots can go a long way in ensuring that your feet are 100% dry, allowing you to spend longer hours outside, focusing on the tasks at hand.
These types of footwear come in various shaft lengths - from those that reach your ankles, and that are mostly intended for gardening, to those that even go over your knees that'll allow you to tackle even the worst floods. In addition to protecting you from water, they can also do a great deal to prevent debris from entering your footwear, making it more comfortable to wear, without requiring any adjustments.
A number of models listed in this article are made with cold weather particularly in mind, when waterproof footwear can be crucial. Because water freezes in sub zero temperatures, a regular pair of shoes that would allow your feet to become wet could lead to serious health hazards, especially if you're planning on spending longer periods outside. Most of these cold-weather models have plenty of insulation, and will even involve moisture-wicking technology to wick sweat away from the foot, increasing the level of the boot's comfortability.
Outsole
Keeping your footing while working, especially around heavy machinery and unpredictable animals is important for your safety. Unfortunately, this is often made more difficult by muddy, wet or slippery terrain where regular shoes can't provide you with the traction you require.
A good pair of ranch footwear will have a high performance outsole that was made to keep you steadily on your feet, even if the conditions are less than ideal. In bad weather - rain, snow and ide - you will need an outsole with deeper lugs that'll grip the softer ground. Ideally, there'll be plenty of space between said lugs so that they don't become packed and lose their gripping abilities.
Additionally, as farm work often includes fertilizers and even chemicals, you will want a pair of shoes that won't become damaged, or allow your skin to come into contact with said substances. The best options will often be oil and acid resistant, and won't break down when met with these materials.
If you know you'll be walking on concrete for most of the day, look into abrasion resistant styles that won't wear down easily. In this case, extra shock absorption can also come in handy, as this hard surface can be unforgiving on the joints and muscles, causing fatigue even when just standing on it.
Top 10 Farm Boots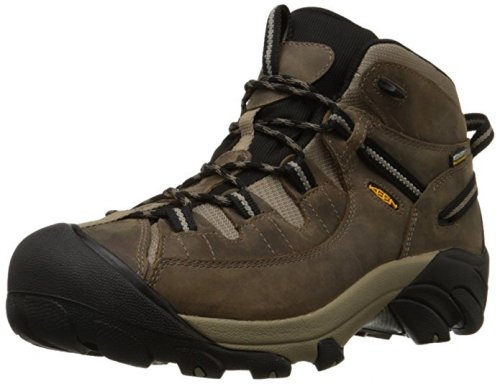 Another versatile release from Keen, the Targhee II is a perfect work-boot for farmers and ranchers, alike. An aggressive lug pattern for traction, a waterproof and breathable membrane and an arch support system, all make the Targhee II a great option for laborers that need protection, support and comfort. These boots are also perfect for other activities, like hunting or hiking, so you can get a lot out of the Targhee II.
The arch support system and reinforced heel makes every step you take a safe and secure one, no matter what terrain you are on or in which weather condition. Farming doesn't stop and neither can you just because of rain and mud, and the Targhee will keep you safe with its built-in stability shank.
The Targhee II is a mid-shoe, so you stay cool when you are hard at work. At a mid-price point, this is a great option for those that want features for a good value.
2

. Timberland 6-Inch Premium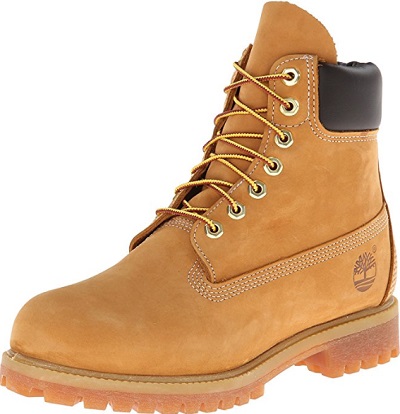 You may see people wearing Timberland footwear every day out on the streets but this brand, actually, has many boots that are perfect for working in tough conditions, too. Originally, designed over 40 years ago, this model is still a popular pick for their great quality and rewarding features. The padded leather collars offer ankle comfort, and a second layer in the midsole provides additional support underfoot. What's more, its laces are made entirely out of recycled nylon, so you can be practical and eco-friendly at the same time.
These, definitely, live up to their name. With the leather upper that is sealed at the seam, they are sure to offer maximum protection against mud and water; rendering them perfect in wet weather.
These have a thick rubber lug sole that may get a bit squeaky on smooth floors, but they offer amazing traction for slippery surfaces. Plus, you won't have to worry about wearing them out anytime soon.

3

. Caterpillar Second Shift 6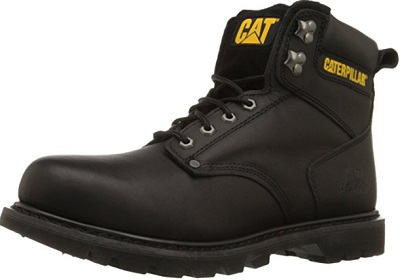 Next, on our list, is a pair great for working on farms and ranches; as well as, in engineering, auto mechanics, or heavy construction. Featuring a steel toe and a slip-resistant sole, these provide serious protection against all kinds of harsh conditions. A nylon mesh lining and a special technology in the sockliner helps to dissipate moisture. In addition, they have a thick, leather body that's flexible and durable and come in different colors. The only downside is that their sizing runs slightly large, but if you order them in half a size smaller or pair them with thick socks, you should be good to go.
Made of the full grain leather upper, these boots are sure to serve you well through the thick and thin. This footwear, also, features laces that are secured in place with durable eyelets and hooks.
If you're often working on wet surfaces or slippery terrain, these are the boots for you. A slip- and- oil-resistant rubber sole provides maximum traction and prevents slipping.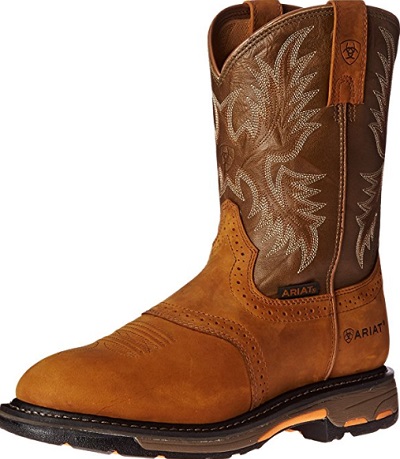 Ariat is one of the most popular brands, as they have a reputation for their comfort, safety, and durability. These stay true to their word, as they provide excellent protection against rain, mud, and snow. Foot fatigue is, also, minimized with torsional stability and a layer of cushioning, and an oil-resistant sole prevents slipping. In addition, with a western flair to its design, it can be paired with anything and worn for nearly any occasion.
This model's special technology features a wider shank combined with stabilizers in the forefoot and heel. Maximum torsional stability is provided to minimize strain and fatigue in the feet.
A layer of shock-absorbing gel cushion will decrease the shock impact on the ankles, knees, and as far as your lower back. This prevents injuries and will keep you comfortable when working.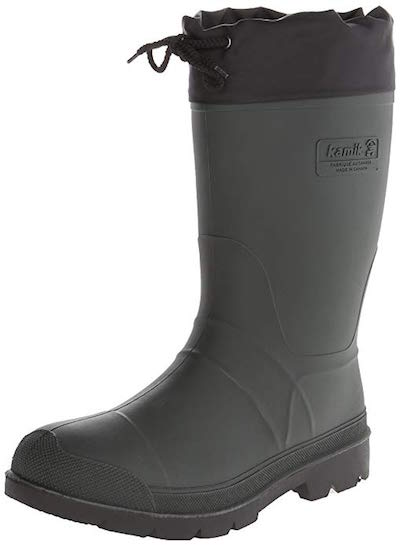 Great for both winter trail walks, as well as barn work, the Kamik Hunter is a 13" tall winter rubber boot made to offer water protection in freezing temperatures. Unlike other models listed, the entire upper is made with rubber, while the top of the shoe features a nylon collar that's not only adjustable, but will prevent any snow, water or debris from finding its way into your boot.
The Hunter features an 8mm Thermal Guard that's removable, and that works by using two layers of material to lock heat in, while allowing for moisture to escape. This means that your feet won't get cold even if you sweat.
Kamik is a company that's committed to keeping the environment safe and healthy, and that shows in their products. The Thermal Guard found in this boot is made with 100% recycled materials, the upper and outsole of the boot is made in Canada in a 0 waste target production plant.

6

. Original MuckBoots Arctic Sport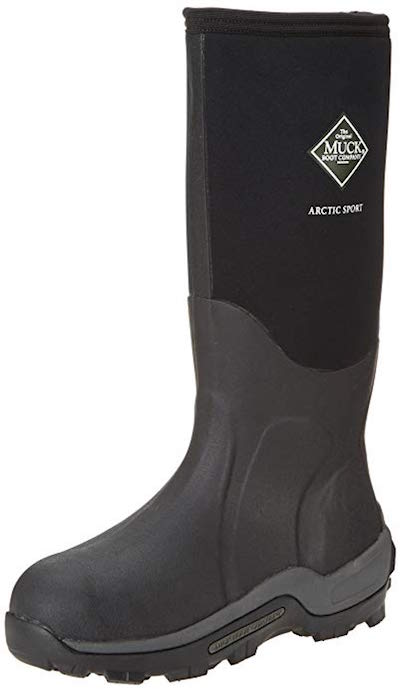 Another cold weather style, the Arctic Sport by the Original Muck Boots Company is a great choice both for work and leisure. What differentiates this model from similar ones also made for -40˚F weather is the footbed that was developed with comfort and support in mind, allowing you to walk further, work harder and stand longer, without having to experience any type of pain at the end of the day. The 14.5" shaft provides ample coverage, both for water protection as well as warmth, while the opening is flexible enough to fit almost any calf.
A 5mm neoprene bootie in the Arctic Sport ensures both warmth and comfort. Not only does it back up the waterproofing effect of the rubber portion of the shoe, it also helps retain heat, while stretching to completely mold to your foot. The addition of fleece is what makes this model such a good choice for frigid temperatures, especially as it's soft and pleasant to the touch.
Underneath the footbed of the Arctic Sport, you'll find a layer of thermal foam that not only insulates, but also adds to this shoe's shock absorbing properties. A contoured EVA footbed both holds the arch and disperses shock from walking, while the midsole is molded for added support.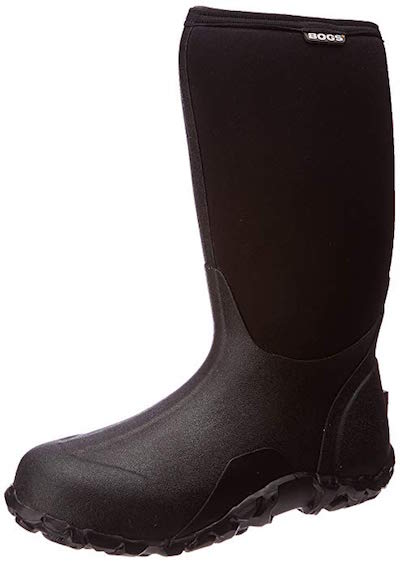 The Bogs Classic High is an insulated work boot made for heavy duty work, and completely focuses on providing you with a protected feel throughout your day. Perfect for winter conditions, it's comfort rated to -40˚F which means you won't have to worry about getting cold on those dark, freezing mornings. Providing a 100% waterproof design, as well as some added comfort features, it will work well even for longer hours of wear, and the rubber is easy to keep clean, so you won't have to worry about difficult maintenance routines.
The Classic High is made with hand-lasted rubber that's durable and resilient, and won't crack too easily. It provides 100% waterproofing, while an inner stretch bootie insulates, keeping heat in and preventing the cold from entering your footwear. The outsole is non-slip and non-marking, and won't pick up mud too easily, keeping the traction at an appropriate level at all times.
The problem with rubber footwear is that it often becomes smelly, especially if you're engaging in more difficult activities that make you sweat. Luckily, the Classic High features Durafresh, a technology that prevents the growth of odor-causing bacteria. Additionally, it's also got a moisture wicking lining, so you won't be standing with wet, sweaty feet all day.

8

. Original MuckBoots Chore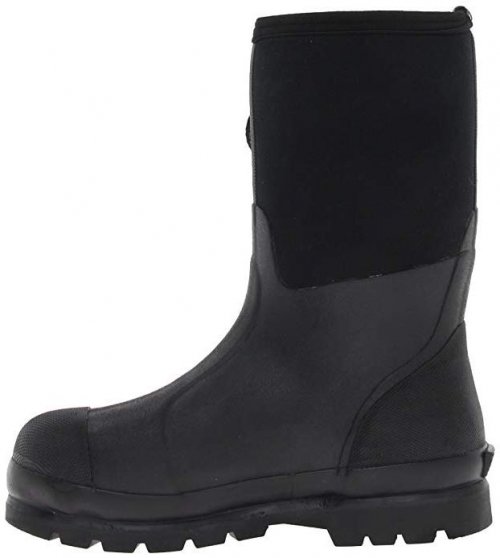 Next, on our list, is another great pair by MuckBoots. These may be labeled as rain boots, but don't think they're only good for puddle-splashing and dog-walking. They are great for protection against harsh weather and will keep you warm while keeping the cold out. A durable outsole and fleece lining keep these shoes comfortable and long-lasting. They lack the lugs necessary for walking on wet, sticky terrain, such as mud. But they are great, nonetheless, for those who spend more time on harder surfaces, like concrete.
With a lining made of fleece, these are 100% waterproof while, also, maintaining their flexibility. The outsole is, also, made of light and durable rubber.
Although these lack grip and are unsuitable on muddy terrain, they provide an even tread that renders them great for smooth, hard surfaces. If this is your work environment, then these are the perfect choice for you.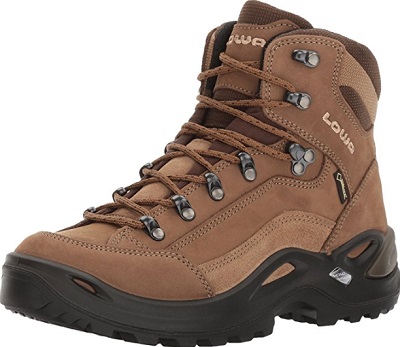 These may have the word hiking in their title, but you'd be surprised at how versatile they can be in all sorts of work conditions. They are designed for walking long distances on rocky terrain, which translates to guaranteed comfort and durability. A full-length stabilizer and a lightweight sole offer excellent traction, while a rigid underfoot renders them great for lugging heavy loads. They can get a bit expensive, but with their quality, we think they're worth the money!
Although these are waterproof; they, also, provide ventilation. The Nubuck leather upper allows moisture to be released and prevents the accumulation of sweat and odor, as the material is naturally breathable.
A rigid underfoot improves stability that minimizes fatigue when carrying heavy loads; however, the body of the shoe remains flexible and comfortable.

10

. Original MuckBoots Muckster II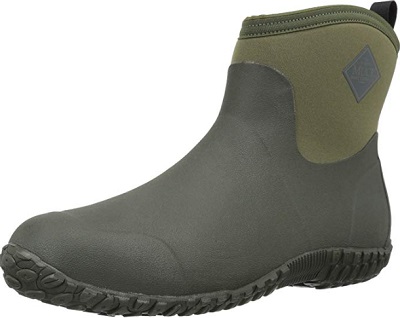 For those who don't need extremely heavy-duty footwear and would prefer something that's lighter in weight, the Muckster II ankle boot will be perfect for you. These may be labeled as snow boots, but they can be surprisingly suitable for ranchers and farmers, as well. Made of natural rubber and breathable, fleece lining, you'll never have to worry about sweat or odor. They are, also, extremely convenient and versatile and feature a slip-resistant outdoor sole that can prevent falls and injuries.
Easy to slip on and off, these are perfect for when you need to get out of the house quick for a trip to the mailbox or the car. They have a perfect balance of convenience and practicality that renders them a great everyday boot.
Because these are only ankle-high, they allow for a great deal of movement compared to boots with a higher shaft. Though they may not be suitable for thick snow, they will keep you comfortable in all kinds of slush and mud.

Subscribe to our Newsletter