Best Snowboard Bindings from the Top Brands Reviewed
last updated:
May 11, 2020
Just because snowboarding is a winter sport doesn't mean you can't do snowboard related activities all year long; like buying updated equipment. Until powder hits the slopes again, you can start shopping for your next season's gear, and if you are in need of some new bindings, then you're in the right place. We've gone through all the best brands available to find the most highly rated snowboard bindings for purchase. Whether you're an avid Burton fan (most popular among beginners and experienced snowboarders alike) or are looking to try something new there are plenty of options to choose from.
This is the best product on our list that is currently in stock: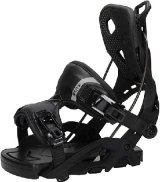 Flow Fuse
Why is it better?
Active Strap
ATM.7 Support
Fusion Powerstrap
Mod-back H-back
In a
Hurry? Editors choice: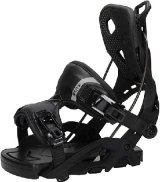 Test Winner: Flow Fuse

15
Researched Sources
1278
Reviews Considered
19
Hours Researching
20
Products Evaluated
Use
Safety Hazards
Materials
Adjustability
Brand
By Default
10 Best Snowboard Bindings
Canted Living Hinge ZeroLean Hi-Back
Reactstrap with Flex Slider
Glide Buckles
Flex FullBED Cushioning System
Better for Burton EST-Specific Board
Pricey
Although compatible for many Burton boards, this is better equipped with the Burton EST-specific board. These are made with a Canted Living Hinge ZeroLean Hi-Back with DialFLAD and Reactstrap with Flex Slider and Gettagrip Capstrap. In addition, the bindings utilize smooth glide buckles for an easier strap in and the hi-backs feature a zero-forward lean.
Gain more cushioning, in addition to your snowboard boots, with the Flex FullBED Cushioning System. You can land from jumps with a bit more confidence; knowing your impacts are handled well.
This system helps you with reaction time; meaning you gain better responsiveness as you carve your way down the mountain's powdery snow or set yourself up for the next trick at the park.
ATM.8 Support Panel
Glass-filled, Nylon Modback Hi-Back
Aluminum Alloy Rocker Baseplate
Fusion Powerstrap
Hybrid Power-Cap Strap
This pair is highly adjustable and rather versatile. It does come with the mounting discs and screws and utilizes an ATM.8 support panel. The Hi-back is a glass-filled, nylon Modback where the overall system deploys an aluminum alloy-rocker baseplate. In addition, the two straps are a Fusion Powerstrap and Hybrid Power-Cap Strap. These secure you in place for a more responsive feel with on-hill versatility.
Aluminum alloy is what the baseplate is made from and the Hi-back contains a glass-filled nylon Modback. In essence, you gain sturdiness, durability, and responsiveness; all while remaining lightweight.
These have a two-strap system. The first is the Fusion Powerstrap and the second is the Hybrid Power-Cap Strap, Together, they give you the perfect balance between security and responsiveness.
Under Warranty
Full Cushion
Smooth Buckle
Forward Lean Dial
Everyone that's a part of the snow sports world knows that Burton is a company they can trust for guaranteed satisfaction. One of their most popular bindings is the Cartel's, ranging in several different colors and sizes with the coveted cushioning riders want. Whether you're a beginner not sure where to start or an experienced snowboarder that wore out their old ones the Cartel bindings are the way to go.
What really makes a pair of bindings a fan favorite is when they can handle different kinds of terrain, and with the single-component baseplate, the Cartel's are really an all-terrain type of binding. The use of only one material gives the perfect amount of response all the way down the mountain.
If you have a pair of Burton snowboarding boots you know they are fantastic for holding up against the cold. When you're wearing the same pair constantly, all season they tend to break down quickly when they get cold then warm over and over again. The gel used to cushion these bindings is specifically created to hold its own against the battering cold.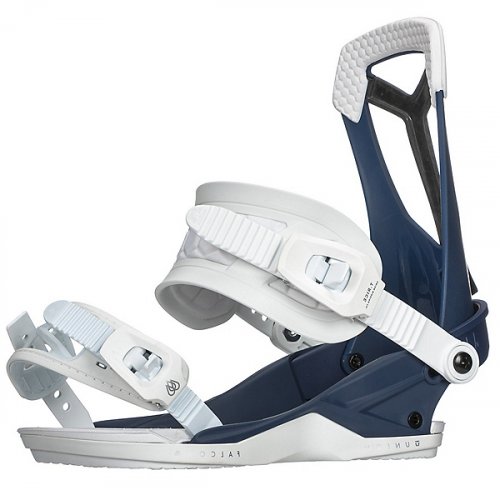 Duraflex Base
CP1 Hiback
Symmetric Straps
Aluminum Ratchets
If you look on Union's website these bindings are labeled as extremely, hence the Flite in their title. They also provide a lifetime warranty for their gear but you won't be needing it (unless you unluckily get a messed up pair straight from the factory). Their lightweight, flexible and all you have been scouring the depths of the snowboarding world for.
The heel caps on the Falcor's are made of an extruded aluminum that ensures your bindings won't cave in on your boots during a particularly rough ride. As Union claims, the design is similar to "a roll cage on a race car". Meaning that the response rate and strength are unlike any other.
Formed to fit and created out of a mold design the bushings made of comfortable EVA are thermoformed and of the highest caliber. With also added support in the heel area (where it is usually needed most) you can enjoy your weekend pass at the resort. A smooth ride has always been important to any snowboarder.
Active Strap
ATM.7 Support
Fusion Powerstrap
Mod-back H-back
Love the Flow company but prefer a classic binding design? Their original Fuse bindings have exactly that while having added benefits of new age tech. Upgraded strap technology, sturdy nylon and a nice, stiff response for advanced snowboarders. The perfect pair for you to show off and perform stunts in front of your crush.
If you're tired of having to stop and plop in the snow to lock the ratchets on your bindings you'll be happy to know the ones on the Fuse slap into place, fast and easy. No need to slow down your ride just smack, lock and go. Even better, no tools required. This awesome feature saves time and money, something we're all looking for in life.
Flow is known and loved for their durable gear that can withstand even the toughest riders. The sturdy nylon is filled with a treated glass that holds its shape while still providing the flexibility needed to ensure they don't shatter. Although they are not recommended for bumbling beginners because they are not nearly as forgiving as other bindings.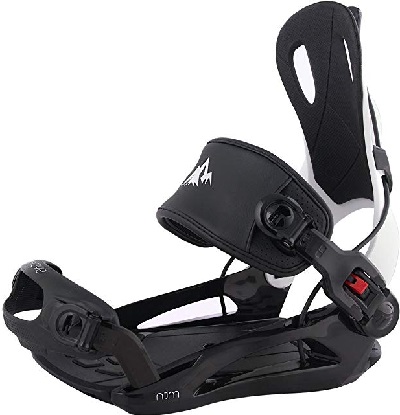 Rear Entry Step In Style
multidisc base plate
EVA Padding
3D Molded Ankle Strap
PU
System's MTN 2019 is the perfect example of how innovative this company is when it comes to creating cutting edge change. The rear step-in style of the MTN is a must, as it allows you to enter without having to first sit down. The MTN scores high on convenience and stability, as well, offering an easy-to-use closure system and balanced weight.
Compatible with all boards, including standard and Burton Channel EST boards, the MTN 2019 is refreshed from its predecessors. The 3D molded ankle strap offers unparalleled comfort and is highly responsive.
Finally, EVA padding surrounds the hi-back, adding to the overall comfort of these bindings. A versatile, comfortable update to the 2018 edition, the System MTN 2019 is bound to get you snowboarding faster than ever before.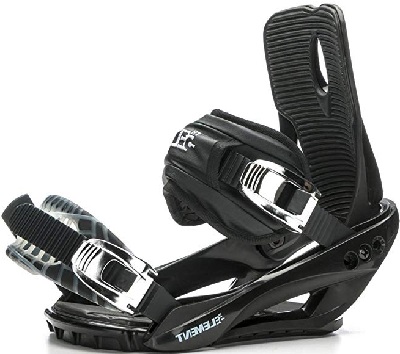 Soft Flex
Redesigned Toe Strap
Forward Lean Adjust
Reinforced Ankle
Your kids bugging you about having their own snowboarding gear, or just want something for yourself? Aren't sure what would be best? If looking for forgiving bindings we recommend the Stealth 3's by 5th Element. Known for their soft flex and one-piece construction they make the perfect beginners bindings. Added bonus that they work great for all over the mountain so once you're ready to get on the lift and go higher up your bindings will be ready with you.
Anxious that you're going to slam into a tree or rock (or another person)? Quell your fears with the new rubberized toe cap on the 3's, which means you'll bounce right off of anything you slide into and won't harm your bindings (because hey, you spent good money on them). It also won't hurt whatever poor soul you manage to ram into because you forgot how to stop.
It's important your bindings conform and hug the backs of your boots so you're not at risk of injury. The highback feature on the 3's gives the right amount of support needed to feel comfortable and safe. You can board as reckless as you want knowing that you won't pull a tendon; although we always recommend to practice safe sports.
Combidisk
EVA Inserts
Rockered Baseplate
Glass-Filled Nylon
Typically a snowboarder wants gear that's more responsive to their movements, although beginners usually want more comfort until they become more experienced. The Alpha bindings by Flow are definitely made for comfort rather than their ability to respond to the slightest body movement. Flow has their own "feel rating" scale 1 being extremely soft and 10 for the highest response, the Alpha's are rated a 3.
From heel to toe Alpha bindings have a complete set of EVA inserts, meaning they are considerably more clunky but comfy. So if having extreme support is important for you, you'll definitely want these. They are also more forgiving, so if you make a mistake, there's less chance of hurting yourself or your gear.
Many snowboarders know the struggle of getting in and out of your bindings considering they are always fairly stiff and your boots don't have much flex. With Flow they are known for having a reclining hi-back, making it quicker and easier to slip in and out. It also lifts the strap and tightens it back down when the hi-back is closed.
Ultragrip Toe Straps
Universal Disk
Duraflex Nylon
CP1 Highbacks
New for 2019, the Union Flite Pro are a popular pair of bindings for intermediate to advanced riders, thanks to their soft/medium flex. The softness of the flex of the Flite Pro make them superb for responsiveness and gaining speed to make jumps. The Flite is compatible with 2x4, 4x4 and Channel boards.
The Duraflex Nylon construction of the bindings make them lightweight, but strong enough to provide support to the rider. CP1 Highbacks provide stability when making jumps, turns and moves. Ultragrip toe straps ensure a snug fit, so you can be confident when performing that next awesome trick.
Made for intermediate to advanced riders, the Flite focused on being… effing lite; hence, the name Flite Pro. Grab a pair of these bindings and hit the slopes and watch yourself fly.
Aluminum Chassis
Lightweight
Responsive
Lifetime Warranty
Hoping for some bindings that are specific to fresh powder for an all-mountain experience? You have come to the right place then, RIDE Snowboards EX bindings are built to fit that exact wishlist. They are also a favorite among snowboarders that have no love for following "trends", none of those nonsensical add-ons that are no use for an experienced 'boarder.
Comfort is always high on a person's must-haves, and many bindings tend to create an uncomfortable stance. EX bindings have a subtle angle so that your legs are positioned in a more natural way, with two different levels that can change your stance for a better ride. Your knee braces can take a break and the stiffness in your joints will be considerably less after switching to the EX.
Toe straps have always been hit and miss, finding ones that aren't thick and hard can be quite the challenge. RIDE Snowboards reinvented their toe straps so they are lightweight and snug without cramping your feet. Flexibility can make a huge difference in the response of your board and bindings.
Criteria Used for Evaluation

Use
Obviously, not everyone is going to have the same snowboard or even purchase theirs from the same company. It would be a major problem if you purchased bindings that don't fit your snowboard, so we tried our hardest to find bindings that are universally compatible. Even though not all are, at least there is a variety that you can choose from to find the right fit or you can purchase a disc that converts from 3 holes to 4 holes and vice versa.
Breakdown
Burton snowboards have a 3-hole pattern for their binding mounting whereas the majority of other brands have a 4-hole pattern.
Bindings with a different hole pattern than the board you plan on using them with will need a disc converter to make them compatible.
If you attach your bindings to a non-compatible board without the disc this can ruin your gear, affect your ride and compromise your safety.

Safety Hazards
There is really only one pair in this guide that is NOT recommended for beginners. The other bindings listed though have a wide range from beginner to intermediate to experienced. Think of it like a video game (we'll use God of War as a reference since it's the most played at the moment); Story, experienced, challenge, and God mode. The story is for beginners that need to get their bearings; while experienced is for those with, well, some experience. Then there's challenge meaning you know what you're doing and are ready to push yourself. God mode is like the Black Diamond, suicide for anyone who isn't 100% comfortable with their abilities.

Materials
Snowboarders know the importance of weight and how it affects the ride and control. If you "gotta go fast" you want the lightest bindings you can find, without giving up precision and safety. This buying guide has exactly that; meaning you get to have extreme speed without worrying that you'll end up hurting yourself or busting your gear. The extreme bindings are made of the finest aluminum while the rest is made out of durable, quality nylon and even treated glass.
Nylon – When you hear the word 'nylon' you might think of tights and stockings because they are commonly referred to as "nylons". That isn't all this polymer is used for though! Nylon can be manipulated into all kinds of different shapes using a melt and press method to change its form. It's known for being lightweight which makes it an ideal material for several different uses, like making snowboard bindings.
Aluminum – It is pretty common knowledge that aluminum is popular among manufacturers of things like cars, everyday household items and so forth. This is because it is strong without the heft of other metals and also has more flex than others as well. Why is it found in certain snowboard bindings? Because it can resist the effects of corrosion due to moisture and wear and tear.

Adjustability
Not everyone wants to spend ten minutes trying to strap onto their board and an added fifteen minutes trying to adjust them to their needs. All of the above snowboard bindings have been reviewed to be the best when it comes to entry and adjustability. What else is great is that you don't need to spend money on special tools to make your adjustments. Nowadays bindings have dials on the back to adjust forward lean to make it easier and faster than ever before.

Value
There are many things to consider when discussing the value of a snowboard binding. You want to primarily consider adjustability, durability, personal appeal, and of course, price. It's important to find the ideal balance between these aspects. For example, an expensive pair will not have much value if they aren't compatible with your board or boots. The issue with buying bindings online is that you can't try them on before ordering, so it's important to look at user reviews to determine how other people feel about the actual fit.
Also note that computer monitors and phone/tablet displays handle color differently, so the color in the picture may end up being slightly different than when they show up at your door. Be sure to look over user reviews before making your purchase, and don't be afraid to return or exchange them if you find they don't live up to your expectations.
Expert Interviews & Opinions
Most Important Criteria
(According to our experts opinion)
Experts Opinion
Editors Opinion
Users Opinion
By Default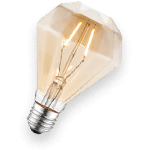 Bindings For Function
When out on the slopes or in the park, you want your bindings to suit the performance required from them, which can vary based on terrain.
Park riding requires flexibility in the materials for landings, but also some high level of fit and support. Mountain style riding should have something flexible enough to enough for hard leans and quick turns, but adjustability for the ride you anticipate as well. If you're into speed, these bindings should be fairly rigid, to help support and protect you during high speed and potential falls.
Just Starting Out?
Many times, if you're just starting out, an entry level binding and other gear can help you sort out what type of riding you prefer, before you upgrade to more expensive and more performance oriented gear.
Local mountains many times host demo days, where manufacturers will let you test out their gear. Check with your local mountain to see when these demo days are coming up to test out some new bindings, boots, or boards.
Other Factors to Consider

Bottom Line
We've taken the time to find the most popular snowboard bindings for the wide target audience that is you. Just starting out? You have multiple choices. A veteran looking for everyday bindings? All of them could work for you, it's all based on your personal preferences of materials and fit. There is also a pair for every budget, without giving up fantastic quality.
Frequently Asked Questions
q:

How to choose the right size snowboard bindings?

a:

Well, it's important for your snowboard bindings to be compatible with your boots and your snowboard, otherwise, you can end up wasting energy and even hurting yourself or your equipment. Normally when purchasing bindings you'll notice they're available in Small through Large sizing, and that doesn't say much since we go by shoe size. Each company has their own sizing charts that will tell you which matches your shoe size so you get the correct fit.
q:

How should bindings fit?

a:

When getting your bindings you want to double check the fit is right, with your boots and snowboard. If they don't fit right your performance will be jeopardized and you'll need to soak your feet in ice water after a day on the mountain. They need to be snug without being too tight and hold you securely in place.
q:

What angle should I set my snowboard bindings to?

a:

Your settings are always going to be your individual preference but if you aren't sure where to start at or are completely lost then it's generally recommended that you need to start with your stance; shoulder width. Then adjust for a 15-degree forward angle and 0 rear, this is a pretty good starting point that you can use to figure out what is best for you.
q:

What difference do bindings make?

a:

Well if you noticed while perusing the ten bindings above, they're all rated at different levels of comfort, support, and stiffness. The more cushion and flex, the more relaxed the ride. If extremely stiff with little to no flex and minimum padding the more sensitive and precise your board will be to your every move.
q:

Which hill should I take as a beginner to snowboarding?

a:

As a beginner to the sport, you may be wondering what kind of hill you should take. You have a new board, bought your bindings, and are ready to sport a fantastic pair of snowboard boots. After all, the whole point is to enjoy the hill, as it were.

As a general rule of thumb, ski resorts will utilize some sort of color coding to help you identify which trails to hit. In North America (and many other places around the world), green is the color most generally associated with a beginner's hill run. The trails will be wider with a slope gradient of no more than 25% – usually, less.

So, you arrive at your first ski resort and spot a green sign. Do not assume it is a beginner trail; albeit, it should be. Always ask an instructor or an employee of the ski resort which is the easiest run for a beginner. In this, you will be safer and can enjoy the freedom of the powdery glide while you begin racking up those miles and increasing your skill level for another color of difficulty. At the end of the day, it is all about building confidence while enjoying the sport.
Subscribe to our Newsletter