Best Toe Socks To Keep Your Tootsies Toasty Reviewed
In a Hurry? Editors choice: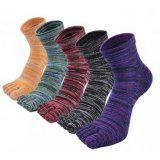 Test Winner: Hellomamma Crew

Did you know that when an individual walks or runs, there is a risk of a build-up of bacteria? This can typically lead to a few different foot-related ailments, which often lead to discomfort. Did you know that even when wearing standard socks, you are at risk of blisters or even
athlete's foot
?
In the past few years, there has been a great innovation – an introduction of a new sock design that is meant to protect your feet from these issues.
It's toe socks! These clever foot protectors come with little sleeves for your toes, preventing any friction, moisture build-up, bacteria or viruses, and so much more. After you learn about the many different benefits that these products offer, you may never want to wear a regular pair of socks again.
Standout Picks
Criteria Used for Evaluation
Style
While this type of product is not typically seen by other people - unless you flash an ankle or if you take off your shoes - we do feel that the sock style is important, in the grand scheme of things. It can make or break a look, especially for those who pay attention to details.

In our list, we strived to include several different options, so that you have an easier time finding what you need. For your convenience, we can sort all of the items in our guide into three main categories: athletic, dress and fun.

Athletic designs are the ones that you wear at the gym, on the running track, when you're hiking, playing tennis or soccer, golfing, or even doing yoga or aerobics. They are constructed to provide maximum breathability to reduce sweating, and to be exceptionally comfortable as to not cause any blisters or chafing. They should also allow for natural movement of the foot. Visually, however, these are nothing impressive and should be worn only with casual and sports outfits.

Dress designs are something else entirely. They are meant for formal events, for important business meetings, and for tailored, sharp looks. They usually come in basic colors, such as black, brown and grey, and are plain in design, without any eye-catching prints or patterns. If your goal is to look polished and sophisticated, then a dress design is the obvious choice.

Finally, fun options are those we wear on our days off. When all we have to do is play with our kids, walk our dogs, do grocery runs, and we don't have to worry about looking put-together at all times. Fun designs bring a smile to anyone's face, and they are great for completing a look which doesn't have to walk the red carpet. (Although, admittedly, we have also seen examples of this done right, a funky patterned sock paired with a high-end luxurious suit, but those are rare.)

If you're feeling overwhelmed by this sorting - don't be! At the end of the day, the style you choose depends entirely on your preference, and on where you intend to wear these designs. Just pick out the ones that you like best, and you definitely won't regret it!
Materials
Materials that go into the construction of a product determine practically all of its features - how breathable it is, how comfortable, durable, supportive and even colorfast it is. Through understanding the materials we can have a greater, in-depth understanding of the quality of the product itself.

The brands from our list used a blend of the following material options:

Cotton: Cotton is a naturally grown material, which is one of the two most popular fabric choices for this type of product (the other being polyester). It is soft and amazingly comfortable to wear, and is also environmentally-friendly. Additionally, cotton is great for sensitive skin, as it is hypoallergenic.
Downsides to cotton are that it is not durable (or not as durable as polyester), and that it tends to shrink in the wash.
Polyester: The other most popular material, polyester is entirely synthetic. It is incredibly strong and durable, and has good colorfastness, meaning that it takes in dye well and retains it through many wash cycles.
Unfortunately, polyester is not as comfortable as cotton (which is why these two materials are often mixed together in various percentages), and it is also very bad for the planet. Namely, polyester doesn't break down, and thus contributes to the already critically high levels of pollution.
Spandex: Spandex is also called Lycra, or elastane. No one product is entirely made out of spandex; it is rather added in a small percentage to improve the fit of a design.
Spandex is what adds stretch and elasticity, and what helps the sock fit closely to your foot without constricting it too much. If you're planning on engaging in some high-impact activities, a stretchy design is a great choice.
Comfort
At first glance, there isn't much to say about the comfort of a sock. It is just a simple piece of garment that you slip onto your foot before you start your day. However, if you end up with a design that irritates you in any way, this can prove to be quite detrimental to your productivity and activity levels, as nothing is more distracting than when your feet are uncomfortable.

When considering the comfort of a design, think about the following factors:

Fit: A good sock should fit you closely, but shouldn't restrict your movement or cut off your blood flow. It should move easily as you move, and not bunch up or slide down throughout the day.
Seams: Seams can cause quite a problem by digging into your skin and causing chafing or blisters. If you want to avoid this, look for designs which have flat seams, or even those which are made entirely out of one piece, called seamless designs.
Pockets: As we are talking about a specific type of product here, it is also important to look at the toe pockets of a design. Compare them to the length of your own toes and determine whether or not they will fit.
Longer pockets tend to bunch up inside a shoe and cause trouble, while shorter ones are too confining for your feet and will only lead to cramps and pain later on.
To ensure that you have the coziest experience, look for designs that fit you right, that have flat seams (or no seams), and that have pockets that fit the size of your toes. It would be best if you could try on the design first, before you start wearing it for real, to determine whether or not it will be okay to have it on for longer periods of time.
Durability
It's safe to say that we all know durability is an important part of any product. The last thing any of us wants is for a brand-new piece of garment to fall apart within hours of putting it on for the first time. With that being said, as we picked out products today, we really focused on only picking those that were durable and in it for the long run.

To figure out what items are designed with durability in mind, you need to look at a few different things:

Materials: In our materials section, we already established that some materials are more durable than others, such as polyester over cotton, for example.
Declarations: Many manufacturers will declare how durable their product is, by measuring it in a number of wash cycles a design can withstand before the fabric thins out or falls apart.
Warranty: Some brands also over 30 or 60 day guarantees, offering to give you your money back if you are unsatisfied with the quality of the product.
Through examining these three different aspects, you will be able to draw some good conclusions on to whether or not a product can endure long-term use.

Look for strong, durable materials (such as bamboo, neoprene and polyester), for a manufacturer guarantee and positive consumer reviews, and you should have a design that you can enjoy for at least a couple of seasons to come!
Value
The last, but certainly not the least, important component of analyzing a product is understanding the relationship between its price tag and the value it offers. Some of the items on our list are quite pricey for their category type, while others are, in contrast, rather inexpensive. What you get out of either of those might be completely different, but you should also know what you're looking for.

The most expensive option we have is the Injinji Run 2.0, which comes at a price you pay for a pair of cheap shoes. It offers advanced technologies and features, premium comfort and even enhanced performance, seeing as it is an athletic design.

However, if you are not someone who needs the best of the best in order to be at the top of their game, you will be happy to know that you absolutely do not have to shell out a lot of money to get a decent toe sock design.

In fact, so many of our choices come in set packages of three, five and even six pairs that you can wear for months, perhaps even years in the future. When you look at it like that, paying an inconsiderable amount of money for a set of several socks is not a bad deal at all.

How much value you get for your payment is determined by the quality of the product. In our list, we've included only those which are top of the line, and thus you should have no problems in getting your money's worth.
Our Favorites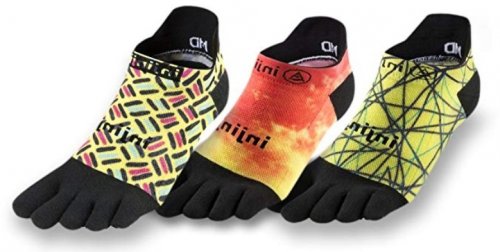 When it comes to this, there are not many brands that can truly compete with the iconic Injinji. These are some of the best quality products in the entire industry, offering unprecedented value, performance-enhancing features, and more! If you are passionate about your running performance, or daily walking comfort, this is the pair for you!
The construction of this product comes with something known as Coolmax Xtralife. This is truly a piece of expert craftsmanship. It helps to fully wick away any sweat or moisture build-up in the design, preventing smelly feet or hot spots.

Let's take a minute and talk about walking and running performance. Many consumers don't understand how important a quality pair of socks is when walking or running. Injinji designed the Run 2.0 with a wealth of different performance-enhancing features. This minimalist design allows for the runner or walker to find comfort in the toes, removing any and all friction and chafing that common designs come with.

As many consumers will attest, there is no better type of footwear protection than this brand and this product. The Injinji Run 2.0 possesses everything it needs to offer comfort, support, breathability, and improve your walking or running performance.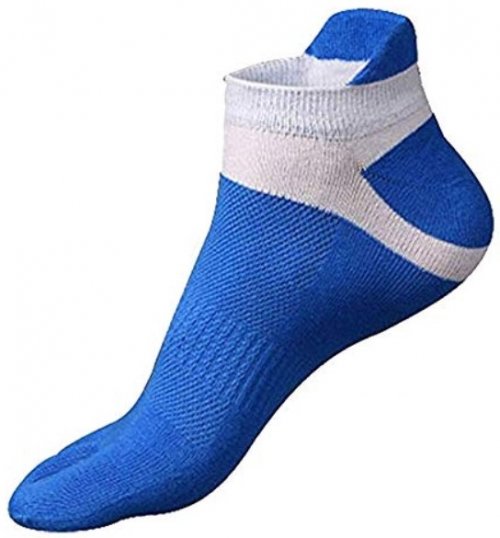 The Edland Five Toe is quickly becoming one of the most popular choices among runners, yoga lovers, and other athletes. The reason being, not only are these stylish, but they are great at protecting your feet and improving your daily activities. There is nothing you can't do in this EdLand product. Without further ado, let's explore some of its best parts.
For us, this item takes the medal when it comes to design. The lines and the cut are very sleek and modern, giving the design the edge it needs to compete in this market. In addition to this, EdLand has created six different color options, ranging from black, blue, green, to even yellow. The best part is that it comes in a six pack – and even a package of all six colors in one. A design for every occasion!

As we said above, this is a great choice for an individual who thoroughly enjoys sports. Whether you are a runner, golfer, hiker, or basketball player, these provide an athlete with the benefits and protection they need for a great performance. Since these have a distinct design, they help to protect each individual toe, preventing blisters, athlete's foot, and a wealth of other common ailments.

What really sells this EdLand option is the unique color choices and sports-focused properties. Whatever sport you are taking part in, you will need something to keep your feet healthy, cool and dry, and this hi-tech design is perfect for that!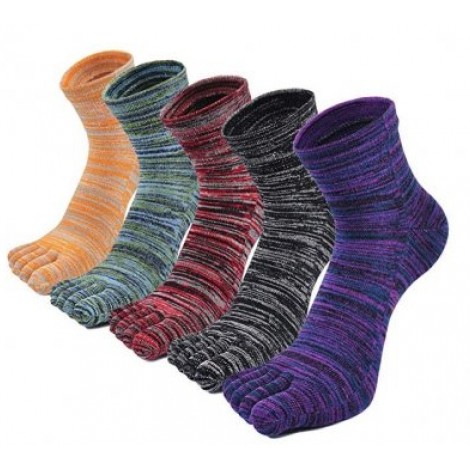 This list wouldn't be complete if we didn't include the stylish, unusually colored, Hellomamma Crew. This is one of the trendiest designs in our guide – and one of the most exciting. Hellomamma has created a wide variety of different styles and designs of their product, suiting almost any taste, from dress to funky to sporty.
When you look at the Hellomamma Crew, you might think it is better suited for the winter, right? Well, the truth is that it is a great winter choice, as well as an athletic one. With a breathable construction, this design makes your feet dry after any run or vigorous activity, and it is also tall enough and cozy enough to keep you nice and warm in colder temperatures.

The beauty of the Hellomamma Crew is that it is not only made of cotton, but it is made out of combed cotton, which is a material carefully processed to be of the highest quality. Combed cotton delivers superior softness, durability, and moisture-wicking, and is even hypoallergenic!

If you are looking for a great deal, and some fashion, this is the choice for you. Each standard purchase from the Hellomamma brand comes with 3, 4, or 5 pairs, all of which are stylish and high-quality. These products will help protect your feet no matter what the weather is like, and no matter how hard you train to break your next record.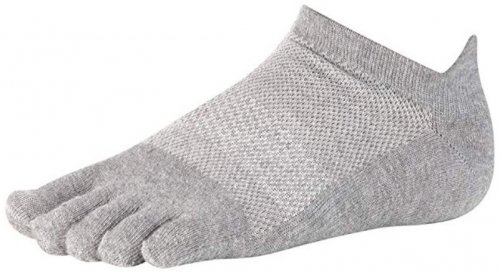 The Habiter Five Fingers is popular thanks to its lightweight design, breathable mesh top, and a convenient blend of materials that makes it comfortable, durable and stretchy at the same time. The cushioned heel area is definitely an added bonus. Let's take a look at this product more closely, and see what makes it a great option for you.
The Five Fingers is constructed out of cotton, which provides comfort, polyester for durability and colorfastness, and spandex, which adds a stretchy fit to the entire design. Thanks to these three materials, your feet will feel nice and cozy, and you will have a product which lasts for a long period of time.

What we appreciate about this item is the little details - the mesh top, for example, which provides extra ventilation and makes sure that your feet aren't sweaty, and the heel cushion as well, for another layer of comfort. Habiter has really thought of everything!

The Habiter Five Fingers diversifies itself through offering a few unique styles and colors, a great 30-day guarantee, and some impressive comfort features. If you are looking for a product that can help with your athletic needs, then this is definitely a choice worth considering.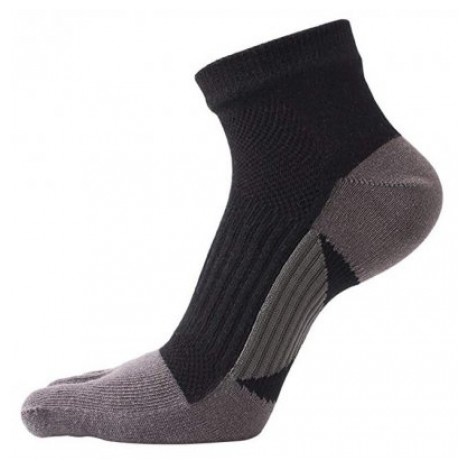 The NewFi Five Finger is a mini crew design that will be a great asset at the gym. Not only is it sold in packs of five, but it is very effective for those who are seeking to stay active each and every day. Whether you are a runner, hiker, tennis player, or even a golfer, this design can prove to be incredibly beneficial.
Let's talk about comfort for a minute, shall we? The NewFi Five Finger seeks to usher in a brand-new level of comfort through being made from environmentally-friendly materials. With this, it provides athletes with the soft, comfortable feeling needed during to perform at their best. In addition to this, the Five Finger can be worn in any season, whether summer or the winter!

Breathability is easily one of the most important features when it comes to this type of product. NewFi infused ventilation and breathability into their design, assuring that not only will sweat be wicked away – the athlete will remain cool, dry, and free of any blisters.

At the end of the day, the NewFi Five Finger is offering great features and innovations at a pretty competitive price. If you are an athlete seeking a decent pair of finger socks, this is a great option for you.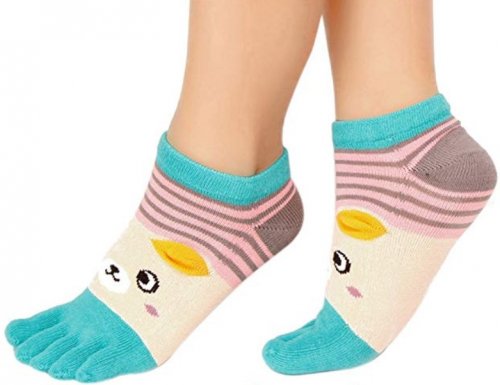 Let's take a moment to appreciate the cuteness of this design. While most other options on our list are made for serious athletes or elegant businessmen, the Honow Low Cut makes us turn towards the more playful side of things. This lovely option comes in a large - and we mean, large - variety of colors and patterns, each one more adorable than the last. Put a smile on your face with the Honow Low Cut!
This option is made from 75% cotton, which is a comfortable material, soft to the skin and easy to wear. 10% is polyester, which provides durability and makes sure that the colors stay vibrant even after many washings, and there is a whopping 15% of spandex! This puts the Honow Low Cut at the front in terms of elasticity and ensures a perfect fit for you.

We mentioned how this item is more about the style than about the performance, but that doesn't mean you can't wear it while you exercise. Slip on these irresistible socks on your way to the gym, because they will not only deliver comfort and breathability, but also a design that will brighten your entire workout session!

We are having a hard time taking our eyes off of the Honow Low Cut. If you are looking for something different, something funky, then don't hesitate to go for this option. It is comfy, it is whimsy, and it will make you incredibly happy.

7

. Artfasion Running Five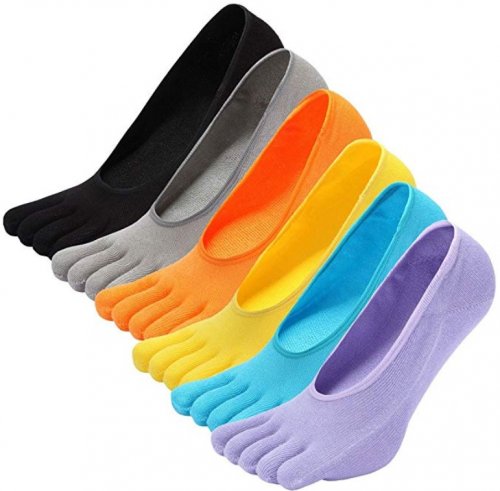 Are you the type of consumer that likes to own a wide variety of socks – and in different colors? Well, the Artfasion brand is for you! This brand designed their product to capture not only the hearts and feet but also the eyes of consumers. For many, these are considered to be the foot's best friend, thanks to their soft materials and moisture-wicking properties.
If you are tired of sweating after a long day on your feet, this brand is for you. The Running Five is designed with superb cotton materials, known to help eliminate moisture or sweat build-up in the foot. In fact, consumers will appreciate how dry and cool their feet feel after spending time outside.

The heel of the Running Five is made of silicone, or rather it has a silicone rubber insert. This helps prevent the design from slipping off your heel and keeps it in place no matter what you're up to. Furthermore, the no show design of this option is a great choice for low-cut summer footwear such as flats and loafers.

What makes the Artfasion Running Five special are its vibrant color choices, preventive measures, and moisture-wicking properties. You will love wearing these come warmer weather!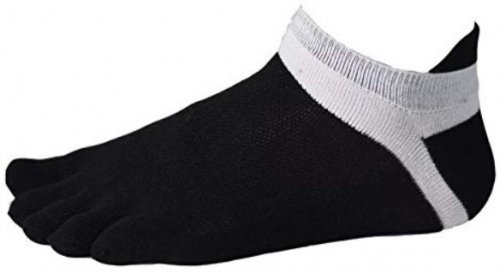 The Fasot Low Cut is arguably one of the best products in the game, thanks to its interesting design, vibrant colors, and unique product features. It is made out of soft, environmentally-friendly materials, and offers superior breathability and moisture-wicking. There is hardly anything you can't do in these!
In this industry, it's vital that each manufacturer stands out from the rest. One way to do this is through design. This brand offers over nine different stylish colors and designs for consumers, some of which are offered in sets or packages. This way, if you know you like a specific color or style, you can order a set of six!

At the end of the day, we all want to be comfortable when going about our day. Fasot understands this – which is why they used high-quality cotton materials to construct their product. Cotton makes it easy for the foot to remain comfortable, and to move naturally, no matter what activity you are taking part in.

The Fasot Low Cut comes in packages of six. Thanks to this, consumers can find great value in these packages, and amazing performance-enhancing features at the same time.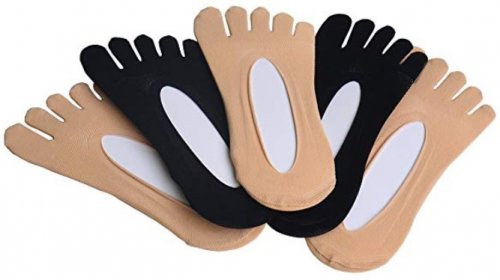 Byinwin No Show is one of the few items on our list that qualifies as a no-show, suitable to be worn in warm weather with low riding footwear like ballerina flats and moccasins. What makes it such a great choice – and a contender on our list - is its quality, elastic design, and neutral colors which go well with every shoe and every outfit.
In efforts to help keep runners and other athletes comfortable, Byinwin designed this pair to be both breathable and durable. The material is great at wicking away sweat, and at preventing any odors and problems related to that. In addition to this, the material is durable, assuring runners that their feet will be protected for their entire performance.

We also applaud the color choice of this option. While it may not be as fun or as vibrant as some other ones on this list, the Byinwin No Show is what we all need - a classic black and a classic nude to fit in with all of our outfit combinations.

The Byinwin No Show is durable, comfortable, and protective – and it comes in a pack of five! While it may not offer the same features or innovations as the more advanced products on our list, it is still a capital choice.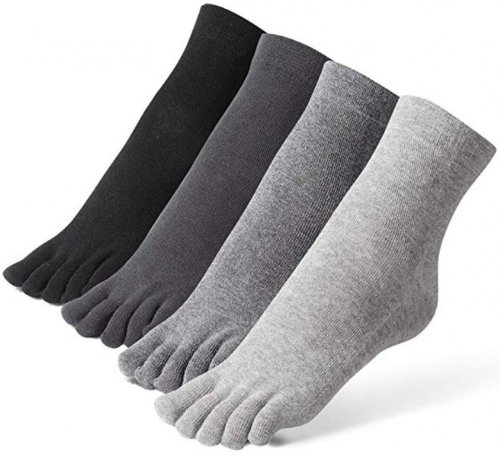 The Meaiguo Crew is a great blend of quality, comfort, and a commendable manufacturer. While the brand does not offer a wide variety of colors or design choices – what they do offer is a product that can help improve an individual's running experience each and every day. If that sounds like something you are looking for, then check out these product features.
The Meaiguo Crew is noteworthy for its easy to maintain nature. The brand designed this item so that it can be easily cleaned in cold water in the washing machine. Thanks to this, consumers can anticipate no problems after washing – or a decrease in the quality of the item.

When it comes to purchasing from a new brand, sometimes, consumers are a bit apprehensive as to whether or not it's worth it. Well, to assure this "new" audience, Meaiguo offers a 60-day guarantee. So, in case you are unhappy or there is a problem with the product, you can either return it or apply for a full refund.

The Meaiguo Crew is a great cotton option for when you're out on the running track. Not only that, but thanks to its neutral color choices and elegant appearance, these could also work great as dress socks at the same time! What wonderful versatility!

Subscribe to our Newsletter