Best Propét Shoes For Diabetics Reviewed
In a Hurry? Editors choice: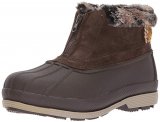 Test Winner: Lumi

Propét is a company founded in 1985 with the goal to deliver comfortable, high-quality footwear to feet of all shapes and sizes, as well as those in need of special care. They employ podiatric experts to aid them in their quest to provide for all ranges of consumers, and they also develop special technologies to ensure that their designs are nothing short of outstanding.

The most famous collection from Propét is the TravelWalker, which is comfortable and versatile, as well as a special line of therapeutic foot care products that have been medically approved for diabetics.

The list below lists the top 10 Propét shoes, so dive into this world of practical, amazingly supportive footwear, and never worry about your feet again!
Standout Picks
Top 10 Propét Shoes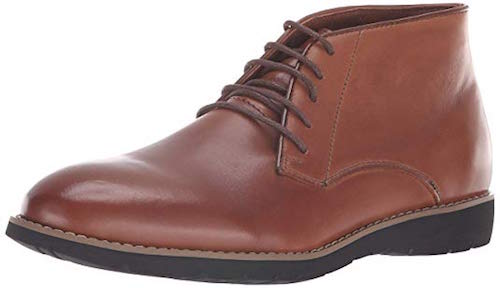 If you're after a style that will work in fall and winter, especially in dressed up setting, then you should definitely check out the Grady. This ankle boot has a polished style that will look professional in the office and casual on more relaxed occasions, and being made by Propét, you can count on it becoming your go-to pair of footwear.
The upper of the Grady is made with soft, full-grain leather that is flexible and easy to break in, yet doesn't require complicated maintenance procedures. With the right care, it will last you for a considerable amount of time, and you can count on its natural properties, including a great amount of breathability to keep you comfortable while wearing.
The outsole on the Grady uses sponge rubber that's durable, but more importantly lightweight, grippy and highly cushioning. Not only will it aid the insole with shock absorption, but it will also keep its shape and cushion for a long time. The insole is removable, made by Ortholite, and provides a good amount of arch support which you can choose to enjoy, or replace with custom orthotics. This is a model that can be purchased in a wide array of widths, so getting the best possible fit should not be a problem for anyone. All that, at an average price. Great, right?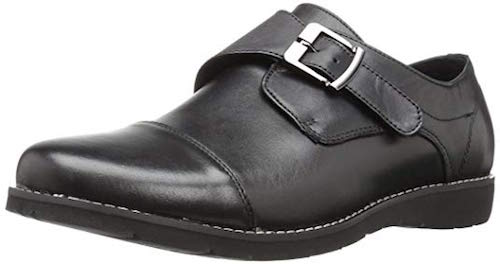 It's not often that you can find great looking dress shoes you can wear if you happen to suffer from flat feet, swelling, diabetes, or any other ailment. This polished monk strap is the ideal item to have in your closet for special occasions and office wear alike, seeing that it has a great cut that strays from traditional (oftentimes boring), and offers a fun take on the Oxford shoe. It can be purchased in black or dark brown, so you can choose the color that will go best with your favorite suit. Plus, you can even pair it with some jeans and a button up, and still look great.
The Graham is a smart pair of footwear, seeing that it looks like it features a buckle closure, but the metal hardware is actually just decorative. Instead, you will get the convenience of a hook and loop strap that's extremely easy to adjust, and that won't take precious time away from you.
Other noteworthy features of this monk strap include a 100% leather construction in the upper - both the outside and inside are made from genuine leather for easy break in, great breathability, and a soft touch.
The outsole uses sponge rubber that's well tractioned, flexible and shock absorbing, and it is topped with a removable OrthoLite insole you'll definitely enjoy. The price point is great as well, seeing that this model costs less than the average Propét model, so if you're after a bargain, definitely snatch this one up.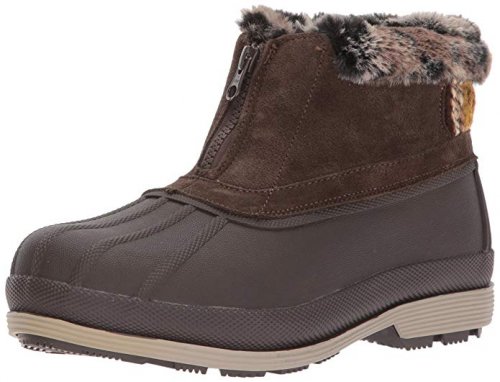 The Propét Lumi is an ankle boot which was developed for those who need maximum weather protection. With a comfortable upper that features plenty of insulation and waterproofing technologies, it is the perfect choice for the winter months. Although it's not the most stylish pair listed, it is a great buy for those who put comfort and protection first.
This boot has a knit and suede upper, and the suede is treated with Scotchgard technology, making it water and stain repellent. The soft pile lining will make your feet feel cozy, as though they are wrapped in a blanket the entire time you're walking in these booties. A Sealtex construction is there to double down on those waterproof abilities, making sure that no moisture whatsoever gets through.

Keeping you warm is one of Lumi's main features, and this boot achieves that through its Vaporex insole and Thinsulate lining. Vaporex is a double insole system which retains heat and provides insulation, cushion, and fit customization. Thinsulate lining represents an additional 200 grams of lining which preserves warmth and makes you feel toasty no matter how cold it is outside.

Finally, the Lumi comes with a rubber outsole that provides amazing traction and slip-resistance.

This bootie is perfect if you live in an area which suffers from harsh winters, biting winds and snowstorms. It will keep you warm, protected and safe, and you will not have to worry about freezing your toes off any time soon.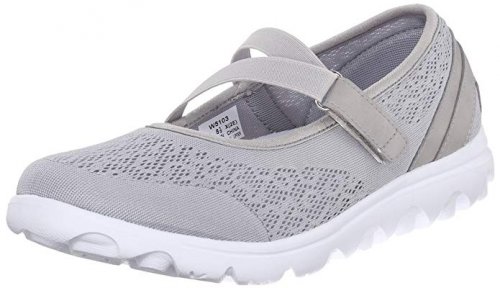 Instead of something sensible and practical in appearance, with the Propét Travelactiv Mary Jane we have a cuter design, one that is still sporty but also following the current fashion trends. This option is easy to pack and travel with, and it makes long sightseeing trips breeze by in a heartbeat!
The upper of this Mary Jane is made from mesh, complete with a mesh lining. This means that the Travelactiv is marvelously breathable, as it promotes proper air flow in and out of the design. It is perfect for those summer days when you don't want your feet to sweat, but also don't feel like exposing your toes to the world.

The Travelactiv comes with a stretchy, asymmetric hook and loop closure which allows you to adjust the tightness of the design, and it has a removable footbed which you can replace with custom orthotics if necessary.

The insole is made from EVA for that shock-absorbing comfort, and the outsole is EVA as well, with lightweight TravelTek technology built right in. This means that the outsole is low-profile, with extra flexibility which follows the natural movements of your foot.

The Travelactiv is undeniably an adorable design. It will brighten your day and make running errands much more comfortable, not to mention that it is a perfect travel companion for exploring foreign cities and learning about new cultures. Truly a Mary Jane worth investing in!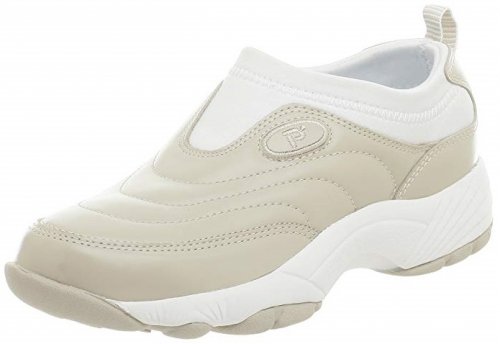 A design which is easy to use and even easier to fall in love with - the Propét Wash & Wear Slip-On is here to make your life simpler. It is a minimalistic, leather or suede constructed moc that has all the hallmarks of a great walking shoe - an uncomplicated way in and out, unparalleled comfort, and being incredibly low-maintenance to boot!
The Wash & Wear Slip-On has a stretchy neoprene collar and a pull tab in the back which allow you to slip into the design without any problems. Due to the resilience of neoprene, this collar won't stretch out or lose shape no matter how long you wear the sneaker for.

Furthermore, the Slip-On has an EVA midsole which absorbs shock and supports your arches, thus reducing foot fatigue, and it also comes with a rubber outsole with multi-directional tread that provides you with great traction on any number of different surfaces.

The suede version of this design is outfitted with Scotchgard technology, which is essentially a protective treatment that makes the upper water repellent and resistant to stains. Additionally, what makes the Wash & Wear Slip-On one of the greatest options in this guide, is that it is machine washable!

We honestly can't think of a design which will make your life more easier. This Slip-On is amazing in all aspects, from comfort to traction, to how quick and effortless it is to take care of. If you're looking for that perfect everyday shoe, you found it!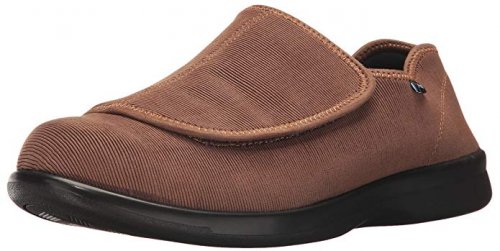 As its name suggests, the Cush'N Foot is here to cushion the foot. Admittedly, this is not a very stylish design. It may look like a house slipper, but it is a real lifesaver when it comes to feet which need special care and attention. Approved by Medicare, this unassuming Propét design is constructed to fit those with an array of medical conditions, diabetes included.
The Cush'N Foot is made out of stretchy neoprene. It has an accommodating opening complete with a large hook and loop closure that is easy to use and to adjust to a snugness that fits your foot. The insole of this design is made out of terry cloth for that gentle comfort and is cushioned for shock absorption.

The footbed is removable in case you need some extra space inside the shoe, and there is also Stretchable technology involved, which is perfect for feet that suffer from bunions and hammertoes. These ailments require footwear that is more elastic than usual, and which provides ample space so that the foot doesn't feel constricted.

The outsole of the Cush'N Foot offers durability for both indoor and outdoor wear, making this a great choice both as a nighttime slipper, and for stretching your legs on a short walk around the block.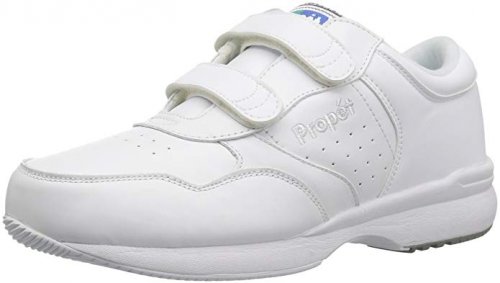 This list wouldn't be complete without Propét's best-selling design - the Life Walker sneaker! This seemingly ordinary sneaker is anything but, and once you try walking in it - especially long distance - you will forever be a changed person. No other walking footwear will ever be good enough after the Life Walker.
Let's start off by saying that the upper of this Propét sneaker is made from genuine leather with brushed nylon lining. The collar and the tongue are padded for extra cushioned comfort, and the closure is a special treat - it is a double velcro strap, which is easy to fasten and even easier to unfasten. You can now slide into these functional sneakers in a blink of an eye!

However, none of this is what makes the Life Walker extraordinary. The special feature is a removable footbed, which allows you to insert your own orthotics into the sneaker if you so desire. The heel counter is firm and yet flexible, providing you with a snug fit and not letting the design slip off of your foot as you walk.

Not only, that, but the Life Walker has been approved by the Medicare Therapeutic Shoes for Persons with Diabetes Benefit (or the Therapeutic Shoes Bill). They come in a wide range of widths and sizes so that you don't have to worry if you will find one that fits your foot.

Sure, stylistically, the Life Walker is just a regular, sporty sneaker. However, if you are all about that active life, and like spending hours on your feet, then you shouldn't hesitate in getting the ultimate walking shoe on the market! You won't regret it!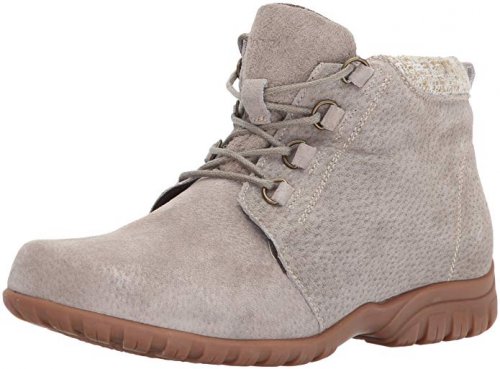 When caught between dry, cold weather and the promise of snow, the Delaney boot is a great way to keep warm. It is not as fashion-forward as the Propét Tatum, and not as snow-bound as the Lumi, but it does have its purpose for that time of the year you want to be comfortable and casual-looking, but also protected from the elements.
The suede upper of the Propét Delaney is treated with Scotchgard technology, making it resistant to water and stains. This bootie comes in several color combinations - from black and brown to dark red, navy, and this gorgeous sand hue. The collar of the Delaney is made out of padded tweed for extra comfort and extra winter wonderland type of interest.

Inside this boot, there is an EVA midsole with cushioning. EVA, as we mentioned before, is the industry standard when it comes to absorbing impact, and this material is often used in running footwear. Now you too will be supported and your joints will be grateful for the reduced amount of pressure on them.

The Delaney comes with a zipper in the side to ensure easy entry and a durable rubber outsole for a good grip on all kinds of different terrains. You can rest assured that you won't slip, whether you're on the streets or on gentle, countryside trails.

The Delaney is that autumn/winter boot that everyone needs. It may not win many style points, but it is definitely practical, and it won't let you down when the sun sets and the cold comes in. An overall good investment!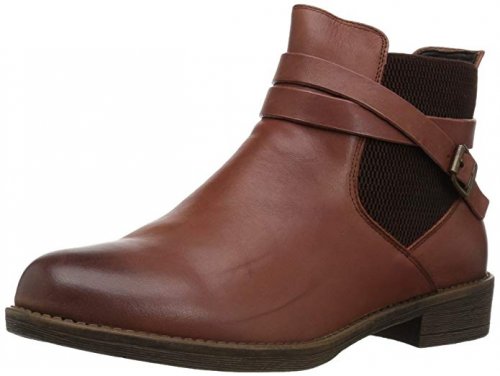 In case you were worried that all of the styles on our list are leaning towards a sensible, senior aesthetic, and less towards a fashionable one - worry no more! We introduce you to the Tatum ankle bootie, a great casual option for chilly autumn days when you need something cute and protective to match with your skinny jeans.
This bootie comes in two color options - the black and the brown - and both are made out of full-grain leather for superior comfort, breathability, and durability. As a natural material, leather has the ability to change its shape to fit the form of the foot, thus providing you with addictive, tailored comfort. It also promotes a healthy foot climate inside the bootie, so that you don't run the risk of developing any infections.

For easy entry, there is a zipper in the inner side of the Tatum. It only takes a second for you to undo it, slide inside these beauties, and be on your way! The elastic inserts in the shaft have a lot of stretch to them, meaning that this design will easily accommodate any foot shape and size!

The insole of the Tatum is latex-cushioned, and there is Nylex lining which wicks away moisture and keeps your feet dry and comfortable inside the design. A durable, low-profile TPR outsole with a 1.25-inch heel keeps you well-balanced on a multitude of surfaces.

We can't stop gushing about the Propét Tatum, as it is one of the most accommodating, and still one of the most stylish ankle booties we have come across. In it, going about your day during colder months of the year will be a real piece of cake! Don't think twice before you reach for these amazing boots.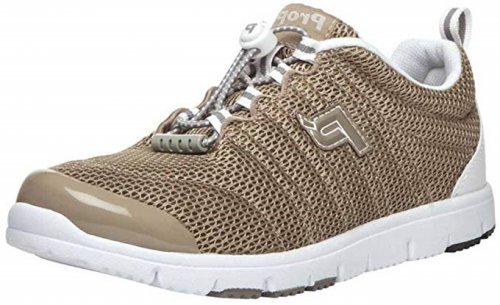 Another champion in the category of walking footwear, the Propét Travelwalker II effectively combines the casual, sporty style of an everyday sneaker with all the performance of a good walking companion. Now you don't have to compromise between being fashionable and comfortable as you embark on your long walks in the concrete jungle.
The Travelwalker II is exceptionally breathable with its mesh upper, and yet it is also protective, with a rubber toe cap at the front. This cap is abrasion-resistant, so if you are a person who often bumps into things and stubs their toes a lot, you don't have to worry about any pain in this cool sneaker! Additionally, this toe cap protects the design itself from wear and tear, meaning that it will last longer.

The closure on the Travelwalker II is easy to use, as it is a bungee toggle system. The little clasp allows you to adjust the fit of the design in record time, without any effort on your part. A treaded rubber outsole provides good traction even on sleek surfaces, and you won't run the risk of slipping or skidding and injuring yourself.

Finally, comfort-wise, the Propét Travelwalker II ensures a cushioned, smooth ride with its padded collar and padded footbed. There is a reason that this sneaker is considered one of the best choices when it comes to long-distance walking, and that is its unequivocal comfort and security.

If you weren't a fan of some of the more function-oriented styles in this guide, you will definitely love the Travelwalker II, as it offers all the comfort, but with all the trendiness at the same time.

Subscribe to our Newsletter