Best Shoes for Mallet & Hammertoe Reviewed
last updated:
Apr 30, 2020
Hammer and mallet toe, sounds painful right? Because it is - excruciatingly painful. But what exactly causes this painful condition? The answer to that question is often ill-fitting shoes, but there can be other causes as well. Cramped toe boxes in shoes crush your toes together, and they can become deformed, leading to hammer toe, mallet toe, and even claw toe. When this happens, regular shoes become torture devices that kill your feet just walking to your car from your front door. Preferably, before this happens, you have chosen wider toe boxes and rounded toes in your shoes. However, after this happens, it's time to look into podiatrist recommended orthotic shoes.
In a Hurry? The test winner after 13 hrs of research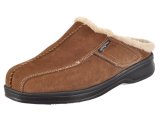 OrthoFeet Asheville
Why is it better?
Wide Toe Box
Orthopedic
Leather Upper
Foam Padding
Adjustable Fit
In a
Hurry? Editors choice: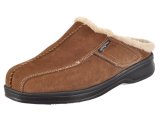 Test Winner: OrthoFeet Asheville

16
Researched Sources
1740
Reviews Considered
13
Hours Researching
15
Products Evaluated
Size
Support
Shock Absorption
Materials
Breathability
By Default
Top 10 Shoes for Hammertoe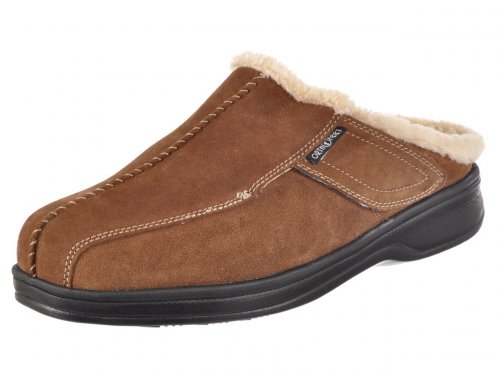 Wide Toe Box
Orthopedic
Leather Upper
Foam Padding
Adjustable Fit
Heavy
Out of Box Smell
May Slide Off
If you're really in need for a lazy day footwear and regular slippers just aren't doing it for you, check out the Asheville's made by OrthoFeet. In general the company has several shoes for different conditions/needs, i.e. bunions, claw toes, corns, hammer/mallet toes. These slippers are warm, soft, and built with an orthotic insole to naturally conform to your feet and provide the support you need for hammertoe or mallet toe. You can look forward to going to Walmart now and not worry about pain after only a couple aisles!
The sole in the Asheville's is extremely lightweight and softens each step with "air cushioning" technology. Referred to as the Ortho-Cushion System it is guaranteed to alleviate joint pressure, further motion, and increase stability for pain-free movement. Thanks to bioengineering this happens naturally as well, adding to the ease of walking and standing.
Annoying seams can press into your feet and toes in all the wrong places, and as we all know it's extremely uncomfortable and after the day is over your feet are in agony. Especially with hammer and mallet toe. Thankfully the insides of these slippers have no seams and prevent any discomfort that normally would happen to your toes in other normal slip-on. The lining is also padded and ultra-soft for that extra bit of happiness, you'll get when sliding them on.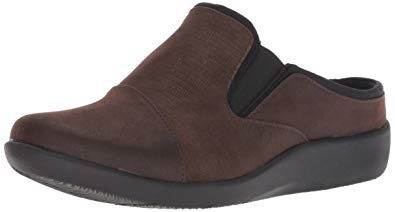 Textile Upper
Clarks Cloudsteppers
Removable OrthoLite Footbed
Non-Slip Outsole
Non-Marking
A work and training piece of footwear that looks like an average everyday clog, the CLARKS Sillian Free packs a lot of features in a stylish design. Made with a textile upper for a classy and protective look, it's definitely one of the best options on this list in terms of versatility and value. It's an easy to take care of shoe that'll work great for work, and can even be dressed up slightly for outings on the weekends.
As most people land on their heel when walking, CLARKS takes this into consideration to lessen the amount of shock that is transported through the heel to the knees, hips and back. Using a removable OrthoLite footbed, this tech addition will disperse the shock that's generated, leading to less muscle fatigue and joint pain, even if you've spent hours on your feet.
One of the highest rated outsoles on the market when it comes to protection, the Sillian Free features an ultralight outsole that's completely slip-resistant and non-marking, making it a great choice for those who are expected to walk on highly polished surfaces such as hardwood or tile. You'll also benefit from a molded midsole that offers support, as well as a wide toe box and a variety of widths to help with the perfect fit.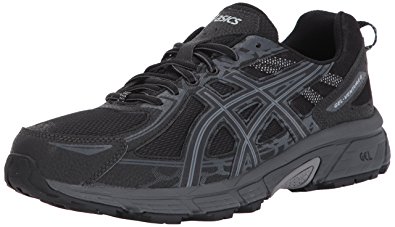 GEL Cushioning
High Abrasion Rubber Outsole
Sitched-Down Toe Bumper
Mesh Upper
There are many many people out there that are extremely particular about how their footwear fit and feel, and the "catch-all" orthotics don't do it for them. Especially since the severity of hammer and mallet toe is different on each person. If you are one of these people, the Gel-Venture 6 is going to be your best bet. The gel sole is comfortable and pliable, and they accommodate your inserts.
The sockliner can be removed so that you can insert your medical orthotics. This way if you have inserts that are detailed to your specific arches and stance you can wear an "everyday" athletic shoe that's meant for "normal feet." Why is this so great? Because then there's no more guessing if footwear made for disabilities will work, and this means no more hassle of returning foot apparel that doesn't fit and hurt your feet. Just buy, insert, and you're ready to go.
Finding a pair of shoes that can handle any terrain can be burdensome, with the added problem of hammer and mallet toe needing certain specifications. ASICS has given you the all-in-one benefits of the removable sock liner and a trail specific outsole, guaranteed to give you traction on any surface. Whether going up or downhill, you can be sure of your footing in the gel-ventures.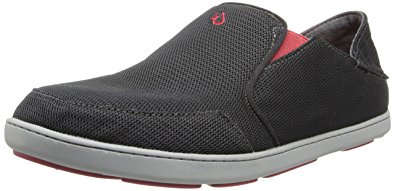 Wide Toe Box
Breathable
Moisture Wicking Lining
1 Year Warranty
Stretches Out
Runs Large
Stains Easily
Don't let the fact that you have hammertoe or mallet toe keep you from enjoying the outdoors. Overall as a company, OluKai makes footwear for everyone with comfort in mind, and their Nohea mesh loafers are at the top of the list. The footbeds have been contoured to fit the bottoms of your feet for the right amount of cushion and elevation. This feature makes them an ideal choice for someone with an abnormality like hammer/mallet toe since it isn't flat and crowding your feet on the inside like most other shoes.
OluKai specific dri-lex lining will wick away any moisture to keep your feet dry and comfortable for all day, all weather wear (although I wouldn't recommend winter since they are mesh). The mesh upper breathes fresh air in and "rank" air out also adding to the high and dry benefits of the dri-lex. Another bonus, this lining is made from soft microfiber, which caresses your feet and is long-lasting.
Ever notice that after your footwear has been worn in and you're ready for a new pair, the heel is squished and pack down? This is from the soles of your shoes not curving with your heel, but the Nohea's have a drop-in heel (which means no more pressure on your heel digging into the sole). This feature helps relieve pressure on your toes and doesn't force them into the front of your shoes. Perfect for any kind of "rotated toes" (mallet/hammer).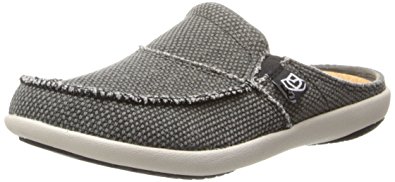 Rubber Sole
Side Gore
Soft Lining
Weathered Canvas
When you want a piece of footwear that you can just slip on and go without them being actual slippers go with these Siesta Slides from Spenco. They have all the benefits of orthotic sneakers while being a little more "classy" and stylish. The footbed is molded to be "anatomically correct" (fitted to feet) with an open back that cups your heel. They're available in fabric or textile to accommodate different 'fashion' tastes.
More commonly referred to as Met Domes these pads aid in distributing weight and lifting pressure off of the balls of your feet. This also helps with hammer and mallet toe with the evenly distributed weight part since you aren't rocking back and forth (in hopes of alleviating pain) onto your toes, making your feet hurt even more. You can buy them separately for other foot apparel but Spenco has them built into the Siesta Slides, so you're not having to spend more money after purchasing.
Without actually being made from orthopedic materials the arch support in this footwear feels like they are. If the arches of your feet aren't properly supported all impact will run up your legs and create soreness in your knees, hips, and even back. Also, without said feature, more force will be felt in your hammer and mallet toes. It's a huge bonus this is included in the Siesta Slides since other foot apparels don't have it and you have to buy supports separately, costing more money.
6

. Rockport Cobb Hill Nicole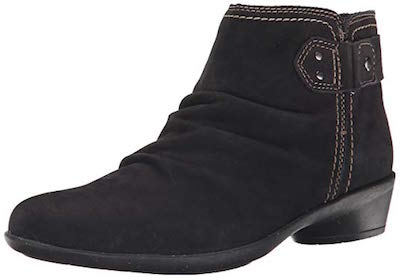 Rubber Outsole
Genuine Leather Upper
Side Zipper
Three Widths
Steel Stability Shank
Cold weather footwear for those who suffer from pain can be quite hard to find, especially if you're looking for something that will be OK to wear in a professional setting. Luckily, with brands such as Rockport, you can have both the looks and the comfort, and the Cobb Hill Nicole is perfect evidence. An ankle boot made with a genuine leather upper, it'll not only fit like a glove, but it's also made to take into consideration all the unique needs you may have when it comes to a style that's both supportive and fits well.
The reason most footwear doesn't work for those with podiatric problems is that there is a lack of space or support in some or all parts of the footwear. The Cobb Hill Nicole takes care of this problem by offering you three different width options which allow plenty of space in the toe area for most users. Choose narrow, medium or wide based on your personal preferences, and you'll quickly say goodbye to pain in the forefoot.
Located in the midsole, the Nicole has a stability shank that prevents unwanted torsion, stabilizing the foot and ensuring appropriate alignment. What this leads to is better arch support, a more natural gait cycle, and less pressure on certain parts of the foot that would otherwise suffer in unsupportive foot apparel.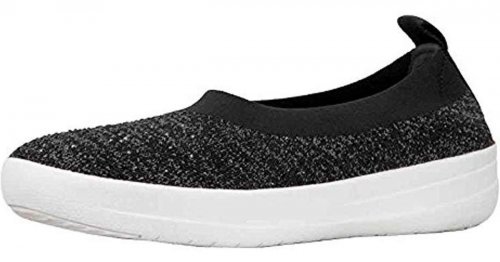 Anti-Slip
Wide Fit
Cushioned Support
Easy to Slip-On
Breathable Knit Upper
Nurses spend hours and hours on their feet without so much as a 5-minute break to go to the bathroom. Adding a hammertoe or mallet toe on top of that? Yikes (internally cringing). Buying shoes that can prevent limping after only half of a shift (for any job) is a chore. Constantly trying on different pairs, walking around the store, not knowing how they'll fit after being broken in. Breathe a sigh of sweet relief because we've found the perfect shoes made by FitFlop.
There are so many shoes out there that slip and slide across any kind of smooth surface, like linoleum. The Uberknit grips the floor/ground with every step, ensuring the wearer never loses footing. The Anatomicush midsole technology helps to give your feet an ergonomic and ultra-comfortable walk.
One main reason these shoes are great for hammer or mallet toe is their wide fit. The width combined with the breathable and soft uberknit fabric upper give your feet plenty of wiggle room to make sure you're not getting any hot spots on your already sensitive feet.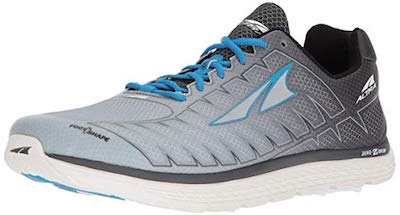 Breathable Mesh Upper
Padded Tongue & Collar
Wide Toe Box
InnerFlex EVA Midsole
Blown Rubber Outsole
Difficult Sizing
Slightly Bulky Looking
A neutral road running footwear, the Altra One v3 stands out from similar models through the firm underfoot support that is both durable and protective, keeping your feet more comfortable even during strenuous exercise. Extremely lightweight and with a low drop, it won't put unnecessary pressure on the front of the foot, and won't weigh you down. Whether you choose to wear it for running or just as a casual shoe, you'll definitely love how it fits.
Made with a quick dry mesh upper, the Altra One v3 is perfect for anyone with foot pain, seeing that it offers a flexible, lightweight, and highly breathable fit that won't constrict or rub, causing further discomfort. TPU overlays provide support in key parts, while a padded tongue and collar ensure comfort in all areas of the foot. A simple lace-up closure will help you find the perfect fit that can even be altered should you find your feet have swollen during the day.
Made to take the shape of the user's foot, the One v3 is perfect for almost any runner, seeing that it provides both cushioning and support, without being too much. It doesn't weigh much, while still providing excellent shock absorption, protecting both the front of the foot and the heel from the impact that's generated while walking. The front of these shock-absorbing running shoes features a wider platform that encourages natural toe splaying, crucial in treating hammertoe.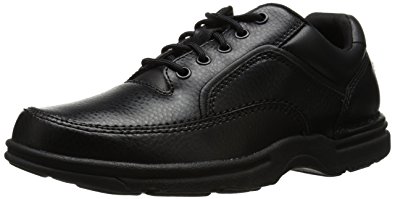 Lace-Up Vamp
Padded Tongue
Wicks Moisture
Flexible Leather Upper
Cushioned Footbed
Restaurants and fast food joints have strict dress codes (usually), and the majority of the time your shoes must be completely black. Now, finding a pair of black shoes that have a large toe box and can withstand the harsh reality of food service is next to impossible. Never fear the Rockport Eureka's are here! Here are a few reasons why these are a must-have.
Whether you're in the kitchen, taking orders, or running food, there's a lot of "I'm not running, but I'm kind of running" involved. All the bouncing around can make your feet sore and cause hip/back pain as well. Eureka! No, the Eureka's have midsoles made of EVA (ethyl vinyl acetate). It's similar to those 'orthopedic' bed covers, but a little more firm. This absorbs the impact from all your moving and "not running" around, preventing all the pains mentioned.
You may be wondering how this can get any better, right? The answer is yes. With a foam footbed made of high-quality latex, it's almost as if you cut into your Tempurpedic bed and stuffed it into your footwear. Except Tempurpedic is synthetic memory foam, latex foam is a natural substance (and more durable). Add on the fact that latex foam can help with your posture thanks to its extreme support abilities. This relieves added pressure on your back and prevents painful knots in your muscles.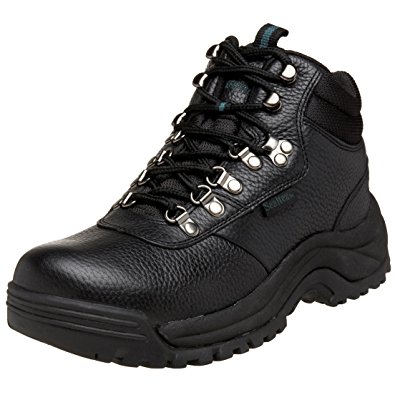 Waterproof
Leather Upper
Self-Cleaning
Rubber Outsole
Many people that work outside or do a lot of heavy lifting have a hard time finding a comfortably fitting work boot. After a while of wearing improper footwear hammertoe or mallet toe can develop and cause excruciating pain after a day at work. If you need a pair of boots to prevent this or to alleviate pain now that you already have it, we suggest the Cliff Walker Boot by Propet.
Most work boots tend to have a thick lining made from heavy-duty fabrics, and these can rub your rotated toes the wrong way and push into them harshly. Therefore you want a boot that does not have a rough lining, which makes the Cliff Walker's exactly what you've been looking for. Their lining is made from a bouncy, nylon mesh fiber that cushions and wraps around your feet (mainly your aching toes) and alleviates pressure as you walk and move.
Usually, boots have a stiff ankle so that they will last a lengthy amount of time (stiff materials means more wears before they wear out), Propet found a way to prevent wear while keeping the ankles flexible. You now can stand relaxed without worry, instead of ramrod straight and not having to deal with sore ankles later. What's more? You don't have to sacrifice quality!
Criteria Used for Evaluation

Size
A major issue for hammer and mallet toe sufferers is that many shoes have narrow toe boxes, which squeeze toes together and pushes them against the shoe. This causes painful pressure and will leave you limping after wear, causing soreness that lasts longer than usual. This can cause a variety of foot problems including bunions, hammertoe and mallet toe. If you already have one of these conditions, a narrow toe box can aggravate your feet, causing pain, inflammation, and irritation.
Every shoe on this list was carefully selected to ensure that they are wider than regular shoes, so your feet have ample space while still providing a proper fit and avoiding uncomfortable tightness. Furthermore, some of the models listed above will even have a stretchable upper that allows for a better fit, or a good closure system that's highly adjustable.
You'll find that some manufacturers even offer their footwear in several widths, which is a great way to ensure a happy wearing experience. Whether you are shopping to accommodate your painful feet, or just want to prevent problems down the road, it's crucial to consider the fact that not everyone's feet are the same, and that a certain model may not fit everyone.
If you're shopping online, it is advisable to try on the shoes inside before deciding to take them for a walk. This can help you locate any possible pressure issues, and will protect the model, allowing you to send it back or replace for a wider or larger model. If you find that the shoes you bought do not fit you, it is highly advised that you don't wear them, as not all styles can be broken in.

Support
Pressure for the way your feet strike the ground, from your weight and the weight of your shoes can place unnecessary stress on the balls of your feet and your toes.
Something that is critical for relieving this pressure on the balls of your feet and toes is arch support. Shoes for "normal" feet can have flat footbeds and soles, which means your weight is being unevenly distributed through your feet while you stand and every time your foot strikes the ground. After a little standing or a short walk, you'll be rocking back and forth to keep your weight off of painful, sore places. Not something people with hammer and mallet toe want to be doing since rolling onto their toes feels like they're being broken.
Arch support helps lift the foot where it is needed, redistributing pressure away from your toes and arch. Great arch support relieves the pressure on your forefoot by placing your foot in a more natural position while either walking or standing.
Each pair on the list above has arch support and has curved footbeds to be anatomically correct. However, you may even find that a good pair of footwear with a removable footbed is a better option for your specific needs. Not only does this allow you to swap out the insole once it becomes dirty or smelly, but it also allows the use of orthotic inserts which can greatly contribute to your comfort and the health of your feet.

Shock Absorption
The human foot evolved to walk on soft ground - soils, sands, mud, and grasses. We were never meant to walk on hard surfaces and our feet have paid a price for our modern way of life mainly because we lack shoes that mimic our foot's natural state and form.
Insoles have been most commonly made from different boards; summing it up - its cardboard. You can imagine that it isn't very comfortable to walk around on cardboard all day since it's solid and has no qualities which absorb shock or provide cushioning. It doesn't absorb impact, which your shoes are supposed to do. Podiatrists recommend inserts when wearing shoes because of this fact.
Many shoes contain their own cushioned footbed, like the shoes in the list and the best include a removable footbed in case you need a customized insole designed for your particular foot issue and shape.
Furthermore, you may also find that athletic styles will tend to offer more in terms of shock absorption, mainly because they are almost always made with some type of running movement in mind. The sneakers on this list all have excellent shock absorbing technologies included in them, and if you're happy with a more casual look on a day to day basis, then our recommendation would be to check some of these out.

Materials
Sneakers are normally pretty stiff, so they hold up longer when the wearer does vigorous activity, but when you have hammer and mallet toe you need something that will bend with you. The upper should be flexible while holding your foot securely - preventing it from sliding up and down in the shoe.
Flexible materials or construction will provide a fit that is secure and comfortable and will not irritate your forefoot. Extra cushioning in the footbed and particularly in the forefoot are great features to look for if you have hammertoe or mallet toe.
Orthotic shoes are made to flex, using materials like mesh and soft canvas or with boots, leather with added padding. This way you can run, walk, and jump freely and not worry about your toes ramming against the inside of your shoes.
Another thing to look out for is an adjustable closure that will aid the upper in accommodation your foot. Classic lace-up closures are great; velcro straps can also be a good option for those with mobility issues. You also may want to check out some of the slide on models listed, as they'll usually include an elastic gore, which may contribute to an even better wearing experience.

Breathability
One of the things you may not have in mind when purchasing shoes that are meant to relieve pain is the breathability factor, but in fact, it can greatly contribute to keeping your foot healthy.
A pair of shoes with good airflow will allow the foot to breathe, wicking moisture away, thus controlling the temperature and the factors that may contribute to swelling or skin irritation. On the whole, this should help prevent any rubbing or blistering and will help eliminate the appearance of corns and calluses that may make your everyday footwear even more uncomfortable than it originally was.
Expert Interviews & Opinions
Most Important Criteria
(According to our experts opinion)
Experts Opinion
Editors Opinion
Users Opinion
By Default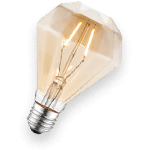 Genetics Of Hammertoe
While hammertoe is a condition that can arise from regular and extended wear of restrictive shoes, there is also a genetic component to whether or not you're prone to develop it. Muscles and tendons in the foot can cause hammertoe, when they are improperly formed from youth. Sometimes arthritis can be the culprit as well!
Mild Hammertoe Treatments
While those with severe hammertoe should seek a medical professional for options on how to treat it, those with a mild form can do a few things to prevent it from progressing further. You can manually stretch out the toe each day, as well as exercise the muscles of the toe. Picking up a small object with your toes can help to make the muscles stronger over time.
And, as noted above in our article, be sure to wear roomy, low heel or flat footwear!
Other Factors to Consider

Style
While being comfortable and healthy should always be a priority, most orthotic shoes look bulky and are unsuitable for professional environments and fancy occasions. It is for this reason that you should consider whether the footwear you are looking at will be wearable on more than just a couple of occasions.
If you work in an office, you may be required to wear a pair of footwear that looks professional, ruling out sneakers, slippers and clogs. If, however, you work in an industrial environment, you should consider work boots that offer more protection.
No matter which style you need, nonetheless, we highly recommend checking the size and width first, as well as looking out to locate any possible pressure points that may cause pain with prolonged wear. Though this may take more time than usual, the end result will definitely be worth it.

Bottom Line
If surgery isn't what you're looking to do then this footwear is your best bet to alleviate the uncomfortable pain of your hammer or mallet toes. Whether you're on a budget, picky for aesthetic, athletic, or work outdoors there's a pair for all your needs. Slip-ons, sneakers, boots oh my! Which one will you try?
The choices are endless and given how expensive orthotic foot apparel can be, you don't have the money for "trial and error" on which shoes are actually comfortable and supportive, with enough room so your toes can spread naturally. We've scoured the internet for the best footwear for hammer and mallet toe so you don't have to. Whether they already have orthotic inserts or are made to accommodate your own, keep reading to find the top ten shoes for people with toe problems.
Frequently Asked Questions
q:

Will my insurance pay for my orthotic shoes?

a:

That depends on your insurance, some do and some don't. If you see an orthopedic specialist (physical therapist) and they recommend you wear orthotics they can be considered a medical necessity. Get a doctor's note and give your insurance company a call, it's worth a try.
q:

Can hammer and mallet toe be corrected?

a:

Surgically, yes. Just by wearing orthotics, no. The bones in your toes are supposed to be straight, but when you have hammer/mallet toe then they are "rotated". If the deformity is not too severe it is a minor surgery with very few cuts/removal of tissue. If very severe then there might be several operations needed to correct it. If blood flow is not optimal for healing, surgery will probably be avoided.
q:

How can I find what inserts are right for me?

a:

If you see your physical therapist or doctor they can recommend which inserts will help ease your pain and make your shoes fit comfortably. Or if you don't want to add on another medical bill go to Walmart and use the Dr. Scholl's machine, you stand on it without shoes and it calculates your problem areas and suggests the best insole (Dr. Scholl's brand obviously) that is right for you.
q:

I'm thinking about surgery, what's the procedure?

a:

Trying to explain it would be futile because all the medical terms and confusion that comes from surgery. There are videos available online if you are interested, and you can always contact your doctor to have them explain the procedure and process to you.
q:

How do I prevent hammertoe and mallet toe?

a:

The best prevention is to always wear shoes that have enough room in the forefoot for your toes to comfortably lay next to one another. Your toes may still have issues because of genetic or other medical problems but if you wear good shoes all your life, your shoes won't cause or contribute to your problem.
Subscribe to our Newsletter