Best Shoes After Foot Surgery Reviewed
In a Hurry? Editors choice: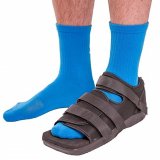 Test Winner: BraceAbility Post-Op

Any kind of surgery can set us all back a few steps. Our bodies need to rebuild, rest, and work our way back into our pre-surgery shape. We can, usually, get back to our normal day-to-day routine in a short period of time with a little care and caution to the area of the operation. The foot, however, is our lifeline to mobility and needs special attention post-surgery if you need to be on the move, as we all do.

So, we have compiled a list of the 10 best shoes after foot surgery to help you make a wise choice if this unfortunate situation ever happens to you.

Standout Picks
Criteria Used for Evaluation
10 Best Shoes After Foot Surgery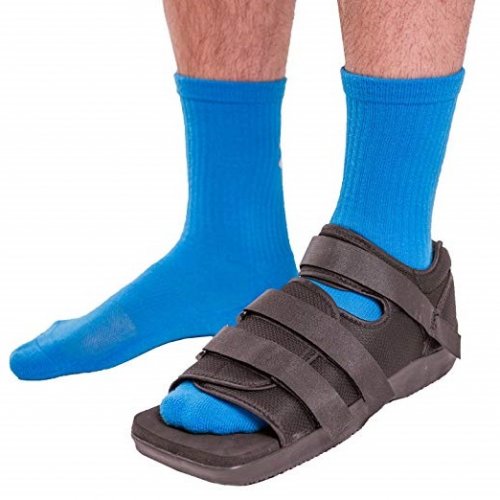 Protection is the name of the game with this all-purpose boot from BraceAbility. A squared toe section helps to keep your feet safe from accidental bumps, while the medical-grade straps are designed to both accommodate casts and swelling, as well as ensure a secure fit. It is also available in a wide range of sizes, though we would advise you to look at the size chart for good measure.
One of the most important things to consider with post-surgery boots is how well they protect your feet. While occasionally stubbing your toe against a table leg or the corner of a shelf may not be as bad when you aren't recovering from surgery, even the smallest bump can cause complications in some manner. This is why the toe section in the BraceAbility boot is squared off, as this helps to protect your toes from bumps and table legs.
While traditional plaster casts are great for supporting recovery after broken bones or major surgeries, they are also one of the least breathable materials. A lack of breathability can cause very uncomfortable sweating, as well as irritation and the potential for odor. The open, sandal-like design on this boot works to prevent that from happening, as it has similar breathability to that of a sandal.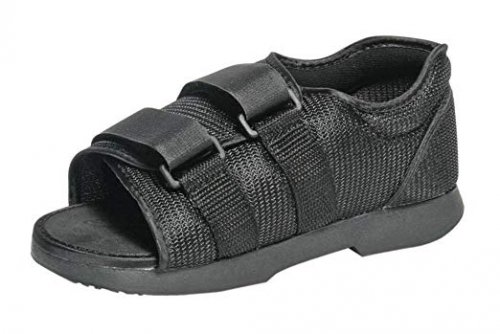 While swelling and fluid retention can often be a natural part of the healing process after surgery, it's important to keep this to a minimum. Excessive swelling can delay healing and be a sign of further complications, which is why you want at least some compression out of your post-op shoe. The AliMed classic features a simple design with secure Velcro straps that provide just the right amount of compression without being uncomfortable or overly constrictive.
Rocker soles are an unconventional choice in regular shoes, but in post-op shoes, they can be very useful. A rocker outsole can improve the overall stabilization, reducing pain and swelling. It also works to better absorb shock and other forces, lowering the impact that each step will have on your feet.
Medical products need to be able to accommodate a wide range of sizes, from larger sizes typically seen in athletes and record books to smaller sizes intended for children. This classic boot from AliMed is available in a wide range of sizes, ranging from pediatric to as large as a US men's 16.5.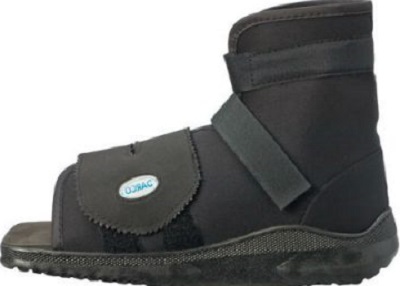 Designed more for surgeries that involve heavy bandaging or different levels of casting, this boot will protect you well. Higher on the calf to provide all-around stability, this is a shoe ready to give you ample comfort and support, as this can be important; depending on the location of your surgery.
This boot is designed for use immediately post-surgery. The overall larger design allows for larger dressings, compression wear, fiberglass casts, and other lightweight casts. This will allow you to be mobile from day one. This boot is designed to hold your casted foot in place. The strapless closure system can be adjusted to accommodate the cast or bandages and can, also, be switched from left to right closure to suit your needs. The center strap made from wide elastic secures the neck of the ankle to set the cast area in place securely.
This shoe falls into the midrange of cost association when compared to other post-op shoes on this list. It is an ideal choice for someone who needs something a bit more stable and secure than a minimalized version of a post-op shoe. In other words, this is a good investment.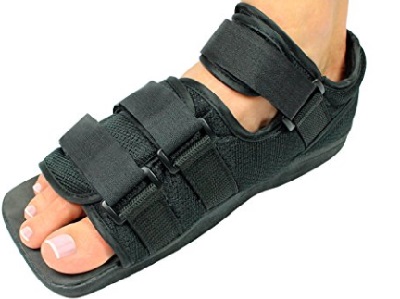 Vive has offered up a shoe that is both lightweight and durable, giving a great approach to an, otherwise, heavier build. This post-op shoe has a square toe for those having toe injuries and accommodates both bandages and casts. Furthermore, this shoe is left and right compatible. It is made with a non-skid rocker sole which provides arch support and helps to relieve pressure away from the forefoot and heel.
This is a multi-use shoe ready for most types of injuries. It is stiff; yet, effective in its design; allowing features to be enjoyed by several types of injuries. The extra-strong Velcro straps are adjustable to fit around a minimalist casting if needed. This shoe, also, allows you to alleviate pressure at several different points in the shoe.
The Rocker sole of the Vive shoe ensures no soreness around the forefoot and heel areas often associated with recovery, as the rocker sole provides arch support and alleviates pressures in both the forefoot and heel area. A mid-range priced shoe seems to be one of the favorites. Some have voiced that they used the shoe past the allotted time, as it was a good shoe for the money. It brings you stability and comfort which are important attributes when considering life after surgery.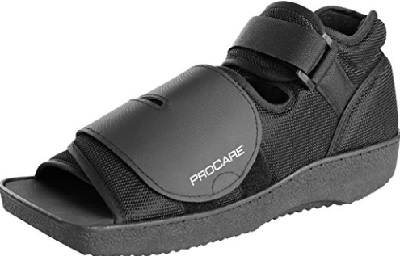 ProCare's post-surgery shoe is not a unique design but has all the qualities one would look for in a post-op shoe. Many of the issues we have post-surgery have to do with comfort, ease of use, and pressure-relieving abilities. This shoe has a square toe design which acts as a bumper to help prevent further injury while in recovery. Furthermore, a rocker sole provides decent mobility and reduces pressure.
The architecture of this shoe is its best trait. It provides maximum mobilization and adds further protection of the forefoot and toe areas. This helps to ensure progression for post-operative rehabilitation. The rigid rocker sole allows a firm transition from heel to toe.
This shoe has a lot of coverage, ensuring you are well supported and protected. The high ankle strapping secures your foot, thus allowing you to remain in the correct position during recovery. The reinforced heel area, also, helps to prevent unnecessary movement, thereby providing you with a secure environment.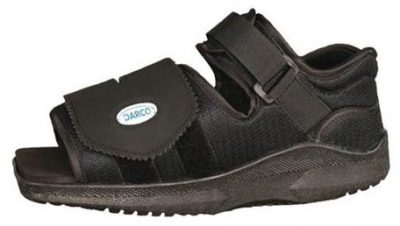 The Darco Med-Surg Post-Operative shoe has been designed with your recovering foot in mind. Darco's research team ensures that most injuries are addressed and they support that research by addressing many of the common needs of a post-op shoe.
The square toe design protects the front part of the foot as a bumper to further damage and, also, provides the space you would need if K-wires were part of your surgery. They have designed MetaShank™ protection which gives more rigid control under the metatarsals. This is a huge bonus if it was your tender tootsies that were injured.
Surgeries have many different stages of healing. Darco's entry into this list has a fit that is great for all stages of recovery. While your foot is fully dressed post-surgery, the expandable forefoot closure relieves any pressure; yet, also adjusts to the point that even without bandages you have a comfortable-fitting shoe.

7

. Aircast Short Pneumatic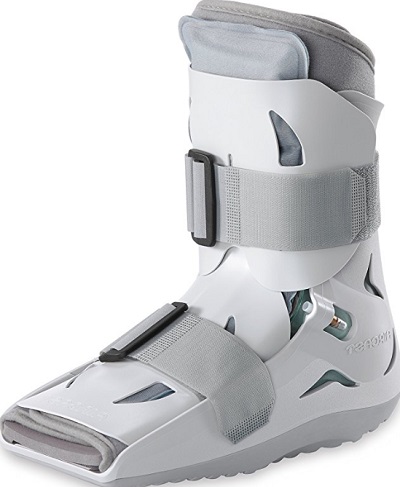 Much more popular today than most other post-surgical shoes, the Aircast will look familiar to most of us. Specifically designed to provide you with mobility and support for everyday use, there is, also, no hiding this cast for the weeks you may need it. With many adjustable points, anyone will benefit from this walkable cast.
The most evident feature is right in the name, Aircast. Built right in, you will find a hand bulb air pump which allows the Aircast to be filled to the amount you need, in order to provide you with the comfort and support needed. A generous full boot insole provides a tremendous amount of comfort. There is a substantial strap at both the top and forefoot of the boot. It allows for the foot an easy entry; as well as, full support to dissuade movement.
This is a pricier shoe to buy. I believe the technology of the air pump is the reason for the price. All-in-all, this is a good value for the elevated price and it has its return on investment for sure.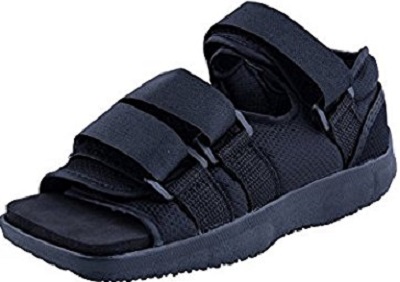 This square toe post-op shoe is perfect for those having broken toes or after having toe surgery. the structuring allows you to get around without movement in the toe area, thus you can remain comfortable in knowing that the procedure will remain undisturbed. A removable insole helps to provide you with other options, and this is a shoe that is both left and right compatible.
Soft padding in the inner helps you to remain comfortable should you need to wear this shoe for long periods of time. Furthermore, the padding ensures a nice fit after surgery. The padded heel allows for better placement. This, in turn, prevents unwanted slipping while moving about; an important feature when considering the pain involved after surgery.
This is a budget-friendly purchase. It is well worth the investment for anyone having toe surgery or dealing with a broken toe. Furthermore, this shoe is well built and should last, as well.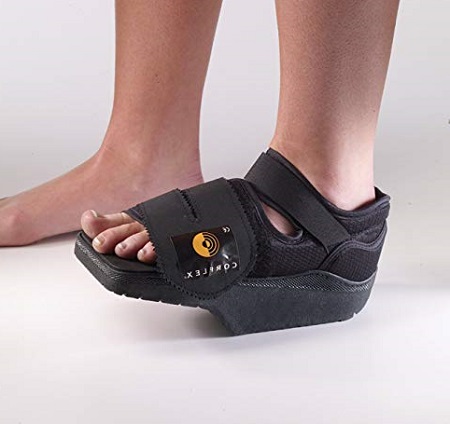 The OrthoWedge from Corflex sports a unique design that is best used after bunion surgery or any other procedure on the toes. What sets it apart from other post-surgery boots is the angled bottom. This 15-degree angle alleviates pressure placed on your toes when standing or walking, allowing them to better heal without difficulty.
The majority of post-surgery shoes will use a Velcro closure with straps. This closure type allows for a more customizable fit, which comes in handy when you need to accommodate for a cast or post-op swelling. As your feet heal, you can tighten the straps to provide compression that keeps future swelling and instability at bay.
Another important feature of this shoe is the squared toe section. This is common in post-surgery shoes, as it keeps your toes safe from bumps and other further damage that can hinder the healing process. This square toe, along with the angled bottom, puts your toes in the right position to properly facilitate healing.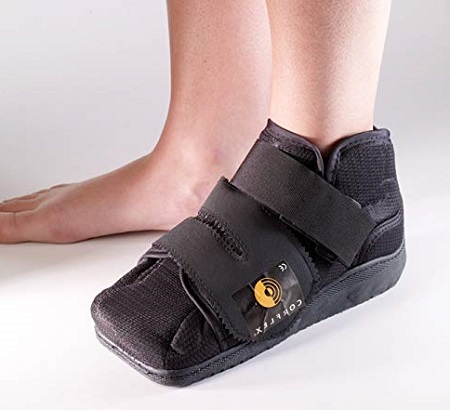 Having a secure fit is paramount when it comes to post-surgery shoes. A secure fit will promote the healing process, and keep the foot from moving around in the shoe and causing difficulties. The ankle strap and high-top design on the Darco All-Purpose shoe ensure a solid fit, especially around the heel section.
A lot of post-surgery shoes have an open toe section. This can be good for breathability and to accommodate a cast or other dressings. However, an open toe can become a problem in the event of poor weather, be it cold or rain. The Darco All-Purpose boot has a closed toe section to prevent this, as well as further promote a secure and stable fit.
Compression can be helpful in the post-op period, as it works to alleviate some of the pain and swelling that naturally occurs after surgery. This is often done by way of Velcro straps and compression fabrics, which provide the right amount of compression you need without being too constrictive.

Subscribe to our Newsletter