Best Bunion Cushions and Protectors To Help You Avoid Surgery
In a Hurry? Editors choice: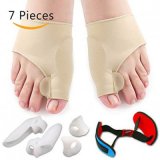 Test Winner: Flyen

We can all agree that one of the most discomforting experiences is a pain in your feet. It can be debilitating and prevent you from even walking around. Now, out of all the different ailments in the feet region, one of the worst experiences is bunions. Bunions can lead to a whole another world of problems and ailments, which is why it's critical that individuals focus on treating and taking care of the problem. Today, consumers can sign-up for a surgery to fix the problem; however, this can be costly, and nerve-wracking.
This is where bunion pads can prove to be incredibly helpful and beneficial. These are essentially a small piece of
padded or cushioned
fabric that can be applied to the target area, provide near-instant relief, prevent the build-up of friction or discomfort, and empower the individual to walk comfortably once again.
Standout Picks
Criteria Used for Evaluation
Materials
The first and most important aspect to take into consideration when purchasing one of these products is to the construction of the actual item and the materials used in making it. Understanding these two different facets could help unveil a wealth of information about the brand and whether or not it's worth purchasing.
With that being said, we learned very early on the best type of materials that manufacturers could use is:
Gel (medical-grade)
Neoprene
These materials often are best for boosting breathability and ventilation, while also promoting the comfort and padding needed to relieve the area from any pain or discomfort. So, as we scanned through dozens upon dozens of products, we carefully noted what types of materials companies were using. If we noticed that a company was using a cheaper material, like plastic or a cheaper fabric material, we often skipped that product.
Comfort
Let's talk about comfortability – as we all can attest that this is a vital component of any footwear gear. As we evaluated and assessed products in this market, we wanted to ensure that the 10 best products would offer the most comfort. I mean, wearing these on your feet can be uncomfortable, on top of wearing socks and shoes. To our surprise, the very best brands on the market designed their products with some of the cleverest technology and designs.
In fact, if you look on our list, most of the brands designed their products to be ultra-lightweight and thin, making them easy to wear during the day at work. Now, we also know that comfort can be quite objective as – what may be comfortable for one person may not be for another. So, we actually took to the time to review many different consumer reviews to see what other people mentioned regarding their experience. What you read about today is the absolute pinnacle of comfort when it comes to these protectors.
Durability
Can you imagine purchase a product to protect your feet and, after a few uses, it breaks and is unable to be used? It would be quite tragic. Well, to avoid this problem, and the inconvenience of having to communicate with customer service departments, we aimed to only include the most durable choices as well. Now, durability can be correlated with the quality of the materials and construction, which we discussed at the start of this section.
However, there are a few different ways that we as consumers can learn about the durability of the product:
Warranties/Guarantees: Typically, brands that offer warranties or guarantees are typically the products that offer a better degree of durability. In this, these companies offer a policy to help assure new consumers that their product will operate as intended, otherwise, they will get their money back.
Consumer Reviews: Given that durability is such an important thing to us – consumers will be honest in their review and share whether or not the product will be durable or not.
Manufacturer's Description: In the description of the product, pay close attention to what the company says (if they say anything). If you are noticing that the manufacturer is either very vague/general, chances are, the product is not the best. In addition to this, if the manufacturer does not even talk about durability, that's not a product you want to consider as well.
Value
So, as you might notice many of the different criteria that we used to evaluate are really based on the physical design and construction of the product. However, there are other ways that we can assess a product and learn whether or not it's worth our money. This is where utilizing and understanding the relationship between the cost and the value come into play. Now, most consumers often look at the price tag but don't really use it to their advantage.
Now, you might be wondering, how can you use a price tag to benefit you? Well, it's quite simple – but takes some extra effort. Here's how it works:
Prior to even picking the first product for our list, we actually looked at what companies were charging for this product. We created a rough estimate or average by finding the highest and lowest priced items on the market.
With this average number, we evaluated each product and measured where it stood in comparison to this. If it was higher than the market, we wanted to know if it was because of value, brand reputation, or if the product simply was overpriced.
With each product, we asked ourselves one question: What value does this product offer consumers?
Through taking the time to answer these questions and really research the market, consumers can really get the best deals out there – which is what we precisely did for you!
Effectiveness
Another important criterion that we want to share is all about consumer reviews. When purchasing any product, it's critical that consumers take the time to properly analyze and review what previous consumers have said regarding their experiences. Given that they have first-hand experience with the product/good, they can provide some valuable insight. For example, when it comes to protectors, we really wanted to see what consumers were saying regarding the following:
How comfortable is the shield or protector?
Does the product cause the foot or targeted area to develop sweat or odors?
How long does each shield last for?
Is the product visually the same as what is marketed?
This is just a few different aspects or areas that we really looked for.
Now, we would also like to say that, when assessing and looking at consumer reviews, it's very important to weed through the biased reviews. Typically, these are going to be the 1-star or 5-star products. In this, when picking out the best products, we opened our range and really looked at 2-to-4-star reviews as these individuals typically share the most honest feedback.
Top 10 Bunion Pads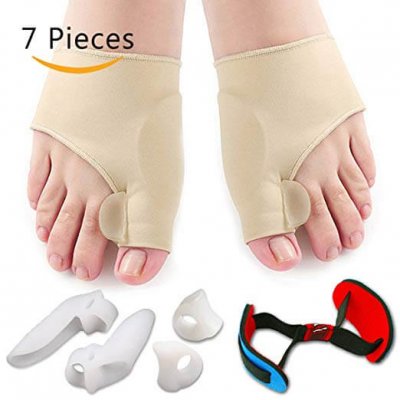 When it comes to this pain, without having to go through the surgery, Flyen bunion pads are the next best thing. This item is designed from the very best medical-grade materials and can truly help provide the relief from the pain preventing an individual from walking. Here are some of the most notable features of our number one product.
7 Piece Set
Typically, most companies only sell just their product, without any extra incentives or bonuses. Here, consumers will receive 7 different pieces from the manufacturer. Each piece is designed to help with different ailments, including big toe joint or even hammer toe. As we said above, this item was intentionally created to help an individual should they be nervous to get the surgery.
Money Back Guarantee
One reason why this brand topped our list is that of their dedication to being number one. This company understands that not all consumers will know who the brand is. In efforts to provide new consumers with a bit more assurance and comfort, each purchase comes with a standard, no-risk money back guarantee.
Cost and Value
As far as cost and value, this product sets the bar high. While this may not be the most expensive choice on our list, it still comes at a higher price than a few other choices on our list today. In addition to this, when it comes to value, this product takes the medal. There is a reason why so many consumers tout the effectiveness and quality of this brand and product – it's just that good!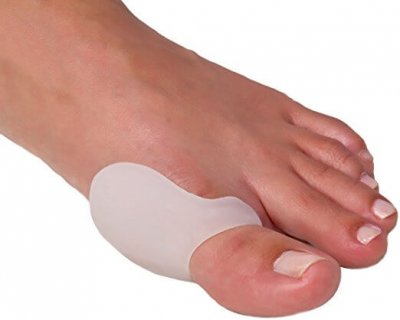 In the second spot, we have the well known NatraCare brand and their Gel Guard. For those who may not know, this company is fairly well-known in this market for their quality designs, doctor-recommended products, and results. Let's take a look at what makes this choice such a valuable and special one.
Minimizing Shocks and Friction
The sole purpose of this unique design is to truly help minimize the impact of shocks on the targeted area and also reduce (or eliminate) any friction. As many consumers have mentioned, this product appears to be quite "magical" as it has the ability to provide almost instant relief.
Great Material
Let's talk about how this item was created. What really captured our attention was the fact that the company used SmartGel material and technology. This is a type of gel that is made from a blend of valuable ingredients, minerals, and oils. To our surprise, this simple product is made from different vitamins, shea butter, and even mineral oils.
Cost and Value
When it comes to comparing the price of this product to others on our list, we can say that it's quite cost-friendly, especially considering the value embedded in the product. Made from SmartGel technology and being APMA accepted, it speaks volumes about the quality and effectiveness of this product and brand. For those looking for results or relief, check out this one.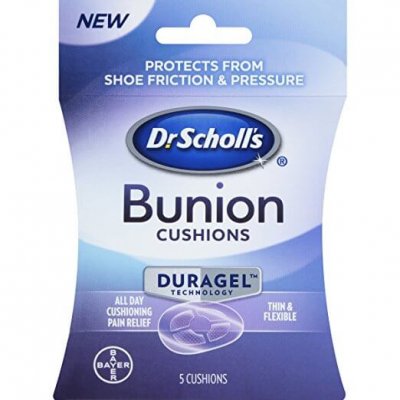 If you are suffering some intense pain, perhaps its time to consider bringing in the professionals from Dr. Scholl's. With the introduction of their advanced product, consumers can find comfort, relief, and the flexibility needed to move on with their day. Intrigued a bit? Well, check this out!
All-Day Relief
When purchasing this type of product, it's important to find one that can provide enough durability and usability to where it can be used all day. Otherwise, you may only receive limited relief. Well, given how popular and reputable this manufacturer is, consumers can anticipate full-day relief and wear from these.
Flexible and Comfortable
So, what makes these such a viable option for consumers? Well, these are easily one of the most flexible and comfortable choices on our list. It's evident that investing in this brand and product is worth every penny, thanks to the materials the manufacturer uses and Duragel technology. Say goodbye to pain and hello relief!
Cost and Value
If you are looking for quality, look no further. This brand has built their reputation designing the very best foot care products, and this is no exception. Now, in this, these cushions are most certainly the most expensive choice on our list. Considering that consumers only receive 5 per package -and they are not reusable, it can become an expensive recovery plan.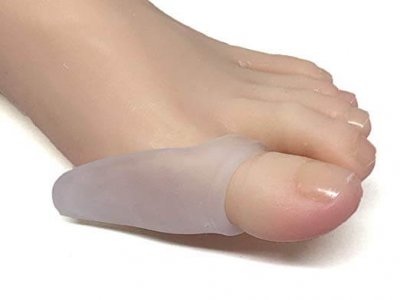 If there is one product on our buying guide that is currently on the rise, it's ZenToes. This brand has captured the hearts and feet of consumers around the world, thanks to their unique design and ability to provide the relief from everyday pain. Let's explore what makes this shield one of the best choices.
Soft yet Durable
For us, one of the most unique and fascinating parts about this item is the soft and durable gel that was used to make this protector. This makes it very easy for the consumer to wear all day without noticing any build-up of friction, tension, pain, or any other like ailments.
Quality and Reusable
Unlike the previous product on our list, this item is one that is designed from quality and reusable materials. That's right! So, after a full day of use, an individual can simply wash this, which is incredibly easy, and then reuse it the next day. This is a great feature as it helps save a lot of money during your treatment or recovery time.
Cost and Value
So, let's take a minute to talk about the price for this guard. Consumers can anticipate paying a similar cost to a few other choices on our list today. What really set this product aside from the competition can be seen in the actual design and materials of the product. Since this is made from soft, durable gel materials, consumers can get constant results from this shield, without having to spend a lot of money or constantly replace it.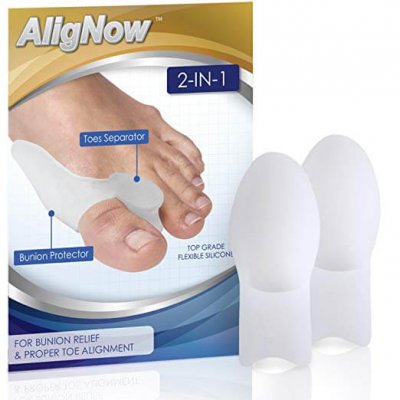 Taking up the fifth spot of our buying guide, we have Mom's Care AligNow. This item is currently the trend in the industry as many consumers are flocking to try out this product. Like a few other brands today, this company has crafted a protector that is designed to provide instant relief and be utilized throughout an entire workday. Does it get any better than this? Let's find out!
100% Money Back
For new consumers, it can be challenging and frustrating to purchase a product from a brand you have never heard of. In truth, if you could find a brand that you are aware of, chances are, you are more inclined to purchase from them than another unknown brand. In efforts to combat this, the manufacturer is selling their product with a no-risk guarantee. So, should there be any problems at all, the consumer can return, exchange, or apply for a refund.
Quality Relief
Through doing our research, we have to come to learn that the best material in the industry to construct these from is silicone gel. This item is made from a medical-grade of this material, which boasts quality and durability. In addition to this, thanks to the material properties, this product can truly provide relief from any discomfort or pain in the targeted region.
Cost and Value
For the price that the manufacturer is asking for it, it's a deal you won't want to pass up. In comparison to a few other choices on our list today, the price tag is quite on target with the market rate, which is always good news for the consumer. Now, what really makes this a great deal is the value and relief it offers. If you are looking for a simple and easy-to-use product that can provide good results, this may just be for you.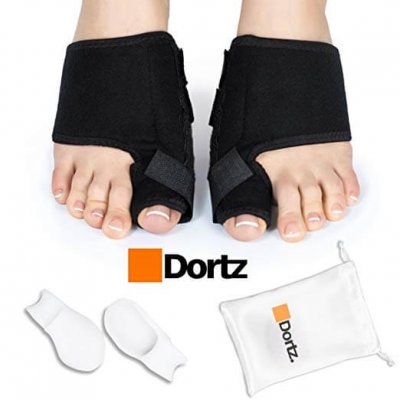 The Dortz Orthopedics is the first item on our list today that was designed from professionals that understand the targeted region. This company crafted this item with precision and accuracy to help really correct and provide relief from every day pain. If you are looking for professional protection, well, here you go!
Careful Construction
As we briefly mentioned above, one of the biggest reasons why consumers are interested in this product and brand is because of the developers that made it. Here, investing in this item is investing in quality orthopedists who understood how to correct bunions and provide relief from common foot problems.
Guarantee
One thing about this brand that really stood out to us was their dedication to their consumers. To provide an increased level of protection, the manufacturer offers each consumer a quality guarantee on their product. Should there be any faults or problems, the company is here for you.
Cost and Value
Now, given the amount of quality put into this design, consumers can anticipate that this product will cost a bit more than a few other brands on our list. In our opinion, this is for an individual that is seeking a high-quality and professional-grade item, without having to spend hefty dollars to get one. This splint might just be the bridge between pain and relief!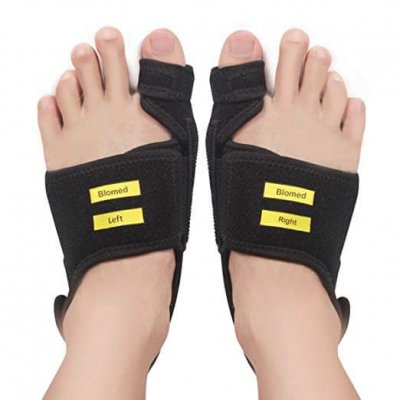 Are you looking for a foot care product that can help provide some relief from hallux valgus or other foot related ailments? Well, the Blomed is one of the top-of-the-line choices, known to help correct all of these ailments and more. Let's explore two product highlights and perhaps why this is a valuable choice.
Neoprene Materials
For the first time today, we have a product that is really not made from standard materials that you would expect. Here, the guard is created from neoprene materials, which is known for it's lightweight and breathable properties. In addition to this, the bottom part of the guard is made from non-slip properties, keeping you safe while you recover.
60-Day Money Back
Have you ever purchased a product and, after using it once, you realize it's not for you? It's all happened to us. However, have you tried to return the product and found out it's not possible? Well, that inconvenience does not exist with this brand. Thanks to their convenient 60-day money back guarantee, consumers can be assured that they are investing in a product they like, or they can get their money back.
Cost and Value
When it comes to this product, we can say that it's priced higher than the majority of brands that we have covered today. While it cannot truly compete with the number one choice on our list, it's most certainly a more affordable option. This is a great product for the consumer seeking a blend of relief and alignment.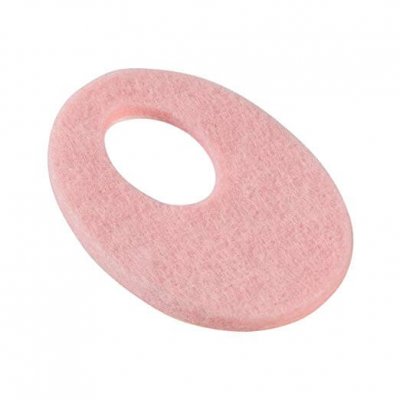 Can you believe we are already on product number 8? To top it off, for this spot, we have one incredible option for you to consider. The Steins Adhesive is easily one of the most unique choices on our list, thanks to the way it was designed and the materials that the manufacturer chose to use. Without ruining any surprises, keep on reading!
Superior Protection
For us, the biggest selling point comes down to the design of the product. We can conclude that this item provides individuals with superior protection from an assortment of foot ailments and can help prevent any future ailments as well.
9 Pads Included
Have you noticed that a few different brands only offer a few shields or guards in their package? Well, this brand sought to provide their audience with enough protection and support to last for months. With over 9 different pads, an individual can wear these each day, finding relief and the ability to walk free of discomfort once again.
Cost and Value
When it comes to the price tag for this item, we can say that the manufacturer is really charging a fair price. It's nowhere near above the market value – and it's packed with enough value to justify the price tag. With the ability to reduce pain, be worn all day, and come in a pack of 9, this is a great and affordable choice.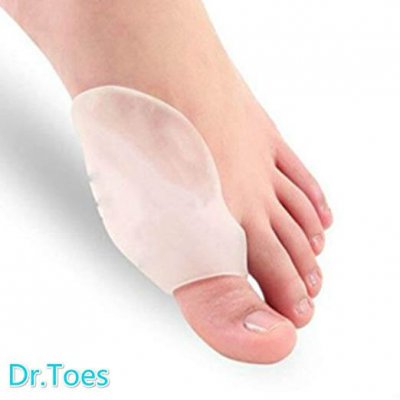 Out of all the different products that we evaluated, Dr. Toes is the one that we were most excited to share with you today. This guard is made from a unique type of gel material, unseen on today's buying guide. In addition to this, it has been named by many previous consumers as the next best shield in the game. With such praise, you can imagine our excitement!
TPE Gel
As you may have noticed, many brands construct their products from silicone gel. This brand took their design to the next level with TPE gel. This is a high-grade of gel that is known for its flexible and reusable nature.
100% Satisfaction
Like a few other brands that we have covered today, this manufacturer understands the importance of providing their consumers with as much value as possible. Now, if you have never heard of this brand, have no fears! They have a 100% satisfaction guarantee. So, should you be unhappy with the product, you can simply return it for a refund.
Cost and Value
Let's talk about the price tag and value for a minute. Here, you are looking at a product that comes in a set of 4, all which are reusable, and priced at the same cost as other brands who only provide 1 guard. What does this mean? Well, this brand really increases their value through not only their design and materials but also the quantity that a consumer will receive.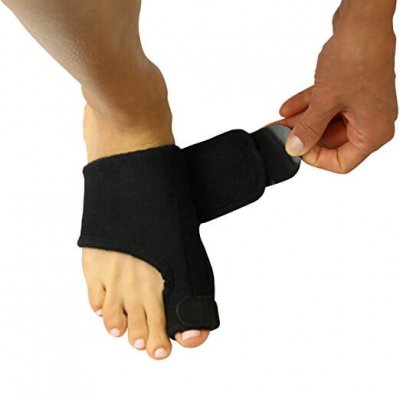 As we close today's buying guide, we wanted to end with one product that really captured our attention and is bound to become one of the best products in the game. The VIVE Splits is a multi-purpose product, designed from great materials, and can really provide the support and protection needed. Without further ado, let's take a look at this product.
Breathable and Lightweight
The biggest selling point of this item comes down to the way it was designed. Since this product is a bit larger in design, the manufacturer made this product from the most lightweight and breathable materials. In this, consumers can wear this without fear of sweat building-up, odors, or causing any other ailments.
Protection
If there is one word to describe this brand and product, it's protection. This manufacturer carefully designed this to protect your foot and provide the relief needed in the targeted area. Not only will this product help work on the pressure and inflammation in the area, it will also help in realignment the big toe, further protecting your foot.
Cost and Value
To our surprise, this multi-purpose product is actually one of the best-priced goods on our list today. It's currently being offered at a price similar to a few other, well-known brands; however, what helps this product stand out is its clever, protective design. Oh, did we mention that you also get a 60-day guarantee?

Subscribe to our Newsletter