Best Dr. Scholl's Sandals Reviewed & Rated for Quality
In a Hurry? Editors choice: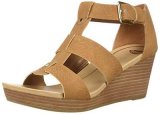 Test Winner: Barton

Making their name in the footwear industry by providing customers with insoles and inserts that aimed to improve the comfort of any shoe, Dr. Scholls' has expanded their expertise to the area of manufacturing footwear. If you're after the
best pair of summer sandals
for everyday wear, looking for looks, support, cushioning and adjustability, you've come to the right place. You'll find that there's a large number of models by this brand that have the potential to become your go-to shoe. The list below looks at the 10 highest rated models by the brand.
Standout Picks
Criteria Used for Evaluation
Style
When it comes to sandals, there are infinite ways that the manufacturer can design them. Now, in this criterion, we are not talking about the appeal, but rather the actual construction of the sandal. Companies can design their sandal with straps, buckles, and even wedges. It does stop here.
In addition to this, there are different types of materials and styles ranging from
Wood
Leather
Flat
Rubber
There are only four of the dozens of options - the options are really endless. With this in mind, when it came to developing the list of products for you today, we consulted with the overall design of the sandal to ensure that we offered a variety of choices.
Comfort
When it comes to this brand, we can say with confidence, the biggest reason why people are purchasing these sandals are that of the footbed. It can be challenging for sandals to be special or different – and the way Dr. Scholl's did it was through including their incredibly valuable innovations into the footbed of their products.
When we were evaluating different products from the brand, we wanted to ensure that, given their expertise in the field, each was comfortable and that the cushioning and foam that they used was the same quality and durable. To do this, we always consulted with previous reviews to see what customers were saying regarding their personal experiences.
Most models listed here have an anatomically correct footbed which is crucial for the health of your foot, especially in terms of support and alignment. If you're on your feet for long periods, regardless of whether you have flat feet or high arches, you'll notice that a stable arch can alleviate the fatigue you feel at the end of the day. It can also prevent back and knee pain that often occurs when you put too much pressure on certain parts of your foot.
Another thing to keep in mind is that the footbed should always be covered in a soft, breathable material that won't trap moisture or cause overheating. This is especially important for barefoot wear in warm and humid conditions. By providing adequate airflow to your foot, you ensure that there is no fungal or bacterial build-up and that your favorite sandals don't start to smell after a few uses.
Outsole
The outsole is one of the most important parts of any shoe, sandal or boot. This is the part of the footwear that really holds everything together. If it's designed poorly or not made from quality materials, you can anticipate the footwear to break or show signs of wear and tear.
With that being said, as we were selecting products for your consideration, we really wanted to highlight products that came designed with rubber outsoles, highly durable and had some traction-focused properties. In other words, we wanted to make sure the products could last and handle daily walking. To really assess this, we looked at the materials/innovations on the outsole and looked at previous customer reviews. Since this is a common concern many people are most likely talking about this.
A good rule of thumb is to determine how you'll be wearing your shoes. If it's just around town and at the office, then most outsoles will do. If, however, you expect to be walking on trails or on slippery surfaces, you'll need bigger amounts of traction. Deep lugs are an advantage in these types of situations, as they stick to the surface better, preventing you from slipping and sliding.
Materials
We cannot stress how important the materials are when looking to pick out a shoe, boot, or sandal. It does not matter the type of footwear, the type of materials that a manufacturer uses speaks volumes about the quality and functionality of the product. For example, if a sandal is made of plastic materials, chances are, it will not maintain the same level of quality as that of a leather sandal. Now, there is an assortment of different materials that companies use to make sandals out of. Here is a small list of different types of materials:
Plastic
Polyester
PVC
Leather
Suede
Rubber
Textile
Canvas
In addition to this, companies will use different materials depending upon the part of the shoe they are designing. In other words, the bottom part of the shoe will be designed with different materials than the interior part of the shoe. It's important to know precisely what you are getting for the money the brand is charging.
Value
While we typically do not like to focus too much on the appeal of a product, we cannot deny that the appeal is not important. Let's be honest, when you go to a shoe store are you the type of person that goes up to the worker and says, "What product has a quality outsole with a lugged outsole?" Or, are you the type of consumers that walk into a shoe store and look at the products based on the pretty colors or sleek designs? Most people align with the latter example, and that' okay.
So, when creating this buying guide and picking out products, we attempted to feature the absolute best-designed products. We do understand that this is objective, though – as the design is quite preference-based. So, we carefully looked at consumer reviews to ensure that many other consumers agreed and touted the design and appeal.
One of the most important criteria that we used to choose the best products was the price tag. We know that consumers care about how much a product cost. In truth, if you saw a pair of sandals that cost $200, you would have a lot of resistance – unless that product was within your budget. With that being said, as we selected each product we carefully looked at the prices and costs to ensure that not only did it match the value of the product, but that it was not abnormally high or absurd, considering the market value. Do note though, typically all of this brand's products are quite fairly priced, which this buying guide represents.
The last piece of criteria that we want to talk about is utilizing consumer reviews. When it came to developing this list of products, we utilized previous consumer reviews for many different reasons. For one, these individuals have sampled, tried, and had personal experience with the sandal. So, typically, they will share information that can be useful to share with you.
Now, we are huge advocates of assessing and evaluating consumer reviews. So, whether you are purchasing Dr. Scholl's Sandals or even just a regular pair of heels – using reviews can help find answers to questions you never knew you had.
Top 10 Dr. Scholl's Sandals Reviews in 2020



First on our list today, we have the OG Poolside Sandal from Dr. Scholl's. This item boasts one of the nicest designs, offering consumers an opportunity to be comfortable while also enhancing their attire for the day. In other words, if you are looking for a pair of slides that can be worn professionally or casually, this is a pair to consider!
Granted we are comparing and evaluating different products from the same brand, it is still important for the manufacturer to infuse some degree of personality into each product. This item speaks volumes based upon the six different designs and color options that consumers can pick from. With choices ranging from red to white, to even a multi-color yellow – this is the first item on our list that allows consumers to really pick their favorite colors.
One of the most frustrating things with sandals is when, after trying them on, they don't fit properly over the toes. In efforts to combat this problem, the manufacturer constructed this item with an adjustable buckle strap over the toe box. This way, if you are unhappy with the fit, you can simply tighten or loosen the grip over the toes.
If you are wondering how much this high-quality product costs, you might be surprised to hear that it's one of the most cost-friendly choices from this brand! This can be attributed to the lack of any major design features – as it's quite simple. With numerous different color choices, a great footbed, and adjustable buckle strap, this is a great choice for the casual or professional consumer.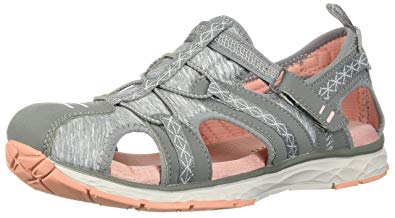 Ideal for everyday wear, this model offers a bit more protection and has a closed toe which means it'll be easier to pull off on occasions where an open toe is out of the question (but you still feel too hot for a regular shoe). The Archie is made with a fabric and synthetic upper that's quite soft and flexible, mostly thanks to the elastic inserts that allow for extra space over the instep.
Lined with comfortable microsuede, the EVA footbed on this model provides great arch support, ensuring proper alignment and preventing pain in the joints and muscles that often comes with unsupportive styles.
Though it looks rugged and stiff, this sandal actually has a rubber outsole that's flexible, allowing you to move with ease, no matter the surface underfoot. The lugs will grip the floor, and will even work in wet conditions.
Another model with an average price, this one's perfect for those who need something athletic, but with slightly more coverage. You'll find that you can wear these on a number of occasions, however, our bet is it'll become your go-to casual summer shoe.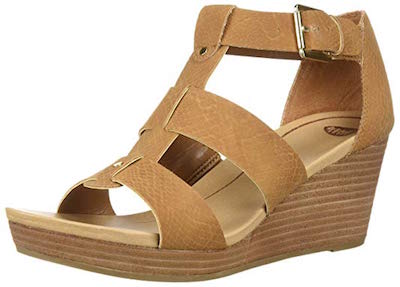 As we begin to near the end of today's buying guide, we did not want to forget about Dr. Scholl's Barton Wedge Sandal. In our opinion, this item is easily one of the most fashionable choices on our list today. It represents a blend of both comfortable and casual wear – and, at the same time, could be worn for professional uses. With that in mind, here are two interesting features of this item.
What really sets this item aside from the rest of the competition is the way the footbed was designed. While it does include the company's typical footbed foam, this product actually was designed and focused to be anatomical. In other words, this will mold to meet the foot shape of the wearer – making each wear that more comfortable.
For us, we really enjoyed the way the upper was designed. Typically, when it comes to sandals, the designs are quite simplistic. Here, it's evident that the company attempted to offer its audience a bit more. There are a unique back buckle and back support, offering consumers better stability and flexibility when walking.
It's always important to consider the cost and how it compares to the value of other items on the list. For this product, it's actually priced quite competitive and relative to the majority of choices from the brand. If you are wondering what makes this product worth it – it's all in the design, appeal, and comfort that it offers. As far as wedge sandals are concerned, this might just be the best the brand has to offer.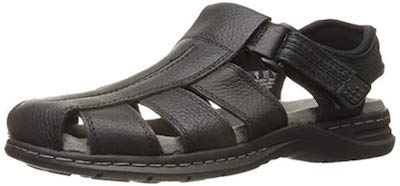 When it comes to the many different footwear that Dr. Scholl's offers, there is no better product than the traditional Gaston Fisherman Sandal. Featured with two different color options, this specific item is designed to join consumers on numerous journeys. As the leading product from this company, you can expect that this is packed with value and innovations.
One of the most notable features of this product is the way it was constructed. In one case, the manufacturer chose to line the entire sandal with neoprene material. For those of you who are not aware of this material, neoprene is one of the strongest and most valuable materials as far as flexibility, comfortability, and durability is concerned.
Alongside the unique neoprene lining, the manufacturer infused the footbed with memory foam. So, walking around in this sandal is as if the consumer is walking around on clouds. It's comfortable, durable, and shapes everyone's foot shapes.
Since we are assessing an assortment of products from the same brand, consumers can anticipate that the price points will be a tad similar. With that being said, this specific item could be considered one of the costlier choices, even though it's not that more expensive than the rest of the competition. What makes this shoe the best is the unique neoprene lining, memory foam footbed, and the comfortable leather upper.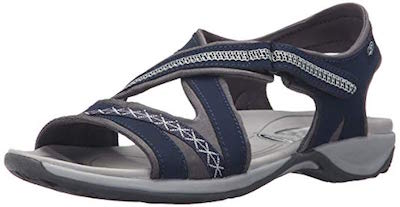 If there is one product that is quickly becoming a heated contender for the throne of this buying guide, it's the Panama Flat Sandal. When it comes to Dr. Scholl's they have designed so many different products yet this one has captured the attention of consumers around the world, thanks to its simple, quality-focused, and comfortable design. Here is what you can expect from this item.
What really stands out and sells this sandal is that it comes with the brand's patented gel cushion, which can actually be seen in the heel region of the product. When you consider the price point of this item, given this feature, it makes it one of the best deals on our list today.
For the first time in today's buying guide, this item is designed with what is known as a "hook and loop" closure system. For those of you who are new to shoes or sandals, this simply is the style of lacing. So, rather than using actual shoelaces, the company has a Velcro strap, empowering the consumer with more control over their comfort.
We are very excited to share with you that this item is actually one of the cheapest models that this brand has to offer. It boasts a simple design but offers many of the innovations that make this brand the popular industry-leader it is today. With choices between a Malt Taupe and Navy Leather, consumers can pick a style that really matches their preferences!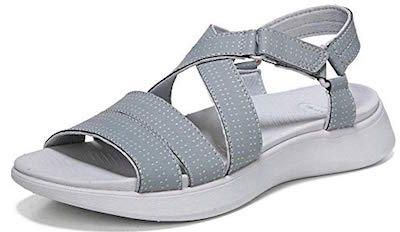 Sporty, elegant, comfy, and easy to care for? What more could you want from a pair of summer footwear? The Say It is one of Dr. Scholl's most fashionable models, with a design that's impeccable, and works perfectly for days running around, taking care of errands, as well as for active outings and laid back weekends. Available in three color options: grey, taupe, and navy, you'll easily find that fits your wardrobe best.
The slingback heel will ensure these never slip off your foot, while an adjustable hook and loop closure over the top of the foot gives you the perfect fit that won't stifle your foot, but won't be too loose either.
The sole on these looks slightly chunky, like ones you'd find on running shoes and lifestyle sneakers. It's anatomically correct, giving you the proper support, while also absorbing excess shock and making these easy to walk in all day.
This model is a bit more pricey than the rest listed, but not by too much. It's a great investment for those who want something stylish, but also for those looking for vegan options that don't include leather materials.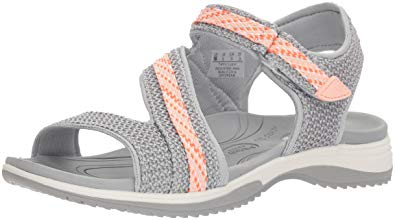 A sandal that's super easy to put on and off when you're in a hurry, the Daydream is the perfect pair to have for around the house and casual wear. Made with the same attention to detail that goes into making any pair of Dr. Scholl's sandals, it definitely holds an advantage over those plastic sliders you've been wearing. With a beautiful look and comfortable feel, this is definitely a great investment for anyone.
The best thing about the upper is that it's covered with neoprene on the inside, which means you'll love putting these on, even if you prefer to wear sandals barefoot. It's breathable and soft, and very easy to keep clean.
This is a neutrally supportive shoe, which means that it may not be perfect for those with flat feet. However, the footbed will form according to your foot with wear, so you'll get more out of it after a short break-in period.
Costing almost the same as any other model on this list, the Daydream is best suited for those who want something they can easily kick on whenever they have to pop outside. This can even serve as a good house shoe, for those who like a leather upper and are searching for something anatomically correct.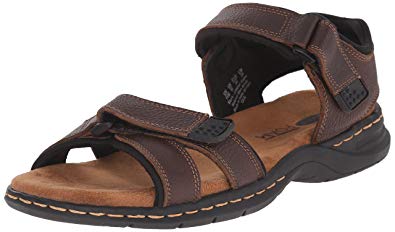 If there is a sandal from Dr. Scholl's that can compete with the first product on our list, it's the Gus Sandal. This item is actually one of the most popular pieces of footwear not only from this brand but in the industry. The design is quite simple; however, it's comfortable, packed with value, and offered at a pretty reasonable price tag. Intrigued? Let's check out some more features!
What captured our attention with this product is the way that it was designed. If you take a look at the image, the company focused on creating a tri-strap upper made of quality leather materials. This is meant to help secure the consumer's foot when walking around. So, whether you are walking around the house or the store, these will keep you grounded and comfortable.
Have you ever worn a pair of sandals before that was incredibly uncomfortable? Chances are, the company did not put any padding or cushioning into the footbed, leaving your foot at the expense of plastic and rubber materials. Now, this brand is known for its cushioning and foam technology. So, it should be expected that this item includes the company's famous memory foam technology in the insole of the product.
As far as cost is considered, this specific item is offered at an affordable price, in comparison to some of the other products on our list today. In this, this sandal features all the essential aspects and features that are important to consumers, making it a valuable consideration. Did we mention that there are two different color designs to pick from?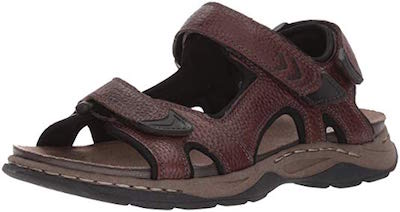 A rugged fisherman, ideal for long summer walks, both around town, as well as on the trail. If you're looking for something breathable, appropriate for active days, as well as for casual wear, this is definitely the choice for you. The upper is made with quality leather, while the sole and footbed both feature the recognizable comfort you get with all Dr. Scholl's footwear.
Three hook and loop straps allow you to find the perfect fit. You can adjust these in the forefoot, over the top of the foot, as well as at the back of the heel. Even if your foot tends to swell from heat or exercise, you'll be able to rely on a secure, comfortable shoe.
The straps of this model are lined with neoprene that's easy to dry and soft to the touch. The footbed is covered with microsuede that prevents slippage, and allows a good amount of airflow, keeping you cool and dry.
Averagely priced, this model is the perfect investment for those who tend to lead more active lifestyles, and who need a comfy, adjustable upper, in addition to a rough lugged outsole that will keep your footing secure on all surfaces.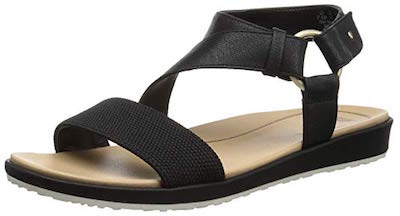 For the last product on our list today, we are very eager to share, Dr. Scholl's Powers Sandal. Unlike every other product that we shared in today's buying guide, this is the first product that offers some incredibly unique features, which we can't wait to share. Don't be confused by its simple design – as the value is truly unprecedented. Let's explore this product!
First and foremost, this model is easily and arguably the most flexible and durable choice on the list today. The company took the time to carefully craft the soles of the sandal to ensure that it can withstand everyday walking – and remain flexible with each mile tracked. The durability can be directly attributed to the high-quality blend of textile and synthetic materials.
In addition to the flexible and durable materials, the manufacturer also focused heavily on comfortability. This can be seen by simply observing the way the footbed was designed. With an anatomical feature, this item will gently form to the wearer's foot, making it enjoyable to wear while walking. In addition to this, the company added an adjustable strap to empower the consumer to personalize their wear.
For the last cost and value of today's buying guide, we are excited to say that this is yet another a great deal for consumers. This item is considered cost-friendly and offered in three different designs/colors, ranging from black to green and even gray. Given that this product is made with some great innovations and technology – it's most certainly worth any consumer's attention.

Subscribe to our Newsletter