Best Reef Sandals Reviewed & Rated
last updated
Feb 19, 2019
Once the outside temperature creeps above a certain degree, everyone you know will be pulling their flip-flops and sandals out from winter hibernation. Sandals are a favorite type of shoe that has been around since before most people can guess. Interestingly enough, the oldest pair of sandals to be found date back between 8,000-10,000 years. They were found preserved in the United States in Oregon. In more current times, American consumers in 2015 spent $2.6 billion on flip-flops alone!
In a Hurry? The test winner after 15 hrs of research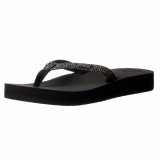 Cushion Sassy
Why is it better?
EVA Footbed
Comfort Strap
Tractioned Footbed
Water Friendly
In a
Hurry? Editors choice: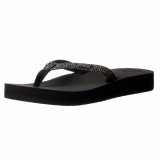 Test Winner: Cushion Sassy

10
Researched Sources
14k
Reviews Considered
15
Hours Researching
14
Products Evaluated
Materials
Band
Use
Traction
Comfort
By Default
In Depth Review Top 10
Cushion Sassy
Reef Fanning
Reef Sandy
Reef Ginger
Reef Dreams
Reef Leather Smoothy
Reef Swing 2
Reef Stargazer
Reef Slap 3
Rover Catch
Table of contents
Criteria Used for Evaluation
Frequently Asked Questions
Sources
Top 10 Picks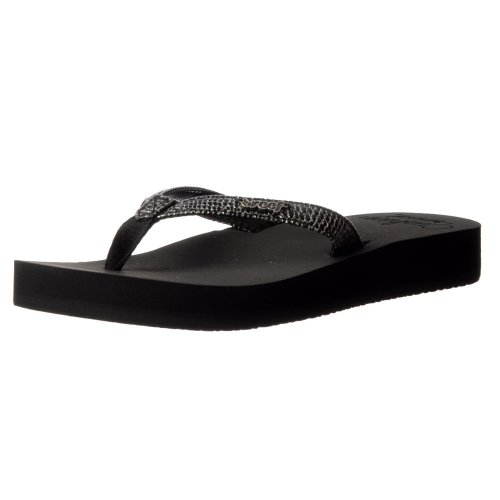 EVA Footbed
Comfort Strap
Tractioned Footbed
Water Friendly
The Reef Cushion Sassy is a hearty sandal that will make your feet happy. They have an outstanding grip strap that secures them to your feet to prevent them from flopping all around. As well, the sole is a very cushioned and soft EVA footbed and nicely tractioned grip bottom. You will have no trouble keeping up your steps without falling when wearing these. Also, they make the perfect partner to beach days or casual outings with friends.
Read more
Thick strap
Many people do not mind thin straps across their feet. However, for some it is uncomfortable. These Reef Cushion Sassy's come with a thick strap that is a soft material. It is a good preventative against skin chafing also. Your feet will be comfortable and protected.
Water friendly
No need to worry about water getting on these shoes. They are deemed to be water friendly. You can get wet in the rain or while lounging by the pool and the shoes will see you through it. Also, the footbed has a small traction on it so you can not worry about sliding off of the shoe if they happen to get wet.
Cost and value
These shoes are a great value. Not only are they highly-rated, but they are also very purposeful. Being that you can take them around water without worry makes them a great everyday shoe. You will get plenty of wear with these shoes. The Phantom falls in the middle of the category when compared to other sandals in the category.




EVA Footbed
Comfort Strap
Water-Resistant Nubuck Leather
Built-In Bottle Opener
Great Arch Support
Named for a three-time legendary world surfing champion, Rick Fanning, this sandal is more than meets the eye. The iconic feature of this sandal is the bottle opener implemented directly into the footbed. No need to hunt around for an opener when you just finished hitting the pool or beach. Also, the Fanning has the classic herringbone outsole which gives it a pop of attitude compared to some other designs. The footbed is extremely comfortable being constructed with EVA foam.
Read more
360-degree heel airbag
For the ultimate comfort on the heel, this shoe has an air cushion enclosed in a soft polyurethane. Your foot will feel padded and supported with each heel strike of your step. No more stone bruises with these sandals.
Anatomical arch support
Properly supporting the arches is vital to the safety and longevity of the bones in the foot. Many feet and leg pains can be helped with proper arch support. The arch of this shoe melts to your foot pattern. Therefore, it will cradle exactly against your specific contours.
Cost and value
The Fanning design falls into the mid to upper portion of our price range. If you compare it to other shoes in the category it is one of the highest rated for comfort and quality. Even though the cost runs a tad higher than some of the other sandals, it is still an incredible value. The shoe receives high marks for longevity. As well, it is a good looking sandal that can be worn with lots of clothing and for many different occasions. You will get plenty of use for this sandal.




Soft Footbed
Durable Outsole
Anatomical Arch Support
Contoured Design
Water-Friendly Strap
Slippery Footbed When Wet
The Reef Sandy is one of the most popular selling Reef sandals. It is a customer favorite thanks to its full-width polyester strap and thick brushed EVA footbed. The strap will keep the top of your foot from chafing because a rough fabric is on it. Secondly, the EVA footbed will cushion your foot from each stable and cradle it to feel like you are walking on a cloud. Lastly, the arch support is anatomically designed to support your foot and prevent pains in the foot due to lack of support.
Read more
3/4-inch heel
By starting the shoe with a thick heel, your foot will have plenty of room to adapt and mold. The foam footbed is a generous 3/4-inch thickness crafted with durability in mind. They will cushion your foot as you walk every day you wear them.
Thick strap
Compared to some other designs we compared, the thick and soft polyester strap on this sandal will feel soft against your skin. It can help to prevent friction and possibly chafing if you are prone to outbreaks due to sensitive skin.
Cost and value
These sandals come in our price range in the lower end. That is a great buy as it is also our Editor's Choice for the best shoe in the category. This highly-reviewed sandal can fit into almost any budget and will make buyers very satisfied with their purchase. With proper care, consumers should have plenty of life out of these sandals even if it is a daily wearing sandal.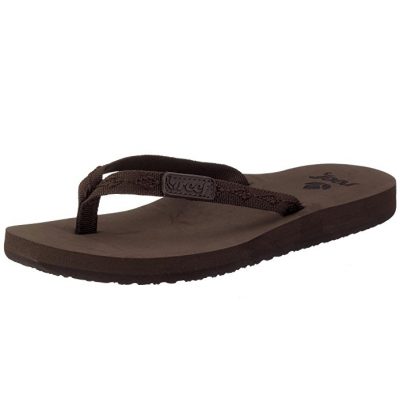 Ultra-Soft Footbed
Great Traction
Soft Thong Toe Piece
EVA Outsole Construction
Strap Is Thinner
Dye Stains Bottom Of Feet
The Reef Ginger is a dainty and sophisticated sandal. It consists of a thinner strap than some of the other offerings in the line have. They are the perfect sandal to take you from the beach to the mall and everywhere in between. They have a mid-range thickness sole that is typical EVA outsole material construction. Your feet will feel cushioned and properly supported thanks to the technologically advanced anatomical arch support. Even after all-day wearing these sandals hold up to their comfort reputation. The gel-like footbed will have your feet feeling like you just put them on.
Read more
EVA sole construction
A 0.75-inch outsole that is constructed from EVA materials is the ultimate saving grace for your feet. They will feel so supported on top of a cushiony material that caters to your feet. The EVA is an industry-wide phenomenon that reduces bulk and softens your steps.
Versatile style
The shoe design in its simple sophistication can take you anywhere with poise. It is classic and timeless. You can plan to wear these sandals with everything from dresses to pants to shorts. Even for low-key "formal" events, you could pair these with a skirt and still look put-together.
Cost and value
These shoes are an excellent purchase for the cost and value. Actually, they are the best value option in our category. They have a perfect price point and are paired with many qualifications that make them your "go-to" shoe. The Reef Ginger has high ratings for durability and will last for a long time if cared for properly.




Quilted Footbed
Rubber Sole
Textured Grip
Satin Liner
Runs Small
Toe-Piece Rips Out Easily
If the texture of the footbed doesn't catch your eye, then hopefully the feeling of wearing them will. They are incredibly soft and will make your feet feel like they are dreaming they are so comfortable. The footbed is a mattress inspired design with squishy pieces that cushion your foot. The toe piece is even more padded on these sandals than other designs. Finally, the sandal has a rubber sponge outsole that absorbs the shock of each step. By the sole absorbing the strike impact, they prevent it from transferring into your legs and feet, thereby not tiring you out.
Read more
Satin liner
The ultimate luxury is going to be this satin liner against your skin. It is so incredibly soft and luxurious you will forget you are walking on a flip-flop. Add to it the texture quilted design and you might think you are snuggled on the couch instead of up and walking.
Rubber sponge outsole
The flexibility of the outsole is great on this sandal. The sole really moves like a sponge. It will stay with your foot through each step as well as when you bend, etc. It is almost equated to wearing a sock instead of a shoe the way this sandal hugs your foot.
Cost and value
This shoe falls into an excellent part of our price range. It is in the lower to mid price range which will make it a good sandal to fit into almost any budget. The sandal itself will quickly become your favorite and you can wear it every day. It is rated high for durability and comfort so you can definitely walk the miles in this sandal.




Leather Upper
Traction Sole
Strong Arch Support
Non-Marking Outsole
Sole Separates From Upper At Glue
The Leather Smoothy is a great looking sandal. It can become your go-to choice for casual and some dressy events. It has been a long-standing Reef favorite. The Smoothy is made from a full-grain leather topped with a polyester lining for added comfort. This is all atop a patented triple-density EVA footbed sole. It is leading the way for comfort and durability due to it being a quality constructed method and material composition.
Read more
Flexible outsole
The soles of this sandal will move with your foot so that you have the best degree of comfort. A sandal that moves with you and bends with every step or stoop, will quickly become the reason it is your favorite sandal. Also, being flexible and moving with your foot adds to the durability since the sandal is not fighting against you.
Full-grain leather
Leather has been used for centuries because of the longevity it provides; not to mention the comfortableness of it. Leather is going to withstand much use and provide a very soft and pleasurable shoe to wear.
Cost and value
This shoe falls right into the category in the middle of our price range. It makes it an easy shoe to fit into most budgets. As well, it is top-rated for durability and dependability that buyers have come to trust and expect from Reef. With the purchase of these sandals, you will be very pleased with your purchase and it will have you becoming a faithful Reef follower.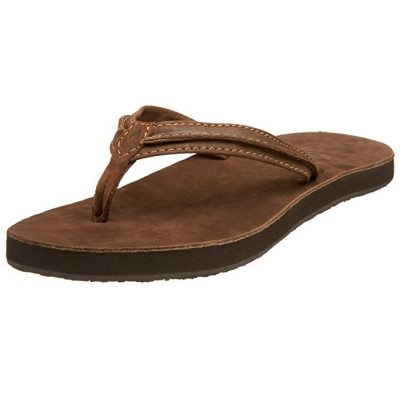 Soft Toe Strap
Rubber Outsole
Leather Composition
Squishy Footbed
Straps Are Tight At First
Narrow
The distinguishing characteristic of the Swing 2 that sets is apart from others in the category is that this sandal takes the classic style and pairs it with handmade materials. It gives the sandal an edge and craftsmanship that none others have. You will also find a high-density outsole with a strong grip that helps you to feel secure no matter the surface you are walking on. Lastly, the footbed of the shoe is so comfortable you will feel very supported and cushioned while wearing these stylish sandals.
Read more
Leather footbed
Using leather for the footbed ensures that this shoe is going to be super soft and very comfortable against the foot. You will find that leather makes the shoe more durable and will allow the sandal to bed with the foot providing a better wearing experience.
Rubber sole
A great benefit to a rubber sole is that it will help with your stability and the integrity of the shoe. The rubber will help the shoe to grip whatever surface you are walking on. That way it assists in helping to prevent slips and falls.
Cost and value
This shoe is definitely in the higher end of price range, especially when compared to the other shoes in the category. However, don't let that dissuade you from purchasing these shoes. They are extremely comfortable and a good portion of leather composition. You will see why leather has been used for hundreds of years; it adds to the comfort and durability of the product.




Rubber Outsole
Soft Thong Toe Piece
Synthetic Material
Easy Clean
Footbed Gets Slick When Wet
If you are searching for a little bit of sparkle in your choice of shoes, then look no further. The thong strap will pop off of your foot when everyone catches the subtle sparkle these shoes have. Also, if you do not prefer texture these sandals make a great choice because the footbed is smooth. It will feel very soft against the bottom of your foot. Finally, the rubber sole makes for an excellent choice to prevent slips and falls when walking on wet or adverse surfaces.
Read more
Flexible outsole
These sandals have an outsole that is flexible. It will move with your foot during each step as well as when bending or stretching. Your foot will not feel constricted in these sandals as they move with your foot instead of fighting natural motion.
Glitter strap
The straps of these sandals, even though they are skinny, still pack a punch. Reef decided to put subtle glitter all over the strap to give the shoe a little pizzaz. You will look great wearing these to the pool or for a night on the town.
Cost and value
These are a great buy when considering the cost versus the value. These shoes come very high-rated for wonderful quality backed by a company that loves its consumers. The sandals fall at one of the lowest price points in the category; which means they fit into almost any budget without breaking the bank.




Molded EVA Footbed
Soft Strap Material
Cushioned Toe Thong
Textured Footbed Top
Good Gripping Outsole
Runs Small
Straps Are Tight Until Broken In
The Reef Slap 3 will make your feet slap-happy. They are an excellent choice for the avid outdoor water seeker. You won't have to worry about the degradation of these sandals when you get them wet either by accident or choice. They are 100 percent water friendly. Also, they have a textured top footbed that will keep your foot feeling secure after it gets wet. Finally, they are the always comfortable and supportive sole that leaves your legs and feet not feeling tired after walking all day.
Read more
Offset heel and toe
To encourage proper gait and stance, these sandals have an offset heel and toe. This will provide so many health benefits. Everything from slouching, back-ache, hip problems and more can be alleviated with proper stance, stride, and shoe.
Mixed material strap
The mix of nubuck and leather provides an ultra comfortable strap that rests easily against your skin. When you wear these shoes, you don't have to worry about the strap chafing your skin or pinching into it.
Cost and value
These shoes fall into the higher end of our price range, especially when compared against others in the list. However, you will have a very versatile sandal. This is one of the only ones in the category that is 100 percent water friendly. That means you can wear this shoe every day whether faced with rain or shine. It is also highly rated for durability so you will have a shoe that lasts a long time, with proper care.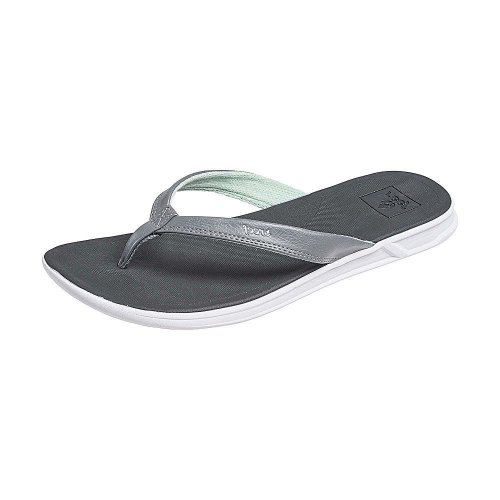 Contoured Swellular Footbed
Molded Swellular Foam Midsole
Soft Jersey Liner 
Great Traction
Compression Molded Triple Density Construction
Toe Piece Pulls Out Easily
If you are in the market for a simple, yet stylish sandal, then look no further than the Reef Rover Catch. Rest assured, however, that the sandal also makes a perfect choice for casual outfits too. The strap on this sandal is a bit thinner but gives a dainty and polished look. You will be walking with extreme comfort as the Rover Catch sandal has the expected cushioned footbed.
Read more
Versatile styling
This sandal can take you from day to night and work to an evening with friends. You will have no problem wearing this sophisticated sandal at work and then a quick transition to night time fun. Also, it can easily be worn to summer weddings or any other social events.
EVA footbed
EVA is an industry standard for shoes. It assures flexibility and comfort all without adding any extra bulk; therefore it reduces the weight of a shoe. The EVA in this shoe helps the sandal to bend and move with your foot. EVA has also been shown to add to the durability of the shoe.
Cost and value
For such a versatile and stylish sandal, the price point is one that will fit into almost anyone's budget. You can easily purchase these shoes knowing you will have a sandal that can be worn for many different occasions. It can become an everyday shoe as it is more than suitable for work, social settings, etc. The Reef brand is synonymous with durability so these sandals should last you for a long time with proper care and precautions.
Criteria Used for Evaluation


Materials
The footbed and sole are one and the same in a sandal. In other shoes, this statement is not true. However, a sandal only has one portion of which your foot rests on. Also, because the sandal is generally an almost entirely open shoe, the sole is not seen as different than the footbed. In terms of sandals, there are many different materials from which the footbed/sole can be made.
Cork:
Cork is a material that can be easily attained and is in great supply. It is a versatile and durable material. When using it in the footbed and sole of a shoe, it can be very malleable and provides an anatomical correct base for the foot. Furthermore, cork, once it becomes warm from body heat molds to your foot. Cork is widely accepted as a material that alleviates numerous pain ailments since it is anatomically adjusted to match your specific foot shape.
Rubber:
Rubber has the advantage to be used in shoe soles since it is lightweight, easy to clean, durable and comfortable. Rubber is one of the most common materials to be used in shoe soles; it is especially prominent as part of the inner makings. Rubber comes from a rubber tree. Yes, that really exists, even though that is the nickname of the tree. The milky white substance that flows through the tree is collected and processed. Therefore, the rubber really is a natural material, contrary to popular belief that it is similar to plastic, which is man-made. Rubber is for all intents and purposes, indestructible. The only way to actually destroy rubber is to oxide it. That is why it is great for shoe soles.
Foam: ,?li>Foam is the most commonly used material in shoes, especially in the sole and footbed. Foam is very comfortable and widely available, therefore making it a less costly product to use. Foam comes in a few different composites. There is open cell foam and closed cell foam. Open cell foam is porous which allows air to freely pass through. Closed cell is sealed which prevents anything from escaping or entering. Closed cell foam is also known as EVA foam. It is the most popular to be used in many shoes. The other types, along with EVA all had advantages and disadvantages. Proper material is chosen based on the requirements of the shoe.
Synthetics:
Synthetics are used in shoe soles as they are very durable. Synthetics are man-made mixtures. One advantage to using synthetics is that they are widely available and very cost-effective. A lot of times, designers will use this material to try and keep costs low to pass the savings on to consumers. One major disadvantage to using synthetics is, they crease and wear easily so sometimes they are not as durable.
Another important thing to consider when looking at the material of a sole is the heat retention it will cause. Some people suffer relentlessly with hot feet or feeling as if they are walking on pins and needles. They require shoes that do not add any more heat to their feet. Some materials are going to be better at releasing the heat than others. Rubber and cork offer the best breathability of the many choices. Foam has a tendency to trap heat as do some synthetic blends.


Band
The straps of the sandal are where designers really get creative when making shoes. The straps can be a continuation of the sole material or it could be something completely different. Shoe designers try to make the straps as comfortable as possible, in order to achieve consumer happiness. Otherwise, the buyer won't want to wear the shoes again and could potentially not become a repeat buyer.
Leather:
Leather is a heavily used material in the straps of sandals. Leather is very durable and can handle all of the adjustings and stretch that is required of a strap. Leather is also very soft against the skin. It is a top choice for sandal straps because of those two main reasons.
Rubber:
Rubber is a good choice to use for the strap. Rubber can be many different colors and sizes. It is a very versatile choice. Rubber is also very flexible which makes it a great choice for an area that requires lots of bending and movement.
Nylon:
Using nylon in the straps is often done because nylon is very durable. Nylon is also soft against the skin. It has the tendency to dry fast and repel dirt and mud.
Cotton:
After all, it is the fabric of our lives. Cotton has an unmistakable comfort that nothing else quite mimics. Straps that are made of cotton will not keep your feet hot, nor will they agitate the skin because they rubbed it raw.
There are other options that are available for shoe straps. They are not as common as the ones mentioned above either because they are expensive or not as comfortable, etc and so they are not as widely used.


Use
When looking at sandals it is also very important to consider the purpose of the sandal. Our list is comprised of sandals that are versatile and can be used for many different occasions. While Reef sandals are ubiquitously known for being surfer shoes or comfortable flip flops, if paired with the right outfit you could easily wear these for almost anything.
Reef sandals try to add some sparkle and finesse into some of their designs. For instance, some of their sandals have glitter or woven patterns that raise the posh factor a bit more. However, for the most part, Reef sandals have the ability to be rocked on the feet at the beach, a low key wedding, and with casual clothes, amongst other things. They strive to bring cool to the casual sandal. Most people that wear flip-flops/sandals live in their flip-flops/sandals. For some, there are not any other shoe options as they won't even consider putting another type of shoe on. It is important for those consumers to purchase a shoe that can transition from day to night, beach to date with ease. Additionally, some people live in climates that warrant this type of shoe only. No one wants to put on a pair of tennis shoes on a scorching hot day.


Traction
Traction is the ability of the sole of the shoe to grip on the terrain you are walking on. In most cases, shoes are designed with lugs or tread patterns to help walk. Some soles have a very high tread such as work boots. Workers never know what conditions they could face so the designers of these boots try to give the best grip possible. Conversely, flip-flops and sandals have a very small tread pattern. They are generally made to look flat on the ground. Reef sandals do a decent job in providing traction in the beginning but do have an inclination to wear off quickly. Again, and depending on the wear and care of the shoes, the tread on most flip-flops wears faster than other shoes. Sandals are sometimes made to offer better traction. You absolutely must watch the sole of these types of shoes for signs of wear and decrease tread. You definitely do not want to risk a fall because of slick shoes and an uncooperative terrain.


Comfort
Comfort is a very personal matter. It can have an impact on how you feel wearing a certain pair of shoes. Do you enjoy them? If a shoe isn't well fitted or comfortable, it will significantly impact how much you enjoy them. In fact, some of the most heinous comfort offenders end up relegated to the back of our closets. This is why comfort is so important; nine times out of ten, it can make or break a purchase.
So, how do you know that you're getting a comfortable shoe? Well the most definite way is to actually try them on your feet. Walk around a little in them, see how they feel. This can be difficult when it comes to online shopping, though.
The second best way to determine comfort is to look at the features and materials of the shoe, as well as the overall fit. Some shoes will feature a memory foam insole, or a closure system with an adjustable fit. You should also check the size offerings, and how they run. Some shoes will run small or large, others will run wide or narrow. You need to find something that works well with your unique foot shape and comfort needs.
Expert Interviews & Opinions
Most Important Criteria
(According to our experts opinion)
Experts Opinion
Editors Opinion
Users Opinion
By Default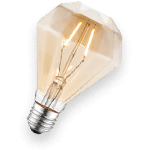 Fun Lifestyle Footwear
Reef sandals embody the spirit of surfers and beach lovers with their footwear. Laid back, comfortable, and even with some fun elements thrown into a few models, like bottle openers at the base of the sole.
Did You Know?
Reef sandals was originally founded by two Argentinian brothers, who moved to the US west coast in 1984 to establish the brand as we know it today.
Frequently Asked Questions
q:
Which Reef sandals should I get?
a:
There are so many great choices for Reef sandals. They are a great brand and have a quality product. You can't go wrong with any choice of our top 10 as they are all highly-rated and comfortable. You need to think about the qualifications that are important to you during your shoe search. From there, use our suggestions and find your perfect pair.
a:
To some degree all Reef sandals are water-friendly. What that means is they are safe to take in the water but not for prolonged periods of time. For example, walking along the beach edge and the shore laps your feet. Your shoes will be fine. However, some of their sandals are going to be less water resistant than others. We recommend you check the specifications of the sandals you are considering. As always, proceed with caution. Taking the best care of your shoes will ensure a longer lifespan and keep them looking their best for as long as possible.
q:
Is it true that Reef sandals are good for your feet?
a:
Yes, Reef sandals are a good choice for your feet. As a matter of fact, Reef sandals are a high-density footbed that molds to your foot pattern the longer you wear it. As a result of this, you can expect to have the best arch support for your body since the shoe bed is going to hug your foot. Many problems with the legs and feet can be alleviated with proper arch support. The shoes are also very cushioned which will help prevent fatigue and injury to the joints. Reef feels like walking on a cloud so your body is not taking the impact as less supportive sandals.
q:
Do Reef sandals run true to size?
a:
As with any shoe, you should check the sizing guide before purchasing a shoe. It is best to measure your foot against their chart for finding your perfect size. Typically, what is one size from one company could be slightly off from the same size in another company. Furthermore, your foot can grow up to 5% during the day so depending on what time you tried your shoes on, they may or may not fit the next morning or later in the day as your foot fluctuates.
q:
How should I keep my Reef sandals clean?
a:
We absolutely do not recommend tossing your Reef sandals in the washer with anything or even alone. For best cleaning, you should spot wash with a soapy rag and cool water. Using a washing machine can tear up the sandals and do irreparable damage.