Best Lord and Taylor Shoes Reviewed
In a Hurry? Editors choice: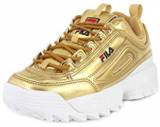 Test Winner: Fila Disruptor II

Their name is widely recognized for being the oldest operating department store in the United States but they had humble beginnings. Samuel Lord was responsible for what would be the first location on Catherine Street in New York in 1824. With offerings of luxe cashmere shawls, hosiery, and women's wear, the locals accepted him with open arms. He was soon joined by George Washington Taylor and the business boomed. Now their department stores have fully committed to offering iconic styles, excellent service, and exceptional quality to those who enter their doors. And in order to help you find a pair of shoes that will match your style, and provide you comfort and quality, we've created a list with remarkable pieces.
Standout Picks
Criteria Used for Evaluation
Color
I don't know about you but I love pops of color and unexpected palettes. Whether small details on a casual Ralph Lauren deck shoe or a full-on metallic look, color is a fun way to jazz up your look without altering your style. Endless options available for the suede Puma Classic will have you wishing your budget could fit every single one in it.
The gorgeous and subtle neutrals in the Tashinta will have you planning outfits at first sight. Don't even get me started on our Blair Bootie options. Selecting shoes from a store rather than a brand or specific quality left a lot of wiggle room, so we wanted to be all about variety and colorful choices. Well, if you look through these pictures, you will know that they do not disappoint.
Brand
There are some of the best brands in their category seen here and I couldn't be more excited to write about them. Some brands just simply do it better. While every shoemaker gets it right once in a while, much like a broken clock is still right twice a day, some shoemakers get it right much more often.
The iconic Fila makes phenomenal Italian athletic wear. If you want a vintage look that will outperform even the most current sneakers, you have to try them. Rockport has become known for their perfect blend of dressed up looks with insanely comfortable construction. Vince Camuto spent 30 years perfecting his shoemaking before developing his namesake brand, whose integrity is now upheld by a passionate team.
Instead of picking shoes just for their brand, we picked shoes that represent their brand and their brand's rich history of quality.
Style
Of course, we are going to talk about style, duh. When allowed to run wild with picks from a large category such as shoes from a specific store, you can bet the first thing I am going to look for is styles that are timeless, current, and adorable.
Whether you are the preppy type who can barely be torn away from your old beat up Sperry's or a loyal Sbicca girl who gets nervous to branch out and try new booties, we picked shoes that were familiar, but standouts.
Do you love boat shoes but your significant other has been relentlessly begging for you to try something new? Check out our super cool Ralph Laurens. We want fashion to be fun and unintimidating and we made sure there was a style to reflect the contemporary classics we all love.
Comfort
You already know if we're curating a list of best that they are going to be comfortable, but with our options completely open here, we really went above and beyond. Some of my all-time favorite comfortable picks made their way onto this list by no accident. As a person with problematic feet, I so highly value a shoe I can wear all day, especially one that I can love while wearing.
Birkenstocks made it to this list for obvious reasons. The shoe is a powerhouse of all-around amazing feels. A seven layer sole outperforms pretty much every other casual sandal or clogs in the business. Forget perpetual bandaids covering blisters and sore arches, Birkenstocks will make you want to never take them off.
Naturalizer is one of the greatest brands for feminine, wearable shoes. Their N5 system is absolutely unbeatable. I urge you to try a pair to see what the fuss is all about, I simply cannot recommend them enough.
When given endless options for shoe choices, my picks were my personal staples. Like the amazing Puma Classic, that really does feel like walking on air. Anything you see here is going to feel great, which is important because remember: beauty does not have to hurt.
Materials
When looking at any shoes, materials matter. Whether you are going for synthetic or natural, what a shoe is constructed out of can make or break the whole design. For this list, we looked at a wide range of options because we understand that different people want different things out of their shoes.
For the conservative, classic fashionista, we have a sleek, feminine leather loafer by Sam Edelman that feels as sophisticated as it looks. For a stylish businessman, we have the super rugged, waterproof Cole Haan Wagner that is ready for everything. For the vintage sneakerhead, a calfskin vintage style from Fila.
Your style should say as much as you do and we hope you let us suggest new fabrics and textures that can be seamlessly incorporated into your wardrobe. Here at Nicer Shoes, our goal is to give you picks that work with your already established amazing style and preferences, regardless of what they are.
Top 10 Picks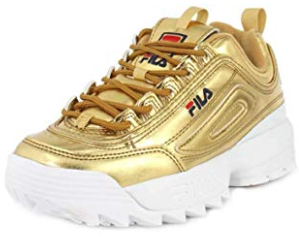 From their humble start in 1911, Italy, Fila has grown to be a name synonymous with cool, laidback styles and straightforward athletic features. In a small town named Biella in Northern Italy, the Fila brothers began producing textiles for the local townsfolk. They have grown into a brand known for their high-end sportswear and this began with the boom of athletic shoes, particularly tennis shoes. The famous "White Line" collection skyrocketed Fila by showcasing high function and adorning it with bright colors, hence their cheeky name mocking other sportswear brands at the time. They want you to join them in making history and with shoes like these, you have every reason to.
The Disruptor was an absolutely iconic style for the brand, worn by world-renowned athletes globally. A punchy, metallic option that comes in multiple colors, the Disruptor II is a slight modification of the well-loved classic. With a vintage look that sneakerheads absolutely love, Fila styles have that timeless advantage of looking both like a blast from the past and a foray into the future. The contrast of the sharp metallics against the chunky white sole alone is a look to die for.
Of course, being cute isn't enough, performance is what really matters. These have an ultra-cushioned, removable insole, making it easy to clean or replace with custom inserts. The thick upper has a padded tongue and collar which give you the perfect fit and support your foot fully with every step you take. Soft lining throughout the inside of the shoe is the perfect addition to the supple cowhide upper. The extra thick rubber sole is recognizably a Fila feature and it is great at absorbing shock. These are in a higher price range if for a casual sneaker wearer but for those that appreciate classic sporty style and Italian fashion, purchasing the Disruptor II is a no-brainer.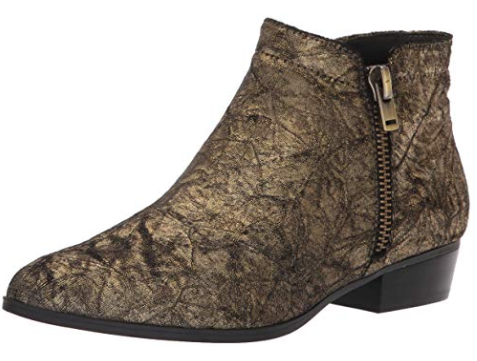 "Beautiful feels so good," that is what Naturalizer has maintained and established with every shoe created by their brand since their inception. From their start in 1927, during radical shifts in the conversation about women's roles and their budding needs, Naturalizer has sought to create feminine styles for modern consumers. Fashion was changing and the demand for a shoe that worked for women in all walks of life while providing comfort was growing. It was rare that a fashionable shoe would be concerned with diminishing pain and suffering for the wearer and that all changed for women with Naturalizer creations.
The Blair is a luxurious bootie in gold and black crushed velvet. Gold accented side zippers on both sides of the boot look cute and current but also function to simplify getting it on and off. The short one-inch heel lifts the arch a bit, and a small platform alleviates any pressure on the ball of the foot. Flexible goring on the arch of the foot makes these a dream to walk in, whether on cobblestone city streets or in the office.
N5 technology is what really makes Naturalizers stand out from the crowd in terms of fashionable footwear. Latex foam gives additional cushioning at the three worst pressure points on the foot, as well as absorbing shock. Heel shapes are designed for stability to balance you as you walk and lessen the strain on the ankles and calves. Breathable lining and ultra-flexible soles top off this perfect little boot. These lightweight darlings are priced moderately in a similar price range to women's riding boots but, in my opinion, they are far more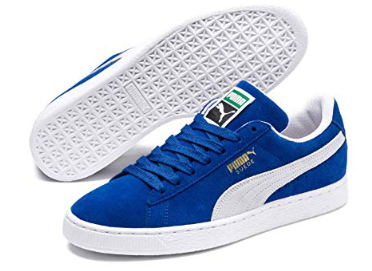 Thinking purely in opportunities, Puma is a brand that is dedicated to being the fastest, the best, and the most efficient athletic brand on the market. Their slogan of "forever faster" promotes not only literal speed but also progression towards larger scale goals to benefit the Earth. Sustainability had become a huge part of their mission. By 2020, they have proposed 10 sustainability targets because, for them, success means little when not striving for a more fair future. This is part of what makes Puma a brand that is more than just great looks and function, but a heart as well.
The Classic by Puma is instantly recognizable for its form strip overlay. Coming in multiple colors of suede and leather, this style is well loved through the decades and constantly reemerges as a trend from year to year. The tongue features the Puma logo and is stuffed with foam padding to ensure it lays comfortable on the foot. Similarly equipped with foam, the collar makes this shoe blister and discomfort proof. A cushioned midsole has been known to keep everyone feeling good, from basketball players during warmups, to 90s rappers during a warmup.
Throwback style is served up in this suede Classic, with a metallic call out on the side and perforated detail around the overlay. Coming with both thick laces and the standard, you can rock these old school or not. The rubber outsole is great for grip and is texture around the toe box. Excellent traction on the waffle textured sole, this is the perfect casual shoe for any season. With a million colors to choose from in both upper and outsole combinations, you will find one of these affordable sneakers perfectly fit for you.

4

. Cole Haan Wagner Chelsea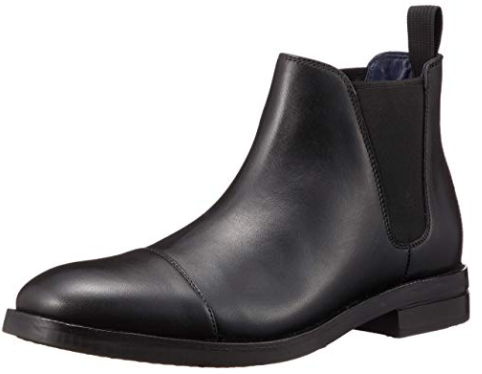 Started in 1928 by Trafton Cole and Eddie Haan, Cole Haan was about the team "resolving to make good goods and nothing but good goods." Well, make good goods they did. Combining humor, style, ingenuity, and passion, the brand wants to make shoes for customers who are as resourceful as they are ambitious. Their designs inspire those who wear them to go out into the world and make a difference. Now, they are known for sustainable options for the dreamers of the world at work and at play.
When it comes to Chelsea boots, they really don't get much better than this one. The waterproof nubuck looks super sophisticated but can hold up to mass amounts of weather and wear and tear. It is rare footwear that looks like it's for dressier occasions can perform at the maximum function as an all-weather boot. This classic Chelsea cap toe has twin side gore to make it easy to slip on and off. GrandControl traction in the full leather outsole gives you an edge no matter the ground surface.
The leather covered, slightly padded footbed adds a comfort element to this high-performance dress boot. Grand.OS energy foam gives your foot comfort back with every step you take. GrandGrip provides flexibility and durability. This boot will be a wardrobe staple for years after its purchase. The back pull tab makes it easier to slide into with ease. Priced at a higher price point, this is a higher performance level than other options. It brings together dress shoe quality and looks with the durability of a rain boot. This is a combination that shouldn't be overlooked.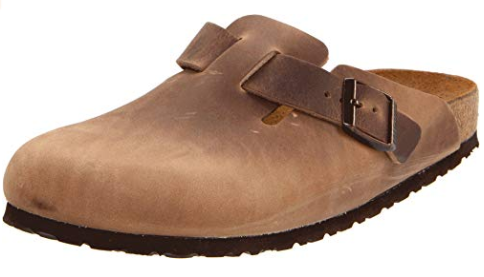 Sold in approximately 90 countries worldwide, Birkenstock is a German company with a long history of integrity and tradition. Dating back for centuries, Birkenstock has been involved in the tradition of shoemaking for longer than most people can even imagine. Starting in 1774, their techniques have been passed down from generation to generation to make shoes that feel good and are good for you. The creators behind the first contoured arch support and flexible footbed, it is safe to say that Birkenstock has got your food needs covered.
The Madrid, released in 1964, was the first fitness sandal to have a deep, contoured footbed. The Boston maintains that classic, comfortable feature and reimagines it into a sturdy leather clog. Their anatomically designed footbeds offer insane support without adding bulk to the shoe. This is achieved by seven layers of different accommodations in every footbed. A raised toe bar encourages natural toe curling when walking, four arches ensure proper posture and weight distribution.
Beneath the immediate sole is even more features. A layer to wick moisture, another to absorb sweat from the feet. Cork and latex help to absorb shock and provide cushioning. This clog is outfitted with the classic Birkenstock look. Weaving through the upper is an adjustable band that straps into a buckle. The slits in both sides of the clog make this buckle fully functioning to slightly adjust the fit of the clog to your foot. A bit higher in price than copycat styles, no low profile shoe like it can perform in the way Birkenstocks do. They are easily my favorite sandal to wear in the summer and mine have personally lasted for years.

6

. Sam Edelman Loraine Loafer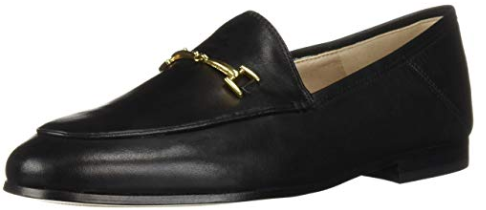 A creative force in the industry, Sam Edelman has used his 30 years in footwear to the consumer's advantage. Incorporating his passions for timeless staples and globetrotting, his contemporary footwear is current and on trend, but painfully unique. Fun elements enter into every design but the real star is wearability. Sam Edelman wants you to have fun in his footwear and overly constructed styles leave no room for that. Try just one of his styles and you will be glad you did.
The Loraine is a long time favorite. Constantly being re-released in new and exciting prints and fabrics, this basic two-bit loafer is a modern take on a classic. These are exactly what chic comfort should look like. This option has multiple color options and is sleek, with streamlined stitching and a soft supple upper. All too often loafers are over shaped and stitched, resulting in an uncomfortable, excessively stuffy shoe. This low heel and soft construction are as easy to wear as they are to look at.
This gorgeous pick comes in leather, of course, but don't forget the elaborate Jacquard, embossed velvet, and even light gingham versions. Though the basic black works for any occasion, the multiple fun updates can't be ignored! With light padding on the heel in the form of a small pressure point cushion and soft lining all the way to the toe, these are definitely an everyday wear type of loafer. Ultra-affordable without sacrificing the look of total luxury.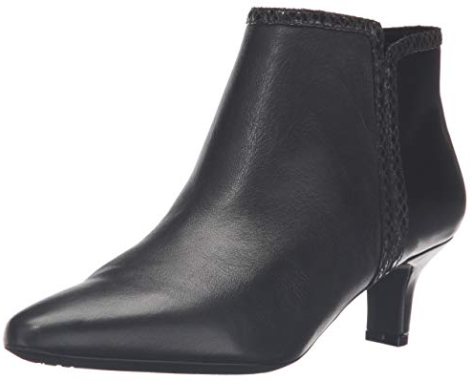 Do you ever get tired of monotony, or a lack of options? So did Rockport. Over 45 years ago they noticed something: there were casual athletic wear and business or dress shoes but not really anything to meet the needs of those looking for something in between. What Rockport set out to do was combine the comfort of a sneaker with a more sophisticated look. Making casual and dress styles for those interested in fashion and feel, Rockport has established themselves as the go-to for everything from men's business casual to women's booties.
This little Kimly bootie is adorable. The detailing is delicate and feminine and it is hard not to fall in love with the kitten heel and snakeskin lining. Every part of the shoe is ultra-flexible and designed to expand and move in all directions to not restrict the foot or its movement. Remaining durable, each element is feather light and the Kimly is a breeze to stroll in. Walk tall with their biomechanically designed outsoles, providing stability and assuredness with every step you take.
The Kimly has an EVA midsole that supports and cushions your foot. A small heel with perfect placement provides arch support without any pressure on the heel. Memory foam added to the insole gives you a layer of super soft protection between you and any pressure from an impact. Adorable as it is practical, this is a great work bootie and can easily be worn for hours sans discomfort. In the higher price bracket, the shoe is well worth its cost, as it will provide maximum support and style.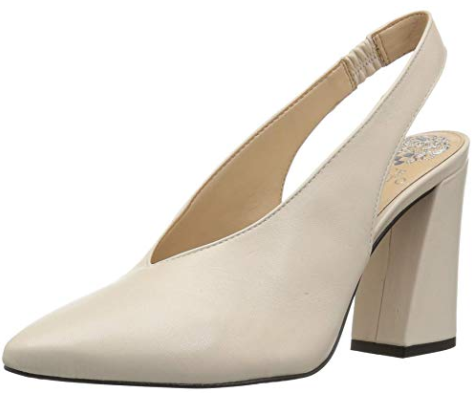 Seemingly quiet within the industry, Vince Camuto had made a name for himself with countless brand collaborations and partnerships. One of the driving forces behind Nine West, Vince Camuto has worked with countless brands and acquired some of the biggest names in fashion right under our noses. Creating shoes for BCBG, Jessica Simpson, Tory Burch, and Lucky Brand. Since the Camuto Groups namesake passing, they have kept his legacy alive with practical but on-trend footwear and accessories for consumers around the globe.
The gorgeous Tashinta is sleek and stylish, with a V-shaped upper that gives a little peek of skin, elongating the leg and slimming the appearance of the foot. With a slingback and chunky heel, this pump is modern but simple to style. The cream color goes with everything and would look amazing with a menswear-inspired set. The ankle strap has elastic goring, which helps them to fit closely on the heel but stretch to accommodate your foot and its movements.
A wrapped heel accents the pointed toe silhouette of the leather Tashinta. With a lightly padded fixed footbed, you can stand without feeling insecure in your footing. A three-inch heel is thick and angled in slightly toward the arch, which gives added stability and removes pressure from the outer heel, the source of most foot pain in footwear with height. Priced in the mid-range for a shoe of similar style, this sleek heel is perfect for work or play!

9

. Polo Ralph Lauren Vaughn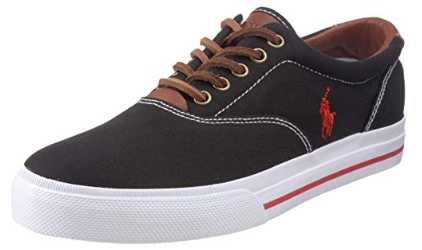 For five decades, Ralph Lauren has been a leading producer of style reminiscent of classic American style. Known first for their Polo shirt that became a preppy staple from yacht clubs to golf courses, Lauren has made a name for themselves with an instantly recognizable aesthetic. The iconic Pony logo is known all around the world and the brand has both restaurants and stores in all the major fashion hubs of the world. Their reach, quite literally, knows no bounds.
A casual sneaker, with the refined look of a not so casual shoe, the Vaughn is a standout among other laidback looks. With brand detail on the tongue, footbed, heel, and insole, there is no mistaking these for any casual competitor. The lace-up front has six metal eyelets giving the profile and appearance of a deck shoe with a bit more pizazz. Contrast stitching accents the canvas constructed upper and leather trim completes the hybrid sneaker look.
A molded insole provides shock absorption and support and it is lined in smooth fabric for ultimate softness. The Vaughn's grooved rubber outsole is the perfect amount of grip for everyday wear and the front of the shoe has an additional rubber guard to prevent against scuffs. The Pony logo detail on the side is embroidered and aesthetically pleasing. Leather laces top off this look of sophistication. These are very low in price and a great value for anyone trying to amp up their footwear without straying far from casual wear.

10

. Franco Sarto Richland 2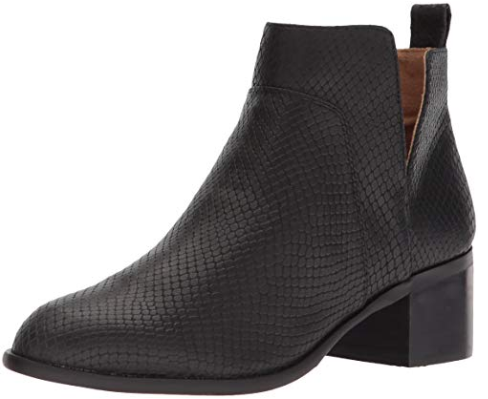 From the tender age of fourteen, Franco Sarto was already training as a craftsman. Sitting on a stool in a shoe factory in his early teens, he began hand-lasting shoes with a hammer and nail. In his early twenties, he moved to Stra, the hub of shoe design in Italy and from there he developed his studio until at 41 he finally created his eponymous line. His design sensibility shines through sleeks lines and modern design elements. Providing women with effortless style that they can wear with confidence, Sarto has become the first pick for discerning women in the world of high-quality fashion.
Flexible outsoles are necessary for a boot you are going to be wearing frequently. The perfect option for work or a girls night out, this accommodating sole makes every step easy. City chic and absolutely fabulous, this 2¼ inch stacked heels will have you walking tall with confidence. An almond toe accents this slip-on style, it has slits in both sides to allow for your foot to slide right in and a back pull tab to protect the integrity of the sides of the shoe.
The textured material gives a rich, deep appearance and the pull tab is connected to a heel overlay that creates a nice, elongating line.. Padded sock insoles are ultra-cushioned and lovely to wear on all your endeavors. A rubber sole gives great traction regardless of the service. This bootie would be adorable on a first date in the autumn or even to a club with skinny pants and an off the shoulder blouse. These are in a high price range for being synthetic but the brand understands shoes like a cobbler and designs like an artist, so the result really is the best of both worlds.

Subscribe to our Newsletter