Best Italian Shoes Reviewed
In a Hurry? Editors choice: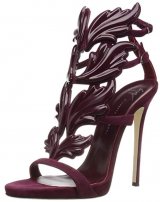 Test Winner: Giuseppe Zanotti Cruel

Everyone should have a pair of high-end footwear, and what better to choose than Italian designs, which are the epitome of class and style. Rome and Milan are both regarded as cultural hubs for fashion, while Florence is known as the
leather capital
of the world. Additionally, many shoemakers around the world have adopted the Bologna Construction, or the Sacchetto technique, a method of crafting extremely comfortable footwear. The best Italian shoes on our list are some of the greatest that you can find online today, so take a look and find your perfect pair!
Standout Picks
Criteria Used for Evaluation
Style
If you're buying footwear from one of the fashion capitals of the world, style is one of your top priorities. The pair you choose should reflect your personal style and add a touch of character to your outfit. There are many different designs to choose from, and the one you pick should match your character, the way you present yourself to the world, and what you want others to think of you.
For more casual outings, options from Aldo or Geox are ideal. They combine thoughtful and eye-catching designs with quality construction that'll keep the design in good condition and the foot comfortable throughout the day. These are perfect for everyday all-day wear. Leather sneakers combine high-quality materials with a perfect casual design, allowing them to be used for many different types of occasions.
Slip-on designs like penny loafers also give a cool, suave look in very comfortable construction. With these, stitching details not only give some character but are also carefully designed to keep the foot comfortable and supported all day.
For dressing up for work, footwear that features subtle yet interesting designs made with a brogue punch may be the best way to go. These add a hint of structured yet fun patterns but keep the design looking classy and add to a well-put-together look.
For more celebratory events, such as an outdoor wedding, a family reunion or birthday party, unique and fun designs add a statement to your outfit. Anyone of the more extravagant brands is an excellent choice for this, with such diverse touches like palm trees, floral patterns or plaid panels.
Materials
Italy has a reputation for producing excellent footwear with high-quality leather. Additionally, traditional Italian shoemaking techniques have been revered by artisans from all around the world, according to Craftsmanship Quarterly. As such, when shopping for this type of footwear, it only makes sense to seek out quality materials and techniques of construction.
Footwear should be long-lasting and not wear out with limited use. These designs should be an investment that will complement outfits for many years, becoming your go-to pair for specific occasions. Or, if you choose an everyday option, it should last you for several months before it begins to wear out with extended use.
Choosing stitching that won't unravel, and materials that won't fray or come loose is also a factor. Seek out leather or suede, but pay particular attention to the stitching. Crafting techniques like the Bologna construction method keep the stitching tight and durable yet away from the foot, ensuring a comfortable fit.
Comfort
Though the style and quality materials might be the first priorities that come to mind when shopping for footwear, you can't forget one of the most important aspects of choosing any sort of shoes: comfort and fit.
If you have a design made from the finest leather with timeless design but one which is constantly slipping off your feet, squeezing too tight or is otherwise completely uncomfortable to wear, those shoes will sit in the back of your closet and collect dust.
Instead, seek out features that add comfort, like a padded collar that can prevent blisters from forming on the back of the heel, or insoles and midsoles that absorb shock and provide cushioning. Look for contoured footbeds with decent arch support to stave off foot fatigue, and don't shy away from ample space in the toe box; no one likes squished and cramped toes!
The material the design is made from matters for comfort, too, not only for durability. Leather and suede are the types of material that change shape over time, conforming to the contours of your foot and providing you with a tailored type of comfort. Canvas and mesh materials are also lightweight and easy to wear as long as they don't cause unnecessary rubbing or chafing.
While none of the options on our list are made from synthetic materials, it bears mentioning that synthetics are usually not as comfortable as natural materials. They are stiff and unyielding and often can't be broken in, no matter how much we wear the design. So keep in mind that, if you want comfort, genuine leathers are the way to go!
Fit
Fit is important for any design. Most people know exactly what size they are in their favorite brands, but it's important to remember that these sizes may differ between labels. This is especially true for American sizes.
When shopping for Italian footwear, a European sizing method may be employed, which many customers notice because the designs tend to run larger than they expect. Not only that, but European sizing may appear confusing at first.
What is important to know in such cases is the length of your foot. From the back of your heel to the tip of your big toe, you should measure the length of your foot and preferably convert those inches to centimeters. Then, look up the size charts of each brand and compare what size numbers correspond to which foot lengths. Unfortunately, this isn't a universal thing, and different brands may employ different size charts.
Additionally, keep in mind that most European footwear doesn't have wide size options. They usually only come in a standard width, although many brands - especially from Italy - have recently started branching out into wide sizes as well.
Finally, in terms of fit and size: once you try on your design, make sure that it is not too tight, as cut-off blood flow may lead to cold feet and some other foot-related ailments down the line, but also that it is not too loose so as to be slipping off your foot. It is important that the design strikes a balance here, one which will make you as comfortable as you can be as you happily show off your new shoes to everyone!
Value
We hear what you're thinking: high-quality leather materials, century-old craftsmanship techniques, European brands, swanky, fancy styles - how much money is all of this going to cost? Is it true that Italian footwear is more expensive than any other type?
The short answer is: yes and no. Designs from this country are just like shoes from any other country: there are lower-end options, those which are lower in quality but also lower in price, and there are high-end options, from average prices to sky-high ones.
Since our list is all about the best of the best, it stands to reason that some of the items may be pricier than expected. Especially if we are talking about extravagant brands such as Giuseppe Zanotti, Prada, and Magnanni. These come at staggering prices, but we are also inclined to say that they are worth the investment, as labels like these don't deal with average-quality footwear.
However, for those who are not willing to spend all of their savings on new footwear, there are more affordable options, which are no less comfortable, stylish, or durable.
For your convenience, we have ranked all of the items on our list according to their value, and you can choose for yourself whether you're going to look at more expensive options or those which are more budget-friendly.
Top 10 Italian Shoes
1

. Salvatore Ferragamo Varina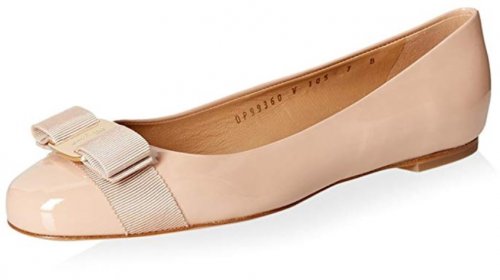 The Varina ballet flat is the pinnacle of elegant cuteness, absolutely darling with its bow accent and polished patent leather upper. Salvatore Ferragamo is an iconic name in the footwear industry, a legendary designer who was all about sophistication and glamour, and who dressed influential women such as Marilyn Monroe and Eva Peron. The Varina flat is the embodiment of Ferragamo's rich aesthetic, and it will complement your wardrobe to a T.
The Varina has an upper made from patent calfskin, and it comes in several different colors, out of which we have selected this blush pink as a versatile yet beautiful design. It has a grosgrain bow on the front as a chic detail and a micro heel in the back. For comfort, the Varina comes with a cushioned interior and a smooth leather sole for comfort and durability.

The Salvatore Ferragamo Varina simply mesmerizes in its simplicity. It is easy to put on and easy to combine with all of your outfits, and frankly, ridiculously easy to love. Being a high-end design, it definitely comes with a steep price, but we are certain that, in this case, the cost is absolutely worth it.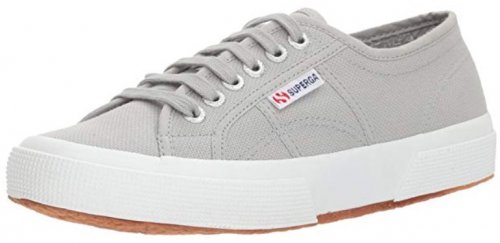 The world-famous Superga brand started out with the iconic 2750 design in 1911, and it is still all the rage even today. This simple, relaxed sneaker is an updated version of the first model, and it is the epitome of smart casual versatility. You can pair 2750 with literally anything, from jeans to shorts to skirts and dresses, and look equally stylish in all of those.
2750 is made from premium canvas for the upper, a material that is strong, breathable and amazingly lightweight. It is perfect for warm and sunny weather when you don't want to expose your toes but doesn't want to suffer from overheating. The outsole is made from vulcanized rubber, meaning that it is more durable and more resistant to abrasions and different types of chemicals than regular rubber. The lace-up closure allows you to find that perfect fit for yourself.

The Superga 2750 is a design that is an absolute necessity in anyone's collection. It is an option to wear to school, to a lunch date with friends, to a fun time in the park with your pets, to an exciting sightseeing trip. 2750 can go anywhere with you, and you will be worry-free, knowing that you can rely on it no matter the situation.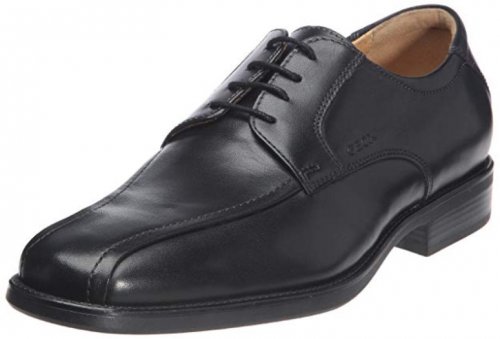 The main feature of Geox footwear is a rubber sole which allows the foot to breathe. Mario Moletti Polegato, the founder of Geox, had a goal to help avoid sweaty feet, and with the brand's innovative perforated rubber soles, he definitely achieved that. The Federico is a classic Derby oxford equipped with this technology, ideal for all business and formal occasions.
The Federico has genuine bovine leather upper and a lace-up closure for maximum adjustability. It has a slightly square toe for an elegant finish, and of course, the breathable sole we have already mentioned. The lining of the design is also made from leather, ensuring that your feet stay dry and cool and comfortable no matter where you go.

The Geox Federico is an oxford that will quickly become a staple in your wardrobe. You can easily pair it with a suit or slacks and a crisp button-up for a smart look, and be confident that your feet won't get sweaty, regardless of how long you spend in the design.

4

. Giuseppe Zanotti Cruel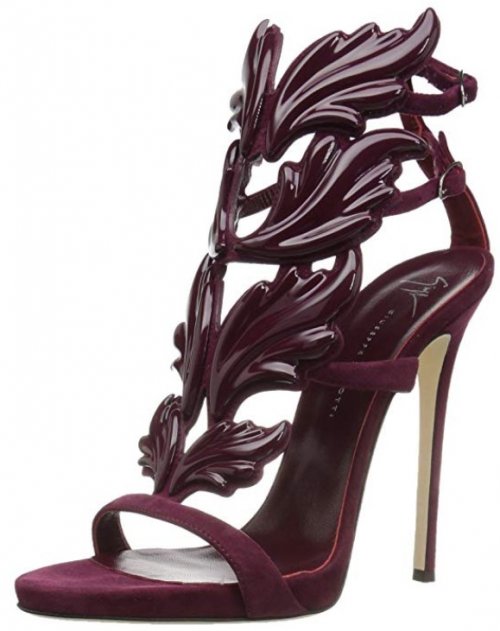 When we think Italian footwear, we automatically conjure images of high-end fashion designers, flashy runway shows and tall, slim and glowing models. Well, in the case of this item, all of this rings true in a way. Giuseppe Zanotti is a powerhouse in the world of fashion, a designer with a distinct view on the world and a sensibility for the extravagant and yet elegant, and the Cruel sandal is a great reflection of that.
This unusual option has a strappy upper made from suede, meaning that the straps are plush and malleable, and conforming to the shape of your foot. It goes without saying that the key feature in the design is the 'Cruel' accent in the front, a winged ornament that speaks of mystery, magic and of dark beauty. The heel of the Cruel is about 4.7 inches high and stiletto in shape, and there is a 0.4-inch platform under the ball of the foot.

These may be a tad difficult to walk in, especially for extended periods of time, however, for an event where you aren't expected to stay on your feet for long - va-va-voom! Thanks to the Giuseppe Zanotti Cruel, you will feel like absolute royalty in this unconventional, yet completely breathtaking design.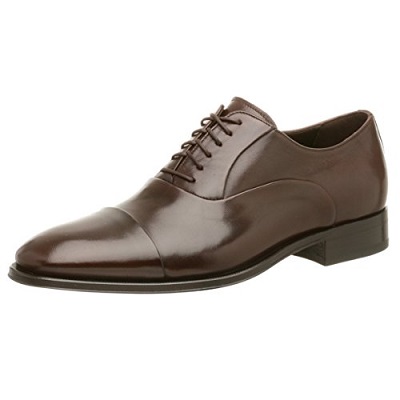 This beautiful dress design is brought to you from Bologna-based Bruno Magli. It has good traction, which is often hard to find in dress footwear. The sole is leather and so is the upper, which will leave your foot breathable, dry and cool. The Maioco does fit slightly large but has room for custom inserts or orthotics if you need them.
A dress design needs to look good and stay looking good. The Maioco features a classically polished leather upper that takes some effort to maintain but is well worth it. Made in Italy, the construction of the design is top-grade. Leather soles are durable, but they are often slippery. In this case, Bruno Magli has added a rubber heel to ensure good traction on most surfaces and increased durability and shock absorption.

These are definitely an investment and are in the mid-range of prices on the list. However, with it, you will have a design that looks fantastic and feels great for a very long period of time. It will need to be repolished from time to time to maintain its appearance.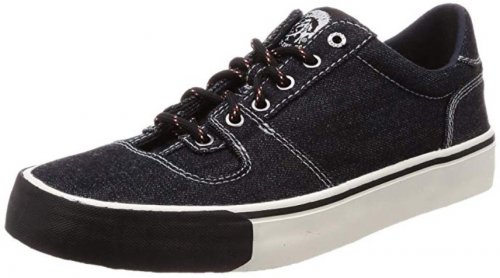 Fun fact: Diesel the brand is named after diesel fuel. At the time of the brand's founding, in 1978, diesel fuel was considered an 'alternative energy source', and thus Diesel the brand wanted to be considered an alternative taste in fashion. Regardless, they became known as a leading manufacturer of denim, and thus today we have the S-Flip Low, a true Diesel denim sneaker.
This option is made from - once again - denim, for a cool, casual vibe. The design in our picture is clean, however, there are distressed options, with previously treated outsoles to make them seem like they were used before purchase. The S-Flip Low has a rubber sole that is reminiscent of Vans and Converse designs, and it comes with two differently colored sets of laces for maximum versatility.

If you're into the skate and surf culture, or if you simply wish for something completely laid-back for your everyday looks, then the Diesel S-Flip Low is the obvious choice. It is a comfy, urban sneaker with a signature Diesel denim upper, and it will definitely go well with all of your jeans!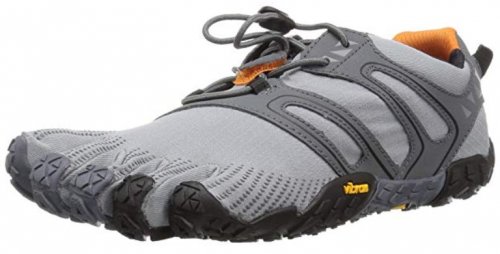 If you didn't know that the famous FiveFinger running footwear originates from Italy, well. Now you do! We admit that this option is not the most stylish, or meant to be worn anywhere other than during a hike or a run, but what matters is that if you wish to engage in these activities, you also have an option from this guide!
The V-Trail is a design for the adventurer in you. It is meant for the minimalist, for off-road running on unpredictable terrain. The main feature of the shoe is the 3D Cocoon technology which is installed in the outsole for protection against rocks and debris and for absorbing impact. There is also a multi-directional lug pattern on the bottom for grip on both wet and dry surfaces. Thanks to the slight EVA insole and the stretchy spandex upper, there is some cushion and accommodation to the design so that you don't feel like you're completely barefoot.

The Vibram V-Trail, and the FiveFinger movement in general, have revolutionized the world of running. If you're interested in the sport and if you're a fan of the great outdoors, definitely consider investing in a pair of barefoot running shoes such as the V-Trail!

8

. La Sportiva Bushido II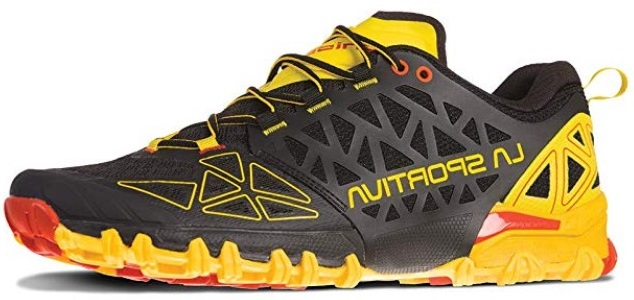 Another sporty option in our list, the La Sportiva Bushido II, is a trainer meant for mountain runs, providing stability and traction where they're most needed. It is explosive in design, with vibrant colors and daring patterns, and it is an absolute winner in the category of trail running footwear. With the Bushido II you will be able to take on the outdoors with your chin up and your steps cushioned and secure.
This design comes with a tongue that is padded and breathable, and which stays in place during the run thanks to its gusseted design. The outsole wraps around the midsole for bonus traction and better stability, and it also comes with the FriXion XT V-Groove2 technology. This mouthful means that there is a dual-compound rubber that provides outstanding grip on both wet and dry terrain, keeping you well-balanced in all conditions.

The La Sportiva Bushido II is, similarly to the Vibram V-Trail, not a fashion choice. It is a design meant for sports, for training on off-road surfaces and for increasing that mileage. It doesn't aggravate your pressure points and keeps you comfortable throughout; what more could we possibly ask for out of a design like this?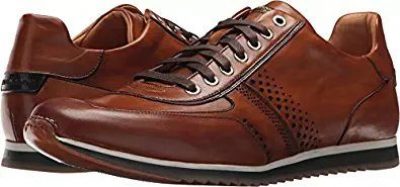 The Magnanni Cristian is the perfect image of fashionable dress sneakers. Completely made of leather, these not only look high-class, but they are also durable and made for long-term wear. The leather looks polished and well put-together, and the quarter panels feature a perforated design to add some character. A rubber sole adds durability and stability.
Made completely from leather and designed with the Bologna Construction technique, these sneakers are high-quality and long-lasting. They're flexible enough to comfortably fit the feet yet sturdy enough to last. Small details like the perforated quarter panel pattern, stitching along the toe box and quarter panel, and a two-tone midsole adds subtle yet stylish elements to this fashionable design.

The Cristian is made entirely of leather, save for the durable rubber outsole. The leather lining and insole are comfortable, while the leather outer construction is long-lasting and stylish.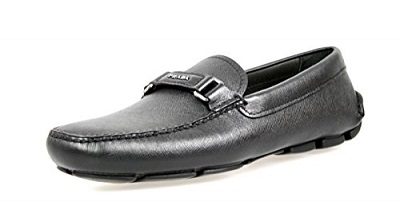 Prada has been making fine fashion clothing and footwear for more than 100 years. The Saffiano is a classic loafer from the Milanese fashion brand. It is made from the highest-quality leather and other materials for a soft, comfortable and luxurious feel. These are sized in European sizes so read the sizing chart carefully before ordering.
This loafer is made from high-quality and scratch-resistant Saffiano-leather. The lining is calfskin for comfort and breathability. The leather collar is lightly padded for additional comfort. Prada made it to the top of the game with a reputation not only for fashion but also for the highest quality construction. If this loafer is cared for correctly, it will last for many years of comfortable, relaxed wear.
The Saffiano is the most expensive in our line-up here. Some of the prices is branding, of course, but you are also paying for very high-quality materials and fine craftsmanship in a durable design that you will have for many years.

Subscribe to our Newsletter