Best Italian Shoes Reviewed & Rated for Appearance
last updated
Feb 05, 2019
Everyone should have a pair of high-end shoes. Italian shoes are the epitome of class and style. Rome and Milan are both regarded as cultural hubs for fashion, while Florence is known as the leather capital of the world. Additionally, many shoemakers around the world have adopted the Bologna Construction or sacchetto technique, a method of crafting comfortable shoes. These ten Italian shoes are some of the best you can find online today. Take a look and find your perfect pair.
This is the best product on our list that is currently in stock: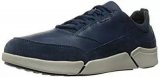 Geox Ailand A
Why is it better?
High-Quality Leather
Breathable Outsole
Mesh Midsole
Suede Detailing
Breathable Outsole
In a
Hurry? Editors choice: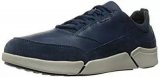 Test Winner: Geox Ailand A

16
Researched Sources
1478
Reviews Considered
18
Hours Researching
20
Products Evaluated
Style
Materials
Comfort
Fit
Value
By Default
In Depth Review Top 10
Dolce & Gabbana Peep Toe
Geox Ailand A
Giorgio Brutini Risque
Anthony Veer Walton Loafers
Diesel Gunner
Bruno Magli Maioco
Ferro Aldo 19266A
Magnanni Cristian
Prada Saffiano
Ferro Aldo 19312
Table of contents
Criteria Used for Evaluation
Frequently Asked Questions
Sources
10 Best Italian Shoes
1

. Dolce & Gabbana Peep Toe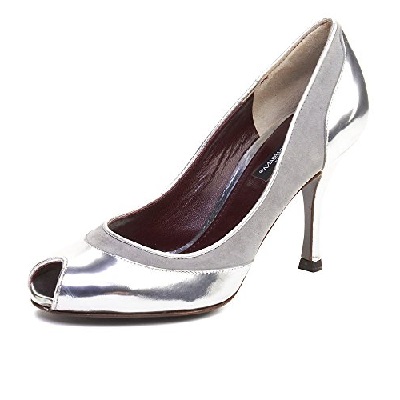 Leather Upper
Suede Accents
Leather Lined
3" Heel
Dolce & Gabbana is a relative newcomer to the Italian fashion scene but they have quickly risen to the top for their modern takes on traditional Italian designs. This peep toe in a leather upper with suede accents is absolutely stunning and construction with traditional Italian know how.
Read more
D&G Style
This beautiful peep toe heel is made from a silver leather with suede accents around the upper foot and midfoot. It takes a classic pump and modernizes it with Dolce & Gabbana touches.
Leather interior
Leather serves a number of purposes in a shoe. First, it makes a shoe durable. It is also non-irritating to the skin and finally, leather is a breathable material so your feet will stay cool and dry in these shoes for hours and hours of wear.
Cost and Value
These shoes are priced in the mid-range but still represent quite an investment. You are getting a very high-quality shoe for the money with the modern, bright style that Dolce & Gabanna has become known for.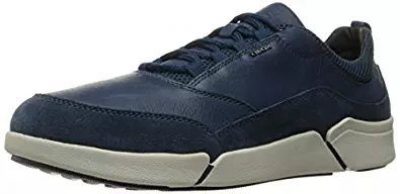 High-Quality Leather
Breathable Outsole
Mesh Midsole
Suede Detailing
Breathable Outsole
As could be inferred from the name, the Ailand A Walking Shoe from Geox is perfect for walking, though this fashionable shoe is excellent for more than just that. The leather upper with suede detailing on the side made these attractive options for the office or social outings. Geox's unique breathable technology makes these highly comfortable as they help keep feet dry.
Read more
Breathable outsole
The mesh midsole combined with Geox's patented breathable outsole technology makes these sneakers a top choice among wearers who tend to sweat. The unique sole allows air to pass through but does not let moisture in.
Fashionable yet stylish
The stylish leather upper makes these shoes a good choice for nearly any need. The elastic lace closure makes these easy to slip on, and the mesh collar provides added comfort.
Cost and Value
These shoes are all-around high-quality. The breathable outsole provides lasting comfort, as do the mesh collar and supportive construction. The leather outer with suede detailing offers a classy appearance.
3

. Giorgio Brutini Risque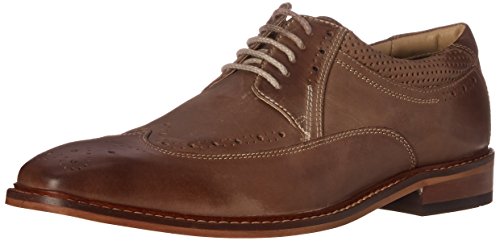 Stacked One-Inch Heel
Perforated Padded Collar
Medallion Toe
Low-Cut Dress Shoe
Wingtip Adds Class
The Risque Oxford Shoe from Giorgio Brutini features a stylish wingtip, brogue punches, a medallion toe and a good selection of classic colors: rust, gray and black. The medallion toe detailing is subtle yet classy. Contrast stitching and the stacked wood block heals adds a bit of flair. A perforated padded collar offers comfort for these fashionable shoes for all-day comfort.
Read more
Stylish design made with brogue punch
The medallion toe and other brogue punches on the tops of the shoes and alongside the shoelaces add a touch of character to these shoes. The punches are expertly done.
Built for comfort
These shoes aren't just built for style - they feel good, too. The perforated padded collar adds some cushion and gives more comfort to the wearer and protection to the foot.
Cost and Value
This fashionable shoe provides both class and comfort to wearers. The perforated, padded topline provides some cushion and protection. The medallion toe and brogue punches add a unique flair to the shoe.
4

. Anthony Veer Walton Loafers


Calfskin Upper
Slip-On Construction
Comfortable Leather Lining
Comfortable Construction
Foaming Insoles
Made in Naples, Italy
The Anthony Veer Walton Loafers are the perfect intersection of comfort, casual and class. This soft leather slip-on shoe has the design of a classic penny loafer while the material is velvety and smooth. The subtle stitching adds a deluxe look to these already-impressive shoes. These loafers come in five fashionable colors, each one versatile enough to wear with many outfits.
Read more
Stylish suede upper
These loafers are made with soft, supple calfskin that not only makes these shoes comfortable but also gives them a casual yet high-class look.
Extralight
The lightweight material is perfect to help make these shoes lightweight and flexible. You'll be comfortable during your everyday wear.
Cost and Value
These loafers are soft and comfortable and are easy to slip on and off. The soft calfskin adds a luxurious look to these casual shoes. Leather body and rubber sole are of high quality and the cost reflects that. These are definitely an investment but if you're looking for some genuine Italian shoes, look no further.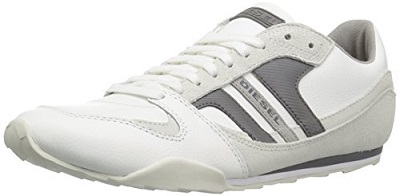 Leather Upper
Easy Care Shoe
Synthetic Sole
Padded Collar
This is a retro-inspired sneaker from Diesel, based in Breganze, Italy. It features the Diesel logo on the heel counter, tongue, and a lateral stripe. This is a fashion sneaker with a thin outsole and midsole, so not meant for athletic activity but it does look sharp and the quality leather upper will last.
Read more
Easy care
The leather on these shoes is a very high-quality grade. To clean them, simply wipe them down with a damp cloth and a little leather soap, wipe any residue off with a clean damp cloth and then dry them with a third dry cloth and let them fully dry in the air.
Comfortable sneaker
The sneaker features a padded collar for the comfort of your top foot and ankle. It has a cushioned insole as well and the leather build is breathable to keep your feet cool and dry. Great for sweaty feet.
Cost and Value
For a high-fashion shoe, this is priced at the lower end of the range. Great news for those who want an easy care, high-quality, fashionable sneaker. Keep in mind that the shoe has a shallow midsole and outsole that are made for walking around and lounging, not for athletics.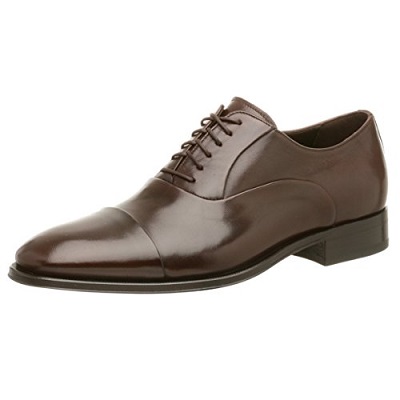 Leather Sole
Leather Upper
Rubber Heel For Traction
Polished Dress Shoe
This beautiful dress shoe is brought to you from Bologna-based Bruno Magli. It has good traction which can be hard to find in a dress shoe. The sole is leather and so is the upper, which will leave your foot breathable, dry and cool. The shoe does fit slightly large but has room for custom inserts or orthotics if you need them.
Read more
Quality leather construction
A dress shoe needs to look good and stay looking good. This shoe features a classically polished leather that takes some worth to maintain but is well worth it. Made in Italy, the construction of the shoe is top-grade.
Leather sole
Leather soles are durable, but they are often slippery. In this case, Magli has added a rubber heel to ensure good traction on most surfaces and increased durability and shock absorption.
Cost and Value
These shoes are an investment and are in the mid-range of prices on the list. However, you will have a shoe that looks fantastic and feels great for a very long life. It will need to be repolished from time to time to maintain its appearance.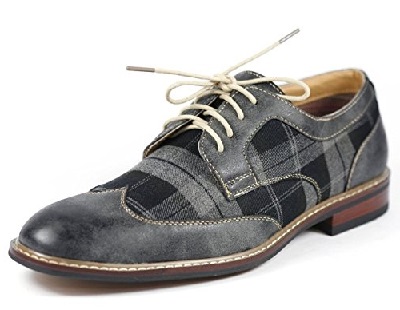 Padded Insole
Lace-Up Style
All-Around Plaid Pattern
Distressed Wingtip
If you're looking for style, look no further than the Wing Tip Plaid Lace-Up Oxford Dress Shoes from Ferro Aldo. These fashionable dress shoes feature a plaid pattern on both sides in either gray or brown, both versatile colors that will match many outfits. A distressed wingtip decal brings a touch of class to these stylish lace-up shoes.
Read more
All-around plaid accent
The plaid accent offers an eye-catching detail that's sure to impress. The neutral gray and white tones of the plaid won't clash with many outfits, making these shoes an adaptable accessory.
Padded insole
Stylish shoes don't have to hurt. These shoes have a padded insole for the wearer's pleasure. This will make walking around much more comfortable for all-day wear.
Cost and Value
These shoes are a stylish addition to the modern man's closet. The plaid pattern gives a unique flair and the wing tip is always fashionable. Plus, these shoes have a comfortable padding.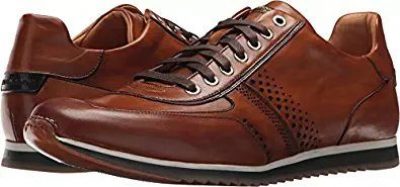 Leather Lining
Leather Outer
Bologna Construction
Perforated Quarter Panel
Two-Tone Midsole
The Magnanni Men's Cristian Fashion Sneaker is the perfect image of fashionable Italian-style sneakers. Completely made of leather, these shoes not only look high-class, but they are also durable and made for long-term wear. The leather looks polished and well put-together, and the quarter panels feature a perforated design to add some character. A rubber sole adds durability and stability.
Read more
100% leather
Made completely of leather and designed with the Bologna Construction technique, these shoes are high-quality and long-lasting. They're flexible enough to comfortably fit the feet yet sturdy enough to last.
Perforations, stitching and other small details
Small details like the perforated quarter panel pattern, stitching along the toe box and quarter panel, and a two-tone midsole adds subtle yet stylish elements to this fashionable sneaker.
Cost and Value
This shoe is made entirely of leather, save for the durable rubber outsole. The leather lining and insole are comfortable, while the leather outer construction is long-lasting and stylish.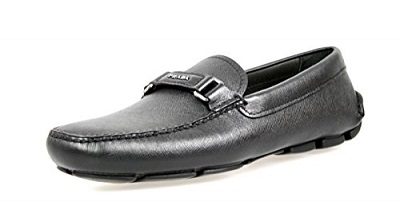 Quality Leather Upper
Calfskin Lining
Scratch Resistant
Durable Outsole
Prada has been making fine Italian fashion clothing and shoes for more than 100 years. These are a classic loafer from the Milanese fashion brand. The shoes are made from the highest-quality leather and other materials for a soft, comfortable and luxurious feel. These are sized in European sizes so read the sizing chart carefully before ordering.
Read more
Quality leather
These shoes are made from high-quality and scratch-resistant Saffiano-leather. The lining is calfskin for comfort and breathability. The leather collar is lightly padded for additional comfort.
Prada craftsmanship
Prada made it to the top of the game with a reputation not only for fashion but for the highest quality construction. This loafer cared for correctly, will last for many years of comfortable, relaxed wear.
Cost and Value
This shoe is the most expensive in our line-up of the best Italian shoes, Some of the price is branding, of course, but you are also paying for very high-quality materials and fine Italian craftsmanship in a durable shoe that you will have for many years.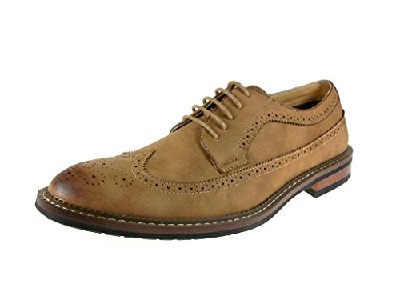 Padded Insole
Brogue Punch Design
Wingtip Classic
Laces Aren't High Quality
Ferro Aldo takes its highly unique designs down a notch with the 19312 Perforated Wing Tip Lace Up Oxford Dress Shoes, a classic design with a touch of flair. The wingtip keeps the shoe chic while the brogue punch design adds attractive details. The padded insole makes these shoes a comfortable option when you need a stylish addition to your outfit.
Read more
Brogue punch design
Brogue punches on the toe box, along the wingtip, around the sides and along the bottom ridge of the top line all add stylish details throughout the shoe that will impress.
Quality construction
A padded insole is meant to deliver comfort to the wearer, while the sturdy construction is long-lasting. These shoes are durable and made with quality materials and stitching.
Cost and Value
These shoes offer style as well as quality. The brogue punched pattern adds a nice design to the toe box and continues along the sides of the shoes.
Criteria Used for Evaluation

Style
If you're buying Italian shoes, style is one of your top priorities. The pair you choose should reflect your style and add a touch of character to your outfit. There are many different styles to choose from, and the one you choose should match the way you plan to wear the shoe.
For more casual outings, options like sneakers from Aldo or Geox are ideal. They combine thoughtful and eye-catching designs with quality construction that'll keep the shoe in good condition and the foot comfortable throughout the day. These are perfect for everyday, all-day wear. Leather sneakers such as the Cristian Sneaker from Magnanni combine high-quality leather with a perfectly casual design, allowing the sneakers to be used for many different types of occasions.
Slip-on designs like Naper-23 suede penny loafer designs from Donald J Pliner, also give a cool, casual look in very comfortable materials of construction. With these, stitching details not only give some visual diversity that adds character but are also carefully designed to keep the foot comfortable and supported all day.
For uses like dressing up for work, Italian shoes that feature subtle yet interesting designs made with a brogue punch may be the way to go. These add a hint of structured yet fun patterns but keep the shoe looking classy and add to a well put-together look.
For more celebratory events, such as an outdoor wedding, a family reunion or birthday party, unique and fun designs add a statement to your outfit. Ferro Aldo is one excellent choice for this, with such diverse designs like palm trees, floral patterns or plaid panels.

Materials
Italy has a reputation for producing excellent shoes with high-quality leather. Additionally, traditional Italian shoemaking techniques have been revered by shoemakers from all around the world, according to Craftsmanship Quarterly. As such, when shopping for Italian shoes, it only makes sense to seek out quality materials and techniques of construction.
Shoes should be long-lasting and not wear out with limited use. Italian shoes should be an investment that will pair with your outfits for many years, becoming your go-to pair for specific occasions. Or, if you choose an everyday Italian shoe, it should last you for several months before it begins to wear out with extended use.
Choosing stitching that won't begin to unravel, and materials that won't fray or come loose from the shoe is also a factor. Seek out leather or suede, but pay particular attention to the stitching. Shoemaking techniques like the Bologna Construction technique keep the stitching tight and durable yet away from the foot, ensuring a comfortable fit, according to Italian shoe company Olivier Gerardi.

Comfort
Though style and quality materials might be the first priorities that come to mind when shopping for Italian shoes, you can't forget one of the most important aspects of choosing any sort of shoes: comfort and fit. If you have a shoe made from the finest leather with a timeless design but they're constantly slipping off your feet, squeeze too tight or are otherwise completely uncomfortable to wear, the shoes will sit in the back of your closet and collect dust.
Instead, seek out features that add comfort to the shoe, like a padded collar that can prevent blisters from forming on the back of the heel, or insoles or midsoles that absorb shock or provide cushioning. The material of construction matters for comfort, too. A leather upper may feel comfortable to the foot, but a leather insole could be too firm and may take a while to be broken in, for example. Of course, everyone is different – some may be fine with a leather insole. In many cases, it all comes down to personal preference and the unique qualities of your feet.

Fit
Fit is important for any shoe. Most people know exactly what size they are in their favorite brands, but it's important to remember that these sizes may differ slightly between brands. This is especially true for American sizes. When shopping for Italian shoes, a European sizing method may be employed, which many customers notice cause the shoes to run larger than they expect. As a result, it's common that choosing a shoe that's a half-size to a size smaller than your normal go-to shoe size works best. Of course, this may be different among different shoe brands and models, so it's a good idea to research what other people have noticed about a particular shoe before purchasing.
Value
Value is an element in which we consider is the main reason for the lining, to begin with. In addition to price, longevity, durability, practicality, and functionality of the product as a whole, we also, want to examine how the leather lining coincides with the rest of those elements. Is the leather lining there to mask a poorly-made product in one or more of those other areas of concern? Or, is the lining there to improve an already great item? If, yes, to the latter, then a great score of value may be present.
An item's value is, also, something that can change from one perspective to the next. That is, one person may see a thin and smooth leather lining as beneficial to a pair of safety, work boots; whereas, another may see this as a potential for blisters down the road. Thus, the second perspective would lower the value of a smooth leather lining, but the first would raise it.
Because of the aforementioned, we are now brought to individual needs and desires. So, we must first ask what it is that we want to accomplish with this particular style of product. If we are looking for a one-and-done pair of dress shoes to go with a suit which is hardly ever worn, then a cheap upper having a leather lining might be the perfect grab. For us, that value would be high because of the low price tag we are paying for the item.
For those of us, however, in need of a pair of everyday footwear (e.g. for work), then our need and desire are to have a more expensive upper which accompanies our leather lining. We may be spending more money as a result, but the overall longevity we achieve causes the overall value to rise, as well.
Here, we cannot possibly know everyone's individual need and desire. But we can be aware of the general value in relation to the overall product. As such, this is how we determine the final number for the ending value.
Expert Interviews & Opinions
Most Important Criteria
(According to our experts opinion)
Experts Opinion
Editors Opinion
Users Opinion
By Default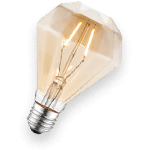 Leather Care
So you've invested in a solid pair of well constructed Italian leather shoes, and to keep them good for wear, you're going to need to know the in's and out's of leather care.
Leather polish will help hide scuff marks in coloring of the leather, and for some leather types, give them a polished shine.
Leather conditioner should be applied every 3-6 months to prevent cracking.
And, a shoe protectant spray can help prevent water or liquids from staining the leather before you head outside. Apply just before wearing.
Classic Styling
Many Italian leather shoes may reflect a modern take on a classic style, like the oxford. This style of shoe will never grow old, or off trends, and makes for a great piece to have in your collection of footwear.
While Italian shoes may have a price tag associated with them, don't be afraid to make them a daily pair you wear, as they really are suited for casual and business or formal attire. You'll look sharp no matter where you go!
Frequently Asked Questions
q:
Why should I invest in Italian shoes?
a:
Italian shoes are made with excellent quality and carefully thought-out design. As a result, many Italian shoes are long-lasting and highly durable. Many people, once they try out a pair of Italian shoes they fall in love with, find that the brand is reliable for many different pairs of shoes and often turn to their favorite Italian brands to expand their shoe collection. Buying Italian shoes is a personal choice, and not everyone wants to or needs to invest in Italian shoes. However, if you're looking for high quality, excellent materials, and great design, all in a comfortable shoe, you'll likely find it in the right pair of Italian shoes.
q:
What should I look for in a pair of Italian shoes?
a:
When shopping for Italian shoes, look for quality construction and a design that you love. The point of Italian shoes is that they're fashionable and of excellent quality. Beyond that, comfort and good fit are necessary qualities for any pair of your shoes, including your Italian shoes.
q:
What material is best?
a:
Italian shoes can be made from a wide range of materials, but the traditional idea of Italian shoes connotes Italian leather. Leather and suede are both common Italian shoes or those made with Italian shoemaking techniques.In the end, the material you should seek out should reflect the style you want to reflect when you wear the shoes. Leather shoes give a more formal look, even with casual designs, as can be seen with all-leather street sneakers. Meanwhile, textile, silicone and other types of materials may give a more laid-back look, even with high-fashion styles.
q:
What qualifies as Italian?
a:
For the purposes of our list, we chose shoes that were made by shoemakers who are based in Italy and/or are manufactured in Italy. Some shoemakers build all their shoes in Italy but may be based in Canada or the United States for example, or an Italian shoemaker may manufacturer their shoes in Spain or America.
q:
What is the difference between polished leather and oiled leather?
a:
Oiled leathers have an oil rubbed into the surface that changes the appearance of the leather and adds some waterproofing. Most polishes are made from oil-based products but are applied to the top of finished leathers to give them shine. Polish does not add much in the way of waterproofing.
q:
Aren't we just overpaying for Italian shoes?
a:
For some shoes, the price includes paying for the 'brand'. However, keep in mind that Italian shoemakers make high-quality shoes and they need to, to compete with the insane amount of competition they face. That said, not all Italian shoes are very expensive. There are many brands that focus on building Italian shoes for lower prices.