Best Superga Shoes Reviewed & Rated for an Iconic Look
In a Hurry? Editors choice: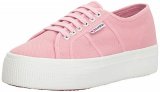 Test Winner: 2790

Superga is all about comfort, sporty chic, and casual wear. If you are looking for that perfect everyday sneaker or a variation of a sneaker, that will keep you supported and comfy and will go well with your laid-back style, then look no further than the brand with over 100 years of experience in creating just that.


We have put together a list to better help you with your choice. After pouring over countless designs, we selected only the best of the best, keeping in mind the various styles, the comfort levels, material quality and, of course, the prices. By the end of this guide, we hope that you will be able to pick out a new favorite pair of Superga shoes for yourself!
Standout Picks
Criteria Used for Evaluation
Style
Even though the brand first started out as a tennis shoe manufacturer, Superga has since branched out into other types of footwear. This is why on our list we have many different variations of the classic sneaker, but also some other popular styles.

Sneaker

While today the sneaker is the ubiquitous design, one without which life wouldn't be the same, back in 1911 when this Italian footwear company was first starting out, it wasn't the case. Sneakers were first created with sports in mind, in an attempt to provide athletes with solid footwear that would help them realize their potential and break all the records.

Of course, now sneakers are lifestyle footwear more than anything, and we wear them everywhere we can because they are comfortable, easy to wear and go well with (mostly) everything.

Sneakers of this brand, in particular, are designed with that trendy casual style in mind. Their classic, most recognizable silhouette is a low-top canvas sneaker with a wrap-around vulcanized rubber outsole and a lace-up closure. Over the years the brand followed all the latest fashion styles and diversified the original concept, adding a lot more options for all sneakerheads out there.
High Top: High tops are sneakers with a higher top – never would have guessed it, huh? They wrap around your ankle, which is especially handy when you're an active person and you're not only walking but also running, twirling, leaping, jumping, bouncing and everything in between. The high top stabilizes your ankle, prevents any wobbly movements and dramatically reduces the risk of sprains or injuries.
It is also useful during colder months, as it serves as sort of a bootie if it's made out of snow and rain-resistant materials. (Bonus points if it's a high top with a wool upper, like the couple in our list.)
Slip-On: Slip-on sneakers have all the benefits of a sneaker – lightweight, comfortable, fashionable, supportive – but without the fuss of lacings. This is a great design for those who have not yet mastered the skill of tying shoelaces, such as young children, or for those who for some reason have difficulty reaching their feet – pregnant women, the elderly, overweight people and similar.
Slip-on sneakers are also life-savers if you're the type of person who is always in a hurry, flying from one place to the next, and if you don't have much time to bother with complicated closures.
Flatform: Flatform is a word derived from the phrase 'flat platform'. Essentially, these are sneakers with platform soles, but we use the term 'flatform' to distinguish them from platform heels.
The flatform trend has been on the rise in recent years, and everyone is dying to have a pair of these sneakers. They are as comfy and versatile as other sneaker types, but they also provide you with a boost in height, sometimes barely noticeable, sometimes quite considerable.
Bear in mind, however, that flatforms – especially the really high ones – aren't geared towards running or other sport-like activities, as you might risk losing your balance and even take a fall in them.
Mule

We are thrilled with the way Superga reinvented the classic sneaker design and turned it into a sneaker mule. Their mules have the same laid-back, sporty chic vibe as their sneakers, but they are backless, making it easy for everyone to slip in and out of them.

Mules are convenient in warm weather, if you're not a fan of sandals of flip-flops but still don't want your feet to sweat in regular sneakers. They are also very practical, in that they are quick to put on, and they go well with all casual outfits, just like sneakers do!
Comfort
The point of purchasing footwear that you can wear all day every day is for it to be comfortable, no? Isn't that why we all like to wear sneakers, in the end? As we mentioned above, this style has just the right type of support that we need, is lightweight and amazingly easy to wear, which can't be said for some other footwear styles, such as heels or heavy boots.

It is no wonder then, that all of the items on our list are quite comfortable. The key here are the materials, which provide the essential breathability and flexibility that our feet need to take us from one errand to the next. Thanks to the canvas, leather, velvet and wool uppers of these options, we won't suffer from any chafing, abrasions or blisters, and will be able to stay on our feet for long periods of time.

However, something should be said about support, and the shape of the footbed in these designs. While they are comfy, we have to mention how they are not the ideal choice if you need extra support, or require additional cushioning. These sneakers are fine, they really are, but their footbeds are not particularly padded, and generally don't come with contours. This makes them unsuitable for those who require higher levels of comfort than usual, such as people with plantar fasciitis, fallen arches or more.

Nevertheless, for customers who don't suffer from any medical conditions, and who don't mind a bit of a flat footbed, these options are a great choice! They will feel like you're wearing nothing at all, and you will come home at the end of the day without even a hint of fatigue in your feet. That is what we call a comfy design!
Materials
This brand has always been about comfort, first and foremost. Their materials are carefully selected to ensure that the wearer of their designs has a pleasant, smooth ride and that they are not experiencing any discomfort or pain. This includes materials which are flexible, abrasion-free, breathable, which keep the feet warm during the winter and sweat-free during the summer.

We have divided the materials into two different groups – materials for the upper and for the lining, and we expanded a little bit on each so that you get a clearer picture of the advantages and disadvantages of each material type.

Upper

Canvas: The canvas sneakers in our list are made out of 100% cotton. This is a highly breathable fabric, meaning that the air flows easily in and out of the upper. It helps keep the temperature inside the sneaker down even in warm weather, and also to keep your feet dry and cool.
Furthermore, canvas sneakers are very easy to clean. You usually need only some soapy water and a toothbrush to get rid of most stains, though some Superga designs are also washing machine friendly – you just throw them in, turn the machine on, and forget about it!
An important quality of canvas footwear is that it is light. We don't want to feel like we're wearing ankle weights whenever we go outside – canvas materials are there to help us feel light and breezy and like we can do anything.
And lastly, canvas sneakers are incredibly popular. Think of brands such as Vans or Converse – their canvas footwear comes in a staggering array of color combinations, patterns, and prints. You are bound to find a design which speaks to you.
Leather: Much like canvas, natural leather is also a breathable material. In leather footwear, you don't have to worry about sweating or overheating – these uppers promote air circulation and help make your feet feel comfortable.
Leather footwear – leather sneakers, in our example – is also highly durable. Leather is a strong material which holds up well against wear and tear and different weather conditions. You can be sure that your genuine leather sneakers will outlive all other designs made from different materials.
However, the most important feature of leather is that it changes shape over time – as you wear the sneaker, it takes the form of your foot, providing you with extra comfort, support, and a better fit.
Similarly to canvas footwear, leather sneakers are also easy to clean. Though throwing them into a washing machine isn't recommended, these shoes can be simply wiped down with a damp cloth to remove any unwanted spots.
Wool: One design from our list is made out of wool. While wool footwear is rarely seen, this is a surprisingly practical material to construct shoes out of.
Wool is a light, natural material which regulates temperatures even when wet. It keeps your feet warm in cold days without overheating them.
Wool sneakers also have moisture-wicking properties, which means that they quickly transfer sweat from the inside to the outside surface of the upper and that the sweat doesn't saturate the fabric.
What's more, wool also has antimicrobial qualities. It prevents bacterial growth and reduces the risk of infections.
Lining

Lining inside design has the purpose of covering the inside seams and lengthening the lifespan of the shoe. This is what comes in contact with your foot as you wear your sneakers. Linings can be made out of a variety of materials, but in the case of this guide, we are only going to talk about textile linings.

Almost all of the designs from our list have a textile, cotton lining. Cotton is very breathable – though not as breathable as leather – and moisture-absorbing, ensuring that your feet are dry inside your sneakers.
Additionally, even if you wear cotton-lined footwear every day, it will most likely retain its shape, since cotton linings can be quite durable.
Outsole
All designs from this brand come with soles made out of vulcanized rubber. This type of material is produced by mixing sulfur with natural rubber and then heating it up. The sulfur creates additional links between polymers of the rubber to strengthen them and increase their durability. Essentially, the sulfur changes the chemical structure of the rubber. This entire process was named after the Roman god of fire, Vulcan.

Vulcanized rubber is more elastic than natural rubber, as well as more resistant and longer-lasting. What is most outstanding about vulcanized rubber, however, is that it provides a superior grip and traction. Even though in Superga sneakers you aren't likely to do any serious sports, it is good to know that your footwear will support you in case you decide to play some ball with your kids or break into a run with your dogs.

Even though all of the designs in our list have soles made out of the same material, we had a need to rank them according to their sole thickness. You have noticed that Superga likes to add variety to their designs in the form of platforms and thicker soles, which may be trendy, but they're not comfortable for everyone.

So before you decide on a design that you like, consider for a moment whether or not you are comfortable with wearing platform soles. These add to your height, which might be either a good or a bad thing, depending on your preferences, and more often than not they are heavier and bulkier than standard designs, requiring more muscle strength to walk in them.

If you find that you don't mind wearing a thicker sole - or would actually prefer it - then go for it! We are just here to remind you that this is something to take into account when you're figuring out which option would work best for you.
Durability
At last, we should also address the question of the durability of these designs. Sure this brand is not high-end, or too expensive - compared to other famous sneaker labels such as Nike, Adidas or even Vans and Converse - but we would still like to get our money's worth. It would be great if these sneakers would last at least for a couple of seasons, wouldn't it?

Fortunately, they do last at least that long. The lifespan of a design increases with the quality of its materials. That way canvas sneakers, such as the 2750, the 2790, the 2288, have the shortest lifespan, as canvas is thin and tends to fray easily.

Velvet and wool options, like the 2314 and the 2795 for example, last longer than that, as these are sturdier materials.

Finally, leather designs are the most durable, such as the 2388. Leather and suede are naturally quite strong materials. They withstand frequent wear and more extreme weather conditions, and you should be able to enjoy these sneakers for up to a decade even!

Bear in mind that this type of footwear is probably an option that you will be wearing every day. A design that is worn that frequently can't last as long as ones that you perhaps wear less often, but there is nothing much you can do about that.

Definitely never hold yourself back from enjoying your favorite footwear just because you want it to last longer! Go out there and wear the heck out of your new sneakers, and whenever they do reach the end of their journey, don't hesitate to get a brand new pair!
Our Favorites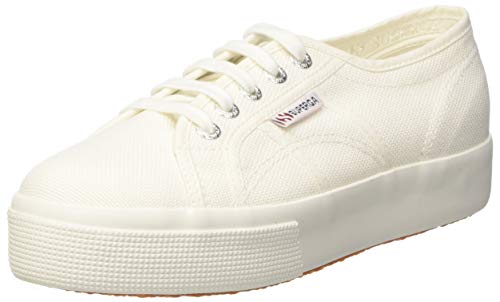 The 2730 is another flatform favorite from Superga. This round-toe slip-on sneaker has a soft canvas upper with dual gores in the sides for an easy fit. There is a lightly cushioned insole and a natural vulcanized rubber outsole one and a half inches thick. As other flatforms, the 2730 will add to your height. It is an exquisitely versatile sneaker, as the velvet gives a classy spin to the standard casual look.
The 2730 sneaker has no complicated lacings, no stubborn zippers or unreliable buckles. With this design, you simply slide into the sneaker in record time and be on your way. Perfect for those who are always on the go.

Everything about the 2730 - the platform sole which absorbs impact, the soft canvas upper and the canvas lining, as well as the padded collar and the cushioned footbed - is designed with the sole purpose of providing you with maximum comfort.

The 2730 sneaker is a solid design, comfortable, versatile, and trendy. If you're all about that velvet flatform look but are not a fan of laces or complex closures, then this simple slip-on is the perfect way to go!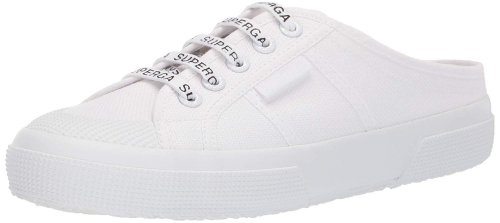 Similar to another wool design on this list, the 2402 is one apologetically autumn design. It is a high top silhouette, with not only a lacing system for maximum adjustability but also two zipper closures in the sides, for a bit of bling. This design comes with a standard vulcanized rubber outsole for traction and stability, and thanks to its effortlessly cool appearance, you will feel like one casually chic superstar.
The 2402 is made out of 100% fabric for the upper. This means that the design is amazingly moisture-wicking, comfortable and breathable.

The no-back slip-on design is great for ease of use but also as a different, more laid back look on your shoe.

The 2402 is everything you would want out of a trendy sneaker. It is comfy to wear all year long, has a comfortable footbed and easy on and off. We can't think of anything more that we'd like in our favorite lifestyle sneaker.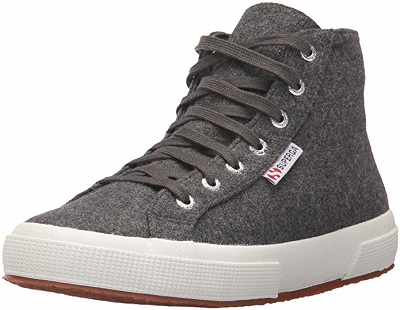 A little less summer and a little more autumn, the 2795 is here to ensure that you are warm and comfortable during the colder days of the year. This high-top sneaker has an upper made out of wool and polyester, which you will agree is a bit unusual for athletic, or even lifestyle footwear. It comes with a lace-up system all the way to the top, a cushioned insole and a vulcanized rubber outsole. The 2795 sneaker is unique in many ways, but it ensures that you can now wear your favorite Superga design well into winter as well.
While the 2795 is more of a lifestyle sneaker than a sports shoe, it is still important to feel secure in it, just in case you have a sudden need to break into a run. The high-top design makes sure that your ankles are supported and stable, and that you don't risk any sprains or injuries.

We admit that we were a little taken aback at the idea of a sneaker made mostly out of wool. However, the choice makes sense, as wool provides warmth and soft, cozy comfort as you go about your chilly autumn - or even winter - days.

The 2795 sneaker is comfortable, secure and fashionable, and you can count on it to keep you warm in cold weather. From a brand as famous as Superga, this model is an absolute steal.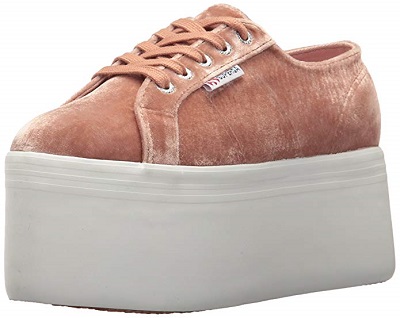 Reach staggering heights with the 2802 sneaker! We are in awe of the height of this flatform design, with its sole going up to approximately three inches in thickness. The upper of the 2802 is made out of plush velvet and the lining is soft canvas. This sneaker has a cushioned footbed and a natural rubber outsole, vulcanized as in all other models on this list. The 2802 design is not for the weak of heart - this platform requires some getting used to, but once you get the hang of it, you can be sure that you'll enjoy these stylish sneakers for a long time to come!
While it may appear daunting at first, walking around on three-inch high platforms, the 2802 is actually a surprisingly stable sneaker. With a little bit of practice, you won't have to worry about stumbling, falling or risking any injuries in this design.

Aside from being soft and gentle on the skin - conforming to your foot shape for maximum comfort - uppers made out of velvet are also quite fashionable. They exude an aura of romance and plush elegance, and the 2802 sneaker won't leave anyone feeling indifferent.

The 2802 is a solid sneaker, from a renowned brand, and we see no apparent flaws in its design. It is not the easiest to wear, that's for sure, but it is plush and sophisticated, and brings the concept of a standard sneaker to a whole new height! (Pun intended.)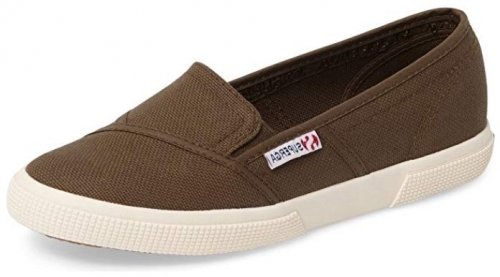 The 2210 is a little less sporty sneaker and a little more casual loafer. It still bears all the markings of a Superga design - the canvas upper, the logo tab in the side, the vulcanized rubber outsole - but it also more dainty in appearance, more summer and a touch more feminine. The 2210 is a great option to wear with your favorite sundress, to show off your ankles and feel like an absolute sneaker-wearing princess!
The 2210 is a slip-on design, but one which is more open, or more low-cut than your regular sneaker silhouette. It has stretch panels in the sides for a more elastic fit, and it helps your foot breathe better in warmer weather. The seam lines across the upper bring out the elegance of the design that we don't normally expect out of this brand.

The versatility of the 2210 is endless. We can wear this beauty with skinny jeans or leggings, and even with shorts, to keep ourselves cool in the summer. They are even flirty enough to be that perfect first date option when you want to be comfortable and still look good.

Overall, the 2210 is a fun, playful option. When you need something effortless and still graceful, reach for this loafer-like sneaker to complete your wardrobe and make you feel bubbly and light on your feet.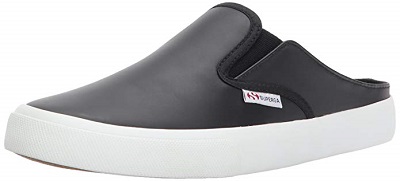 The 2388 sneaker mule is a perfect combination of sporty and sleek. This design has a leather-constructed upper with dual gore panels for an adjusted fit. It is backless, as all mules, and it comes with a soft, textile lining. There is cushioning in the footbed for all-day wearability, as well as patterns in the rubber outsole which ensure good traction and durability. We can safely say that summer footwear has never been so chicly refined as with the 2388 mule.
Natural leather is an outstanding material. It enables air to properly circulate in and out of the sneaker for maximum breathability - a feature that is very important in summer weather. Additionally, leather is malleable and changes shape over time to fit the contours of your foot.

Admittedly, the 2388 mule is pretty comfortable as it is with its backless design, soft natural materials, and an elastic fit. However, there is also the added benefit of its textile lining, which provides an abrasion-free environment for maximum wearability.

Compared to other designs on this list, the 2388 is unusual but modern and refreshingly smooth in appearance. The materials the 2388 is made of are very high-quality and will make sure that this mule lasts you for a long time to come.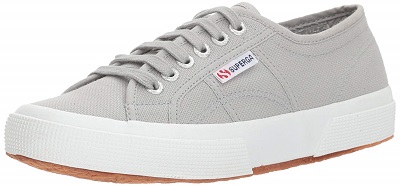 A design which has been around since the year 1925, the 2750 sneaker is truly an all-time favorite. This classic silhouette launched the entire Superga brand and has an upper constructed out of pure cotton, a vulcanized rubber outsole, and a lace-up system with embossed eyelets. There are logo tabs on the side and at the heel for added authenticity. The 2750 sneaker is a simple premium canvas model, and it comes in a myriad of different colors and variations for maximum versatility. The ultimate smart casual design!
While not suitable for inclement weather, the 2750 sneaker is a godsend in warm temperatures. The pure cotton of its upper promotes proper airflow and allows the foot to breathe. It keeps you dry and comfortable inside the sneaker and ensures a healthy foot climate.

Vulcanization is a process which involves mixing rubber with various additives. This makes the sole of the 2750 sneaker more flexible, stronger, more resistant to heat and other environmental conditions than plain rubber soles.

This staple Superga design - the one which started it all - is a simple sneaker, one that will find its place in your wardrobe without any trouble. Its iconic silhouette enables it to go well with anything you decide to throw on. You won't regret investing your money in the 2750.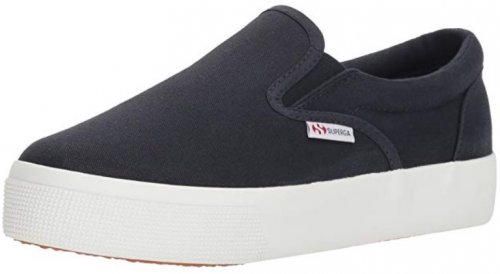 This is the type of design that is all the rage this season. From Steve Madden to Superga, all the famous brands and designers are hopping on the flatform train, doing their best to put their own spin on this trendy silhouette. The 2398 sneaker is a simple, slip-on design that comes with a thick sole, one which delivers both a boost in height and a boost in confidence. With a choice like this, you will be the coolest fashionista in town!
As most other options in this guide, the 2398 has an upper made from canvas. However, there are no laces this type, or any other types of closure. The 2398 has stretchy gore panels to accommodate feet of all shapes, and a padded collar to provide a chafe-free ride. It is easy to slide into these, and even easier to take them out for a stroll!

The 2398 sneaker has a thick sole made out of vulcanized rubber. The platform is 1.25 inches high, which makes it noticeable, but not too difficult to walk in. Moreover, the fact that this is a flat sole means that your feet won't hurt or feel any of the discomfort that usually comes with wearing high heels.

We love the 2398 because it is simple, yet fashionable. It goes well with literally any casual outfit, be it jeans or skirts or dresses, and it will seamlessly fit into your wardrobe and quickly become a staple piece in your collection. Treat yourself to these amazing flatform sneakers!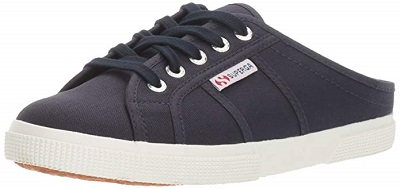 The classic Superga sneaker silhouette gets a little twist with the 2288 design. This sneaker is not actually a sneaker - its back is missing, effectively making it a mule. However, it still has all the hallmarks of a tennis shoe - the soft cotton upper, the vulcanized rubber outsole, the cotton lining, and the lace-up system, although on this model the laces are only for decoration. The 2288 mule is perfect for summer when you don't feel like confining your feet to sneakers but also don't want to deviate from your usual, laid-back style.
The 2288 makes it ridiculously easy to enjoy warm weather. This mule has that classic slip-on design - perfect if you're always in a hurry and don't have a second to spare on properly putting on your footwear, or even if you're a barefoot enthusiast who likes to slip out of their shoes from time to time.

One of the many advantages of a mule sneaker is that there is nothing constricting your heel. In the 2288 mule, you don't have to worry about the topline cutting into your skin, or getting blisters at the back of your foot.

You might think that the 2288 just a great weekend sneaker, but if you're not careful you may fall in love with it so much that you start wearing it everywhere. With the high-quality materials it is constructed of, we see no reason why you shouldn't get this fashionable design!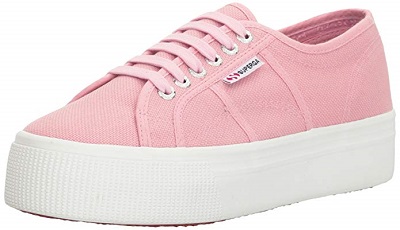 The timeless, tried-and-true form of the 2750 gets a redesign to follow the latest fashion trend of platform shoes. Meet the 2790 sneaker, which differs from its classic predecessor in that it has a one and a half inch platform sole. Its upper is canvas with a cotton lining, and its sole is vulcanized rubber. To keep the minimalistic design but to ensure brand recognition, there is the ever-present Superga logo on the side and the embossed eyelets in the lace-up closure at the front. Now you don't have to compromise by choosing either a platform option or a Superga design, because you can have both!
Aside from being the absolute favorite this season, flatform shoes have their own set of benefits. Especially the 2790, which provides a boost to your height and to your confidence, without taking away from the comfort of a casual sneaker design.

Unlike some other material options, which may cause unpleasant rubbing and even blisters, cotton is extremely gentle on the skin. You can be sure that in the 2790 sneaker you'll be able to walk for as long as you want without even a hint of pain.

The 2790 flatform is a sneaker which isn't for everyone, but it is a great choice in this era of thick soles. It has all the comfort, durability, and stylishness you need, and it is easy to wear all day, every day! What more could we possibly want?

Subscribe to our Newsletter