Best Slippers That Look like Sneakers Reviewed & Rated
last updated
Jun 25, 2019
Sneaker slippers were made to look like your favorite skating or running shoes, and usually have decorations that match those, or colors and emblems of your favorite sports team, so you can cheer them on even while you walk. They're plush, warm, chunky, and just made for cozy days when you want to hide away and binge-watch your favorite TV shows. And by choosing some of the best ones, you won't be in need of trading your style in order to choose comfort, since now, they are designed like the regular ones. And if you don't know where to start from, no worries, we made it easy for you! Check out our handy guide, and find a pair that is just right for you!
In a Hurry? The sneaker slippers winner after 5 hrs of research

Foco NFL
Why is it better?
Handmade
Improve Team Spirit
Dense Foam
Interesting Color Design
In a
Hurry? Editors choice:

Test Winner: Foco NFL

9
Researched Sources
731
Reviews Considered
5
Hours Researching
10
Products Evaluated
Comfort
Materials
Style
Durability
Breathability
By Default
In Depth Review Top 10
Foco NFL
Seay Crochet
Caitin House Shoes
Comfy Feet Happy Feet NBA
Gohome
Mahabis Classic
Uzzy Grey
Microfiber Mop
Happy Feet Standard
Gohom Boot
Table of contents
Criteria Used for Evaluation
Other Factors to Consider
Frequently Asked Questions
Sources
Top 10 House Shoes That Look like Sneakers



Handmade
Improve Team Spirit
Dense Foam
Interesting Color Design
Show everyone where your true devotion lies, and proudly wear the colors of your favorite team even when you are home. The first thing you should know about these sneaker slippers is that they are 100% handmade. This means that a lot of effort was poured into making them, and it was made sure that no stitch or thread was out of place. High-quality materials were used to produce them, making it possible for them to last very long. There are logos on the tongue and on the sides too, and there are laces present for the full sneaker look.
Read more
A dense cushy foam will soothe your feet all the while you wear them. The toe box is very roomy, so it will be able to accommodate even the widest of feet. The outsoles of these sneaker slippers have a thicker foam present, so they give you some arch support and stability, and a rubber bottom keeps you safe from slipping and hurting yourself.



Crochet Upper
Handmade
EVA Midsole And Outsole
Zipper
These sneaker slippers were also inspired by the iconic Chuck Taylor high tops, and they encompass their style wholly. They are special though, because they are crochet, meaning they are handmade! The threads used are soft cotton, so they are light, breathe well, and can be washed by hands with a normal detergent. Even the eyelets were taken into consideration, including the medial ones. A zipper sits on the side, so taking them on and off is easy breezy.
Read more
Their midsoles are EVA. EVA is a special type of high-density foam that absorbs shock and keeps your joints and muscles pain-free. It's lightweight and durable, so your feet will always feel rested, and they will feel that way for a long time. The outsoles are EVA too, and they are anti-slip, making it easy to wear them all around your house.



Mesh Vamp Design
Sweat-absorbent
Flexible Soles
Versatile Slippers
Thick Soft Fur
Bigger Fit
Poor Arch Support
These stylish slippers that look like sneakers are the trendiest sneaker slippers you can find today! These can be worn both indoors and outdoors, making them the perfect all-around slipper. The upper is made out of cotton, enabling them to breathe easily. This also makes them very stretchy, so your feet will be able to roll naturally. The lace-up closure works just like it would work on any regular sneaker, making the fit adaptable.
Read more
The inside is lined with fur all around, which will keep you warm all the time, and it will absorb sweat and keep you smelling fresh. You need to wear socks with these sneaker slippers though because your feet might not be able to breathe that well when all that fur hugs you. The outsoles are super durable and white, so they stand out and act as attention-grabbers. They are flexible too, and they offer excellent grip in both wet and dry conditions!
4

. Comfy Feet Happy Feet NBA



NBA Emblems
Thick Foam Tongue
Soft Lining
Decorative Laces
Slippery
Soles Wear Down Fast
Have you ever felt like you want to wear the colors of your favorite team even on your feet, while you are home when no one can see you? If you are such a die-hard fan of such a team, indulge into these sneaker slippers, and wear your favorite colors with pride. These NBA slippers feature the emblem of many of our beloved teams, so we are sure that anyone can find their love. Their upper is made out of polyester, and the logo is embroidered to the sides, evoking why you chose them. The thick tongue will guard your legs and keep you warm and toasty. Laces decorate the upper as well, making them look like the real deal.
Read more
The lining is polyester too, but a dense foam envelops your feet completely, making it feel like you have actual pillows on your feet. A pull tab sits on the heels, but it serves no actual purpose besides being ornamental. The outsole is polyester as well, so be careful about slipping. The name of the company is printed all over the soles in rubber like letters, so these house shoes that look like sneakers will offer some protection from slipping, but be on your guard!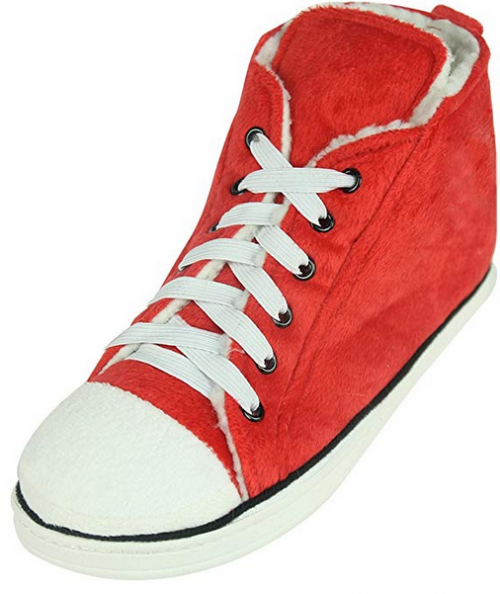 Velour Upper
Converse Look-Alike
Soft Fleece Lining
Rubber Outsole
Durable And Lightweight Soles
Is your love for Converse so deep and true that you desire to wear your all-stars even when you're home? Look no further! These sneaker slippers bring everything you love about Converse right to your home. Their upper is made out of velour, a man-made material that looks fluffy and soft, just like any slipper should strive to look like. Metal eyelets decorate the upper, with elastic laces crisscrossing over it and ending right under the fluffy tongue. Even the stitches look like the original deal, and they serve to reinforce the construction too.
Read more
The elastic laces will secure your feet inside, keeping these slippers that look like sneakers where they are supposed to be - right on your feet. Soft fleece lines the interior and caresses your legs gently. It will help keep you warm, dry and satisfied! There is a pull tab present if you ever struggle to put these on, but considering how soft they are, we suspect you will need it, so it's mostly decorative. Even the outsoles match the real deal, and they have extra cushioning so you have a comfy ride. The bottom is rubber and slip-proof, keeping you injury free.



Slipper With Sneaker Sole
Merino Wool Lining
Wool Blend Upper
Elastic Heel Counter
Contoured Foam Insock
These super practical sneaker slippers can be worn even outside, so you'll get two things for the price of one! The upper is a wool-blend. This blend helps keeps you warm and moisture free because wool is very good at wicking moisture. This also prevents bad odors and bacteria from thriving, making you smell fresh and keeping you safe from potential infections. They have a sleek silhouette, but a toe box wide enough to wiggle your toes. The elastic heel tab keeps your feet inside and improves the overall fit of these sneaker slippers.
Read more
The lining is 100% Merino wool. Merino wool was always regarded as the best kind of wool out there. It's super soft, cozy, and warm, but can also cool you down when the heat starts to build up. A contoured foam insock makes the fit perfect - your feet will be properly cushioned and will experience no pain when you slip these sneaker slippers on. The outsoles are made out of highly durable TPU. TPU is a special type of rubber that is light, slip-proof, and lasts a long time! This model has plenty of color options available for the soles, complementing the gray upper so well, and they will surely improve any kind of outfit you may be wearing, even if that outfit is pajamas!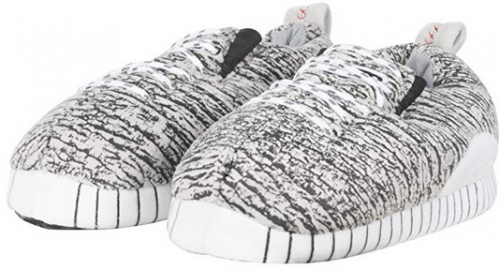 Yeezy Look-Alike
Chunky Low-Top
Turtledove Upper
Big Pull Tab
Slip-proof Outsoles
Let's face it - Kanye West may not be everyone's favorite, but he sure shook up the world of fashion when he created the Yeezy shoes. They have a slender silhouette, a very colorful and trendy upper, and absolutely perfect outsoles meant to keep you going when you feel like you can't possibly make even one more step. Their upper is smooth too, and it was a new and interesting way to reimagine the sneaker. If you desire to have such sneakers even when you are relaxing at home, be sure to check out the Uzzy Slippers!
Read more
These sneaker slippers are low-cut, so they will keep only your feet warm, and they will let your ankles breathe. They really do look like Yeezys, complete with the turtledove pattern on the upper and laces. The outsoles have recognizable lines and were made to look like the real deal too. The tongue is there too, and everything is fitted with dense fluffy foam meant to keep you safe and sound and pain-free. A stitch runs at the top, reinforcing the construction. A chunky pull tab really brings the whole sneaker look home. The outsoles are rubber and will help you stay upright and injury free!



Iconic Silhouette
Microfiber and Polyester Upper
Easy Cleaning
Moisture Wicking
Slippers with a twist! Their upper is made out of microfiber that flops freely and wildly while you walk around the house, and be amazed as it sweeps dust away and keeps your house squeaky clean. Clean efficiently and effortlessly with these sneaker slippers on your feet! They look like skating shoes and come in three classic colors. The upper is made out of polyester, so you can wash them easily by hand and they will not shrink down.
Read more
They are lined with polyester as well, so you might not be able to get all the air you want, but you won't be wet, that's for sure. Cute laces grace the upper and make these sneaker slippers look like your regular run of the mill sneakers. The insole is cushioned, so you can clean without your feet hurting and tiring down. The outsoles have brown fibers, made to look like the real outsoles, and they clean like a French maid!



Super Chunky
Foam Rubber
No-skid Bottom
Short Heel
Flimsy Bottom
A Little Slippery
These XL slippers will bring out the fun side in anyone who dares to wear them. The upper is made out of polyester. So, they will wick moisture very well and will keep you warm, but they might not breathe that well, so keep that in mind. There is a huge variety of colors available, ranging from leopard prints to mermaid scales! Each model has laces present, which can sort of secure your feet in but are mostly decorative.
Read more
The lining is also polyester, but the dense foam interior will cushion and hug your feet like nothing else. You will barely feel the floor while you walk, and discomfort will be a thing of the past. The tongue also has the foam interior, so it's comfort all around! The bottom is no skid, so no need to worry about slipping on hardwood floors. These sneaker slippers are delicate, and be very careful when you clean them! Use a lint brush, but if that doesn't work, wash with a light detergent and air dry to protect their exciting patterns!



Suede Upper
Plush Lining
Elastic Band
Memory Foam Midsole
Velvet Insole
Soles Wear Down Quickly
Cushioning Slides Around
The Gohom Boot Slippers also take a lot from converse shoes, and who's to blame them? Their upper is surprisingly made out of suede, which makes them strong, soft, and overall just really sublime! The upper is thickened with a plush liner, making them look like a cute toy. A convenient elastic band makes it easy to slip out of them and into them as well, meaning you will always have a great fit.
Read more
The lining inside is soft velvet that wicks moisture and scares sweat away. It's also very rich in texture and cozy, which will warm you up and caress your skin gently. A memory foam midsole makes sure you never feel the pressure of walking around and it prevents tiring down your feet. It's light and durable, and it will keep you cushioned for a long time. The outsoles are soft, but they have special ridges that make them slip-resistant, so they are ideal for any surface you have in your home.
Criteria Used for Evaluation


Comfort
Usually, the first association we have for slippers is the comfort. Nothing beats taking of your office shoes and sliding your feet into warm, cozy pillows. Time to relax! So, it's natural to mention just what makes sneaker slippers so comfortable.
We should look inside first. The liners are a part of what makes slippers feel so magical and soft. If the liners were leather, or mesh or something like that, it would just be like a home version of your outside shoes. Not to say that slippers can't be made out of these materials, but if you want that toasty comfort, you should look for softer materials, like fleece or fur. Most of the slippers in our guide have a furry or soft inside. The fur is synthetic, but it can be real too. And don't worry, it breathes just fine. You will need to change them for something lighter when summer comes because they pack some serious heat! Fur is made to keep the animal warm and sheltered from the influence of the environment, so it will do the same for you - keep your temperature stable and your delicate feet safe. Although, you are inside your own house, so you are pretty safe to begin with, but we could always use some extra heat!
A contoured foam insock can also help with the feeling of relaxation. The insock is what envelops your feet, and the material it is made out of can affect comfort, and the weight and durability as well. It's contoured to match the shape of your feet to a tee, so no bumps and ridges to bother you. The foam material has a great compression rate, meaning it will go back to its original shape as soon as you take your feet out, and it will be ready to cushion you whenever you feel like getting them back on. Foam is very light, so it will not add any extra weight to the slippers. It also breathes, so you won't feel suffocated by your own heat.
Dense foam bottoms are a solution some of the sneaker slippers creators on our list have come up with. Again, the foam is there doing what it does best, but this time the density is increased. This means that you will get an even better foam without adding any extra bulk. The foam will absorb the impact shock as you walk, and will dissipate the pressure that is created while you walk. It also has good bounce, and it won't feel like you have granite slabs for soles.
Sometimes, extra cushions can be added. These extra cushions will ease the pressure from your feet even more, and you won't feel any kind of aches or pains while you walk (or rest). They are strategically put where the most pressure builds up as you make your steps. The heels and the balls of your feet suffer the most, so it's best to cushion them to protect them from any unnecessary pressure!


Materials
We don't spend our waking hours pondering about the materials our slippers are made out of, but if the slipper manufacturer made the wrong material choice, be sure that you will be reminded about that every time you put your feet into your slippers. Your feet will suffer, and as a result, so will you! So, the next time you go out to buy yourself a new pair, read the tag carefully - after all, you are buying something you will be wearing almost all the time.
The most common choice is, of course, cotton. Cotton is a natural material that comes from a plant and is used worldwide for a million different things, so it's safe to say that we are very dependant on it. This material is biodegradable and renewable, so it's environmentally friendly. The biggest advantage of cotton is how well it breathes. It will cool you down and make you feel refresh. But, it also holds moisture well too, so it might not be a good choice for athletes, for an example, because it would be sticky and cool them down, even more, making them susceptible to illness (and discomfort). Cotton is also hypoallergenic, so it will not irritate your skin. Instead, it will embrace it softly and gently. It takes on color like a champ, so you will have many color choices if you are looking at cotton slippers. But, it's prone to tearing, so it's not so durable!
Polyester sits on the other end of the scale, opposed to cotton. This is a man-made material. Usually, nylon strings (or other kinds of plastic) are woven tightly together to create threads, and then those are woven as well, creating whichever item they were meant to create. These threads are very resilient, and they can resist a whole lot of pulling and tearing. It's literally plastic, and we all know how tough plastic can be! But, just like any other plastic, it's not biodegradable, so in a way, you harm the environment when you choose polyester. On the other hand, this material holds its shape very well and will not shrink when washed, or lose its color. And unlike cotton, it does not absorb moisture - in fact, it wicks moisture away and dries very fast. But the biggest drawback of polyester is the fact that it doesn't let your skin breathe nearly as much as cotton does.
Then we have velour. Velour is the same thing s velvet, but instead of being woven, velour is knitted. At least this used to be true before, but today we have many new inventions that allow us to manipulate these materials however we like. Velveteen also falls into this category, and the true difference between the three is the length of the piles - velvet has the longest, velour is somewhere in the middle, and velveteen has the shortest piles. Velour has a very distinctive feel to it because of the way it's made. The short piles help the material look the way it looks - they have raised surfaces on the item that give it that distinctive soft fee. Velour can be made from natural or manmade fibers. Velour is very dense and can stretch a lot, which makes it a great choice for slipper boots that go over your whole foot.
Berber fleece is, surprisingly, a man-made material. It has absolutely nothing to do with sheep or any other kind of animal. This material is soft, looks and feels like fur, and it retains warmth very well. Besides being warm, it also wicks moisture away, so you will be both warm and dry in it, and happy too! This makes it ideal for colder weather, where you will definitely need the extra heat, but this also makes them a bad choice for summer - you might overheat, because you certainly do not need extra warmth! Berber fleece also has a tendency to form small clumps of fabric on its surface, also known as pills. These pills can't be prevented, but can be removed by shearing or brushing it with a bristle brush.
TPR, or thermoplastic rubber, is usually used for the soles of slippers. This rubber is different from regular rubber because it is a mix of polyester and rubber, and that makes it very easy to use in manufacturing. The main advantage over regular rubber is that it's lighter and elastic. But because it's meant to be used indoors, the grip is not that good, and you might slip on wet surfaces, so be careful and avoid wearing slippers with it outside.
Merino wool is the highest quality wool that can be found out there. As the name suggests, the wool comes from merino sheep, and the sheep need to be constantly sheared in order to function normally - otherwise, the fur would soon engulf the poor sheep and render it immobile! Merino wool is so famous because of many reasons. Firstly, it's very very soft, and feels very nice to the touch - it does not scratch or irritate your skin. It breathes very well, and it manages moisture too. Merino wool can absorb up to 30% of its own weight in moisture and still feel dry! It also helps fight odors, so you don't need to worry about taking off your wooly slippers and offending everyone around. But, merino wool is very expensive, and it's not so durable, so keep that in mind!


Style
It's very apparent that the style these slippers go after are sneakers! Sneakers are casual shoes that you can wear almost anywhere you want to. They come in a huge variety of shapes, sizes, and colors, and with many different details, including heels and wedges! They were used for running and other athletic activities at first, but today they are used for literally anything - walking, skating, hiking, or just going to your local shop for grocery shopping.
Some of these slippers are slipper boots, meaning they go well over your ankles. These are ideal for winter, as they will keep you warm and toasty! They look very plush and cushioned, and they really are. But, they might not breathe that well, and they will raise your temperature up pretty damn fast. And they are quite slippery! So be careful when you wear them, and be sure we are not advocating against them, in fact, we think everyone should own a pair of these fun, quirky slippers!


Durability
We always like it when our items last longer than we expected them to, and that is especially true when we talk about footwear. This saves us time because there is no need to go out to buy new pairs so often, and it also saves us some money and nerves too. The durability of footwear can be affected by many things, but it usually depends on what it's made out of, and how it was made. If you buy simple cotton slippers, they will tear up and sprout holes pretty fast, and because they get dirty easily, you will be tempted to wash them more often, which will, in turn, make them prone to tearing even more!
The construction can affect the life of sneaker slippers too. If they were just glued together, without any sort of stitching or special technologies, they will fall apart even if you softly blow on them. If, however, a lot of care went into making them, be sure they will last at least four seasons! Also, if they are handmade, and specially crafted for you, their lifespan will increase significantly. A person poured their heart and soul into every stitch and welt and detail, making sure you get the best product possible. So, you will get a pretty slipper that will last a really long time!


Breathability
It is known that we like to feel the air tickling our feet because it helps us feel cool and refreshed. Besides that, if we walk in our own sweat the whole day, a lot of bacteria can start to breed and produce bad odors, and act as possible infection starters. Our temperature can rise up, leaving us vulnerable to the heat and infections, again. Also, if you have sticky wet feet and it's cold outside, you can get frostbites, and even lose your toes! So having breathable footwear should be important.
The main thing that affects breathability is the material the slippers are made out of. As you can tell, most of our slippers here are cotton or polyester. Cotton breathes so well, it can easily be crowned king, but polyester doesn't breathe as much, although it does a decent job at moisture wicking. Merino wool also breathes well and also wicks away moisture. The breathability can be increased with special insoles and outsoles, mostly foam inserts which breath very well too. Also, small perforations on the side can push out warm air as you walk and help promote its circulation, keeping you cool.
Expert Interviews & Opinions
Most Important Criteria
(According to our experts opinion)
Experts Opinion
Editors Opinion
Users Opinion
By Default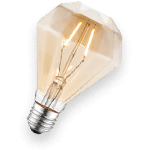 World Record Holder
Derek "The Slipper Man" Fan became a Guinness Book of World Records holder thanks to his trusty pair of slippers. For 23 years straight, Derek wore the same pair of slippers starting in June of 2007.
From East to West
The history of the slipper can be traced back to 12th century Vietnam where it was worn by captive women inside palaces. Eventually the slipper made its way over to the West, where the first recorded use of the word was in 1478.
Other Factors to Consider


Weight
The weight of footwear that we wear at home should be low. It should not bear our feet down and act as an extra weight because it will tire us down even when we are supposed to be relaxing. The materials used to create slippers largely influence this. The construction also affects this too, and the extra details and additions that can sometimes be present. You should consider all of this when buying your new sneaker slippers if you want to feel rested all the time!


Bottom Line
As you can see, adding sneaker slippers to your collection can be a very exciting endeavor. They are fun, silly, and also have a purpose, which is to warm us up, and who doesn't want that? They can be something you can look forward to when coming home from a long workday when all you can think about is slipping into something cozy and toasty. We sincerely hope our guide has helped you make a choice, and we believe that there is a pair of sneaker slippers out there for anyone who desires one!
Frequently Asked Questions
q:

Can I wear sneaker slippers outside?

a:

Most of the slippers mentioned in our guide should really not be worn outside, because they will not do well - they won't be able to protect you, or themselves. But, there are two models present that you can wear when you go grocery shopping, or when you go to walk your dog, and those are the Mahabis Classic Slippers and the Caitin House Shoes. They work as both, but are still better is indoor footwear!
q:

Are there house shoes like these taht I can wear during the summer?

a:

We understand that the appearance of the slippers strongly suggests that they are meant to keep you warm - they have thick, plush exteriors and fur lining their insides. But, some of them breathe very well, and can be worn even when the temperature starts to rise! The crocheted items can also be worn in the summer because they are not woven so tightly, and the extra wide holes will make it easy for the air to circulate.
q:

Does the fit of slippers matter?

a:

As with any other kind of footwear, the fit of the slipper matters. You will feel discomfort, and you will feel pain if they are too small, and if they are too big you will lose them! So think about your actual shoe size when you go shopping for slippers because they will usually match!
q:

Can I make slippers that look like sneakers myself?

a:

Yes, you can! Two items on our list are handmade, and we are sure that if you know how to crochet or sew, you can easily make yourself a pair too. If you don't know how to do that, there are plenty of guides and patterns online, and they can help you move one step closer towards your brand new handmade pair!