Best Hoof Boots Reviewed For Your Horse's Comfort
In a Hurry? Editors choice: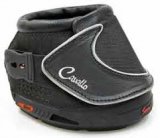 Test Winner: Cavallo Sport Slim Boot

If you're in the market for a pair of hoof coverings, it makes sense for you to want to know just exactly what it is you'll be buying when you purchase them. You don't want to go around and search constantly for a pair of hoof boots only to find that the pair of boots you purchase isn't exactly what you need (or up to par). For this reason, this hoof boot guide has been created. We want to make sure you have the easiest time gaining access to the best hoof boots available. These boots have been weighed against strict rating guidelines; understanding this helps you to see the level of quality you'll encounter as you read through the guide itself.
Standout Picks
Criteria Used for Evaluation
Ease of Use
No one wants a temporary hoof boot that's a pain to either take off or put on. It was for this reason that we wanted to pay attention to the way that the hoof coverings that we sifted through were designed.
We looked at several aspects, which include closure systems, as well as the number of features. While you may want the best of the best for your horse, a temporary hoof covering that takes hours to figure out, install and remove is simply no good. Instead, we tried to go with simpler versions that still did not skip on protection, but were not too elaborate for a hoof boot either.
One of the best types of closure systems you can go with is definitely Velcro. Not only is it easy to put on and off, but it's also time-saving, and fully adjustable so that you can get a perfect fit that won't impact performance.
In addition to velcro, some manufacturers will go with more sturdy closures on hoof boots, which are intended to be left on for longer periods. One such boot is the EasyCare Original boot that utilizes a cable and buckle system that's supposed to ensure a better fit for all hoof shapes. If the product of your choice has any metal parts, take special care of those to prevent rust. Your best bet would be to choose rust-proof products, but, unfortunately, these are not always available.
Size
While you want a pair of hoof boots or protectors that will secure the foot, you also want something that won't make your horse feel like an equine equivalent of a clown. We wanted to make sure that the shoes we suggested to you were designed in a way that allowed them to adequately provide you with what you needed in terms of security and protection. With that being said, we also wanted to make sure that the entire foot (or hoof) of the horse was covered rather than it having scarce coverage in various parts of the hoof.
Most hoof boots on this list come in different sizes, ranging from small to extra large. If you're familiar with your horse, you'll know which to pic, as the manufacturers have provided plenty of information on how each size variation will fit. Do note, however, that due to this type of hoof boot being rather expensive, it is best to carefully measure before purchasing, and in case you have any doubts, you can contact the manufacturer who'll give you the right information. Furthermore, you can also read the reviews for your favorite products, where users have left notes in regards to how the covering fits, as well as installation tips.
Note that all horses will have differently shaped hoofs, and this will not only mean variations in width but also in shape as well as gait type. Leading manufacturers will usually indicate the type of hooves a product will fit, and paying close attention to this should lead to a problem-free purchase.
Another thing to consider, that will include the fit, are the materials used. While some manufacturers will choose to go with rubber or synthetic materials in their hoof boots, others will pay more attention to the horse's comfort and will include softer materials such as leather, including even padding and cushioning. Leather is an excellent choice, seeing that it's both durable and protective, yet it's still soft enough to provide a fit that won't restrict movement, leading to a happier wearing experience.
Effectiveness
A complain that many riders have when they purchase a pair of hoof boots is that, with all of the rough riding, it can be rather difficult to find shoes that can hold up long enough for anyone to gain their money's worth from them. With that being said, there are only a few things which affect a horses shoe's ability to provide a durable and protective fit that won't deteriorate too quickly.
The thickness of tread: The tread featured on the bottom of a hoof boot is the main feature that touches a trail or surface when being used. It's for this reason that one would likely want to make sure they have a hoof boot with either a thick cut of the material or, higher quality materials being used. If the material is thicker than normal, it's likely that it will take a long time for it to be worn through.
Quality of material: Quality sometimes bests quantity, when quantity isn't good enough. The quality of the material in the upper and sole unit of the hoof boot plays a major part in its ability to aid the shoe in lasting for a relatively long period.
Features
Comfort: For horses with sensitive skin, the Easyboot has a low profile that hugs the wall of the hoof and won't touch the skin or hair on the leg. A soft strap secures against the horse's pastern for a strong but comfortable fit.
For long rides, you want to pay attention to interior cushioning. This is when you need to find hoof boots with a foam insert made to cushion the bottom of the boot. Like insoles for humans, this helps to minimize the hard impact with the ground
Fastening system: Just like your shoes, you don't want your horse's hooves to be slipping around inside their boots. They should be snug, so any well-fitting hoof boot will be challenging to slip on. Once on, fastening systems differ from boot to boot. The main fastening systems are either Velcro or with an adjustable clamp. Before purchasing a pair, you should think about your style and what is easiest for you to fasten.
Materials: The uppers are usually made of leather or a synthetic material. Leather gives a classic look while being more durable and easier to maintain. Synthetic materials like high denier nylon are durable but also lightweight and easy to clean.
Sole: The soles of hoof boots vary greatly depending on your need. For flat and smooth trails, you may not need a deep treaded boot. For long rides, you will probably want a lightweight sole to help keep your horse from becoming overly tired. You'll also want to look into your horse's specific hoof, gait, and needs. A certain type of boot might be more comfortable for your horse to walk in.
Durability
A good, durable hoof boot is very important. They will be running and jumping in them. It is important that what is selected will not fall apart. Similar to humans, we need footwear that is dependable and will get the job done. The idea of purchasing a pair for your horse is to protect their feet.
Durability can mean many things, such as how long can they be used before another pair of hoof boots needs to be purchased. A good quality pair should last you at least two years. They should be able to withstand day to day use and not crumble. Daily use is also something that is subjected to the lifestyle of the horse. Daily use can be something as simple as a walk to the park, or around the city. It could also mean hiking, swimming, and other activities each day. Depending on how you use them, they will either last a little longer or have a slightly shorter lifespan. Regardless of how you use them, it is important to choose a quality pair as this is something the owners rely on to protect their pet.
Another thing that would be considered in the durability factor is how thick the rubber sole is. It's a common assumption that the thicker the sole, the better. It is not. A thin rubber sole may be stronger and more durable than a thick rubber sole. This is because the thin rubber sole will provide the flexibility that a thick rubber one may not. Flexibility is important because the rubber needs to withstand the pressure of their weight and it also needs to be able to bend and adjust to the gait. A thick piece of rubber may be too rigid and unable to adapt to the way hoof boots being used. If the rubber is unable to bend and flex, there is a chance the rubber may crack or come apart where the fabric and rubber meet.
Top 10 Hoof Boots for Your Horse
1

. Cavallo Sport Slim Boot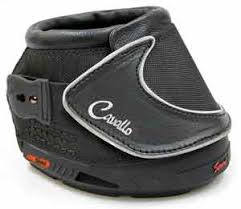 The Cavallo Sport Slim Boot has the name it has for a very specific reason: It is slim. But, that doesn't mean it's not comfortable. When you actually look at the design of these hoof boots, you see they have ample cushioning throughout as well as features which enable them to be easily removable; this is a plus for those who don't want them to remain on their horses for prolonged periods of time.
As mentioned, the name of these hoof boots is Slim; they have this name for a very specific reason. The design of the boots is meant to cover only the hoof, without coming into contact with skin or hair. This is important for horses with sensitive skin or those that are picky about things around their legs or feet.
This was mentioned in a previous model but, the design of these hoof boots is easily removable. This means that purchasers of the boot don't have to worry about taking incredibly long times to remove it from their horse; all they have to do is fold the back of the hoof boot down after removing the velcro strap, and voila, it's done.

2

. Kavallerie Classic Tendon Boots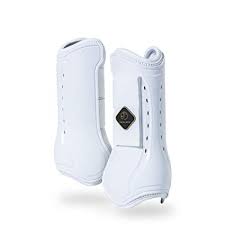 Now, it's time to switch things up a bit and introduce a somewhat "different" type of hoof boot. The Kavallerie Classic Tendon Boots is one that proactively supports and protects its user (the horse). Instead of it being placed on the actual hoof of the horse, it has dual openings on either side. These openings allow the hoof boot to provide a bit more structure during a ride which, in turn, reduces the possibility of strain due to improper placement or misstepping. These hoof boots are featured on this list because of both the Triple-Lock velcro and the shock-absorbing nature.
The Classic Tendon Boots have to provide enough support to be able to prevent a horse from incurring any damage while used; to do this it must be long enough to fully-cover the foot, and it must be stable enough to prevent unwanted movements from happening. This is made possible through the use of the Triple-Lock Velcro strapping found in the design of this hoof boot. The Triple-Lock feature allows the boot to easily secure the horse's hoof while also be adjustable enough to fit a wide range of hoof sizes.
Another big player in this boot's ability to provide a comfortable and secure feel to the hoof of your horse is its shock-absorbent nature. This hoof boot and technologies possess such as it's Duro-Armour technology allow it to adequately provide the horse with what they need in terms of comfort and protection. This technology is comprised of both a strike pad in the forefront of the leg which allows for free and easy ranges of motion without opening the shoe up to any level of compromise during use.

3

. Cavallo Trek Slim Sole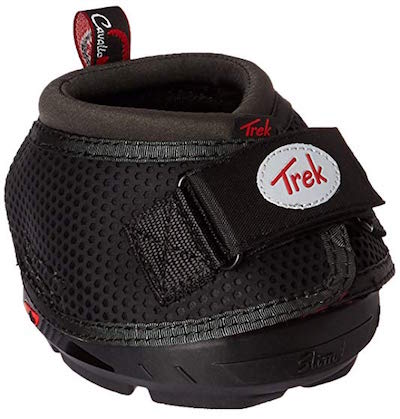 Cavallo, the maker of several of the greatest hoof boot designs, has designed another model which provides a great level of functionality and coverage. The Cavallo Trek Slim has a design which makes full use of slim styling which makes it relatively simple to use and install. The reason this hoof boot was placed on this list is because of the use of TPU material in the upper portion as well as the Velcro Closure system.
The Cavallo Trek Slim has a design which is supposed to fully secure the horse's hoof as well as be relatively straightforward when it comes to removal and installation. The use of velcro strapping is what makes this possible. If you hadn't considered the functionality that the use of velcro in the design of a hoof boot added, we want you to make a note of the fact that it allows the hoof boot to easily be unstrapped and placed on the hoof; owners don't have to worry about constantly unstrapping various straps with this boot.
The use of TPU in the design of this hoof boot does work wonders to give the boot the longevity it would need to last for a long period. This material doesn't rip or tear anywhere near as easily as various other materials and thus increases the longevity of the hoof boot overall. The TPU included in its design also improves the comfort provided to the horse itself.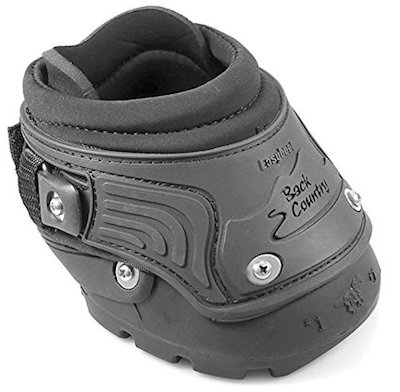 Your horse is much like you in the way that you both want to have protection for your feet that matches the terrain your walking on. The EasyCare Backcountry Hoof Boot is just the protection your horse would need when running or walking on a more "strenuous" surface. These hoof boots stray to the more durable side of the hoof boot market; their thick rubber make allows them to be more durable than the average model. The reason these boots were mentioned on this guide is because of their ease of implementation and the length at which they can be used.
The various steps that go into removing a horse' shoe can make it a pain and result in several hours wasted that could've been spent doing other, more enjoyable things such as riding. With that being said, the velcro and strapping enclosure featured on these hoof boots allow them to give wearers that quick and easy removal/replacement they need for their boot's to be completely usable.
Many boots don't have the padding necessary for them to be worn for long periods. In some cases, even if they don't have the padding they just don't provide a level of comfort to the hoof of the horse whatsoever. For this reason, it was imperative to make a note of the comforting features this particular hoof boot has. The outer edges of the boot have ample padding which reduces the possibility of irritation during use. In addition to this, the design of these boots has a thick layer of rubber which acts as a sort of impact resistant feature of its design.

5

. EasyCare Easyboot Glove Boot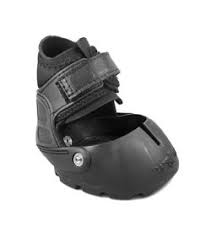 The EasyCare Easyboot Glove Boot is a hoof boot designed for use on one specific element: Trails. These hoof boots have the hardened design which allows them to be worn on various different surfaces and ensures that horses have both the grip and protection they need in order to comfortably and safely navigate said terrain. These hoof boots had to be mentioned on this list because of both their use of shielding in the front of the boot as well as the polyurethane sole unit featured in its design.
To make sure the hoof boot can function adequately on various types of surfaces, EasyCare fit it with a thick rubber solution called Polyurethane. This material is great at both gripping various surface types as well as providing one with what they need in terms of longevity. The sheer ability it has to stick to surfaces is enough to justify the use of this material in the sole unit of a trail boot.
The main reason why hoof boots are used on horses in the first place is so they can provide their users with protection and security of the hoof. With that being said, EasyCare decided to go a step further with the design of this boot and gave it a shield in the toe area. This keeps the hoof from experiencing the trauma that's typically associated with trail surfaces. Another great thing about the implementation of a shield in the front of this hoof boot is it also aids in preventing the overall boot from accumulating dust or dirt.

6

. Veredus Carbon Gel Vento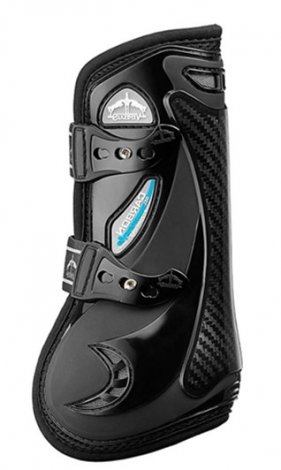 Sometimes one of the struggle with some models of hoof boot is simply getting them on! This hoof boot from Veredus has an open front, with easy hook closure to make them a cinch to use. They bring sturdy protection with a carbon fiber frame, and are completely vegan friendly as well. This hoof boot will help leave your prized possession feeling supported and protected from harm while riding. Packed with loads of technology, this is one option in a hoof boot that will be worth every penny.
This hoof boot has an anatomically designed shell made from semi rigid-PU, letting your horse run with full movement while providing protection and stability. And, when in close quarters, the carbon fiber shell helps protect them in the most vulnerable area of the leg's strike zones. Perfect for riding hard knowing that your horse is fully protected for the ride!
This dual closure hoof boot has a quick release that makes using them easy and stress free. 3D Ducted Mesh helps to keep your horse cool by dissipating heat generated when running, while a vented neoprene lining adds to breathability. Nitrex gel is a shock absorbing technology which can help your horse go faster for longer, helping to reduce shock transmission significantly. All and all, this hoof boot is a solid option for those looking to protect their riding partner during outdoor adventures!

7

. Tough 1 Hoof Saver Boot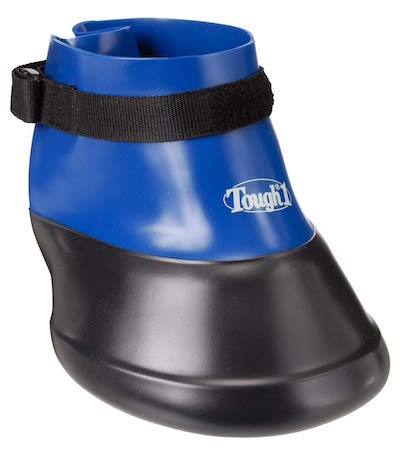 Listed below is a hoof boot that makes for a very pleasant surprise. The brand, Tough 1 came out with a relatively secure and comfortable boot titled the Hoof Saver. The Hoof Saver has all of the features one would need to effectively make use of the boot. The cool (and most effective) features of this hoof boot are both the fact that it holds medication and triple-layering.
Although the name of the actual company is Tough 1, they have their eyes out for all the needs a horse may have. The therapeutic qualities of this hoof boot allow it to make the job of the owner (as a caregiver) simpler. This hoof boot and its ability to hold the various hoof medication the horse may have eliminates the need for "taking the horse off of its feet" so to speak. The horse will still be able to enjoy the comfort of walking even while their hooves are heeling; this is a definite plus.
The design of this hoof boot is one that makes great use of triple layering; this means the boot is a bit thicker and tougher than the traditional product of this type. Considering the ease with which many horses typically incur damage in their hoof (usually in the sole or the frog), it makes complete sense for the Hoof Saver to be designed with an added level of layering; it keeps the hoof from personally encountering any surfaces which may damage or irritate it.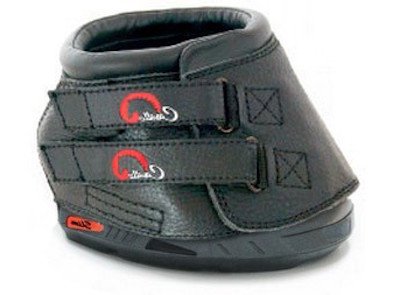 As you start to look at brands such as Cavallo, you know that you're about to go into the higher range of quality. The Cavallo Simple is just that, simple. This hoof boot has an elegant design made of a thick leather material and equipped with various straps which work to keep the horse's foot locked in place. The reason why this durable horse boot is included on this list is that of its all-terrain usage capabilities as well as it's quality make.
You know you've picked up a quality piece of equipment when it's made of a genuine leather. The design of these hoof boots allows them to be used for a relatively long period simply because of the use of various sturdy materials. Along the entrance of these boots, there is ample cushioning that's encapsulated by another thick layer of leather; this boot is built to last.
The Simple by Cavallo is an All-Terrain usage hoof boot; this means it will be able to be worn on various types of surfaces with relative ease. This also means the boot doesn't have any specialized design features; it's just built so it will be able to weather any type of terrain it's used on. One of the determining factors of the boot's ability to handle various types of terrains is the layer of rubber in the outsole; the outsole of this particular boot though is very thick and shouldn't give one any worry whatsoever.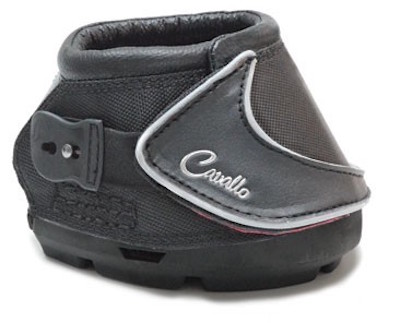 Lightweight and cushioning, the Sport hoof protectors by Cavallo are ideal for lighter riding, as well as for trailering and breeding. This protector can even be used as a spare for lost shoes on the trail and is made of high-quality materials that have been chosen not just for their protective features, but even more, for the level of comfort, they will provide for your horse.
Made with leather both in the upper as well as in the lining, the Cavallo Sport will perfectly fit your horse, preventing any pressure points that would cause problems. Furthermore, the velcro which is the closure system on this hoof boot is industrial grade, so you won't have to worry about it giving in to the demands of training.
Made to last, the Cavallo Sport has many features that were made with nothing but quality in mind. From the waterproof tread, rustproof buckles, TPU outsole, built in drainage and even the padding on the inside of the hoof boot, this is a model that you'll happily be using for some years.

10

. EasyCare Easyboot Rx Therapy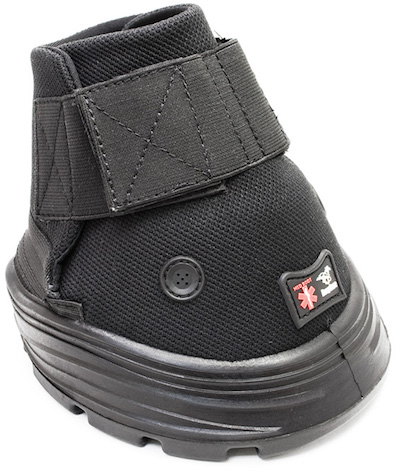 Yet another fantastically designed boot by the hoof boot makers EasyCare. The Easyboot Rx Therapy is a boot designed to holistically take care of the hoof of a horse. This care is provided through the use of minimal design in the hoof boot. The features that qualify this boot for this top 10 list is the after-surgery wear capabilities as well as the fact that it provides support for the various sections of your horse's hoofs.
A cool, if not important feature of this particular hoof boot is the fact that the entrance into the actual boot is somewhat extended. The elongated design the boot has enabled it to give horses that support they need for the pastern portion of their leg; this works wonders for horses who have issues with lameness simply because of the structure it provides.
Since this is a therapeutically designed hoof boot, it makes sense for it to be able to be worn by those horses who have just gone through a period of surgery. The design of these boots enables them to be comfortable and plush enough not to irritate the foot of the horse they're being worn on. After surgery, it's important for the horse to not damage their feet by simply walking as well; this hoof boot helps with it being able to do just that.

Subscribe to our Newsletter