Best Walking Boots – 2022 Buying Guide
In a Hurry? Editors choice: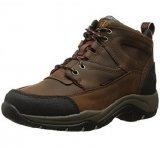 Test Winner: Ariat Terrain H2O

Good walking shoes
or boots can make or break your adventure. Depending on where you are going, and under what conditions, there are a variety of choices out there and there has to be one just right for what you need. Remember that leather footwear is typically waterproof and durable but typically a little heavier than textiles. Textile boots are very breathable but have limited waterproofing capabilities without reinforcement.
Standout Picks
Criteria Used for Evaluation
Breathability
Sometimes you need a waterproof boot and sometimes you don't. If you are out in the morning walking through dewy grasses and fields, you want some protection to keep your feet dry. And if you know you will be getting wet conditions, a waterproof boot is key to your comfort. From the well-known, trusted Gore-Tex product to a variety of proprietary waterproofing technologies, most hiking footwear has waterproof protection. If they don't, they probably offer the option of the same boot in a waterproof variation.
It is also important that your boots have some ventilation so your feet can breathe. Your feet sweat. Everyone's feet sweat. So to keep your feet comfortable and dry, your boots need to allow for some airflow in and out of the boot. Look for boots that have a breathable membrane or bootie. Mesh panels also help to let moisture escape from your boots. Breathability will also help prevent painful blisters from forming, and mitigate odor on longer walks.
Comfort
Having a good, shock-absorbing midsole and insole make the difference between an OK day and a great day. The most comfortable boots have a cushioning insole and midsole. Different brands have different types of cushioning, such as EVA, PU, get, or an in-house proprietary material. Plus, some boots have removable insoles that let you choose something more suited to your foot. Other comfort features keep you stable. A cushioned tongue and a padded collar around the ankle keep your boots secure. And a good lacing system will keep your feet snug and comfortable.
Durability
As with any outdoor shoe, walking boots need to be able to take a beating. They will see use and abuse regularly and need to stand up To that sort of wear and tear. I will concede that nothing is impervious and shoes will need to eventually be replaced, but strong durability means that the need for a replacement will happen later, rather than sooner. Durability also ties into the value of a shoe; an expensive shoe with limited durability is going to have far less value than a cheaper shoe that lasts years.
One of the biggest things you need to look at in terms of durability is the outsole. This is the part of the shoemaking constant direct contact with the ground, and as such is the first part of the shoe to start showing signs of wear. While wear and tear after a long time are normal, significant issues after a short period are not.
Overall Fit
Part of finding a comfortable boot is making sure your boots fit correctly. If your boots don't fit correctly, you will be uncomfortable for your whole walk or hike. Plus, you may end up with hot spots, blisters or other foot-related injuries like plantar fasciitis.
Everyone's feet are different. No one likes a tight toe box or heels that slip too much, especially in the middle of a hike. When you try on boots, make sure they are the right fit for your feet. You should have enough space for your toes to move around and be comfortable when you walk. And pay attention to the length. Your heel shouldn't slip much when you walk. If they do, try another size or brand.
Be sure to have a snug fit on the sides of the boot too. If your boots are too narrow, you will feel pinching and will likely get blisters. If they are too wide, you may lose the stability that you need when going up and down inclines or over rough terrain.
Versatility
From high-cut boots built like tanks for your feet to low-cut designs that are similar to hiking shoes, there's a pair of walking boots for every need. Most walking boots have a few qualities in common; things like durability and traction come to mind.
So what does versatility mean in the context of walking boots? Versatility is how well the boots can accommodate changes in climate or situation. A water-resistant boot Is a good choice if you will be near water, or in a locale that is known for lots of precipitation. Extra traction is great for more technical trails or slippery conditions as a result of rain or snow. Durability should be a given when it comes to any outdoor shoe. Most importantly, a good walking boot will be comfortable and fit well.
The best way to determine the versatility of a shoe before purchasing them is by looking at product specs and reviews. The product specs will give you the hard info; what sort of materials and technologies are present in the shoe. Reviews will give you an idea of how these specs stand up to varying real-world situations.
10 Best Walking Boots Reviews in 2020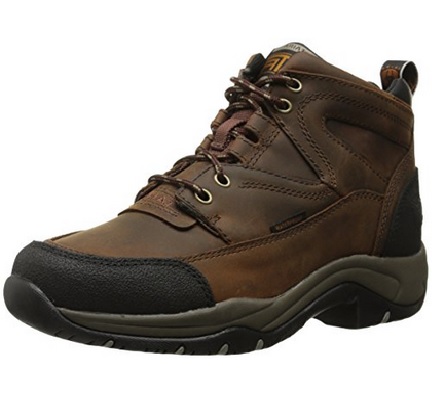 These quality-made leather boots have the comfort features you look for in footwear. The footbed has many details built to keep your feet comfortable, such as the gel-cushioning to absorb shock and reduce impact. The cupped feature provides a great fit and overall stability, and a moisture-wicking lining keeps your feet cool and dry.
To carry on with the comfort features, a moisture-wicking lining adds to the features that keep your feet dry, and a cushioned collar keeps your ankles from feeling too much friction. Ideal for tackling the next few miles to the campsite without leaving your feet sore for the following morning's efforts.
The Terrain's well-constructed leather upper and Duratread outsole keep these good walking boots going so you can keep going too. It's tough against the elements as well, with its waterproof technology to help keep your feet dry in wet conditions, or the occasional stream crossing. The Ariat Terrain H2O is on the lower end of the price range for this list. This boot is a good value for the price, especially with its waterproof design and functional comfort technology. Perfect for those looking to hit longer days on the trail in comfort.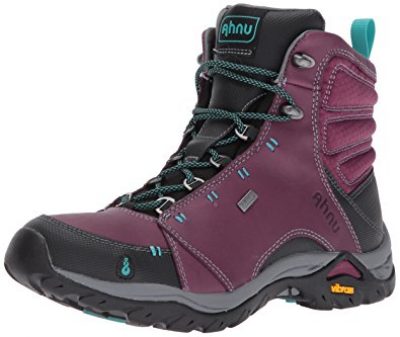 Ahnu does it again with their Montara Boot, making our top ten list twice. This funky little boot comes in various hues to keep your style quirky and unique but doesn't skimp on the comfort and ruggedness you'd expect from a boot. Comfortable uppers come padded for comfort, and breathability can be found in the tongue of the shoe. Great for hikers or casual strolls alike!
Any avid hiker will tell you that going over 10 miles in boots that aren't padded with some sort of cushion is going to result in blisters, sore feet, and a poor experience. The Ahnu Montara comes with padded tongue and collar to help cushion your ankle and exposed areas of skin. It also features Ahnu Numentu HIKE technology, which helps align the foot to the center, helping promote proper gait and balance.
The Montara was made for a city street to hiking trails with a waterproof design, nylon mesh quarters for ventilation, and a lace and hook closure, but also comes in a variety of funky colors to add style to technology. Vibram soles are well known for their sticky traction and durability on uneven terrain, and the Montara sports this proudly in the outsole, and a rubber toe and heel for added protection.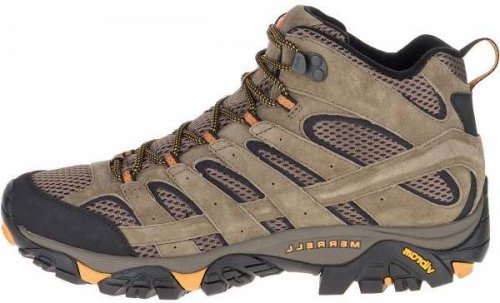 This hiking shoe is perfect for summer hiking. With a breathable mesh lining and a foam tongue to keep out dirt and debris, these are top of the line for comfort and function. A cushioned heel absorbs shock as you walk, and the midsole adds to your comfort. Plus being able to wear these shoes out of the box with little to no break-in period means you can start your adventure right away.
The Moab Ventilator 2 has excellent cushioning with its EVA footbed, and cushioned midsole padded with air. Firm ankle support can be adjusted based on how tight you choose to lace the boot. The lugs on the sole are carefully placed for maximum flexibility while delivering superior traction. And a rubber toe bumper keeps your toes from those unexpected knocks when hiking.
Anyone who has been hiking for a while knows that damp boots end of the day can mean the rest of your journey could be uncomfortable. The Moab Ventilator 2 has the M Select Fresh feature that keeps your shoes smelling better, but also helps dry out your good walking boots. Rest assured blistering will be kept at a minimum throughout their wear. This shoe is in the middle of the pack for the price point but tops our list with its brand name reputation, solid construction, ventilation, and durability. These walking boots are a great deal given the moderate price, comfort, and support that they provide. For those looking to start their outdoor adventuring, or for veterans alike, it's a solid investment.

4

. Vasque Juxt Multi-Sport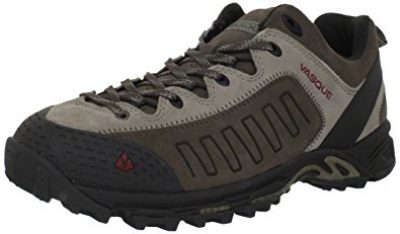 Last on our list is the Vasque Juxt Multi-Sport. If you're not familiar with the brand, it's one of those you'll soon know as they've been trekking the outdoors since 1964. They've gained in popularity base on its versatility, style, and technical composure. This shoe was made for those who 'do-anything', 'go-anywhere', and it's easy to see why. This boot was made for hitting the treks with technical or agility required sections with its athletic fit, but also to stand the test of time off the trail and on the road.
Designed with the athlete and outdoor lover in mind, this boot was made to support and be flexible for a custom fit. The TPU plate found in the midsole helps support your foot and is perfect for those with high arches. EVA molded footbed helps cushion you for long-lasting wear. And, if you're worried about fit, fret no more; the lacing system on these comfortable walking boots makes it exceptionally adjustable to your unique preference.
Vasque's patented Off The Grid sole lives up to its name, with rugged lug design to give traction on all sorts of terrain. A rubber toe cap helps protect you against stubbing, and the approach-like overall design of the shoe allows agility when you need to rock hop across boulder fields. Lighter weight than many hiking boots, this one is perfect for day hikes or strolls where you hop off the trail and straight to happy hour.

5

. Ahnu Sugarpine Waterproof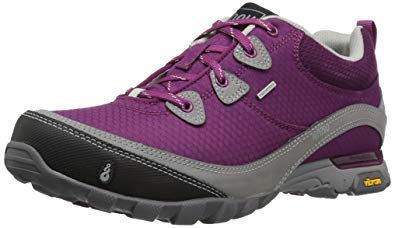 The first thing you notice about these boots are the many colors available. That aside, Ahnu Sugarpine Waterproof has all of the features that you look for in a good boot. Waterproof features with a snug fit to keep you stable on the trails. A rubber sole with padded collar and plush, gusseted tongue to keep your feet comfy.
The Vibram outsole and sturdy lugs to keep you balanced on the trail. The heel clip and rubber toe protector add to this stability and durability, protecting your steps along the way. The little to no break-in time speaks to the comfort of these boots. The Sugarpine also as has a waterproof breathable membrane and moisture-wicking lining to keep your feet dry. An EVA midsole and removable insole give you cushy comfort and the option for custom orthotics.
The Sugarpine Waterproof is in the medium-priced range for this list. These good walking boots are a good value for the price, especially considering the room for custom orthotics, support, stability, and technical aspects. With the bright color options available, you're able to take your unique style on the trail with you!

6

. Columbia Newton Ridge Plus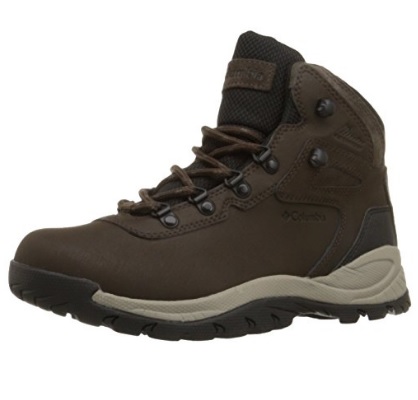 Be confident in your next adventure with the Newton Ridge Plus. A waterproof membrane keeps your feet dry from those damp trails. The suede and leather upper stands up against rough abrasions while the mesh tongue gives you the airflow you need on the trail. Enjoy a snug fit with Columbia's proprietary Techlight mesh tongue and D-ring/speed lace hook lacing system.
Stay firm on the trail with this boot's omnidirectional gripping lugs. Great for most terrains, these boots take you on dirt, rock, and mud, without fear of slipping or injury. You'll appreciate the extra traction when you need it most during damp trail conditions or scrambles.
The Newton Ridge Plus has Columbia's Techlite technology to give you a comfy ride. The lightweight midsole cushions your stride against impact. Plus, it has a high energy return to keep you going. On the lower end of the price scale for this top-ten list, these boots are good value for your money. With waterproof features and long-lasting durability, these boots keep you going on the trail, and ready to tackle the next off-road challenge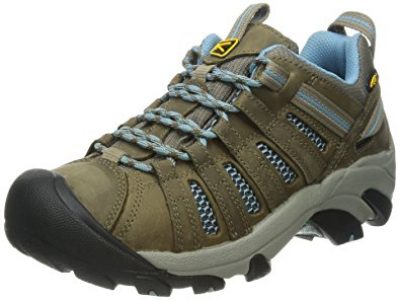 Keen is one of the top performers when it comes to a quality hiking boot, whether the wearer intends to go 20 miles or down the street for errands. The Keen Voyageur is an exposed ankle boot for those who prefer more freedom of movement but still keeps the quality Keen is known for intact. A rugged sole with multidirectional lugs will keep traction maximized in any kind of weather.
The Voyageur is designed with an exposed ankle, mid-height quality, but doesn't lack the support needed for traversing over rugged terrain. The waterproof leather and mesh uppers allow a breathable, comfortable journey, ready for the occasional stream crossing or rock hopping. EVA molded foam footbed will keep you cushioned and supported during your trek, and ready for the next mile.
Keen's rugged sole on the Voyageur is created with multidirectional lugs to provide the ultimate in traction for when you encounter scrambles and a patented toe cap for protection against the occasional trip. And to keep you firmly in the boot, the lace-up is designed to maximize your comfort and keep you secure, and with an easy pull-on loop found on the heel and tongue, you won't have to struggle to pull off the boot after a long hike. Similar to other best walking boots found here, it's comparable in price to many top-notch brands and styles. If you're looking for something with a bit more freedom around the ankle, a mid-height boot may be the way to go, and Keen's Voyageur has you covered. Made to outlast the terrain, and get you to the next mile marker, the Voyageur is a great option to consider.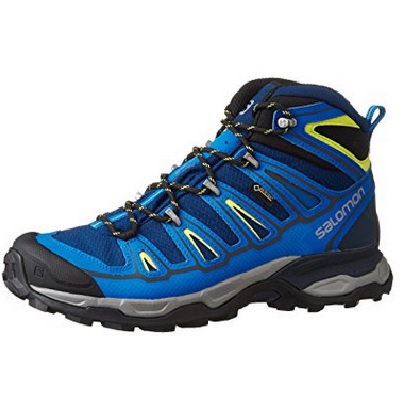 This boot is built with running shoe technology, so you get a great fit when hiking those trails. Salomon put a lot of thought into creating a waterproof boot to keep your feet dry. Gore-Tex material protects your feet from water and mud. And many gripping lugs keep you stable on the rough terrain.
With a snug fit and sturdy construction, these boots maintain control when you need it most. The mid-height upper gives you great ankle support, without feeling overwhelming. The advanced chassis on the X Ultra provides even more stability, and Contagrip traction helps you keep your footing.
Gore-Tex provides reliable waterproofing for Ultra X. The improved construction provides flexibility for your trek. Lightweight materials keep you going all day, and long into the night if needed. No more fretting over damp boots for the next morning's mileage! As one of the higher-priced boots on this list, you get a fantastic pair of boots that keep your feet from feeling damp or sore. Salomon is known for their quality and durability, and you can bet this investment will last you a lifetime. Those looking for waterproof, abrasion-proof, and lightweight boots can't lose with this purchase, especially if you catch them on sale!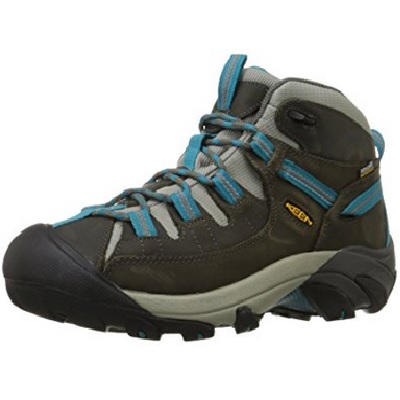 This boot has the signature wide toe that Keen is known for so your toes are comfortable during your hike. The Keen Dry technology brings you a breathable membrane to keep your feet cool. Plus the Targhee II has a special footbed design and first-rate arch support for all-day comfort. And the rubber outsole has ground-gripping lugs to keep you stable on the rougher ground.
Sometimes with comfort features in boots, it may take a bit of break-in to mold the boot to your foot, but with the Targhee, comfort includes little to no break-in period. The ability to wear and hike in the Targhee II is a big plus for these boots. The internal footbed is designed to work with the natural contours of your foot, so you can be sure of a comfortable ride. When you are looking for a quality boot that keeps your feet dry, you will want to try the Targhee II. The upper is waterproof to keep out the moisture, while the Keen Dry membrane vents the moisture inside your boot, preventing damp boots that could potentially promote bacterial growth.
The Targhee II is averagely priced to many on our list here. It's exceptional features like waterproofing, stability, durability, and comfort make it a good value for the investment. So if those features top your list, and you're looking for a solid boot without hurting your wallet, this is the boot for you.

10

. Timberland White Ledge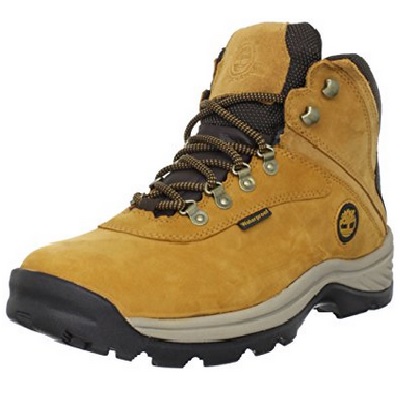 This rugged hiking boot looks great with full-grain, waterproof leather. The Timberland White Ledge keeps your feet dry even when it's wet and muddy with its seam-sealed upper. And the excellent traction provided by Timberland's Brake, Support, Flex, and Propel (B.S.F.P) system and multi-directional lugs give you stable footing on those trails.
The waterproof leather and sealed seams on the White Ledge keep your feet dry from outside moisture. And the perforated EVA footbed wicks away moisture on the inside and allows air to circulate. The padded tongue and collar on this boot protect your ankles while giving you the support you need. An EVA footbed and midsole provide cushioning and comfort on your hiking journey. And specially placed flex grooves work with your natural stepping motion.
In the medium range for this top 10 list, the White Ledge is a good value for comfortable waterproof boots. Different colors and sizes cost more, so decide what you want and what fits your budget if this is the boot for you.

Subscribe to our Newsletter