How to Clean Shoes: The Complete Guide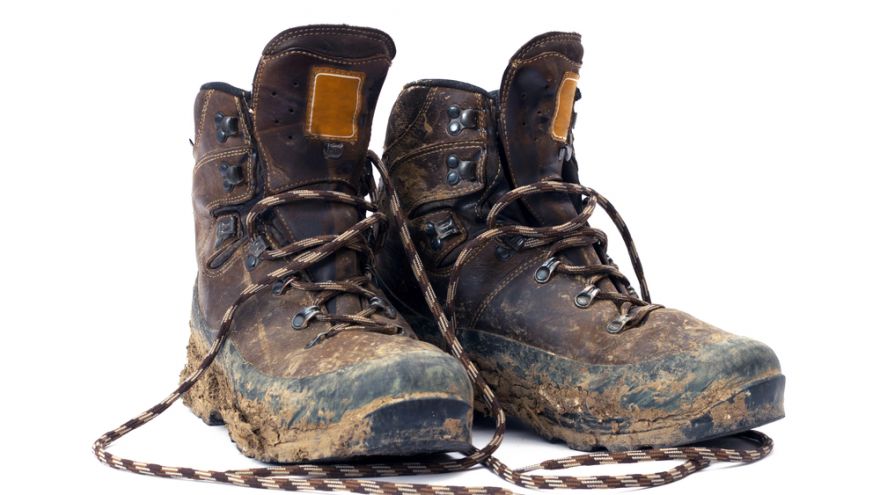 How to Clean Shoes: The Complete Guide
www.walkjogrun.net
You're here. So, you must need to clean your shoes!
Cleaning shoes often takes much more effort than one would think. Though, it all ultimately depends on how clean you want your shoe to be. Normally, you would think that cleaning the upper of your shoes is enough to remove dirt. However, it's not. While it might seem like the shoe is clean, it actually isn't. There's much more to it than that, and it gets more deeper when considering cleaning different types of material such as leather or synthetic.
This guide targets each element of the shoe for a complete cleaning. This is not the average "throw them in the washer" solution; as you might know, this doesn't apply to all shoes. Every shoe material is different and thus should be cleaned accordingly. Additionally, each part of the shoe must be taken care of in a different way.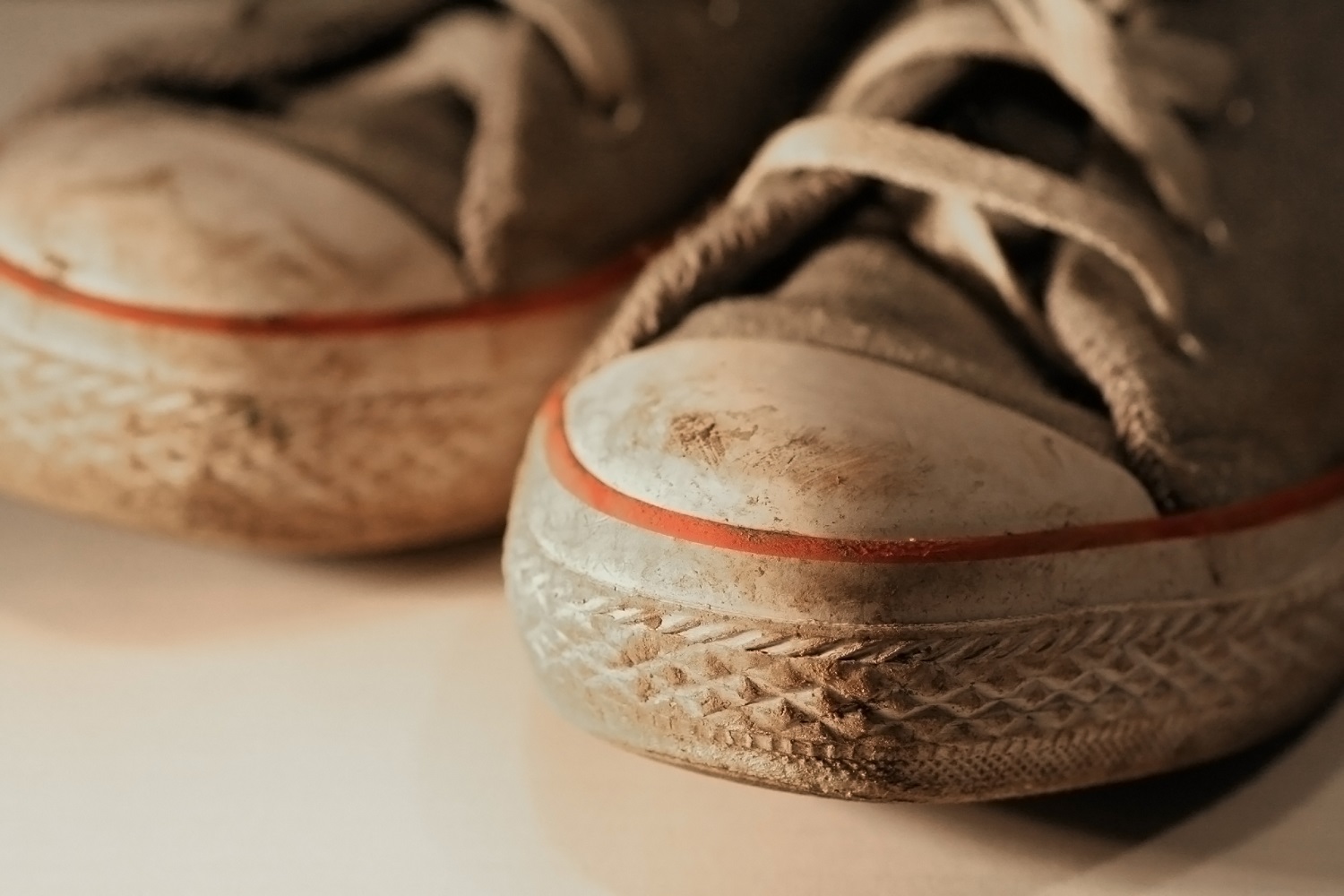 The cleaning intensity and frequency also depends on the specialty and use of the shoe. For instance, cleaning a trail running shoe normally is a whole different thing due to mud, dust, and other things found on trails. These might require more effort to clean in comparison to normal running shoes. Minimalist shoes, on the other hand, have to be cleaned carefully due to the thin, delicate materials that they are composed of. The same goes for leather shoes and shoe cleaners regardless of the type of shoe. All these factors come into play so consider exactly what type of shoe you're cleaning is, and what type of cleaning process you will need for your specific case.
Shoe Materials & Specific Treatment
Full grain leather
Full grain leather is often the preferred material used for a quality formal Oxford. The calfskin is a very good-looking option for these shoes. The cleaner it is, the better it will look. Unlike cheap grain leather oxfords, calf shoes will eventually generate patina. Though, it ultimately depends on the care that the shoe receives. Shoes made from full-grain leather are judged by how "shiny" they are. Below, we'll explain the cleaning process to give your shoes the mirror effect.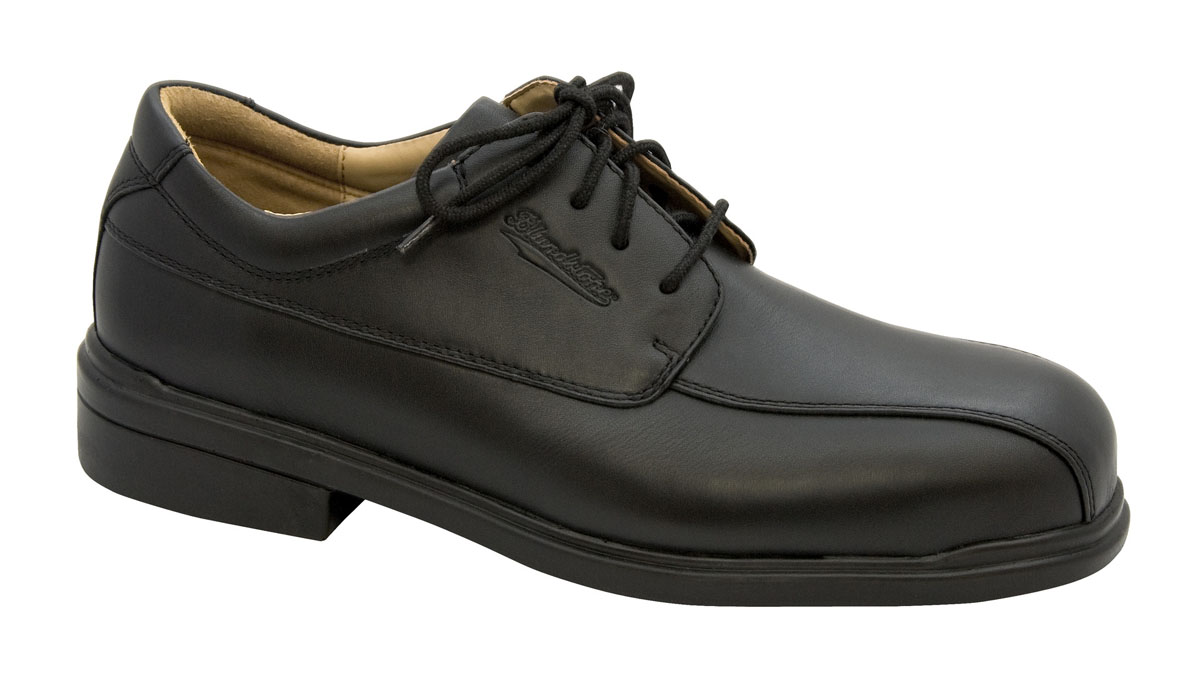 Step 1: Cleaning the Surface
Starting off, we recommend inserting shoe trees to give the shoe a firmer build for a more efficient cleaning. The first step is to remove the shoelaces and softly clean the surface by rubbing the shoes with a thin moisturized cloth. Afterward, let the shoes dry completely. Use a soft brush to gently remove any remaining dust or debris.
*Before moving on, let us warn you about acetone or alcohol-based products. Products such as nail polish remover are used to remove caked surfaces, but they can damage your shoe. Rubbing these products with too much intensity against leathers will discolor your shoes, and they'll be messed up for good. If you're going to clean the surface, use any form of cotton to apply the mentioned products very gently.
Recommended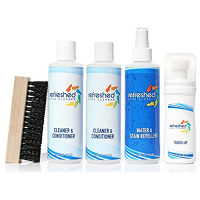 Refreshed Shoe Care Kit

Our rating
Remove Dirt, Grease, Oils
Price:

See Here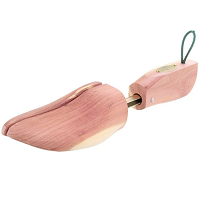 Woodlore Shoe Tree (Cedar)

Our rating
Adjustable
Price:

See Here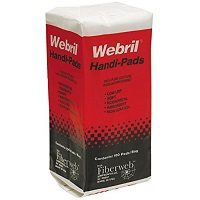 Handi-Pads (Cotton)

Our rating
Naturally Absorbent
Price:

See Here

Step 2: Conditioning
Posteriorly, the shoes need to be conditioned. At the end of the day leather is skin just like ours, thus it needs proper treatment to look good. Conditioners are great products to soften the material and start getting a base for the mirror effect.
Once again, find a soft piece of cloth to apply the product to the shoe–never apply directly on it. These products can be costly if you aim at the top brands, 100ml bottles cost around $30. You don't need to go for the top brand, but don't get the cheapest one either.
After applying the conditioner, the shoe should dry for around 30 minutes. After this, gently strike the surface once again with a soft brush. Make sure each strike is gentle and medium-length; don't brush the same spot quickly.
This process helps the conditioning to be more even and reach every side of the shoe. Old brushes tend to get the job done much better, as they're softer due to the previous usage. This might help you to avoid buying an ultra-soft special shoe brush.
Recommended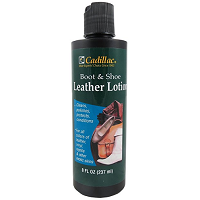 Cadillac Leather Lotion

Our rating
For all Leathers
Price:

See Here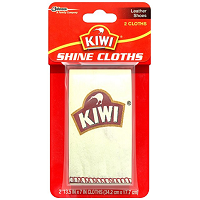 Kiwi Shine Cloths

Our rating
Lint Free
Price:

See Here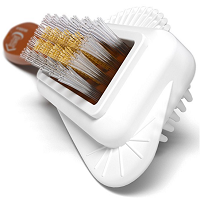 Shacke 4 Way Leather Brush

Our rating
Four Brushes in One
Price:

See Here

Step 3: Adding Color
Before adding color, make sure you spread the conditioner thoroughly and let it rest for another 15 minutes after re-brushing. To add color, we recommend using shoe cream.
Use the dauber to apply the cream around each shoe. A common mistake is using too much cream; you should use no more than the size of a ten-cent US coin.
After applying the cream thoroughly, the shoes need to rest again to absorb the cream. Let them sit around for 30 minutes.
We don't recommend using any form of electric drying by heat induction, use natural ventilation instead. After resting, get back on your soft brush and strike the surface once more.
Once this is done, your shoes are officially polished. If possible, get the cream from the very same store where you got the shoes. Most full-grain leather shoe brands make their own shoe cleaning products that fit their shoes perfectly. If not, don't be afraid to take your shoes (or a picture of them) with you when buying the cream. Stores will give you assistance and guidance on finding a matching cream shade for them.
Recommended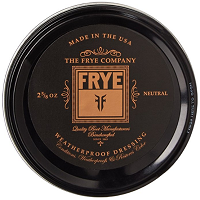 Frye Neutral Cream

Our rating
Suitable for all Colors
Price:

See Here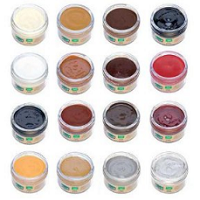 Moneysworth Creams

Our rating
Wide Range of Colors
Price:

See Here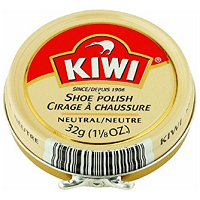 Kiwi Neutral Cream

Our rating
Stain & Scuff Coverage
Price:

See Here

Step 4: Wax polish
You could have stopped at the last step if you wanted to, but don't expect the end result. The mirror effect is something that can't happen without wax polish. To get that glass-looking effect on your shoes, the pores in the leather must be filled. Basically, this makes the surface completely flat, thus enhancing the light reflection. Though it's a slow process, it's absolutely worth it once you get to the end.
For the next step, you'll need wax polish and a soft cloth. Use the same amount of wax polish as you did with shoe cream.
Wrap your two fingers with the soft cloth to apply the wax on the shoe. Apply fairly more pressure; we want that wax to get in those pores correctly. Rub it all over the shoe, making sure you get an even layer of wax.
Once you have thoroughly spread the wax, let it rest for 15 minutes or so. You can also ventilate it manually to make it faster.
When the wax has dried, use the soft brush to go all over your shoes spreading any remaining wax. You'll be adding another layer of wax, only this time you´ll use a tiny bit of water for it.
Wrap your fingers again with the soft cloth and take some wax. Use any other finger to dip it in water and letting a drop or two fall on each shoe. Once the drop of water hits lands on the surface, use the wrapped fingers to work the wax with the drops of water. You want to make this immediately, using gentle and circular strokes.
Don´t use the same amount of product as before all at once. Instead, take tiny bits of it and apply them on different parts of the shoe. It should take you about 10 minutes to go all over the shoe,
Recommended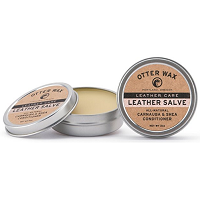 Otter Wax

Our rating
Shines & Waterproofs
Price:

See Here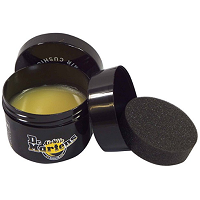 Dr. Martens Wonder Balsam

Our rating
Shines & Protects
Price:

See Here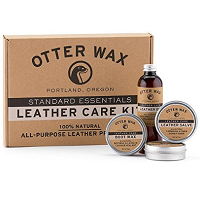 Otter Wax Kit

Our rating
Leather Care Kit
Price:

See Here

Final Step: The Toes
We're now going to focus on the toe area of the shoes. This part is where the clean shine effect lasts longer, as it never bends or flexes when walking.
Wrap your fingers with the soft cloth once again and get tiny amounts of wax polish, using the same moisturizing technique. Use the drop of water and rub quickly around the cap-toes for around 5 minutes.
If you have the opportunity, let the waxed shoes sit overnight for maximum efficiency. This is the last time you'll apply wax, so you want it to have enough drying time.
For the last stage, use a black nylon cloth to rub the shoes instead of the soft brush. The black nylon is used to avoid doing any scratching or degrading of the shine. Your leather should look–and feel–as smooth as glass now.
Though it's a bit hard to explain in writing, practice will make you an expert. Don't get too stressed out about the timing or the amounts of product. You won't affect the process if you accidentally let them dry for 10 more minutes. As long as you spread the wax evenly, everything will be fine. If at any point you use too much wax, simply remove the excess and use it for another stage. In regards to cleaners, we recommend only using the highest uality and best leather cleaners available. Don't skimp if you want quality cleanlieness.
Suede
Suede leather is not as troublesome as full-grain leather. Though, if you have light-colored suede shoes, you know stains are going to happen.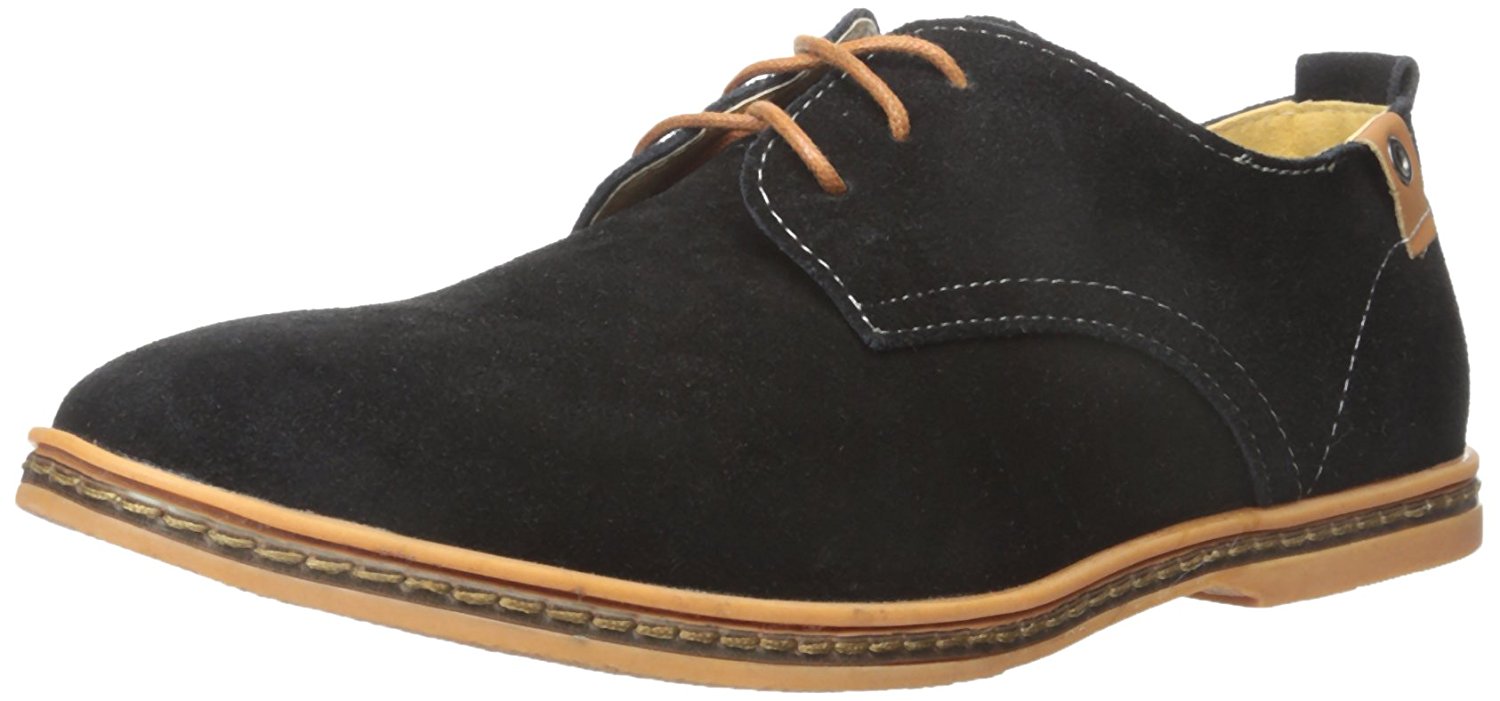 Removing stains
For those spots that go deep in, use a leather stain eraser to soften it. You'll need to rub it firmly and consistently for it to soften (this might not get rid of the stain depending on the severity of it, but it will make the shoe ready for cleaning. You should, however, be able to notice a little fading on the stain).
Wipe off the residual eraser around the stains before applying the suede leather cream. You don't need to use much product, a cap of it does the trick.
Don't apply the product directly; instead, dilute it in three times as much water. For greater efficiency, make the water warm (not hot). Some people replace the suede leather cream with white vinegar for this step. While it might work, we recommend using products with the specific purpose of cleaning suede leather.
Use a soft brush to get the suede leather cream all around the shoe with gentle motions in circles. You'll notice the surface gets a bit bright. Put a bit more effort on the stains that you scrubbed with the eraser with. It's important to perform this step quickly, as we don't want the water to sit on the shoe for too long.
For the next step, rinse the cream. Some people prefer placing the shoes beneath the faucet, but water might get into the shoe when doing this. Instead, we recommend cleaning the soft brush and fill a bowl with warm water. Get the brush wet and gently brush the whole shoe. You should repeat this process until the shine on the surface is gone.
We're almost there. For now, we won't be touching the shoes anymore. Let them sit until they are totally dry, leaving them overnight if possible. We recommend inserting shoe trees to enhance the drying process or stuff the shoe with anything to get the same effect. Shoes might look a bit gloomy after drying, but that's perfectly normal.
The leather might get a bit flat after this process, so you can fuzz it with a hard suede brush. Brush all around it for some minutes; this will return them to the original state. Don't worry if they didn't go flat. If the hard suede brush is not doing the work, try a crepe brush instead.
Recommended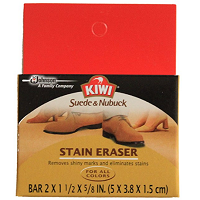 Kiwi Stain Eraser

Our rating
For All Colors
Price:

See Here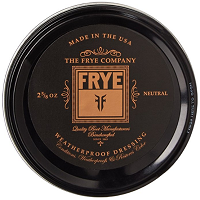 Frye Neutral Cream

Our rating
Suitable for all Colors
Price:

See Here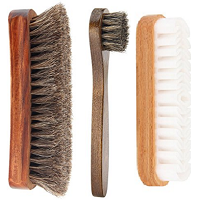 Suede Brush Kit

Our rating
3 Brush Set
Price:

See Here

Re-coloring (Optional)
The cleaning process so far might make the color of the leather fade a little bit. Though it not always happens, you can still perform this step to improve the color. Try to look for a coloring spray made by the same manufacturer of your shoes. This way, you're more likely to get the correct shade of color. If not, take your shoes with you to the shoe product stores to make sure you get the right color. It doesn't have to be a perfect match, as you're not going to paint the shoes. Though, it should be close.
If you didn't manage to find the right coloring spray, or simply don't think it needs it, you can skip that step. Instead, you can steam the shoes lightly to give it a newer aspect. Be careful not to over-saturate the leather. If possible, use a manual steamer and hold it about 20-25cm apart from the shoe. Don't use it too close, or you'll end up getting the shoe wet. The idea is to warm it up a little.
Your suede shoes should now be stain-free and rejuvenated. If you want to go a step further into protecting for shoes, use suede leather spray. This provides protection against water and should make stains much more unlikely. It's not a smart idea to wear suede leather when rainy or wet environments. But, you can rely on the protective spray if you're caught off-guard by the weather. Apply the protector about 20cm away from the shoe in an even layer, and re-apply it monthly if possible.
Recommended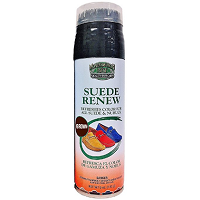 Moneysworth Suede Renew

Our rating
Renews Color
Price:

See Here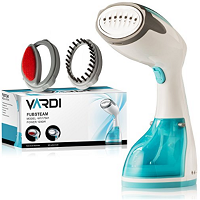 Vardi Fabric Steamer

Our rating
Handheld
Price:

See Here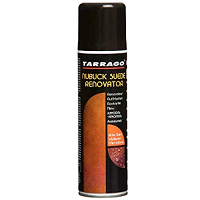 Tarrago Suede Renovator

Our rating
Water Seal + Color
Price:

See Here

Sneakers
Sports shoes are considerably easier to wash than any leather. Yet, this doesn't mean you can just toss them in the washer and forget about the issue. In fact, we highly advise never placing your sneakers in a washing machine or drying machine. If the manufacturer washing label says you can, then go ahead. Though, keep in mind the more minimalist the shoes, the easier they'll get damaged in the machines.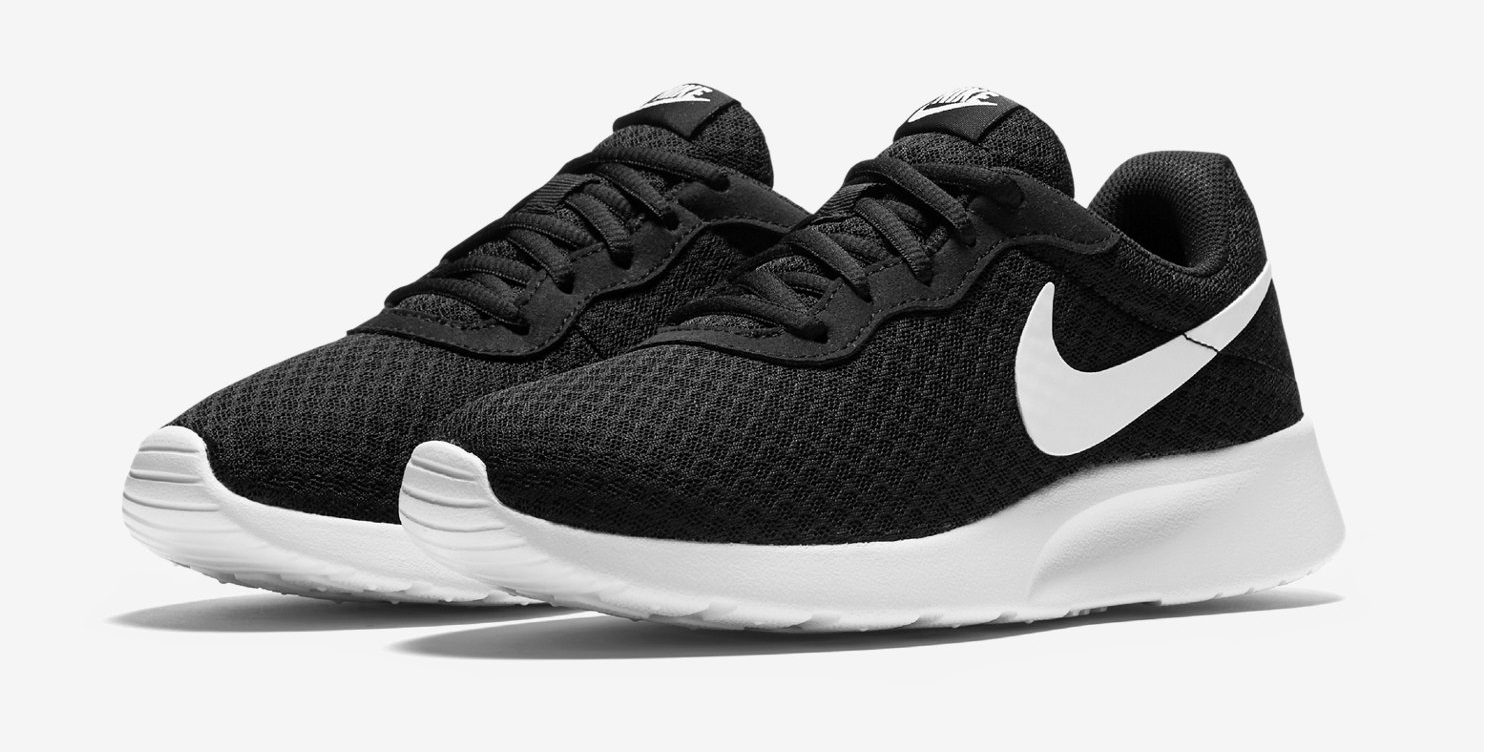 Washing machine
Even if the manufacturer label claims the shoe is machine washable, there are some precautions you should take.
First off, remove the shoelaces and the insole. You can toss them in along the shoes, but make sure to remove them. This is because dirt and debris may accumulate in the eyelet, and laces won't be completely clean if not removed. The same happens with the insole when dirt and dust accumulate under it.
Before introducing your kicks in the washing machine, remove any excess dirt or layers of mud, grass, debris, etc. You can do this by brushing them off with a rag. If possible, apply a generous amount of pre-washing shoe product before letting them in there. This enhances the cleaning process and helps reduce deterioration.
Washing cycles
Be careful when selecting the washing cycles, as they can variate greatly. The main difference between the cycles is the speed, which will determine how much your shoes suffer.
Use a slow cycle, called "gentle wash" on most washing machines. The less speed, the less banging around for the shoes.
If your washing machine has the option to select water temperature, set it to cold.
If you have any old bath towels, pillow cases, mantles, and other soft textiles, toss them in there.
We advise to manually remove as much dirt as manually possible before inserting the shoes into the washing machine
By adding some bulk to the washing machine, you'll reduce the impact on the shoes even more. Keep in mind that you'll be throwing those things along with a pair of dirty shoes. You might not want to throw in brand-new blankets in there. Don't add anything too delicate either; there will still be some shoe banging that could potentially damage soft textiles.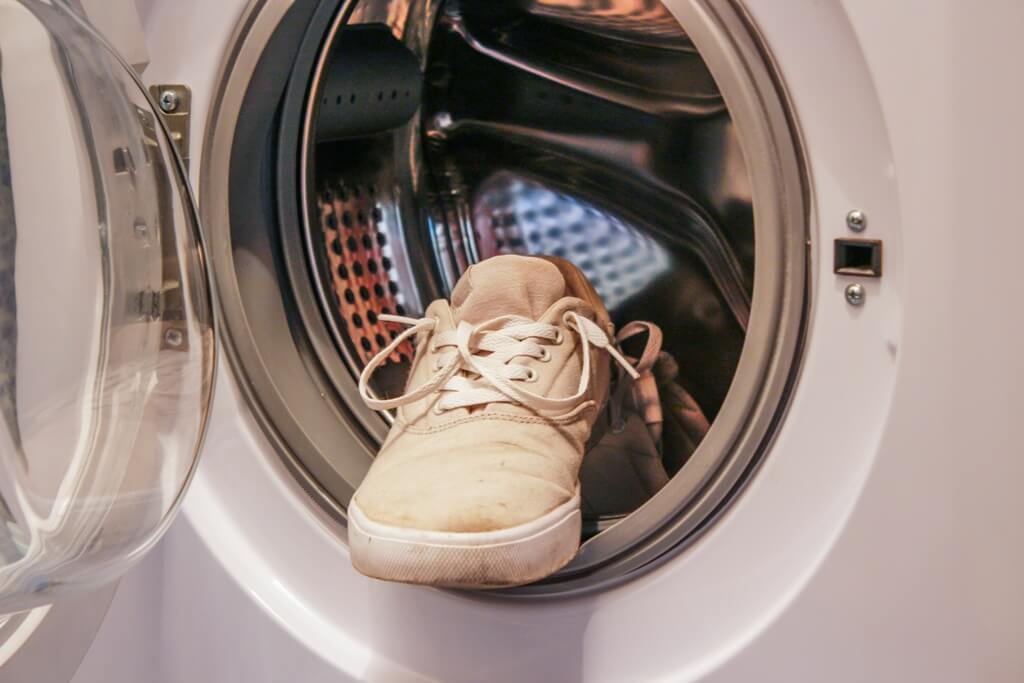 Adding detergent
When washing really dirty things, people normally think using a huge amount of detergent will solve the problem. Well, when it comes to shoes, more detergent doesn't necessarily mean more efficient. Overusing detergent will create a considerable amount of residual soap in your shoes. This can cause anything from stiffness to soap stains. Instead, use the regular amount of detergent you would use for a washing cycle. You don't need to get fancy here with sneaker-specific products; standard washing detergent does the trick.
Drying
Don't ever throw your shoes in the drying machine. Many people commit this mistake thinking that it's the quickest and most effective solution. It's actually the worst one. Even by bulking the dryer with the towels will results in deteriorated shoes. Additionally, it's by no means necessary to place the shoes in the dryer. The final washing cycles remove any water excess from the shoe, it's not like they'll come out completely soaked.
Air drying should always be the choice. You can insert the shoelaces back and tie them around something to leave them hanging while they dry.
The sun does the trick, though it't s not too good to leave your shoes taking sun for too long. Make sure to set a timer and check on the shoes regularly. We recommend leaving them out on a not-so-sunny day and let the breeze do the work.
To speed up the process, you can always use any form of ventilation that doesn´t involve heat induction. Even an old fan does the trick for this stage. Leave them sitting in front of a fan, but never use a hand dryer on them.
If the shoe had removable insoles and you were able to take them off, dry them individually as well. Pull the tongue over the shoelaces area, towards the toe box. This enhances the flow of air within the inner build of the shoe. Once they´re dry, you´re done.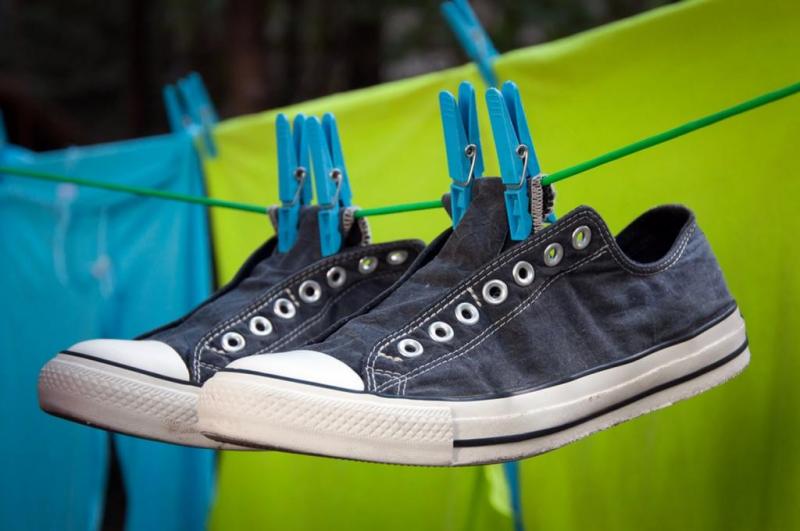 Manual Cleaning
If your running sneakers can´t be tossed in the washing machine, don't worry. Manual cleaning is not that hard; though, the dirtier they are, the more effort it will require. This is why we recommend cleaning them periodically, instead of waiting for them to be at the limit. If the shoes were directly exposed to considerable amounts of dirt or mud, washing them right away makes it effortless.
Before cleaning the sneakers, remove the shoelaces and the insole if possible. If your insole is not removable, don't pull it off.
Removing excess
Starting off, remove any excess of debris, dust, mud, grass, or dirt. Do so by brushing the shoe with a soft brush. The brushing process should be gentle on the upper build, making sure not to damage any of the materials.
Don't brush the mesh, instead, try to wipe any excess off with a soft cloth. Thin mesh builds can be easily damaged or ripped by a brush, thus we don't recommend brushing it.
As for the outsole, you'll likely require applying more pressure. If the shoe outsole has a split design, bend the shoe and flex it around so you can get to every spot as you need it.
The outsole is unquestionably not as delicate as the upper, but don't put too much effort into it. We're just removing extra dirt in this step.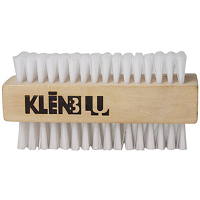 KlenBlu Shoe Brush

Our rating
Soft & Firm Bristles
Price:

See Here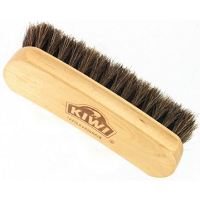 Kiwi Horsehair Brush

Our rating
Soft for Fragile Material
Price:

See Here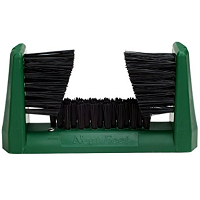 Neat-Feet Shoe Brush

Our rating
Extra Stiff Bottom Bristles
Price:

See Here

Cleaning products
To clean sneakers, a combination of laundry detergent and water is sufficient. Don't go over any strong products, especially those based on alcohol. Bleach is a huge no in the process of scrubbing your sneakers. Instead, just use the combination we recommended. Warm water (not hot) makes the cleaning process much easier. When mixed with the detergent you´ll get a soapy liquid.
Use a sponge, old shirt, or any soft textile to apply the mixture on the shoes. Never apply the products directly on the footwear.
Use your fingers to apply some pressure on particular stains as you scrub them. For the rest of the upper, just perform circular motions. Add some pressure as you need it, some places might be dirtier than others.
Clean the shirt or use another piece of clothing to remove the residual detergent on the shoes. Dip them in warm water and remove it thoroughly, making sure to remove as much as possible. If residual soap is left on the shoe, they might cause soap stains that will need treatment later on.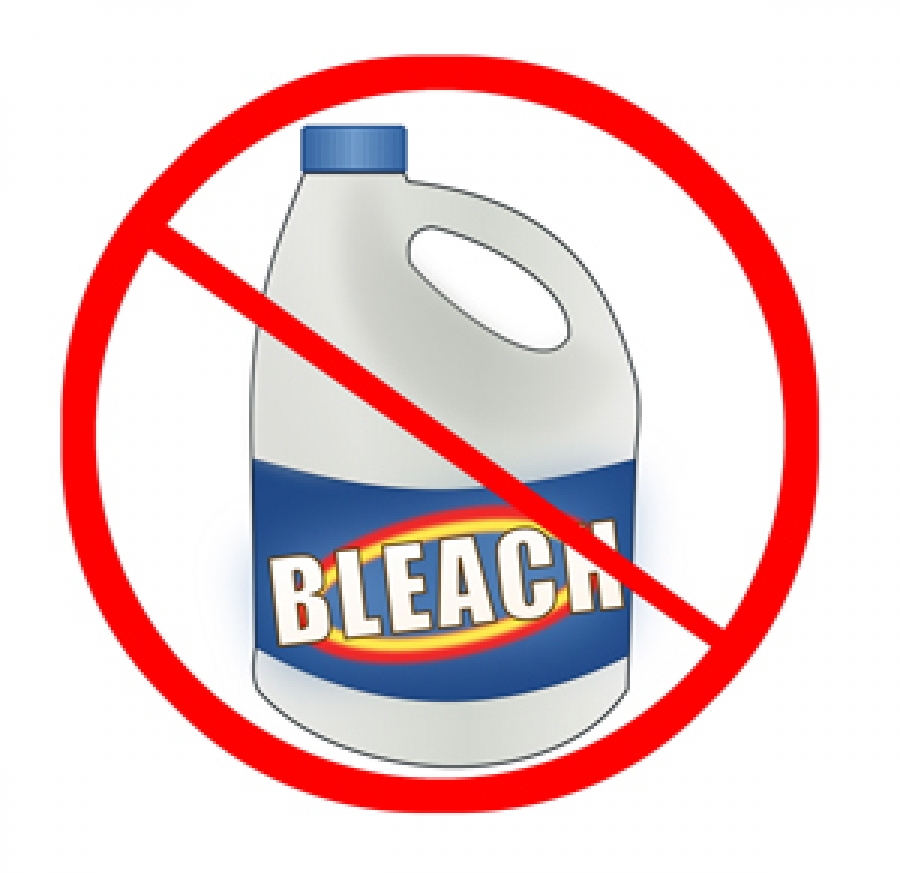 If some stains won't go off, don't get frustrated. Repeat the process multiple times on those particular zones, you should be able to notice them fading. If not, apply the soapy mixture with a sponge on the stains and let is sit for some minutes. Sometimes the soap needs a bit of time to work its way into the stain. This should loosen the spots.
Do not use saddle soap as part of the mixture. We only recommend its appliance on elements of the shoe that involve leather and aren't too active. Athletic performance shoes shouldn't be cleaned with saddle soap, as it can affect flexibility.
Insole and laces
Many users make the mistake of not cleaning their insole. The insole is often full of bacteria that cause odors. Cleaning the insole is a key step in odor prevention. Both elements, the insole and the laces should be removed and washed individually following the same steps.
For the insole, some people like to let them soak in a bucket of water and detergent. We don´t recommend this method, as it´ll be hard to get all of the soap out afterward. If you perform this method, make sure to squeeze the insole properly and soak it in clean water multiple times.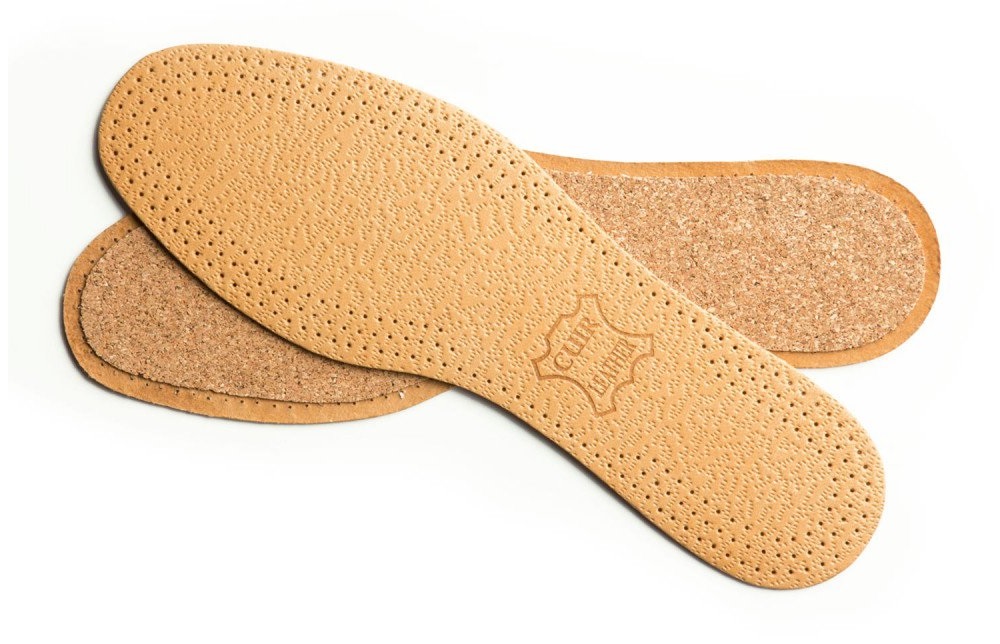 Some insoles have really bad washing qualities, and no matter how many times they´re washed, odors won´t go away. There´s not much you can do about this, thus we recommend buying a new pair of insoles.
Drying
The shoes and insoles should both be air dried. Never use heat-inducing equipment to speed-dry any component of the shoe. Just like hot water, heat-inducing equipment can melt or affect the glue and chemicals that hold the shoe together. If you're using any drying assistance, make sure the temperature is as natural as possible.
The insole, which is included in the elements to be air dried, should only be inserted once it's completely dry. Fans, air conditioners, and dehumidifiers are good options to make the drying process faster. Never use a drying machine on athletic shoes, especially those featuring delicate components.
Making Shoe Cleaning Easier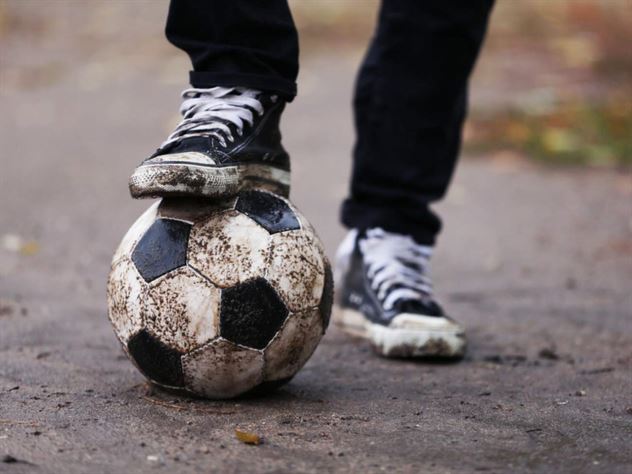 Cleaning your shoes can be considerably easier if you avoid certain things. To start off, we'll take a look at multiple factors that determine whether you'll have a harder time washing your shoes or not.
Frequency of Cleaning
The longer you leave your shoes dirty, the harder it will be to completely clean them. The most advisable option is to clean your shoes as soon as you get them dirty. If you go on a trail and went through mud and dirt consistently, clean them as soon as you get home. Leaving your shoes sitting on their dirt for days makes it considerably harder to remove it later on. Though, we're not telling you to clean your shoes every time you take them off.
Stains are a delicate subject in shoes, especially when we're talking about white ones. The stains, just like dirt, are tougher to remove with time. In fact, depending on the material of your shoes and the origin of the stain, you might even be looking at permanent damage if left for too long. Stains should be attended as soon as you notice them, especially if you're not sure what the origin of the stain is. Taking care of this during an early stage of the issue can make cleaning as easy as wiping it off with a cloth.
This also means that the longer you wait, the tougher the cleaning process will be. But in this case, we don't mean tough for you, but for the shoe instead. Removing old stains and dirt is considerably harder than a fresh one, thus more pressure and intensity is required. While it might not damage your shoe the first time (though it happens), it degrades it. After repetitive occasions, you'll start noticing how your shoes suffer from power cleaning and the extra stress placed on it.
One Part at a Time
Many users try to clean the whole shoe at the same time, not realizing the mistake they're making. Not only is it incorrect, as each element should be given a different treatment, but it's also considerably harder. By separating the elements and cleaning them individually, you'll achieve a much simpler (and efficient) result. This should be the first step of every cleaning process, regarding of the shoe you're cleaning.
Remove the shoelaces (if your shoes have any), take the insole out and lift the tongue so the inner shoe is exposed. Though there's no specific order, we recommend cleaning the outsole first. Continue to clean the midsole, and the upper build in this order. The shoe's tongue should be cleaned last, as part of the inner (if you're cleaning the inner, that is).
Cleaning the whole shoe at the same time could result in parts of the shoe being affected by cleaning products that are not meant for them. Each element should receive individual treatment, and be separated from the main build if possible. It's important to clean to insole as well, as not doing so contributes to the development of odors and bacteria from sweat.
Cleaning Products
It's important to be careful while selecting the cleaning products you'll apply on your shoe. Make sure it's suitable for the type of materials you're going to use them on. Preferably, these products should specifically aim to the treatment of shoes; the type of shoe you're using. The most specific the product, the better result it will deliver during cleaning. These products can be your best friend, just as much as they can be your worst enemy. They can make the cleaning a piece of cake, or they can cause permanent damage and stains to your shoes.
No matter what shoe you're cleaning, do not use pure bleach. Bleach should always be used in small amounts and should be diluted before appliance. Although you can use it diluted, some manufacturers recommend not to use bleach under any circumstance. Recurring to bleach should only be a last resort, as an incorrect dose of it can severely damage the color of the shoe.
If you don't want to use cleaning-specific products, there are some solutions that you can find around your own house. Nail polish remover and vinegar are great agents to apply on white shoes while cleaning them. Though, you should only use small amounts. Never apply the products directly on the shoe; instead, apply them on a cotton ball to rub gently.
Manufacturer Instructions
Shoes usually come with their own cleaning or washing instructions by the manufacturer. These instructions will give the best insight you can get your hands on at the time of cleaning your shoes. This information is unquestionably your best option. You might see some controversy when researching if washing machines are suitable for shoes or not. Well, finding that information is often as easy as reading the label under your shoe tongue. These instructions will guide you through the do–and don'ts–of washing that specific pair of shoes.
Written by the manufacturers themselves, instructions don't get any clearer than that. However, you might face the unfortunate case where the instructions aren't present. This might be due to the tag being blurry, or taken off, or simply is in another language. Regardless of the reason, we recommend you try to look around the manufacturer's website for the information. If you can't seem to find it, follow our recommendations.
Some shoes can be placed in the washing machine with no problem, others require a washing bag, and others simply can't go in the laundry. This varies according to the build of the shoe. Minimalist shoes composed by thin materials and mesh, for example, should never go in the washing machine. Even the "gentle" cycle might be too rough for them, especially if you're thinking to throw them in the drying machine right after. However, we're aware that there are shoe-specific washing/drying machines. Given that you have access to them, your shoes are safe to go in there.
How to Clean White Shoes
White sneakers can get quite tricky when it comes to cleaning them. White colored sneakers are very attractive when they're clean. However, this can quickly turn into a disaster if they're not. The downside about the white color is that, well, it's white. Even the smallest stains can be clearly notable, thus they require careful use and consistent cleaning. Luckily for white sneaker users, there's a wide variety of cleaning ways to get rid of pesky stains.
For all the methods below, we recommend stuffing the shoes with shoe trees or newspapers to accelerate the drying process. You should never machine wash white sneakers, as the surface might get caked or damaged. The same applies to the drying machine.
Method #1: White Nail Polish
Anyone who has had a pair of white shoes knows how annoying scratches and peelings can be. If for any unfortunate reason you scratch or peel your white shoes, white nail polish can be your best friend. If the shade is right, white nail polish can naturally cover any scratches or peelings on white shoes. Though, the appliance must be delicate and very limited.
Apply white nail polish with on the nail brush, cotton ball, or very thin cloth. Use a very short amount of it; only enough to barely cover the damaged area. Excessive nail polish will result in a noticeable bulk that stands out from the rest of the shoe.
If the tool used to apply the nail polish on the shoe leaves very evident spreading patterns, try a different one. The spreading patterns could also be related to the direction in which it's being applied. Try dabbing the shoe with the tool instead of spreading it. Never apply the polish directly.
Let the nail polish sit on the shoes until it's completely dry. If necessary, apply a second layer of polish. Once again, the layer of the product should be very, very thin.
Using white nail polish isn't a permanent solution; eventually, you'll need to reapply the product. We advise this treatment only if the damage on the shoe is permanent and there's no other way of treating it.
Method #2: Using Bleach
Cleaning shoes with bleach is a tricky process. Unlike other materials and colors, such as leathers, white sneakers can be cleaned with bleach. However, it all comes down to the amount of product used. Bleach should always be diluted before its appliance; else, the consequences will include staining and decoloring. As you might know, bleach stains are permanent damage, meaning there's no known way to remove them.
Dilute bleach in water in a ratio of 3:1. Regardless of the ratio, you should use more than a capful of bleach. Make sure the bleach dilutes properly in the water.
Apply the mixture to a soft cloth and rub gently all over the affected areas. Try to limit the rubbing zone as much as possible. Don't use bleach to clean the overall shoe; just the stains or affected areas. Don't rub it too hard, or the color might fade.
If the stain isn't coming off instantly, apply a bit of the mixture on the stain and let it sit for a minute. This should loosen the stain and come off right after with no issue. If it doesn't, you might be dealing with permanent damage. Never apply the product directly on the shoe and avoid contact with the skin, always use a cloth or cotton product.
Method #3: Using a Toothbrush
If you're having a hard time reaching annoying areas of the shoe, an old toothbrush is an excellent tool. In fact, toothbrushes can serve in a wide variety of shoe cleaning purposes. The older the toothbrush, the softer it will be; thus the cleaning process will be more delicate. The toothbrush can be used for both stains and regular maintenance of white shoes.
To remove oil stains, use a combination of warm water (not hot) and a delicate shampoo. It's not necessary to use much of either. Use a tiny portion of shampoo and dip the brush in the warm water. You should use just enough of each to obtain a soapy reaction on the surface of the shoe.
Place the mixture on the toothbrush and apply it to the stained area. Let it sit for 30 seconds so the oil loosens and brush in different motions. If the surface material is not too delicate, you can use some extra pressure if the stain won't come out.
With warm water and a piece of soft cloth, remove any remaining mixture from the surface of the shoe.
Method #4: Home Products
When it comes to cleaning spots and stains, specialized stain erasers are very hard to match. They're arguably the most efficient solution for ordinary stains. However, we know not all of you may have (or want to) a stain eraser. The truth is that, while stain erasers are very efficient, they're not obligatory. Products found in your home can turn out to be very good shoe cleaning tools as well.
To spot-clean stains, use a soft cloth dipped in vinegar. You don't have to soak the cloth, just dip a side of it. Wrap the dipped side of the cloth around two fingers.
Gently scrub the surface over the stained are. This shouldn't require too much effort, so don't over-press it. If it doesn't come off, it might not be a simple stain.
Once you're done cleaning the stains, make sure to remove any vinegar that possibly remains on the surface of the shoe. This step is very important. Residual vinegar might harm the shoe in the long term.
Remember, don't skimp when it comes to quality cleaning products for either leather or synthetic. We don't recommend using anything other than the best leather and synthetic cleaners as to not damage or worsen damage to shoe material.
Most Read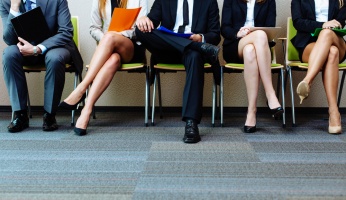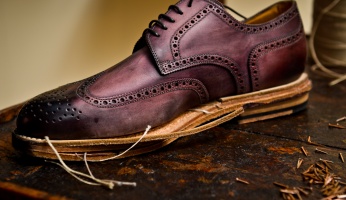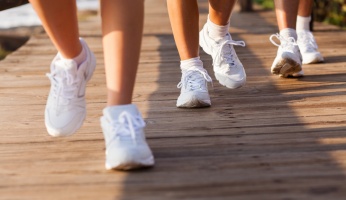 Subscribe to our Newsletter