Best Shoe Brands for Men Reviewed & Rated
In a Hurry? Editors choice: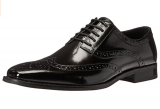 Test Winner: Stacy Adams Tinsley

What makes a shoe brand exceptional rather than basic? Is it the ability to hold itself to high standards and constantly deliver, the use of high-quality materials exclusively or choosing to cater to a particular niche. There are brands that have a reputation for putting their best foot forward and have been tested through the years. Gym-shoes, streetwear, business attire, and classic leisure wear are expected to be longer lasting in modern times. Adopting old practices that work, as well as, providing modern creature comforts create a brand that is balanced, unique and smart.
Standout Picks
Criteria Used for Evaluation
Durability
Especially in a premier shoe brand where the manufacturer is using high-quality materials, it's important the integrity of the item is long-lasting. Leather tends to be harder to keep up with and the color may change over time. Leather can be made from different hides like buffalo, cow and calf hides. Each of these has advantages and disadvantages. The most durable being buffalo hides and the most supple being calf hides. Other synthetic materials may be used as well for increased durability when the exterior has a reinforced overlay it will protect the item over a long period of time. The lacing of any footwear must be dependable, cheap laces that fall apart quickly can really ruin formal-wear. Lacing made of rawhide, neoprene or materials like nylon can help reinforce the strength of laces. Bottoms of footwear should not easily separate from the rest of the shoe. There are stitching techniques that will ensure the bottoms are intact for a long time. It's important that particular elements come together during the construction of footwear to ensure it will be lasting. When executed correctly products can be surprisingly lasting, protecting against wear and ensuring strength even after many uses.
Support
The attire used as accents to our daily ensemble define the desired aesthetic of our lives. This will be the first impression any newcomers will see and could make or break professional relationships. If a product does not provide adequate support feet will feel tired by the end of long days. Pain in feet make it very difficult to remain focused and in a pleasant mood all day long. If feet need specialized support in particular areas it's essential that a product have removable insoles so there is room for proper alignment. A balanced midsole and interior that molds to feel will make walking enjoyable. The alleviation inherent in a product that molds to individual feet will quickly become a favorite. Pain in the ball and heel of the foot is something that is a problem for many. While footwear should be firm and supportive it must also be plush to keep sensitive areas feeling serene. Those who prefer firmer attire will need an item that has a TPU shank embedded in the midsole for an extra supportive product. When an item is balanced offering support and softness where it counts it is a spectacular find. These values and the way a product aligns the foot will be considered when choosing the proper rating. Balance is key when creating footwear that will keep a walking stride easy and confident for hours.
Value
When deciphering what makes a brand valuable it's so much more than something as minor as good marketing. The culture and history of a company have a trickle-down effect. The best brands add value not only by choosing quality materials but by creating a culture of excellence. Employees are the meat and potatoes of any company and when they are at their best products will be innovative and stylish. The construction of an item, like; hand-stitching, genuine leather, wool interior, and other quality materials will in-part determine what really constitutes an item that is considered valuable. Classic designs that any brand is known for has stood the test of time. Signature designs can be counted on for quality and consistency. Companies that boast a classic line that maintains its quality over time and is actively creating innovative outerwear is constantly growing for a reason. It's not always easy to find a line that gifts provocative cutting-edge styles while maintaining the quality of pioneer designs. Correct pricing is important a name doesn't always mean a superior item. Things like a balanced stride, slip-resistance, comfort cushioning and an interior that warms or wicks depending on its purpose, are all apart of a thoughtful appropriate design and add value.
Flexibility
While a strong shoe is appreciated, if the sole is too sturdy it can cause the bottom of feet to become sore. A very sturdy sole can also make walking awkward are reduce foot feel significantly. Items capable of some shock absorption and energy return do have the added measure of protecting vulnerable knees and joints. While this construction is desirable if the bottom of footwear is too thick and doesn't offer any elasticity it will not allow the foot to move in a mechanically correct way. This is why a balanced amount of flexibility should be apparent in any premier brand. While structure and sturdiness is important to a degree an item that is flexible promotes a healthy foot feel. This promotes anatomically correct walking that can help keep legs aligned correctly and the spine to a degree. This is why choosing a product that offers alleviation is not only more comfortable but promotes foot health as well.
Style
Many brands encompass a lifestyle, standing for a defined set of values. Wearing a particular garb lets the world know what values are important to the wearer. Some people like more rugged yet stylish attire and others like sleek striking styles. Choosing an item that is beautiful either with formal wear or streetwear can be complicated. Rarely can attire go from the office to evening-wear to leisurely weekend garb. When footgear is dynamic it is more useful. This makes a huge difference in terms of usability. If an item is only used once, it ultimately will collect dust, this may be worth it to some individuals but a majority of people want items that can be used with various ensembles. Therefore items that can be used in multiple ways will receive a higher rating. Aside from defining styles, the construction of products needs to be precise. Attention to detail always makes a huge impression. Paying attention to clean lines, beautiful stitching and unique detailing makes a product look clean.
Top 10 Picks
1

. Nike ACG Zoom MW Posite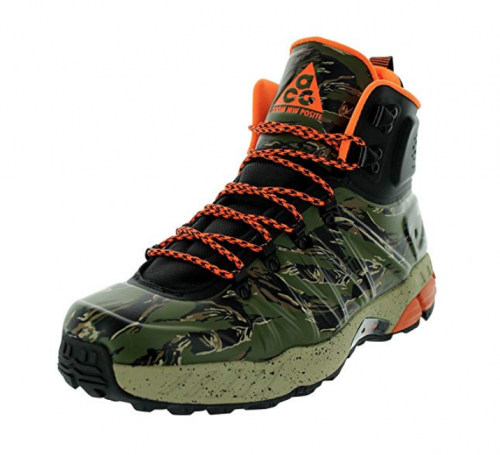 Nike is known all over the world as it should be, being named after a Greek goddess after all. In mythology, Nike is a divine charioteer that awards the victors of battle with glory and fame. This legend has come to life in the Nike shoe brand as well. Nike consistently has gone against the grain and supported social issue and individuals in their mission to create a more tolerant and peaceful world. Nike has an initiative to get kids moving, funding multiple programs that give kids a space to grow and play various sports. This company has been on the cutting edge of sportswear since 1964. They have no intention of slowing down anytime soon, whether using their apparel for rigorous activity or Friday night leisure wear. This brand can be trusted for quality and innovative designs.
Iconic brands remain at a high value because of their dedication to using high-quality materials and effortless air-like stepping. This sturdy item was created to be light on feet and fitted with extra traction for uncomplicated trail walking.
 
Architected with a rugged cameo appeal and metal rivets for lacing makes this a good looking item that delivers as fashionable and functional. The lacing itself is made of an elastic material that will stretch for desired tightness. The collar comes just above the ankle and not only is famously plush but has a protective exterior with vamps. The tongue of this item is padded giving it an all-around soft feel. The TPU shank in the midsole offers extra sturdiness when conditions are unpredictable. Whether transversing the concrete jungle or great outdoors this boot protects while the lightweight design keeps feet feeling energized.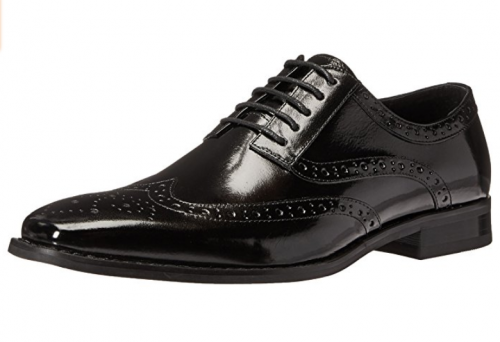 Pioneering classic designs with a twist has been the fabric of Stacy Adams legacy from the beginning. Founded in 1875 in Brockton, Massachusetts by William H. Stacy and Henry L. Adams, this company has come to define the personal style of the classic modern man. This company strives to create styles that are easy on feet and are on the cutting edge of trends. Confident, stylish individuals will enjoy this classic wingtip with a modern twist. Stacy Adams cares donating time and clothing to helping the homeless to look sharp and secure job skills. This along with giving scholarships for higher education and having free afterschool programs that give support to students helping them become the best they can be.
At first glance, this item screams striking elegance. Many products that have an elegant look may not offer the most comforting attire. One aspect of this footwear that is striking is the use of buffalo leather. This kind of leather is 3 times thicker than cow hides, offering superior flexibility and durability. The uncommon sheen creates a shiny aesthetic that is eye-catching. Since this is a thicker material the manufacturer added a leather lining for added breathability.
 
The interior is very plush being lined with memory foam for all-day comfort. The interior absorbs shock which helps to protect knees and joints. The lightweight construction keeps foot fatigue at bay making this ideal for all day walking. The perforated trims add extra comfort for longevity. The scoring on the bottom creates a more stable walk. The stitching is durable and goes through the bottom of the shoe being stronger for longevity.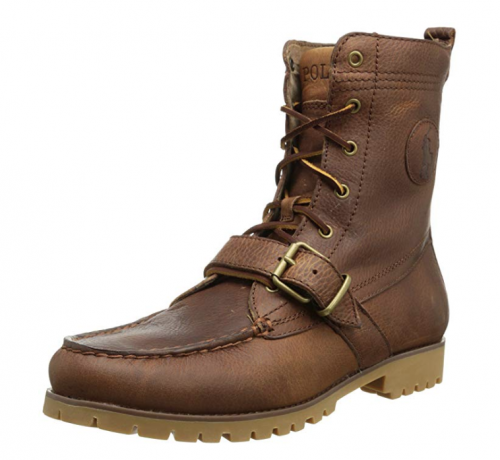 As far as lifestyle brands go Ralph Lauren is all-encompassing. This company took every opportunity and expanded from fragrances to shoe wear. The drive behind this expansion was to fulfill a space that was wide open in the market to help people live their best lives. Ralph Lauren wants to offer items that make customers feel confident. A finely crafted product makes you feel as good as you look. Allowing clients to take a confident step forward; pursuing every passion and dream, as an attainable expression of innermost desires.
Mid-calf boots for men can become monotonous very quickly. The ranger breaks the mold by adding rugged styling that seems to have come out of a movie. This boot is the perfect accent for an outfit that is constructed for a rugged distressed look. When purchasing a boot the bottom should be carefully inspected. The Ranger has deep lugging created from rubber which gifts this product with an exceptional amount of grip for when environments become unpredictable.
 
Cowhide is typically used to produce leather, this item's exterior is very supple, and the buckle across the top of the foot is adjustable. The laces are a detail that is typically overlooked but shouldn't be. The laces of this item are made from extra durable rawhide and are resistant to ripping and wearing out. Wool and polyester are used in the interior lining making this product extra cozy for cooler days.

4

. Salvatore Ferragamo Grandioso Bit Loafer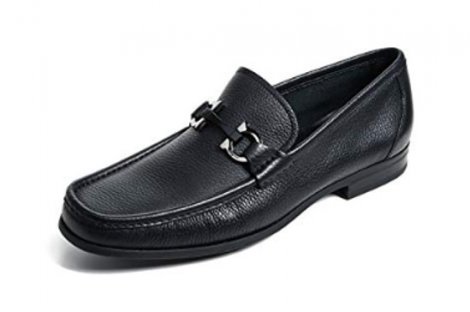 Salvatore Ferragamo is an Italian designer, who worked with many actors during the 1920's for fashionable footwear designs that were durable for wear and tear. Many attribute styles such as the cage heel and wedge to this iconic designer, and the quality of his footwear remains part of his legacy and namesake.
The Grandioso Bit Loafer features a luxe look and durable leather design for the more affluent taste. Calfskin leather gives a rich, beautiful appeal, while a slightly stacked heel gives confidence to each step. Rounded toe gives ample room for proper fit, and exquisite stitching adds the finishing touch.
The key feature of this shoe's design is the embellishment of the bit across the loafer tongue. Silver horseshoe loops are linked together with a darker metal bit, creating a two-tone hardware design. Full leather sock liner polishes off the design elements with luxury that keeps a great on-foot feel.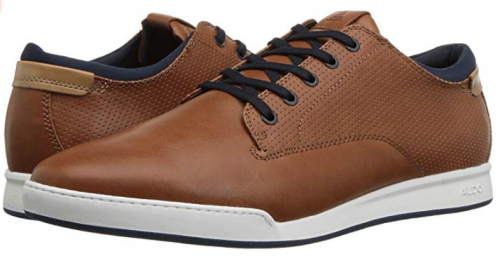 Isn't it rare in this day and age to find a company that value's their employees as assets? Aldo manages to do just that in their quest to produce top-notch items. They have a culture of looking for inventive individuals and holding on to them. When the people directly involved in the production for outerwear are happy it spills over into the architecture. Aldo has a passion for the arts and has incorporated over 350 artists work into their pieces. This is a company with a heart having acquired world dominance in every continent except Antartica, they have spread their heart across the globe. All this while gifting unique and well-formed products to the world.
A product that can be worn almost anywhere is very rare. The seamless way elements of a sneaker and dress shoe are integrated into this product are absolutely genius. Boasting an elegant aesthetic created with real leather and perforated detailing. Functional and fashionable this is an item that stands out.
 
The perforated detailing creates an airflow that cools feet especially since the exterior is genuine leather. Proper construction is a must-have for longevity and the stitching around the toe is unique. Since the front of this footwear bends slightly up the stitching in this area is key because it will ensure this area does not produce early wear and tear. The sneaker like outsole is exceptional adding an uncommon edginess to an already classic design. Exceptional traction will protect against any slipping, also saving the wearer from any embarrassing spills.

6

. La Milano Double Monk Strap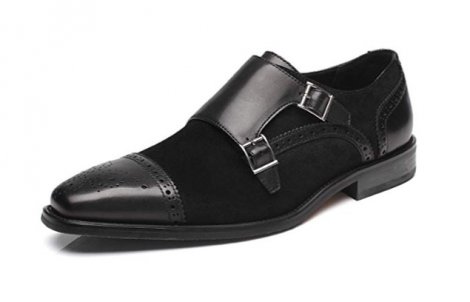 A newer brand to the scene, La Milano was established in NY, USA, and prides themselves on making top leather quality footwear for men at a reasonable price. The Double Monk Strap comes in a variety of different styles, featuring a simple look, or more embellished by incorporating brogue perforations or different cap toes.
This particular Double Monk Strap mixes textures between cow suede and Argentinean leather, making it both durable and luxurious in appeal. Cap toe with perforations gives it a fancier design when combined with the dual straps that run along the outside.
Inside the Double Monk Strap, synthetic lining and a comfort insole give added cushion for longer periods of wear. A slightly stacked heel measures 1.2 inches, creating a confident polished look. More suited to suits and formal wear, it's a statement piece of footwear for the more sophisticated style.

7

. G.H. Bass & Co. Larson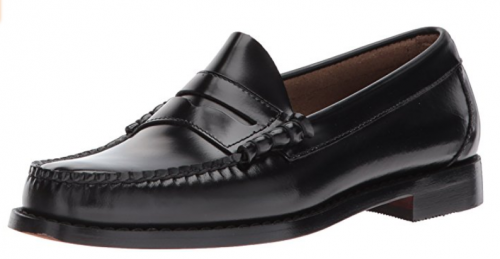 G.H. Bass & Co. creates thoughtful easy wearing designs that offer a measure comfort that is overlooked in other brands. This is a very customer-centric brand and is constantly looking to improve their customers wearing experience. This brand has an eloquent history of taking time to focus on every aspect of their items, producing practical and elegant styles. This brand has become the personification of the American spirit. Crafting products that embody discovery, perseverance, and self-expression. This company has uncommon longevity and can be trusted to give customers more than they would expect in terms of quality, appealing look, and comfort.
Products that are made completely from leather, save the soles, are hard to come by. This design is a classic approach to a favorite. In modern times there are a myriad of materials used to construct a shoe. Many shoemakers have begun using synthetic leathers that just don't give the same way the real stuff does. Genuine leather, when used for the interior of a shoe, will be very soft and mold to the shape of the foot shortly after breaking in. When this kind of care is taken to choose superior materials the result is an increasingly supple foot feel. Real leather has a shine to it that most synthetics lack as well. Ensuring an item has unparallel longevity is a concern premiere shoemakers take a lot of pride in solving. What ensures this product is crafted to be long-lasting is the expert hand-stitching. The beefroll accent further demonstrates superior detailing that creates a regal atmosphere about this product.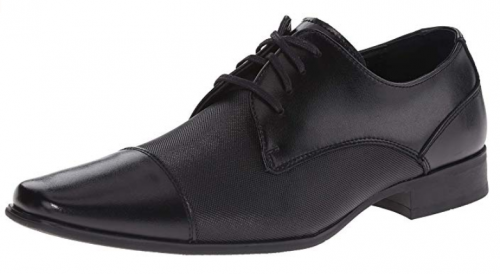 Calvin Klein is one of the most iconic and coveted lifestyle brands on the market. Boasting strikingly sexy shoes and uncomplicated comfortable underwear. This brand has dominated runways since 1968. This behemoth with its sleek innovative designs is available in over 110 countries and boasts over $9 billion in sales typically. Having been acquired by PVH Corp in 2003. Calvin Klein has found a home among other notable American brands; managing to hold onto its identity continuing to create innovative designs that dominate the fashion industry.
Since it's inception this brand has been known for its eye-catching details and clean designs. There is just something about this brand that doesn't ask for attention but happens to be striking to the eye. This oxford is no different. The soft Nappa leather with understated contrasting mid panels creates a sleek innovative design.
 
A classic Oxford doesn't have to be uncomfortable and stiff, in fact, this oxford boasts a flexible step. This is created by an elastic yet strong rubber bottom. The lace-up design makes this a secure product and the square toe is a twist on the classic round toe most shoes with this design has. This item is easy wearing and makes feet look narrow. This item pairs well with dress pants or jeans.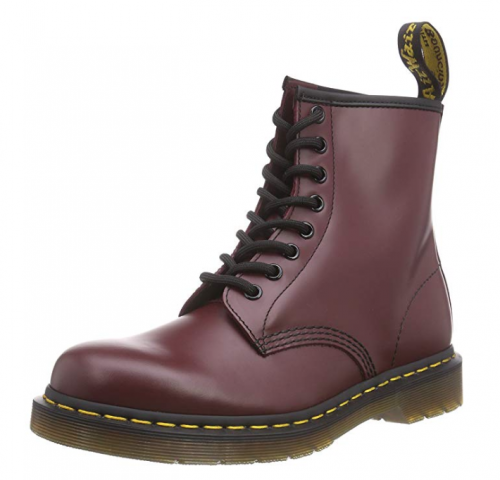 Dr. Marten's is a renowned brand and for good reason. This brand has a foundation of constructing items that are surprisingly dependable. Dr. Martens has evolved into a company with creations for those a crave uniquely styled boots. Wearing a product this empowering is fantastic for those who are uncompromising in their rebellious fashion choices and crave stand out pieces. This brand has a long history stretching back to 1901, in the English Midlands by the Griggs family. The forward-thinking Dr. Klaus Maertens completes the humble origin story of this brand. He became a partner in 1947, bringing with him his most recent innovation the air-cushioned sole adding an extra element of comfort to an already exceptionally durable design.
The 1460 is the original boot and brainchild in a long line of products to come shortly after its inception. While the architecture of this particular line has remained a staple, the materials used for the exterior have been ever changing since its inception. Air cushioning in the sole area has extraordinary abilities. The sole of this item is oil resistant, fat resistant, exceptional abrasion, and slip-resistance.
 
Not only is this attire stylish but it is also a is fitted with supple leather that is easy to clean and made to be easy to slip on. There is no need for this item to be difficult during donning the extra large pull loop is not only easy to use but also has a stylish aesthetic. This product also offers good-year welting and enduring stitching. The eight eyelet lacing is traditional and the shaft of this product ends well over the heel.

10

. Kenneth Cole Desert Sun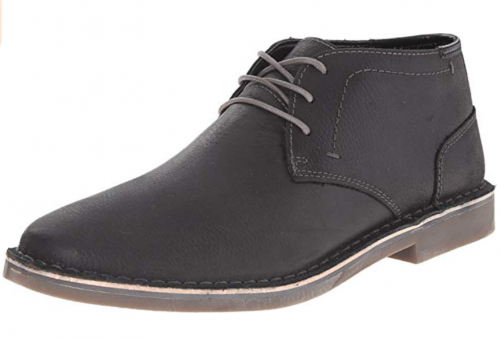 Kenneth Cole launched his first store in NYC in 1984, launching a whole line of shoes for men in the same year. This company has a history of being the first to recognize and artistically speak out about social issues. Some ads were done in a simple matter-of-fact way, while others were tongue in cheek, both took a stand when it mattered most. Kenneth Cole's products are not only crafted with excellence but also created from a culture of integrity. The reaction line was launched in 1995 and has been immensely popular ever since. This legacy has spanned decades and never lost its spirit of innovation. Fascinating stylish designs have never stopped being produced and continue to be a must-have among people everywhere.
The name chukka was created in WW2 and has its origins in the game of polo possibly. The style that originally sparked the inception of this shoe was worn by British soldiers in the Western Desert Campaign. This style is steeped not only in history and tradition but is carefully crafted as well.
 
The round toe silhouette creates an easy style with a balanced approach that exudes elegance. The uncomplicated lacing with blind eyelets is a surprisingly clean and understated look. The stitching is impressive and contrasts every so slightly. A plush feeling insole and roomy interior make this an item that is very easy wearing. The outsole is stitched to the upper and creates a product that was made to last. The effortless nature of this item is not fussy and looks contemporary when worn with tailored attire. Products such as this can be used to create a clean casual look or breezy office attire.

Subscribe to our Newsletter