Best Casual Walkers from Easy Spirit Reviewed
In a Hurry? Editors choice: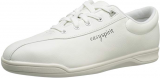 Test Winner: AP1

Easy Spirit is a company that has realized that all the modern human wants today is to feel comfortable
in their own skin
. This is easily achieved by creating comfortable, but stylish footwear meant to guide our every step. You will rarely find footwear that was carefully designed to be walked around in because usually footwear is made for running. Easy Spirit decided to create shoes
for casual walkers
, helping them do what they love with ease. And if you are one of the many strugglings with finding a perfect pair of shoes, made for enjoying the long walks even more, you've arrived in the right place. Their options are versatile, and we firmly believe you will find just what you need!
Standout Picks
Criteria Used for Evaluation
Materials
The material a shoe is made out of plays a big role, if not the biggest. It can affect the style of the shoe, it's comfort, the fit, the way it helps you move around - really everything! So choosing the right combination can mean a world of difference.

Synthetic materials can be seen on almost every shoe today. Canvas and mesh are the most common, but many other can be stumbled upon as well. Canvas is a coarse material made out of hemp and is the building brick of many casual pairs. Plenty of canvas shoes have adorable designs on them since canvas is very easy to color. They are low maintenance and are pretty easy to clean. It's a good idea to protect them first, with sprays or creams made just for them. They, however, do not absorb impact forces so well, and they are not made for outdoor activities like running or tennis. And they do not retain their original shape, instead, they mold to your foot and that can be very visible if you wear them for a while!

Mesh is a material usually made out of nylon threads tightly knit together. Mesh is usually used on the upper, because it is soft and lightweight, and offer enough airflow. They also give our feet more room to stretch out. Mesh does not crack or crease, and it will not peel away. It will, however, tear off, so it's not so durable. Mesh also wick moisture away, keeping you dry and happy!

Leather is the best natural material choice. It usually comes from the skin of cows, but more exotic options like crocodile and snake exist, but those are very pricey. Usually, the underside of leather is used, but sometimes the outer part can be used with the hairs left intact, which is a whole different dimension of style. This material is best known for its hardiness, outliving any other shoe you may own. It's very stiff in the beginning though, and you will have a tough time breaking them in, so be prepared. It's very easy to clean leather, and it doesn't give in to stains that easily. You should always spray leather to make it even more water-resistant, to keep you always dry. Leather becomes flexible after being used, and molds to the shape of your foot. The biggest drawback of leather is the weight, leather is the heaviest shoe material out there!

Suede is just a type of leather. When leather is turned upside down, a strip of material is cut off, revealing what we know suede best for - the soft upper with a really opulent look. Suede is much lighter than leather, and it's much easier to break it in. Suede attracts dirt like a magnet though, and it's a bit harder to keep it clean. Before you give your new suede shoes a ride, spray them with protective sprays, and prevent dirt from even showing its face. You should clean them with lukewarm water and a mild soap, and be sure to always wipe them with a dry cloth!

Rubber is a natural material that comes from sap and is usually featured in outsoles. It's hardy, flexible, and provides traction. This will keep you standing upright, but it won't be uncomfortable to have them on, as you will be able to easily bend your feet however you like! Rubber cracks sometimes or peels away, so be sure to look out for the first signs - you don't want to get wet for no reason at all!
Comfort
The comfort of a shoe can affect many different aspects of our life. It can affect how we feel because if our pair is causing us discomfort, they will be everything we are thinking of as long as we have them around our feet. It can affect our health as well, causing blisters, corns, bunions, and many other medical issues. So, it's vital to choose a pair that feels like a cloud!

Every Easy Spirit shoe comes with a padded footbed. The padding resides on all the right places, cushioning every step you take. The pads are on the heels, the ball of your feet and the sides, where most shock goes to. This helps prevent pain and aches afterward and helps our feet rest. The insoles are removable, so you can easily wash them, or change them for something that fits you better!

The midsoles also play a big role in comfort. If the midsoles are heavy and tough, you will surely not enjoy that. Easy Spirit makes lightweight, flexible midsoles. This means that your feet will not feel tired no matter how much you wear them, and the flexibility will help you walk naturally! The foam inside will also cushion your feet, helping spread the impact force.

Some of their pairs have padded collars. The padded collar helps our ankles have an enjoyable ride. The material around the edges will not cut into the sides of our feet, creating blisters and wounds, and making infections a possibility. The pads also help secure the foot inside. No dirt will be able to find its way inside our footwear, nor will our feet slide out of the pair when we least expect them to!

A shockfoam sock liner also sits in some of their shoes. As the name suggests, it's made out of lightweight foam that keeps its shape constant throughout the life of your pair. The compression rate is small, helping the shape hold its original form even more. This means you will have the same proper fit every time you put them on. Foam is also very light, so you won't feel the extra weight dragging you down. And it absorbs shock, spreading it evenly all over your foot and keeping you safe from joint and foot pain!
Style
The style of the shoe we choose can either improve our outfit completely or can simply ruin it. When choosing the proper style of your shoes, you should always keep in mind what did you plan to wear them with. Towering stilettos and flashy evening shoes will never be a good choice for casual wear, and loafers or clogs will not feel welcome at a glamorous party! Easy spirit made sure to include many different styles you can choose from, but they all have a sporty tone!

You can find many different types of clogs and mules in their collections. Since clogs are usually made completely or partially out of wood, it would be better to call them simply mules, since they have the same shape and purpose, but are made out of different materials. This type of footwear has no strap on the heel to secure your foot. They originate in Ancient Rome, and were red and used by Roman senators. At first, they were typical indoor shoes, used like slippers. Their popularity has not always been constant and they were recognized only recently as outdoor footwear. Heels are added sometimes, and intricate designs, making them very versatile! Most mules made by Easy Spirit are sporty, made for traveling and walking.

Sneakers are their most common product. They take pride in creating the best kind of footwear made for walking. Sneakers are usually made out of canvas or mesh but can be leather as well. They are most commonly used by runners because they are light, flexible and cushioned. Today, they are used by many casual wear lovers, as they can match pretty much anything, and can be worn on various different occasions! Heels and wedges sometimes decorate them, which changes their purpose and makes them a little bit more formal.

Oxfords are formal shoes that originate from Oxford University, Britain. They are characterized by their shape and the fact that laces are attached under the vamp. They are the most popular dress shoe and are usually leather. Sometimes though, like the case we see with Easy Spirit, they are completely redesigned and made to look casual, almost like a sneaker, so you'd be able to use them every day while you walk around and go about your business!

Ballet flats borrow their form from, you guessed it, ballet shoes. They are the epitome of beauty and grace, as they slim down our feet and make them appear dainty. They are usually casual and have no heels. Small bows or studs decorate their uppers, although there are more extravagant options available, even wedding flats can appear! Easy Spirit redesigned them in their own way, cushioning them and making them just right for standing around all day!
Versatility
The versatility of the shoe can be affected by many things. If you find shoes with a vibrant color, or with colorful patterns and eye-catching details, we are sure you won't have that many outfit choices for them. Not many clothes can match their quirky nature! If, however, you purchase a pair with a more neutral hue, like beige or silver, your options will increase tenfold. Black is a classic choice, and blue navy can be combined with any color imaginable. Easy Spirit creates footwear with calmer hues, although you can find brightly colored pairs!

The style can also affect versatility. We can't imagine that you would wear evening shoes to your office job, or your casual loafers on a special occasion! Loafers, sneakers and other casual wear provide more choices, but they can sometimes be out of trend, not fashionable. Your best bet is to search for a modern casual pair, or simply buy more pairs that can be combined with plenty of outfits - that way you will never have to worry!
Durability
We all adore finding pairs that last much longer than we expect them to. It means we spent our money right, investing in a pair that will be there for a long time. Easy Spirit shoes are properly constructed, with the ideal materials, and they will all last you more than your usual, run of the mill sneaker! Leather uppers increase the life of shoes significantly. Since it's made to protect us from the harsh outdoors, and really has the sole purpose of keeping our fragile bodies safe, you can imagine that shoes made out of it will live for a long time. Textile has many advantages that leather does not, but it will tear apart quickly! Rubber is also very hardy, but it doesn't breath good nor does it look good!

The construction also affects the lifespan of footwear. Strengthening stitches and proper gluing will all help them outlive other pairs. Welts can also increase their life, but Easy Spirit does not do that to their shoes. Instead, they carefully construct them, making them hardy and resilient!
Top 10 Picks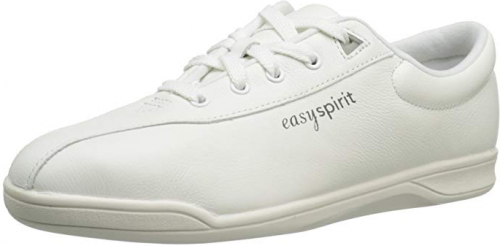 The AP1 is a slim, dainty sneaker that will accompany you every day, making life a breeze. The leather upper is soft and will mold to the shape of your feet. It comes in two colors, black and white, making it possible to combine them with many different styles and outfits. There are no decorations on it, besides the logo, making them even more versatile. The eyelets follow an arrow pattern, adding an interesting look and also securing you in even more.
The collar is padded, keeping you safe from rubbing and blisters while keeping you snugly inside. The midsole is an EVA type. EVA midsoles are made from a special kind of foam and are very lightweight. The foam flexes as you walk, supporting your arches. The sock liner is shockfoam, also absorbing the impact force while you walk, and the foam makes it very light and able to hold its original shape. The outsole is rubber, slip-proof and light!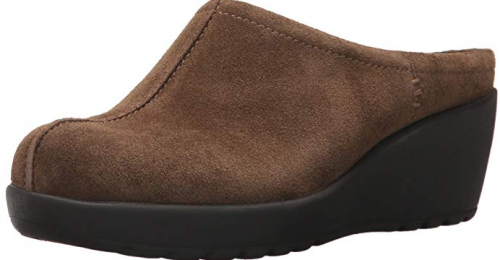 The Jaiva is a gorgeous mule that will improve even some of your more formal outfits. They are completely made out of suede, which makes them look extravagant, and they are very soft to the touch. Suede is as durable as leather but much lighter. The only problem you will have is keeping it clean because suede is a magnet for dirt! It comes in Earthy colors, opening the way for many various combinations. The heel is raised up a bit, preventing you from slipping out.
Even the removable insoles are soft, and they are padded too, so be prepared to experience comfort like never before. The linings are silky and wick away moisture, and you will be dry and happy. The rounded toe box leaves room for the widest of feet and leaves some wiggle room too. The wedge is what draws the most attention. It's solid black and goes along well with the upper. It's light and offers a lot of arch support. Besides that, wedges are much more stable than regular heels, and you won't need to worry about falling down. This is even truer because they are combined with rubber outsoles!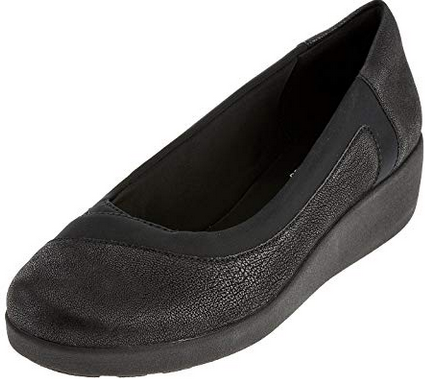 The Kathleen is a ballet flat with a little bit of added height, made for everyday errands and laidback office jobs. They are 100% textile, with leather details. The textile is super flexible, soft to the touch, and very light. It also allows air to circulate freely, keeping you dry and smelling fresh. The leather details reinforce the construction and slim them down, making them look dainty.
They come in various colors, so everyone has a choice. The collar is padded and will prevent blisters from forming on the back of your heels. The footbed is lightly cushioned - enough to protect you from pain, but not enough to cause you any problems. The short wedge adds height and also supports your arches just the way you want them to. The wedge is more stable than regular heels and will make it easy to stay upright. The insole features the logo, so you never forget who made these marvels. The outsole is rubber, light and flexible, so you never have to think about slipping somewhere and hurting yourself!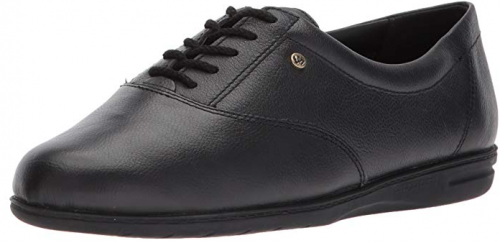 The Motion is an oxford redesigned for everyday walking - a perfect blend of sneakers and oxfords! Their sleek leather upper improves their style, makes them resilient and comfortable. The five eyelet design follow the regular Oxfords, and the laces are attached to the vamp, but they are not so slim and serve to strap you in. The little golden button logo shines while you walk, and contrast the perfectly black upper.
The tongue and collar are padded. This means that the leather won't cut into your skin and rub you the wrong. So, no blisters and wounds, and nasty blood stains! The footbed is cushioned as well, relieving you from pain and aches when you've been running errands the whole day! The stitches improve their look, and also improve their construction, making them last longer. The outsole is rubber, lightweight and durable. It will keep the surface away from the parts of your body that are not supposed to be there, all while weighing less than a feather!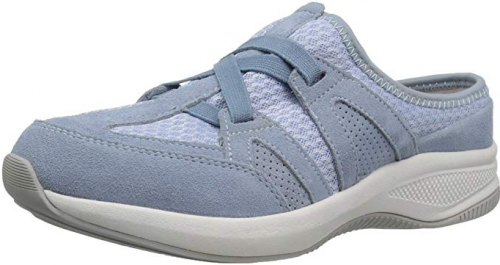 Tune in with your inner voice, and allow yourself to walk into a world of comfort. The upper is a combination of leather and mesh. The leather will protect you and prolong their life, and the mesh will bend and flex with your feet while wicking away moisture. The slip-on construction makes it easy to slip into their dimension of coziness, and the elastic laces secure your feet so they don't fall out as easily.
The linings are soft and breathable. They will caress your skin gently, while wicking away moisture, sweat and eliminating the possibility of odor-producing bacteria ever showing up, so you'll smell like a lavender field. The footbed is removable, fully cushioned and shock-absorbing. This means that you can easily go trekking in these, you won't feel the difference between them and regular trekking sandals! The midsole is very light and flexible. You will be able to jump, prance and run around with them constricting your natural motion, and without the extra weight dragging you down. The outsole is rubber and slip-resistant.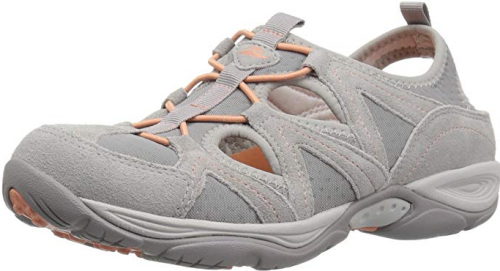 Get in touch with nature and our wild spirit, and embark the journey to the heart of nature with the Earthen hugging your feet. The Earthen is a sandal designed for trekking and other outdoor activities! The sporty silhouette is accompanied by a leather and mesh upper. The leather makes them durable, and the mesh ideal for hiking or walking. The side and heel cutouts make it easy for your feet to breathe, chasing sweat and odor away. Stretch laces offer a secure fit and keep your ankles safe from rolling.
The soft and breathable linings are gentle to your skin and wick away moisture away from it. A contoured EVA footbed offers support where you need it and alleviates pain and aches. The midsole is also sculpted and EVA, so you will have the absolute best fit you can find! The outsole is rubber and durable, with tread patterns that grip like glue to any kind of surface you are walking on.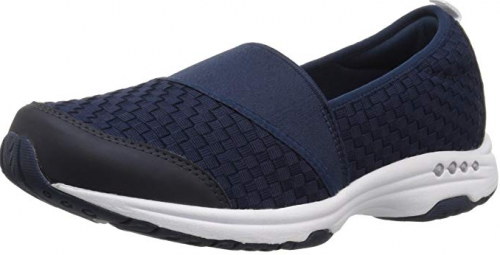 The twist combines the easy fit of mules with the use of sneakers, making these the ideal option for casual strolls around the block. The upper combines textile and canvas materials. It has interesting patterns broken apart by the strip of canvas That reinforces the construction and helps your feet to stay inside. The pull-on tab makes it even easier to slip them on, and the lack of laces promises an easy way out. The heel counter has an extra strip of fabric on it, guiding your feet inside the shoe, and preventing the heels from collapsing.
The insoles are padded and absorb shock like a champ. The linings are soft and breathable. They will feel like pillows on your feet and will breathe like lungs do, allowing you to naturally regulate your temperature. A padded collar helps fight against blisters and irritation that gets created when you try to break in a new pair. The midsoles are light, filled with foam, The chunky white outsoles provide enough traction to keep you upright even on glass.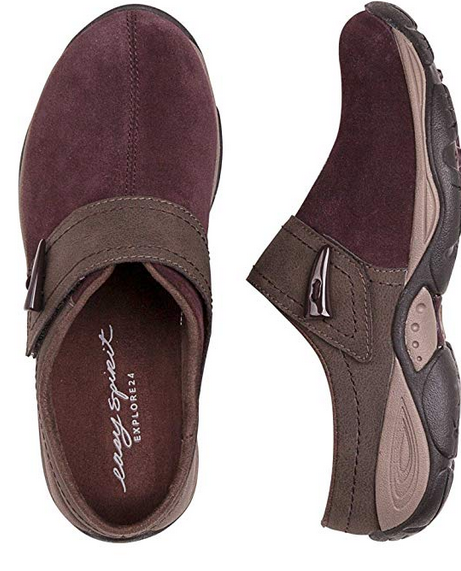 If you need an easy fit and a lightweight sensation, get yourself a pair of Eliana clogs! The suede and faux leather upper combine the two materials to create the best possible casual shoe. The suede gives them a luxurious look with a soft feel, while the faux leather boasts all the properties of real leather without the added weight. The adjustable hook leather strap is thick, acts as an improvement to the design, and secures you, not letting your feet slip out. The triangle button on the top helps the strap stay where it's meant to, while it also acts to grab attention. The slip-on construction makes it easy to put them on and take them off. The round toes are spacious and provide enough room for the widest of feet.
The insoles are cushioned and removable. They will help you avoid pain, and, if you decide you need more cushioning, you will be able to easily replace them. The midsoles are EVA, making them flexible, light and with the proper force absorption. The outsoles are durable rubber, not letting you fall down!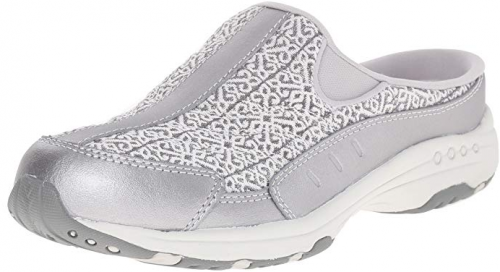 The travel time mule, as the name suggests, makes traveling and walking around foreign cities a breeze, when your feet are rested throughout the duration of the trip. Their upper is made out of mesh and leather, or suede and mesh. This combination brings you the best of both worlds - the flexibility and low weight of mesh, and the durability and safety leather and suede offer. The silver hue makes them very versatile, and the pattern adds to their style.
A padded, removable insole protects you from shock while you make your way around. This will help your muscles and joints battle successfully against pain and aches, making you happy and satisfied. The elastic gore on the sides accommodates the highest of arches and secures the fit just a little bit since there is no backstrap present. The outsole resembles the outsoles sneakers have, and that is just what Easy Spirit went for. The outsole is rubber, with a pattern that will provide enough grip and traction, but comfort as well!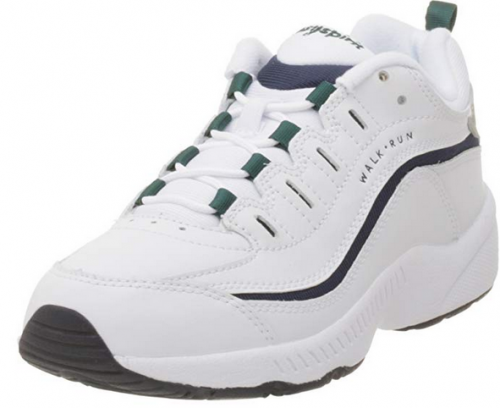 The Romy is part of their classic collection, and it is just what every sneaker should strive to be. Their chunky silhouette makes them look urban, and like they are pillows for feet. The leather upper breathes while you walk, and molds perfectly to your foot, ensuring a proper fit every time you put them on. The lace-up design makes sure you can adjust the fit however you like it. A pull loop makes it easy to put them on, so you won't lose time sitting down struggling to squeeze your feet in.
A removable, padded sock liner can be found inside. It has pads all over, caressing and hugging your feet gently, ensuring you feel zero strain. They can be washed and cleaned easily in a machine or can be replaced by a sock liner that fits your needs better. A lightweight durable rubber outsole helps keep you stay balanced. Its low weight keeps your feet well-rested, and it will last as much as you need it to!

Subscribe to our Newsletter