Best Zig Zag Shoes For Zany People Reviewed
In a
Hurry? Editors choice: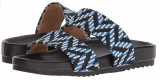 Test Winner: Naturalizer Amabella

If you're looking for a geometric pattern that's more fun than simple stripes or polka dots, you should definitely consider getting a pair of zig-zag shoes. The pattern, also known as chevron, has a rich history, and first got its name in the 14th century, referring to its visual similarity to building rafters.

The pattern is made up of multiple v-shapes, and it makes a bold fashion statement while still remaining suitable for dressed up occasions. It can combine colors for a punchy, quirky look, or it can be a subtle layering of tones. The list below looks at the top 10 zig-zag shoes currently available for purchase, ranking them based on style, brand, color, versatility and other important criteria you should consider before buying. For more info, you can check out the FAQ section that is sure to make the shopping process a bit more enjoyable.
Standout Picks
Criteria Used for Evaluation
Style
Obviously when talking about trends style is going to be a huge factor. From bold chevron to muted zigzags, we want our shoes to stand out in a chic way. Most people fear looking tacky when incorporating new prints into their wardrobe, so we managed to just avoid that all together.

This list is full of super accessible zig-zag shoes that won't make you feel out of place or awkward while wearing it. We want you to feel cool and confident, not dissatisfied with your final look! So, how can we get to a place where you feel as awesome as this style print looks? It is simple.

By utilizing familiar elements of style and incorporating eye-catching zig-zag shoes, we are easing into a whole new world of fashion. Prints can be intimidating at first, no one wants their outfit to look too busy. Well have no fear, here we have come to ensure that the only thing that is busy is your feet tearing up the floor of anywhere you're rocking your new shoes.
Brand
If we are going to be realistic, anyone can make a pair of zig-zag shoes. When shopping, we can see hoards of printed options for every budget. Low price doesn't always mean good value though, unfortunately.

We chose zig-zag shoes from brands we love, and brands that are well loved by our readers as well. We don't want you trying out a new style only to have it fall apart on you days later. We want you to have a lasting addition to your awesome fashion sense.

With picks from our favorites like Salomon, Sanuk, and even Sorel, there is a perfect fit for every reader. What matters is the quality, as always, the print is just an added bonus.
Color
We have all seen the same wild neon zig zags of yesteryear adorning everything from dresses the school supplies. While there is nothing wrong with loud zig-zag shoes, they really aren't practical to incorporate into most people's closets.

Our picks span a large palette. We have neutral boots, pastel casual slip-ons, and two-tone sling sandals. Whatever your favorite color is, it is probably covered by a tone here. Chevron can work however you want it to work for you, but there are some colors that are easier to wear then others, and we covered the bases on those here.
Use
You might have noticed this list spans all climates. That is for a reason. We know our readers come from all over the globe, and we want to make sure we have inclusive options of zig-zag shoes for everyone.

If you're in Canada braving the cold, or Southern California catching waves, there is a pair of zig-zag shoes perfectly made for you. Shoe shopping should be fun, and it isn't as fun when you aren't finding anything that suits your needs. We want to help everyone find their perfect pair.
Versatility
Chevron is already so versatile, but it can sometimes not quite fit due to pattern size, color, or placement. We didn't want to show you 10 of the same exact patterns on a list. How incredibly boring would that be?

We know every wardrobe is different, So these zig-zag shoes are intended to fit a whole slew of them. The Salomon running sneakers are colorful, with a sharp zigzag accent on both sides of the shoe. This isn't a print, but rather an additional eye-catching style executed in a fun and sporty way.

Dr. Scholl's is so subtle. The taupe and pink of the upper are set off by the soft calfskin it is made from. This pair of zig-zag shoes will go with absolutely everything. The possibilities are really endless. The Toms Classic is the same way, it has an almost tweed appearance that would work at the office, or complimenting your favorite little black dress.
Top 10 Zig-Zag Shoes


Beautiful should feel good. Naturalizer knows this and embodies this in all their designs. In 1927, they were the first shoe company to make designs specifically engineered to fit women's feet. They wanted to create a brand that was timeless and tailored to each individual who put them on, embracing unique styles and ideas. They focus on movement and unconstricted comfort. Their footwear is light, flexible, soft, and breathable, and all of this goes for the Amabella, the company's most popular pair of zig zag shoes.
The Amabella is a cute two-strap sandal that is reminiscent of the laidback wear of the 60s and 70s. This particular pair of zig-zag shoes has a blue chevron, beautifully executed in a woven pattern that looks similar to a friendship bracelet braiding. Their patented N5 technology is included in these shoes, which has five criteria to ensure a great feel and fit. Including latex foam pads in high impact areas to reduce stress on key areas of the foot, the Amabella is as good for you as an orthopedic sandal but much cuter.
Breathable linings in these zig-zag shoes give you a breezy wear experience, keeping feet as cool and dry as possible. The heel is designed to keep the foot balanced and stable. While not all their heel shapes are the same, each and every one is uniquely designed with weight distribution and support in mind. Ultra-flexible wear tops off this great pair of zig-zag shoes, and the super light construction will have you running to checkout to get yourself a pair. These are average in pricing, but exceptional in features. Naturalizers are sure to be a new staple for anyone looking for great, personalized comfort.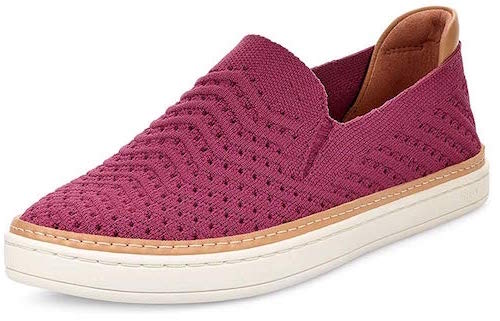 This pair of zig-zag shoes by UGG is the perfect summer slip on sneaker for those who can't decide between athletic footwear and casual flats. Easy to put on and off, the Sammy is a versatile model you can easily pair with jeans or a skirt, plus, the upper material makes it the ideal choice for hot summer days. It comes in several color choices, both light and dark, and you'll easily find the pair that compliments your wardrobe the best.
The upper of this pair of zig-zag shoes is made with engineered knit which is lightweight, stretchy and breathable. It's the ideal material for those who need a supple shoe, or those who prefer not to wear socks. The entry features an elastic gore for easy on and off, while the double stitched construction provides you with the durability you'd expect from a brand such as UGG.
On the inside, these zig-zag shoes offer a breathable poron insole covered in faux leather, and a molded rubber outsole with a simple traction pattern that'll work great on both indoor and outdoor surfaces. The cost of this model is slightly above average, nonetheless, it's one of the best choices of summer footwear you can make, especially considering the quality construction and the comfortable upper material.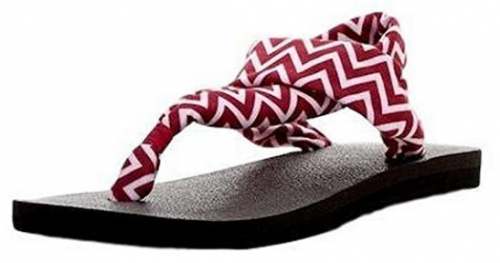 Sanuk is another shoe manufacturer based out of Southern California. The region is known for their laid back style and attitude, and these zig-zag shoes are no exception. Always on the cutting edge of comfort, the Yoga Sling gets its name from the sole, constructed out of a yoga mat. Sanuk is a brand that cares about the world it exists in, and all their shoes are vegan, with the exception of their marked textiles containing wool. Get out and try a pair and you'll instantly see what all the fuss is about!
The yoga mat footbed is insanely cushioned, it makes walking effortless and you will feel nearly barefoot when you step out in this pair of zig-zag shoes. The material won't let your foot get sweaty and slick, so you won't get that swampy feeling that some flip-flops cause. Not only is the base flexible, but the upper is even more so! This Yoga Sling has a simple look, but the ways you can wear it are never-ending. Coupled with the classy red and white chevron pattern, there is no stopping any fashionista from rocking these.
With infinite options of style, the convertible fabric upper can be worn a variety of ways, to suit however you're feeling when you put them on. The upper is ultra soft and stretchy, so it accommodates every size and shape. No more worrying about your bunions in sandals, or your high instep. These can shape to fit any foot. This makes them a universally great option. More durable and made to last much longer than the average flip-flop, the Sanuk Yoga Sling is priced too reasonably to pass up.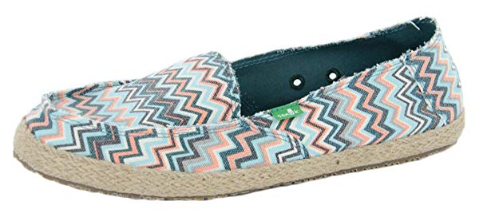 Sanuk is featured twice here, and if you try a pair on you will immediately find out why. The company began making shoes from inner tubes and indoor/outdoor carpet and has grown to do so much more. Though they still play around with different materials and innovations, their overarching message is that comfort comes first. If you had any doubts about the shoe's performance due to its lighter than air appearance and feel, they sponsor multiple athletes who exclusively wear their brand. From surfers to rock climbers, Sanuk is there to put great shoes on their feet.
This moccasin toe slip-on is carefree and wildly fun. It has a jute strap which adds style and gives it a casual appearance. All the cute accents of an espadrille heel with none of the hassle and height! Their high impact EVA footbed is great for those who want to look sweet while exploring the world. Perfect for long walks down the shore, a stroll on the pier, a day at the amusement park, or any host of nice weather activities.
The synthetic and mesh construction dries quickly and keeps feet cool, so you don't have to worry about these poolside or at the beach.
A Happy U sponge rubber outsole will keep your feet happy as clams when you walk in these zig-zag shoes. Their gored insets allow for easy slip on and off, as well as some give that allows them to fit your feet closely without squeezing. Their eyelets on the side act as drainage ports for both breathability and water depending on where you wear these. The bright multi-colored chevron is bold and feminine and really makes any outfit pop. The frayed detail adds a sweet element to these affordable zig-zag shoes and they are an easy way to punch up your basic sundress.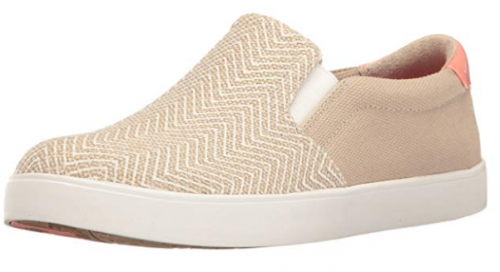 Most people hear Dr. Scholl's and immediately think of their vast array of custom inserts, but they broke out into the shoe game and have already made a big impression. Dr. Scholl was a real-life inventor who had a passion for comfortable feet. He constructed a retro clog, and women fell in love with the effortless style of his first design. Dr. Scholl's as a brand is dedicated to making sure your feet feel as good at the end of the day as they feel when you first slip your shoes on. The brand wants a relaxed look, that is still timeless and chic. With zig-zag shoes like the Madison, that is exactly what they are achieving.
The Madison is spot on to the slip-on style of sneaker that is trending right now. This chevron is muted, in light pink and cream, with a pink patent accent on the heel. If you're getting a pair of zig-zag shoes for comfort and have to choose something that is versatile, look no further. This will match with almost anything, and still has a print that adds some interest to the overall simple style. The collar of the shoe is very padded, so it won't slide around on your heel and cause discomfort.
The materials on this adorable slip-on are pieced dyed calfskin, and the chevron front coupled with the ballerina pink heel is both eye-catching but muted, a combination that most seek without much luck. Memory foam insoles don't only contour to support your foot perfectly, but they also have cooling technology so your foot doesn't get too hot. Rubber sidewalls and sole make this a durable pick to bring home with you. Priced at a similar point to other name brand sneakers, but much more equipped to handle all types of feet, these zig-zag shoes are guaranteed to please even the pickiest wearer.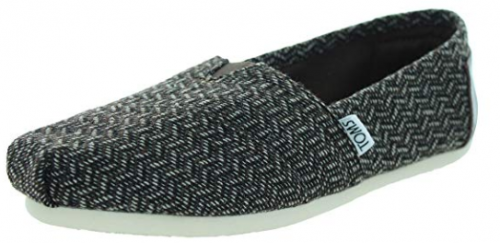 Toms is a humanitarian brand with humanitarian values. They create jobs for the communities they help, support investments in local economies and infrastructures, and tirelessly provide for places that need it. Their initial pledge to provide a pair of shoes to match every shoe bought has been a great success, and they have since supplied more than 10 million Toms to people all over the world. The company dabbles in multiple charitable causes, but their shoe line still remains their greatest endeavor. Not only are these zig-zag shoes crazy comfortable, but they do as much good for the world as they do your feet.
This stitched zig zag pattern is reminiscent of herringbone, its color is slightly tweed-like and the upper of the shoe is complex and interesting. A grayscale may seem boring but it doesn't have to be when you utilize patterns such as this pair of Toms does. This chevron wool has a black dimpled leather accent on the heel, which makes the zig-zag shoes versatile enough for work, play, or casual lounging. It all depends on how you choose to dress them. Equipped with their signature elastic gore and Toms logo, these are as easy to wear as they are to spot.
Cotton-twill antimicrobial sock liners make the shoe feel fresh with every wear. The molded removable insole is machine washable, and can be replaced with an insert if you require more support. The EVA rubber outsole flexes with your foot, and is all one piece so there won't be splitting or breaking apart. These zig-zag shoes have improved traction from the earlier versions of the Classic Tom. These are slightly higher in price than other shoes of a similar build, but remember, your purchase is being matched by the company to buy a pair for a child in need. Their factory practices are sustainable, and they are investing back into the world that has invested in them. Toms reputation for being ultra cozy doesn't hurt either.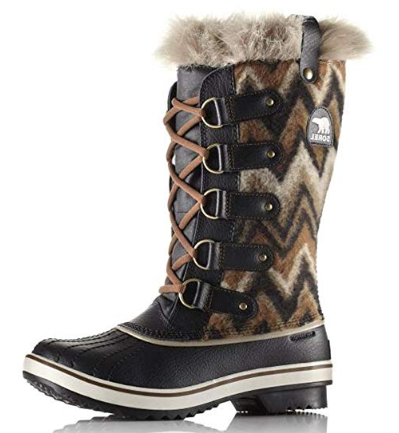 Builders, doers, and creators are the people Sorel want to reach. Founded in Canada in 1962, they have committed to quality craftsmanship. If you want to get outside and get your boots dirty, without affecting their integrity or look, Sorel has got you covered. With sustainable practices and ethical values, you don't have to worry about where or how your boots are made. Transparency and honesty in company standards can be rare in our current world, so any brand willing to go the extra mile in terms of sustainability doesn't go unnoticed.
Neutral colors in gorgeous wool make this earthy pair of zig-zag shoes a real standout. From the fur trim to the durable base, this is as adorable as it is functional. The profile is still slim despite the warmth and protection it provides, so you can both rock them at the lodge, and venture out into the snow. D-ring eyelets and a lace up shaft give that classic vintage snow boot look, but with an edge. Lo-pile sherpa lines the ultra soft interior, so these feel as comfy as they look.
Rubber lug soles guarantee great traction regardless of terrain, and the insulation and waterproof construction make these zig-zag shoes a great cold weather pick. Lightweight and flexible, these have an ease of wear that often lacks in snow boots. With leather pull-on tabs for easy on and off, this winter style is functional and fashionable. A pricey option for someone who won't get wear out of them, but if you don't need a new boot each year, this is a dependable choice that will outperform many snow boots at the same price point.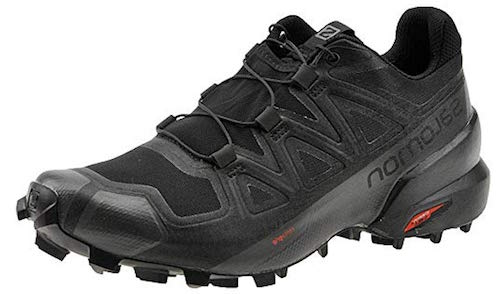 This pair of zig-zag shoes will not only give you the opportunity to sport your favorite pattern, but it's actually one of the best choices you can make if you're an outdoors fan - especially if you like trail running. This pair of rugged athletic sneakers is made for daily use on challenging terrain, while making use of some of the brand's most advanced technologies aimed at providing protection and comfort.
This neutral model comes in several color options, and you'll find that some versions make use of a more neutral design, while others mix bold colors for an eye-catching look. These zig-zag shoes have a stretchy nylon mesh upper that's supportive and breathable. You'll easily find the perfect fit thanks to the Quicklace system, while the padding in the collar and tongue cushion the foot.
As for the sole unit on these zig-zag shoes, it was made for those who tend to land with their heel, and it utilizes an EnergyCell+ foam midsole that absorbs shock. It's aided by an Ortholite insole, while the outsole uses a Contagrip TA outsole with prominent multidirectional lugs that do well on all surfaces. You'll also appreciate the fact that the lining of the Speedcross 5 uses an antimicrobial treatment to promote a healthier environment for the foot. This pair of zig-zag shoes ranks above average in terms of price, but that is to be expected from a high-performance athletic shoe such as this.




If you're after a great pair of zig-zag shoes, you should definitely check out this sandal by Sam Edelman. The Dariel is dressy slide you can wear when you want to elevate your casual outfits, and it comes in a number of fun patterns. At the front, it features a cute bow embellished with studs, and the same studded aesthetic follows the entire sole which offers a look that's quite unique.
The sole of this pair of zig-zag shoes is made with leather, which is quite a good choice for summer footwear. Although it should not be exposed to water, it will break in to your needs, and the lightly padded insole with provide a good amount of cushioning and breathability throughout.
The upper of the Dariel is made with textile, ideal for those who want a softer material, and it is quite easy to care for. You won't have to worry about it rubbing your feet, and being a naturally breathable material, it won't trap moisture next to your skin. This pair of zig-zag shoes has a price that's lower than average, and it's the perfect option for those who want to wear the look, without spending a fortune.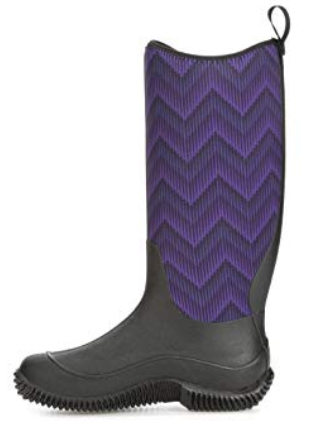 Over two decades ago, Muck Boots were conceived with a few ideas in mind. They set out to create a boot that was the most protective and comfortable option available on the market. Being a reliable provider of 100 percent waterproof options isn't always so simple, however, they persisted and are now a household name. Utilizing leather and rubber to their full potential, Muck Boot has created a brand to depend on, and have no qualms about offering a full refund and satisfaction guarantee within the first year of wear.
This pair of zig-zag shoes, the Hale, is a dark but striking example of chevron's versatility. Some may associate the pattern with sundresses and springtime tanks, but it transitions beautifully to other times of the year. This blue and purple chevron is hypnotizing, and that effect elongates the leg and slims the calf. A smart accessory to any outfit when braving the elements, this Hale shows your personality without losing durability.
4 millimeters of neoprene do more than just effectively waterproof this boot. With shock absorption and heat retention, these zig-zag shoes can hold up to any cold weather activity just as well as they can a run of the mill rain storm. The sole adjusts to your foot and its contours, so no more pesky blisters or chafing when you're in the great outdoors. While these are a pricier option for this list, they are priced equally to most high boots, without the same level of function I might add. With their thorough construction and awesome weatherproof features, these Muck Boots will stand the test of time.

Subscribe to our Newsletter