Best Roman & Greek Sandals Reviewed For Inspired Style
In a Hurry? Editors choice: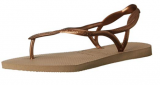 Test Winner: Havainas Luna

Do you love the empowering feeling you get from wearing a pair of gladiator sandals? This style of
summer footwear
is modeled after the Roman and Greek designs dating back to the fourth century BCE. During the height of the Roman Empire, shoemakers were highly regarded among society and the footwear they crafted was carefully created and beautiful in its design. Perhaps the most popular style the Romans made was this one of their 'soleae' which has transcended into
modern fashion
and survived the centuries that followed. These minimalist pairs consisted of very little flash yet their bold designs stand out in the crowd and offer something unique above the rest. A simple sole that attaches to interlacing straps and wraps around the feet and legs is all it took to conquer the world of footwear and shape the modern fashion world as we know it.
Standout Picks
Criteria Used for Evaluation
Features
When it comes to this style of footwear straps are a huge aspect to consider. When you think about it, shoes inspired by Rome or Athens are really just made from an outsole and its attached straps. There are several variations available including different heights, widths, and materials. The width of a strap plays an important part in how comfortable the pair will be to wear because a strap that's too thick can dig into your skin and cause discomfort, while a strap that's too thin can cut off vital blood flow and restrict your circulation. The ideal option will be between one and two inches and made from a soft material that won't rub against your skin.
As for the height of a strap, this can vary from just below the ankle line to well above the knee and could even extend all the way up the length of the thigh. Whichever height is most comfortable for you is the one you should consider wearing because this aspect really boils down to personal preference.
The materials used to make the straps are very important and can mean the difference between an enjoyable experience and a painful one. One of the best materials is leather because its soft against the bare skin while also allowing air to flow freely preventing a build-up of sweat. When your feet get too sweaty in can cause rubbing and friction which often leads to painful blisters. Sweaty footwear is also the perfect breeding ground for odor-causing bacteria that can quickly ruin your favorite pair of shoes.
Outsole
The outsole is important because this is the part of a shoe that protects your feet from the hazards of the ground beneath you. This is especially important during the summer because you also have to protect yourself from potentially painful burns or blisters that can be acquired from walking on pavement that's too hot. One of the best materials for the outsole is rubber because it protects your feet and provides excellent grip on any terrain, including wet and slippery ones.
The height of the heel should be considered because it plays a big part in how easy it is to walk in a pair of shoes. Any heel that's above three-inches will become more difficult to walk in because of the unnatural way your foot will arch while wearing it which is why it's advisable to stick with something under three-inches high, though if you're comfortable with walking in higher pairs that's a personal choice. It's also better for the arch of the foot when you wear lower heels and it's important to properly protect the delicate arch area to prevent discomfort down the road.
Wedge style heels are the most comfortable pair to walk in because they provide the widest platform for you to step down on. A narrow platform is unnatural and can cause great discomfort and will make it much more difficult to walk.
Comfort
In order to be able to enjoy wearing a pair of shoes, they have to offer a certain level of comfort. There are key aspects that contribute to the overall comfort of a shoe that was taken into consideration while choosing the pairs for this list including cushion, width, and support. Cushioning is vital because it's the padding that protects the underside of your foot from the hard surface below as well as helps to support it. The ideal cushioning will be soft but will also be firm enough to prevent the foot from sinking in which can ultimately lead to a collapsed arch or other serious problems.
With this style of footwear, the type of footbed it has is essential to ensuring your comfort and in preventing discomfort. These shoes are made with minimal materials, therefore, the footbed must be unique in design so that it provides support and cushioning. The pairs on this list were chosen, in part, for their comforting design and appropriate construction.
Plantar fasciitis, a painful inflammatory condition which affects the connective tissues in the foot, can be caused by poor footwear and the symptoms can be aggravated. In order to prevent this, it's very important that you wear a shoe with proper support for the arch because an unsupported arch leaves your foot susceptible to all sorts of aches and pains. Once you develop plantar fasciitis you could experience symptoms for months, years, or even the rest of your life which is why prevention is so vital.
Brand
While the name behind the design isn't everything, it is an important aspect to consider for certain reasons. Some brands are notorious for crafting quality pairs of footwear that last longer than a few weeks like some. I'm sure there's been a time you've purchased a cute new pair of shoes only to have them fall apart after less than a month of wear?! That's why quality craftsmanship is so important because it will save you time and money in the long run. Once you find a pair you love that's well-made you can stop hunting because you can rest assured that they're going to last the season, if not longer.
Some of the highest rated brands for this style of footwear are Dream Pairs, Not Rated, and Rampage. Though there are some other excellent brands who usually make a little different style of shoe but have released on, or two, designs that fall into the these styles. These brands aren't ones you would normally think of for this kind of shoe so therefore they're not as highly rated or talked about as much. These are just a few of the brands that produce excellent quality items and there are many more out there that are worth exploring! It's always best to take the time to research and read reviews before purchasing any shoe because this will give you the chance to learn more about the manufacturer and what kind of reputation they have.
Accessories
This kind of shoe can often be found with embellishments or design details which enhance its originality. Things like rhinestones, studs, and chains, can all be added to make a pair more unique in its design. Another way to accentuate a style is by added exaggerated stitching details which make for a cool looking pair of footwear. There are several options on this list that have nice embellished additives like the Willow Dress from Not Rated and the Geren from Sam Edelman.
Silver, gold, and rose-colored studs or rhinestones look really great with this kind of shoe because they blend well with the design and can easily be matched with most other colors. These embellishments add character to any pair and are the perfect way to express your style in a subtle yet boisterous manner.
10 Best Roman & Greek Sandals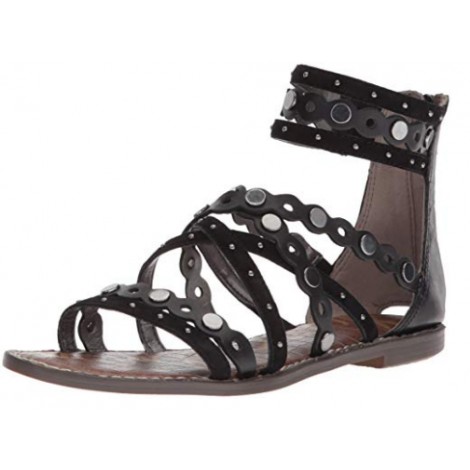 The Sam Edelman Geren is a cool looking statement shoe that boasts an impressive strappy design and leather upper unit. It comes with studded embellishments that give an updated look to the original gladiator design. This pair is available in four colors: black, candy red, modern ivory, and caramel suede.
Security
These shoes have a rear zipper that allows for a completely secure fit and easy wearability. You'll have no trouble slipping in and out of this pair so you can forget about time-consuming pairs that take forever to put on.
Stud Embellishments
This pair's studded embellishments give it an edgy look that breaks away from the traditional look that these shoes have. If you're all about individuality then these are the best choice for you!
Cost and Value
Another affordable choice that will keep you coming back for more thanks to its comfy wear and gorgeous design. Look and feel your best while wearing a pair of these Mediterranean styled shoes.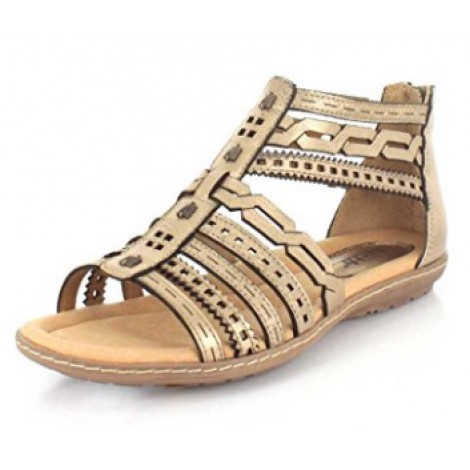 This gladiator themed summer shoe is available in nine colorways including Champagne, Platinum, and Sapphire Multi, to name a few. The Bay Gladiator is a comfortable pair that's versatile enough to handle any situation thanks to its stunning appearance and functional wear.
Materials
The Bay Gladiator boasts a TPR outsole that's non-slip and water-resistant for easy wearing on any terrain. Its breathable PU lining material allows for adequate airflow around the skin preventing a build-up of sweat and odor-causing bacteria.
Multi-Density Cushioning
This pair has an impressive multi-density cushioned footbed that provides stable arch support and supple underfoot padding. Walk in total comfort thanks to the Bay Gladiators foot-friendly design that makes it feel oh-so-good with every step.
Cost and Value
These are a reasonably priced option that will deliver time after time. Anyone in need of some additional arch support will love these thanks to their dual-layered padding and support structure.

3

. Blowfish Malibu Granola


The Granola by Blowfish Malibu was inspired by Athens and encourages your feet to carry you into unknown adventures at every turn. This is an ideal choice for almost any occasion and offers a versatile design that is as comforting as it is powerful. You'll love how easy it is to match these with your favorite outfits thanks to the eight colorways you can choose from including Blonde/Pearl Rose, Scotch Dyecut Pu, Nude Dyecut, and Black Dyecut, to name a few.
Adjustable Buckles
The Granola was designed to provide an easily adjustable fit thanks to its easy buckle closure system. Buckles allow for a completely customized fit every time you wear them and lets you control the way they feel on your feet.
Cork Footbed
In true gladiator fashion, the Granola boasts a cork footbed that is both comfy and stylish in design. Cork is an enjoyable material for footwear because it has a tendency to conform to the shape of your foot for a perfect feeling while you walk.
Cost and Value
These Blowfish Malibu shoes are a total steal that is as comforting to wear as they are pleasing to the eye. Whether you're planning on a trip to the mall or a day at the beach this is the perfect pair to suit your style.



The Luna is all about minimalistic style that's as trendy as can be while also offering an enjoyable wear. These super laid-back summer shoes are available in ten colorways so you'll have no problem finding a cute outfit to match with them. Some of the choices include black, coral, light rose, and ice blue, just to name a few.
100% Rubber
This pair is perfect for water-related activities thanks to its 100% rubber build. It's crafted from super-comfy and long-lasting rubber that is ideal for wear on wet terrain thanks to its water-resistance.
Rice Pattern Sole
The Luna has a unique rice patterned sole that provides superior traction on wet and slippery terrains. Walk with a sure foot knowing that you won't slip or fall in this pair. Their unique outsole also provides an additional layer of spongey cushion that keeps you walking comfortably for hours on end.
Cost and Value
The Luna is a very low-cost option that looks great while keeping your feet in total comfort. This pair is minimalist by design but offers a timeless style that matches with almost any outfit for a chic appearance.

5

. Not Rated Willow Dress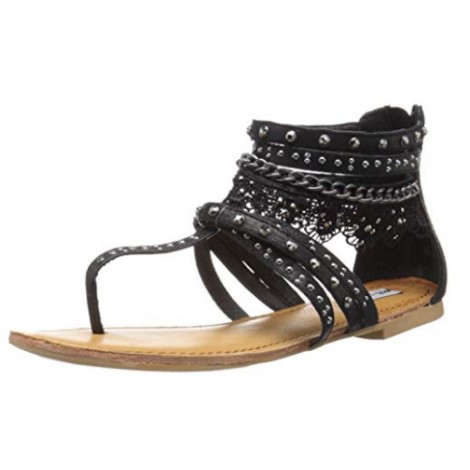 Not Rated's Willow Dress puts an edgy spin of the arena-style footwear. It's strappy structure and a hint of goth-punk undertones make this a unique option to choose. The Willow is available in three colors: black, cream, and taupe, so you can wear them with almost any other color you choose.
Design
This is an edgy-style gladiator shoe that has a flat structure and unique silhouette. It's chains and laced ankle make for a cool vibe that will surely be a hit and will make you want to wear these with every outfit you own.
Covered Heel
The Willow Dress has a covered heel counter that adds an extra layer of security and support. Its rear zipper closure makes for easy access and effortless on and off wearability. The Willow is made from quality materials and offers a comforting foot feel.
Cost and Value
This pair is relatively inexpensive and offers great style for the cost. Anyone who's looking for an edgy design will love this pair of modernized summer shoes that feature chainlink details and studded straps.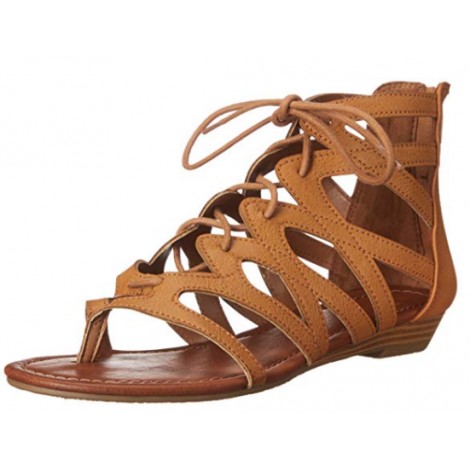 The Santini from Rampage is a traditional design that is as hot as the summer sun. It's available in six colorways including Cognac, Dark Brown, Black, and Natural Blue. These cute summer shoes are exactly what you've been searching for to complete any outfit you own because they'll look good with practically anything.
Materials
The Santini features a faux-leather upper and stacked micro-wedge heel that makes for an easy walking experience. Their faux-leather material keeps your feet cool and comfy by letting your skin breathe and preventing a build-up of sweat that can lead to the growth of odor-causing bacteria.
Zipper Closure
This pair has a rear zipper closure system that allows you a secure fit and easy entry for a put-on-and-go design. You'll love the ease of wear with this pair and their enjoyable silhouette that will keep you coming back for more over and over.
Cost and Value
These Rampage shoes are completely affordable and will last you all season long thanks to their well-made structure. They're made from quality materials and are designed to enhance your overall comfort in every aspect of their unique style.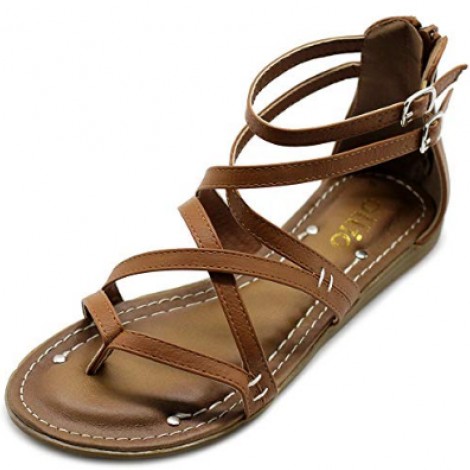 The Zori from Ollio is a cool looking pair of summer footwear that boasts stitched detailing and hot buckle closures. The Zori comes in three colorways which makes them easy to match with your favorite outfits including brown, black, and beige. Their low half-inch heel makes for easy walking and keeps you comfy even after hours of wear.
Secure Fitting
The Zori features dual buckle closures that allow for a fully adjustable fit. You'll enjoy being in control and can relax in total comfort knowing that you're in charge. The upper buckle controls the fit of the ankle strap while the lower buckle controls the mid-foot straps so you can adjust the entire shoe rather than just one part.
Padded Footbed
This pair boasts a padded insole for a comfortable experience. Cushioning is important because it protects the delicate underside of the foot and prevents unnecessary arch pain.
Cost and Value
These Ollio shoes are reasonably priced and offer great value. They're made for a comforting wear and offer a super-stylish design that you're sure to love. Anyone looking to add a versatile pair to their wardrobe should take these into consideration.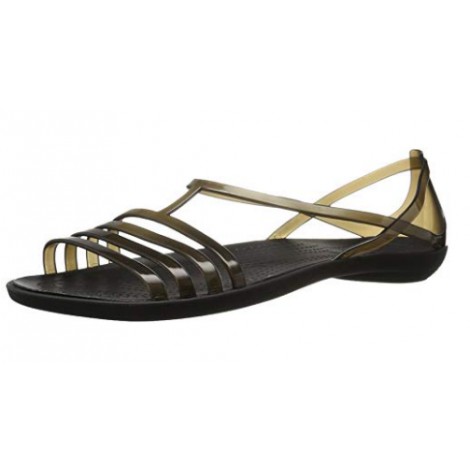 The Isabella is a strappy number that offers the perfect mix of style and comfort. This pair is ready for the Mediterranean and offers a laid-back feel that wearers love. Crocs footwear is notorious for its lightweight comfort and the Isabella is no exception to the rule. This pair is a fresh take on the usual designs and is extremely enjoyable to wear.
Croslite Foam
Croslite Foam is an innovative technology developed by Crocs that provides a light and flexible all-over comfort. Croslite makes for a solid grip on any surface and is perfect for wearing during extended times spent on your feet.
Gemlite Upper
The Isabella is made with a Gemlite upper unit and straps. Gemlite is a translucent jelly material that's flexible and provides a super fun structure. This feminine silhouette is perfect for beach days or for lounging poolside while taking in the summer sun.
Cost and Value
This is an affordable pair of Grecian-styled footwear that delivers both a stylish design and a comforting foot feel. Anyone looking for a pair of water-friendly shoes will love this pair that's as fun to wear as it is to look at.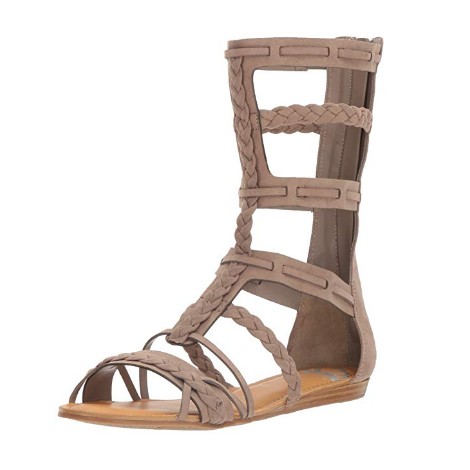 The Zaille is a Grecian-inspired pair that sits high on the calf and boasts a nine-inch shaft when measured from the arch. This pair is all about bold and controversial fashion and is a great choice for those who love being the center of attention. This pair is available in three colorways: Doe, Tan, and Black, which makes them easy to match with almost anything you have in your closet.
Cushioned Footbed
The Zaille boasts a lightly padded footbed that provides a comforting foot feel. This pair keeps your feet feeling great at the end of the day so you can forget about painful and fatigued feet. Proper padding is essential to support the delicate arch area which is why these stunning arena-ready boots were made for walking.
Design
Anyone looking for a pair of statement footwear will fall in love with the Zaille! It's mid-calf rise, and half-inch heel make for a jaw-dropping look, while its open-upper concept keeps your feet cool and dry even after hours of wear.
Cost and Value
This pair costs a bit more than some of the choices on the list, but it's a worthwhile investment in your sense of style. These boots are the perfect addition to any summer outfit and were made to foster a comforting environment for your feet.

10

. Soles & Souls Criss-Cross Sandal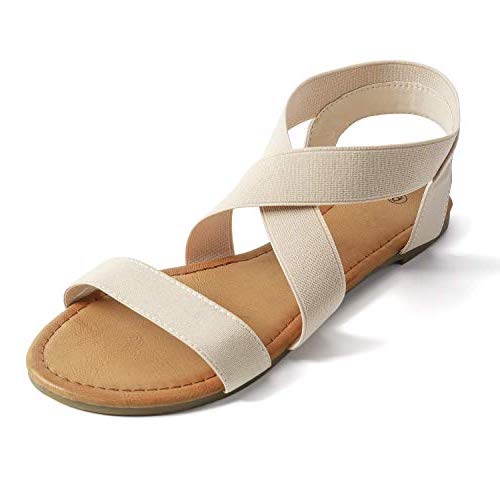 The Soles & Souls is a flat gladiator styled pair of summer footwear that's ideal for stylish ladies who spend their days on the go. This pair can easily transition from casual wear to professional attire thanks to its sleek silhouette. The Soles & Souls Criss Cross is a strappy shoe that's available in over ten colorways making them super easy to match with nearly everything in your wardrobe.
Design Features
The Soles & Souls features a flat sole that makes walking a snap. Its lightweight structure and cool strappy design let you effortlessly transition from play to work, while its synthetic materials offer a breathable design.
Appearance
This pair is made to look good and boasts a stunning gladiator design and strappy structure that is sure to impress. Anyone who's searching for a pair of stunning summer footwear will fall in love with this pair that's inspired by Rome.
Cost and Value
These Soles& Souls are incredibly well-priced and offer exceptional value for their affordable selling price. The Criss Cross Sandals gives you the best of both worlds; a gorgeous exterior and super-comfy interior.

Subscribe to our Newsletter