Best LifeStride Heels & Shoes Reviewed
In a Hurry? Editors choice: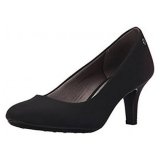 Test Winner: Parigi

Are you struggling to find a stylish, everyday shoe that has
supreme comfort
as well?LifeStride offers beautiful apparel with their innovative comfort and
flexibility
, paired with maximum arch support. Also, they include a variety of sizes, so even the widest of feet can enjoy these creations. And so affordable too!
Founded in 1878, the company has extensive experience in making excellent footwear made for the everyday person. Today, LifeStride shoes are owned by the same people who make
Dr.Scholl's
, Naturalizer, Carlos by Carlos Santana, Fergie footwear, etc., so you can rest assured you'll be receiving a superior product you'll love wearing as often as possible.
With a huge variety of options available, finding the perfect pair can be difficult, but this guide sums up the top 10 models by LifeStride currently available for purchase.
Standout Picks
Criteria Used for Evaluation
Comfort
We all know why comfort is so important. Besides relieving you of pain, if you wear footwear that is right for your foot and that has a good amount of cushioning, you will not suffer from many common foot problems. You might even cure your lower back and knee pain, who knows! All LifeStride designs come with a three-part construction called the Soft system. That means that every piece of footwear they make comes with added:
Comfort: High rebound foam and a breathable insole. Your every step will be cushioned, and you'll be able to take your shoes off anywhere you go, no matter how long you've worn them!
Support: Arch and foot support, great for stability and balance! Never worry about falling somewhere or tripping over and making a fool of yourself.
Flex: Highly flexible soles lower the amount of force your feet get on impact with the ground, and also ensure your foot retains its natural shape while you walk!
It's very easy to see that LifeStride is serious about foot health of their customers. Knowing how much effort they made just for your feet, deciding to own the right pair of their marvels is an easy task!
Style
LifeStride brings a huge variety of styles to the table - heels, loafers, flats, whatever you like. Having variety in your closet is important, and also enjoyable because you get to combine many different styles and clothing combinations without thinking whether or not you have something to wear. LifeStride comes with affordable prices, durable materials, and supreme comfort, so choosing one of their items would be a great decision. What kind of styles does LifeStride actually have? Here are some you may choose:
Flats: also known as Ballet flats or Dolly shoes. Inspired by ballet-style designs, they come in very flat heels or no heels at all. While this may put some people off, because of low arch support, short heels ensure your feet connect with the ground, which gives you better balance and stability. All of LifeStrides flats come with their innovative Soft System technology, and they have many models in various colors and heel heights, so you can get anything you might have thought about!
Pumps: Come with a low-cut front, also known as a vamp, and are usually worn by women. They are usually heeled, and they can take many forms and shapes. They can also be made from any material available today. LifeStride features a variety of pumps that you can choose from, satisfying any desire you may have.
Dress Sandals: a combination of fashionable and breathable footwear. Sandals usually feature open toes and sides, and being dress sandals they are very elegant and classy. They are usually heeled, but can also be flat. The company has a plethora of dressy styles you can choose from, fit for any runway models dreams!
A style is, and always will be, very important. Choosing the right kind of style can do wonders for your happiness and your looks. So, having a bunch you can choose from is always a good idea!
Materials
LifeStride mostly chooses to use synthetic materials, ditching out the classic leather style. But why is that? You might think that it's because leather is more expensive, or something along those lines. In reality, it's that standing on your feet all day requires a material that is lightweight and gentle to your feet. Most leathers are hard and require a long amount of breaking-in. On the other hand, synthetic leather breaks-in quite quickly and is much more gentle towards your feet if you have a stand-all-day kind of job. Just for your sake, we will compare these two materials so you can decide for yourself:
Real Leather: Leather is used to create many things, such as footwear, belts, jackets, purses and many other things. It can be said that leather is a highly durable and flexible material that is created by skinning animals - the most common being cattle. Of course, you have more exotic options, like crocodile and snake, but those come at a higher price. When it comes to footwear, all kinds of leather is used and a lot of different technologies go into shaping it and adding details to it. You can see leather on anything, ranging from designer styles to work boots. It's the best choice when you work outdoors in the harsh weather, or when you are required to walk all day because in many cases it offers the highest amount of comfort. But, leather tends to be on the heavier side, and that can tire your feet out pretty quickly.
Synthetic Materials: These are are manmade, as opposed to leather which is obviously a natural commodity. The most common materials include nylon, rubber, polyester, acetate, acrylic, spandex, kevlar and so on. They have, when compared to leather, a lot of different aspects to them, and some cannot be achieved using natural materials. If you own anything that is made from textile, you already know that they are much lighter and that they offer higher levels of breathability. The biggest issue with them is whether or not they are water-resistant. When chemicals (not harmful to your skin) are added, any kind of material can be made waterproof, wrinkle-free, resistant to straining and so on. One of the most common ways of waterproofing textile footwear is spraying them with sprays that are designed for such a role.
So, these are our two cents. Which kind of material do you want on your feet when you spend your whole day standing around? Yes, leather is super hardy, lasts for a long time, and can be cleaned easily, but when you are rooted to one place your feet are not bound to get as dirty. Synthetic materials are much lighter and are simply made for people who are locked into place for a long time. They also give your feet much more air, removing any kind of sweat issues. All this is amazing, but in the end, the choice belongs to no one else but you.
Fit
One of the most important aspects of any pair of shoes is the fit it provides you with. Unfortunately, this has so much more to do than just size. Not only are everyone's feet differently shaped, but different types of use and materials can necessitate a different fit.
LifeStride is a brand that takes this into consideration through the sizing of their footwear. One of the most important perks they offer is the ability to choose between different widths of footwear. Not only is this a great feature for those with wider feet, but it can also make life easier for those who suffer from various foot health conditions such as bunions, heightened sensitivity, or simply flat feet.
Another great feature on this brand's footwear are the elasticized straps that are often included in their sandal models. Not only do these eliminate the need for buckles, ut they also automatically find the best possible fit for your feet. They'll stretch as much as necessary, but still provide a snug fit that's crucial for a secure, supported wearing experience.
Last but not least, before investing your money in any pair of shoes, do check the toe area. A large majority of heels are made with pointed toes which look great, but may be uncomfortable in the long run. If you're expected to stay on your feet for long periods, you can safely assume that your feet are going to swell, so choosing a rounded toe may be the safer option.
Value
LifeStride footwear is available at excellent prices, and is affordable to almost anyone who needs something that doesn't only look good, but offers comfort features as well. Overall, shoes with similar comfort technologies comes at price points that are twice or three times as much as you'd pay with this brand, so if you manage to find something that you like, you should definitely go for it.
One of the main reasons for this variety in pricing is the type of materials used. Overall, the models listed here are made with synthetics and textiles that aren't as expensive to procure as real leather. You may find, however, that synthetics, especially leather imitations, act much differently from the real deal, and may require different care to make them look good in the long run.
Nonetheless, LifeStride footwear has an important benefit that's the direct consequence of their lower prices, and that's the fact that you don't have to limit yourself to one or two styles - you can choose several pairs of footwear for the same price you'd pay a single item by a more expensive brand.
Top 10 LifeStride Heels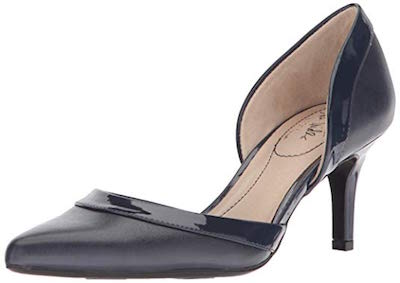 This D'Orsay pump is the ideal model for both formal and casual events, and is definitely one of the most stylish pairs by the brand. The Saldana comes in 10 color options, including textile, faux suede and faux leather options. It's a pair of footwear that doesn't use genuine leather, which makes it perfect for those who prefer to wear footwear that doesn't necessitate the harming of animals, plus it has all the comfort features we've come to expect from the brand.
Width Selection
If you've ever tried to buy a pair of heels for wide feet, you probably know how complicated the process can be. Luckily, the Saldana comes both in a medium, as well as a wide option, allowing you to get the perfect fit without risking pain and discomfort.
2 ¾ Inch Heel
The heel on the Saldana is of the perfect height - it looks elegant and sexy, but is still lower than the prescribed maximum of 3 inches. Combined with a slip-resistant outsole that'll keep you stable, as well as the brands signature cushioning system, this model will surely become a staple in your closet you'll actually enjoy wearing.
Cost and Value
The price of the Saldana is average, and is even lower than similar models by other manufacturers. If you consider all the comfort perks you get with it, it proves as a definite winner investment. Go with a neutral version for professional wear (or something you can pair with any outfit), or choose one of the available prints for a look that's sure to stand out.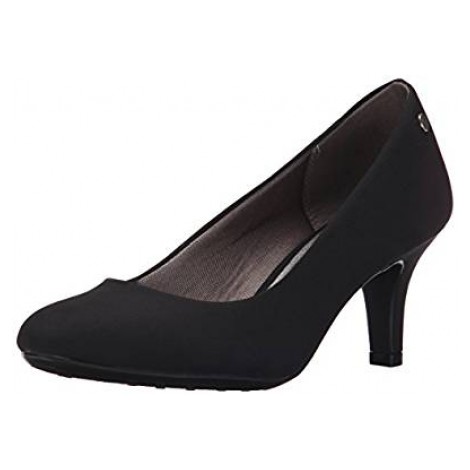 The classic pump any fashionable and modern person should have. Essential during the weekends, day to night! They are made from a synthetic material, which shortens the time you'll need to break them in. The heels measure 2.5 inches, so it's just enough to give you a visible height difference, but not enough to give you any issues. They are fitted with the LifeStride Soft System technology, which means you'll be walking on clouds all day. The soles are flexible, so your feet will be able to adjust their shape to all kinds of terrain you might walk on, and the outsoles have traction so you won't slip!
Classic pump style
Everyone should have at least one pair of pumps. It's a classy style that goes well with many kinds of different outfits. Be it your nightlife or your everyday office job, these will surely be a match!
Soft System Technology
One of the biggest issues with shoes today is that they strive to be gorgeous, elegant and striking, but rarely anyone addresses the comfort the wearer needs! So LifeStride made sure to give supreme cushioning to their customers, and thus they developed this technology. Soft System makes sure your feet will never be angry or sore again!
Cost and Value
These are one of the cheapest items on the list! How great, and essential type of shoe is available to the wider public, and it gives so much more for a smaller fee! Considering all the great work that went into making these, we are surprised that they do not cost more.



Ah, one more classic shoe. This dress pump may look similar to item #1 on our list, but look closely - the toes are much pointier, which opens up a whole new world full of possibilities! There is a huge selection of colors, including one very girly flowery design. The earthy tones can match almost any outfit, and the striking colors can break apart the monotony of neutral colors. The LifeStride SoftSystem is present, and of course, the soles are very flexible. The heel will give you just the right amount of height!
Shorter Heel
Maybe you do want some added height, but not enough to bang your head on the ceiling. That is what these heels are for! The heels are slim, shorter than average, and they provide enough stability. Their placement and their design will make any wearer more feminine. They are just enough to cross the line from business to party!
Variety of colors
It is always nice to have something to choose from. This pair of pumps comes in so many colors that it can just make your head spin! Maybe you went out and found the pair that you have always dreamed of, and then you see that it comes in so many hues that you just wish to have all of them! That is what these heels are - perfection in every color and pattern imaginable!
Cost and Value
Hold on to your hats folks, this is where it becomes tricky! The selection of colors and styles comes with a great cost - this is the most expensive item on the list. Maybe a little bit confusing, considering that not a lot of technology went into making this pair. Nevertheless, no cost is too great for perfection!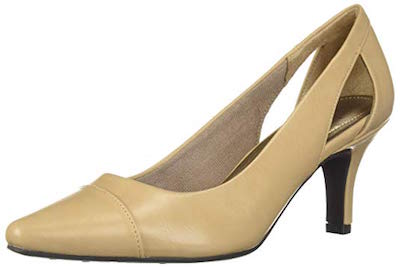 These mid-heel pumps have a striking, playful detail to them - a cut out on the side! They are pointy-toed and have a matte finish to them. The heel is slim and elegant, and you will surely enjoy walking around in them since they are paired up with ideal comfort. There is a wide width option available, so the toe box will rarely feel narrow! It's a slip-on, so you won't lose time trying to squeeze your foot into them. The leather upper is faux leather, and the insoles are synthetic.
Side cutout
This is a very unique detail added to these heels - we can't say we remember seeing this so often. Such a refreshing, inspiring piece of work, and that's surely what you will look like when you wear these pumps. Imagine this, you have long jeans that just about cover your heel. And then, you cross your legs; surprise, skin! Cheeky, right?
Slip-on
Laces can be such a pain sometimes. You have to sit, loosen them up first so you can just about squeeze your foot in, then tighten them back up. And then you see that they are not even lengths and that you have to adjust them. Oh, so much lost time! So, the slip-on wear is the perfect solution to this! After a short break-in period, be sure that putting these ones will be as easy as taking candy from a baby!
Cost and Value
The second cheapest item on our list - which is just super! There may not be a lot of details and cushioning in them, but the cut-outs are surely worth it!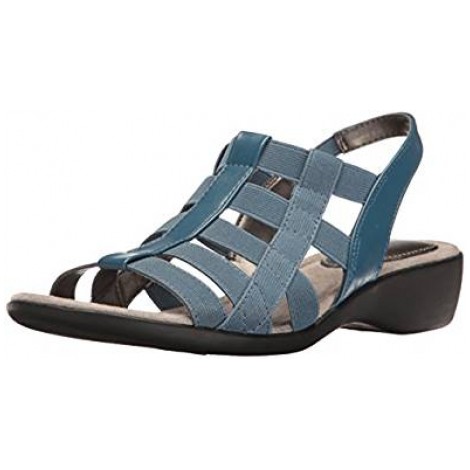 These sandals are the perfect bond of comfort and style. Great for warmer weather and various outfit combinations! The variety of colors offers a choice for everyone. They are a combination of fabric and synthetic. The elastic straps ensure a snug fit for all kinds of feet, and the faux leather adds just the needed amount of contrast. They sport a short heel, great for arch support. Also, they come with SimplyComfort technology, showing just how serious they are about comfort! And they are a slip on, so no buckle pinching and rubbing on your skin.
Elastic Straps
After a whole day of walking, your feet are bound to swell up, and there is nothing more annoying than having a pair fit you perfectly in the morning, and erupting all over the sides in the evening! Elastic straps make sure that that doesn't happen - if your feet expand, the sandal expands with them, giving your feet enough room to adjust.
Faux leather
Leather always looks lovely, but it can be very expensive, and we can't say that we never felt guilty about wearing it. So, faux leather gives everyone the opportunity to sport shiny leather, and when LifeStride decided to implement this material in their design, they made a perfect choice!
Cost and Value
This sandal is a medium-priced item. It may not be a looker, and there are not many technologies that went into it, for an example, Softsystem is completely missing from this style. But, that doesn't mean that you shouldn't give them the benefit of the doubt! They are still very comfortable, and the elastic bands will surely be your best friends!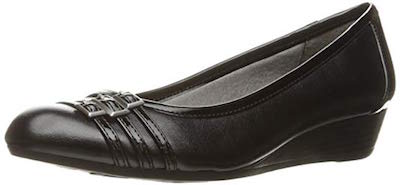 A ballet flat look-alike - with an added wedge, providing great arch support! And it's a short wedge as well, so you won't get a lot of height in them. They are faux leather, ensuring you get all the great looks leather gives at a lower cost. The toe is rounded, giving your feet a dainty and cute appearance. A triple-strap detailing with buckles was added, enough to refresh the way they look. All day support and cushioning are achieved with their well-known Soft System technology. And the cherry on top is the added traction - no accidents!
Wedge heel
Is the loss of balance from stilettos giving you a headache? Wouldn't it be just great if you could get all the hight from dress pumps but without the shooting pain from sky-high heels? Say hello to the wedge! Wedges offer a great amount of stability, and also give you the arch support you need. They are an elegant look and should garnish everyone's dresser.
Triple-straps
Having a pair of plain-jane wedges would be just boring. As we all know, variety is the spice of life. So, when we add details such as small, flirty buckles, we improve the look of the shoe much more than we hoped for. The buckles are a great diversion from the smoothness and the shininess of the pump, and maybe add just a little bit of punk-rock to your style!
Cost and Value
It seems like LifeStride has a knack for giving their products medium-range prices! Which is marvelous, because that makes them available to most anyone. And there was a lot of effort instilled in these - plenty of technologies and attention to detail!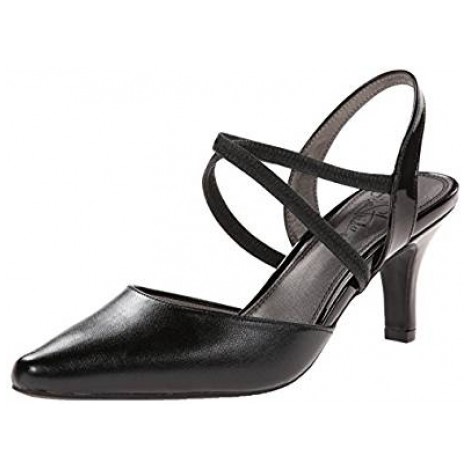 Pumps with pointy toes are always in. Combine them with a long, extravagant dress, or with bell bottoms, and you will surely be the star of the day. These are manmade, so there is little room for error. They have slim, elegant straps that accentuate your feet, giving them a slimmer appearance. The heels are the kitten kind, enough to make anyone feel cheeky. And they are black, the classic color everyone needs. The soles are flexible, and a wide fit is available!
Crisscross straps
Are you ready for a night in town? Kalea says yes! The straps add enough cheekiness to your outfit, while also revealing just a little bit of skin, enough to tickle minds! Straps are always a great choice because sometimes, they are just the detail an outfit needs to breathe life into it.
Black color
The saying goes, black goes with everything. Having a dress pump in black can never be a mistake - they will always be there to hold your back. Don't know what kind of sandals to wear with a colorful, flowery dress? Go black! It will be just enough to calm down the explosion of colors that flower patterns give! We believe anyone should have a pair in black in their closet.
Cost and Value
This is also a mid-range item, and considering the fact that they do not have extra cushioning, we are not so surprised. But, they are manmade, and that again raises their value a lot, so this is a great price for a pump like this one!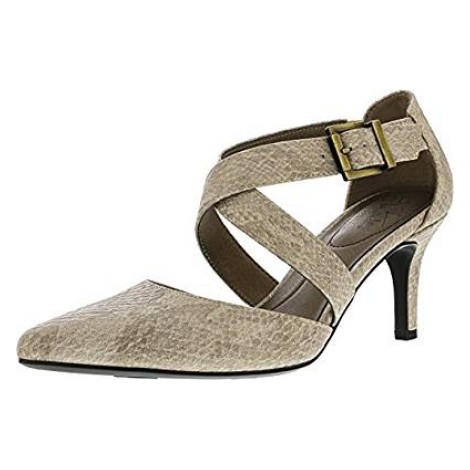 We have always wanted a beautiful dress pump that also offers a supreme amount of comfort. Sacrificing the well-being of your feet just for a few hours of great looks is not worth it. Well, it's great to say that these dress pumps have both comfort and sublime looks! They are synthetic, and they come in a huge variety of looks - velvet, crocodile, and snakeskin! The heels measure approximately three inches, but that shouldn't scare you - there is a cushion made just for your comfort. They come with the soft system technology and were designed for stability and balance. Highly flexible too!
Flexibility
Bending our feet the proper way when we walk is one of the most important aspects when it comes to our gait. Flexible fits ensure that we have enough stability and balance and that our brain creates pathways between the ground and our balance center. So, it's great to see that these pumps have a super flexible sole, the heel will not throw you off!
Heel cushion
No one likes it when their favorite heels start to give them trouble - we are all familiar with the stabbing, shooting pain that our heels experience when we wear something that is high. The best way to avoid that is adding an extra cushion to where the heel of our foot resides and thus ensuring that we will not struggle when walking!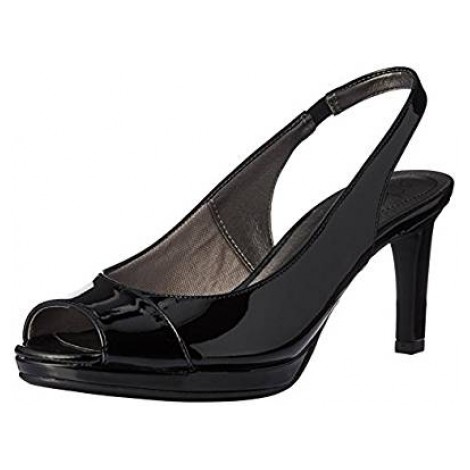 Open-toes and high heels, the perfect recipe to feel sexy! The heel is open too, so your feet will get enough air to breathe, and you get to show off your baby feet and perfect nail color! The heel is high, so these might not be ideal to be worn for a long period of time, but they are just right for a night out or for a wedding. They have a glossy finish, and a lovely strap on the heel. They also have a small platform, so the heel doesn't feel as high as it is. The foam is high rebound, the outsoles are flexible, and they provide enough stability to keep you dancing all night!
Open-toes
Do your toes just crave to feel the warmth of the sun on them? Do they want to break free, do they feel all jammed up in closed shoes? Open-toes are here to save the day! Don't be shy, show off the feet! It's flirty and cheeky, and we are sure you will get accustomed to the feeling of fresh air on your toes pretty quickly; besides, no one will judge you for deciding to go open-toed!
Stability and balance
Do you always worry about falling when wearing high heels? We do too, so finding a shoe that offers both height and stability is a tough task, but when we do find it, it's oh so very rewarding! You can jump, you can run, you can dance your socks off and never worry about falling over and giving yourself injuries with these babies!
Cost and Value
A cheap extravagant dress pump? Sign us right up! Yes, it's possible, and these lovelies prove that - and look at all they have to offer. The comfort, the design, and of course the height, and all for a great price!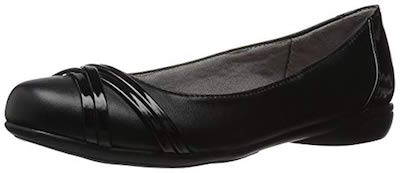 This slip-on casual flat can be worn with most anything - jeans, dresses, bell-bottoms, you name it. Which makes it the perfect versatile everyday shoe! They are manmade and have a very small, nearly invisible heel. But trust us, that small heel will make all the difference in the world when you start to walk. Simply comfort makes them a joy to wear, and the flexible soles make a companion for a long day. The shiny strips contrasting the smooth finish are the finish these ballet flats deserve!
Ballet flat
Dolly shoes were inspired by one of the most graceful dances that exist - ballet. As such, they are made to make you appear more limber and delicate. There is not a fashion season where a pair never appeared. They have been around since the 16th century, and they were first worn by men but became more popular for girls in the medieval times. If you want to wear a piece of history around your feet, please do choose ballet flats!
Shiny strip details
The shine is a striking contrast to the smoothness of the whole shoe, and it adds just the right amount of flair to a dressy casual pair of slacks. And the straps make it look even more visible, drawing attention to most curious eyes. If you want to shine wherever you go, be sure to slip on the Aliza Flats!
Cost and Value
You may notice that there isn't much to be said about this pair - the comfort is not as great, they're not that flexible, and they're not so extravagant. So it comes as no surprise that they are the cheapest on this list - but, they are LifeStride so that surely makes them one of the more comfortable shoes you could own!

Subscribe to our Newsletter