Best Blush Heels Reviewed & Rated
In a Hurry? Editors choice: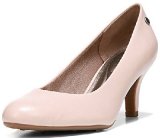 Test Winner: LifeStride Parigi

When it comes to color, blush has a timeless elegance that other colors just can't achieve. It is soft and gives off a feeling of grace and sophistication. It is not as noticeable as pink, more feminine than nude, and offers a subtle charm. What's more, the soft quality of the color renders them suitable for many occasions, unlike more eye-catching colors that can be inappropriate for formal occasions. Blush heels are perfect when paired with an outfit with hints of a similar color but can also add a pop of color to an otherwise plain and boring outfit, and will allow you to strut with grace and confidence.
Standout Picks
Criteria Used for Evaluation
Materials
When looking for the perfect pair of blush heels, the fabric from which they are made can make a huge difference. Not only can fabric give you an idea of the durability and comfort of a pair of shoes they can also affect their color.
Suede
Many high heels are made of suede. Although shoes made of this material were mostly purchased by more aged men and women, they have recently made a comeback amongst the younger generations as well. Suede is basically a type of leather with a special finish to give it its fuzz, made out of the underside of an animal's skin rather than the outer skin layer. It is often used for clothing and furniture because it is soft to the touch.
In terms of color, suede gives off a slightly darker hue but have a more sophisticated and expensive look. Because of this, they are great for professional environments and can add a perfect finishing touch when paired with a suit or a pencil skirt.
However, the downside is that suede can be spoiled easily, especially when it comes into contact with water. Although a few drops or minor spills here and there won't make too big of a difference, accidentally soaking them in the rain will surely alter the color and overall quality of the shoes. As a result of this, suede heels are high-maintenance and will not be practical for those who are clumsy, live in regions with lots of rain or are planning to wear their heels mainly to outdoor events.
Faux Suede
There is also faux suede, which is a man-made material that mimics the quality of real suede. This version is all vegan and has their own share of benefits. They are less costly, are easier to clean, and are usually more water-resistant compared to real suede. In addition, if you're not a big fan of the smell of leather and suede, you'll be pleased to hear that this material does not have a similar animal smell. However, because it is not genuine, it no doubt will not have the same rich color as in real suede.
Silk
Silk can also be found in certain heels. This fabric gives off a natural luster that adds a touch of shimmer to the color and can make it appear softer. Shoes made with silk generally have a look of luxury that is perfect for celebratory events such as graduations and weddings. What's more, the material is soft and does not crease easily, meaning the look of the shoe will not change much with time and wear and is easy to care for. If you can find a pair of heels made of good, high-quality silk, they are definitely worth the purchase.
Velvet
Similar to suede, velvet has a retro look that is just recently coming back into style. Velvet is a type of woven tufted fabric with a soft and smooth feel, and are great for fall fashion or to add a finishing touch to a 90's look. The quality of its color is similar to that of suede.
However, like most high-quality materials, they are also high-maintenance and requires special handling. It can easily become crushed, matted, and may have bald patches through time. Therefore, velvet shoes need to be worn with care, and it's always a good idea to double-check the weather forecast before going out in them, as water can easily spoil the material. However, there are protective coatings for velvet that repel stains, which come in handy if you want to wear your velvet heels more often than just on dry days. Just keep in mind that these products aren't interchangeable with other protective coatings for suede and leather, and should therefore only be used for velvet. As always, pay close attention to the manufacturer's instructions before using them on your shoes.
Heel
When it comes to heels, it's no big surprise that it's indeed the heel of the shoe that is its most important feature. When shopping, the two crucial aspects to consider are therefore the width and height of the heels
Chunky Versus Thin
The decision between stilettos and chunky heels (also known as block heels) can be difficult. Both of these styles have their own kind of elegance and add a different vibe to a certain outfit. What's more, they have a different feel when walking and standing, so you'll want to pick what will best fit your needs. Or, you might already have a preference for one kind but are looking to switch up your style a bit by exploring the other and are not sure what to expect. Either way, there are pros and cons for both kind, and considering them will help you determine what will work for you.
Fashion-wise, chunky heels tend to have a retro, 1970's look. As the vintage look is making a comeback, chunky heels are becoming more and more popular. They are great mostly for casual outfits, such as when paired with skinny jeans, suede skirts, or wide-leg trousers that are coming back into style. They can also be paired with formal outfits such as a suit and can add a touch of style and personality to a more professional look. However, the downside is that they might seem too casual for certain professional occasions, so it's important to take your situation into consideration before throwing on a pair of chunky heels.
And when it comes to comfort, stilettos just can't beat chunky heels. Most chunky heels are around 2 to 3.5 inches tall, which keeps you closer to the ground and gives you more balance. In addition, the thickness of the heel itself provides stability and can greatly lessen the risk of slipping and falling (which, no matter who you're around or how often it happens, is always an awkward moment). They are much more suitable for walking or standing for long periods of time and are ideal for those who aren't used to wearing heels but would like the boost in height or are required to wear them for a specific event.
However, shoes with thinner heels such as stilettos have their pros as well. These offer a more modern and elegant look that just can't be achieved with chunky heels. This renders them easier to dress up and down, meaning they are great for both a casual night out and for formal events like graduations and weddings. They have a timeless look that can serve as the finishing touch to just about any outfit.
The downside, however, is that thin heels are much less comfortable and stable compared to chunky heels. The thin heel provides less balance, making you more susceptible to falling. In addition, more strain is put on the foot and the knees, which means more likelihood of foot fatigue as well as an increased chance of joint issues in the long term. Though they are incredibly stylish and elegant, they are not suitable for walking or standing for long periods of time.
Overall, chunky heels are more comfortable but have a retro, 70's look that can be limiting, while thin heels like stilettos have a modern, elegant look but aren't the most comfortable. With this in mind, you can choose what will best work out for you.
Style
The heel height is one of the most important aspects to consider when buying high heels. It but is the main determining factor of comfort, and will also vary depending on the occasions on which you plan on wearing your heels.
Tall heels have a look of elegance and can add a touch of fanciness or fierceness to any regular outfit. They are ideal for giving your height a boost and can do wonders at elongating the legs. As a bonus, they also make that satisfying clicking noise with every step you take (which, let's be honest, makes you feel ten times more intimidating). However, the downside is that they aren't the most appropriate for professional environments, as they can be seen as too casual.
Comfort-wise, they also fall last on the list. Wearing tall heels puts a strain on the foot, ankles, knees, and even the lower back when walking or standing, resulting in fatigue. In the long term, it can also lead to joint issues. Tall heels also cause the foot to slide forward and down with every step you take, meaning they are likely to jam into the closed-toe of the shoe, or jam out of the open toe. Not only is this uncomfortable, it's also not attractive! Because of this, tall heels aren't suitable for walking or standing for long periods of time.
Low heels, also known as kitten heels, have it better with comfort. Keeping you close to the ground means more stability, and it becomes easier to walk and stand for long stretches of time. Less strain is put on the foot so that foot fatigue is minimized, meaning you can feel energized and comfortable for longer.
However, low heels tend to have a more modest and professional look to them. They don't have the same elegance as tall heels, and can't add that same finishing touch to an outfit. They don't do much at making the legs appear longer or boosting your height – which, however, can be an advantage if you're already on the taller side. All in all, they are much more comfortable but less stylish.
If you can't decide between the two or are hesitant to sacrifice either comfort or style for a big event such as a wedding, graduation, or any similar event where both looking good and feeling good are crucial, then consider mid-heels. These heels are around 3-4 inches tall and, to some degree, offer the best of both worlds. Most of them are tall enough to give you that elegant look, but not so much to cause too much discomfort for those who are used to wearing heels. They offer a balance between style and practicality that renders them suitable for many different types of occasions.
But although this makes it sound as though mid-heels are the only 'perfect' heels, what it ultimately comes down to is your situation. Although tall heels are uncomfortable, they can still be perfect for out-of-the-blue events like a photo shoot, where looks matter much more than comfort. And though low heels are less stylish, they can be perfect for everyday work wear. There is no magic formula to find the perfect heel height – in the end, it's all about meeting your personal requirements, and knowing the pros and cons of each type of heels, you can be sure that your decision is the right one.
Comfort
We all know why comfort is so important. Besides relieving you of pain, if you wear footwear that is right for your foot and that has a good amount of cushioning, you will not suffer from many common foot problems. You might even cure your lower back and knee pain, who knows! All of the options on our list are meant to support your feet despite being a low-profile sandal. That means that every piece of footwear on here comes with added:
Comfort: High rebound foam and a breathable insole. Your every step will be cushioned, and you'll be able to take your shoes off anywhere you go, no matter how long you've worn them!
Support: Arch and foot support, great for stability and balance! Never worry about falling somewhere or tripping over and making a fool of yourself.
Flex: Highly flexible soles lower the amount of force your feet get on impact with the ground, and also ensure your foot retains its natural shape while you walk!
It's very easy to see that LifeStride is serious about foot health of their customers. Knowing how much effort they made just for your feet, deciding to own the right pair of their marvels is an easy task!
Value
Finally, we looked at the price tag. Here's the deal, no consumer wants to spend above their budget on a good. So, when we were evaluating items, we really took into consideration a few different things when it comes to price. We really wanted to focus on sharing brands and products that offered a blend of a good price tag with great value.
To do this, we actually started off the buying guide by scanning through a couple dozen different types of footwear. We looked at the price range and came up with an average or an estimated market value. This number was then used in choosing the best products. For example, we would look at a product and ask ourselves:
How is this priced in comparison to the estimated market price?
Does this product offer value equal to or greater than its price tag?
How does this compare to the other products we have selected?
Does the consumer receive more or less value from this than another brand?
No matter the type of good you are planning on purchasing, by asking questions like above, it can really help to ensure you are receiving your money's worth for a purchase.
Our Favorites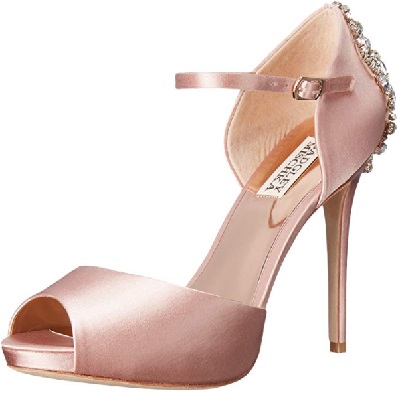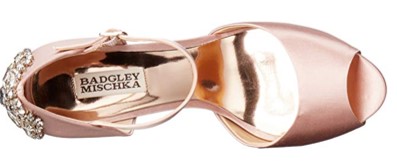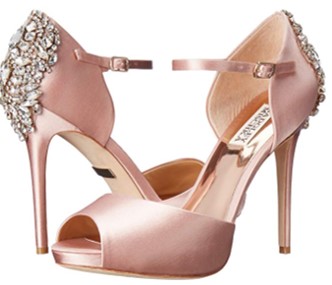 If you're looking for something more fierce and unique, then consider the Dawn platform pumps by Badgley Mischka, an American fashion label famous for its old Hollywood glamour style. This particular pump features an adjustable ankle strap and a hidden platform, which makes it practical and stylish at the same time. Though the leather sole and satin fabric mean the design is a bit more high-maintenance, they also add to the look of fierceness and elegance. The rhinestone decoration at the back adds a finishing touch to the shoe.
The heel of these pumps measures approximately 4.75 inches. However, there is also a 1-inch hidden platform that makes it easier to walk without changing the look of the design. The satin of the fabric gives the blush color a soft, shimmering glow under the light. In addition, the crystal-embellished accent at the back balances out the simple, modest look of the overall design and makes them a great finishing touch to any outfit.

The Badgley Mischka Dawn has a unique and elegant look. It is a perfect option for formal events, for places where you want to impress your surroundings and be as elegant as though you are a member of royalty. Nothing says queen as much as the Dawn peep-toe pump.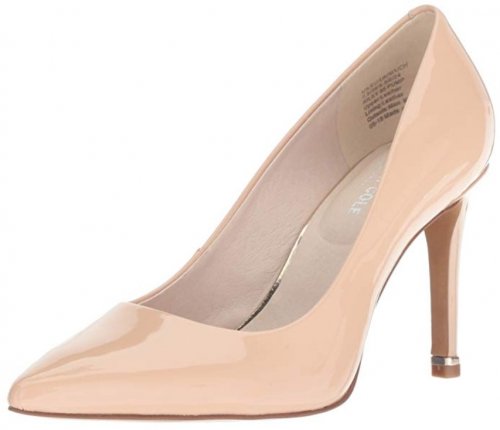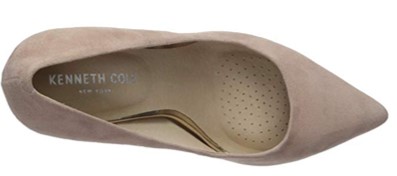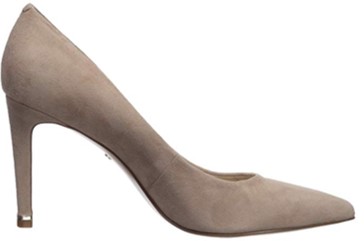 The Kenneth Cole Riley collection includes designs ranging from summer sandals to autumn booties, and the Riley 85 pump falls somewhere in between. The brand wanted to create a comfortable heel, one that you will be able to wear wherever you want and for however long you want, and they definitely succeeded. The Riley 85 is equipped with Kenneth Cole's signature Rebound System technology, which delivers a cushioned step and all-day wearability.
The Riley 85 is a classic pointy-toe silhouette, one that we can never get enough of. It is about 3.5 inches tall, and it is made from naturally flexible leather. What sets the Riley 85 apart from other pumps of its kind are the memory foam insole, the cushioning in the back and under the ball of the foot, and the leather lining which provides moisture-wicking and temperature regulation. There aren't many designs like this that we can say are genuinely comfortable to wear, a real pleasure to walk around in, but the Riley 85 is definitely that.

If you are about to spend quite some time on your feet but need to look polished and put-together at the same time, then the Riley 85 is the perfect option. Thanks to its relatively low height and comfort features, you will glide through your day without feeling even a twinge of discomfort. We couldn't possibly ask for more!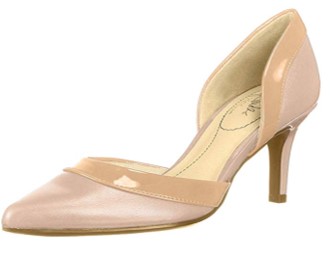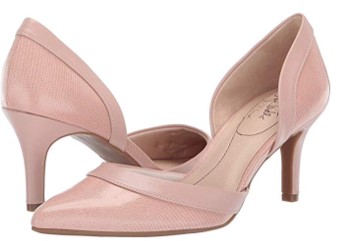 This modest height blush pump has a sophisticated style with textured uppers, and D'Orsay structure, making it great for regular work events as well as pairing with more formal attire like skirts or cocktail dresses. Add to this impeccable styling LifeStride's Soft System technology to keep feet comfortably cushioned, and you have a pump that can go the miles during the day. Easy to slip on and go, this pair is the perfect pair for a versatile option in your wardrobe.
Uppers on the Saldana are a textured snake skin upper made from faux leather, giving it a rich appearance and sophisticated style. The D'Orsay silhouette elevates the appeal of the shoe, accentuating the shape of the foot. With a light pink/blush tone, it's easily paired with other neutral hues, as well as some darker solids like grey, black, or even a bright royal blue. It has a pointed toe upping the non-nonsense style of the shoe, but enough room in the toe box so it won't pinch the feet. It's also available in wider widths for those with wider feet requiring a bit more room!
Inside the Saldana you'll find LifeStride's Soft System technology. This creates a plush on-foot feel, and utilizes cushioned support in the heel and toe areas, while offering arch support as well. The forefoot footbed is perforated to help maximize ventilation and prevent sweating during wear. At the base, a textured flex sole allows for easy walking, as well as providing grip. It has a modest heel height of just under 3 inches, making it great for those hectic business meetings, or simply walking about town or running errands.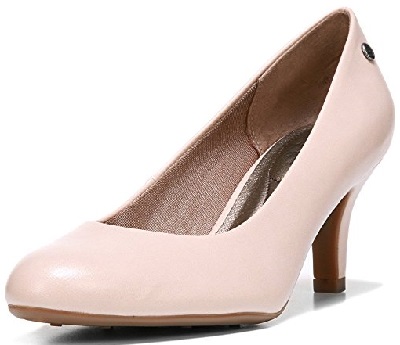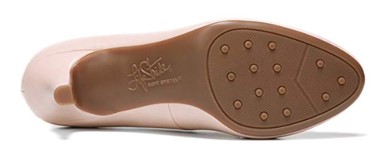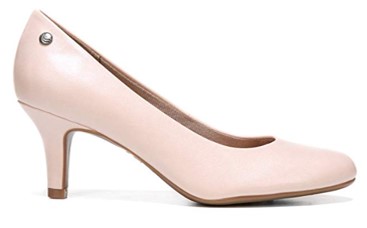 The LifeStride Parigi has a professional look and a comfortable fit, which makes it ideal for more professional environments. These pumps are completely synthetic, and their sole provides great traction and stability that minimize the risk of slipping. Though they have a closed-toe design, the toe is round and comfortable for wide and narrow feet alike. The color is soft and shiny, though this model is offered in a wide range of other hues as well.
Manufactured especially with comfort in mind, the Parigi features a Soft System comfort package that provides cushioning throughout the fay, preventing foot fatigue and offering structural support. The heels on these pumps are approximately 2.5 inches, making them ideal for wearing on a daily basis in environments such as the office. They minimize foot strain while also providing that touch of elegance and professionalism.

These shoes sit at around the average price compared to the other options on our list. For all their great features and practicality, they are a great bargain.

5

. Salvatore Ferragamo Vara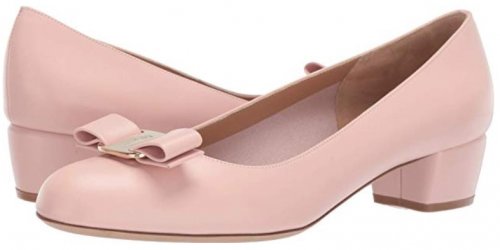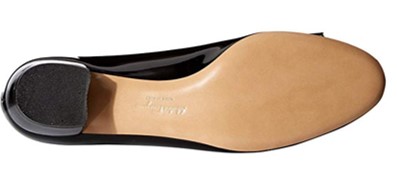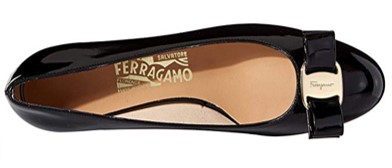 The late Salvatore Ferragamo left a legacy behind him: a fashion house known for the most elegant, most stylish, and most popular footwear designs of its time. Today, still run by the Ferragamo family, the brand distinguishes itself among its peers with timeless styles, impeccable material quality, and a sophistication that can't be paralleled. The Vara pump is an epitome of all of that, a comfortable round-toe design with a bow accent that you will love wearing day in and day out.
The Vara is made from genuine patent leather that molds to the shape of your foot over time and provides you with a personalized type of comfort. It has a bow decoration on the front for a touch of romance and femininity, and the round-toe front promises plenty of space for your toes. The heel of the Vara is short, barely over 1 inch in height, making it super comfortable to wear all day long. In this versatile design, you can go from the office to a meeting to cocktail hour, and even to an elegant dinner date, without the need to change your footwear.

The Salvatore Ferragamo Vara is an easy, comfy design that we all know and love. Given the luxury brand it comes from, it is amazingly pricey, but for the high cost, you get a pair of shoes that is every bit as durable and comfortable as it is visually appealing. You can't go wrong with the Vara pump.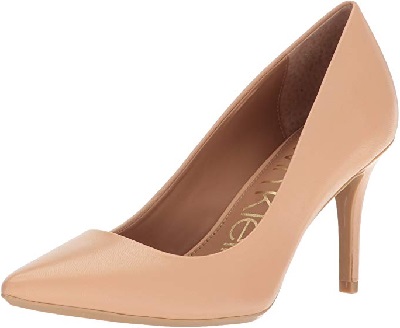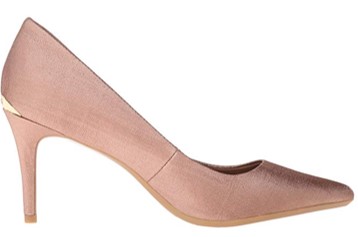 Calvin Klein is a brand best known for its underwear and jeans, and its footwear doesn't get nearly the amount of appreciation it should. These pumps have a simple yet graceful look that is perfect for work but can also be dressed down for casual events. They feature a pointed toe with a sculpted heel and a brand logo in the back. The 3-inch heel means they guarantee comfort without sacrificing elegance.
Depending on the color of the design, the fabric will differ. However, all shoes are made from synthetic materials, which are entirely vegan. The Gayle comes with gel pod insoles. They are meant to provide maximum comfort along with the cushioned interior of the shoe, which is made to suit the natural curve o your foot to provide support.

From a designer who is hailed as 'the supreme master of minimalism' comes a state of the art pump that we all need in our closet. It is a versatile choice that goes with jeans and a t-shirt just as well as it does with a pantsuit or an evening gown, and there is no reason why you shouldn't treat yourself with it today.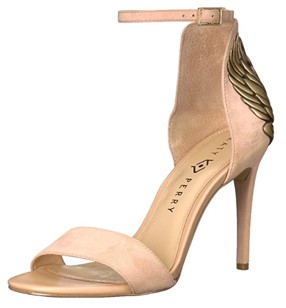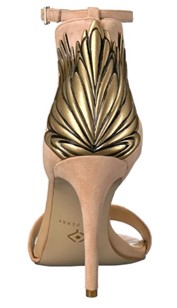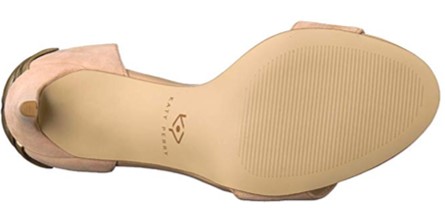 This unique pair of blush heels from Katy Perry bring some serious design appeal. Suede uppers give it a softer feel, while a key accent design wraps the back of the heel for some bling and individual fashion appeal. With a taller heel height of 3.5 inches, it's a pair definitely suited to more formal occasions or Friday evenings out on the town. With its open toe and comfortable lining, it stays comfortable and breathable during wear. This is one show stopper that isn't for the faint at heart!
The key design feature of the Alexann is its gorgeous accented heel. A wing-like embellishment wraps the heel in gold, giving it texture and some bling for those fancier events. Pairing these with metallic garment pieces will feel natural and easy, and let you stand out from the crowd. Suede keeps a softer feel to the shoe, and its blush hue can be paired with just about anything in your wardrobe. Man made lining provides a soft on-foot feel, and will keep your steps comfortable.
The soles of the Alexann are synthetic, with a patterned tread along the forefoot for traction on slippery surfaces. With little platform, and a higher heel height, these won't feel like the most stable shoe, so wearing to parties and occasions with seating is likely most appropriate. Open toe design allows for some breathability for heated nights, and an ankle strap closure will help buckle you in for security. All and all, it's a pair that may not be best for walking about, but it's style is a show-stopper for that formal evening out.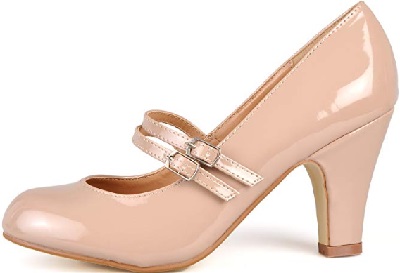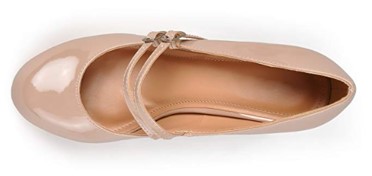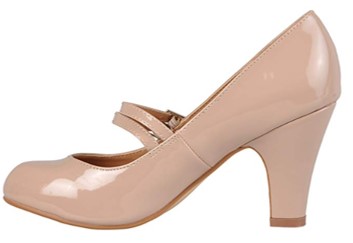 This pair of Mary Jane pumps has a chunky heel with a 3.3-inch height. There is a double strap across the vamp; each having a buckle closure. In addition, these sport the classic round toe and their aesthetic appeal brings a sense of simplicity with a touch of elegance. Lastly, a 0.5-inch platform finishes the wonderful construction.
This pump is a great choice for those looking to gain compliments without drawing heavy attention. That is, this pair carries a simple, yet gorgeous design. As a result, the Jaclyn has a nice amount of versatility in relation to wardrobe choices. With a chunky heel, balance and stabilization increase so as to minimize the 3.3-inch 'feel' of the heel height. This means you will feel less tired after wearing these to your favorite event.

The Jaclyn is, most definitely, easy on the budget. Furthermore, the design is perfect for bringing versatility to the forefront. In addition, the construction is nice and the overall feel these give make this a worthy investment.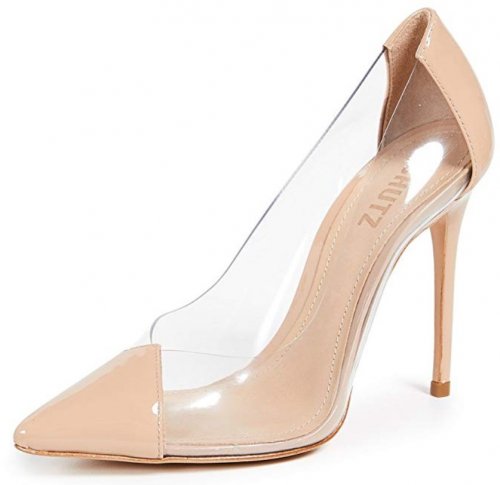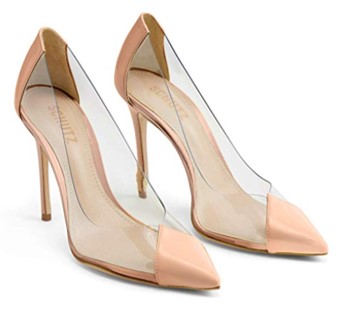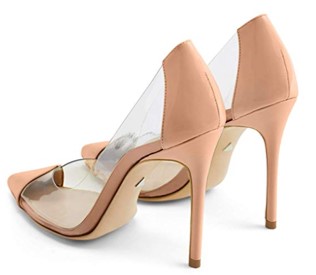 Transparent footwear - pumps and booties - is all the rage this season, and with good reason. Their clear, see-through inserts go well with any kind of color combination, and together with this versatile blush nude, you can't go wrong with picking out the Schutz Cendi. This pointy-toe pump comes from the Brazilian-based brand which loves to combine sophisticated and playful, striking and versatile; all of what is evident in the Cendi.
The Cendi has an upper made from a mix of cowhide leather and transparent vinyl. While vinyl may not be the most comfortable option for wearing on bare feet, the leather parts are there to make the ride smoother and to provide breathability and a healthy foot climate. The heel of the Cendi is stiletto in shape and about 4.3 inches high, making it that perfect formal design.

The Schutz Cendi is a must-have for weddings, galas, or simply when you want to look stunning on a fancy date night out. It is chic, it is slightly out of the norm, and for those brave enough to take on the transparent trend, it is a great choice.

10

. Jessica Simpson Cirrus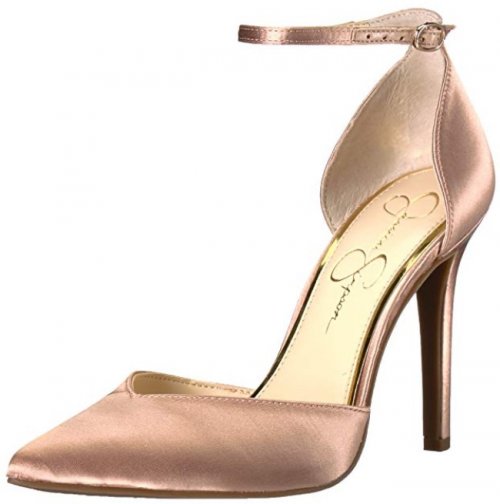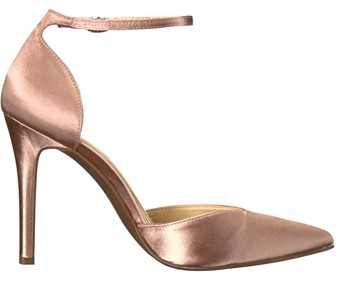 Jessica Simpson is a designer famous for her fun, playful style that still radiates flirtiness. The Cirrus pump is what you would wear on a romantic date, for your wedding even, as its satin sheen and dainty ankle strap infuse femininity into any look. This is a d'Orsay design, with a pointy toe and a soft elegance that has a special place on this list.
The Cirrus is made from synthetic materials, meaning that it is quite animal-friendly. The ankle strap has an adjustable buckle closure so that you can customize the width to your liking, and the heel is stiletto, about 4 inches high. However, don't let that height worry you! The Cirrus also comes with a memory foam insole for added cushioning and comfort. The toe area has a V edge line which visually elongates the legs and slims down the figure, making it a perfect choice for short skirts and dresses.

The Jessica Simpson Cirrus is not as high in quality as some other options in this guide - especially those which are from more high-end brands - however, it is also not as costly, either. It is a choice that you will love wearing on special occasions, and that everyone will compliment you on, as it makes any outfit look elegant and sexy.

Subscribe to our Newsletter